Vivaldi is the next exciting name in the browser world. With a unique user interface and added privacy features, it offers stiff competition to the likes of Chrome and Firefox. It is available for Android, Windows, and Mac, and users are quite impressed with what the browser offers. We are too, and if you actually want to use Vivaldi as your primary browser, here's how you can set Vivaldi as the default browser on your phone and PC.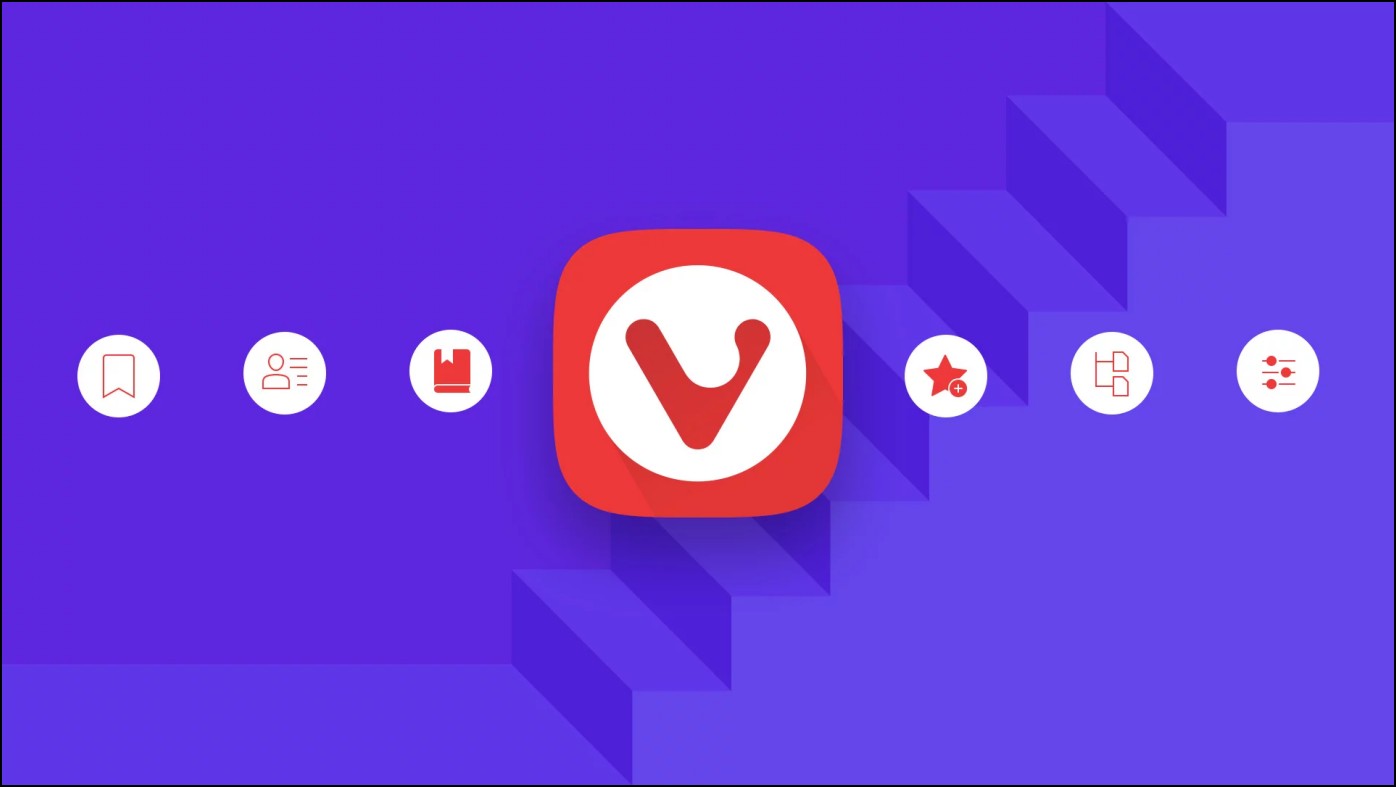 Related | 5 Ways to Enable Dark Mode in Vivaldi Browser
Set Vivaldi as the Default Browser on Android
By default, Chrome is set as the primary browser on Android. But within a few taps in the settings app, you can easily switch your default browser to Vivaldi. Here's a step-by-step procedure to do so.
Step 1: Open up the Settings app on your device.
Step 2: Open up the Apps menu.
Step 3: Select the Choose default apps or a similarly named menu depending on your software.
Step 4: Now, click on the Browser app.
Step 5: Select Vivaldi Browser as your default app.
Any link you click on your Android phone hereafter will automatically open in the Vivaldi browser.
Related | What is Vivaldi Mail? How to Use it? FAQs
Set Vivaldi as the Default Browser on Windows PC
Here's how you can set Vivaldi as the default browser on Windows 11 or 10. By doing so, you can open all links and supported files directly on Vivaldi.
Step 1: Open up the Settings application on your PC.
Step 2: Now, select Apps from the left sidebar menu.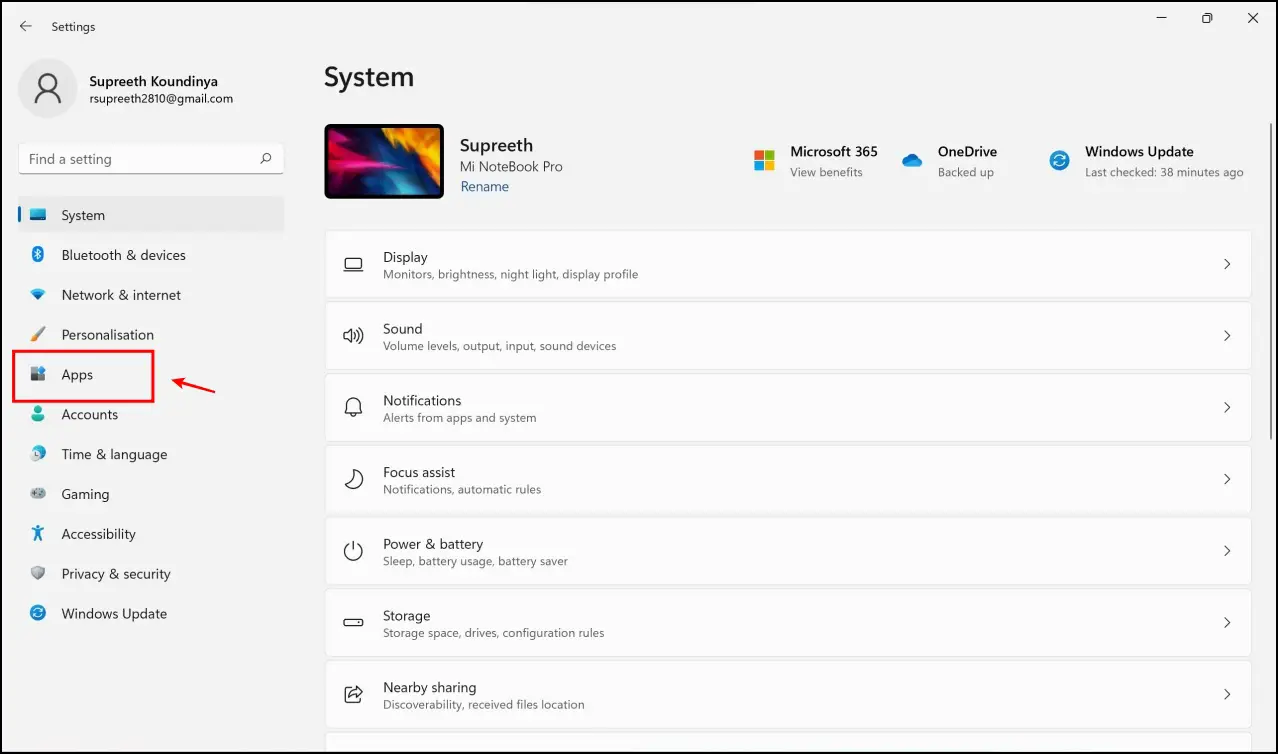 Step 3: Now, select Default apps.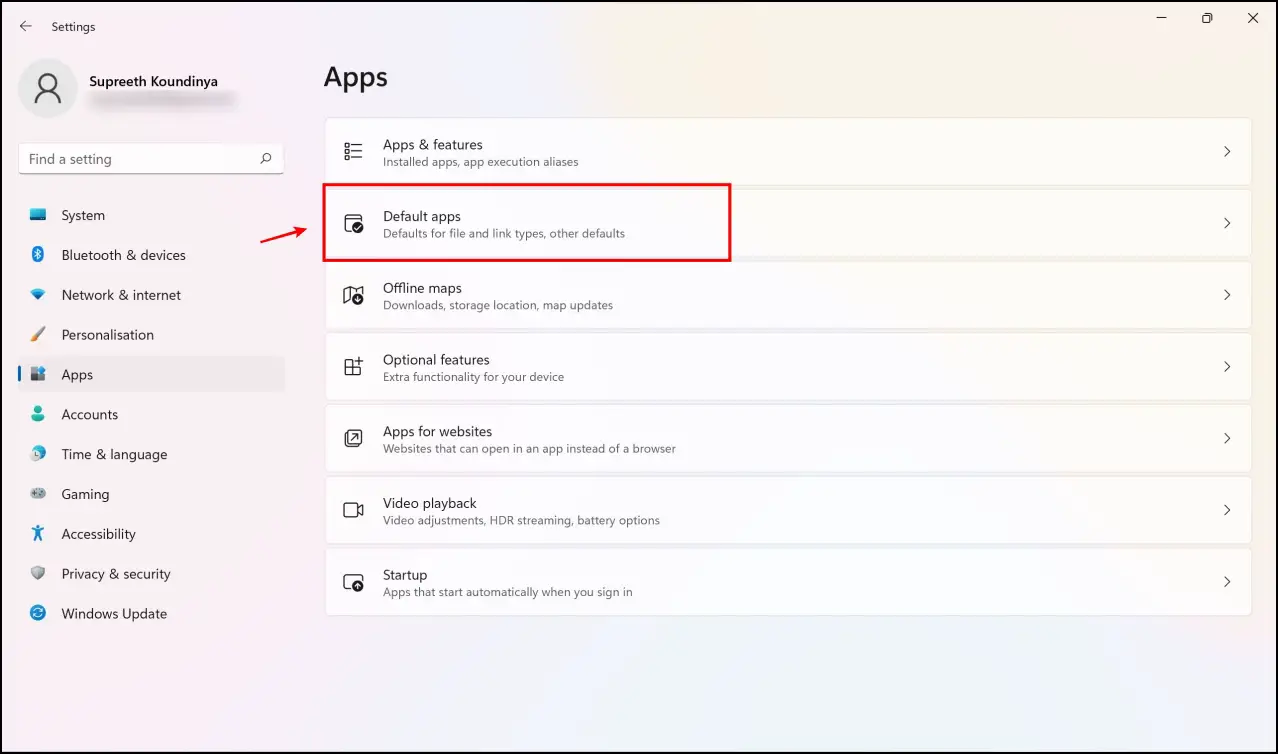 Step 4: You will now be provided with a list of apps. Select Vivaldi within the list.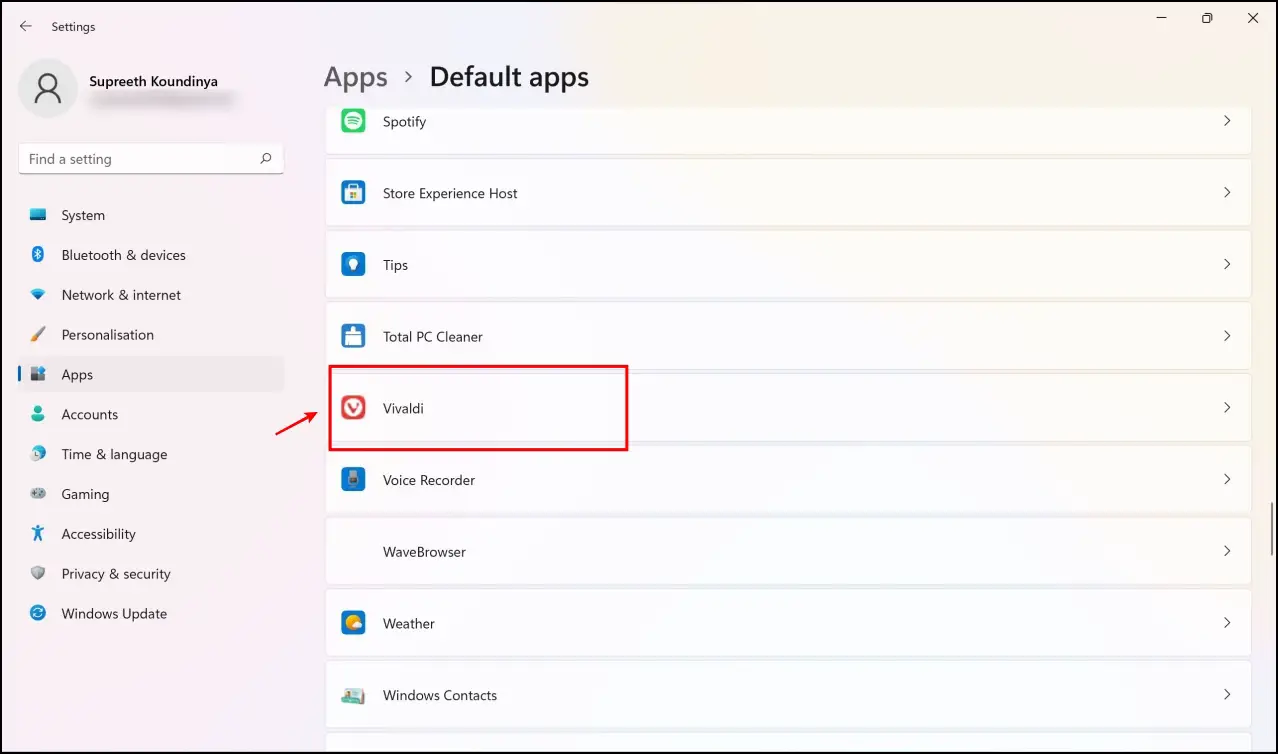 Step 5: Click the Set default button next to Make Vivaldi your default browser option.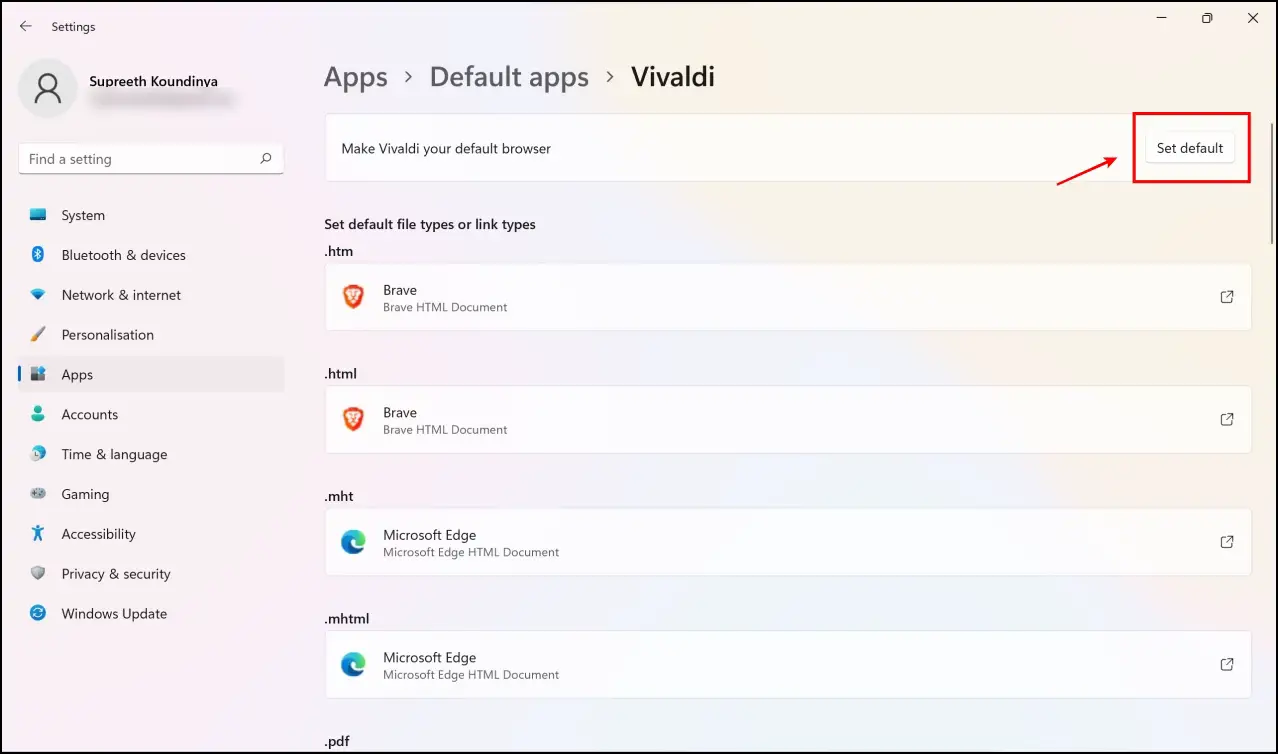 Step 6: A few other web-browser-supported files will need manual configuration to set Vivaldi as the default browser. Click on the ones that need it.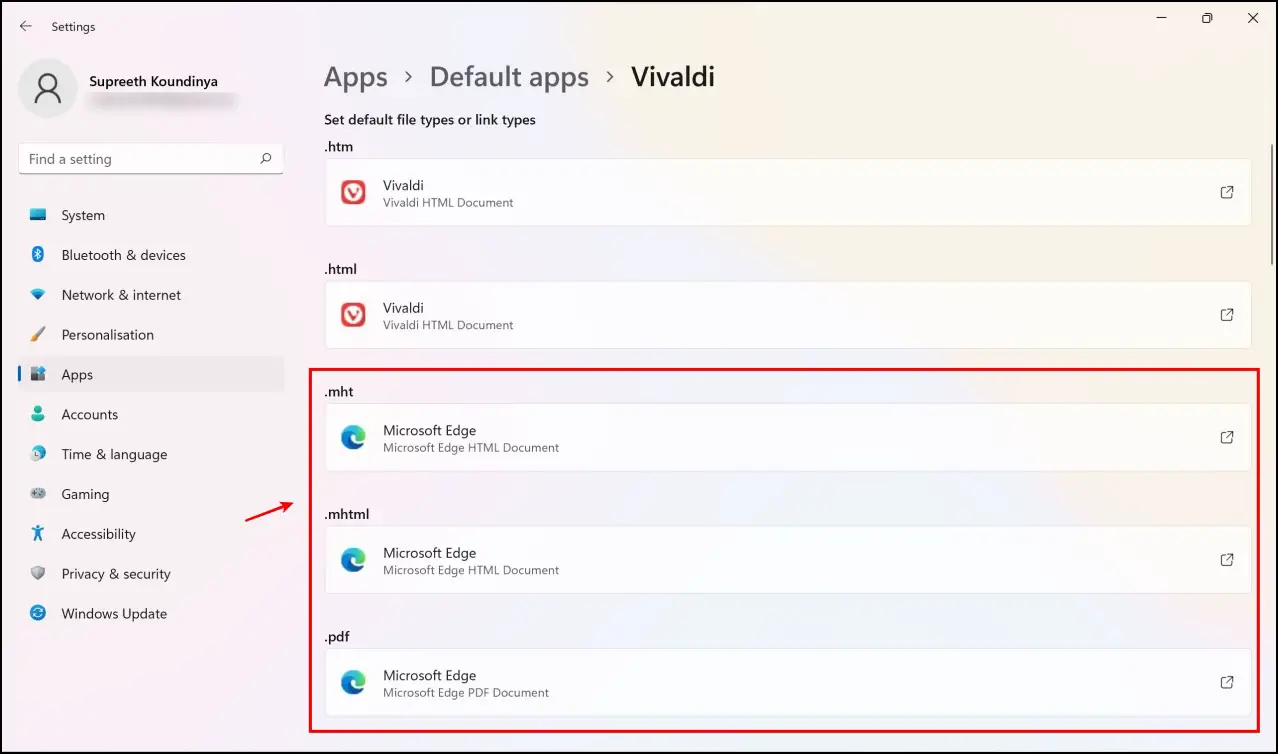 Step7: Now, select Vivaldi and click on OK.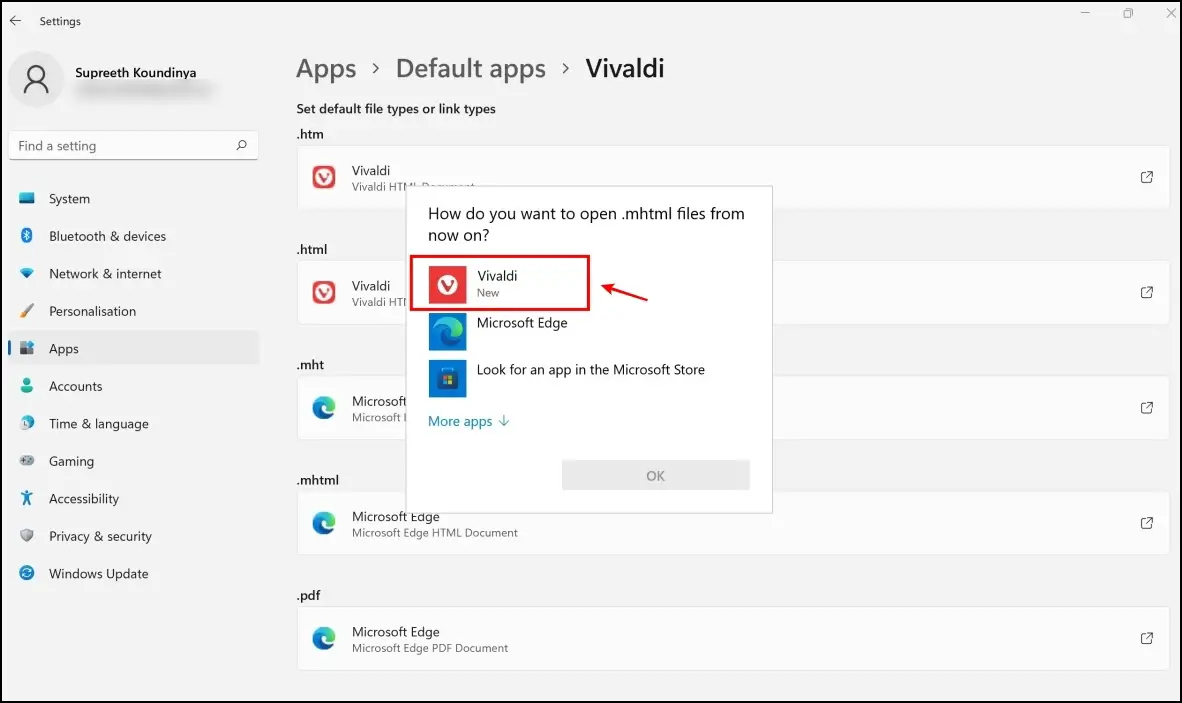 Set Vivaldi as the Default Browser on Mac
Changing the default browser to Vivaldi on macOS is quite simple. You need to go to system preferences to make the change. However, the steps vary slightly on the new Mac Ventura.
Step 1: Click the Apple icon at the top left. Select System Preferences.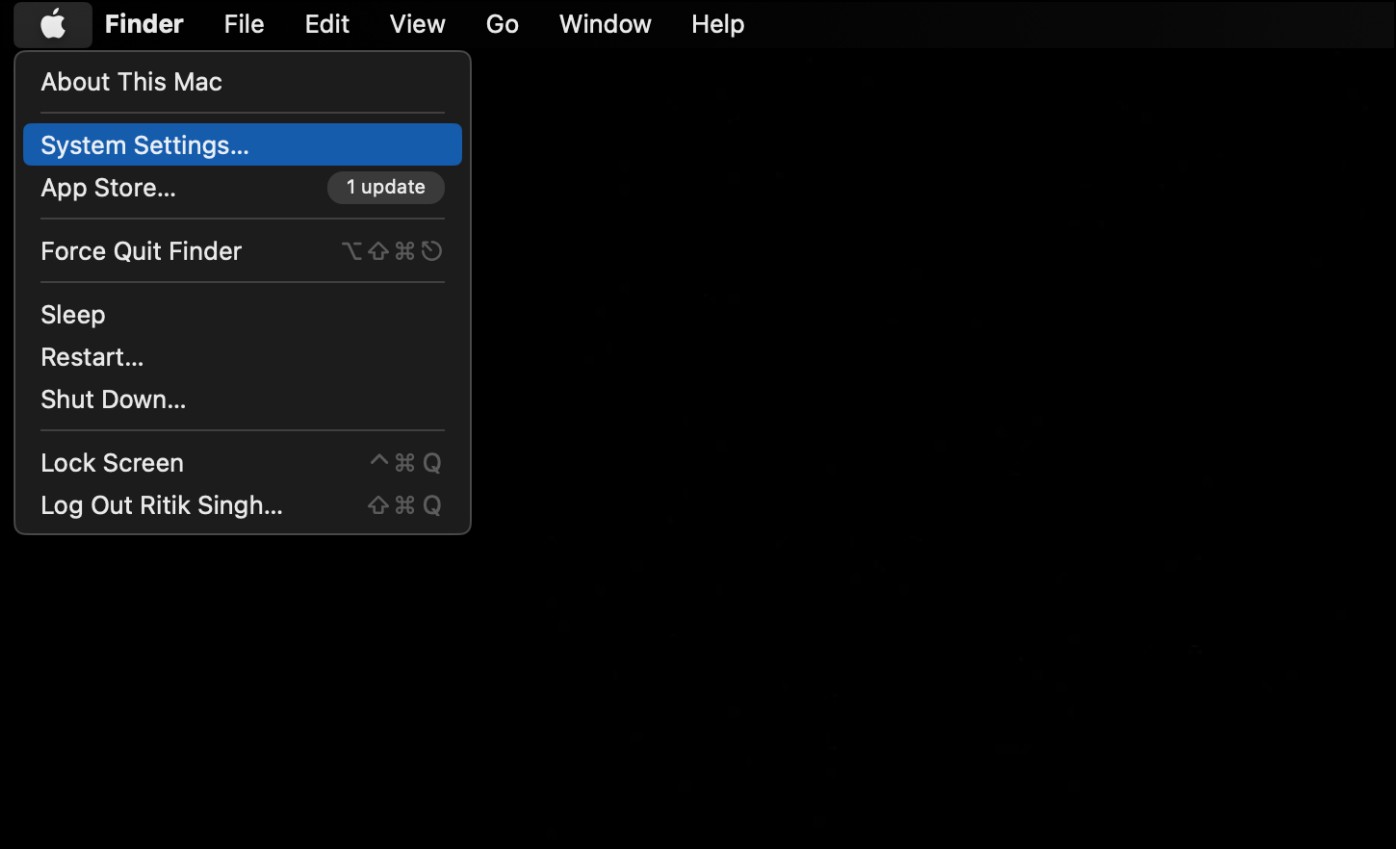 Step 2: Head to Desktop and Dock.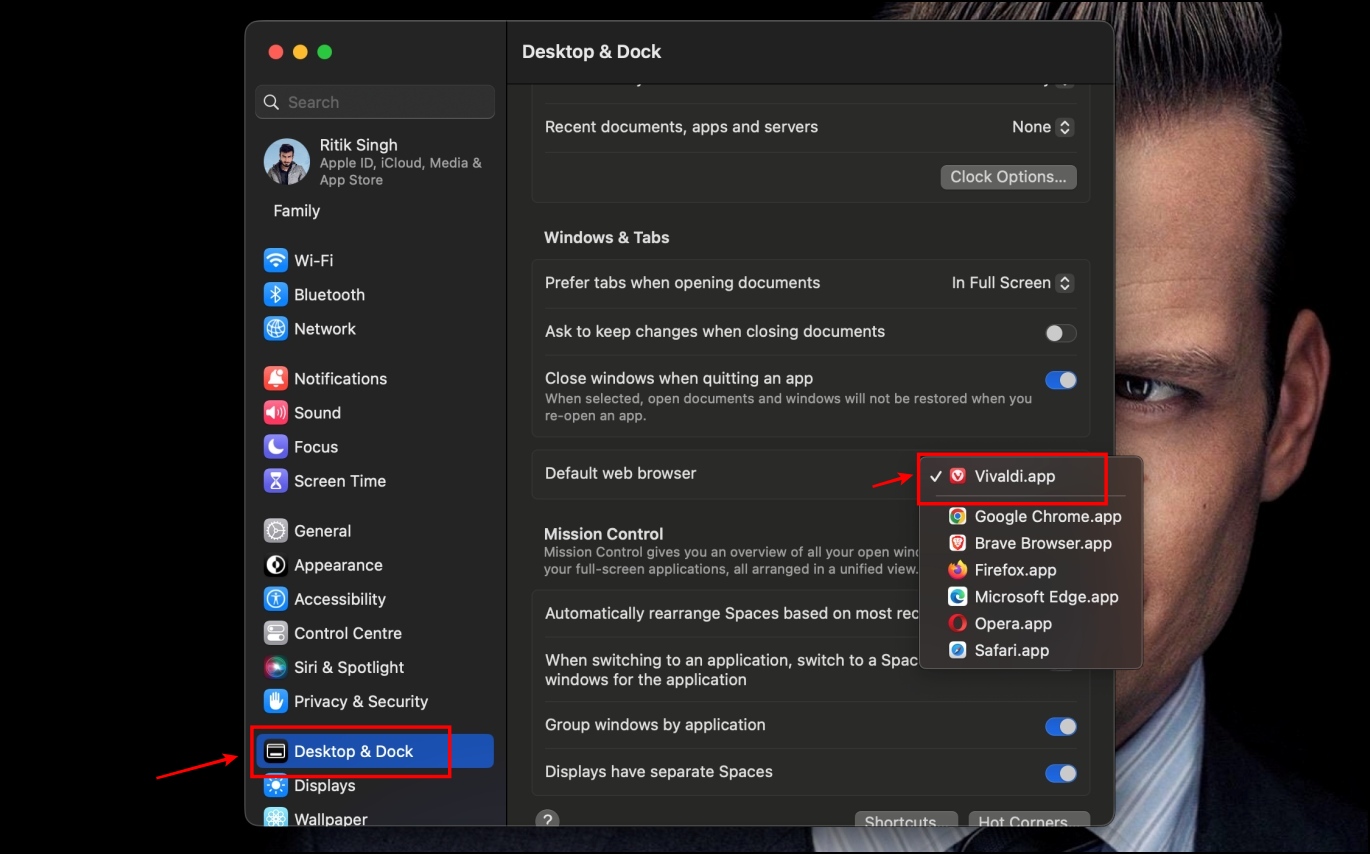 Step 3: Click on Default web browser and select Vivaldi.app.
On older macOS versions (Monterey and lower), you'll find this option in Settings > General. This is all you need to do to set Vivaldi as the default browser on your macOS devices.
Related | Brave vs. DuckDuckGo Comparison: Which is a Better Mobile Browser?
Vivaldi for iOS? Here are Alternatives
Unfortunately, Vivaldi is not available for iOS yet. Citing the following reasons, Vivaldi mentions that Apple requires all iOS applications to be developed over the WebKit framework, and they cannot use their existing codebase to build an iOS app.
They would have to start over if they had to develop an app for iOS. Owing to the small team size and the scale on which they operate, they mentioned that it was not possible for an iOS debut in 2021, but they are hoping they can make something work by the end of 2022.
Here are the Vivaldi alternatives you can use on your iPhone and iPad:
Brave Browser

Due to its privacy-first approach and solid features to increase user security, Brave Browser is one of our favorite browsers. If you only wanted Vivaldi on iOS for its privacy features, we can confidently say that Brave Browser offers more privacy features than Vivaldi.
Cake Browser


Another well-liked and well-rated privacy browser option for iOS is Cake Web Browser. Since the app boasts "military-grade encryption," it does a fantastic job of boosting your security. It also has a user interface full of features and performs well overall.
Firefox Browser 

Firefox is a great Vivaldi Browser substitute on iOS. Vivaldi excels at grouping and organizing tabs as you browse in terms of tab management. If this feature in Vivaldi appeals to you, you'll be impressed by how Firefox has implemented it, as it supports effective tab management, including grouping tabs and switching between them.
Aloha Brower


Aloha Browser is an iOS browser with a built-in VPN. It has an excellent user interface and offers a smooth and breezy performance. It covers features present on Vivaldi – Good Privacy Controls, Private Tabs, AdBlocker, QR Code reader, and performance and UI that can be compared to Vivaldi's.
Wrapping Up
This is all you need to know to set Vivaldi as the default browser on your Android phone, Mac, and Windows PC. We hope this article helped you do it. Stay tuned for more such articles on BrowserToUse to stay updated on the best ways to enhance your web browsing experience.