In the ever-evolving web browser tech, Vivaldi is the new kid on the block. With a minimal interface and optimized performance, it won much praise. The userbase is also picking up well, and it's fair to say that the team is doing an excellent job in developing the browser. Recently, they released an in-built mail client called Vivaldi Mail. Let's understand what it is and how you can use Vivaldi Mail.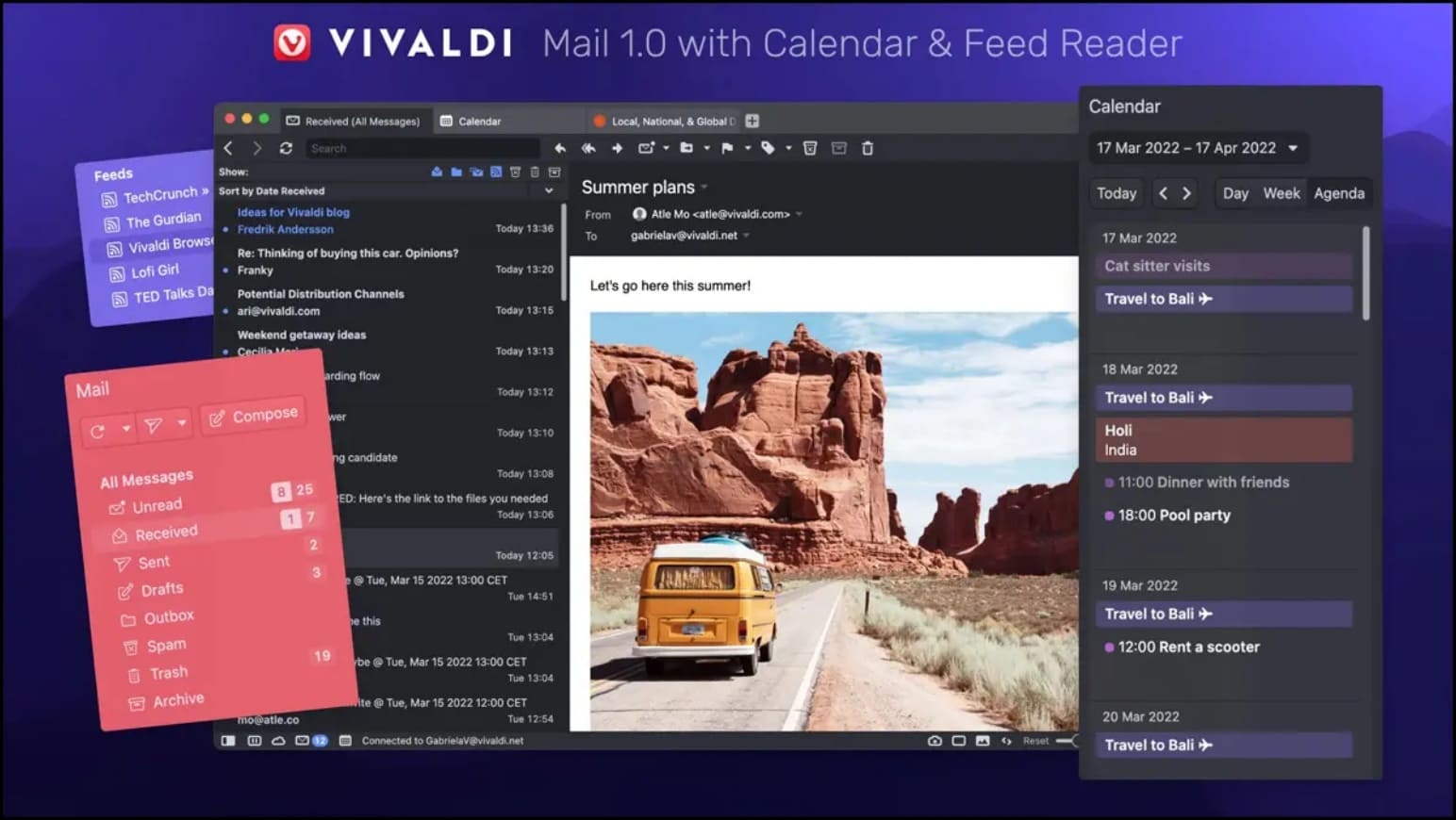 What is Vivaldi Mail?
Vivaldi Mail is nothing but an email client. This means that they provide you with an interface to use and manage your emails. This recently launched feature is available on the latest build of Vivaldi Browsers.
It is not your ordinary email client. Firstly, it is based on your browser and does not need any extra installation. Apart from that, it does offer a handful of new and interesting features. We'll get to that in the later stages of the article.
The main intent of Vivaldi Mail is to help you integrate your inboxes right into your web browser and provide you with a few extra tools to manage your email. To use it, ensure you download and install the latest Vivaldi from here.
Related | 4 Best Vivaldi Alternatives for iOS (iPhone & iPad)
How to Use Vivaldi Mail?
Once you complete installing the latest version of Vivaldi Browser, here's how you can use Vivaldi mail :
Step 1: Click on the Settings icon in the sidebar.
Step 2: Scroll down and check the box for Enable, Mail, Calendar, and Feeds.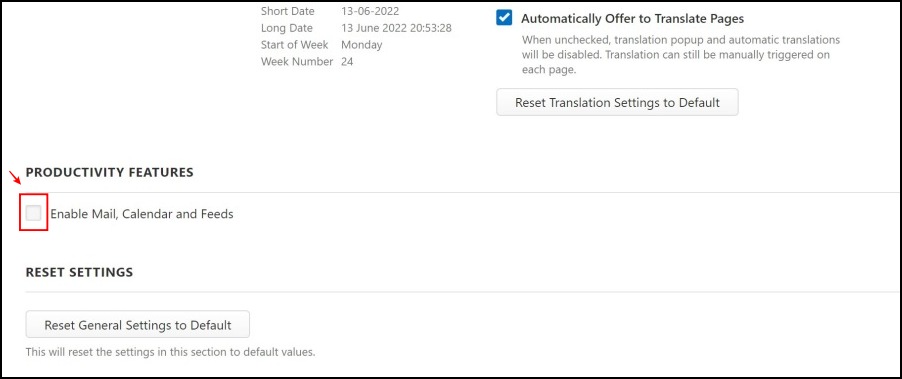 Step 3: Go back to your homepage, and click the Mail icon in the sidebar.
Step 4: Now select the Add Mail Account option.
Step 5: Now, click on Continue after adding your email address.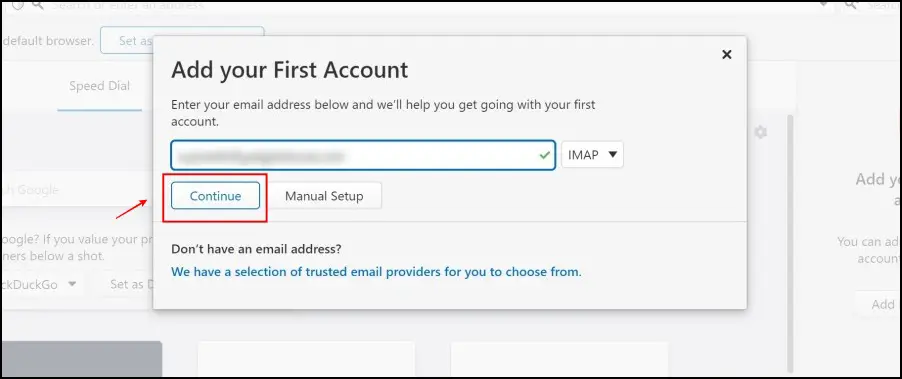 Step 6: Click on the Use OAuth option. This will now redirect you to the sign-in page of your email address provider to authorize your account for Vivaldi's usage.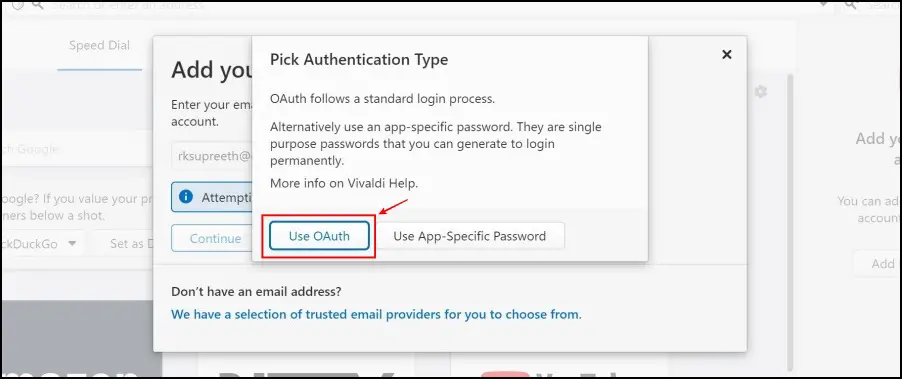 Step 7: You can now add your Sender Name and Signature in the fields provided.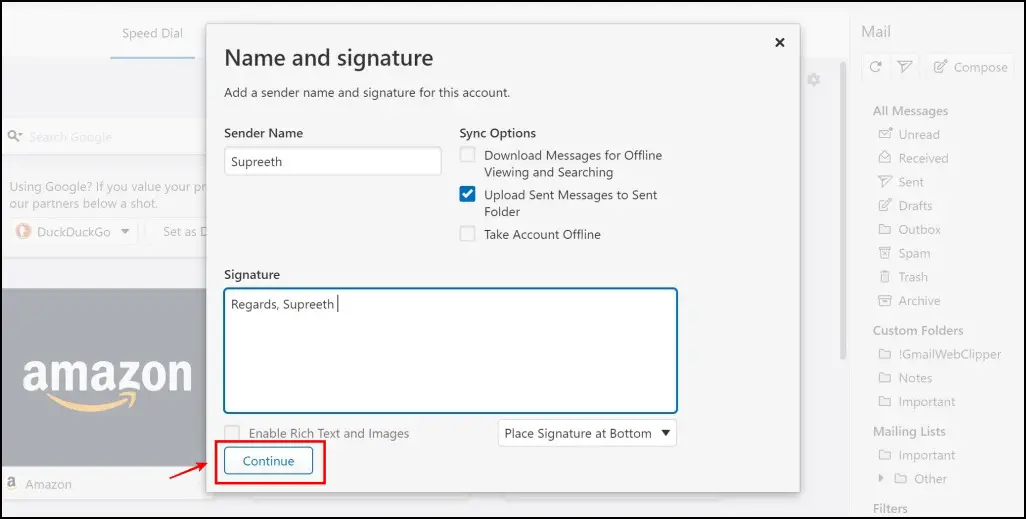 Step 8: Once you complete all the steps, you can now access your mail account.
Key Features of Vivaldi Mail
In this section, we'll show you some features that we found useful.
1. Sidebar
This has to be our favorite feature of Vivaldi sidebar.
2. Mail Layout and Other settings
You can change the layout of your email window with a single click. And you also get a few options to enable/ disable notifications and manage your unseen messages.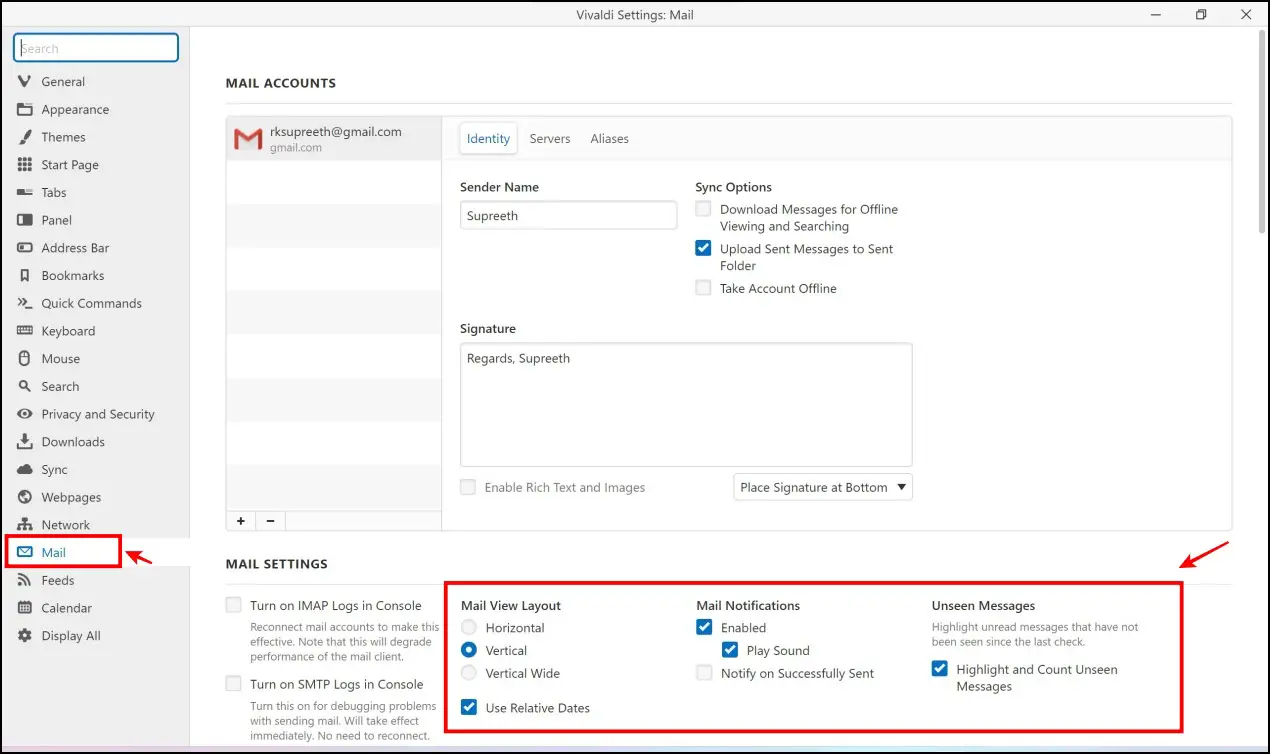 If you opt for the horizontal layout, here's how Vivaldi Email will appear.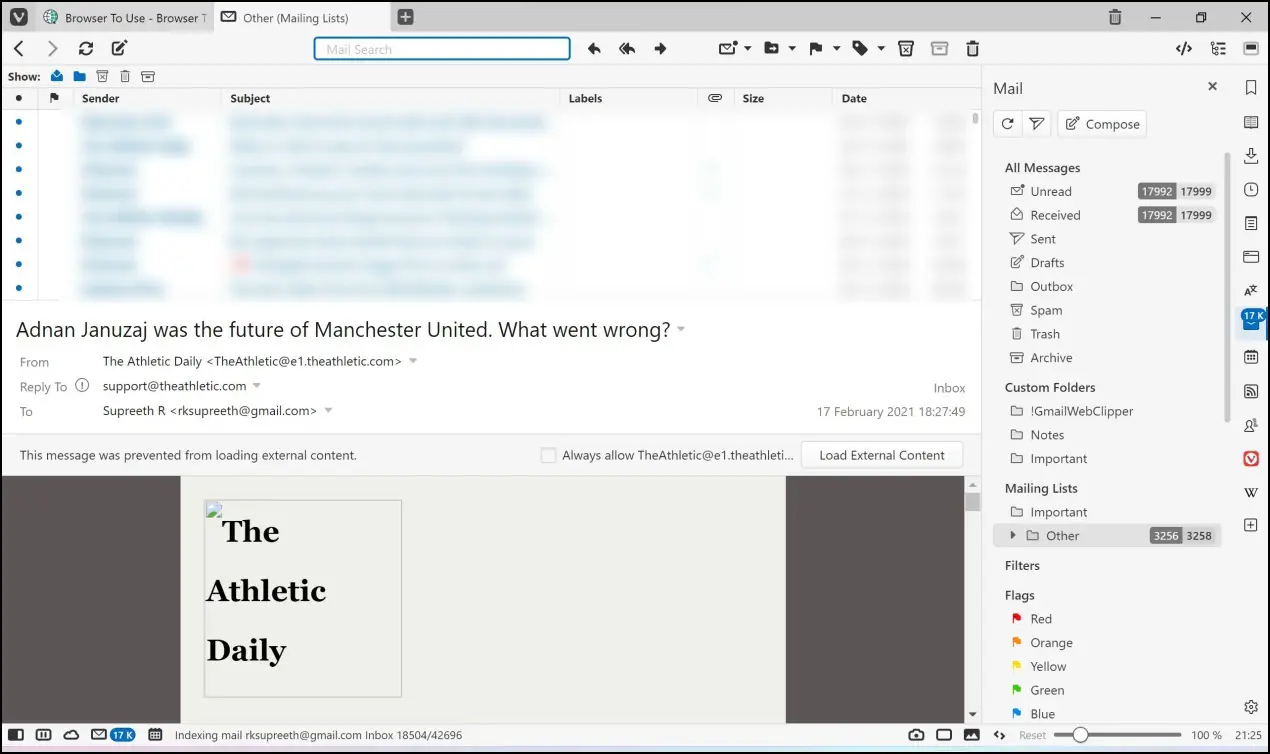 3. Customization
There are also options to customize the sidebar and how your email folder appears on the sidebar. If you feel too many folders, you can hide them from the settings provided to you. You can also control the visibility of the mail counters and select places where you actually want the email count to be present.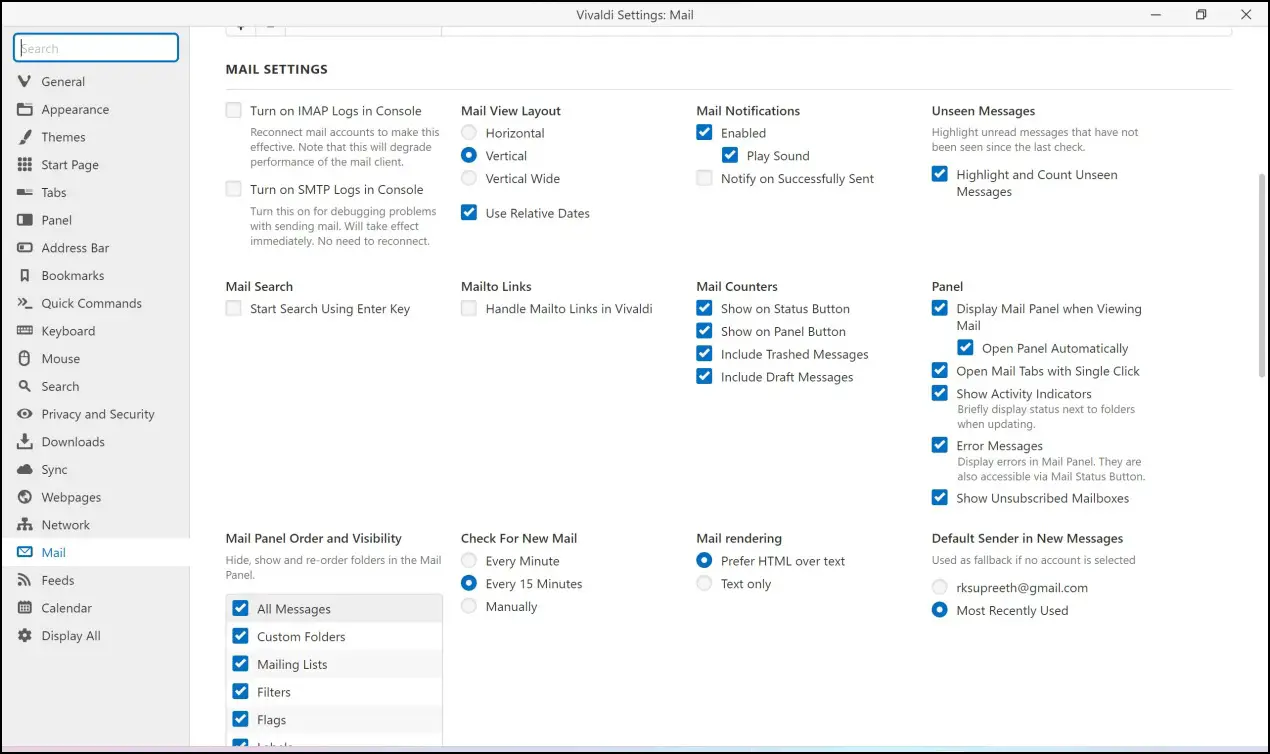 Frequently Asked Questions
Q. Is Vivaldi Mail Safe?
Yes, Vivaldi Mail is available on the latest version of the Vivaldi browser, and it is indeed safe to use. Make sure you download it from the official website and not from any third-party sources.
Q. On What Devices Can I Use Vivaldi Mail?
This feature is available only for the desktop version of the browser, as it is mainly designed to work on a web browser that'll be used on larger screens.
Q. How Different is Vivaldi Mail From Gmail?
Gmail is an email service provider where all the tools required to operate an email service are provided by Google, along with the interface. Whereas Vivaldi Mail is just an email client and only provides an interface for the end-user while making use of the backend technology from the email service provider (Ex. Yahoo, Google)
Q. Can You Use Vivaldi Mail in Other Browsers?
No, the in-built browser client is a feature exclusively present and designed within Vivaldi feature itself. As of any similar alternatives. There's no reliable option yet, but if something comes up to fill the void, we'll be the first to cover it.
Q. What Is The Difference Between Vivaldi Email & Mail?
Vivaldi Email is a full-fledged email service technology, and Vivaldi Mail is a web browser feature that provides an interface to the email technology.
Wrapping Up
This was all about Vivaldi Mail, which is what seems to be a very good value addition to the browser. Looking at how the developers are integrating new features onto Vivaldi, we're quite interested to see how this journey prevails. Stay tuned to Browser To Use to never miss an update on the latest features and developments in the web browser world.
Related: