Microsoft Edge users have lately been facing an issue wherein the Google homepage won't open on startup. Some users have also reported that all their searches go through Bing instead of Google. Therefore, this article brings you some quick and easy ways to fix Google homepage or Google search not opening on Microsoft Edge.
Related | How to Make Google Your Homepage in Chrome, Firefox, or Edge
Fix Google Home Page Not Opening On Edge
There could be various reasons for the Google home page not opening on your Edge browser. It could be because there's no custom start page set, or probably Bing is your default search engine, and so on. Below, we've mentioned easy fixes to use Google in Edge browser without any issues.
1. Make Google HomePage Open on Edge Startup
By default, Microsoft Edge opens the new tab page when started. But you can make it open the Google homepage at startup, using the steps below:
Step 1: Open Microsoft Edge on your PC.
Step 2: Click the three-dot menu at the top right, select Settings.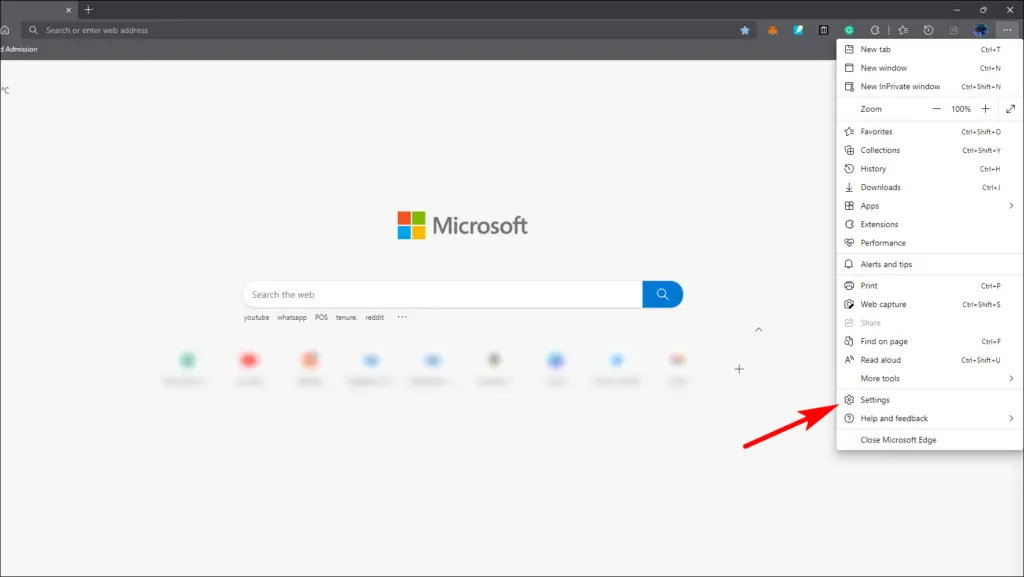 Step 3: Select Start, Home, and New tabs from the sidebar.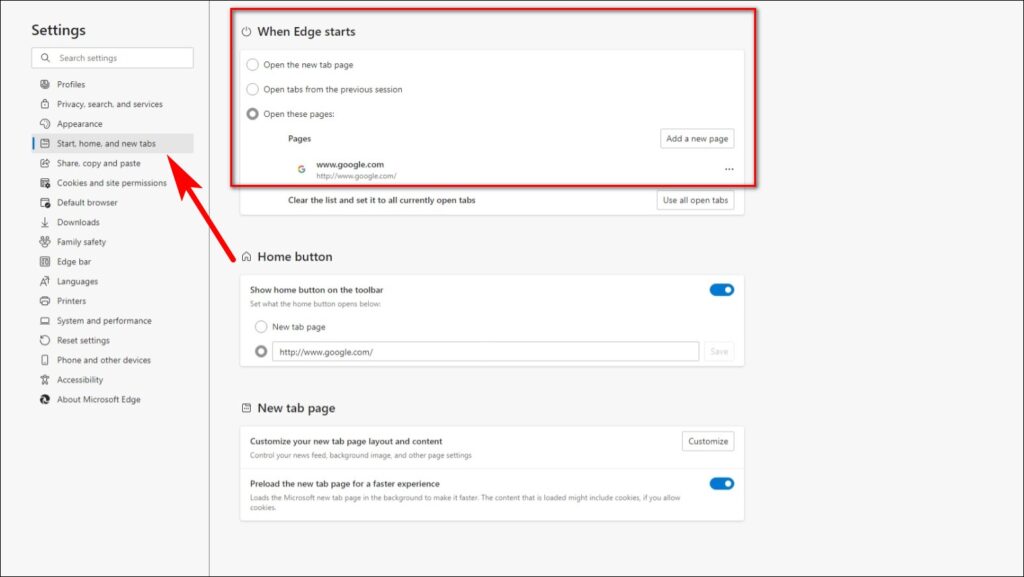 Step 4: Under When Edge starts, select Open these pages and click on Add a new page.
Step 5: Here, enter www.google.com.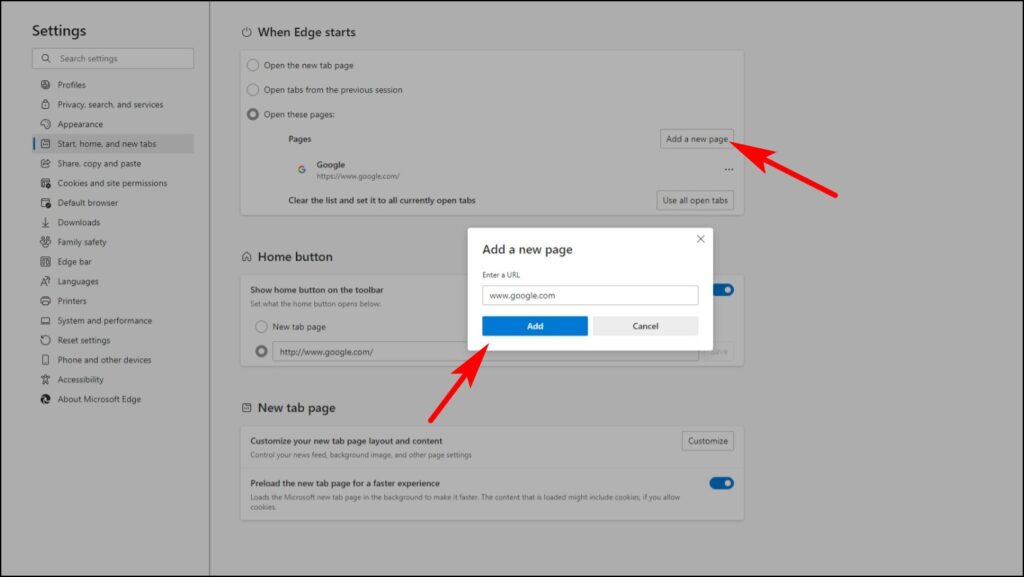 You have now successfully set Google as your default startup page on Edge browser. Close and relaunch Edge, and you'll land directly on the Google search homepage.
2. Set Google as Default Search Engine in Edge
Do all the searches you make through the address bar in Edge go through Bing instead of Google? If that's the case, you need to set Google as your default search engine in the browser.
Step 1: Open Microsoft Edge and head to Settings.
Step 2: Select Privacy, Search, and Services from the sidebar at the left.
Step 3: Here, scroll down to the Address bar and Search.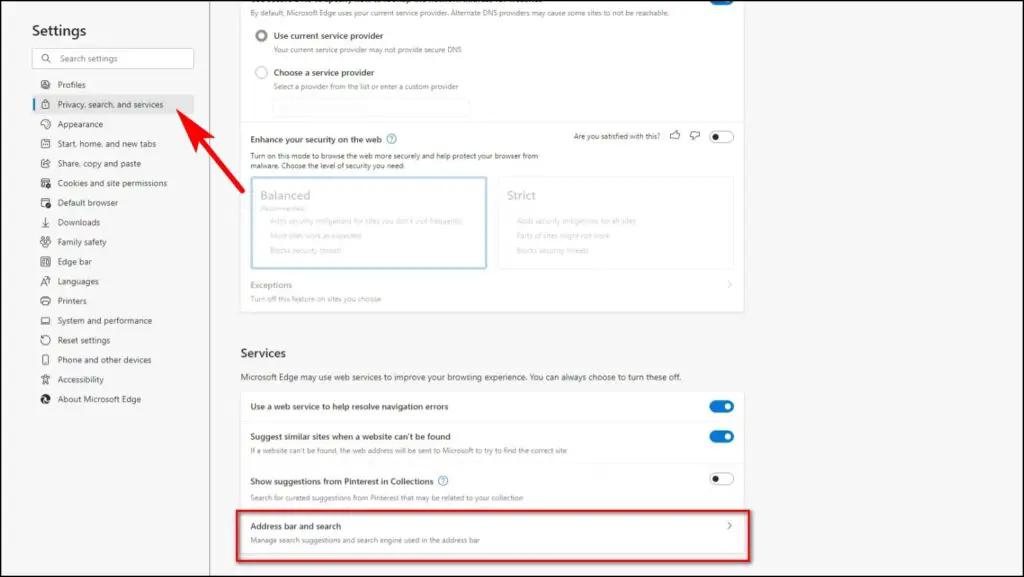 Step 4: In the drop-down menu for the Search engine used in the address bar, select Google as your default search engine.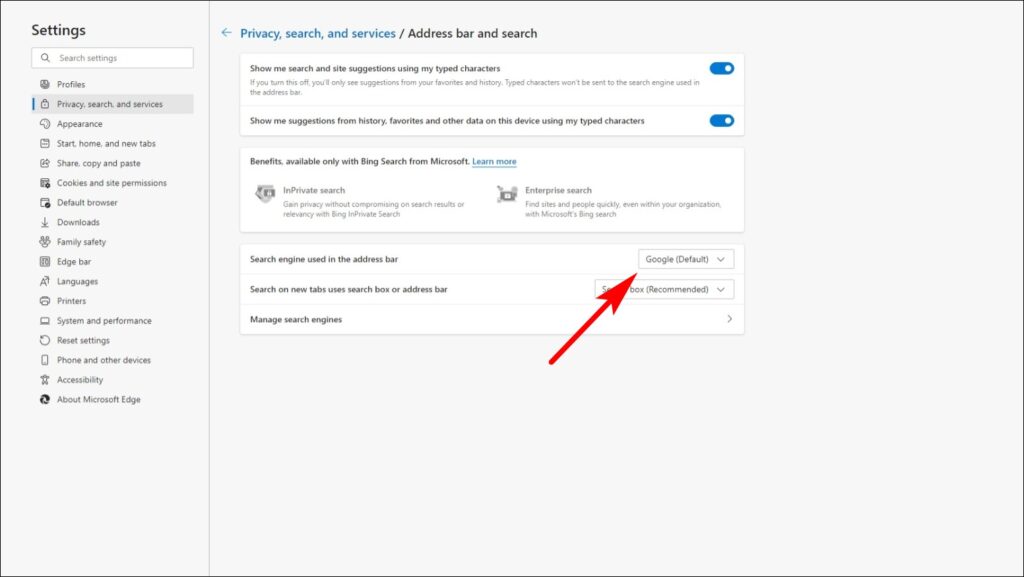 You can now search on Google right from the Edge address bar. Plus, any specific terms or words you select to search from an article or webpage will also go through Google.
3. Set Home Button to Open Google
You can also add a Home button in Microsoft Edge, tapping which will directly take you to the Google search page. Here's how to do it: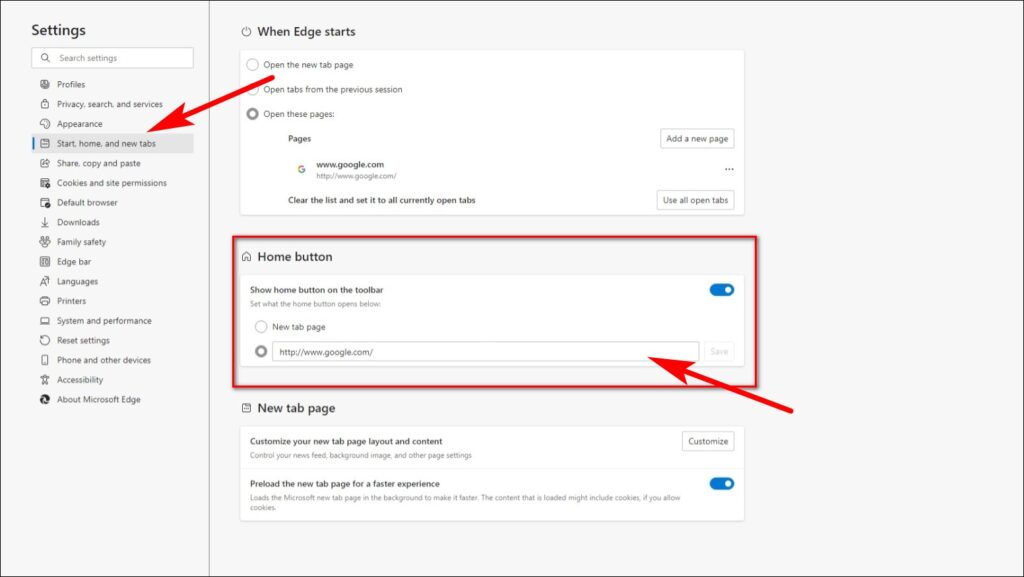 Step 1: Open Microsoft Edge on your PC. Head to Settings.
Step 2: Click on Start, Home, and New tabs. You should see an option for Home Button.
Step 3: Enable the Show home button on the toolbar. Here, enter Google.com and tap Save.
Now, whenever you click on the Home button (at the top left corner), Edge will open a new tab with the Google Search page.
4. Using Edge 91? Update to a Newer Release
With Edge 91, it has been noticed that it ignores the specific page settings. This means if you have set a specific page, say Google.com, to open on startup, Edge will completely ignore it and open a new tab instead.
If you want to avoid this problem, then avoid updating to version 91 if not done yet. If you're already on Edge 91, update to a newer version to see if it solves the problem.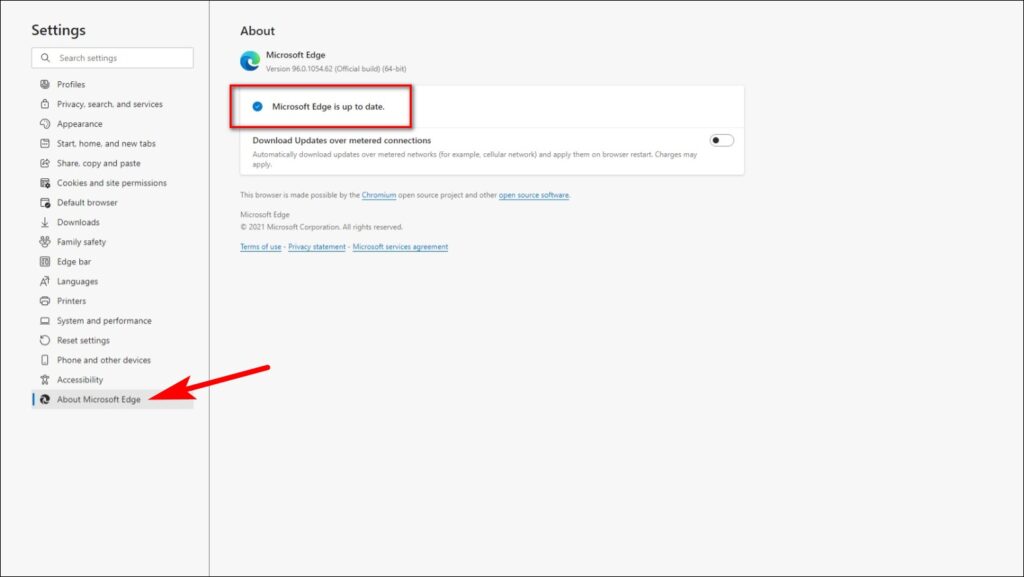 To check for updates, open Settings in Edge. Here, select About Microsoft Edge from the sidebar at the left. Please wait for it to check and download the latest update.
5. Reset Your browser
If nothing works for you and you don't know what went wrong, you can reset the Edge browser to start afresh. However, note that this will delete all your preferences, extensions, and other data- so make sure you've synced everything before proceeding.
Step 1: Open Settings in your Edge browser.
Step 2: Select Reset settings from the sidebar at the left.
Step 3: Click on Reset settings to their default values.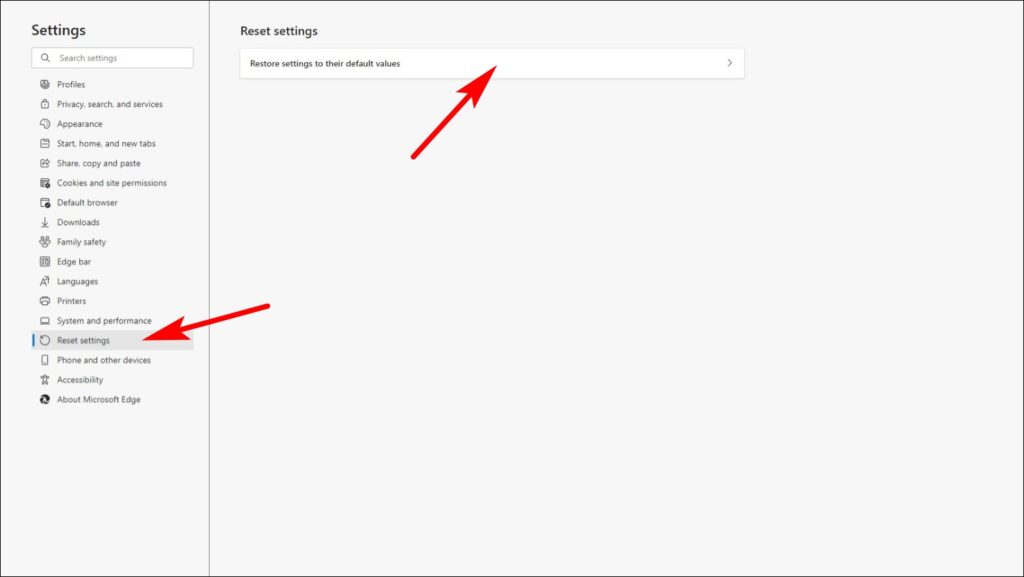 Step 4: A prompt will appear warning you that all your data will be lost. Click on Reset.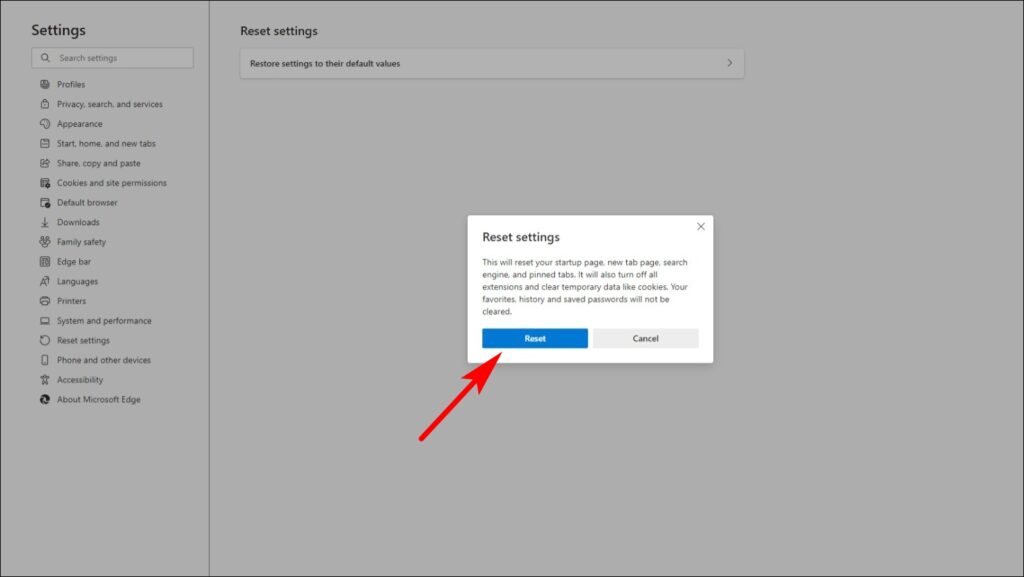 Once you reset your browser and open it again, Edge will ask you if you want to go with recommended settings or custom settings. Opt for custom settings and set Google as your default start page.
(Resolved) Google Not Opening on Edge
Edge is a simple and convenient browser with many users migrating to it. But these sorts of issues can be quite frustrating for the end-user. Anyways, these were some quick ways to fix the Google homepage not opening in Edge at startup. We hope it helps you get rid of the problem without any hassles.