Opera Touch is a fancy web browser available for Android users. It is lightweight, offers a stunning user interface, and has handy privacy features designed to be used on the go. Here's the Opera Touch browser quick review, in the form of an FAQ, including commonly asked questions and how to use some of its features.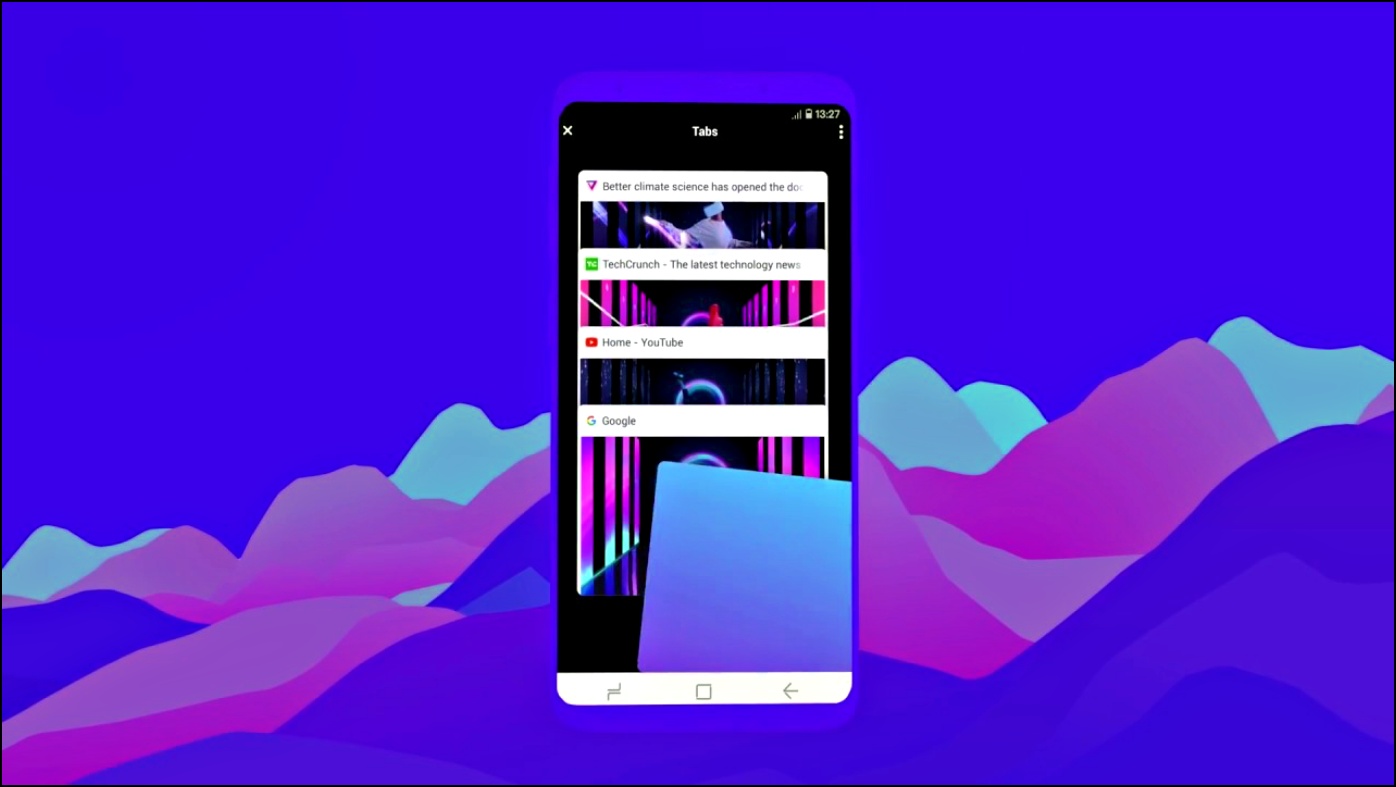 Also, read | Brave Browser FAQ: 33 Questions Answered
Questions Around Opera Touch Browser
Opera Touch has been a unique offering of the company's slew of mobile browsers. Let us quickly overview what Opera Touch has to offer, what makes it different, and how to use built-in features to make the most out of it. Read on.
What is Opera Touch?
Opera has different web browsers available for mobile users. This includes Opera, Opera Touch, Opera Mini, Opera Crypto Browser, and OperaGX Gaming Browser. Each browser is targeted at different people.

Opera Touch is mainly inclined towards providing a one-hand experience. You get a clean, clutter-free interface with speedy navigation and essential privacy features. The browser has also received Red Dot Award for its stunning user interface.
Touch was launched for Android in April 2018, with the iOS version arriving six months later. It intended to provide a new web experience, different from Opera and other mobile browsers like Chrome.
What Are the Top Features of Opera Touch?
Here are the top features you get with the Opera Touch browser:
One-Hand User Interface
A Fast Action Button
Native Ad Blocker
File/ Text Sharing Between Devices Via Flow
Automatic Dark Mode for Webpages
Cryptocurrency mining protection
Block Cookie warnings or dialogs on websites
Support for 11 Search Engines
Is Opera Touch Available on iPhone and PC?
Opera Touch is specifically designed for smartphone users and is not available for desktops. You will not find Opera Touch for iOS because it went through a name change and was renamed "Opera" to unify the experience.
Yes, the regular Opera browser on App Store is the rebranded Opera Touch. However, the UI is slightly different when compared to the Android version. Check the links below to download it on your phone.
Opera Touch for Android | iPhone or iPad
What Makes Opera Touch Unique?
Opera Touch is designed specifically for one-hand usage. All the key browser elements are accessible through the Fast Action Button. Another unique aspect is Opera Flow which provides end-to-end encrypted connection on multiple devices.
Why Did Opera Make Opera Touch- a Separate Browser?
Opera made the Touch browser with a large crowd of people in mind who even sometimes drop their phones browsing because they can't reach all the way to the top of the screen.
Does Opera Touch Have Built-in VPN?
Opera Touch does not have a built-in VPN feature unlike the main browser. If you want a built-in VPN, consider using the regular Opera. Unfortunately, it lacks a VPN on iPhone. For alternatives, check our list of VPN browsers for iOS.
What is Instant Search in Opera?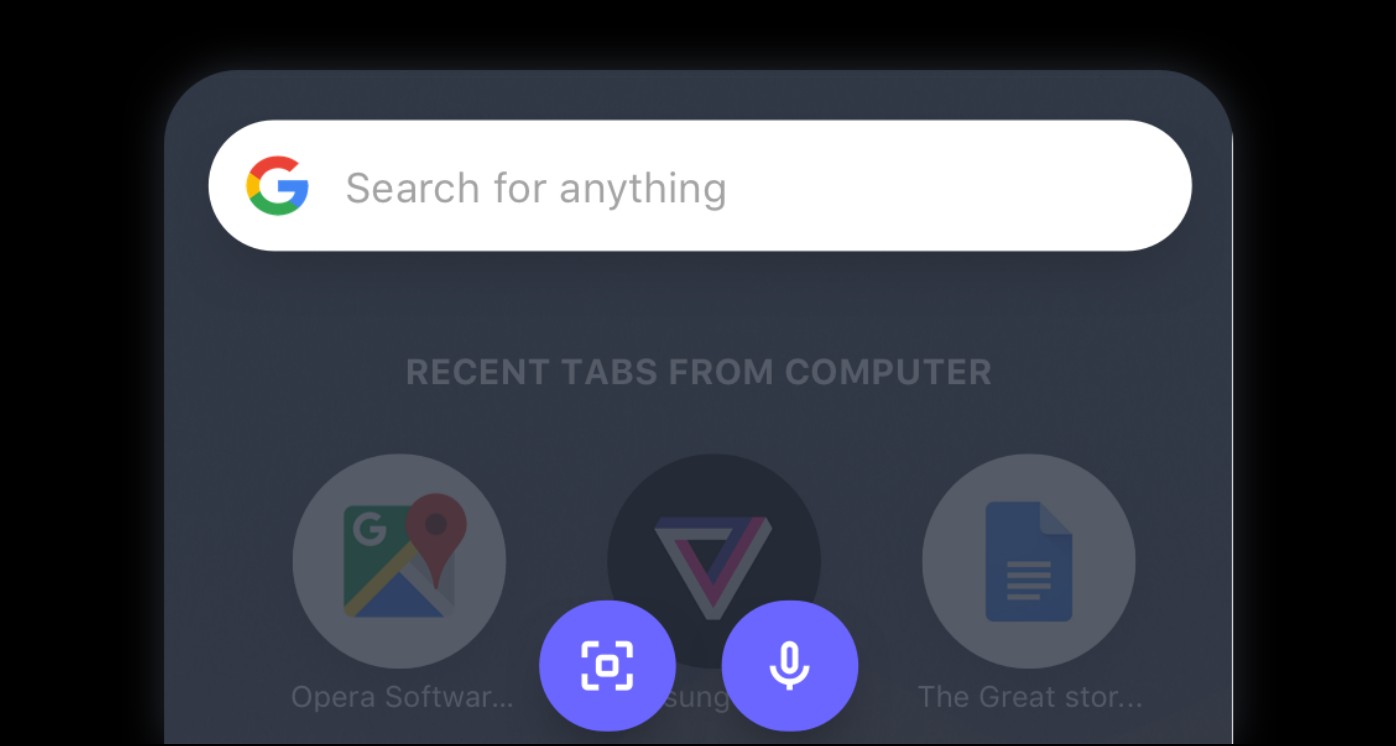 With instant search, Opera Touch lets you search three ways: keyboard, the QR/barcode scanner, and voice search. By default, it starts automatically when you open the browser. You can disable the feature in settings.
What is Cryptocurrency Mining Protection in Opera Touch?
As the name suggests, Cryptocurrency Mining Protection in Opera Touch prevents rogue websites from using your bandwidth or device resources to mine cryptocurrency in the background. Other browsers like Firefox, too, offer this option. Check our detailed guide to block crypto mining in your browser.
How to Auto Dark Webpages in Opera Touch?
When enabled, it loads the web pages with a dark background- all the contents are tweaked to fit the dark theme, similar to how you force dark mode for websites in Chrome.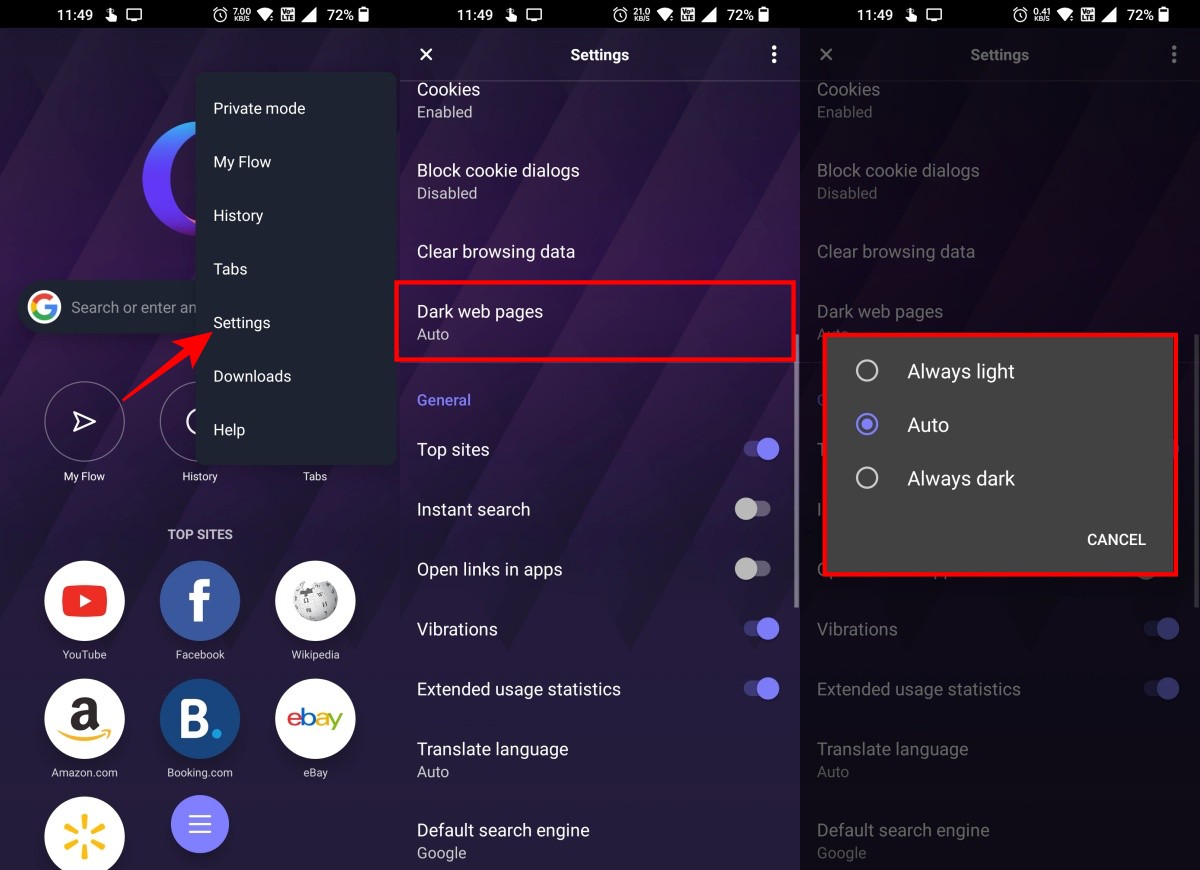 Off: Pages load in their original light theme.
Auto: Webpages will load in light or dark theme basis your phone's current dark mode setting.
Always: Websites always load in dark theme,
How to Block Ads in Opera Touch?
Hate ads? Opera Touch has got you covered. The browser comes with a built-in ad blocker, and here's how to enable it: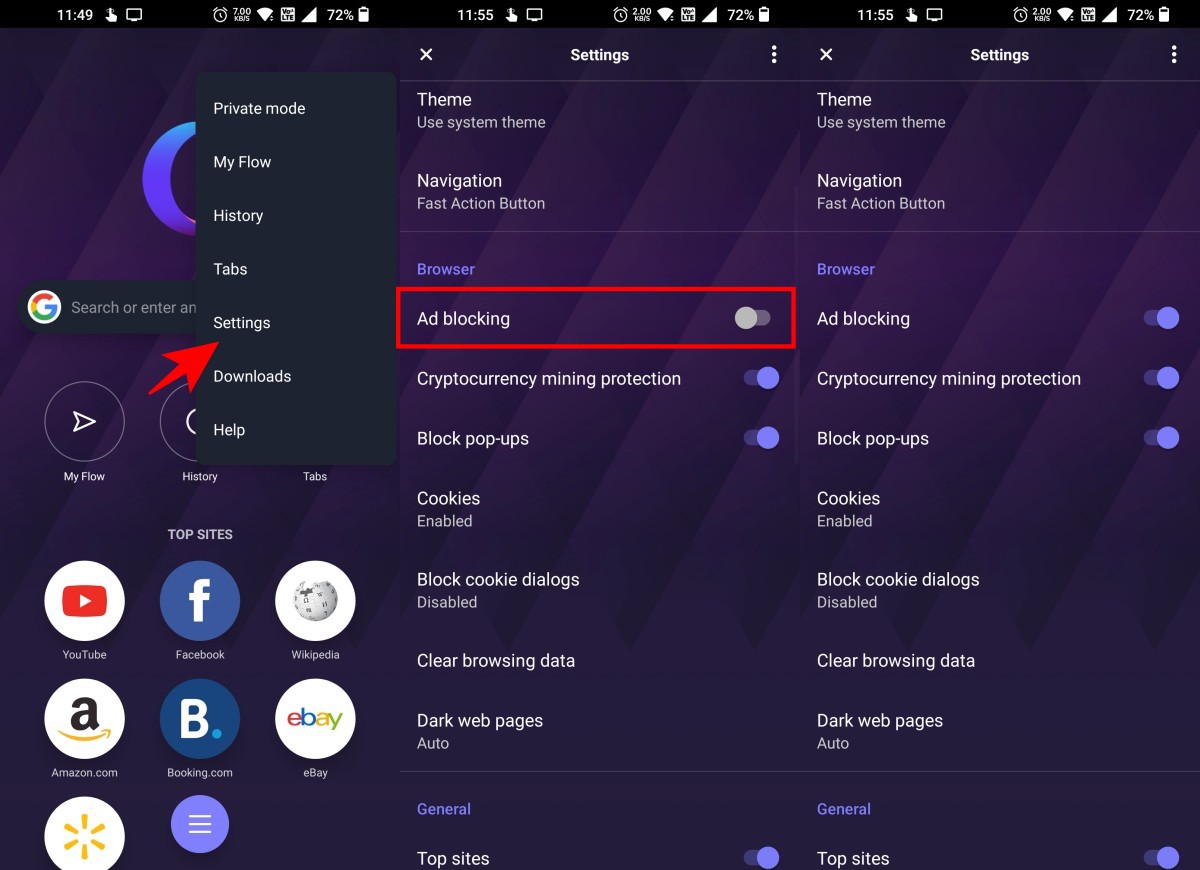 Step 1: Open Opera Touch and click the three-dot menu.
Step 2: Here, select Settings.
Step 3: Scroll down and enable the toggle for Ad Blocking.
You can further block pop-ups and restrict cookies if you want to.
How to Block Cookie Warnings in Opera Touch?
As mandated, websites show you dialogues to accept cookies and privacy policies. This can be annoying at times. Here's how you can block these warnings in Opera Touch: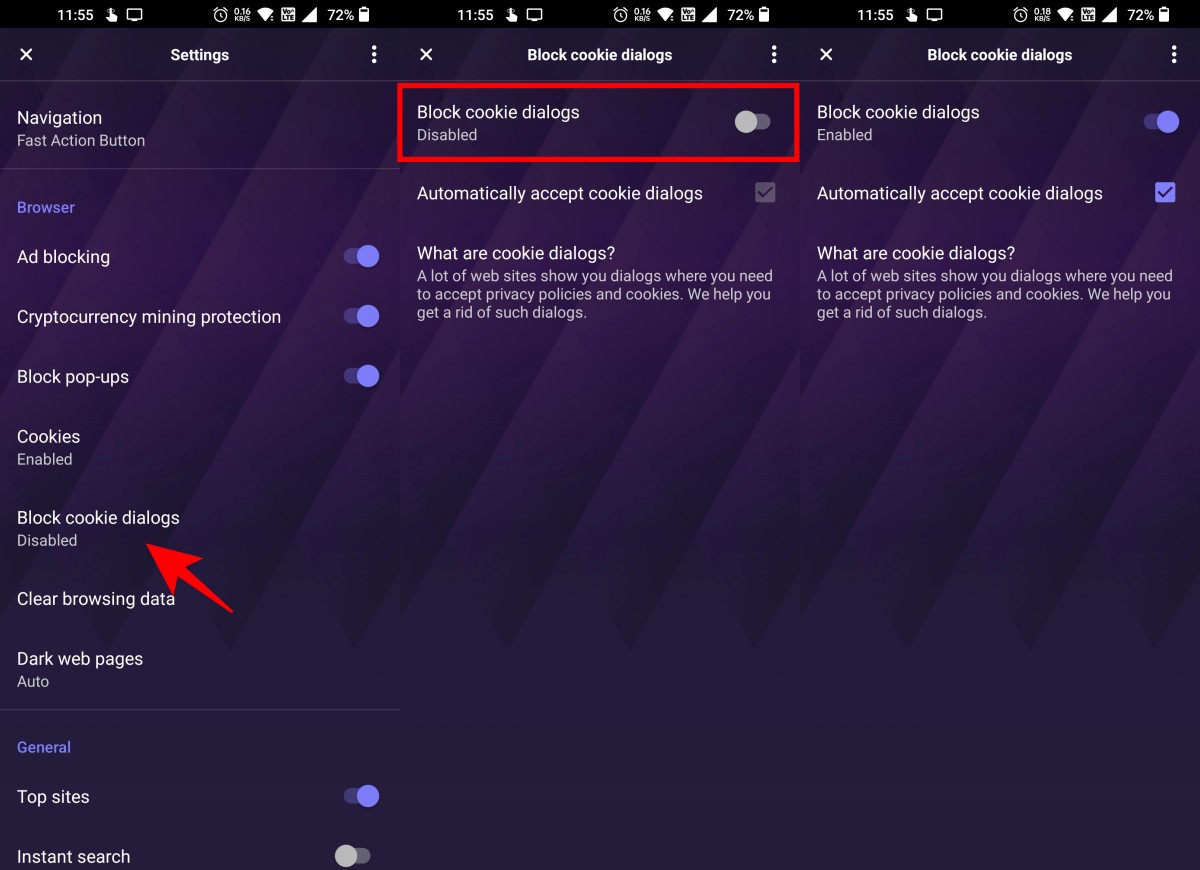 Step 1: Open Opera Touch and click the three-dot menu.
Step 2: Here, select Settings.
Step 3: Click on Block Cookie Dialogs.
Step 4: Here, enable the dialog for Block Cookie Dialogs.
By default, it will automatically accept cookie dialogs. However, you do have the choice to uncheck the option.
How to Share Files, Links, Videos, Photos, and Notes from Opera Touch Phone to PC?
Like other Opera browsers, the Touch supports the Flow feature. Using it, you can connect the browser on your phone to Opera on your Mac or Windows computer. And once done, you can share files, links, videos, photos, and even notes. Here's a step-by-step guide to set up and use Opera Flow.
Which Search Engines Does Opera Touch Support?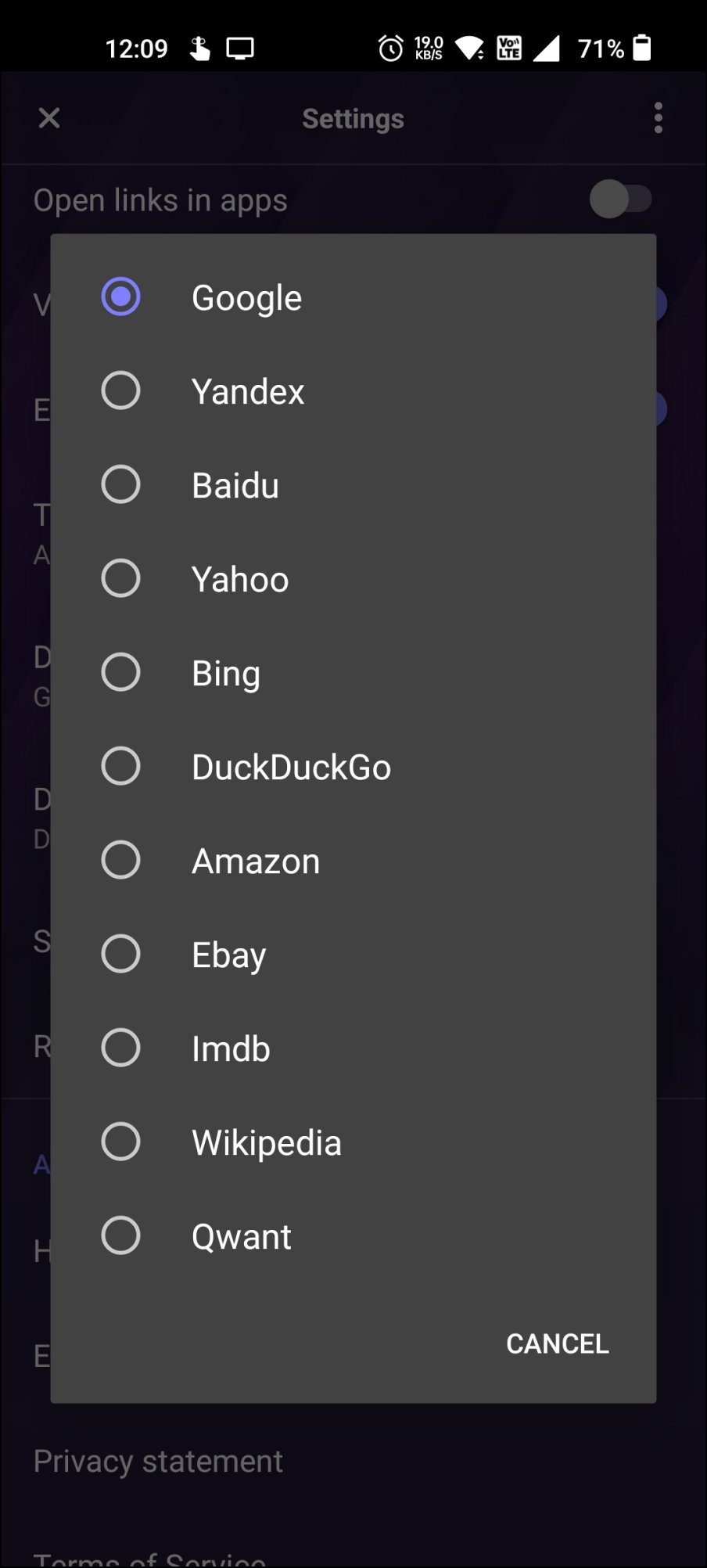 The Opera Touch browser supports the following search engines: Google, Yandex, Baidu, Yahoo, Bing, DuckDuckGo, Amazon, Ebay, IMDB, Wikipedia, and Quant. Generally, most will be happy with Google and Bing, but the ones who want more privacy can also explore DuckDuckGo.
What is the Fast Action Button in Opera Touch?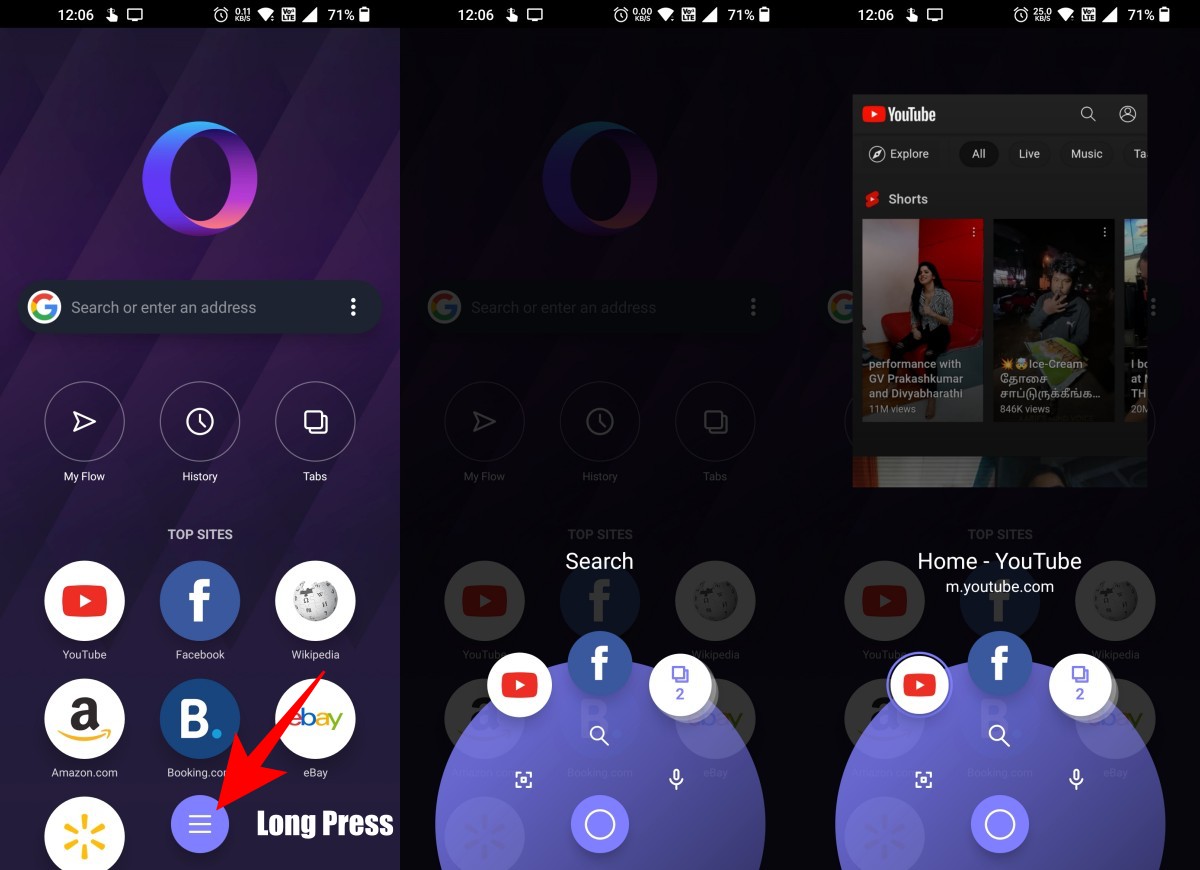 On Opera Touch, you can choose between two navigation modes: standard and Fast Action Button. The fast Action button can be enabled in Settings > Navigation. And then, tap and hold the hamburger button on the home screen. It gives you two rows- one for tabs and the other for quick actions to scan QR codes, search, and search using voice.
Can You Save Tabs in Private Mode in Opera Touch?
Unlike incognito mode in other browsers, the Private Mode in Opera Touch can retain the tabs. When you try leaving the private mode, you get two options:
Leave private mode: It leaves private mode on in the background as you return to normal browsing. Use this if you want to return to open tabs in private mode later.
Leave and close private tabs: Clears all tabs and exits the private mode. No data is retained.
Opera vs. Opera Mini vs. Opera Touch
Opera is the company's standard flagship browser. It has all the features, including a built-in VPN, and competes directly with biggies like Chrome and Edge. Opera Mini is made for low-end devices to provide a fast browsing experience with fewer resources and features like ad blocking and data saving.
Opera Touch, as mentioned already, is specifically designed to be used on smartphones. It aims for better one-hand usability, quick searching, and efficient multitasking. All the options are within reach, and you also get additional like ad blocking, multiple search engines, crypto mining protection, and freedom from cookie warnings.
Is Opera Touch a Chinese Browser?
The original company behind these browsers- Opera Software AS, is a Norwegian software company. However, in July 2016, the company sold its browser, privacy and performance apps, and the Opera brand to a Chinese consortium. So yes, Opera browsers have been owned by the Chinese since 2016.
Is Opera Touch a Spyware?
Given the Chinese ownership, people have questioned the privacy and security of Opera browsers. However, they still run from Oslo with a privacy policy referencing Norwegian law. All in all, it all depends on how much you trust the consortium. Here's a related Reddit thread you may be interested in.
Is Opera or Opera Touch an Open Source Browser?
Being a fork, Opera is partially based on Chromium. However, it is not open-source, unlike Chromium, Brave, or Firefox.
Which Version of Opera browser is Best for Android?
All three browsers- Opera, Opera Mini, and Opera Touch are quite refined and serve their purpose efficiently. So, in the end, it boils down to your usage and requirements. I prefer using the regular Opera browser, followed by the Touch, which means Mini is the least of my favorites.
Opera: It is made for users who want a full-fledged browser without compromising features. You get a customizable home screen, a ton of features to tweak, and extra privacy protection.
Opera Mini: An excellent browser if you're using a low-end phone, want quick page loading, or are tight on mobile data.
Opera Touch: The no-brainer option for mobile users who prefer one-hand use and fast multitasking.
Wrapping Up
This was a quick overview of the Opera Touch browser in an FAQ format. I hope the article answers all your queries and clears all your doubts about the Opera Touch browser for Android. Anyways, if you still have questions, feel free to reach out via email or social media. Stay tuned to BrowserToUse for more such updates.