Over the years, gaming has constantly evolved from single-player titles to collaborative, internet multiplayer games. The rise in popularity of multiplayer games meant that gamers also started using multiple services while playing games. These services mainly included online game stores, leader boards, and social media apps. Interestingly, most of these services involve using a web browser – and recognizing this dependency, we now have a gaming browser from Opera called the Opera GX. In this article, let us understand what a gaming browser is and how it is different from a regular browser.
Related | 3 Ways To Visit Metaverse In Google Chrome
What is a Gaming Browser & Why Do We Need One?
Every time we play multiplayer games, we use many companion services. Apps like Discord, Twitch, and WhatsApp are largely used for communication between fellow gamers. With the rise in live streaming, gamers have also started streaming their gameplay online on YouTube.
As mentioned earlier, all of these demands the use of an internet browser. For the same reason, there is a need for a browser built specifically for gamers. More importantly, time and performance are very crucial factors, and gamers need a browser that offers smooth and breezy performance.
Moreover, most games these days are bought online. This means that games can be bought in one click, and it is easy for any gamer to keep up with new releases in gaming and instantly purchase them from these stores. And as obvious as it sounds, this also requires a web browser.
Now we can define a gaming browser based on our needs– a web browser designed for performance, ease of access to communication and streaming apps, and tools to stay updated in the gaming world. Well, it feels like we are asking for a lot here, but there is a web browser that can do all of these.
Opera GX: The Gaming Browser
Opera GX is a chromium-based web browser built for gamers. This browser brings all of the companion services to your fingertips, but it is also designed so that you stay connected with the gaming vibe even as you use a web browser.
The layout of this browser is also designed and structured so that it maximizes the convenience for gamers to a great extent. Sit back and go through this article to explore the world of Opera GX.
Performance Optimization : Built for Speed and Control
Ask any gamer, and their priority is performance. Opera GX offers a plethora of performance optimization controls, and therefore this is one of the main reasons why Opera went ahead and invented a new segment all by itself called a gaming browser.
GX Control
Once you load up Opera GX, click on the GX Control icon, as seen below. You will now be able to access and control all performance elements.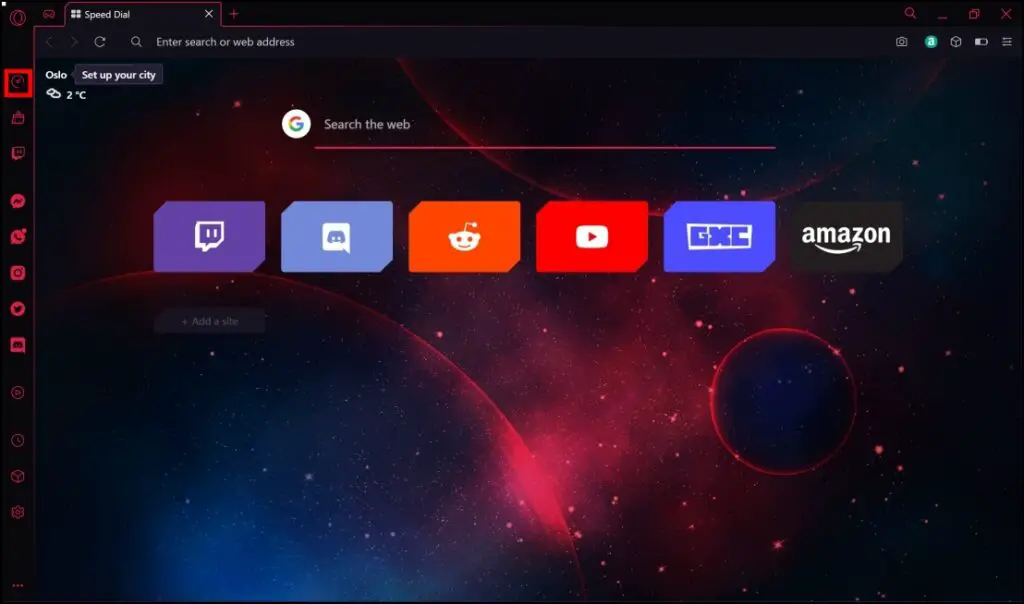 Hot Tabs Killer
The first feature is the Hot Tabs killer. Using this tool, you can determine the CPU and RAM a particular tab is using. If you feel this is affecting your performance, you can kill the tab.
There is also a button provided to switch between the CPU and RAM usage.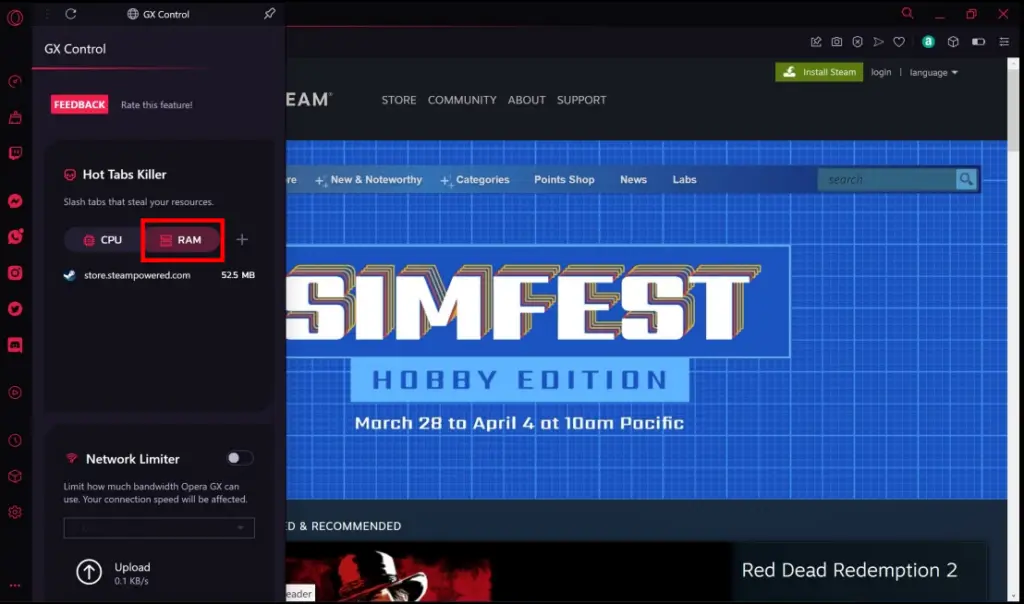 Network Limiter
As you scroll down, you will find more features and options. Next up is the Network Limiter. Let's say that you are using Opera GX as a primary browser, and you do not want to use a lot of your network in the background to ensure it does not affect your gaming performance.
In that case, you can use the network limiter to limit the network it uses based on allocating how much bandwidth Opera GX can use.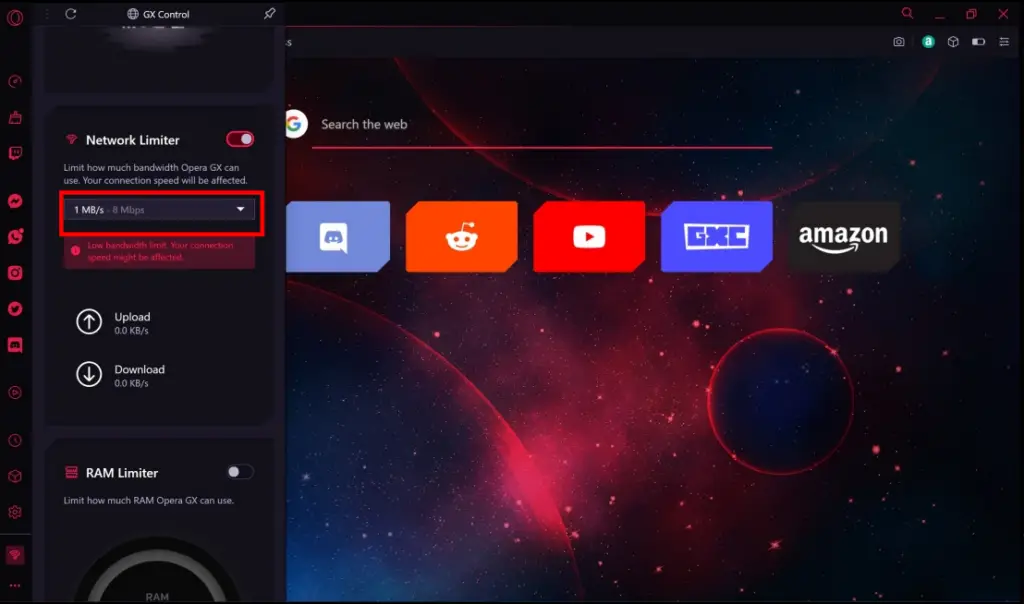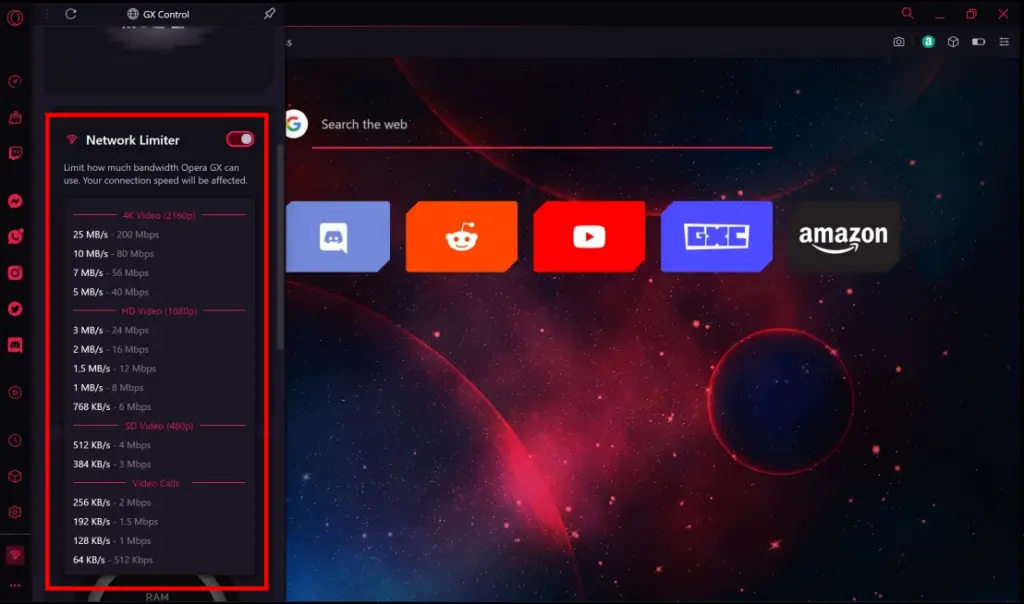 RAM Limiter
Ensuring enough RAM is available is crucial during gaming, and as you use Opera GX, you can limit how much RAM this uses. It has a RAM 'meter' that shows the current RAM usage, and it also offers a slider using which you can limit the RAM usage.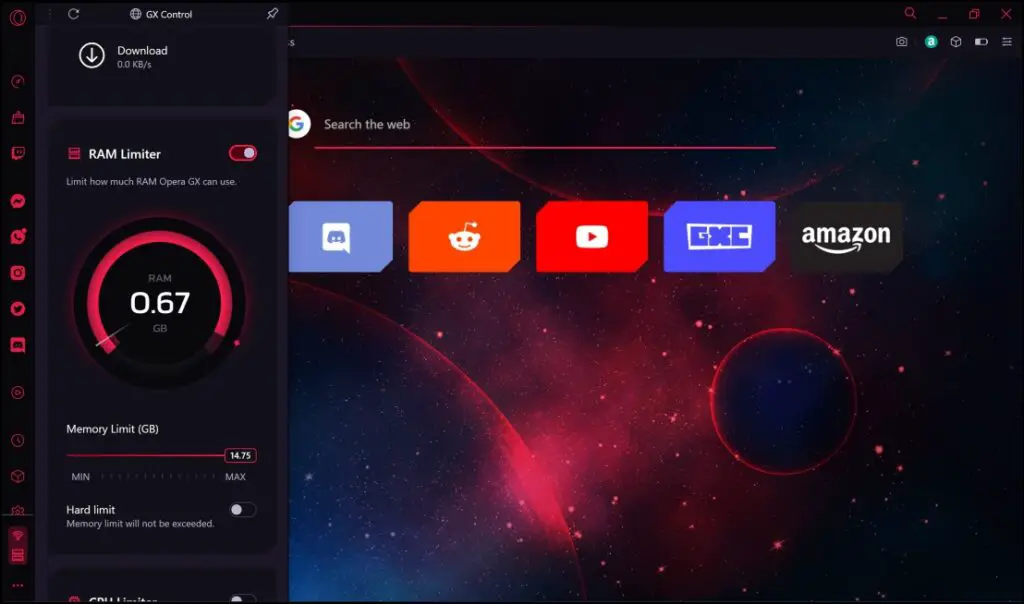 There is also a toggle called the Hard Limit to ensure Opera GX strictly keeps the RAM usage below the set limit.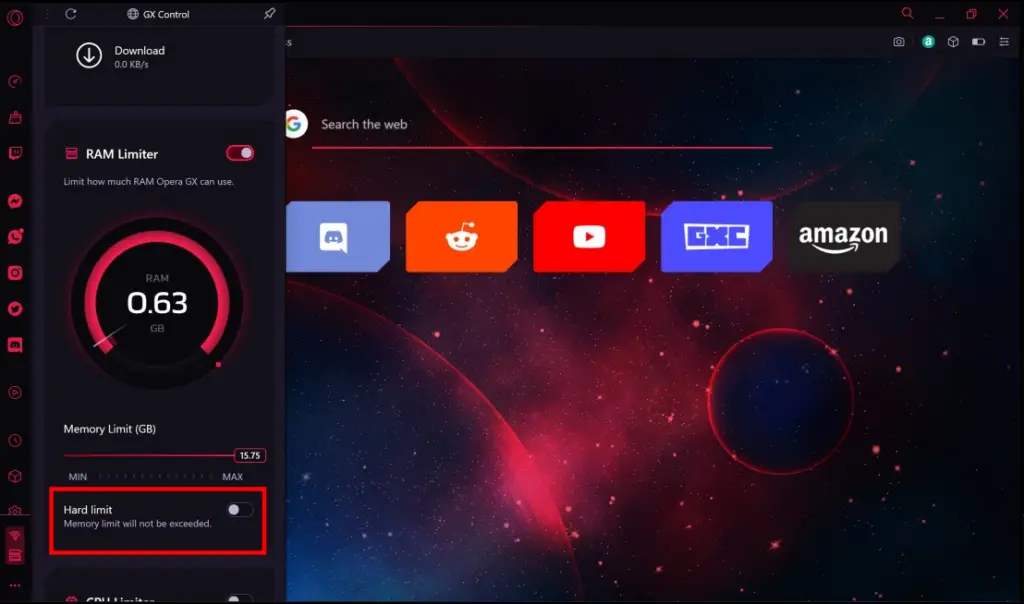 CPU Limiter
Up next, we have the CPU limiter. Similar to the previous two features, this helps limit your CPU usage. It displays the CPU usage in bold and offers a slider to limit the amount of CPU that Opera GX uses.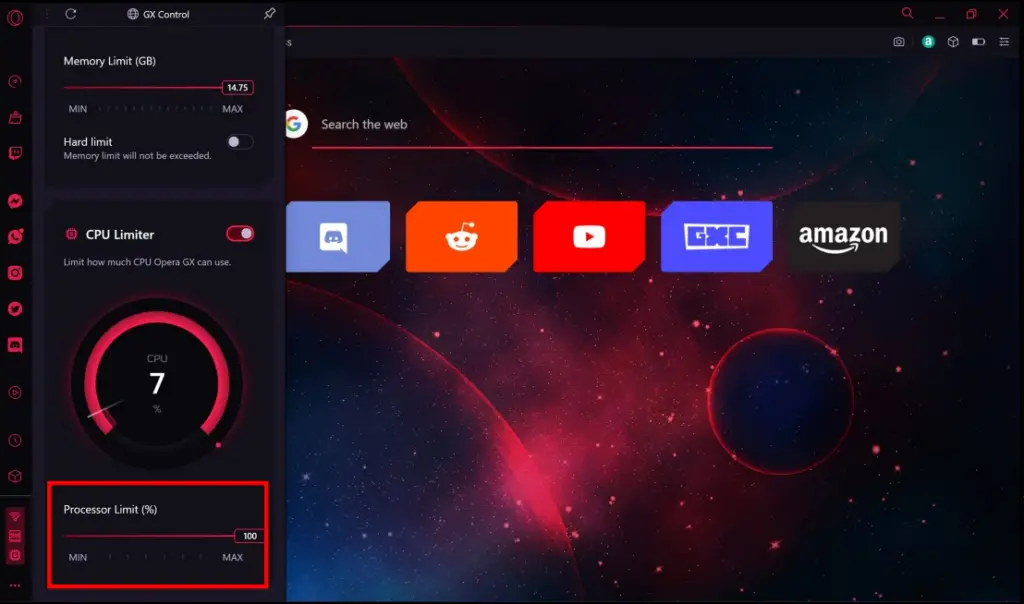 GX Cleaner
In the sidebar, click on the mop icon. This opens up the inbuilt browser cleaner on Opera GX. We are impressed with this feature as it usually takes a lot of clicks to find the Clear Data option on a web browser as it is hidden under multiple sections.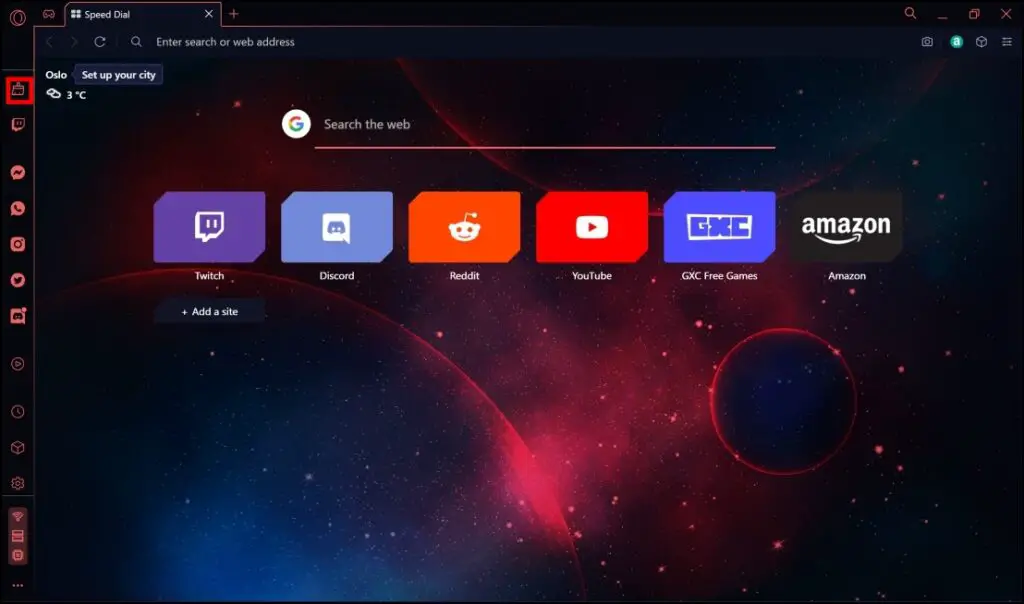 This option helps you clean Opera GX and offers three different options to help you clear data instantly.
The Min option clears only the cache.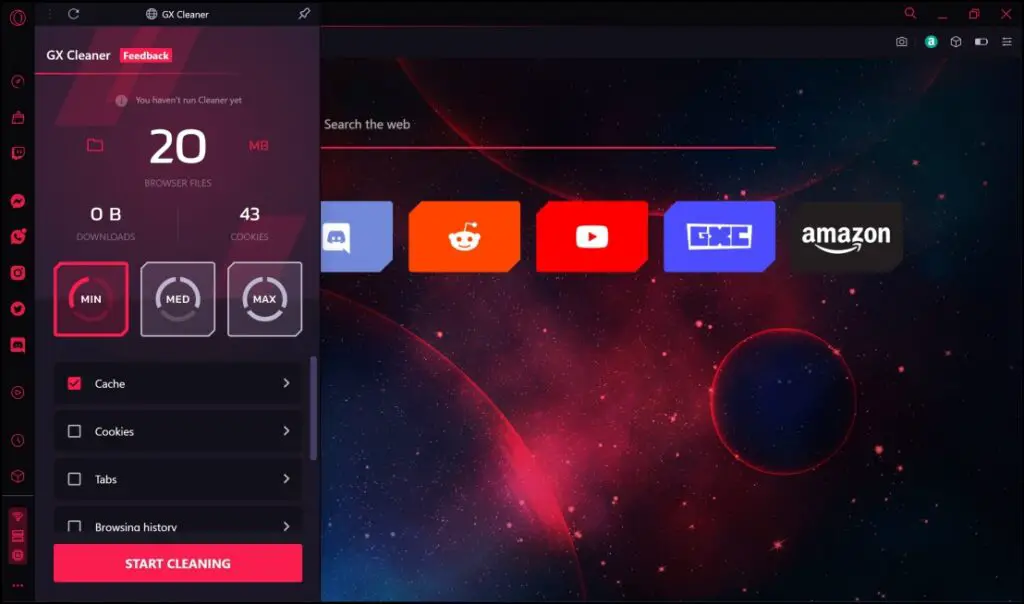 The Med option ensures that cookies and tabs are cleared along with the cache.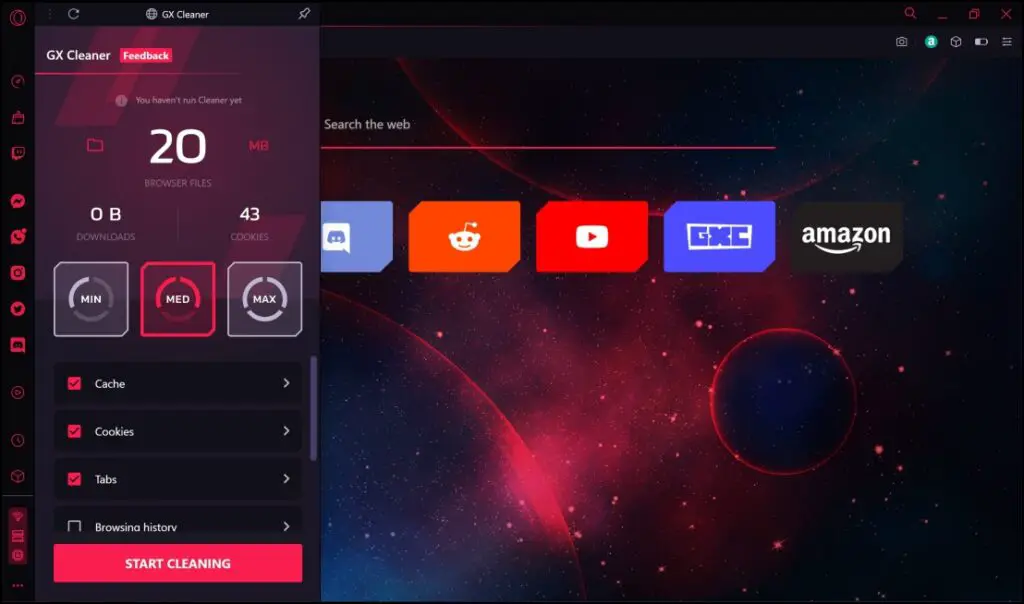 The Max option cleared everything on Opera GX including your browsing history.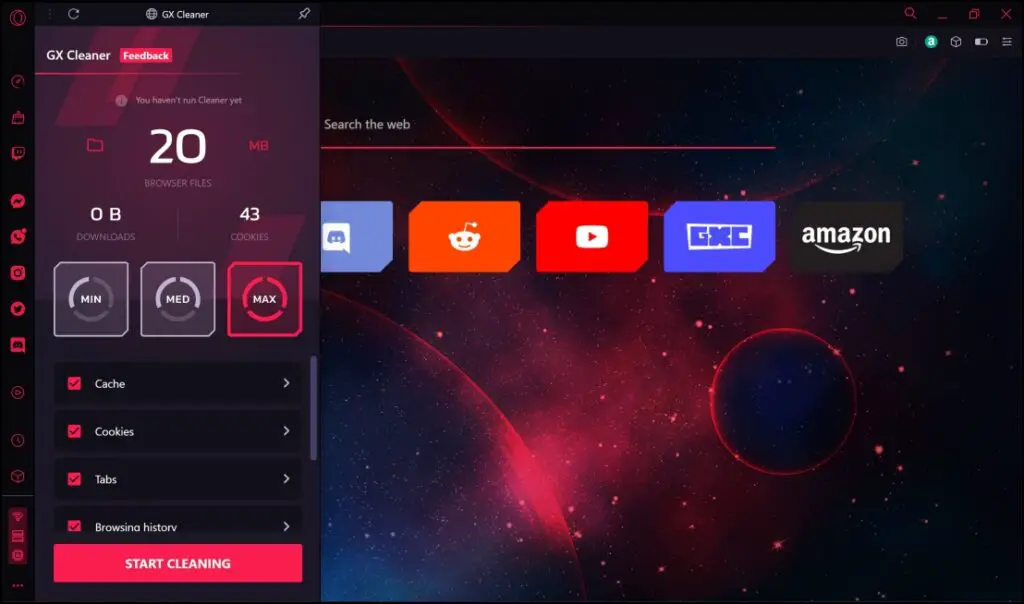 UI and Visual Elements
Before you start reading our views on the UI and Visual elements, here's a little spoiler alert: We absolutely love the UI and are mighty impressed with how it maintains and involves a lot of gaming-related visuals.
From the colors to the outlines and buttons – it passes the vibe check for a web browser to be called a Gaming Browser. Let's look at all the UI elements and how you can customize them according to your needs.
Opera GX Themes – Dark, Light and Auto Modes
Opera GX offers six pre-set themes for the user interface, and you can take a look at some of these themes in the gallery below. Each of these themes applies different colors to nearly all UI elements. The colors on the pre-set are not the usual and common ones that we come across, and each of them has a neon touch to them.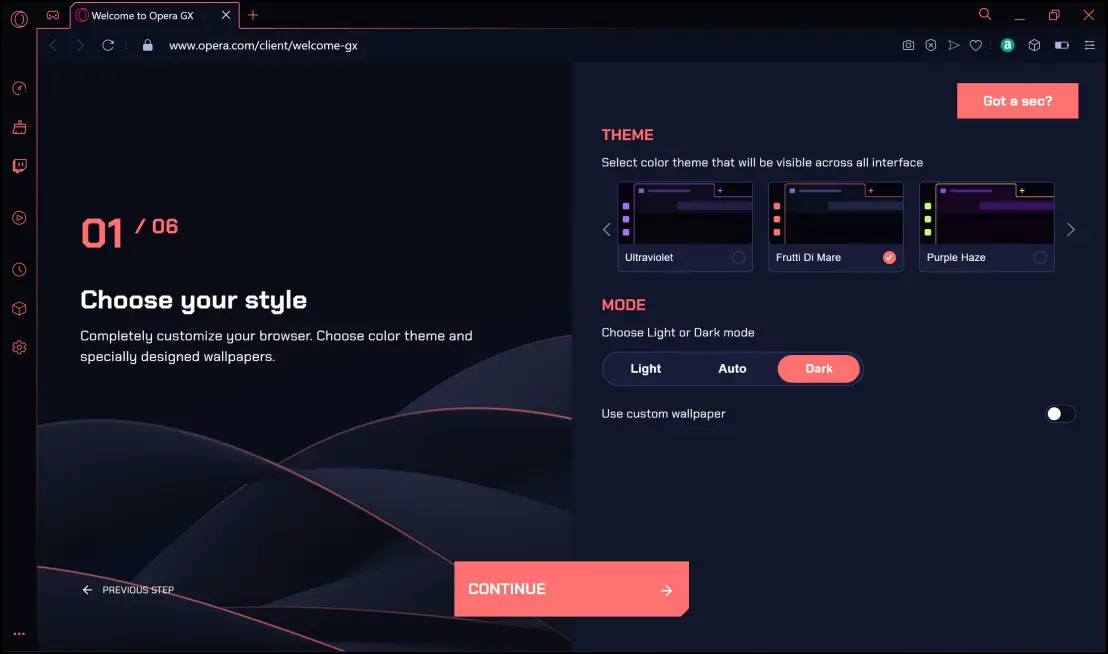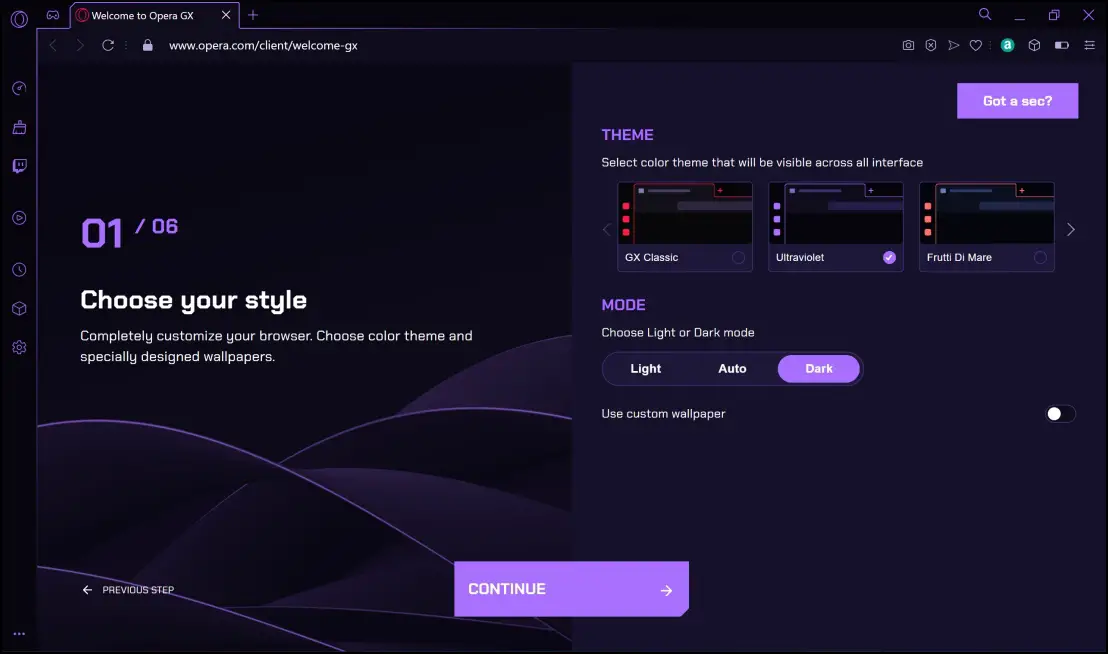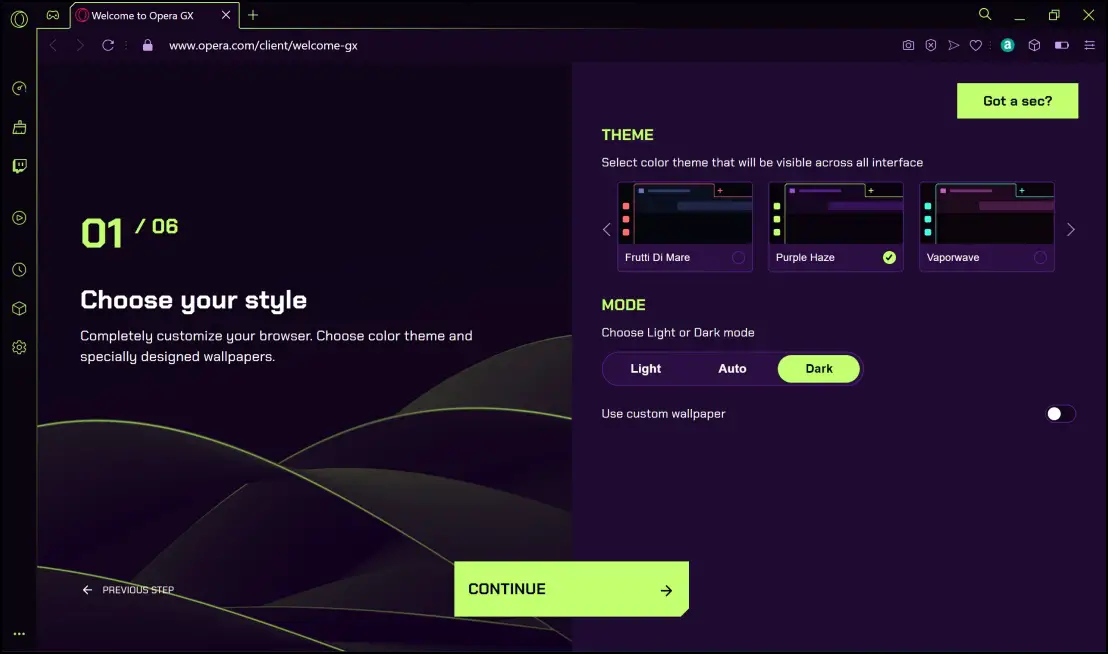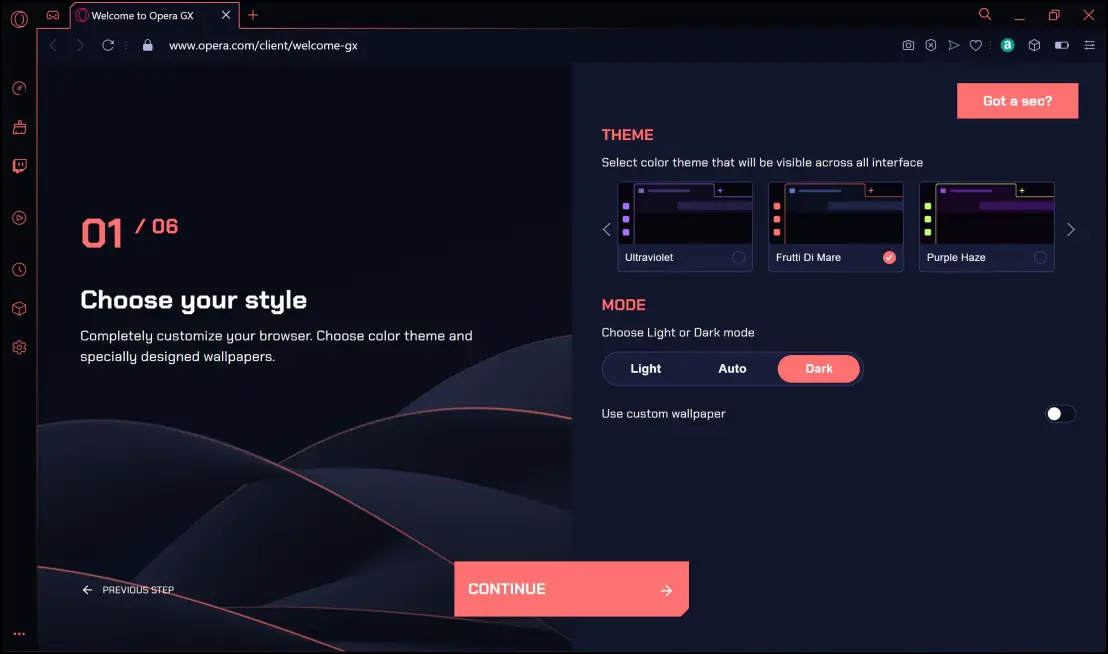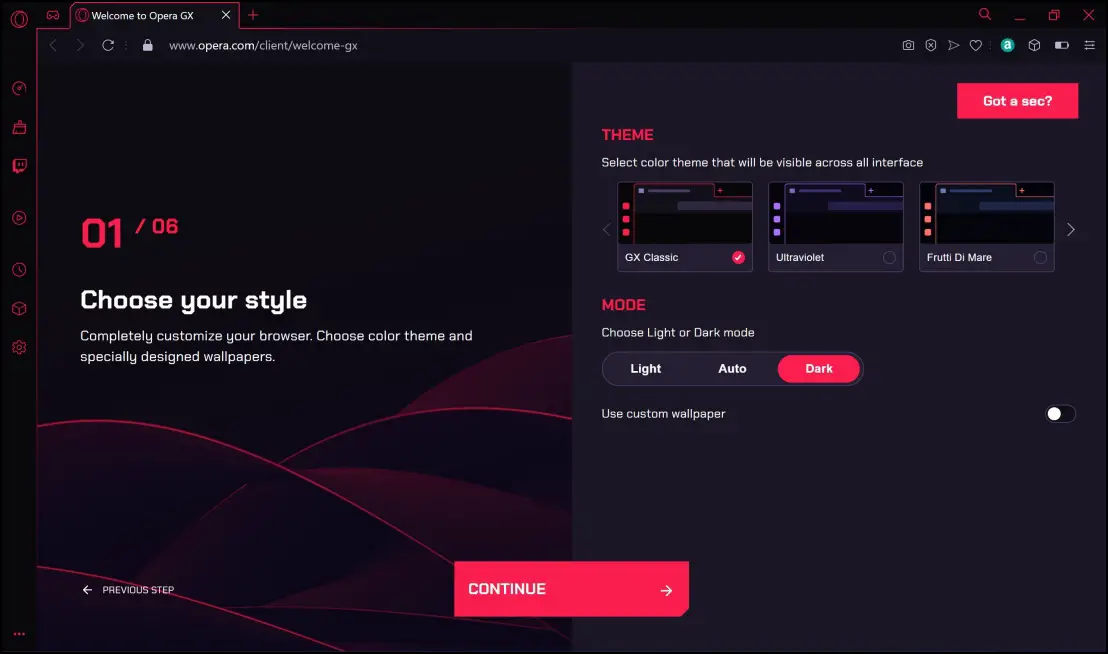 You can apply these colors with a base color at the overlay. It offers three modes.
Dark Mode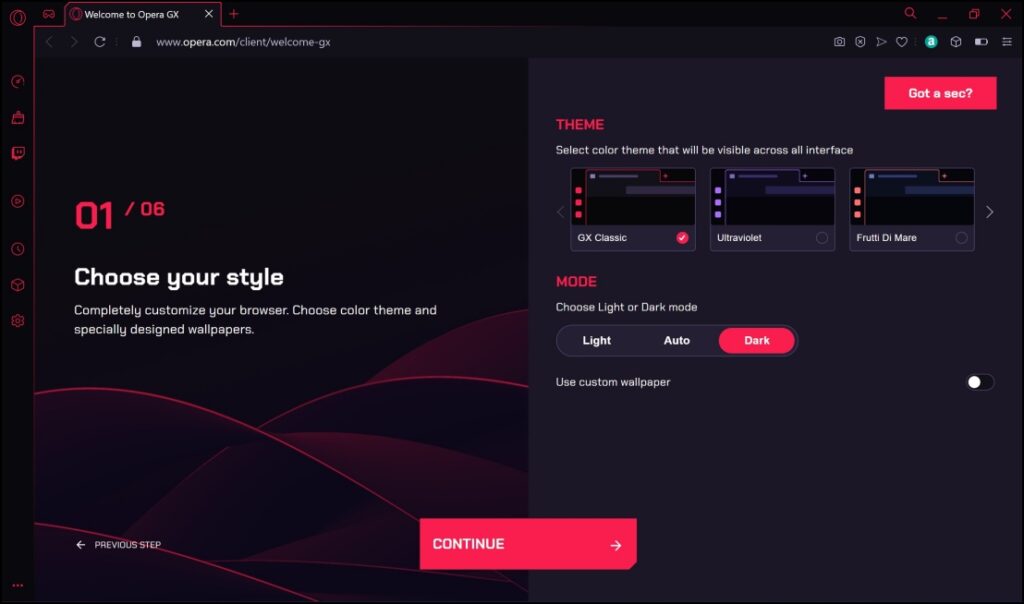 Light Mode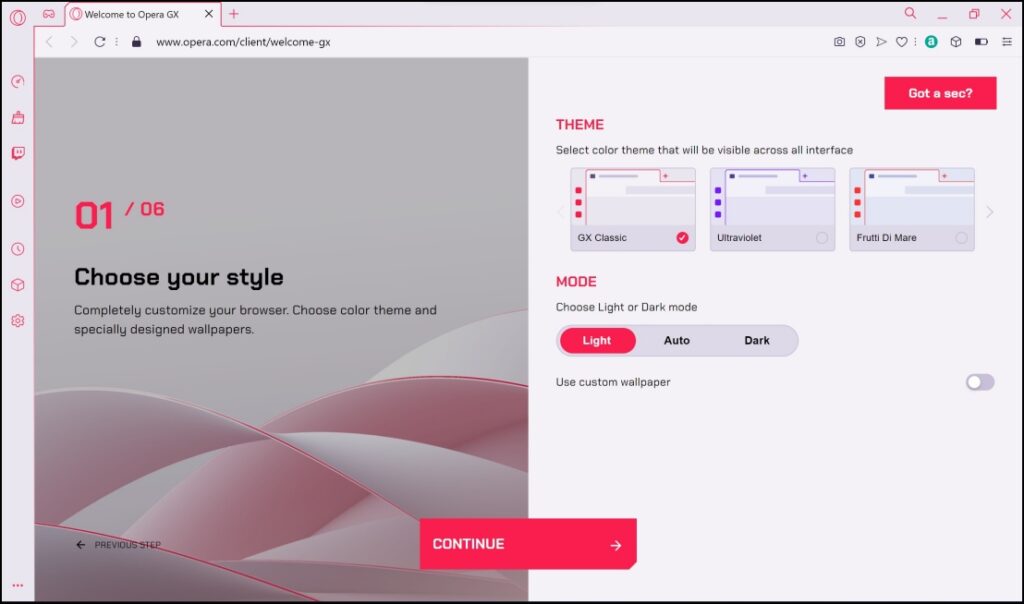 Auto Mode: Depending on the system-wide setting that you have opted for.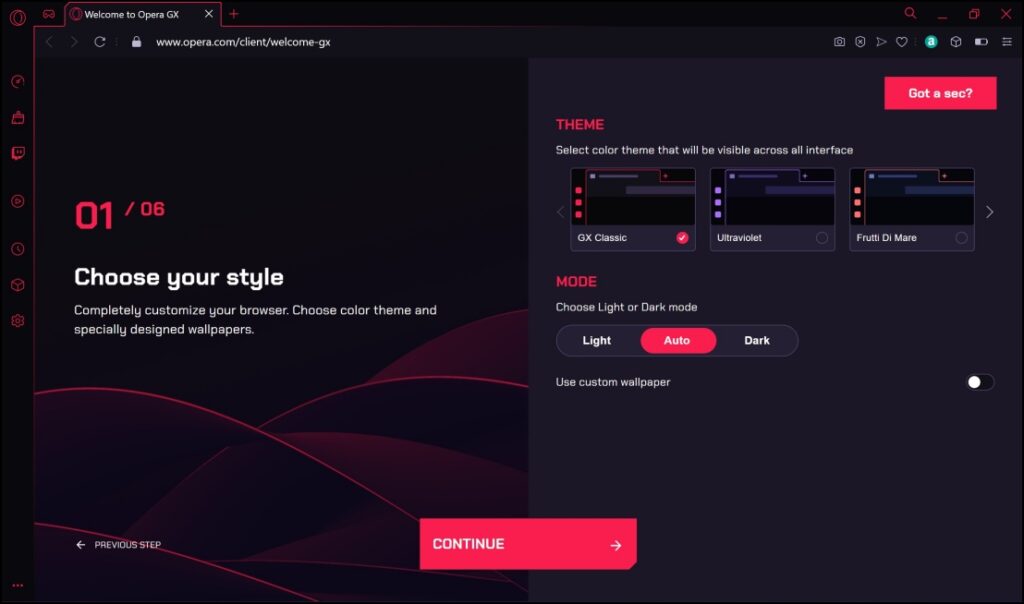 If you are not happy with the default or the pre-set colors, you can also set your own colors and customize them based on your liking.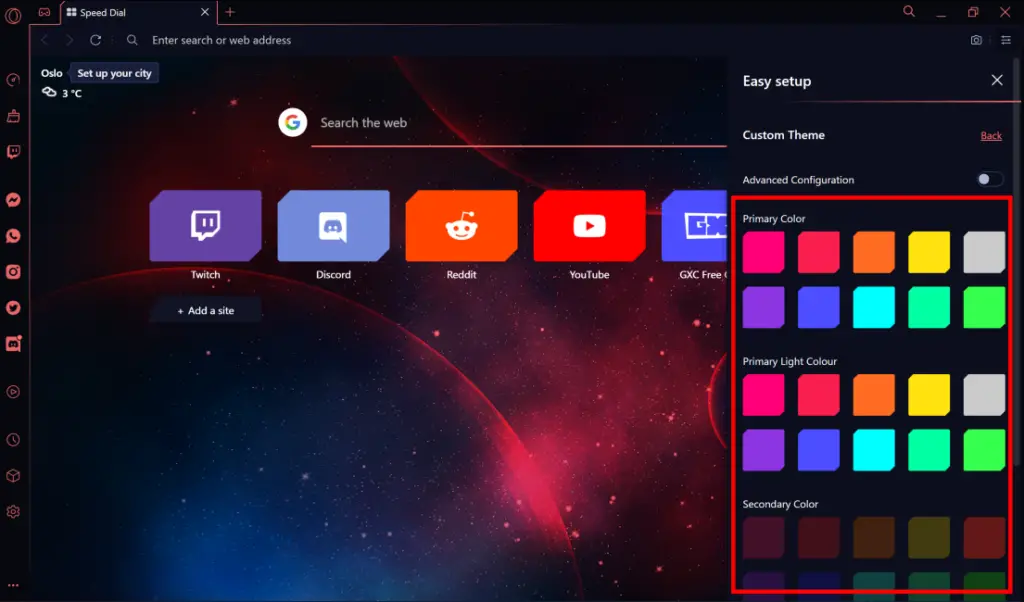 The custom theme option is found under settings. Opt for Advanced Configuration, and you can choose basically any color combination.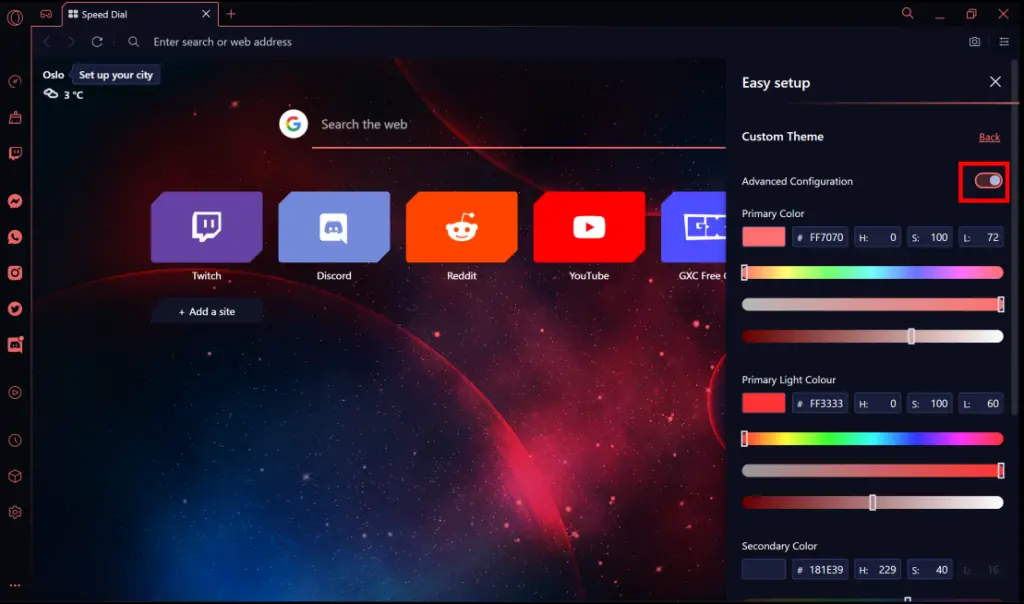 Custom Wallpaper
Opera GX also provides you an option to set a custom background wallpaper on the homepage. It also provides you with a bunch of stealthy and dark wallpapers, but you can also get more wallpapers or set a background image of your own.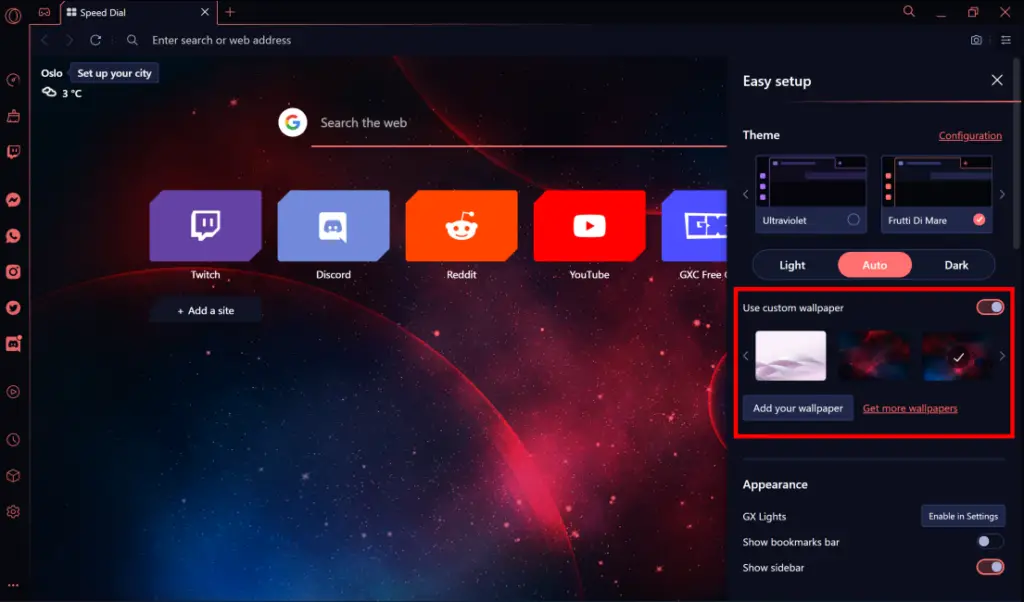 Sidebar
The Sidebar is a feature that sets Opera GX apart, and it is what makes it unique and convenient for gamers. Post fresh installation, it asks you what services you need on the sidebar, and once you select them, you also get an option to color these icons to match the theme.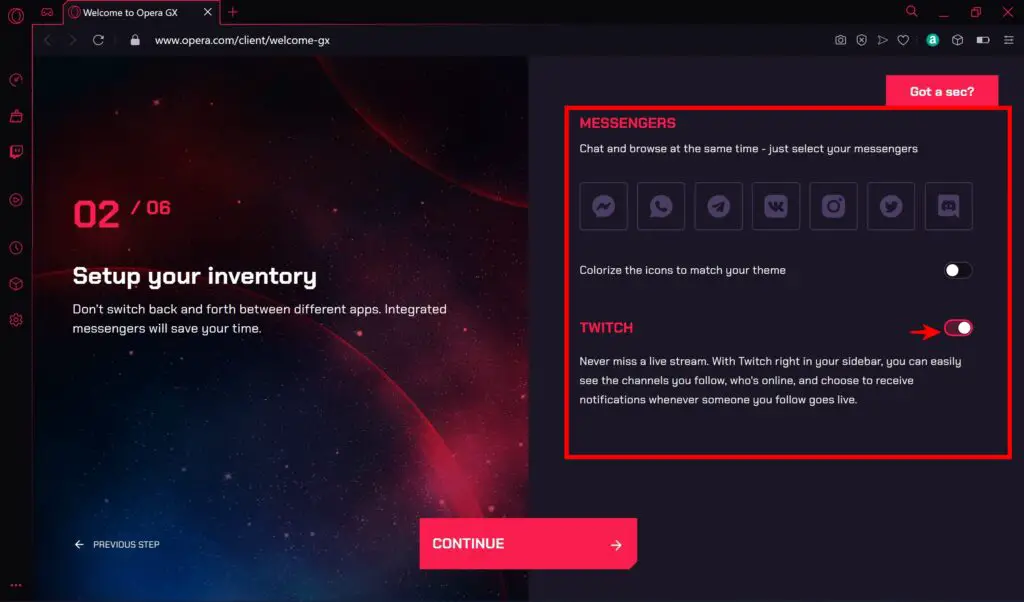 It also offers integration to Twitch, which is by far the most popular streaming tool for gaming, and you can access Twitch at your fingertips.
As shown below, you can access the sidebar and its array of applications on the left corner of your screen.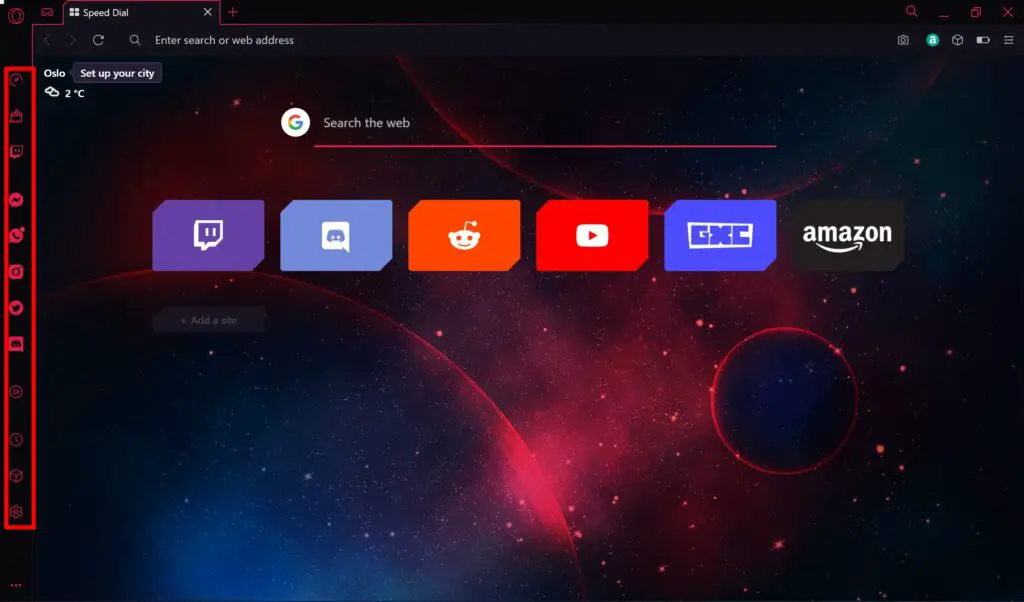 Under settings, you can choose to add or remove some of these applications according to your needs and requirements.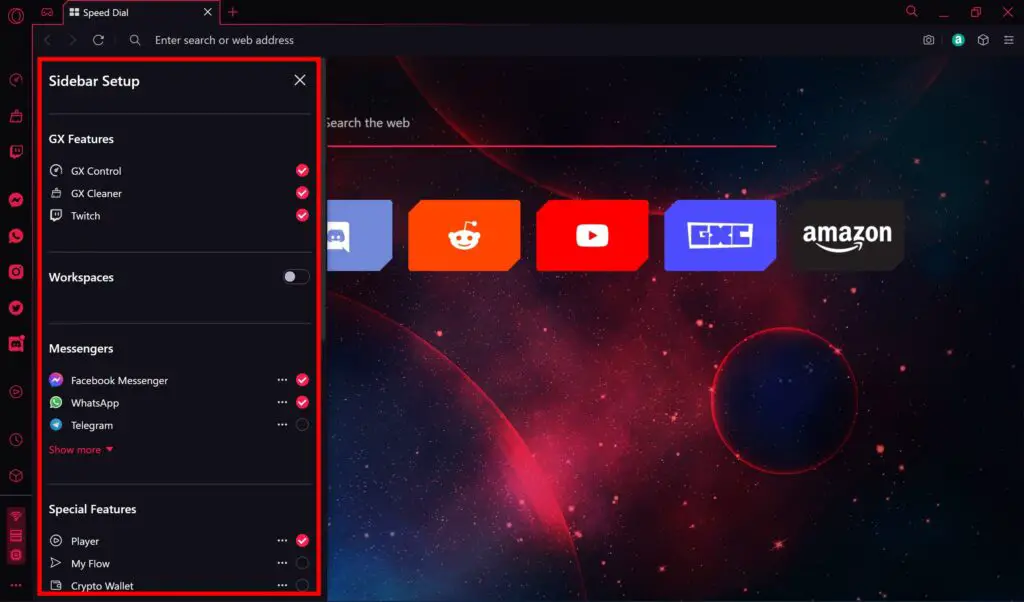 Audio Effects
The folks at Opera have indeed taken the extra mile to offer an immersive experience, and we feel they have done justice to calling the GX a gaming browser. The browser provides you with an audio effect every time you click something or even hover your mouse around something. What's better is that it also lets you customize the sound by offering a large set of options for the same.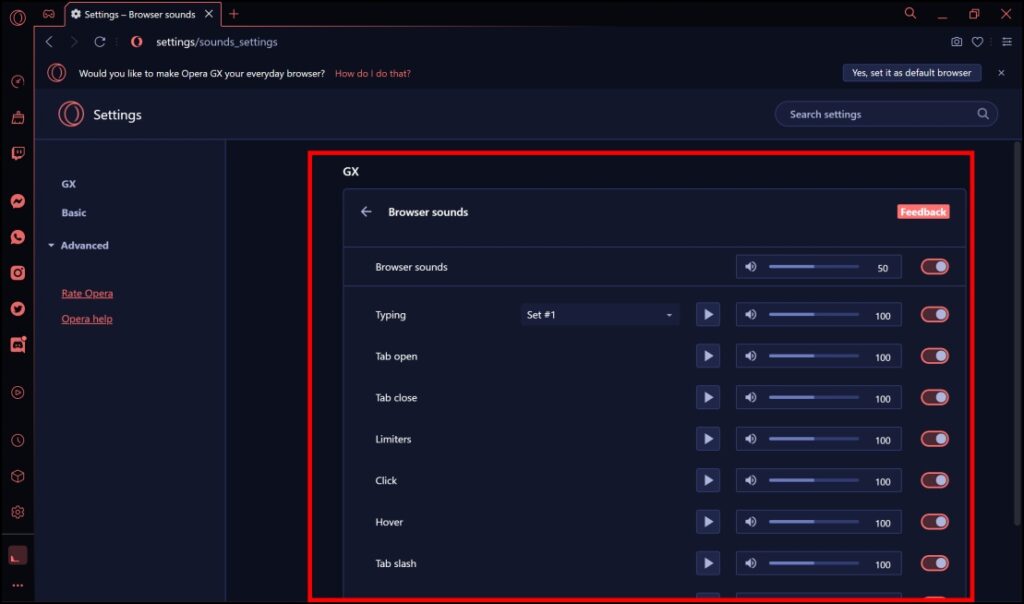 If you thought that was it, there's more on audio. You can opt for background music on the Opera GX. And these tunes are no ordinary, as Opera states that they are "composed in collaboration with sound designer Ruben Rincon and the band Berlinist who recently received a nomination in the BAFTA games awards for the original game soundtrack to Gris."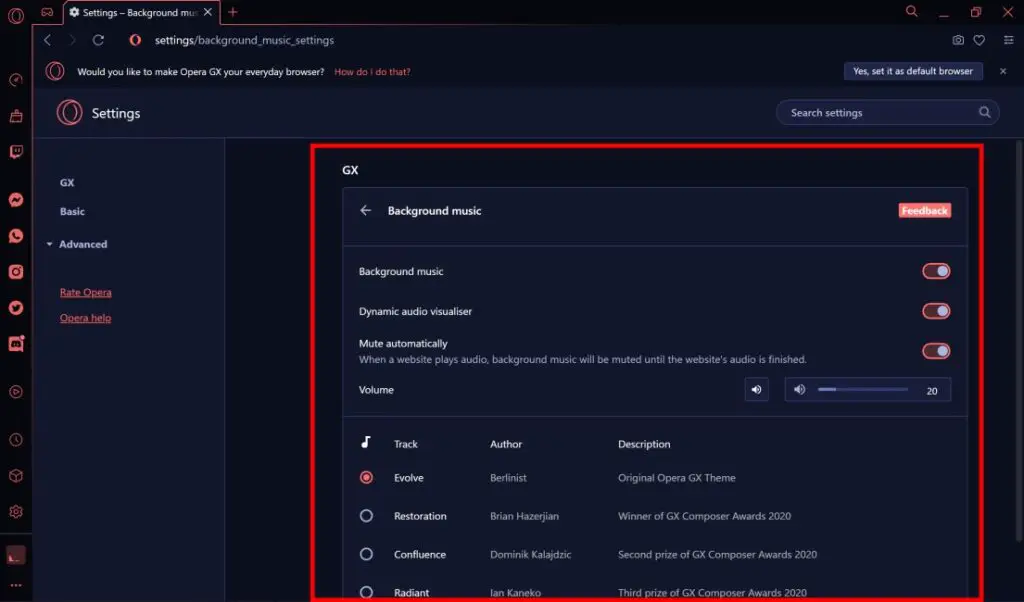 App Integration : Access your Gaming Companions on the Go!
Integrating apps that are usually used by gamers is one good feature of the Opera GX browser. Usually, these apps require integration through external plugins and extensions on a web browser. Or you could use these as separate tabs.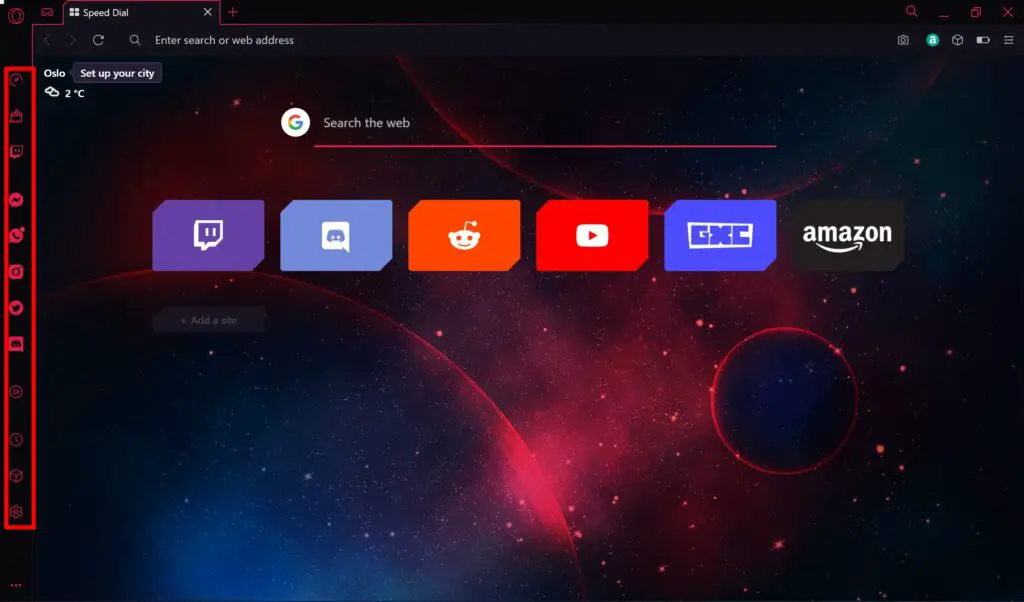 The fact that it comes as a stack of apps on a sidebar means that you can easily access these companion apps without hassle.
The seamless integration of Discord and Twitch makes it so much easier for gamers to access these apps and communicate with others.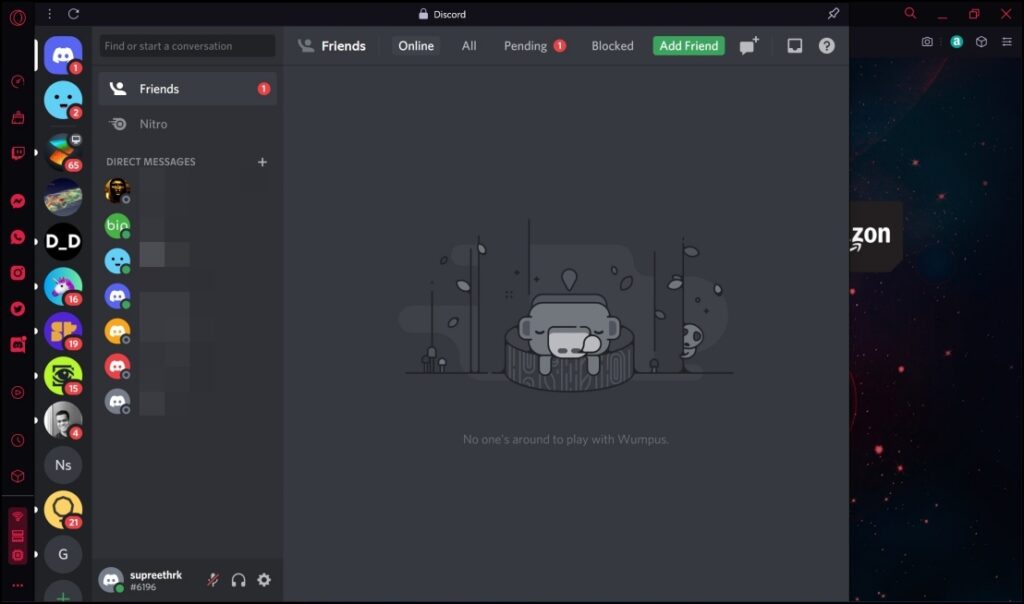 If you usually don't use these apps and prefer playing alone with music in the background – you can use the Player feature and login to a music streaming service of your choice and listen to music as you game.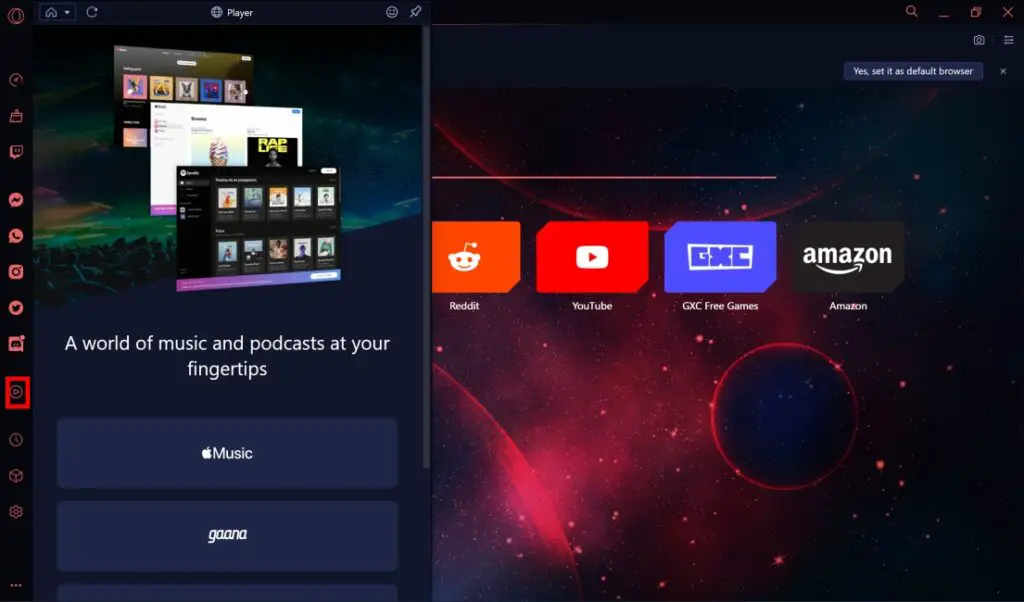 GX Corner : Feed for Gamers!
Opera GX also comes with a tab called GX Corner. Using this tab, you can stay updated with everything in the gaming world, events, and title release dates. This tab can be easily accessed next to the new tab (+ icon) on the toolbar.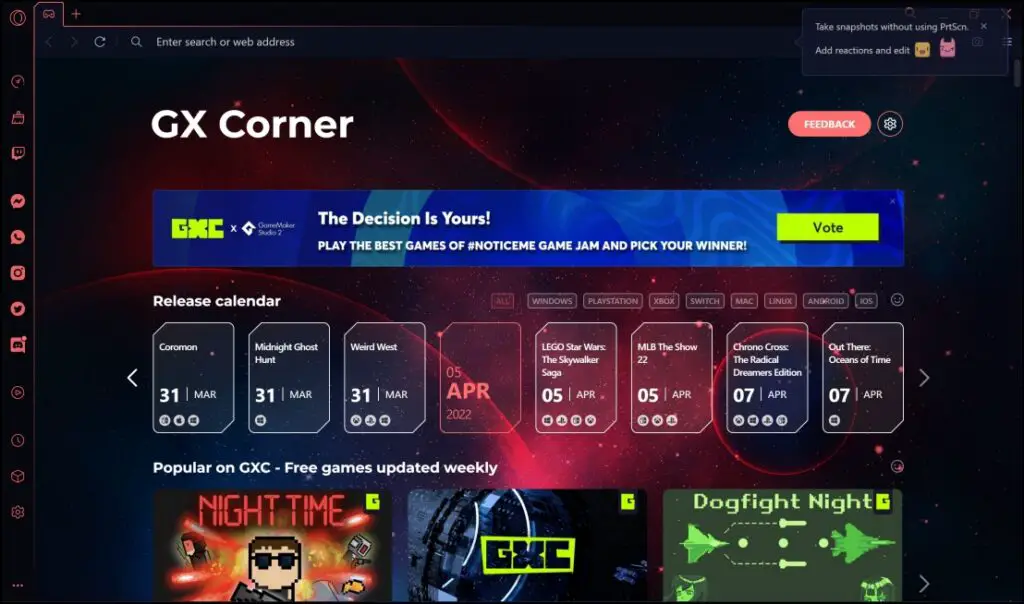 Additional Features
Apart from the key features that we mentioned, Opera GX also packs in additional features that add some value to your browsing experience.
Battery Saver
While Opera GX offers a multitude of features, it is also important to be aware of the battery usage, and Opera GX comes with an inbuilt battery saver to optimize the battery usage.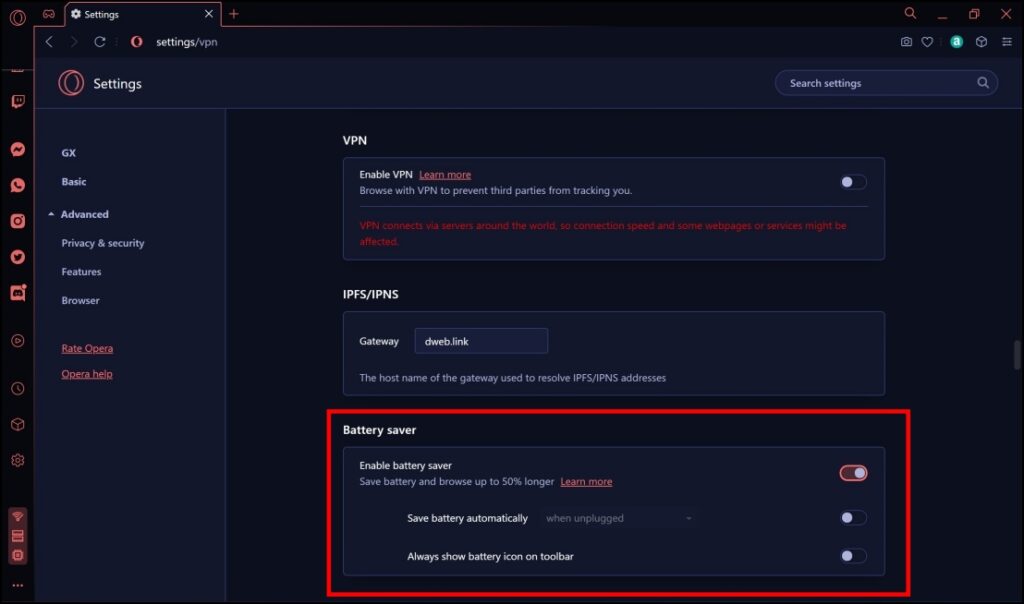 VPN
Whether opting for an extra layer of security or trying to access a gaming-related service not available in your region, Opera GX offers an inbuilt-VPN for the same. It also mentions that using the VPN helps third parties from tracking your browser usage.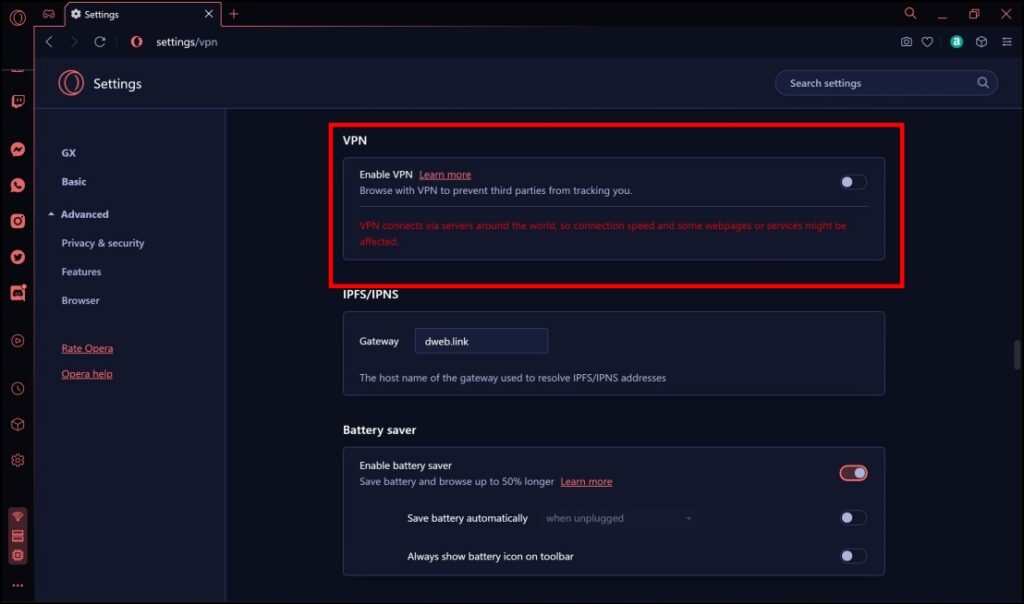 Crypto Wallet
With the advent of the rise in NFTs, there are quite a few games that you can play that largely involve NFTs and crypto tokens. Therefore, the integrated Crypto Wallet feature on Opera GX is an excellent addition. You can enable this under settings.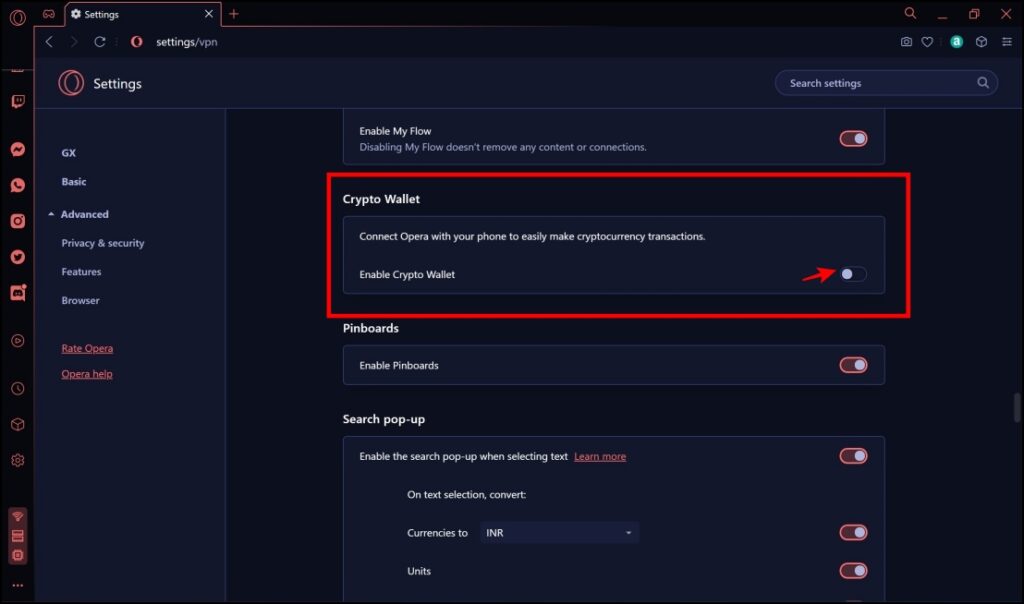 Gamer Profiles
Under settings, you can also create gaming profiles with custom themes and settings. It also offers different configurations for each profile. You can name the profile and select the color schemes, and you will be good to go.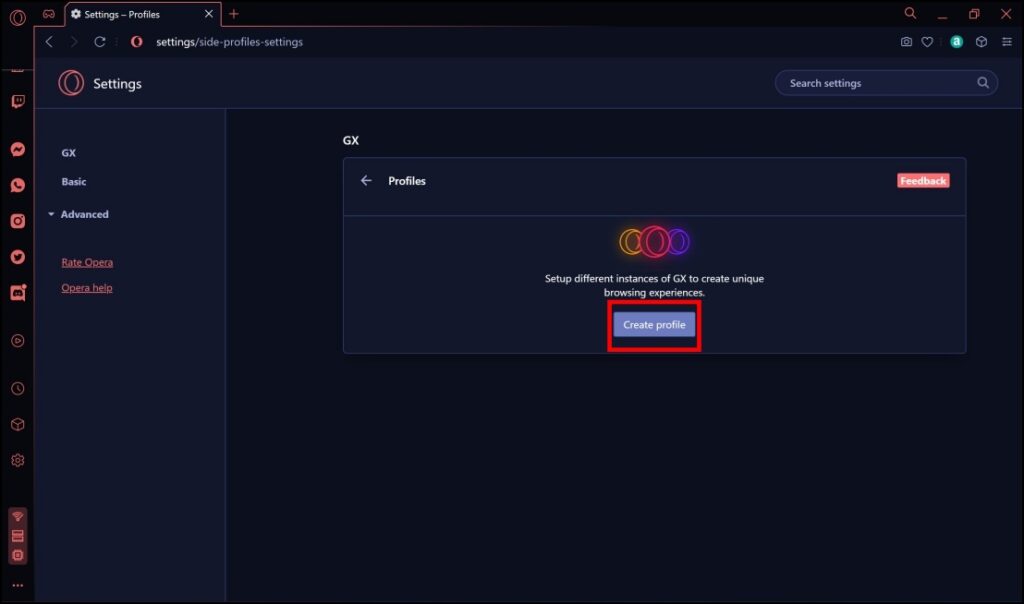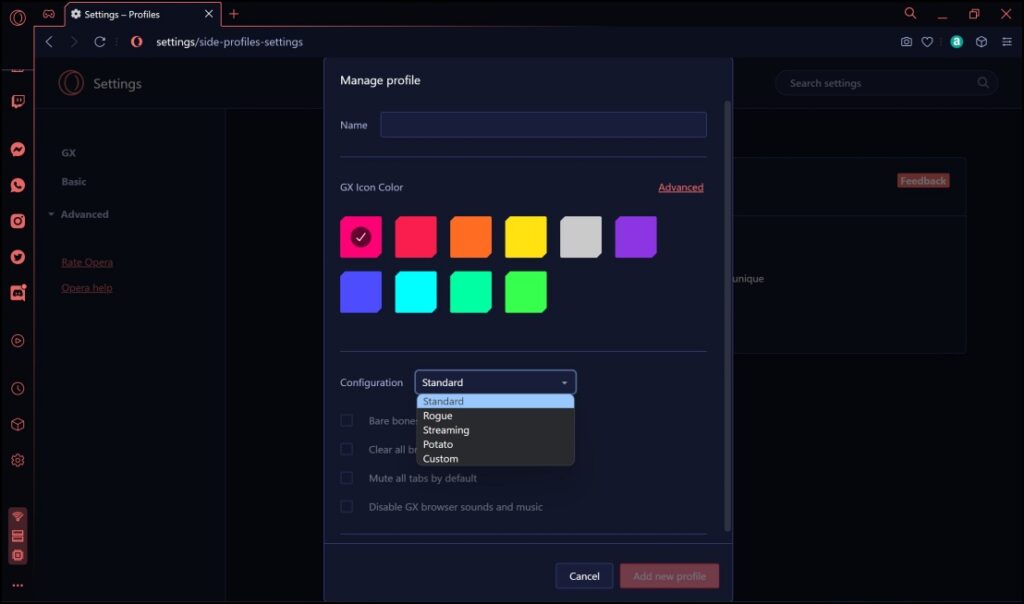 Additional Privacy Features
Opera GX also packs an inbuilt adblocker and a tracker blocker for a secure browsing experience. This can be enabled in settings with just one click, and you can instantly increase your privacy online.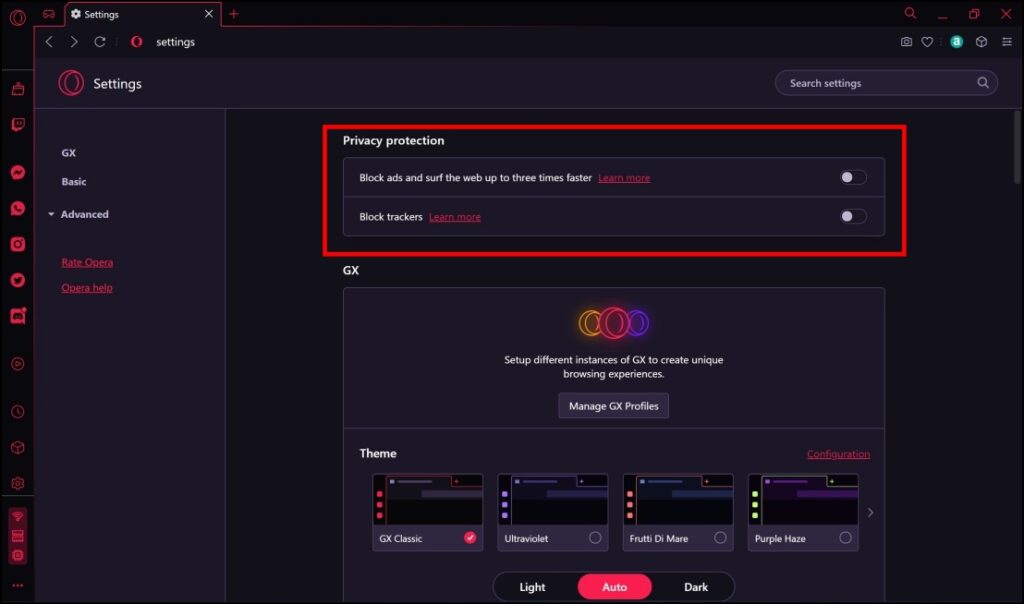 OperaGX Gaming Browser: Pros & Cons
Advantages:
Impressive user interface with gaming aesthetics.
Good amount of performance tuning features.
Sidebar and app integration makes it extremely easy to access apps like Twitch and Discord.
Good Customization options, especially the custom colour scheme feature.
Integration of Crypto wallet makes it future ready for NFT related games.
Disadvantages:
While it does have an impressive UI, it is not for minimalists. At times the UI can get difficult to navigate.
While it does serve well as a gaming browser, we are not sure if it can be used as a primary browser as it does lag behind browsers like Chrome and Edge which are masters in covering the basics.
While we do not claim anything, but several users have raised concerns about Opera's safety practices and multiple reports of Opera failing to comply with Google's policies.
Alternatives to Opera Gaming Browser
While Opera has created a segment called gaming browsers, there are no alternatives that offer everything that Opera GX does. But if you are a gamer and focus on specific elements only, we can help you make a few choices.
Performance: If you are a gamer and you want to use a browser that prioritizes performance, Mozilla Firefox should be the way to go. Multiple tests have revealed that Firefox edges slightly above other browsers regarding performance.
Extensions: If app integration and extensions are your priority, you can easily choose to opt for a chromium-based browser like Google Chrome or Microsoft Edge. They have tons and tons of extensions, and we're sure you can integrate more apps and services onto your browser compared to Opera GX.
Safety: Talk about safety, and the browser that we feel is best in this game, is Brave Browser. We love what Brave Shields offers, and if you are a gamer who wants to focus on the safety aspect, you cannot go wrong using the Brave browser.
Wrapping Up
This was our impression of Opera GX, and this one-of-a-kind offering has shown us what it means to use a gaming browser. It would be interesting to see how the competition responds to this. Stay tuned while we keep you updated on all the advancements in web browser technology.