Brave Browser has amassed a large user base already. As Brave strives to go mainstream soon, we feel a lot of users need clarity and answers on how to utilize all the features it offers as it is more than just an application to browse the internet. Here's a detailed FAQ answering all commonly asked questions about Brave Browser, and this is our best effort in making sure people understand what Brave really is.
Related: Top 20 Brave Browser Tips, Tricks, and Hidden Features (Phone, PC)
Brave Browser FAQ
Ranging from sections like Brave Rewards to Brave Privacy features, we have answered all of the most commonly arising questions around the Brave Browser. Read on.
1. What is Brave Browser? Who Made it?

Brave is a free and open-source web browser (based on Google's Chromium). It is created by Brave Software, Inc., the parent organization, which was founded by now CEO Brendan Eich. Eich was also the co-founder of the Mozilla Foundation and served as Mozilla's chief technical officer and later the chief executive officer. He along with Brian Bondy founded Brave Software on 28 May 2015.
Shortly after, on 20th January 2016, Brave Software launched the first version of Brave Browser. After a series of experiments and updates, Brave launched its first stable release, version 1.0 on 13 November 2019.
By then, it has a whopping 8.7 million monthly active users overall. And in November 2020, Brave reported having 20 million active monthly users and in September 2021, it passed nearly 36 million monthly active users.
2. What Is the Main Intent of Brave Browser?
It is a privacy-first browser with default settings that disable online ads and website trackers. It comes with a multitude of privacy controls, where you can block ads, trackers, fingerprinting, and even enable HTTPS all the time.
Brave Browser is available for Windows, Mac, Android, and iOS. While most browsers just throw around ads for users, Brave has a unique reward system for users to view ads and it rewards them using a cryptocurrency called BAT.
3. Is Brave Browser Chinese?
No, Brave Browser is owned by Brave Software Inc., a company based in the United States of America.
4. Is Brave Browser Spyware or Malware?
Brave Browser is not a spyware or a browser hijacker/malware of any kind. As per what Brave Claims, it is nothing but a safe-to-use web browser built on the Chromium engine. Brave has also been quite transparent over the concerns of Brave being called spyware as all of their code is open source. They also help in auditing the source and verifying their binaries on the Debian Linux platform.
5. How does Brave Earn Money?
As of August 2016, Brave accumulated nearly $7 Million in angel investments, which included VC firms like Peter Theil's founders' fund, Propel Venture Partners, Pantera Capital, and Digital Currency Group.
In November 2019, Brave launched Brave Ads which is an Ad network wherein Brave software takes in 30% of the ad revenue and the rest of it is given away to the user. Brave uses a unique business model to generate revenue through BAT – Basic Attention Token. When they launched BAT, through the ICO (Initial Coin Offering), they were able to amass $35 Million. Post this, they have not raised any funding through investors.
Brave also makes money in the following ways:
Affiliate commission through links on the homepage.
Brave also has a shopping deals page called Brave Offers. It also generates revenue through this website, through commission from sales.
Brave VPN and Brave Talk Premium are paid add-ons and attract revenue.
6. Is Brave Browser Free to Use?
Apart from paid add ons like Brave Talk Premium and Brave VPN, Brave Browser is completely free to use.
7. What Extensions Does Brave Support?
Brave Browser is built on Chromium, the same engine that Google Chrome is built on. So the good news is that you can get all the extensions that you get on the Chrome extension store on Brave Browser as well.
8. Is Brave Better than Google Chrome?
As per the official statement by Brave Browser – "With 3x faster page load times than Google Chrome, 133% less memory usage, and up to one hour more battery life, Brave is the browser that's built to perform."
Also, when it comes to safety and privacy, Brave offers much more than Google Chrome. You get Brave Shields which blocks fingerprinting and avoids trackers on websites.
9. Does Brave Browser Sell Data to Advertisers?
Brave does not have access to identifiable browsing data from the user. According to Brave, All the advertisement-related data is completely anonymous and is only used for accounting and reporting, but this data cannot be backtracked or mapped to any identifiable user.
10. What is the Brave Rewards Program?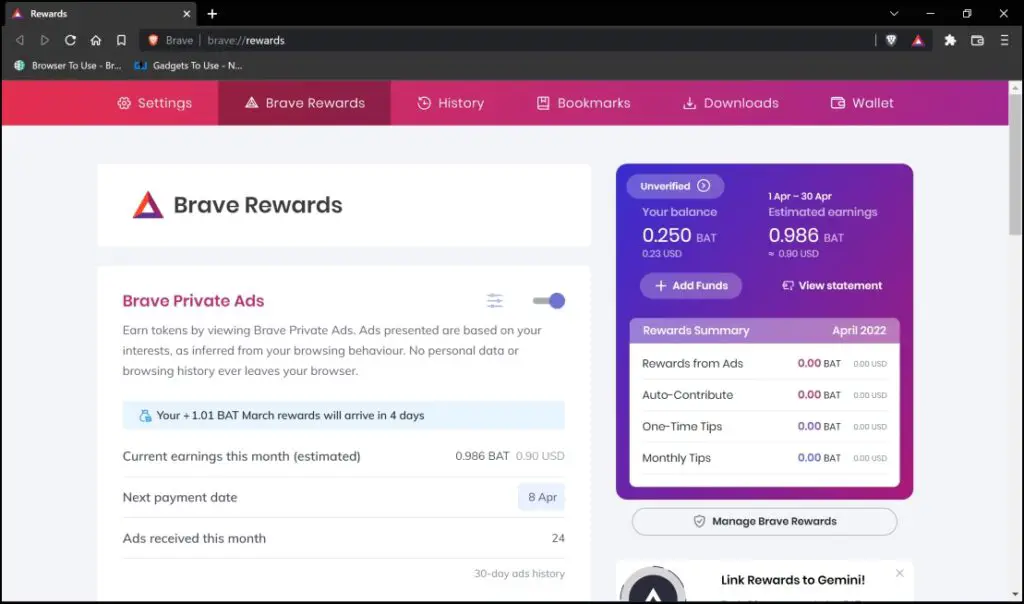 Brave has a unique incentive program for users to watch advertisements. Instead of just throwing in ads without consent and just 'productizing' the user, it gives them the option to switch on optional adverts that pay them in Basic Attention Tokens (BAT) money for their "attention".
Users may then submit donations in the form of tips to websites and content providers who accept BAT, with the option to keep the BAT they earned. The BAT Reward feature is quite a highlight of Brave Browser.
Here's how to set up and enable Brave Rewards Program and start earning BAT.
11. What platforms are Brave Rewards available for?
Brave Rewards are available for Linux, macOS, and Windows. On the mobile front, it is available for Android but not for iOS.
As per the policies from Apple concerning guidelines 3.1.1 and 3.2.2, it was deemed that Brave Rewards was not compliant with them. Apple's guideline 3.1.1 prevents apps from allowing users to give or tip a person, company, or service unless it is purchased via an Apple in-app purchase. We hope to see some flexibility from Apple and allow Brave Rewards on iOS devices.
12. What is BAT? How do you get paid in BAT?
Basic Attention Token(BAT) is a cryptocurrency token based on Ethereum, which forms the fundamentals of the Brave Browser business model. It is a cryptocurrency token based on the ERC-20 standard.
BAT's tokenomics revolves around three main parties – the user, creator, and advertiser. Advertisers must purchase and own BAT to show ads on the Brave Browser. These ads are then shown to the user, where the user then receives the BAT spent on the ad, with a 30% revenue going to Brave.
Users can then either resupply BAT back to the market by selling them and allowing them to be re-bought by advertisers, or they can choose to tip creators using Brave Auto Contribute. Where creators can now utilize or sell BAT.
13. How to use BAT as real money?
You can use BAT in two ways :
Contribute BAT to creators: Using the auto contribute feature or by manual contribution, you can contribute BAT to your favorite content creators who have opted for the rewards program.
Transfer BAT to wallet: You can also transfer BAT to a crypto wallet and then once you verify your wallet, you will be able to sell it in an exchange for a fiat currency hence using it as real money in the future. Currently, it has support for two wallets Uphold and Gemini. On the Brave Rewards page, you can verify these wallets and transfer your BAT to these wallets.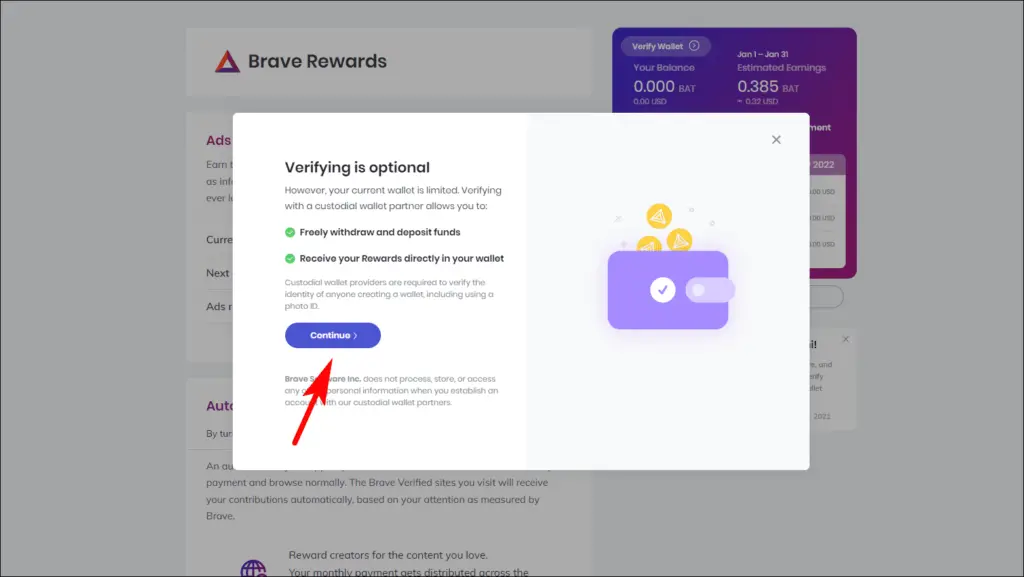 14. How do you earn money on Brave Browser?
Here are some quick tips on how to earn money on Brave Browser:
Earn BAT Using Brave Ads: As a Brave user, you can turn on Brave Ads to earn free BAT for getting ad notifications and surfing the web. These will be ad notifications and won't ruin your browser experience or annoy you.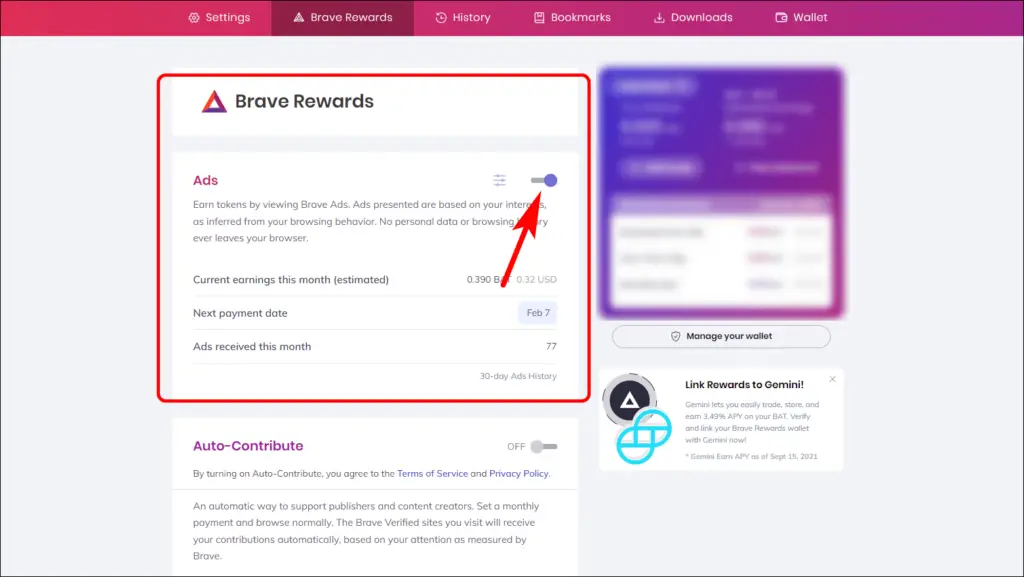 Get Free BAT Token Grants: You can earn BAT tokens just for installing and using Brave Browser. New users may receive a grant of BAT tokens that can be anywhere between 1 BAT token to 25 or more in rare instances even more. You need to enable Brave Rewards to be eligible. Similarly, users can also receive BAT token grants. These grants are available monthly and given to completely random users. You may receive a grant in your first month and not receive any for the next 6-7 months. The factors influencing which users will get grants are unclear, so we suppose users are selected at random.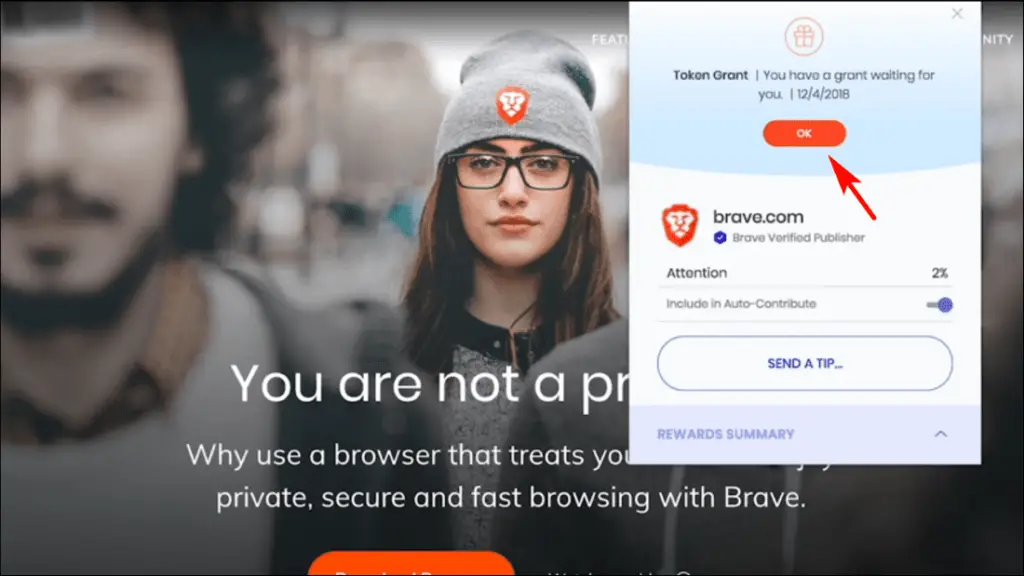 Earn With Brave Creators Program: Brave allows users to tip BAT tokens to their favorite creators directly. Well, you can also be a verified creator on Brave, as a Youtuber, a streamer on Twitch, a podcaster, or just an active user on Twitter. You can earn BAT tokens by signing into the Creators program with your account and linking a verified wallet.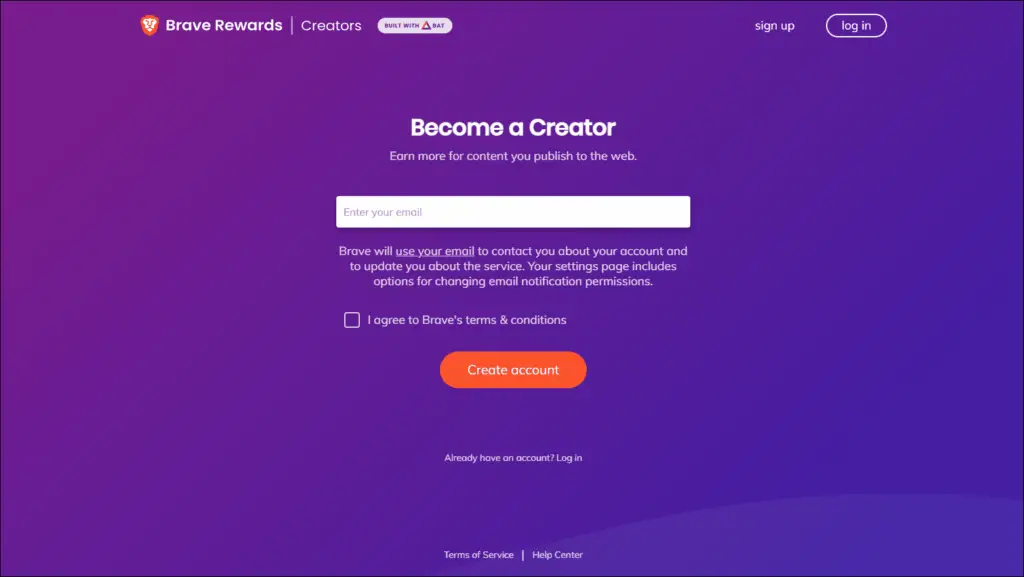 15. How Long Does It Take for Bat to Payout?
Whenever your BAT is ready for a pay-out at the end of the month, you will be shown a confirmation regarding your total earnings. The reward cycle will restart again, and your BAT will now undergo processing to be credited to your wallet.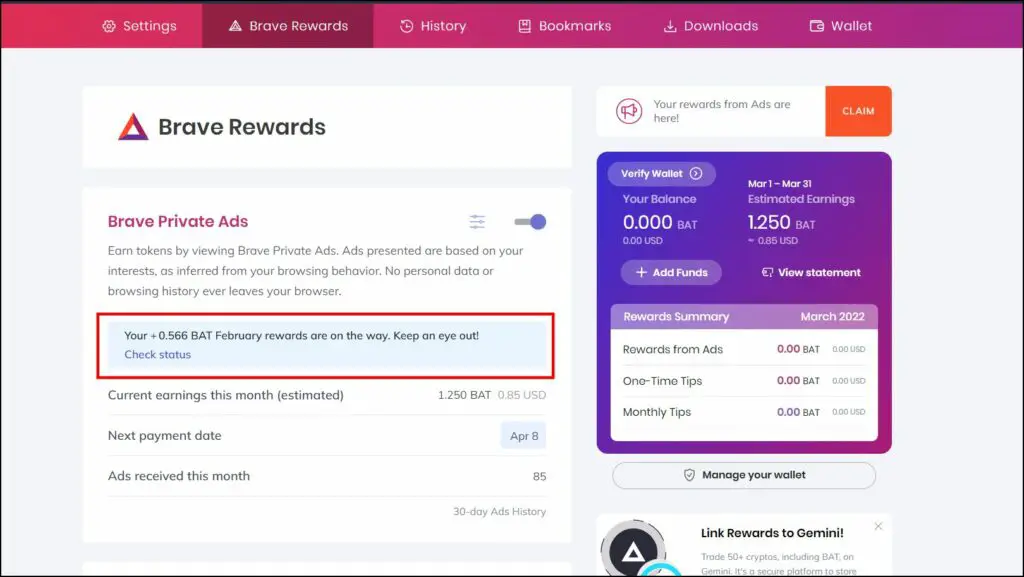 It takes some time for these rewards to be credited. They usually arrive around the 7th to 10th of every month. So, in case your BAT rewards disappear when the month changes, do not panic. The browser may take some time to credit your rewards.
16. How to Increase BAT earnings?
A few steps you can take to maximize your earnings from Brave are as follows :
Set the number of Ads per hour to 10 to get the most ads.
Make Brave your default browser and use it as much as possible.
Start using the Brave browser on your other devices like phone and tablet.
Turn off the Auto-contribute feature.
Go to Customize option at the bottom on the home screen and enable Show Sponsored Images.
In the same Customize menu, enable Brave News and scroll down to view news every now and then.
Clicking ads in the Brave News section may boost the BAT rewards.
17. What is Auto-Contribute in Brave?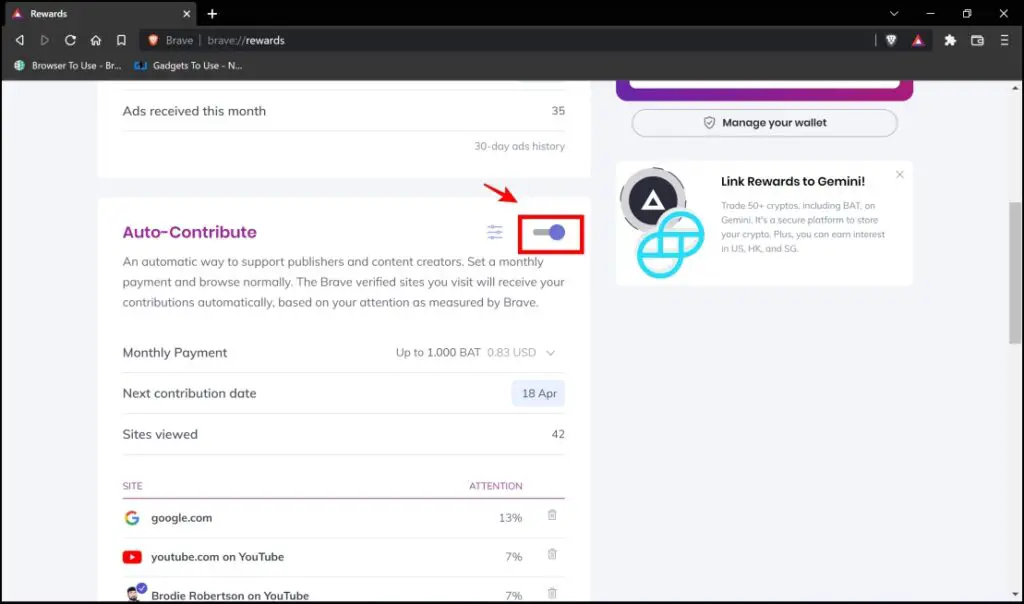 While Brave Rewards you as you view Ads and their Sponsored Content, it also has a feature called Auto Contribute. Using Auto Contribute you can contribute your earned BAT to creators on the Brave Rewards Platform as a sense of encouragement.
18. Are These Auto Contributions Anonymous?
Auto contributions are completely anonymized and no one can backtrack these transactions with a specific user's wallet or browsing activity, as Brave Rewards uses cryptographic protocols, which by nature are designed to preserve user anonymity and maximize security.
19. What to Do if my Brave BAT Rewards are Missing?
Here are a few quick tips in brief – for a detailed guide, read this article.
Check Rewards in Wallets
One way to ensure and check if Brave Rewards disappeared or not is to check if the amount has been transferred to your wallet as per your initiation.
Check the Pay-Out Date
At the end of each monthly cycle, BAT is not available for transfer immediately. So do check the pay-out date on the rewards page.
Turn Off Auto-Contribute BAT
While Brave Rewards you as you view Ads and their Sponsored Content, it also has a feature called Auto Contribute, in which your BAT is automatically contributed to creators and websites. This might be one way in which your BAT is getting spent, and therefore it might appear that Brave Rewards has disappeared. To prevent this, you can turn off the auto contribute feature.
Check Brave Community & Support
You can connect with Brave support and or use the community to check for any known bugs, issues, or delays in BAT payments. Visit community.brave.com
20. How Does Brave Ensure that My BAT is Not Stolen?
Brave Browser does not store any unique key associated with your Brave Wallet on its database. It is something that completely belongs to you, therefore eliminating all chances of theft through any online means.
21. How Do I Remove Brave Crypto Features?
If you want a minimal browsing experience on Brave Browser, and perhaps the Brave Rewards feature is overwhelming, you can disable these features using a few steps –
Disable Brave Private Ads
Turn off Auto Contribute
Remove and Discard Brave Wallet
Clean up your existing earned rewards.
Here's our detailed guide to removing crypto from Brave.
22. What is Brave Shields?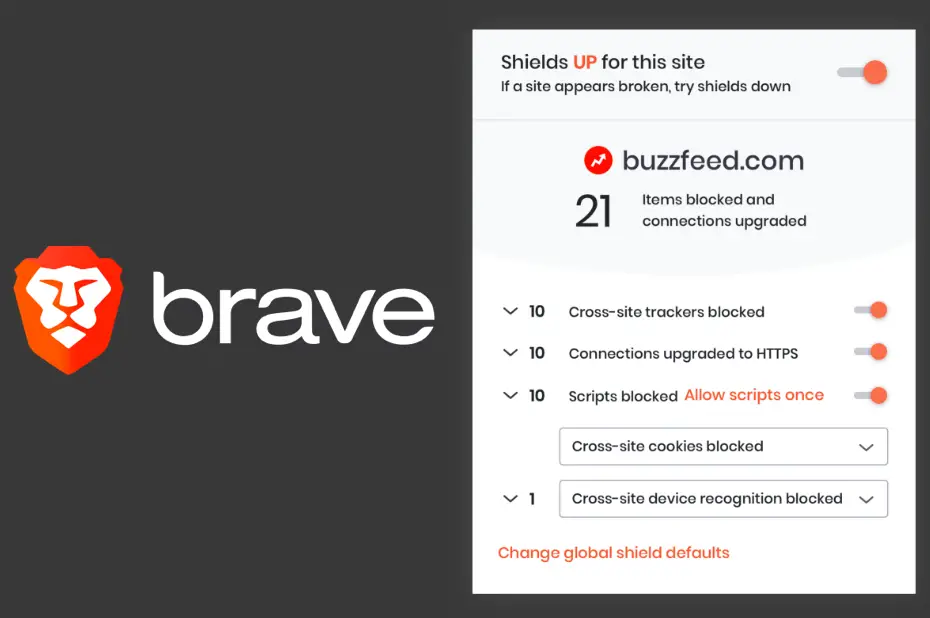 Browser trackers are tags on web pages that collect information about your online habits and preferences to understand your behavior online. Shields is a feature in Brave Browser that protects your privacy by ensuring your usage is harder to track from site to site.
Various websites include all kinds of trackers which can follow you across the web. Shields blocks this type of content that poses as "trackers," keeping you safe while also speeding up your browsing experience.
Brave Shield protects the user through the following means:
Blocks most ads and the trackers that come with multiple websites.
Discards cookies other than the ones from the sites that are actually bring visited.
Makes your browser harder to recognize and follow without cookies.
Upgrades you to secure connections as and when websites support them.
Blocks malicious code and malicious sites.
While the default settings on Shields provide you with solid protection without making it harder to browse. Additionally, you can fine-tune settings within the Shields panel. Here's more about how Brave Shields works.
23. What All Protections Does Brave Shield Offer?
The main intention of Brave Shields is that it provides an added layer of security by preventing a lot of intrusive elements on your web browser. These are the following elements that Brave Shields blocks so that it can offer a good level of protection.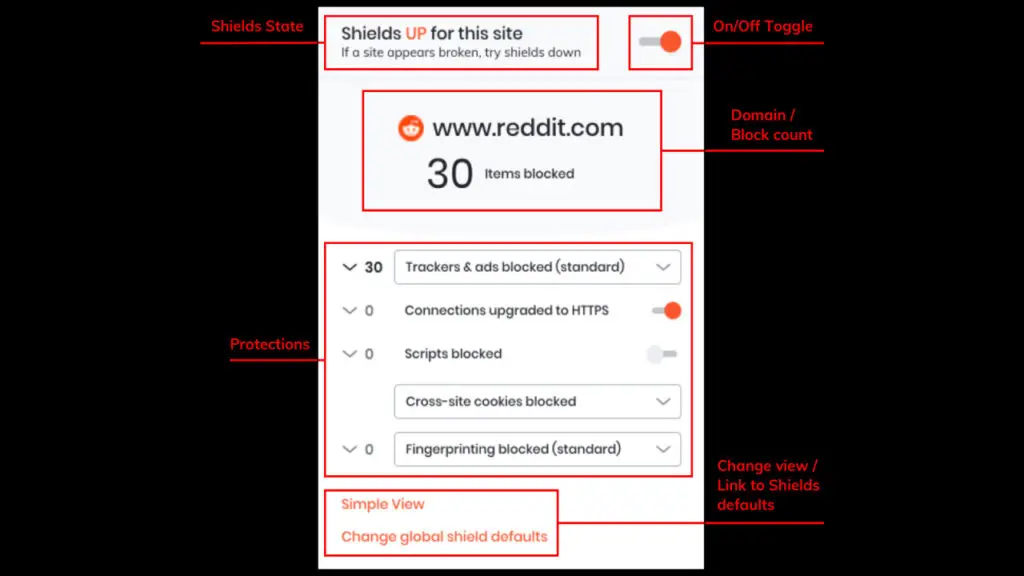 Trackers & Ads blocking.
Scripts Blocking.
24. How Does Brave Block Trackers and Ads?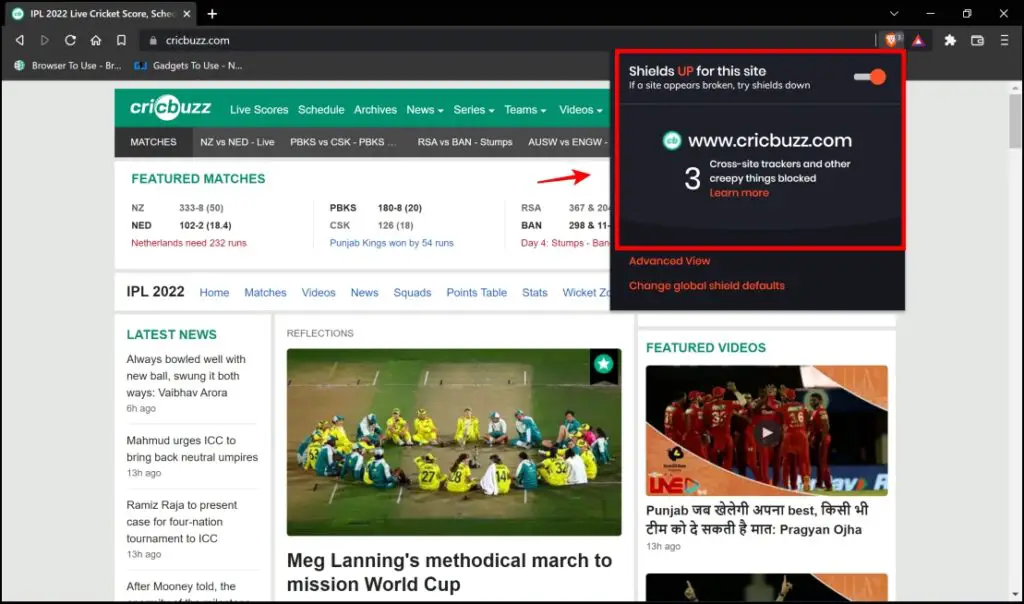 Brave Browser blocks all intrusive ads and trackers from every website you visit. By blocking ads and trackers, Brave significantly speeds up your experience as you browse the web. The lack of ads reduces the amount of data needed for the page, which results in a faster experience.
By default, the Trackers & ads blocking are set to the default Standard mode. There's also another mode called the Aggressive mode.
Standard: In this mode, Brave does not block first Party ads which are a part of the sites you visit. Only those which belong to other sources on websites are blocked.
Aggressive: Enabling this mode will block all the site ads and trackers, including the first-party ads. A disadvantage of this option is that some sites may detect features that disable first-party ads, and will not allow you to access the content unless you disable the feature.
Disabled: This mode will disable the Trackers & ads blocking feature and will allow ads and trackers from all sources.
25. Does Brave block Ads on YouTube?
While there is no official statement or mention by Brave on the question, in our experience so far, we have not come across advertisements on Brave Browser while watching YouTube videos.
26. Are All Ads Blocked or Can Users Allow Some?
Ads that depend on tracking scripts are blocked by default. You can allow ads and trackers in the Shields settings globally and for each site.
27. How Does Brave Protect You From Fingerprinting?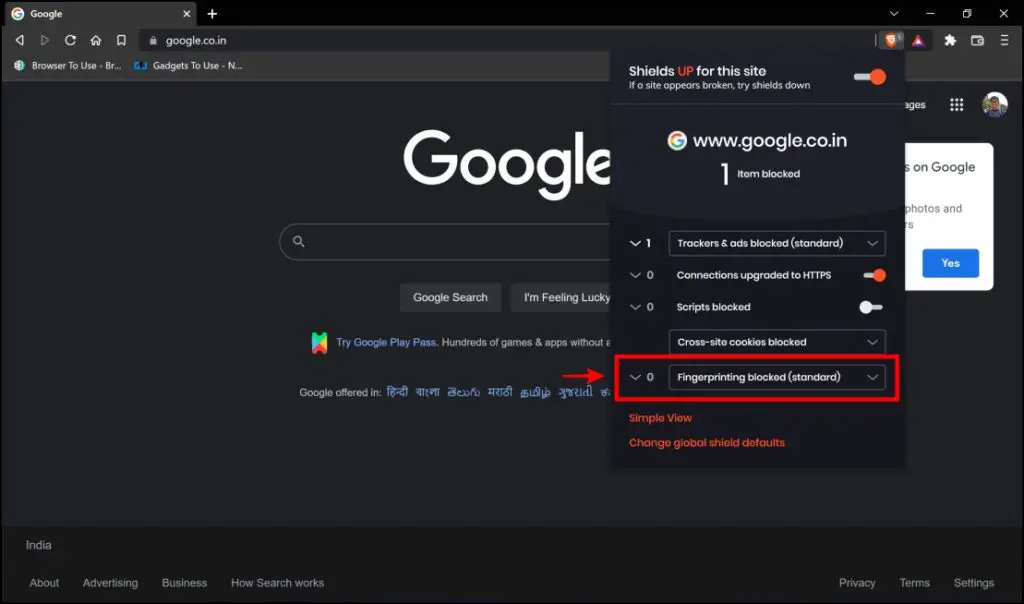 Websites can identify the way your browser and device differ from other users on the internet through a combination of traits/data that is unique and exclusive to you. This activity, at times, can also take place without the use of cookies, and this process is called Fingerprinting.
When Brave Shields blocks fingerprinting, it becomes harder for websites to collect and capture data that recognizes how your device/browser is unique from the rest.
Brave Shields provides you with three modes in which you can control fingerprinting – The Strict Mode, Standard (default ) mode, and Disabled.
Standard: Allows first-party fingerprinting only – meaning only the site that you are currently visiting can fingerprint you and does not embed fingerprinting from third-party sites.
Strict: This mode blocks all fingerprinting attempts – including first-party fingerprinting. Although this option increases privacy, but may also cause additional compatibility issues with websites.
Allow all Fingerprinting: Allows both first and third-party fingerprinting.
28. How to Hide IP Address on Brave By Using Tor?
Brave allows users to browse the internet by connecting to a new tab using Tor. As you use Tor, your IP Address will be hidden effectively.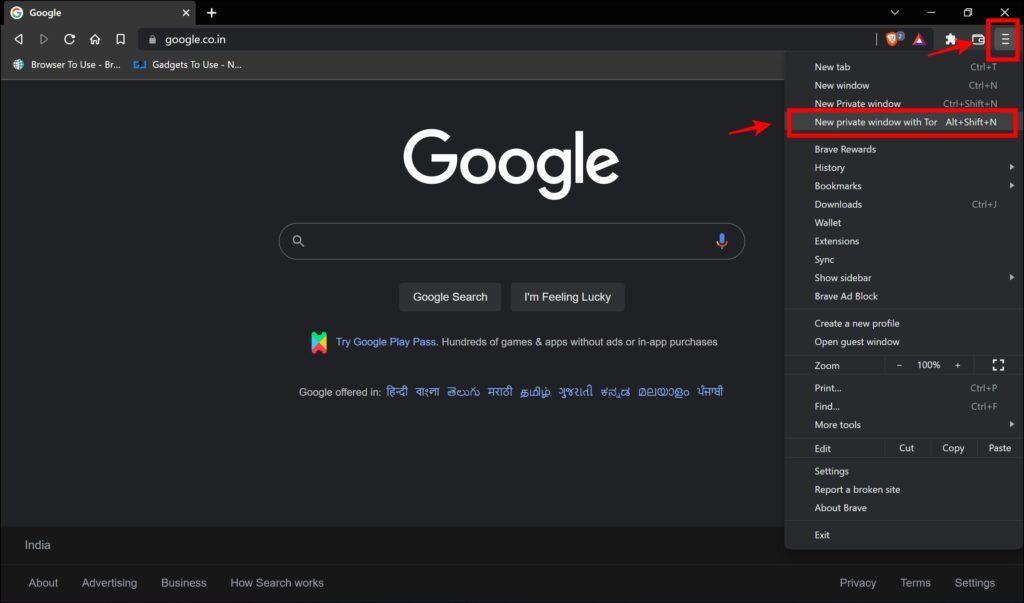 Here's our detailed guide to using Tor in Brave Browser.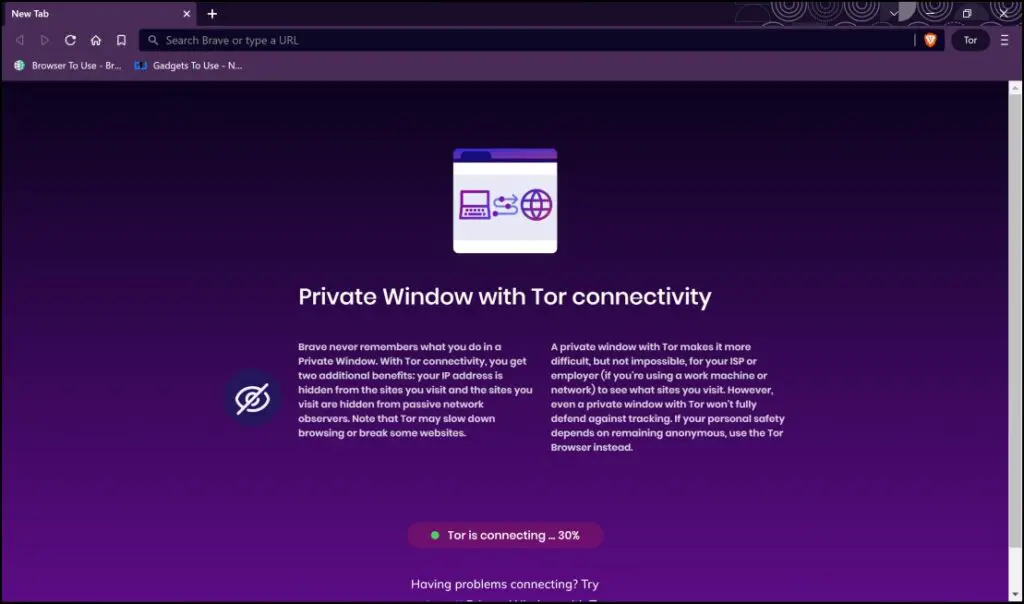 29. Does Brave have VPN?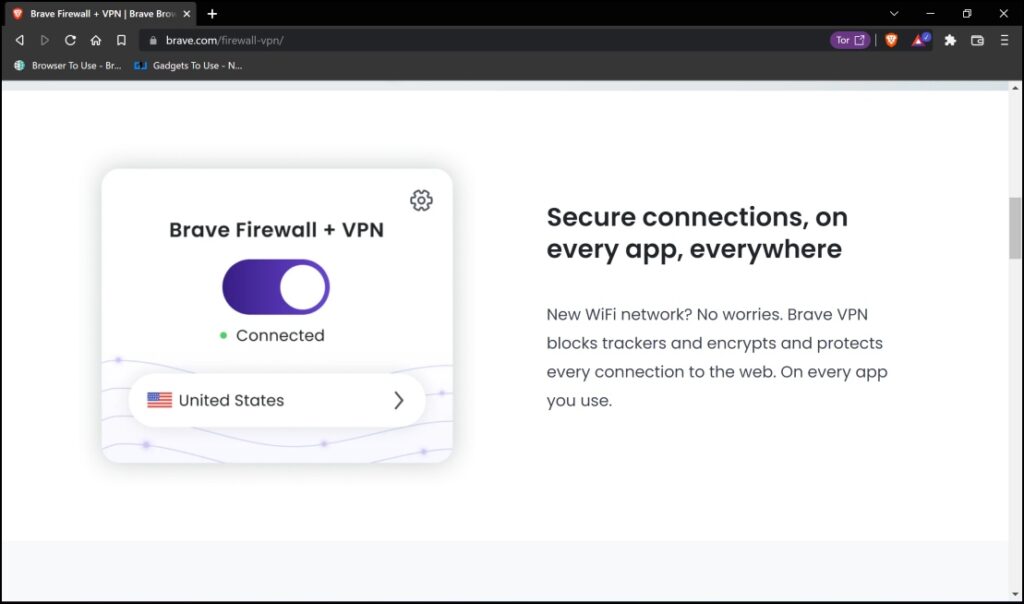 Only recently Brave launched a VPN and a firewall service. Unfortunately, right now it is only available for iOS only, but Brave has mentioned that it will be available for Windows, macOS, and Android soon. 
30. What is Brave Talk?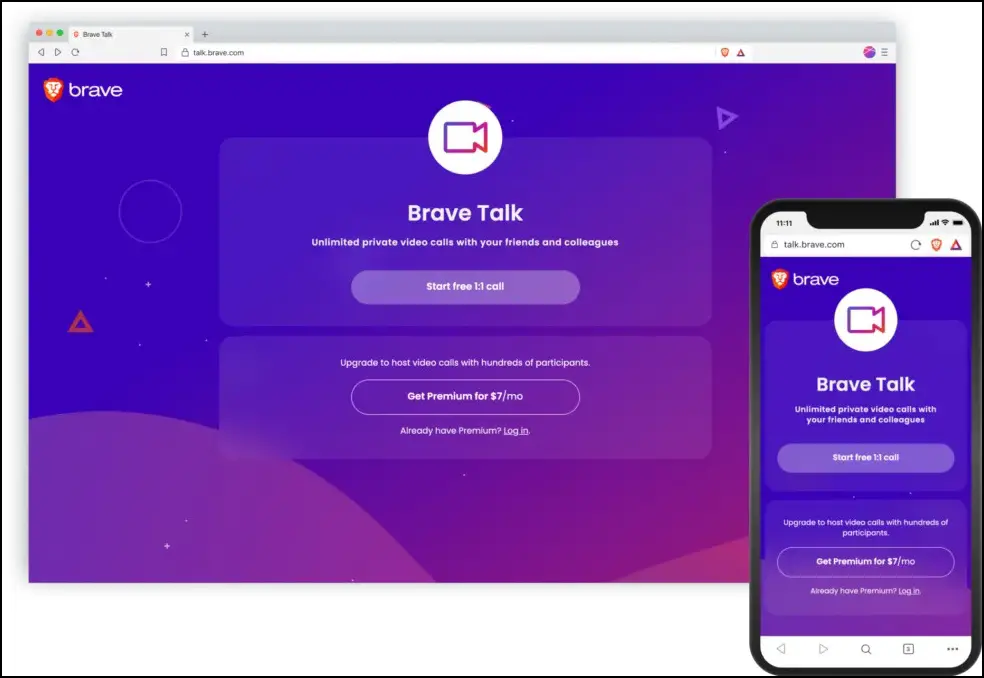 Built on Jitsi, Brave Talk is an open-source video conferencing platform. It claims to save no user data, hence adding a good amount of safety and security to the audio-visual elements involved in a video conference.
Brave Talk is built right into the browser, so there's no need for a browser extension, external app, or software. Calls must be started using the Brave browser, although connections to calls can be made with any browser that supports the required technologies.
It offers encryption for video chats, and the company says it doesn't store metadata from calls, unlike other video providers. We have a detailed guide on Brave Talk on Brave Talk – you can read it to understand all the elements of Brave Talk.
31. What Are the Additional Features That Brave Talk Premium Version Offers?
The Brave Talk Premium version is currently priced at $7 per month.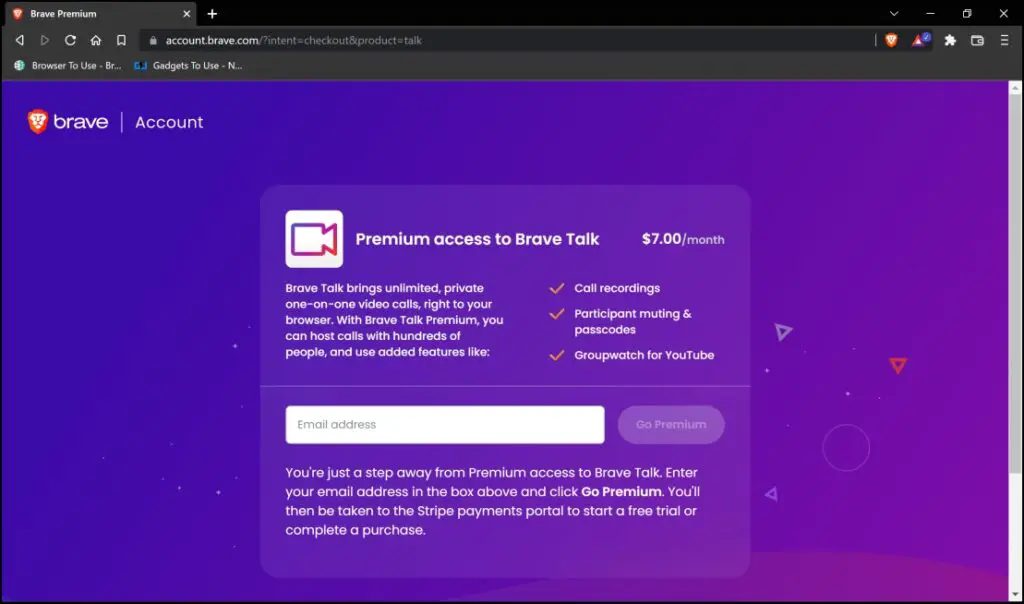 Additional Features That Brave Talk Premium Offers:
Call Recordings: All of your meetings can be recorded and can be stored on your computer for future usage.
Mute/Unmute Participants: As the host of the meeting, you can mute/unmute participants using this feature.
More than four participants: With Talk Premium, you can have more than four participants in your meeting.
Group watch for YouTube: With this feature, YouTube videos shared during the meeting can be viewed by all participants simultaneously.
Meeting Passcodes: With Premium, you can add passcodes for your meeting to ensure nobody unauthorized tries to enter your meeting.
32. What is Brave Search?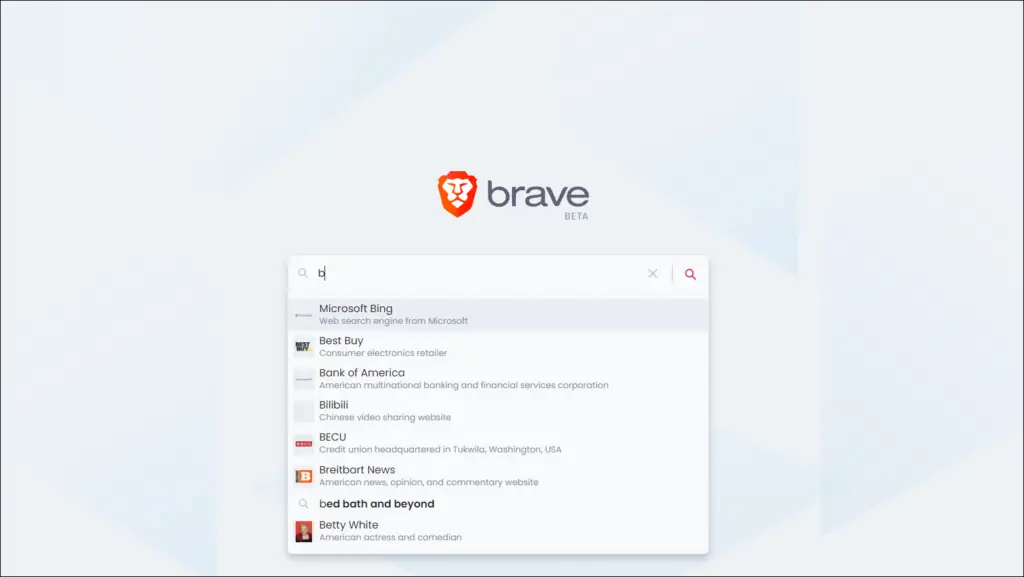 Brave Search is a first-party search engine from Brave. It is similar to Google search and Bing but does not track your queries or preferences. Moreover, it does not rely on the above-mentioned search engines or algorithms for its results except for images- more on it later.
It is open-source and anyone can look into its code for malicious practices. This makes it a transparent and ideal choice for people who care about their privacy. You can access it on search.brave.com.
33. What Are Some of the Upcoming Features of Brave Browser?
Brave recently announces their roadmap for 2022, as they look forward to extending the functionality of Brave Browser by including these features.
Solana Integration: At Solana's Breakpoint conference in Lisbon, Brave and Solana announced that the companies will work together to bring best-in-class wallet features for the Solana blockchain into Brave's Web3 desktop and mobile browsers in the first half of 2022.
BAT Defi utility:   BAT liquidity pool pairs on AMMs and DEX liquidity in Solana, Ethereum L2s, and EVM ecosystems.
Auto-earn feature support for BAT in the Brave Wallet.
BAT NFT utility: NFT Marketplace support for BAT to purchase and own NFTs in Solana, Ethereum L2s, and other supported EVM ecosystems.
BAT Metaverse and gaming utility: Upcoming support for BAT to purchase NFTs, access content, and be utilized with metaverse applications and blockchain gaming in Solana, Ethereum L2, and EVM ecosystems.
New Brave Ads units: Brave is planning to introduce Brave Search Ads and Brave News Ads for Android.
Brave and BAT-themed collaborations with NFT projects and creators.
BAT Community: Brave is currently focusing on Building a crypto-themed community so that they impart Crypto & Web3 education through BAT Ambassadors on Campus program for college students. Brave also is striving for More virtual meetups, community calls, AMAs, events, and other opportunities for better community engagement and to raise awareness and knowledge of the blockchain ecosystem.
Brave Wallet: Brave is also focusing on improving Brave Wallet through the following means:

EVM and Dapp Support on iOS and Android.
Convert Wallet to have multi-network support, beyond EVMs.
Multichain support for Solana, Bitcoin, and Filecoin.
NFT support on desktop and mobile devices.
Wrapping Up
This was a detailed FAQ addressing common questions with regards to Brave Browser. It is worth noting that Brave Browser is just getting started, and with the advent of Web3 projected to exponentially grow, it would be interesting to see how Brave will be an integral part of this revolution. We hope all of your queries are clarified and stay tuned for more such guides and articles on Brave Browser.