Smart TVs are the norm these days, and most of them run on the Android TV platform, which has a great interface and lets you download apps from the Play Store. But when it comes to web browsers, there are only a handful of options available. Here, we'll tell you the best free browsers for Android Smart TV you can use to access websites on your TV. We'll talk about both- browsers available on Play Store and those that can be sideloaded via APK.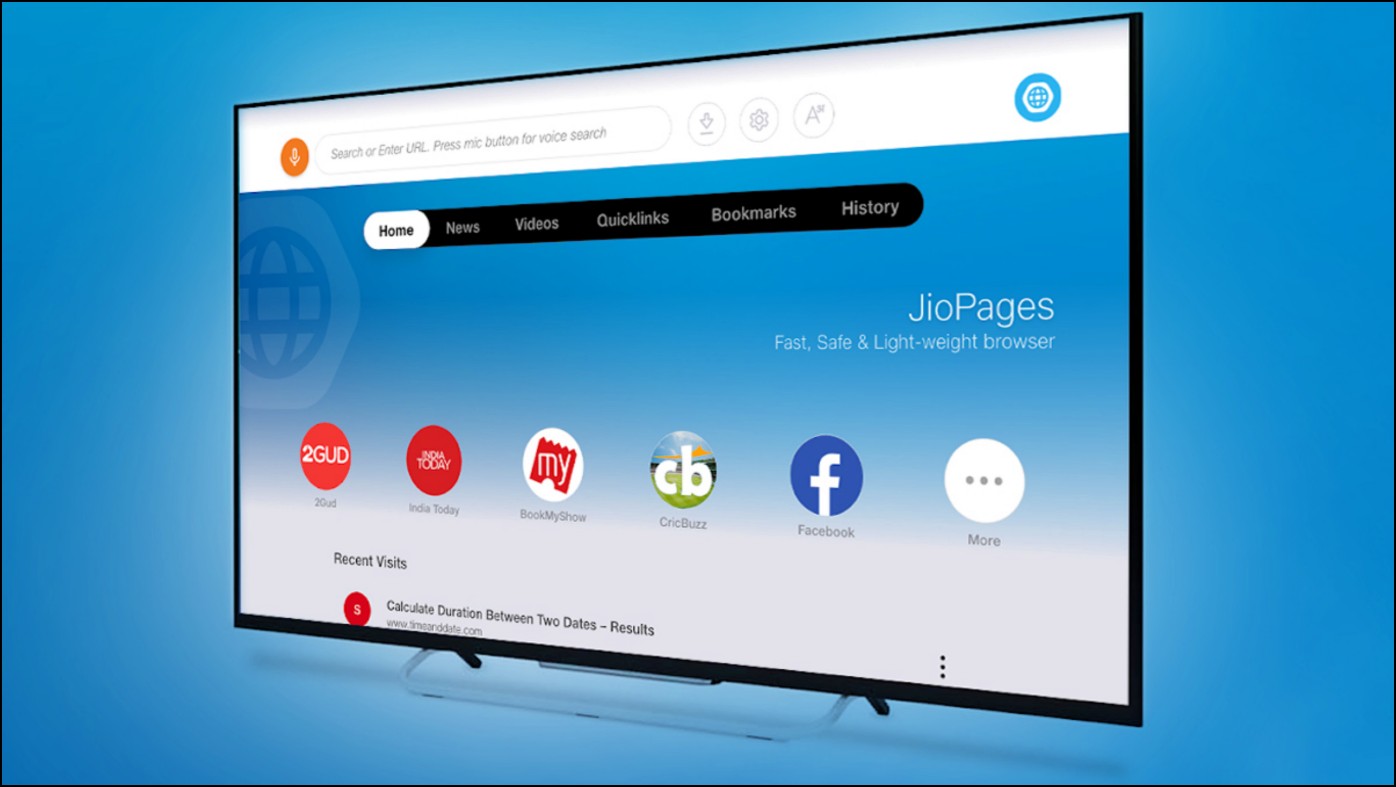 Best Browsers for Android TV on PlayStore
The ability to browse the web from the comfort of your couch is what truly makes a TV smart. This is why we have curated this list of the best browsers for Android TV. We have tested all of the browsers on this list on our OnePlus U1S TV running Android 10 with 2GB of RAM.
So to start this list, let us first take a look at browsers that are available for download directly from PlayStore.
1. JioPages Browser for TV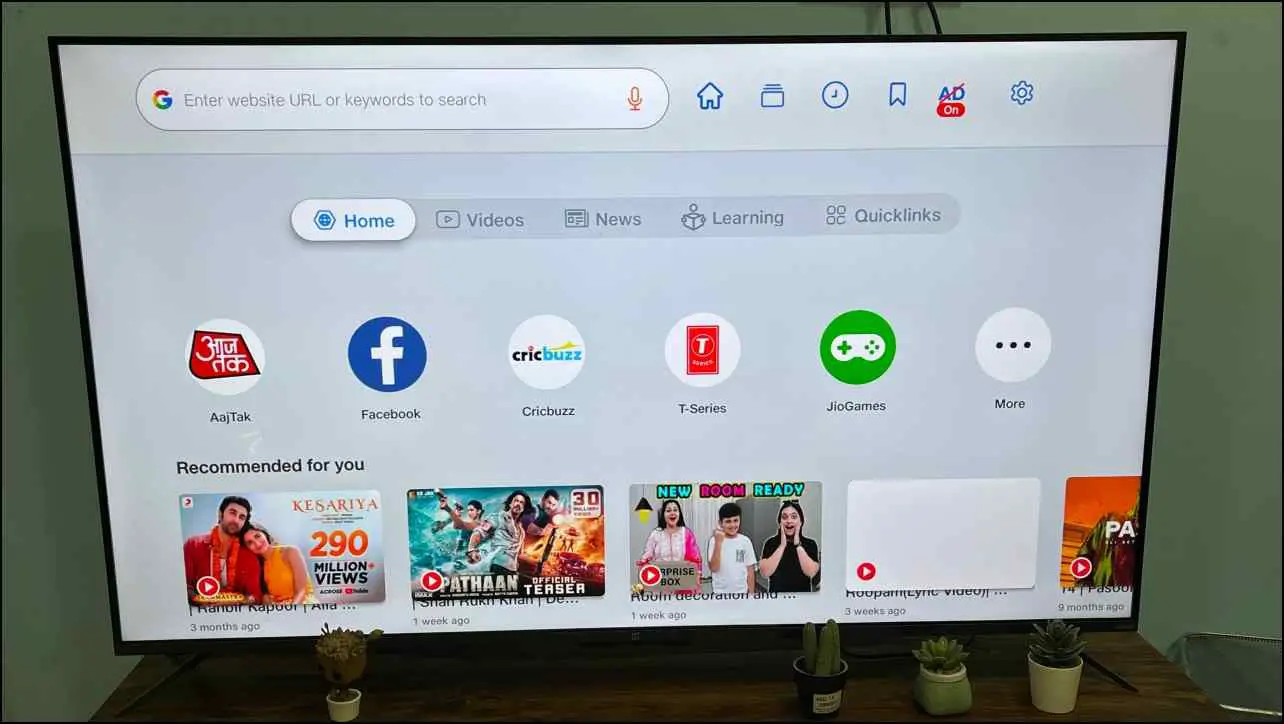 JioPages TV is a browser optimized to work on Android TV and features several useful features that are overlooked by other Android TV browsers, like the option to create bookmarks, browsing history, download manager, and a PDF viewer.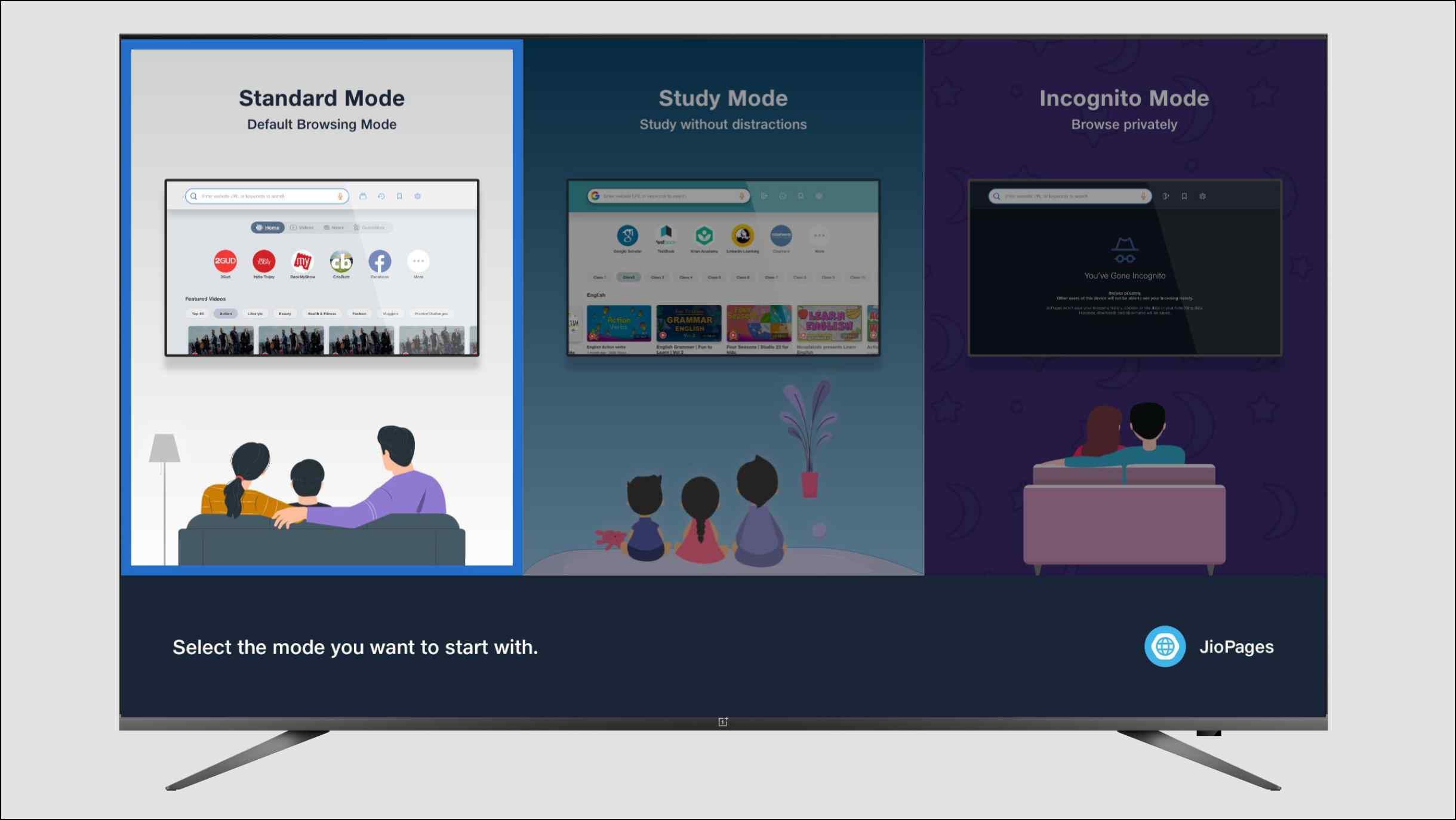 The browser's highlight is the video section which shows recommended videos, and you can choose from three different modes: Standard, Study, and Incognito.
The Standard mode is the regular mode. It shows video recommendations from different categories, such as news, learning, and music.
Study mode features quick links to educational sites like Udemy and Topper learning. Kids can select their standard and subject and watch videos related to their course.
Incognito mode is quite basic, it just lets you search the web and clears your history on exit.
In our browser usage, playing videos resulted in sluggish performance, buffering, and sometimes crashing the browser altogether. If you want to watch videos, then use the YouTube app for Android TV. Other than these issues, the browser works fine. And can make learning and studies more fun for kids.
Pros: 
Features three modes: Standard, Study, and Incognito.
Supports 8 Indian regional languages.
Built-in Ad Blocker with the option to whitelist websites.
Download Manager and PDF viewer.
Cons: 
The browser struggles and sometimes crashes while playing videos.
Ad-blocker does not work with YouTube ads.
Might not be available in all regions.
Download: Jio Pages TV
2. Puffin TV Browser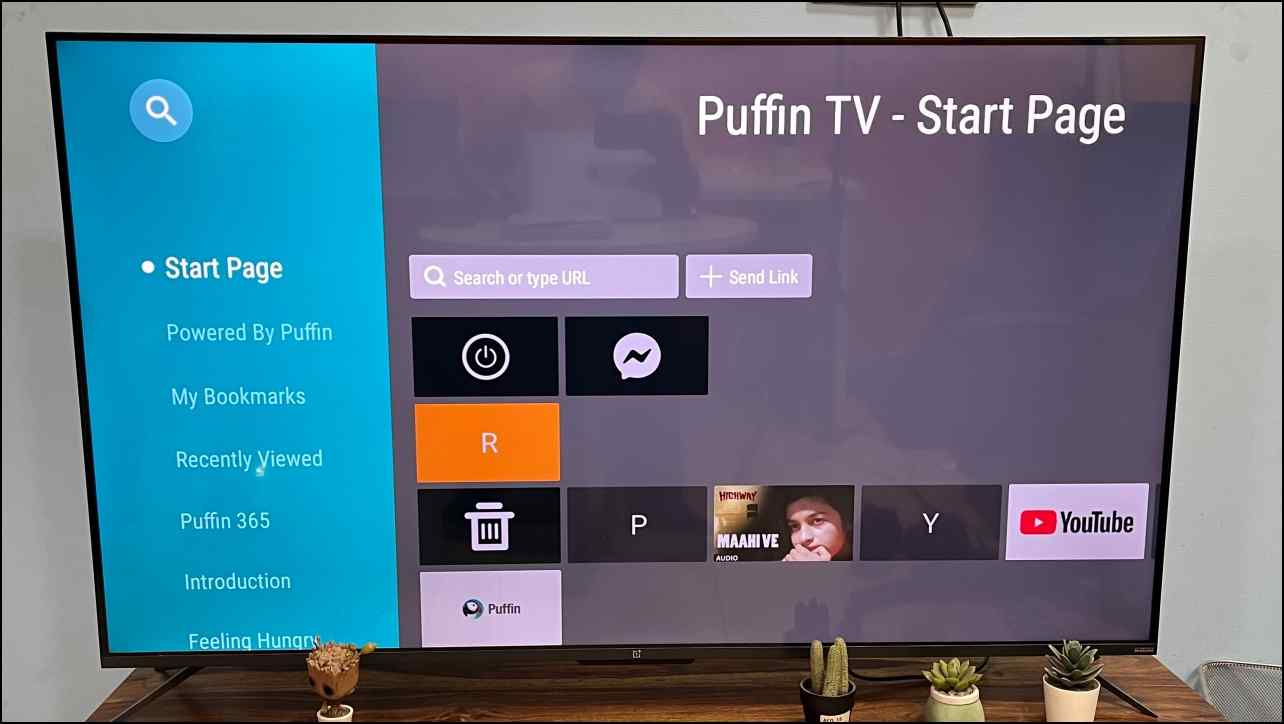 The Puffin TV browser is a popular choice for several Android TV users. It has a list/card interface where you can scroll vertically to access different menus, recently viewed items, and categories and scroll horizontally to access items in each option. It reminded us of the old Windows-style interface.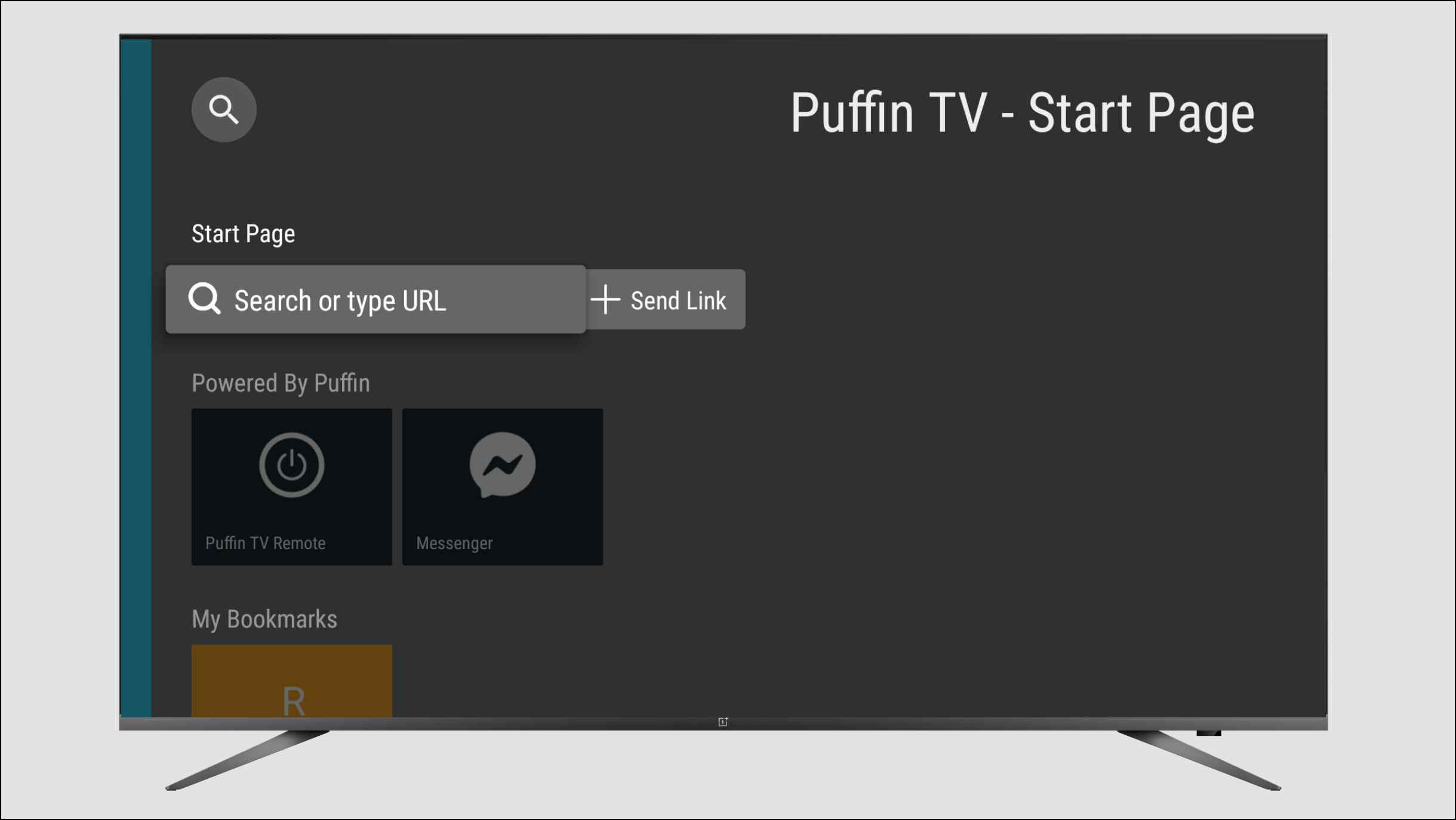 The outstanding feature of the Puffin TV browser is that it can be controlled via a Puffin TV Remote mobile app. You need to download the app on your smartphone and ensure the TV and smartphone are on the same WiFi network. You can then use your phone as a trackpad and keyboard to control the browser. This is far better than using the standard TV remote.
While trying out the Puffin TV browser, we faced issues while playing videos and even crashed sometimes. Another problem with the Puffin browser is that the free version can only be used for an hour per day, and you need to buy a subscription to remove this restriction. Besides the daily limitation, the Puffin TV browser is a good option for its ease of use and smartphone compatibility.
Pros: 
Easy to navigate interface.
Parental lock.
Can be controlled with a smartphone.
Built-in Adblocker.
Cons: 
Daily usage limit of one hour with the free version.
The browser slows down while playing videos.
Download: Puffin TV Browser
3. TV Web Browser – BrowserHere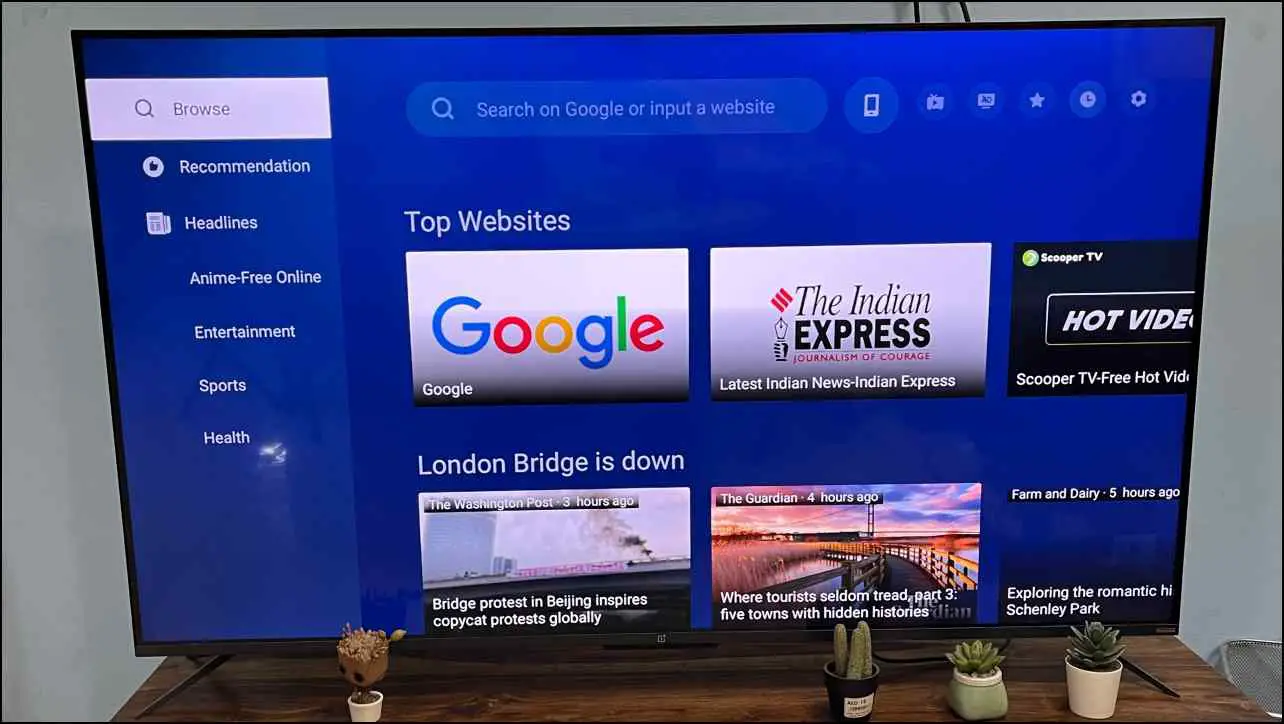 BrowserHere is another good browser for Android TV. It has a simple interface with a search bar on top. Below you have options for different categories of videos similar to the JioPages browser. BrowserHere also features a section where users can watch select free animes from the popular anime streaming website Crunchyroll.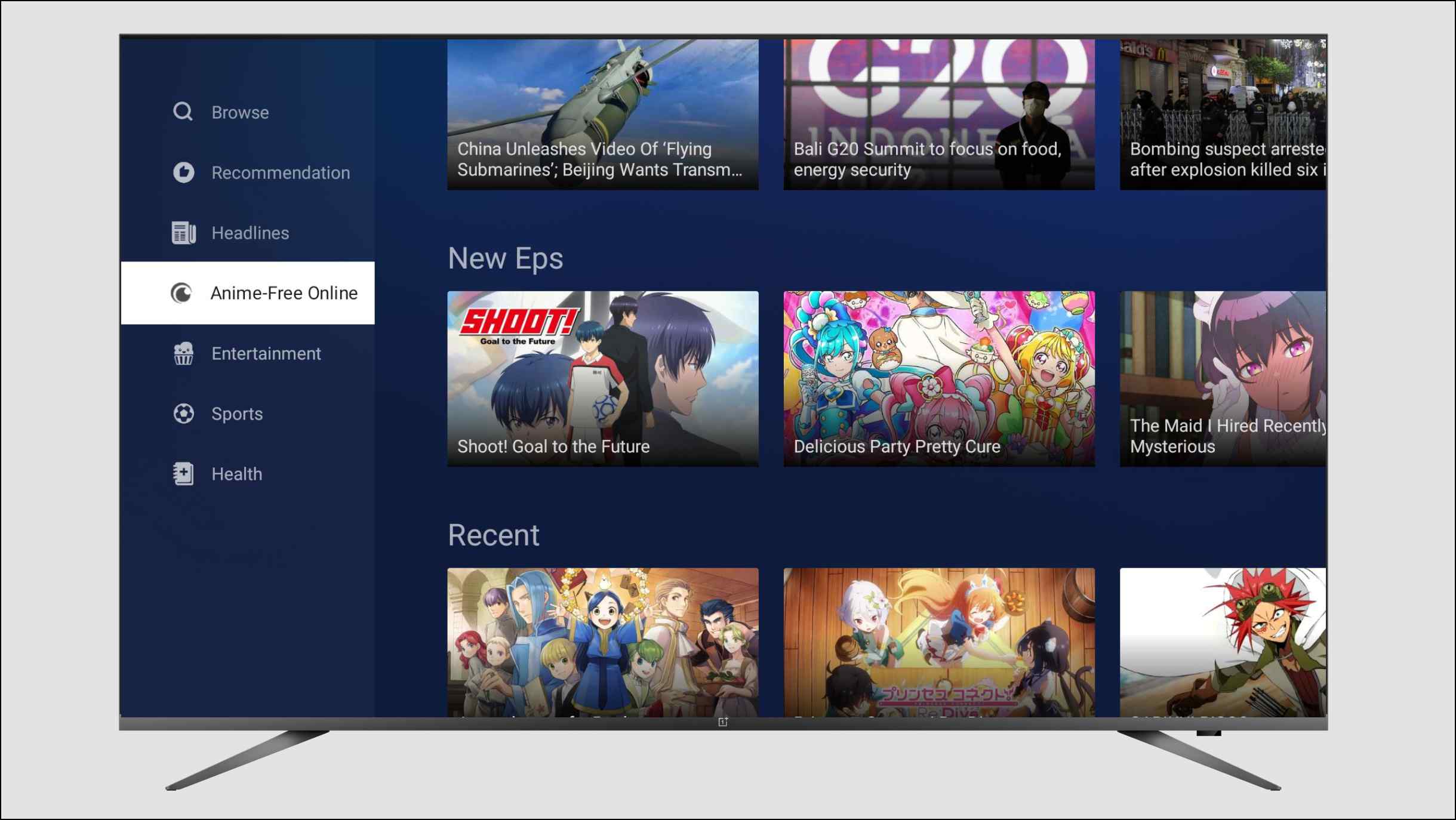 BrowserHere also has a smartphone-compatible app called MagiConnect that lets you cast videos and photos from your phone gallery on the TV. It can also be used to cast videos from different websites and outlets. This makes navigating the browser easy but can only be used for casting media.
You also get handy additions like enlarged webpages, quick scroll options, and a built-in adblocker. categories of videos to choose from. The browser isn't flawless, as it does tend to slow down while playing videos, but it is still a great option for regular use and especially for those who enjoy anime.
Pros: 
Streamlined interface.
Option to watch free anime content.
Has a compatible smartphone app to cast photos and videos.
Useful tools to zoom and scroll webpages as well as an adblocker.
Cons: 
The compatible app is filled with full-page ads.
The browser slows down while playing ads.
Download: TV Web Browser
4. Open Browser for Android TV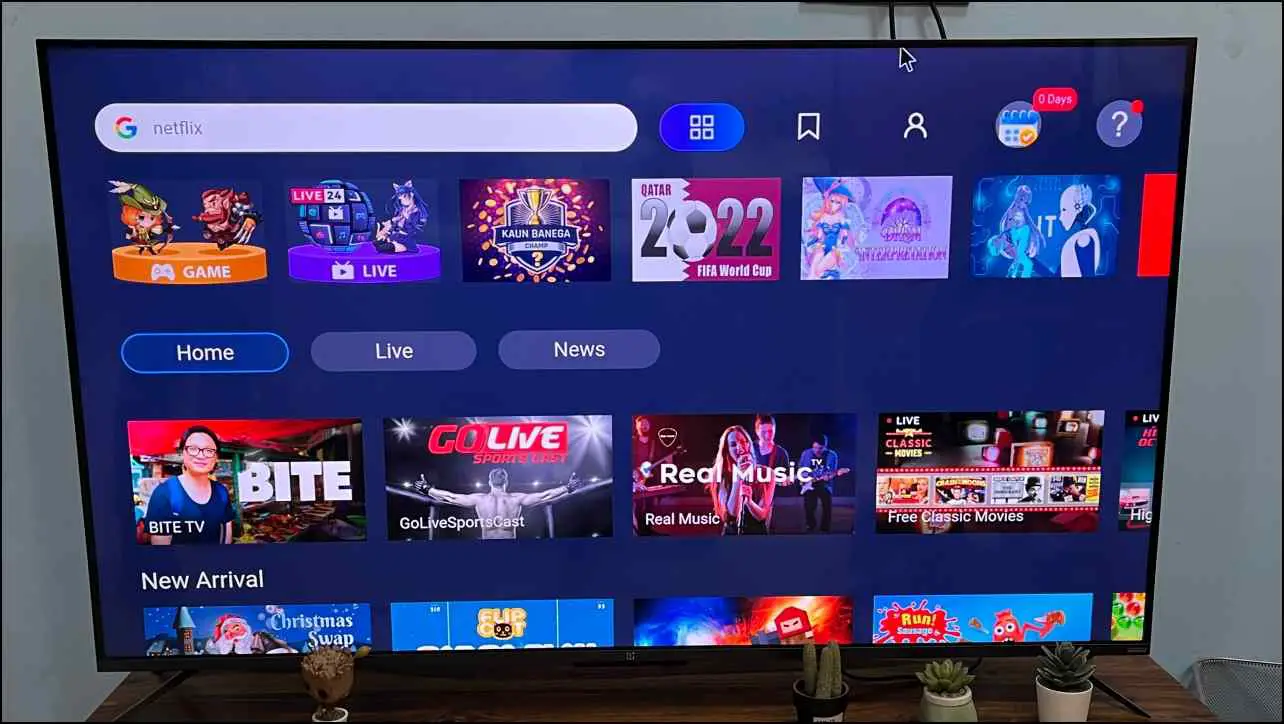 If you are looking for a feature-rich web browser for your Android TV, then you can try out the Open Browser. You get the search bar at the top, followed by quick links at the bottom, and Live TV channels and games.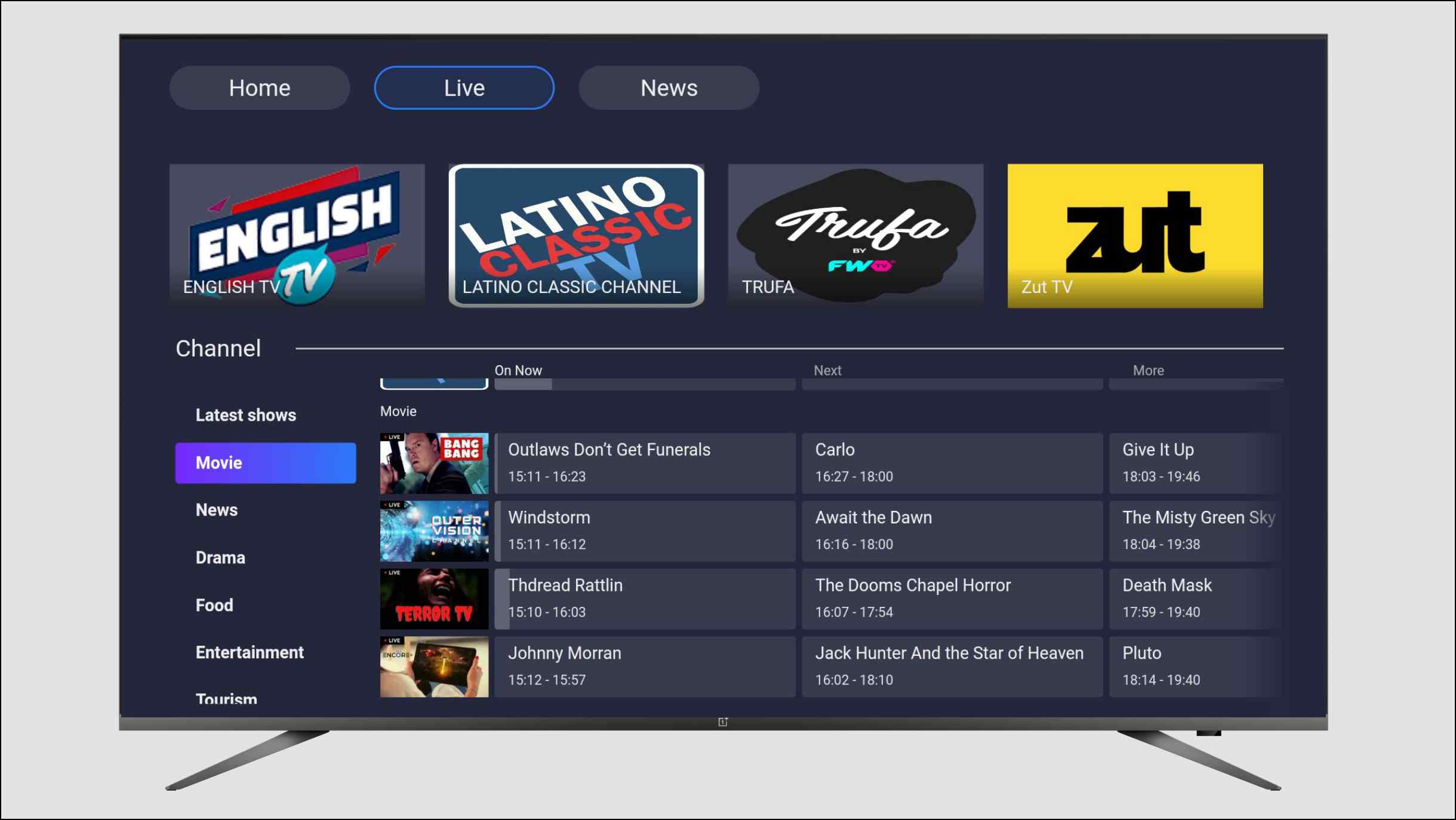 Yes, you can watch a few live TV channels on this browser for free. You can choose from different genres, and it even shows you a TV guide for upcoming shows. If that wasn't enough, it has a decent selection of games that your kids will enjoy playing. But it can be difficult playing them with the standard Android TV remote.
As for browsing, you can switch between Google or Bing search engines, clear cookies, download manager, incognito mode, and zoom into the webpage. But the interface of the browser itself feels sluggish to use, and the games and certain options are filled with ads.
It is still a great option if you want to watch live TV channels for free.
Pros: 
Access Live TV channels.
Games are available within the browser.
Switch between Google or Bing search engines.
Change the proportions of the webpage.
Cons: 
Lacks a built-in adblocker.
The UI feels sluggish.
Certain applications within the browser are filled with ads.
Download: Open Browser
5. TV Bro Browser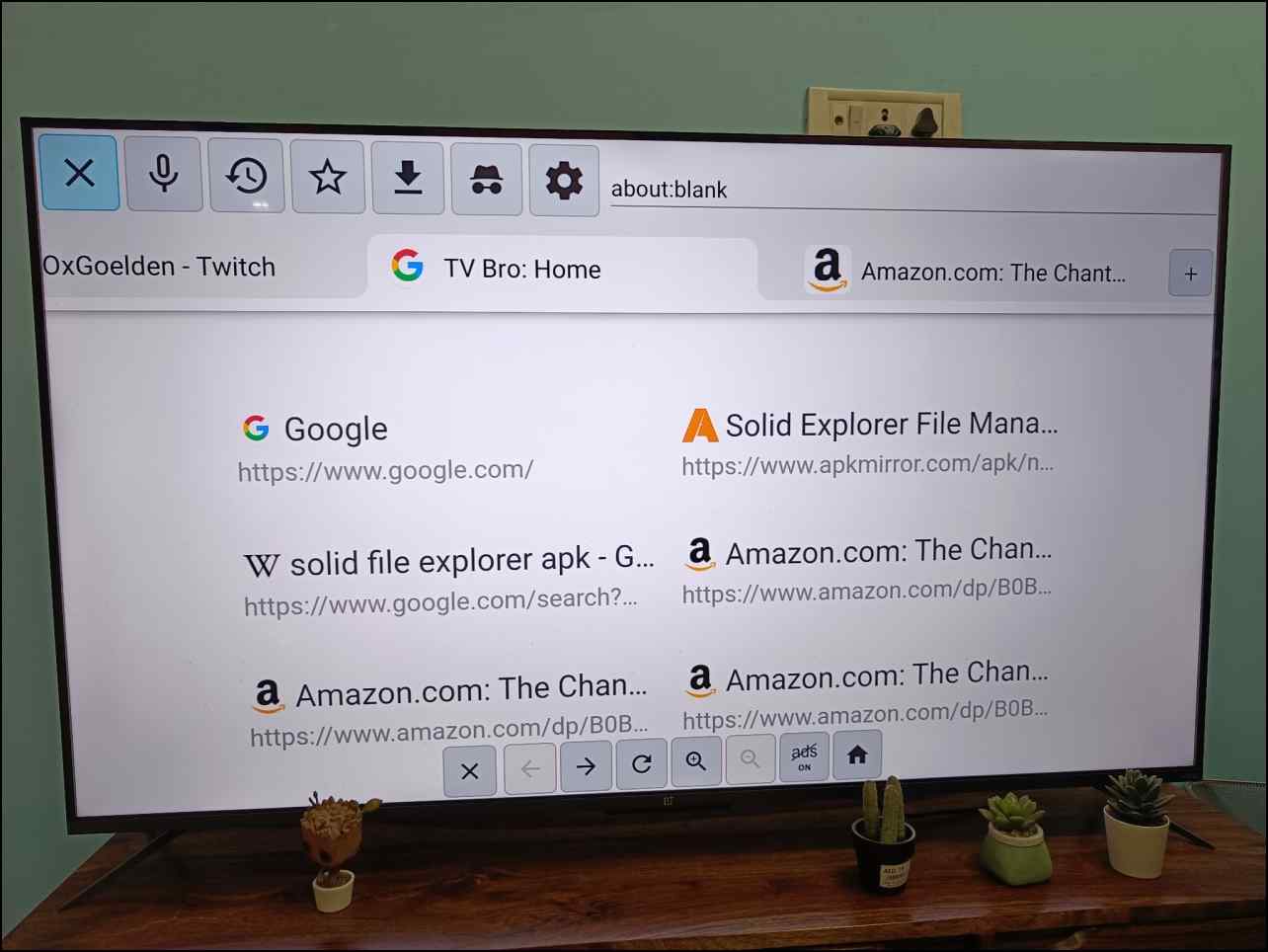 TV Bro is an open-source web browser that should suffice most of your web browsing needs on TV as it sticks with the basics. You can switch to a different search engine, incognito mode, adblocker, download manager, dark mode, support for tabs, and the ability to create custom button shortcuts to navigate the browser easily.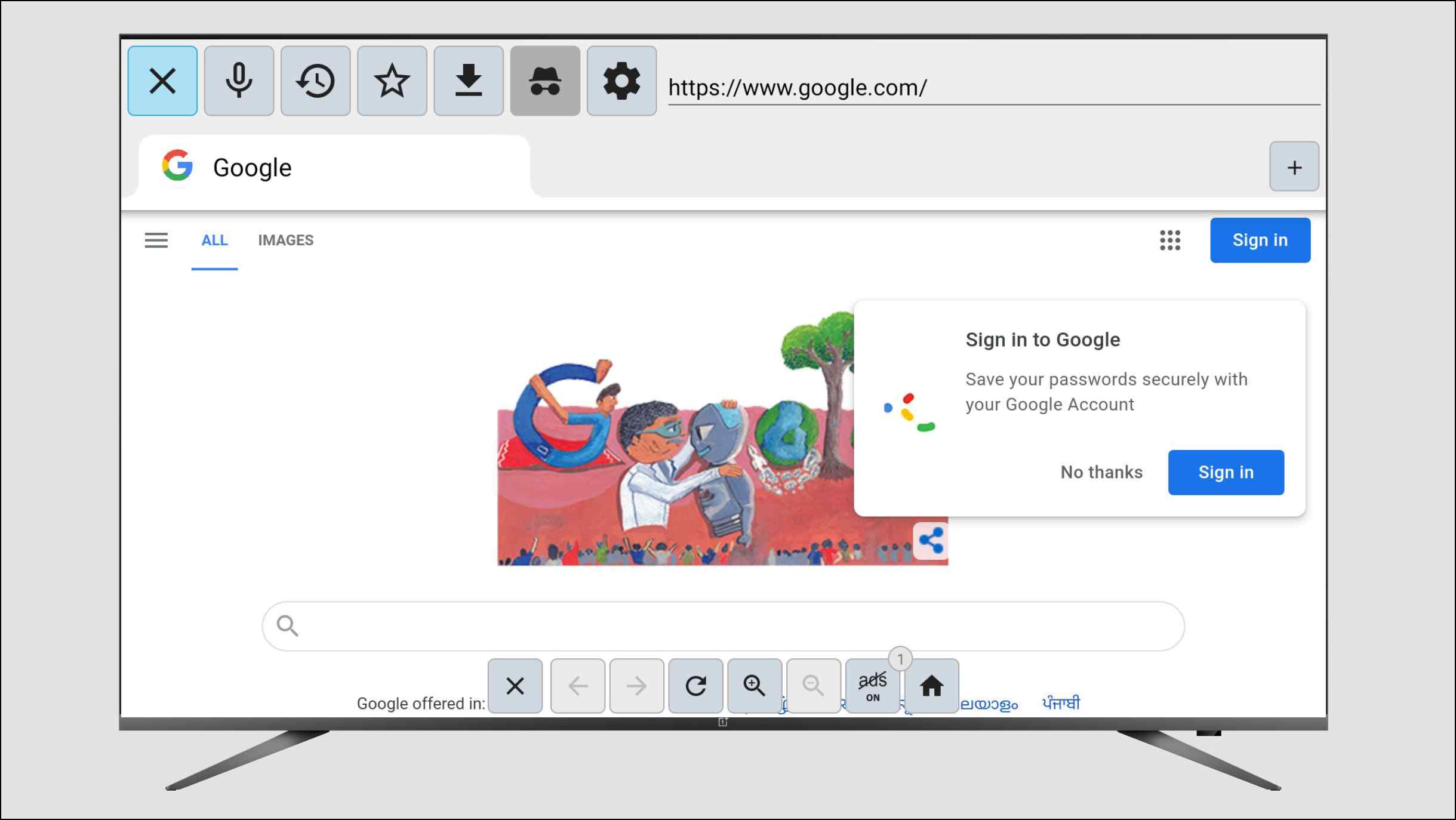 In our testing, the browser performed quite well. Loading speeds were fast, and we did not face any major issues surfing the web. However, we did notice a glitching effect on top of the YouTube video player. This was only seen with YouTube, we did not face the same issue when playing videos on other websites.
Tv Bro is free to download from the Google Playstore like the other browsers on this list, and seems to be a worthy option if you just want a simple web browser for your Android TV.
Pros: 
Support for Dark mode.
Select a different search engine.
Create custom button shortcuts for easier navigation.
Built-in adblocker and fast page loading speed.
Cons: 
Minor issues with the YouTube media player.
Download: TV Bro
Best Browsers to Sideload on Android TV
Some browsers are not available on the Android TV PlayStore, but thanks to the nature of Android, you can sideload these browsers and try them out. Here is a list of Android TV browsers that you can sideload.
6. Firefox TV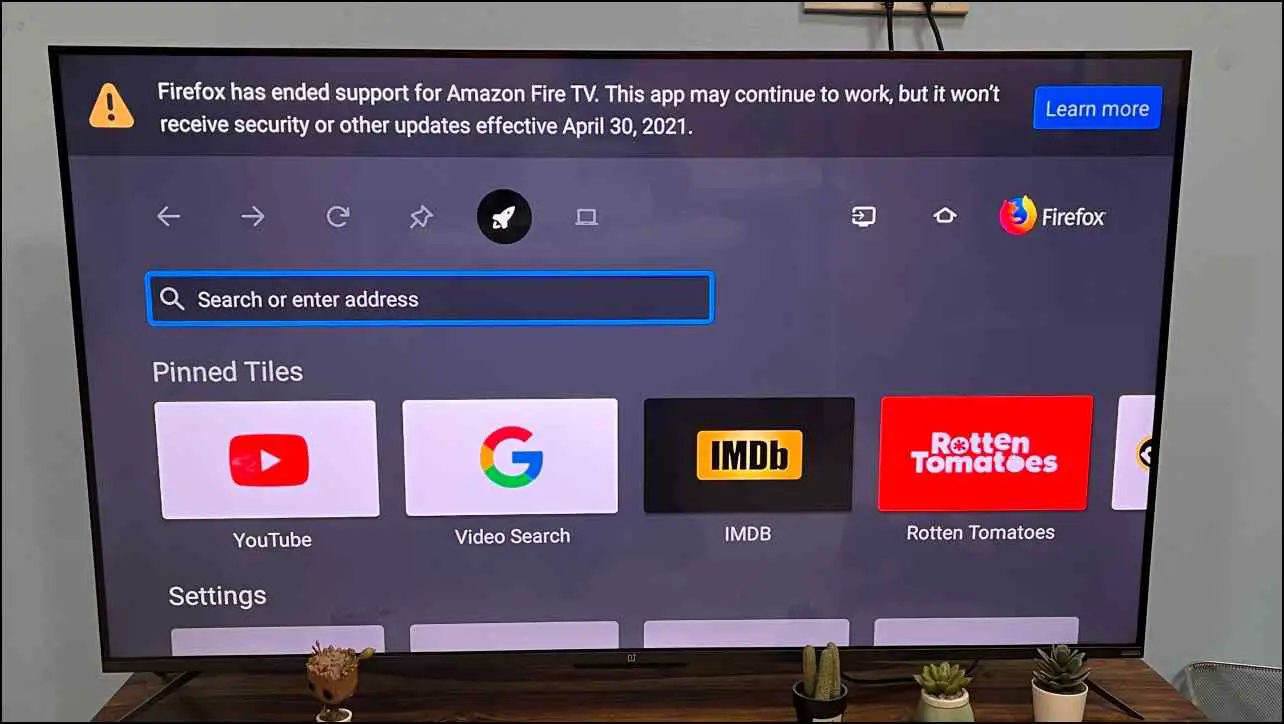 Firefox released an Android TV version of the Firefox browser, which uses dedicated APIs. It has a card-like interface that sits right with the Android TV design language. You can scroll through different preset pinned websites or add your own.
You can log in to your Firefox account to sync bookmarks and passwords. There is a turbo mode that improves loading speed by opening a lighter version of a website.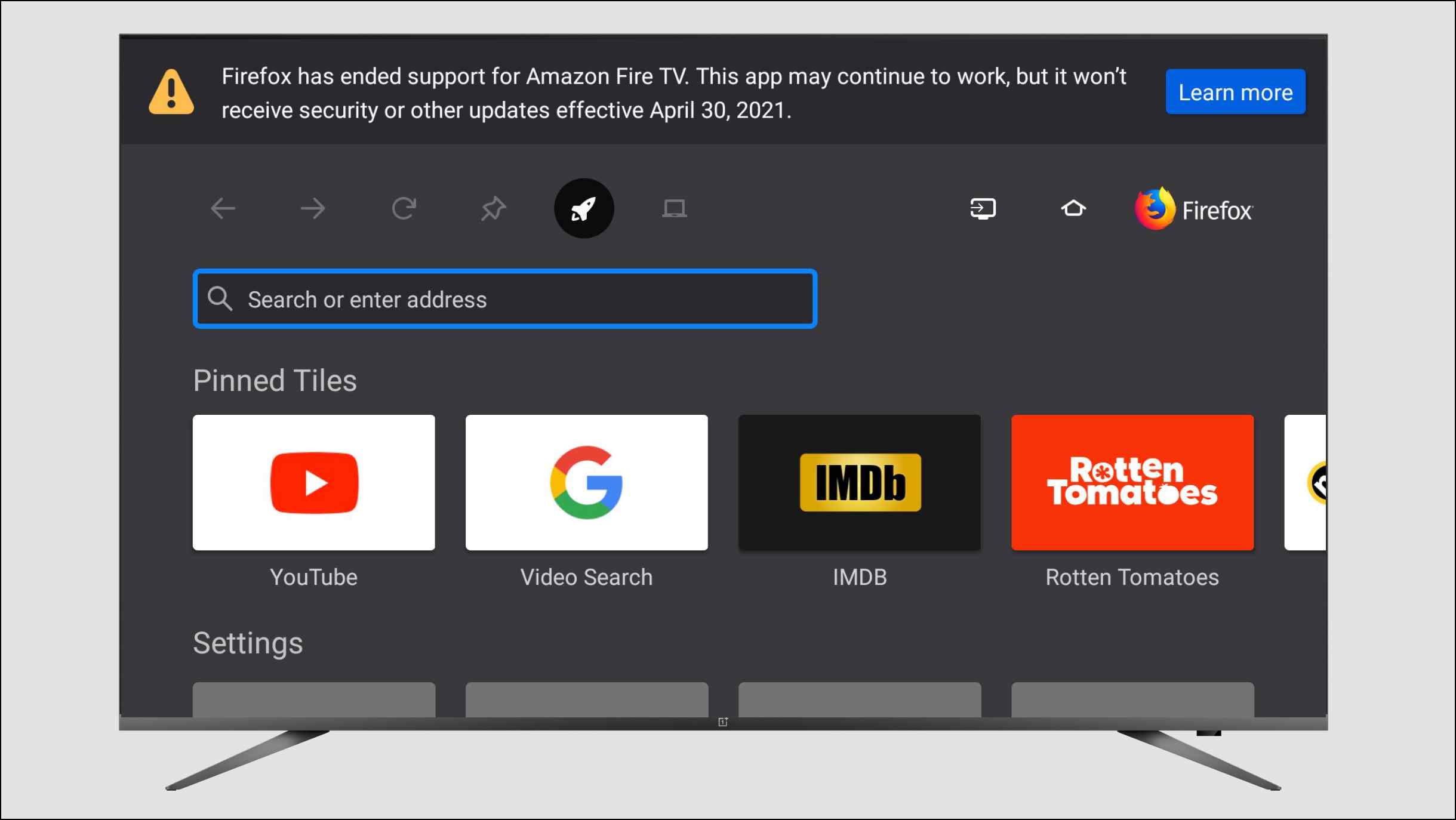 But Firefox dropped support for the browser back in April 2021, which means the browser does not get any security or feature updates anymore. And it has a permanent banner stating the on top of the window, which gets annoying.
Adding to that, the browser feels very lackluster in terms of features. So the only reason we would recommend this browser is if you are a die-hard Firefox user and want to access your passwords and bookmarks on your TV.
Pros: 
Sync your Firefox account.
Turbo mode to load webpages faster.
Easy to navigate interface for the Android TV.
Cards to easily access bookmarks and pinned sites.
Cons: 
Permanent banner on top.
The browser will not receive any future updates.
Some features do not work as Firefox dropped support.
Feels barebones compared to other Android TV browsers.
Download: Firefox TV
7. Amazon Silk Browser for TV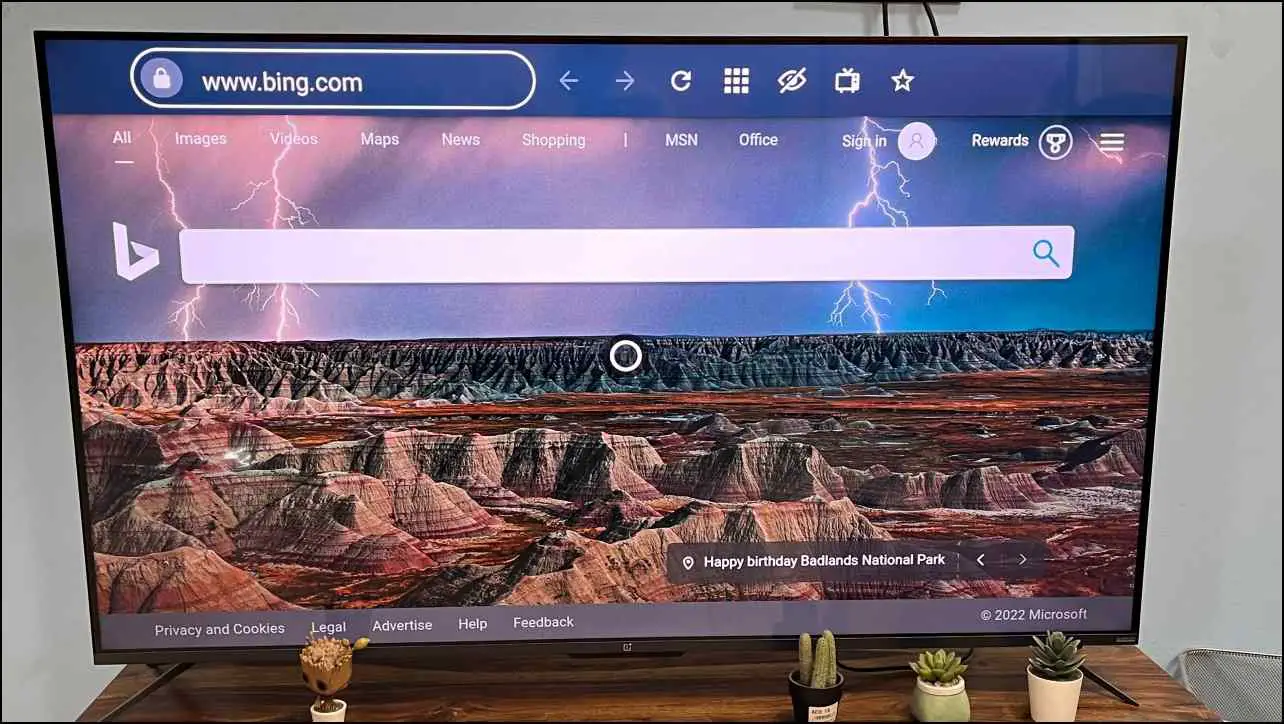 Silk Browser is a free web browser application available for all Android devices that use the split-browser architecture, including Android TV. It is made by Amazon and uses a cloud-based system to offer a snappy and buffering-free browsing experience.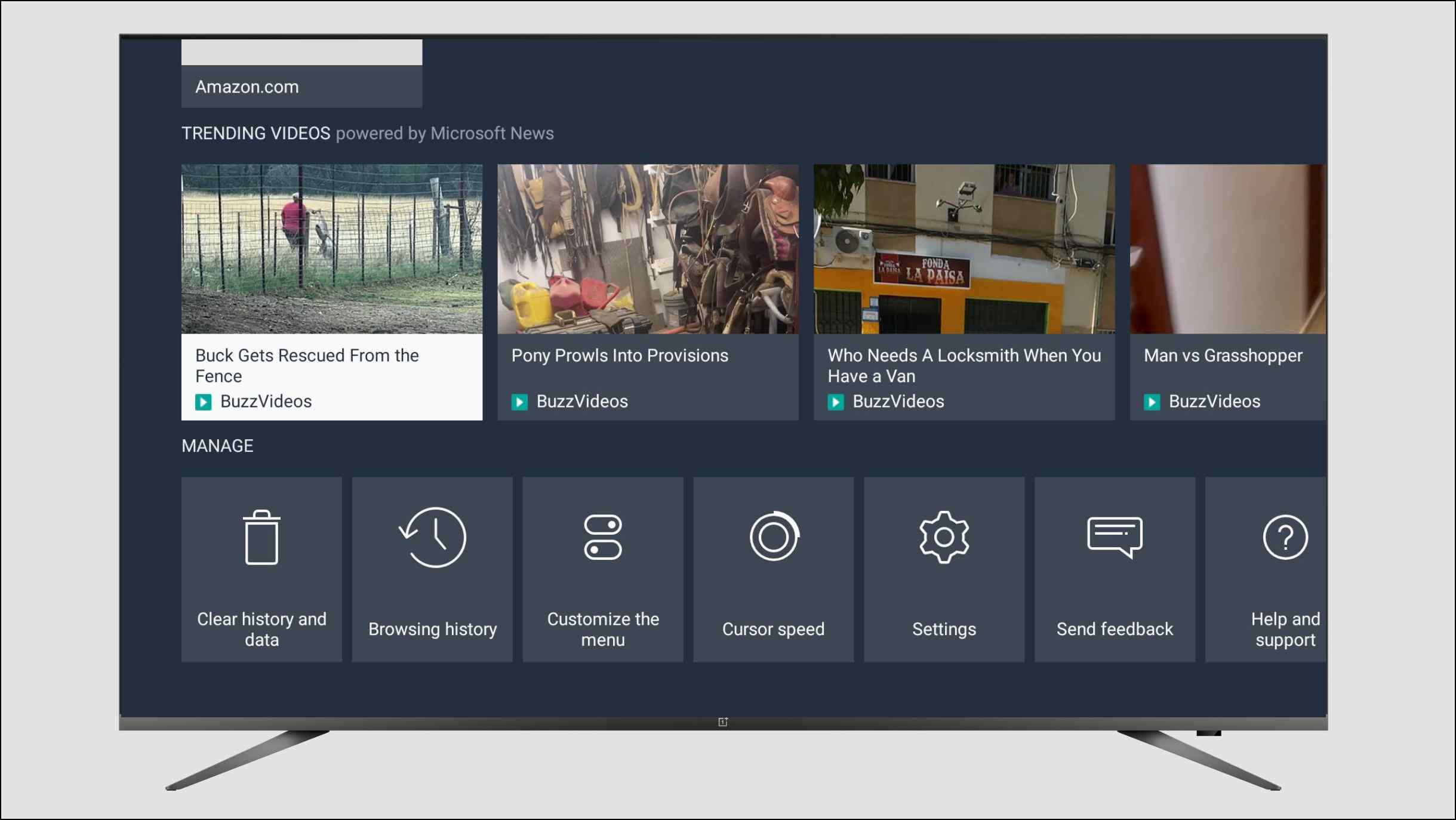 The browser runs fine on Android TV and includes all the necessary features like bookmarks, private windows (incognito), and the option to request desktop sites. By default, the browser uses the Bing search engine, but you can switch it to Google within the settings. Iit also lacks some crucial features like an adblocker and download manager.
When we tried out the browser, it was quick to load webpages, and we did not notice any buffering when playing videos on YouTube. This is all thanks to the cloud-based system. But the same cloud-based system also risks your privacy. Overall it is a decent web browser with good loading speeds and minor issues.
Pros: 
Cloud-based system to reduce bandwidth and improve loading speeds.
Includes important features like a private window, bookmarks, and multiple search engines.
The browser performance is quite nice.
Cons: 
Omits some useful options like adblocker and download manager.
The cloud-based system does put your privacy at risk.
Download: Amazon Silk Browser
8. DuckDuckGO Browser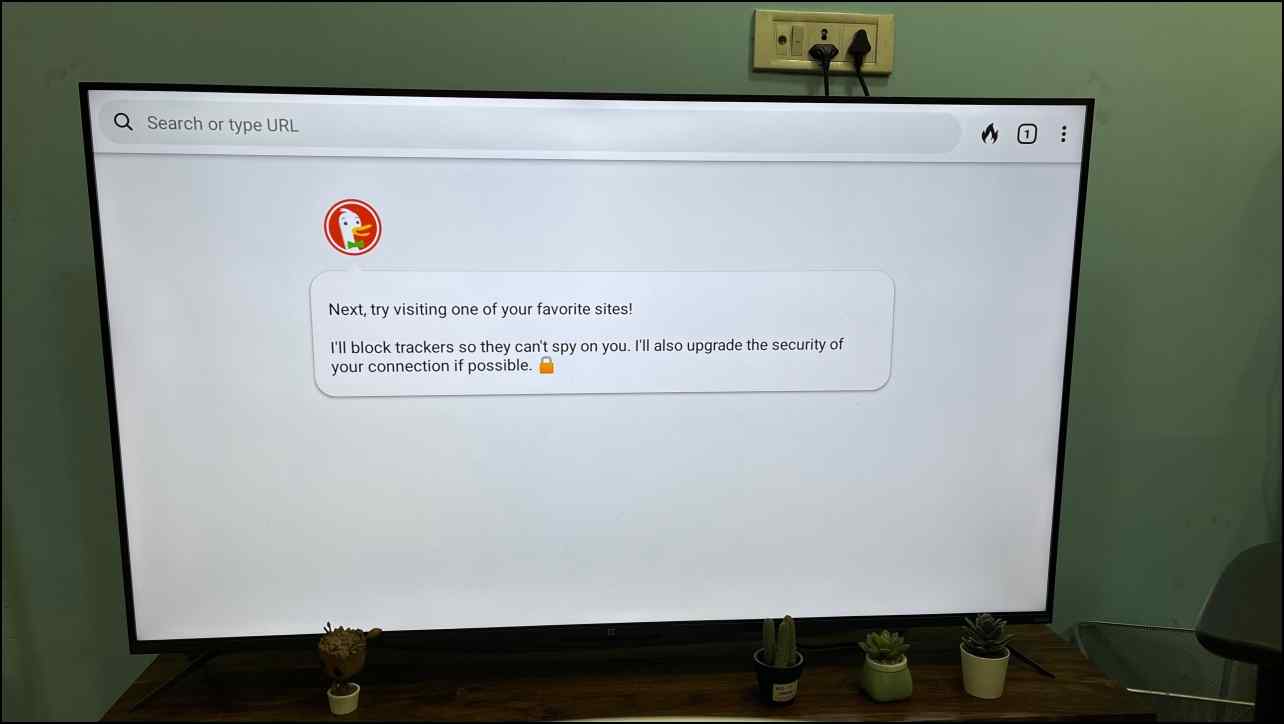 Those who are concerned about their privacy can go for the DuckDuckGo browser. This is the Android version of the browser, but you can sideload it on your TV and run it. The only big issue that you will face is that it does not support an Android TV remote, so you will have to connect a Bluetooth mouse and keyboard to use it.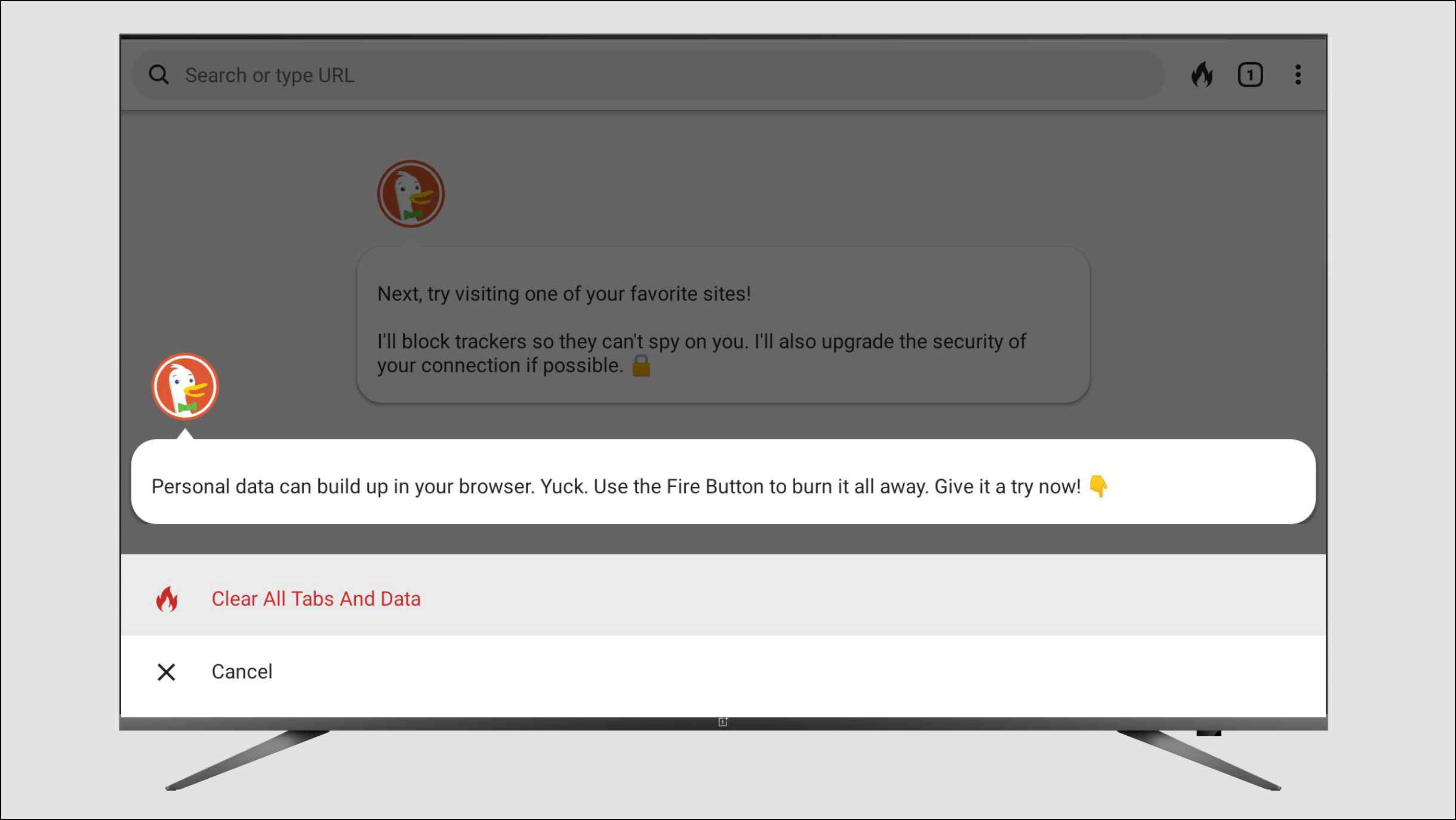 As for features, the browser uses the privacy-preserving DuckDuckGo search engine, warns you about potentially harmful websites, and blocks ads, trackers, and third-party cookies. There is even a Fire button that clears cache and cookie data at once.
In our usage, the browser performed well and did not show any issues while playing videos or loading demanding websites, and since it blocks ads and other unnecessary resources, the load times are also fast.
Pros: 
Privacy-focused web browser.
Blocks ads, trackers, and cookies.
Clear all cache and cookie data with the Fire button.
Warns about harmful websites and trackers within them.
Cons: 
Does not support Android TV remote.
Requires external Bluetooth mouse and keyboard to operate.
Download: DuckDuckGo Browser
How to Sideload Apps on Android TV?
One of the best parts about Android is that you are not limited to the PlayStore to download apps. You can sideload apps unavailable on the PlayStore from different resources. This applies to Android TVs as well, so if you fancy any of the browsers listed here and just want to sideload any other app on your Android TV, then follow this guide.
Step 1: First, download Send Files to TV app from the PlayStore on your smartphone and Android TV.
Make sure both your smartphone and TV are on the same WiFi network.
Step 2: Press Send and then select the .apk file on the Send Files to TV app on your smartphone.
Step 3: Select your Android TV on the next page, and your file will be sent. Make sure the app is running on the Android TV as well.
Your file will be received on your TV, as shown below.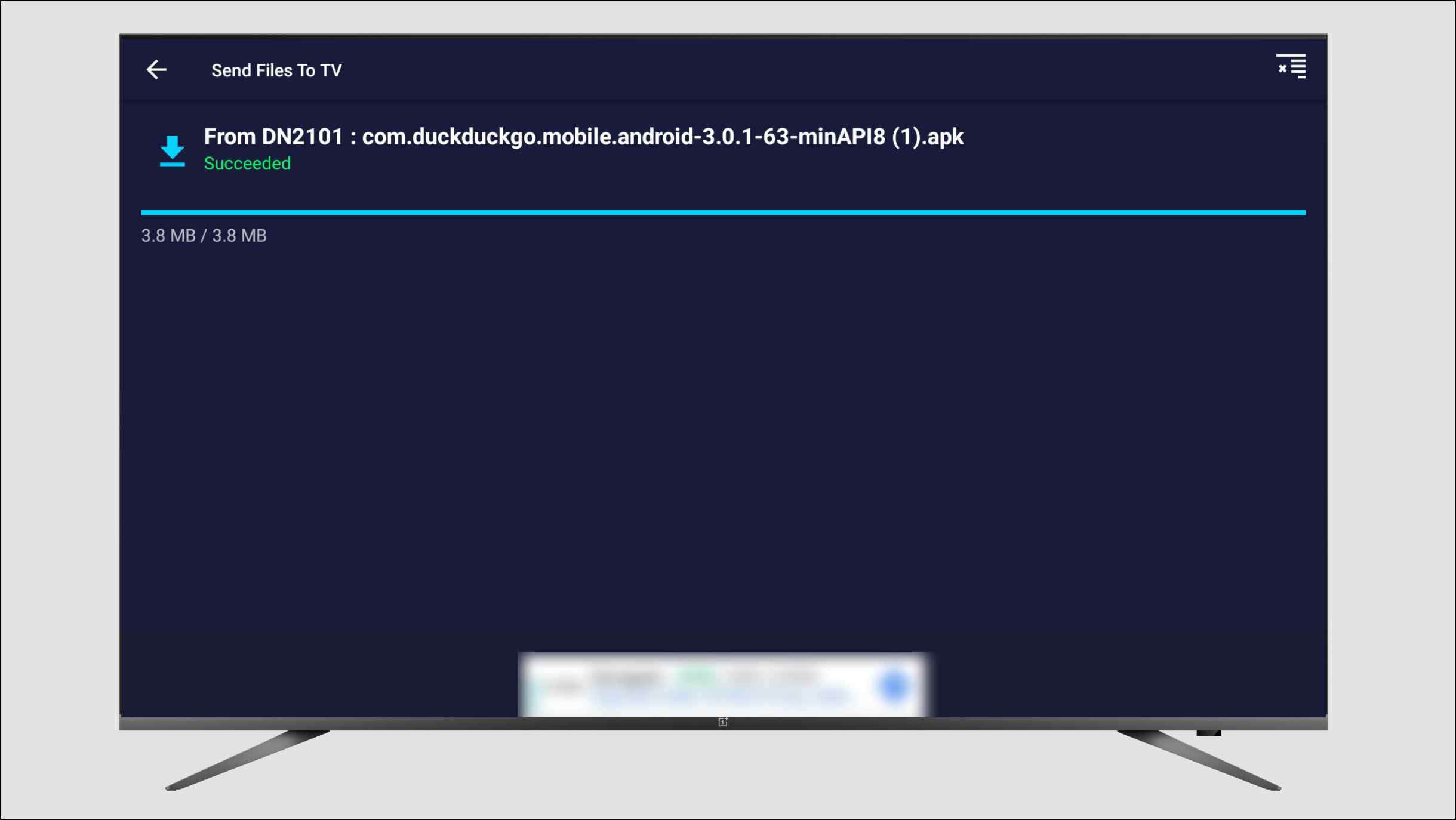 Step 4: Now download Solid Explorer on your Android TV from the PlayStore.
Provide the Solid Explorer required permissions to access device storage.
Step 5: Open the Solid File Explorer and navigate to the download folder.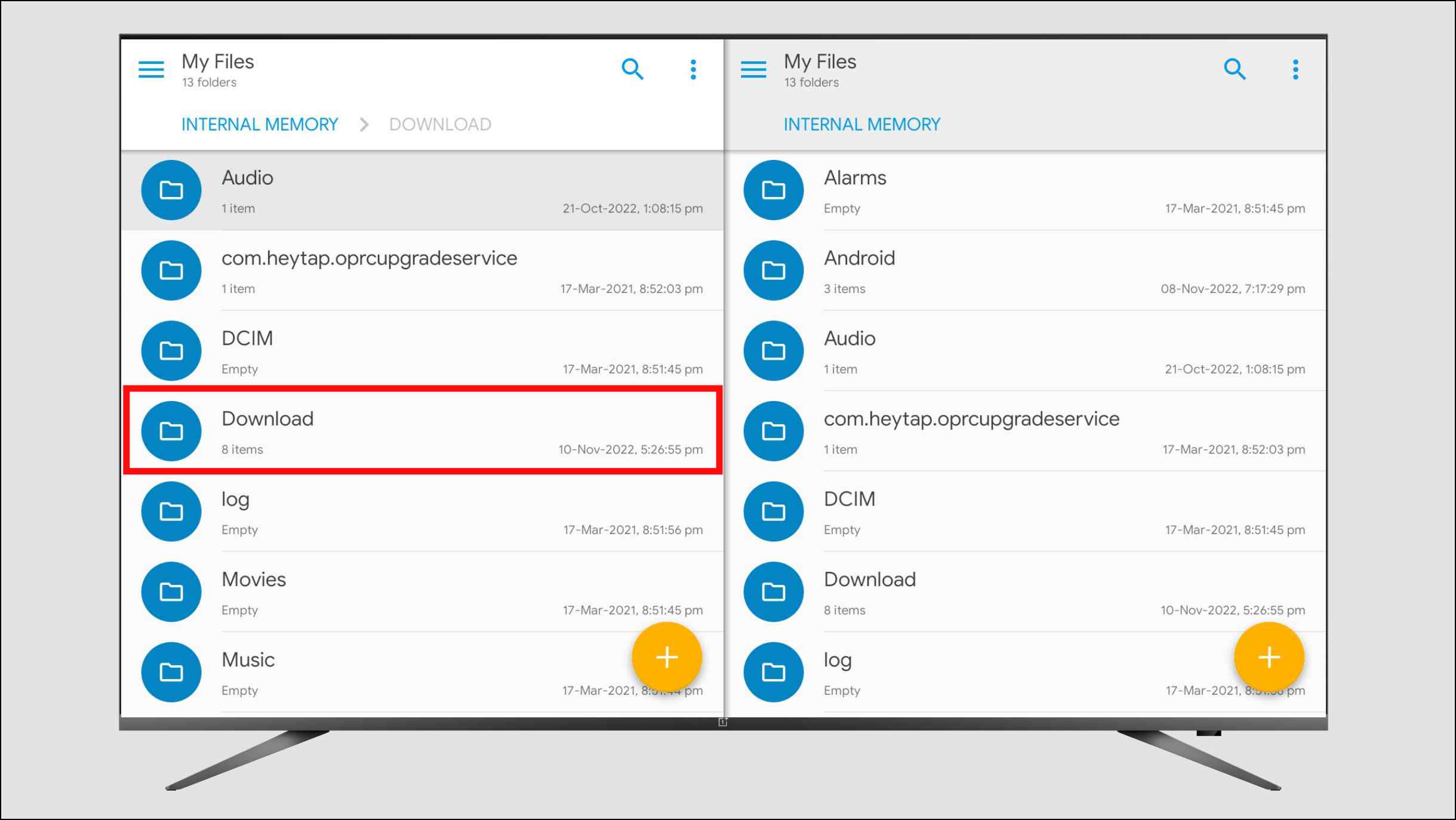 Step 6: Navigate to the APK file and click on it.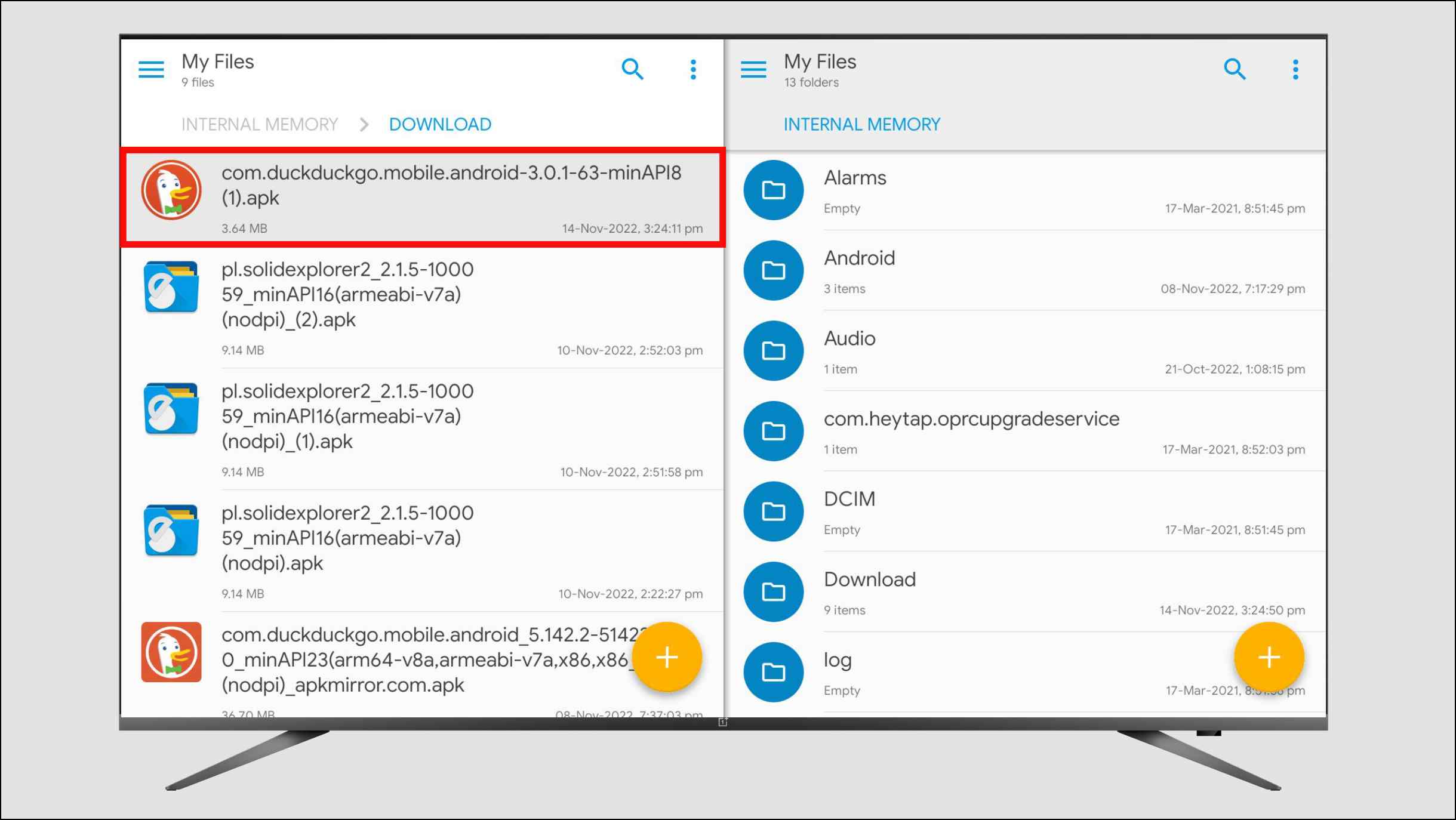 Step 7: On the confirmation dialogue box, select Install.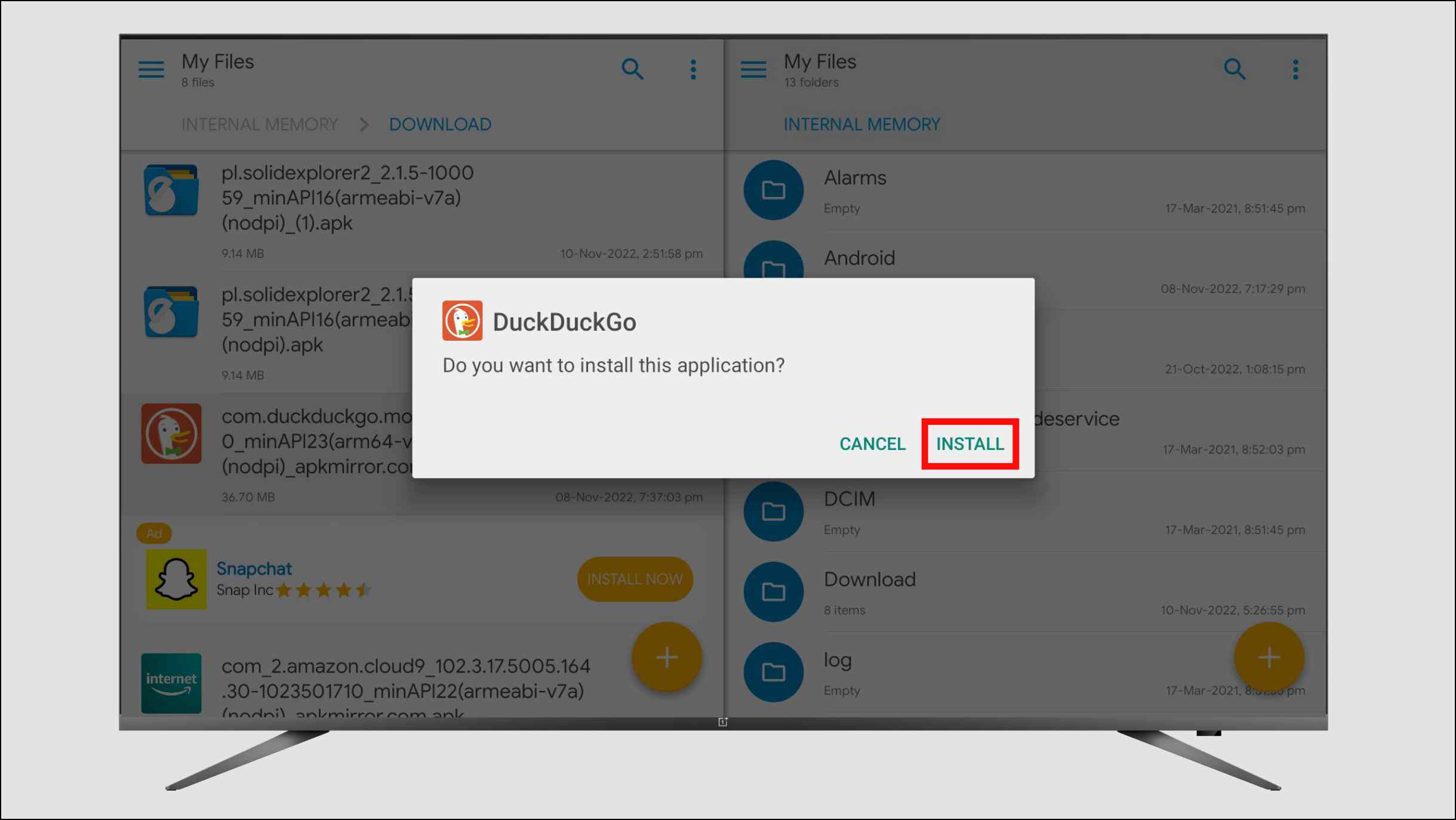 The .apk file will be installed on your Android TV, and you can find it in the Apps section.
Wrapping Up
This brings us to the end of this article. Most of us have a smart TV in our homes today, but in my humble opinion, any smart device is incomplete without a proper web browser. The issue here is Google doesn't provide a native web browser like Chrome for TV, so other apps have to come up with their solutions. But the options we discussed in the list are good, and we hope you also liked them. Stay tuned to Browser To use for more such articles and How-Tos.
Related: