Your web browser is probably the app you will use the most on your Mac computer, be it for browsing websites, checking up on social media, productivity and research, or even watching videos or listening to songs. So it becomes a crucial yet tough decision to choose the right browser. This article will showcase the best web browsers you can use on your Mac with performance pros, cons, and benchmarks for Intel and Apple M1 and M2 chips.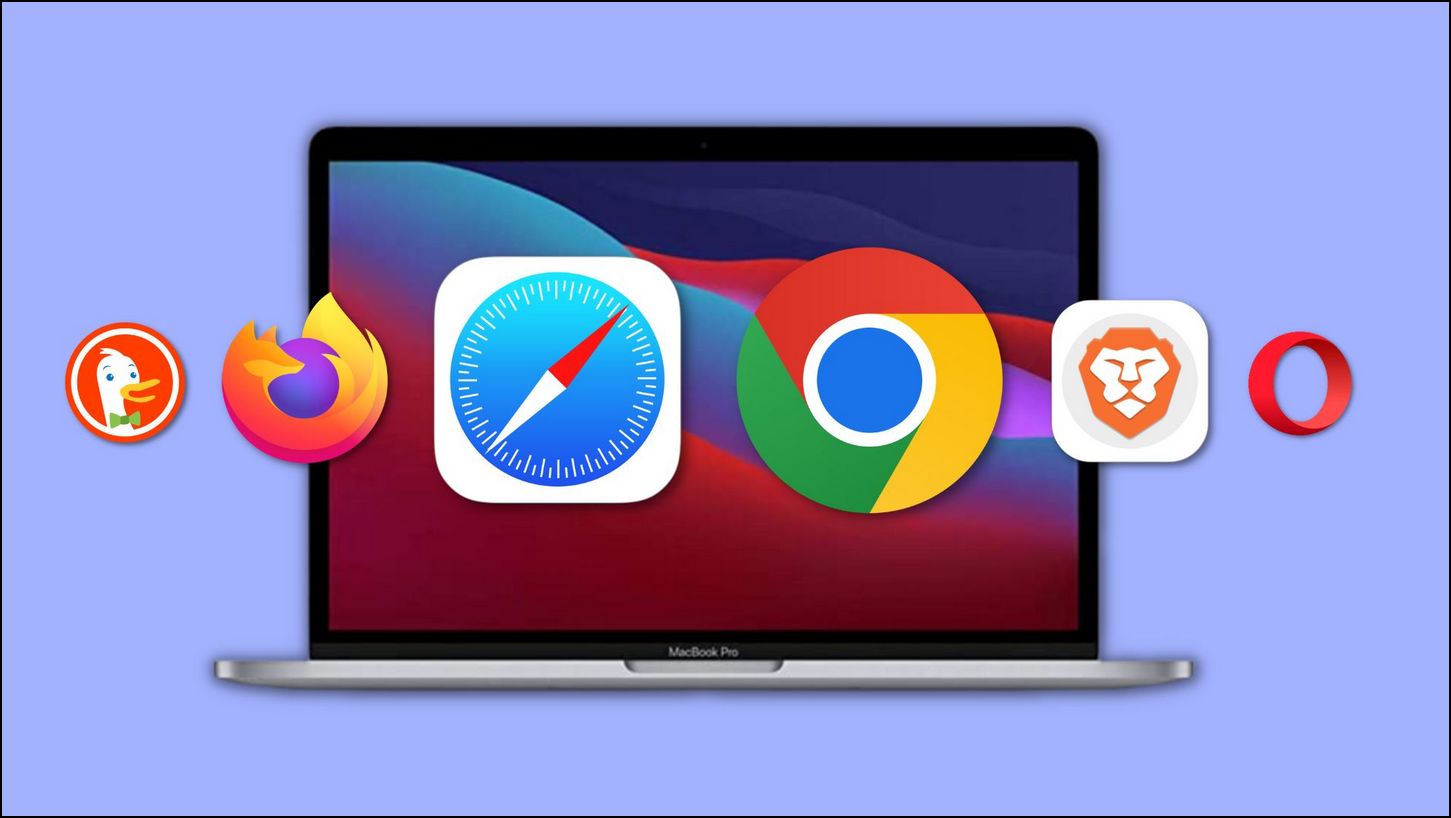 Best Browsers for Mac OS with Pros and Cons
Mac users prefer the right balance of productivity and performance, and based on this, we have curated a list of the best web browsers that would suit your needs.
We have also tested all the web browsers with Speedometer 2.0 benchmark on our MacBook Pro mid-202o with i5 (16-512GB) and MacBook Air M2 (16-256GB) to give you a clear overview. During testing, the machines ran on battery, and low power mode was disabled. Read on.
1. Google Chrome (Best Performing)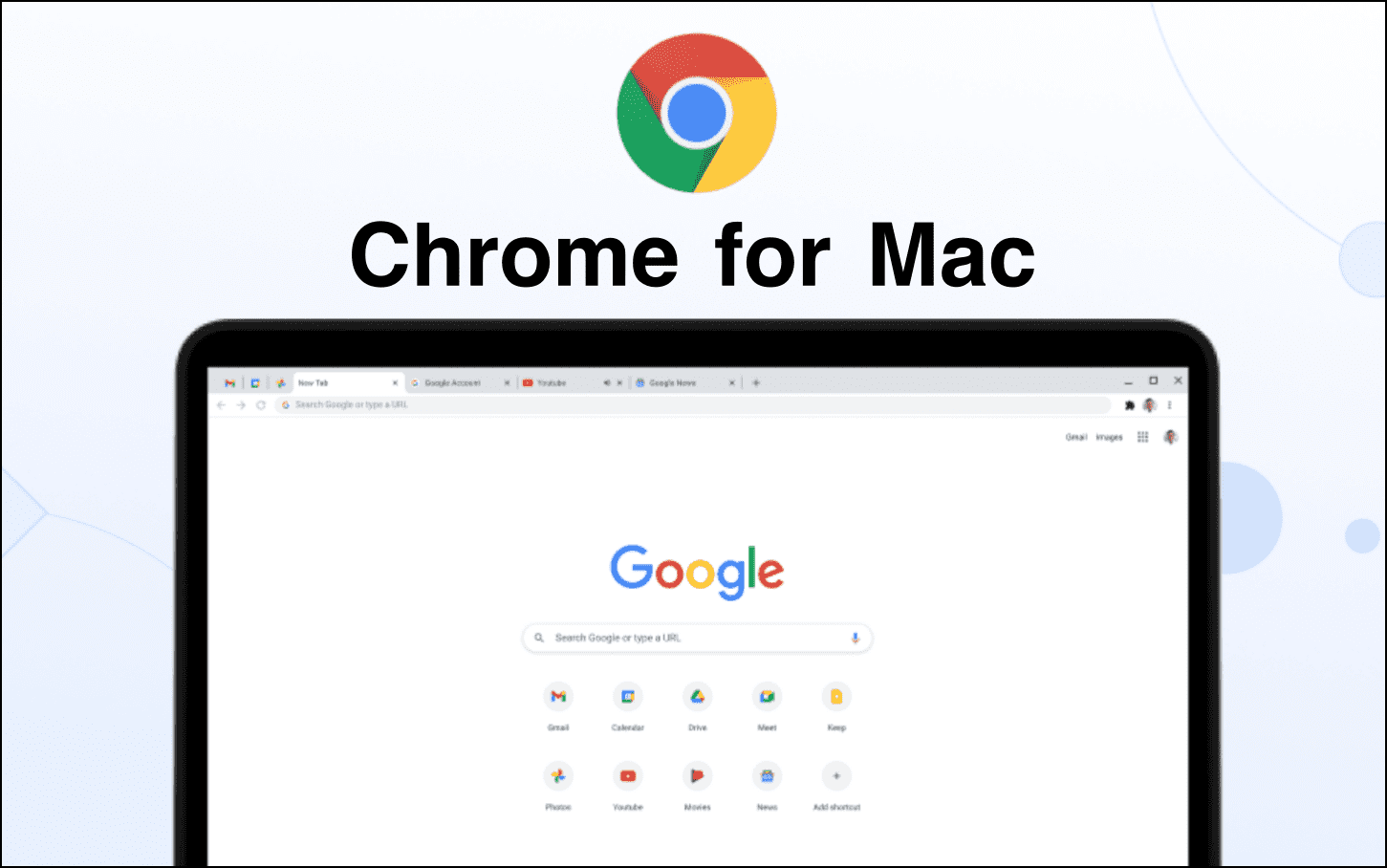 Google Chrome is a widely beloved web browser on all platforms. And if you are looking for an all-around great browser for your system, then Google Chrome should be your top preference. It has a simple and easy-to-navigate interface and comes with Chrome Web Store, gives you access to a variety of extensions and themes to customize your browser.
Our Performance Test
A few months back, Chrome claimed that it had recorded the highest score of over 360 in Apple's Speedometer 2.0 browser benchmark test in a tweet, and we wanted to test it out for ourselves. So we tested Chrome on Speedometer 2.0, and here are the results.
As you can see from the results, Chrome on the Intel MacBook Pro comes out with a decent 158 score which is the highest among all the browsers that we tested on this computer. While on the MacBook Air with an M2 chip, Chrome reaches a score of 413 which is more than the claimed score of 360 proving that when it comes to raw performance, Chrome is the best browser on Mac.
Pros:
Best performing browser for Mac OS
Massive library of extensions and plugins.
Easy access to Google Apps and Services.
Cons:
Can run into issues and slow down the machine with background services.
It falls behind when it comes to privacy and user security.
Download | Chrome for Mac
2. Apple Safari (Most Optimized)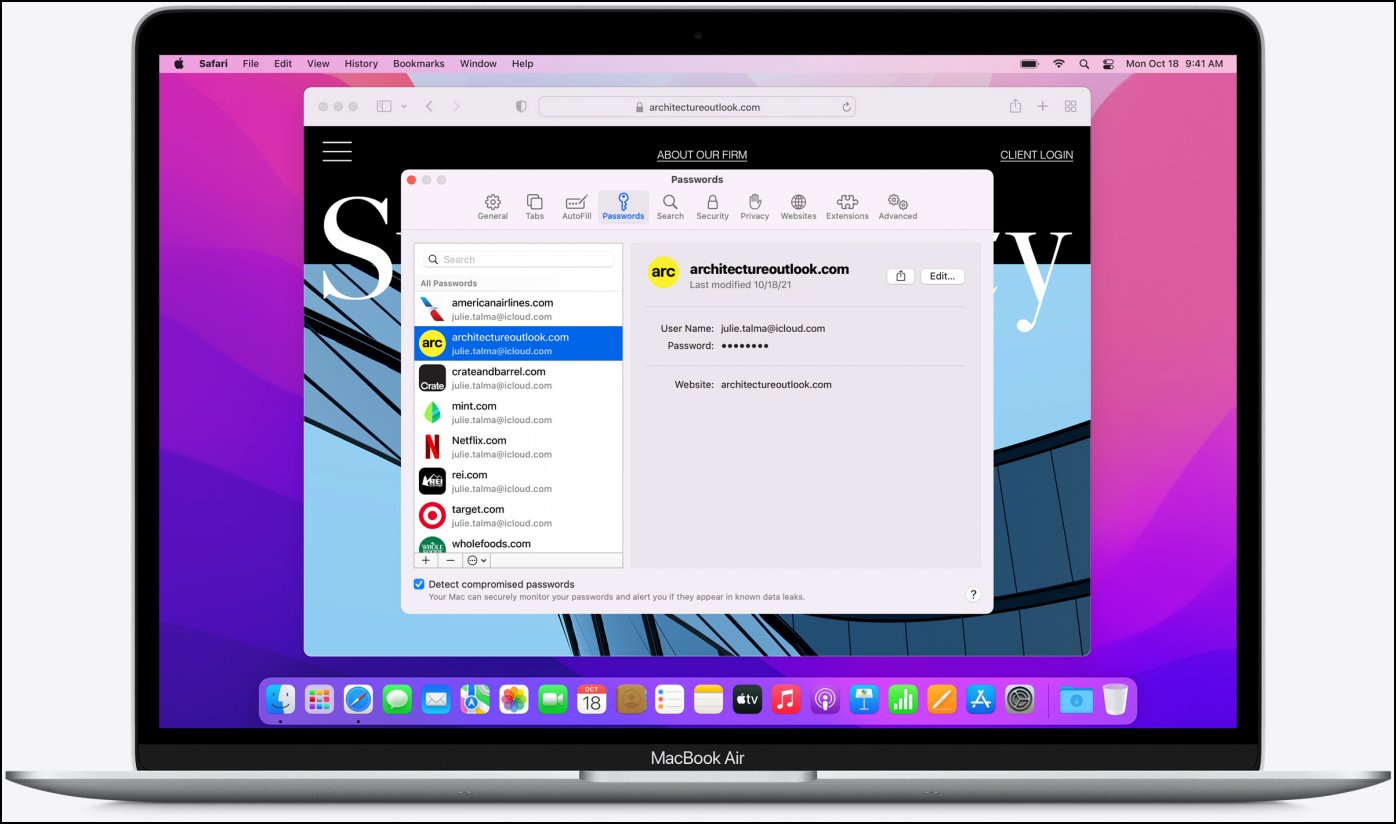 Safari is the native web browser that you get out of the box with your Mac. It offers a nice mix of performance and battery life as it is optimized to run smoothly on your Mac while also consuming less battery compared to other browsers. Apple has also added privacy features to prevent cross-tracking, hide IP addresses, Privacy reports, and strong password suggestions.
You will also find other useful features within Safari like dark mode, quick tab switching, Safari suggestions, and support for extensions that you can download from the App Store.
Our Performance Test
Safari uses the built-in website rendering engine on Mac devices, so it is no surprise that it comes out as one of the best-optimized web browsers on Mac. But the question is how good it is compared to Chrome and other browsers. This is why we will run the Speedometer 2.0 benchmark in Safari to test its performance.
Safari was not far off Chrome when we tested it on our Intel i5 MacBook, scoring a respectable 154, which is the second-best browser score on the i5 MacBook. But the results were quite different on the M2 MacBook as Safari scored 392, which is still decent but far behind Chrome. It goes to show that even on Apple silicon, Safari is not the best-performing browser for Mac OS.
Pros: 
One of the most battery-efficient browsers.
Optimized for macOS and Mac hardware.
Clean and modern interface.
Cons: 
Does not match the performance of Chrome.
Lacks customization options.
A limited set of extensions.
3. Mozilla Firefox (Reliable Safari-Alternative)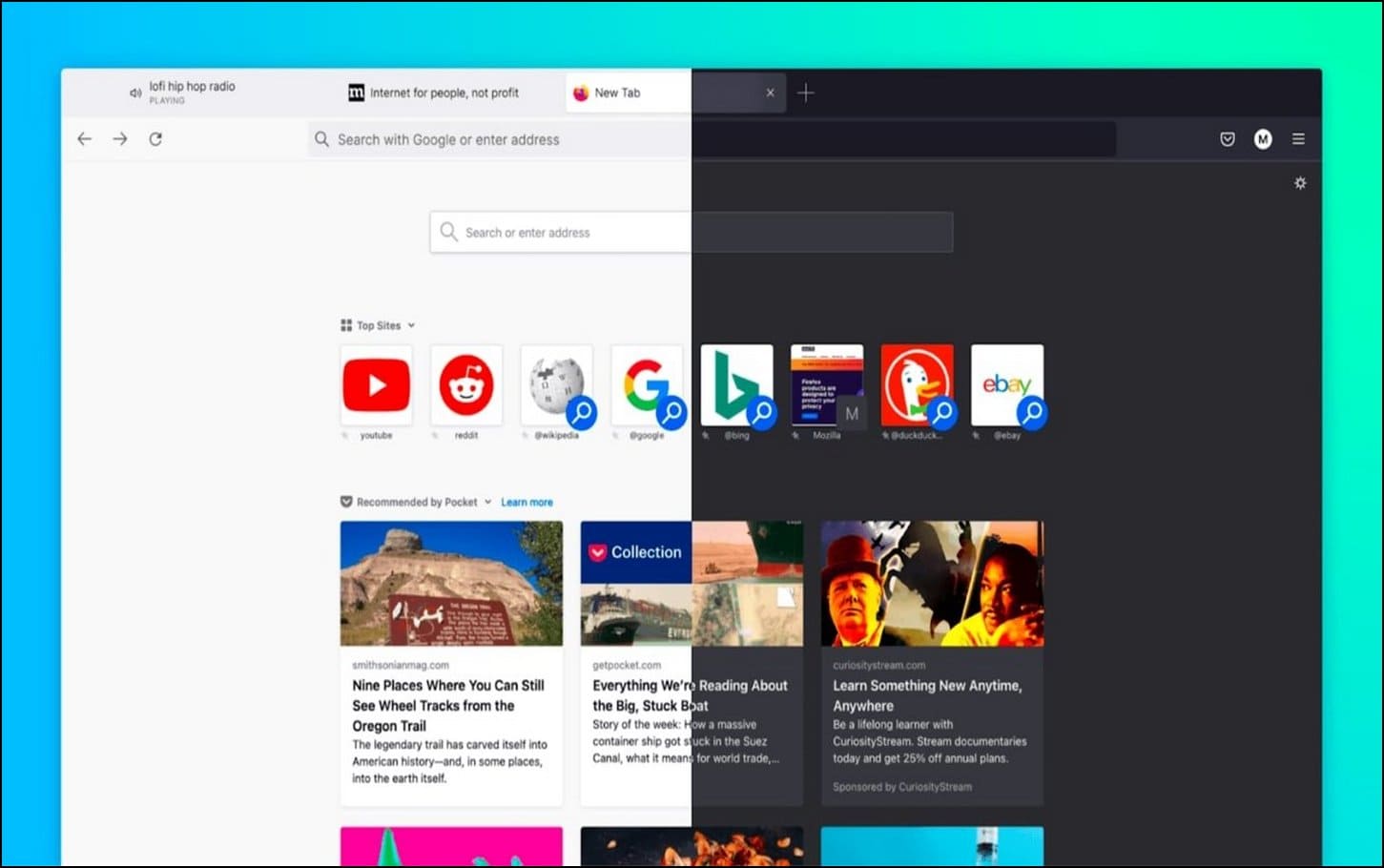 Mozilla Firefox is among the oldest web browsers in this list but still stands out as a reliable and snappy browser on Mac. Firefox is light on RAM and other resources so if you are using an older Mac then Firefox should be your top consideration. It is also battery efficient and offers privacy-related features like tracker and cross-site cookie blocking. You also get support for extensions in the form of Firefox Add-ons.
Our Performance Test
Firefox has always been known for being less resource intensive while outperforming Chrome in terms of speed. While those days are long gone, we still wanted to test out how it performs now on our MacBooks.
Running the benchmark on Firefox, it is visible that it is not able to keep up with the likes of Chrome and Safari in terms of performance. The result is evident on both Macbooks, but there is a major difference in performance on the M2 MacBook compared to other browsers. This shows that Firefox needs to improve its performance on new Macs.
Pros: 
Great selection of privacy tools.
Consumes fewer system resources.
A decent set of Add-on extensions.
Cons: 
Updates have been known to cause issues.
In certain instances, it can take up a lot of RAM.
Download | Mozilla Firefox
4. Sidekick Browser (Best For Productivity)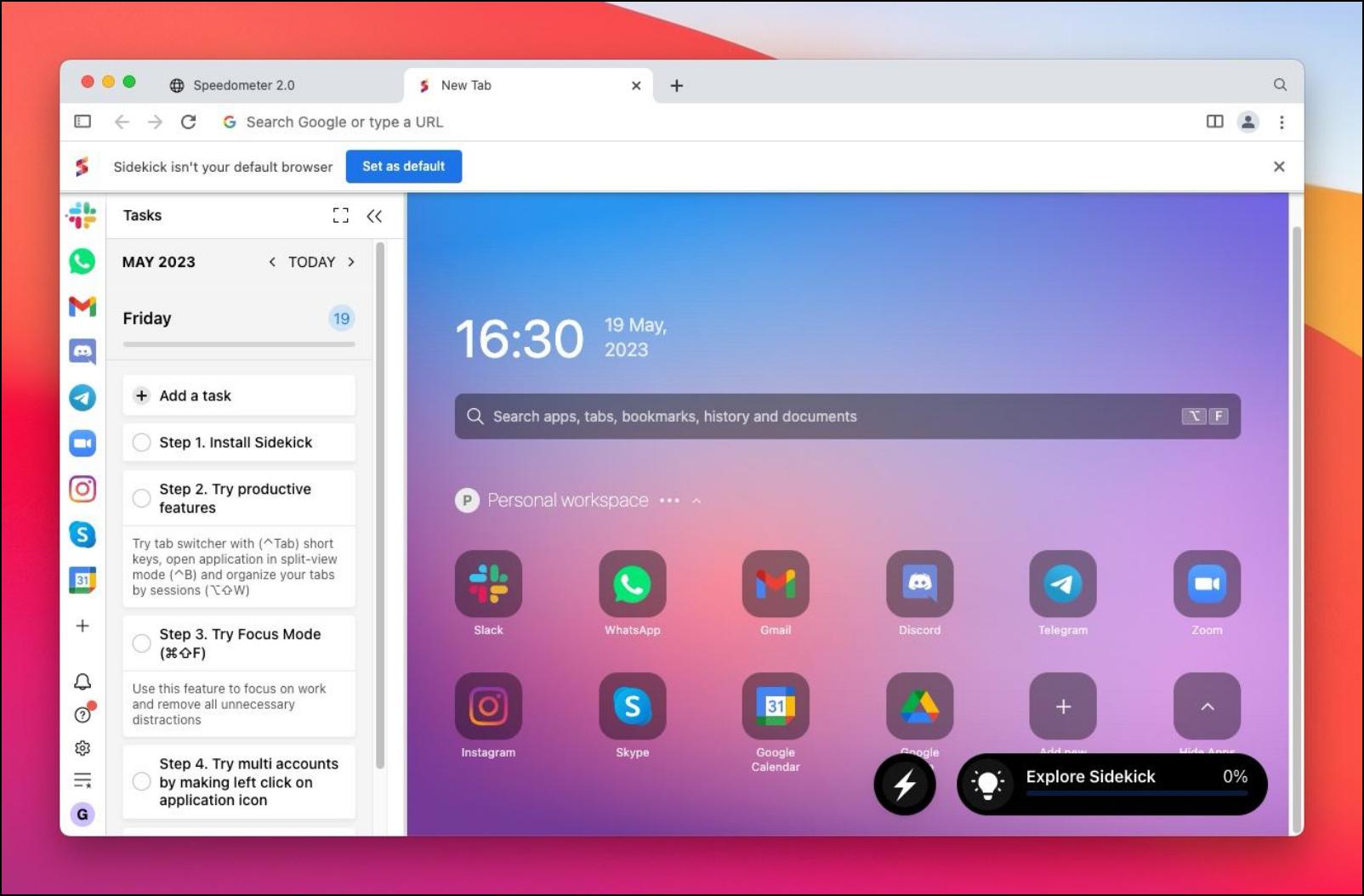 Sidekick browser is oriented toward those who want to maximize their productivity and organize their workflow. To complement these requirements, it has some neat built-in features like universal search, focus mode, tab organization into sessions, and split view. These additions in Sidekick allow you to work efficiently without getting distracted.
You can also create workspaces in the Sidekick browser, which lets you assign roles to other team members as well as check in on their active status, making it an ideal option for organizations.
Our Performance Test
The Sidekick website claims that the browser is up to three times faster than Google Chrome. Though not much proof is provided to back this claim, we decided to test how it compares to Chrome using the Speedometer benchmark.
As evident from the test results, the Sidekick browser is no slouch in the area of performance, but it is still lacking behind Chrome on both the Intel and the M2 MacBooks. The difference in scores is a lot more obvious on the M2 MacBook. So if productivity is a major concern, then Sidekick should be your pick though the performance could have been slightly better on Mac.
Pros: 
A productivity-oriented browser that prevents distractions.
Allows you to work with team members.
Organises tabs into sessions that are easier to manage.
Comes with built-in ad and tracker protection.
Cons: 
 The interface does have a learning curve, and the tutorial could be improved.
The universal search function does not work properly at times.
Download | Sidekick Browser
5. Brave Browser (Private, Fast, and Futuristic)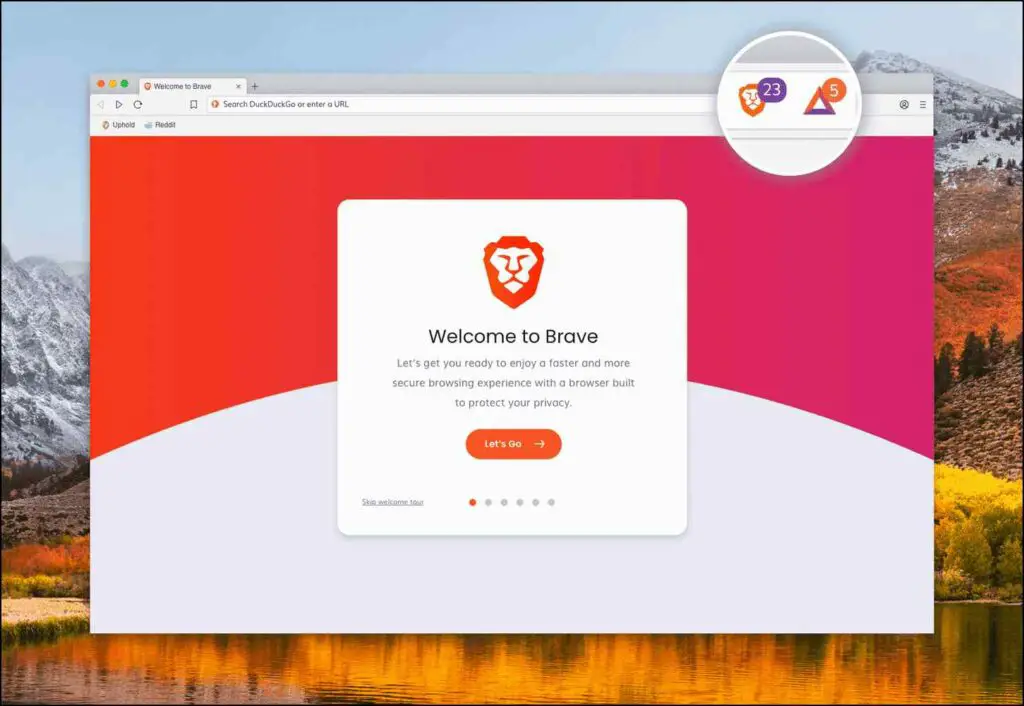 If you prefer an ad-free experience, then Brave could be the right choice for you. It heavily focuses on privacy with advanced options like Brave Shields, trackers, cookies blocking, and social media blocking, and it even features a built-in Tor browser. Since it is based on Chromium, you can also take advantage of all Chrome extensions.
Brave also supports Web3 applications and comes with IPFS and a built-in crypto wallet. You can also earn BAT, which is Brave's cryptocurrency by just using the browser. Overall Brave is a sound option if you are concerned about privacy and looking for a Chrome alternative.
Our Performance Test
Brave takes up very less RAM even when several tabs are open on Mac. It is generally known for its good performance as it blocks out most resource-consuming ads and programs. To see how well it does in terms of performance, we benchmarked the browser on our MacBooks. These are the results.
Brave performs surprisingly well on both MacBooks. It scores 130 on the Intel i5 MacBook, which is decent, but testing it on the M2 MacBook Air gives us a score of 398 which is second to Chrome's, even outperforming Safari. So if you are using a Mac with Apple silicon, Brave is a must-have alternative to Chrome.
Pros: 
Fast and battery-efficient browser.
Web3 is compatible.
Privacy-centric features.
Let's earn BAT tokens for simply browsing the web.
Cons: 
Some privacy features are unpolished.
The bookmark sync feature does not work properly on Mac.
Download | Brave Browser
6. Avast Secure Browser (Clean and Secure)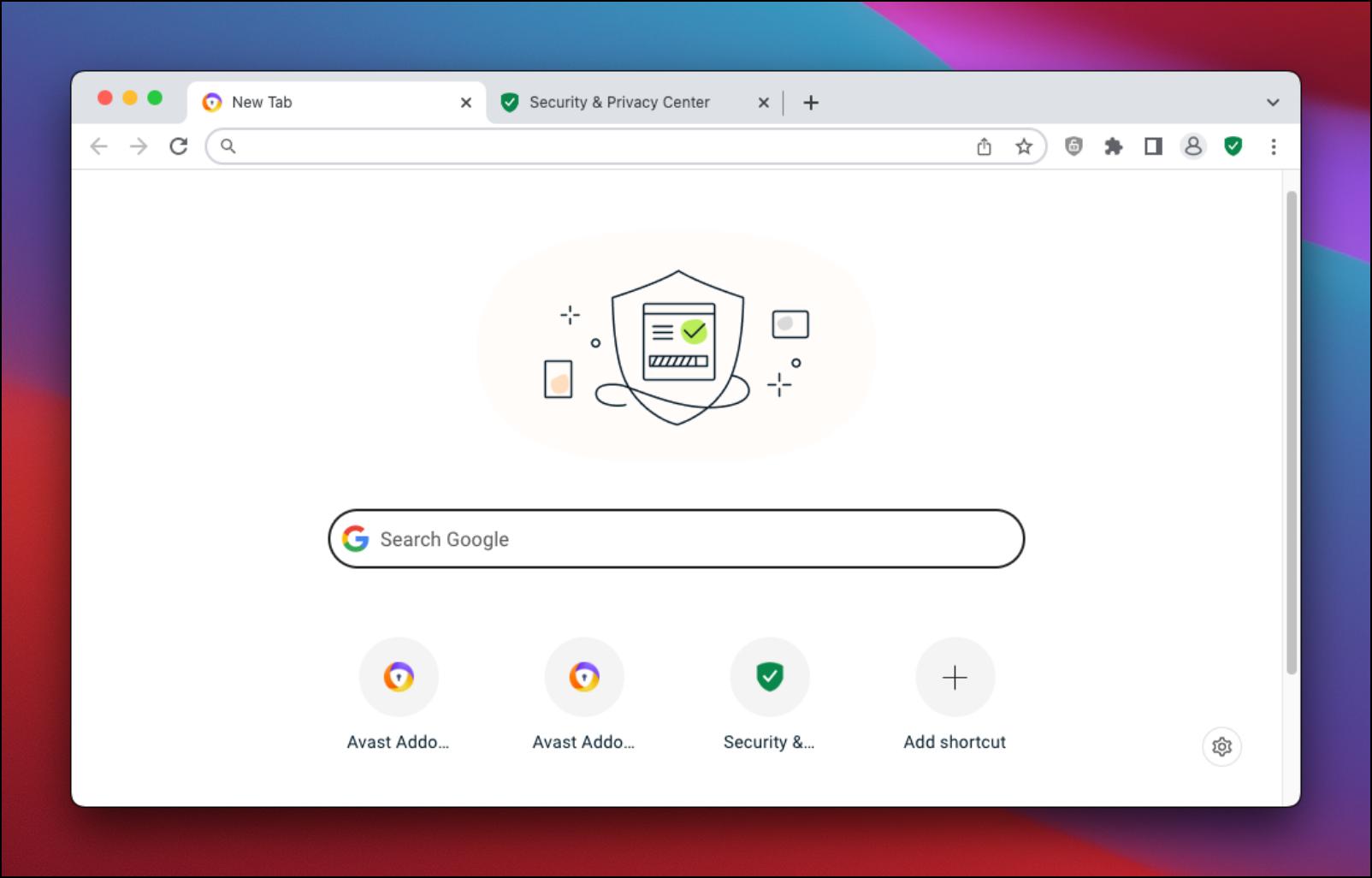 Avast Secure Browser might seem identical to Chrome at first, but it comes with several advanced security tools to safeguard your privacy online. All these features are available from the Security & Privacy Center. You can find tools like Web Shield, Extension Gaurd, and Privacy Cleaner here. Like Brave, it also comes with a privacy guard that blocks trackers, ads, and fingerprinting attempts.
This could be a good alternative to Chrome and Brave, as it delivers on security while keeping a minimal appeal that most users prefer.
Our Performance Test
As mentioned earlier, Avast stays close to Chrome with the only addition being its suite of security and privacy features. So one would expect it to perform somewhat closely to Chrome. To test this out, and learn how Avast does in terms of performance, we tested the browser on our MacBooks.
From the results, you can see that Avast performed well on both machines. On the Intel MacBook, it scored 150 which is quite close to Safari and Chrome. However, it didn't as good on the M2 Mac, scoring below the Brave browser. The results are decent but could be improved with further fine tuning by Avast.
Pros:
Minimal UI that is identical to Chrome.
A suite of security and privacy-oriented features.
Privacy guard that blocks ads, trackers, and pop-ups.
Cons: 
Shows sponsored content until disabled.
Certain features like Secure VPN are exclusive to the Pro version.
Download | Avast Secure Browser
7. Opera Browser (Loaded with Features)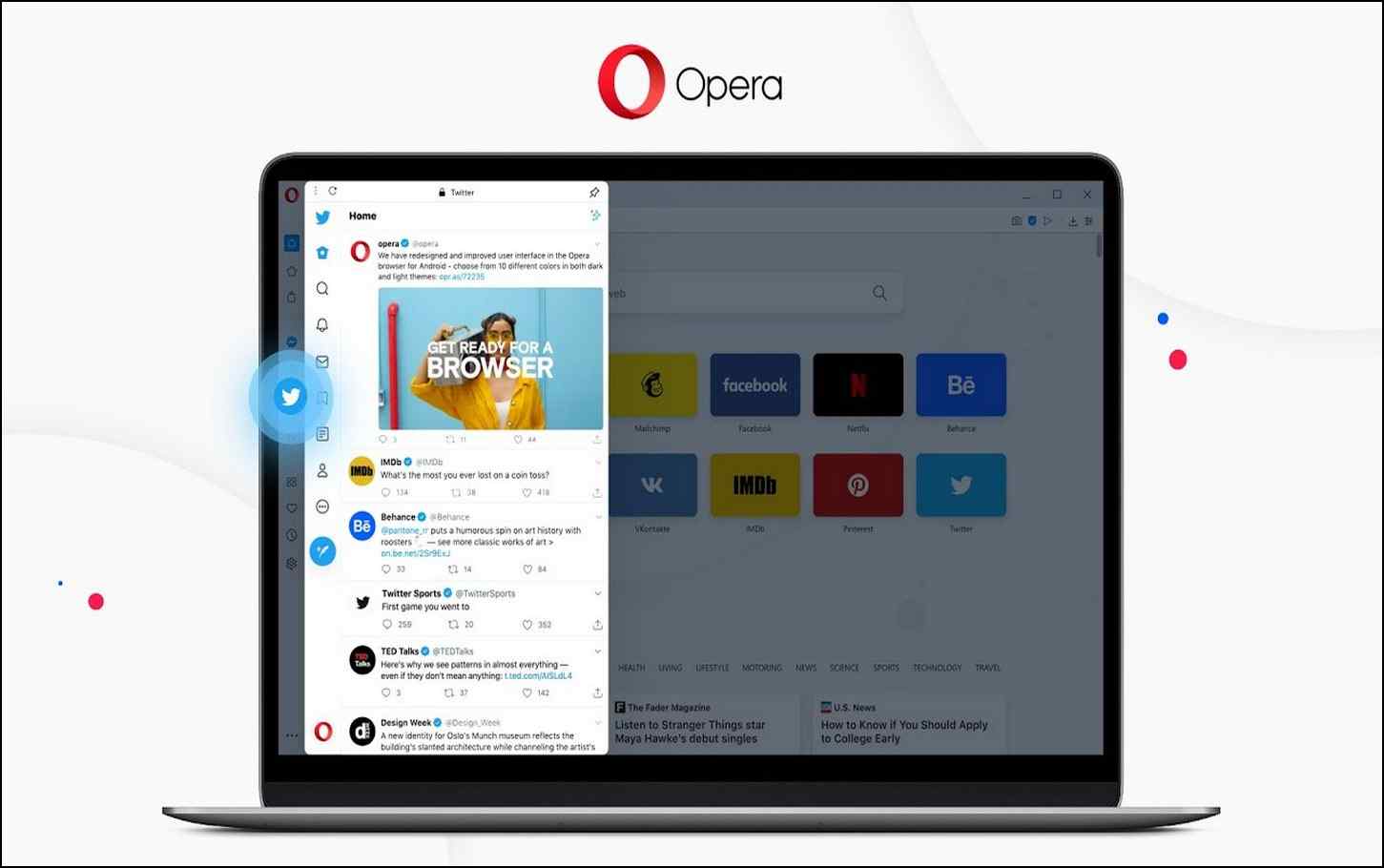 Opera is a feature-rich web browser for Mac OS. It gives you a built-in adblocker, battery saver, VPN, screenshot tool, and sidebar to easily access your social media and messaging apps. You can also use My Flow to send texts and files between your browser and smartphone. This can come in handy to send files, especially for Mac owners that use an Android smartphone.
Opera is also a Chromium-based browser, although heavily modified, but you can still download and use Chrome extensions on Opera. It is also quite light on RAM and works well on Mac devices.
Our Performance Test
Performance is not Opera's strongest key point, but with recent updates, Opera has seen a bump in performance. But we wanted to test it out for ourselves on our MacBooks with the Speedometer 2.0 benchmark.
According to the results on the Intel MacBook, you can see it does slightly well than Firefox, but on the M2 MacBook, Opera achieves the lowest scores. It shows that there is still some work needed when it comes to performance, but it is still a good option for those who prefer its features.
Pros: 
Offers a variety of features and customization options.
Built adblocker, VPN, battery saver, and more.
The My Flow feature lets you easily communicate with your smartphone.
Cons:
Not all Chrome extensions work well with Opera.
RAM consumption can get high in certain scenarios.
Download | Opera Browser
8. DuckDuckGo for Mac (Privacy-First)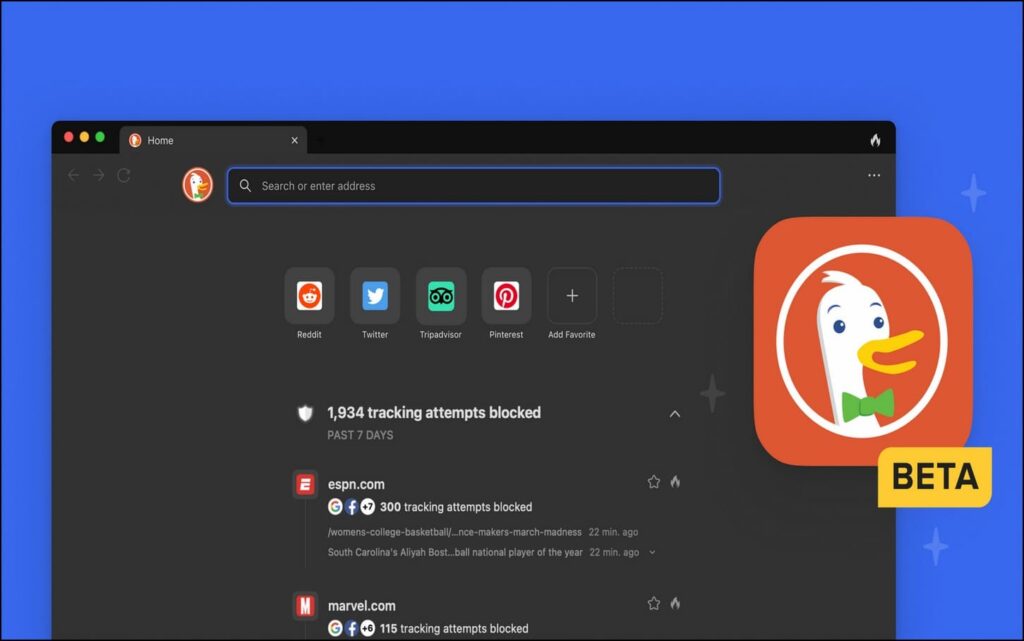 DuckDuckGo for Mac is a browser designed to offer a completely privacy-focused and secure browsing experience. It comes with DuckDuckGo private search engine, blocks trackers, cookies, and cookie pop-ups on 50% of websites, and also blocks trackers on emails with its Email protection service.
It updates websites to HTTPS, stores your data locally, and has a built-in password manager and a fire button to instantly clear all browsing data and cookies. The browser is still in closed Beta, so to download it, you need to apply for the Beta invite by downloading the DuckDuckGo mobile browser.
Our Performance Test
Since DuckDuckGo is new to the scene and their browser is still in Beta, it is unlikely it will be able to outperform the other browsers on this list, but we still wanted to see how it would perform on the Speedometer 2.0 benchmark on our Mac.
Speedometer 2.0 Results
On the Intel MacBook Pro, it scored 121, while on the M2 MacBook, it received 335, which is close to the score of Firefox and Opera. This shows that DuckDuckGo still needs to work on the browser to improve its performance.
DuckDuckGo vs. Chrome in Motionmark 1.2
DuckDuckGo, on its website, claimed that its browser beats Chrome in the Motionmark 1.2 test scores. We wanted to give it a try as well, and here are the results on both Macs.
DuckDuckGo browser, even though it is in Beta, scores more than Chrome on our Intel MacBook. We ran these tests twice to ensure that these results were constant. Let's check how DuckDuckGo does on the M2 machine.
On the M2 MacBook Air, Chrome did remarkably better than DuckDuckGo. This goes to show that the browser has potential but needs to improve the browser for Mac devices with Apple CPUs.
Pros: 
All privacy-related functions are enabled by default.
Complete private browsing experience.
Lightweight and fast browser.
Cons: 
Limited to no customization.
No Google sync, unlike other Chromium-based browsers.
Download | DuckDuckGo for Mac
9. Vivaldi Browser (Most Customizations)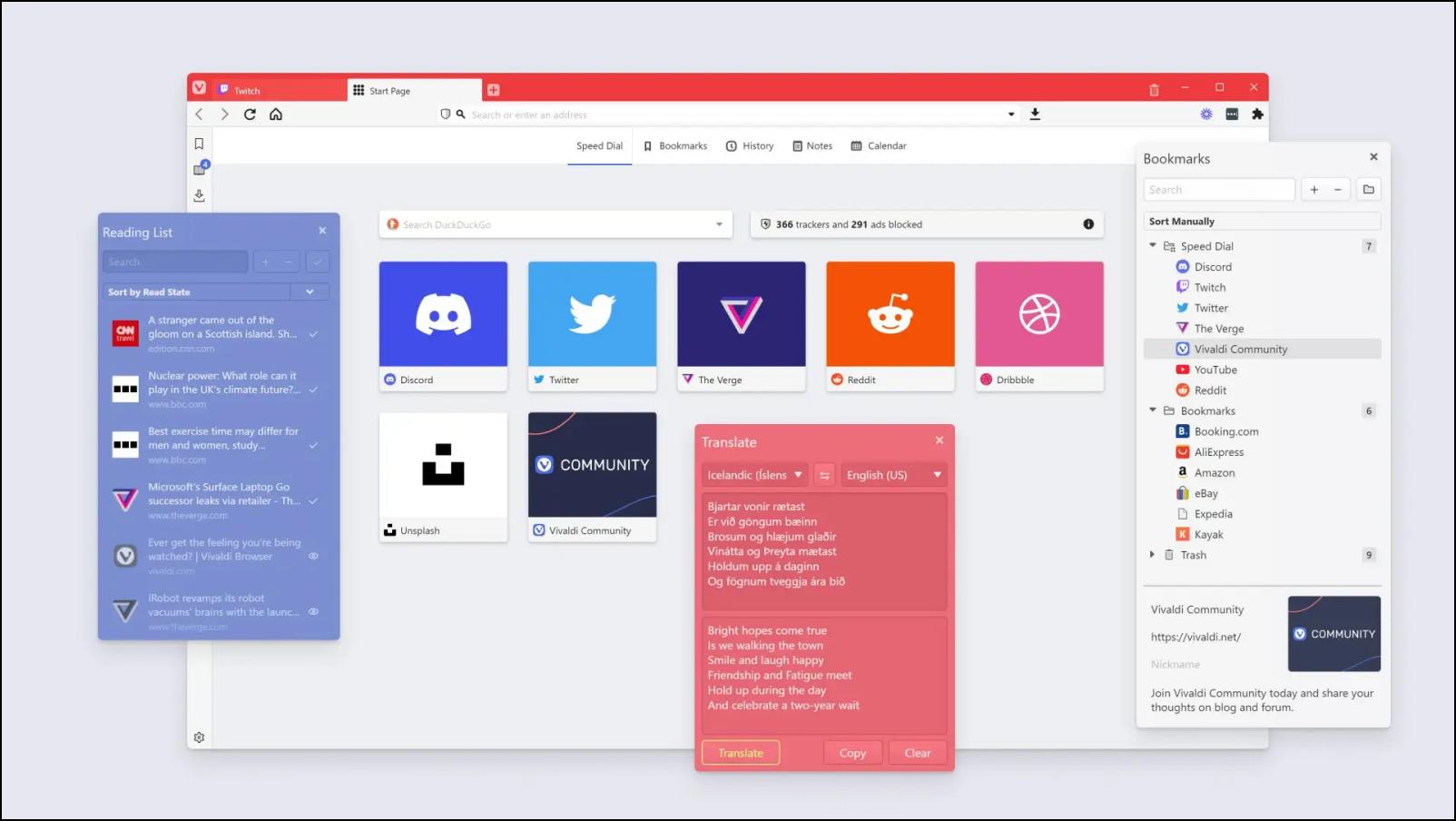 If you keep customizability on top, Vivaldi is one of the best browsers one can enjoy on Mac. This is a major reason it garnered much praise from the browser community. Its features an RSS reader, built-in mail and calendar clients, a screenshot tool, a translation tool, the ability to view pages in split-screen windows, and much more. These tools and features make it a good option for Mac users.
Though it is not everyone's cup of tea, it is oriented toward those who enjoy tinkering with their browsers. Some users have pointed out that it shares a few similarities with Opera in terms of UI.
Our Performance Test
Vivaldi is also a Chromium-based web browser that uses the Blink rendering engine. We have seen the same engines used by the likes of Chrome, Microsoft Edge, and Opera. To test out how the browser performs on macOS, we ran Speedometer 2.0 on it on our Intel and M2 MacBooks. The result was quite surprising.
With all these features and customizations, one would expect the performance to suffer, but Vivaldi proved us wrong. It scored impressively well, surpassing Safari on the Intel MacBook. Even on the M2 MacBook, it scored 381, the fourth-best score of all the browsers in this list. So if you want a web browser with tons of customizations without compromising on performance, then you know which browser to pick.
Pros: 
Offers a variety of customization options.
Set of handy built-in features.
Great performance and optimization.
Cons: 
Might have issues with some websites.
Can be too overwhelming for those who want a basic browsing experience.
Download | Vivaldi Browser
10. Floorp Browser (Best Firefox Alternative)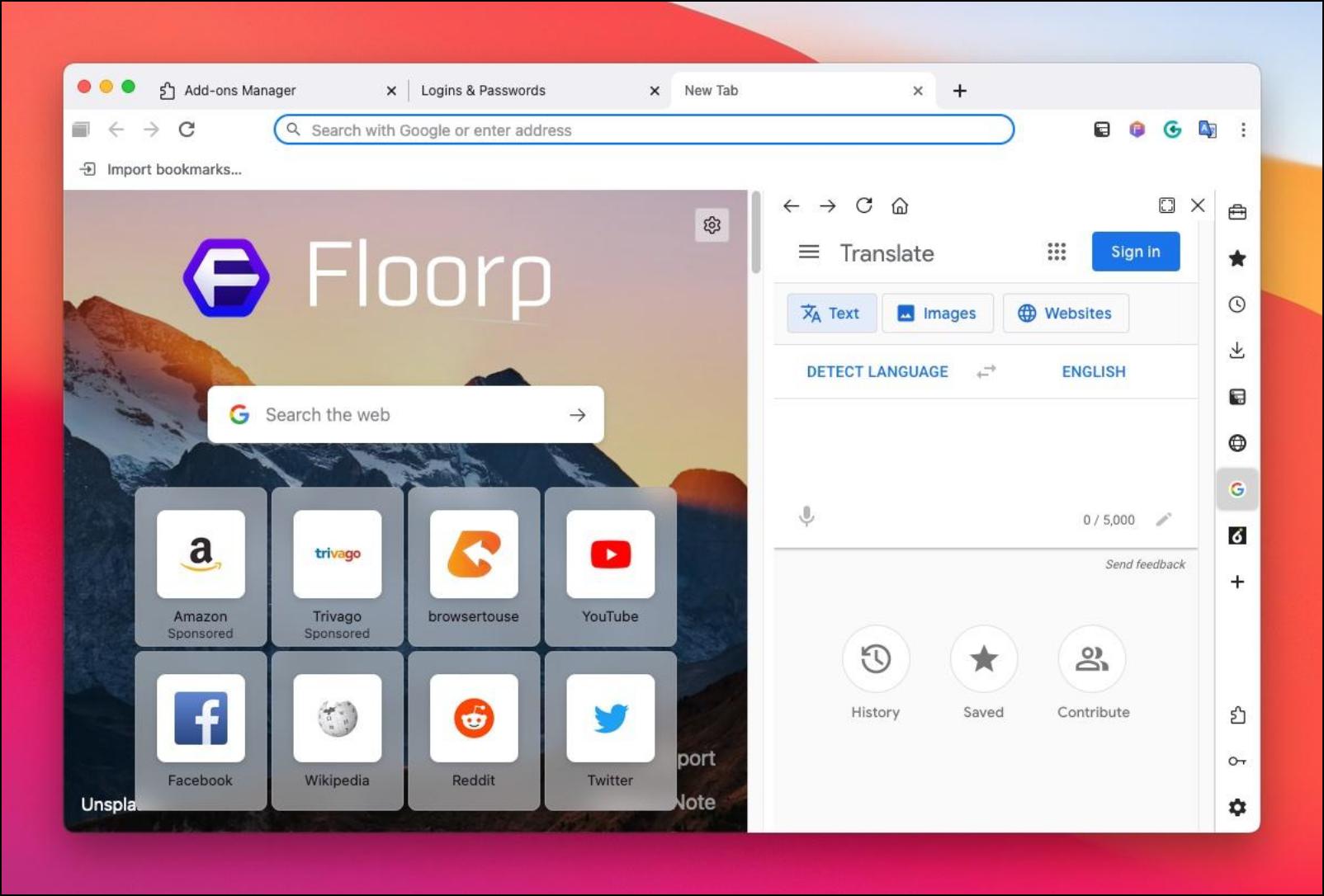 Floorp is a Japanese web browser based on Firefox. It offers more customization options and feature sets. It lets you change the position of tabs, customize menus or even change the entire theme to look like another browser or OS. It also supports gesture controls, so you can easily control the browser just by moving the mouse cursor. The browser can block malicious trackers as well as fingerprinting attempts.
Floorp is an open source and adds a lot of missing features and improvements that fans have been requesting in Firefox for years. Updates are also frequent, as the browser claims to push out an update once every four weeks or so.
Our Performance Test
Since Floorp is not a Chromium-based browser, it might not be able to perform as well as the other browsers on this list. However, with Floorp, we want to test how it compares to Firefox when it comes to performance as it is a fork of it.
The above images show that Floorp could not keep up with the rest of the browsers. It scored the lowest of any browser falling below 100 in the Intel MacBook. The same can be seen on the M2 silicon MacBook. Given Floorp is fairly new to the browser space, updates can improve performance. Other than that, it works flawlessly on Mac and is a great alternative to Firefox browsers.
Pros:
Tons of useful customizations.
Lets you change the entire interface to another browser or OS.
Open source browser that does not collect your data.
Cons: 
 The performance can be improved in upcoming builds.
There should be an option during Setup to choose between Japanese or English instead of relying on the Translate feature.
Download | Floorp Browser
Decoding the Best Browsers for Mac
These were some of the best web browsers to use on Mac in 2023. We compared all major browsers and benchmarked them on both Intel and Apple's M2 silicon. In the end, it is best to go with one that suits your needs and preferences. When it comes to pure performance, our best pick is Chrome, followed by Brave and Safari. And for privacy-conscious users, we'd recommend sticking with Brave, Avast, Firefox, and DuckDuckGo. Stay tuned to Browser To Use for more such articles, guides, and How To's.