Phishing scams are a major online threat, and hundreds of people fall for them every day. Cybercriminals design these websites to look identical to the original ones, which are difficult to distinguish from the original. Even the most vigilant users are not spared from falling for these web pages as they look pretty legitimate. So if you want to protect yourself from falling for such scams then keep on reading as we go over different ways to detect phishing websites on Android and iPhone.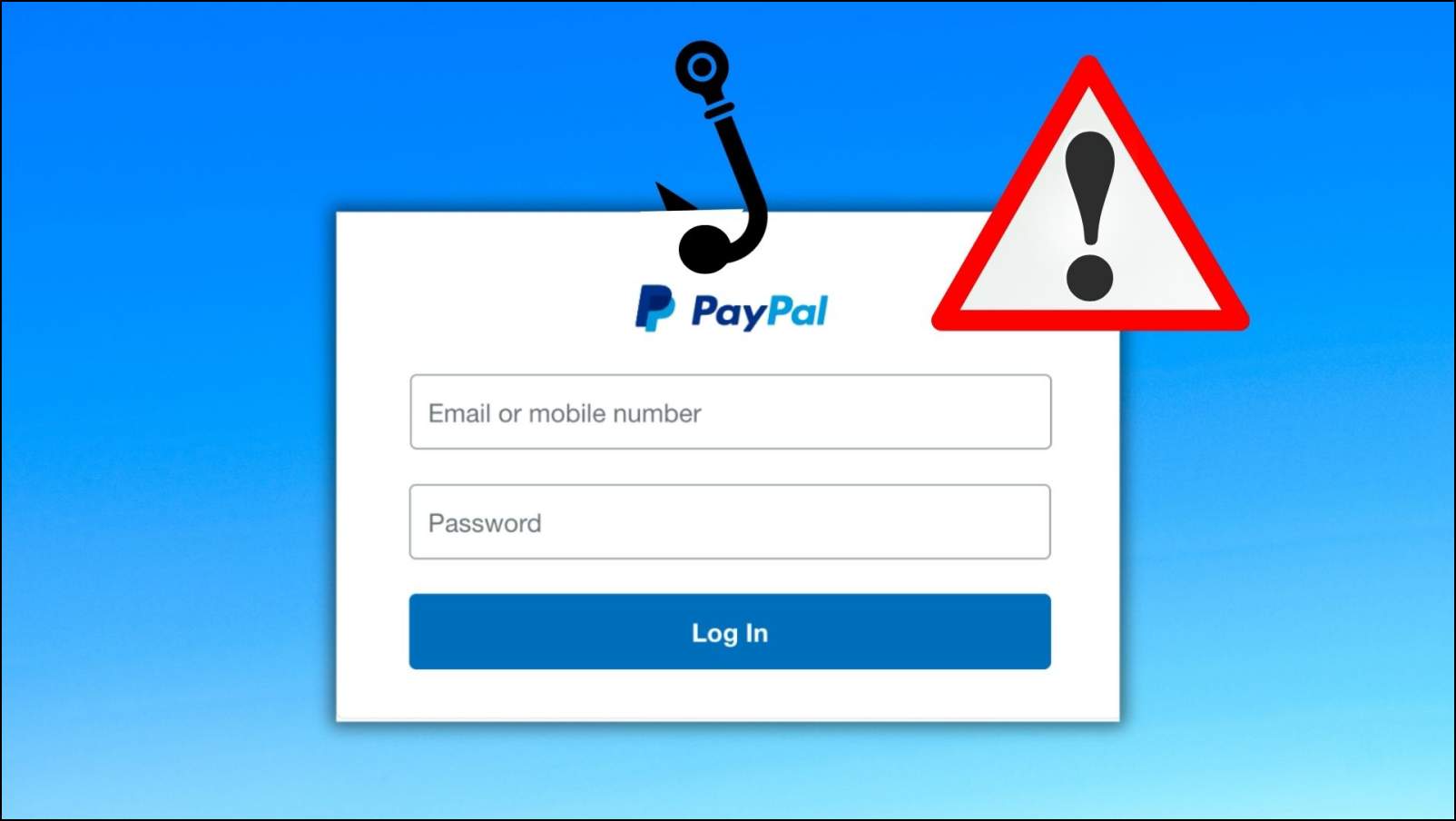 What is a Phishing Scam? How Does it Work?
To understand the gravity of the situation, let us learn how a phishing website operates. Phishing is a type of online fraud where a fake website is designed to mimic the original site. This allows them to trick users into entering their details and stealing their money or banking as well as personal details.
These scams are usually spread through e-mails, messages, and social media posts. A good example would be an e-mail from your bank asking you to update your account. It will contain a link that will redirect you to a page that looks identical to your bank website. This will be enough to trick you into entering your banking details.
Detect Phishing Websites on Android or iPhone
As discussed above, phishing or malicious sites can be difficult to track down. There is not even a particular app or service that can help you with this. Yet, we have come up with a list of methods that will help you detect such websites or businesses. These methods should at least help warn you if you click on an unprotected link or stumble upon a suspicious webpage on your smartphone. Let us have a look at them.
Method 1- Enhanced Safe Browsing on Chrome
Safe browsing mode is a security feature that helps protect users from phishing and malware websites. When enabled, the browser will display a warning message if you attempt to visit a site that is known to be malicious or suspicious. To enable Safe browsing mode in the Google Chrome app for Android, follow these steps:
Step 1: Open the Chrome app on your Android device.
Step 2: Tap on the three dots in the top right corner to access the menu.
Step 3: Go to Settings.
Step 4: Under Settings, tap on Privacy and Security.
Step 5: Here, tap on the Safe Browsing.
Step 6: Next, select the Enhanced Protection option.
After enabling Safe browsing mode, Chrome will automatically warn you if you attempt to visit a malicious website. It is important to note that this mode is not 100% effective, yet it does come in handy in several situations.
Method 2- Manually Check the Site's Domain
Since phishing sites are designed to look similar to the original site, it can be difficult to identify them just by looking at the webpage. So, instead, you can check the URL of the site to pick up inaccuracies that can help you detect whether a website is suspicious. Here are some key aspects to check for in the website URL.
Verify that the site is using an HTTPS connection, as its absence should raise suspicion.

Check the SSL certificate of the site by tapping on the padlock icon next to the URL. Then tap on Connection is secure to view the certificate.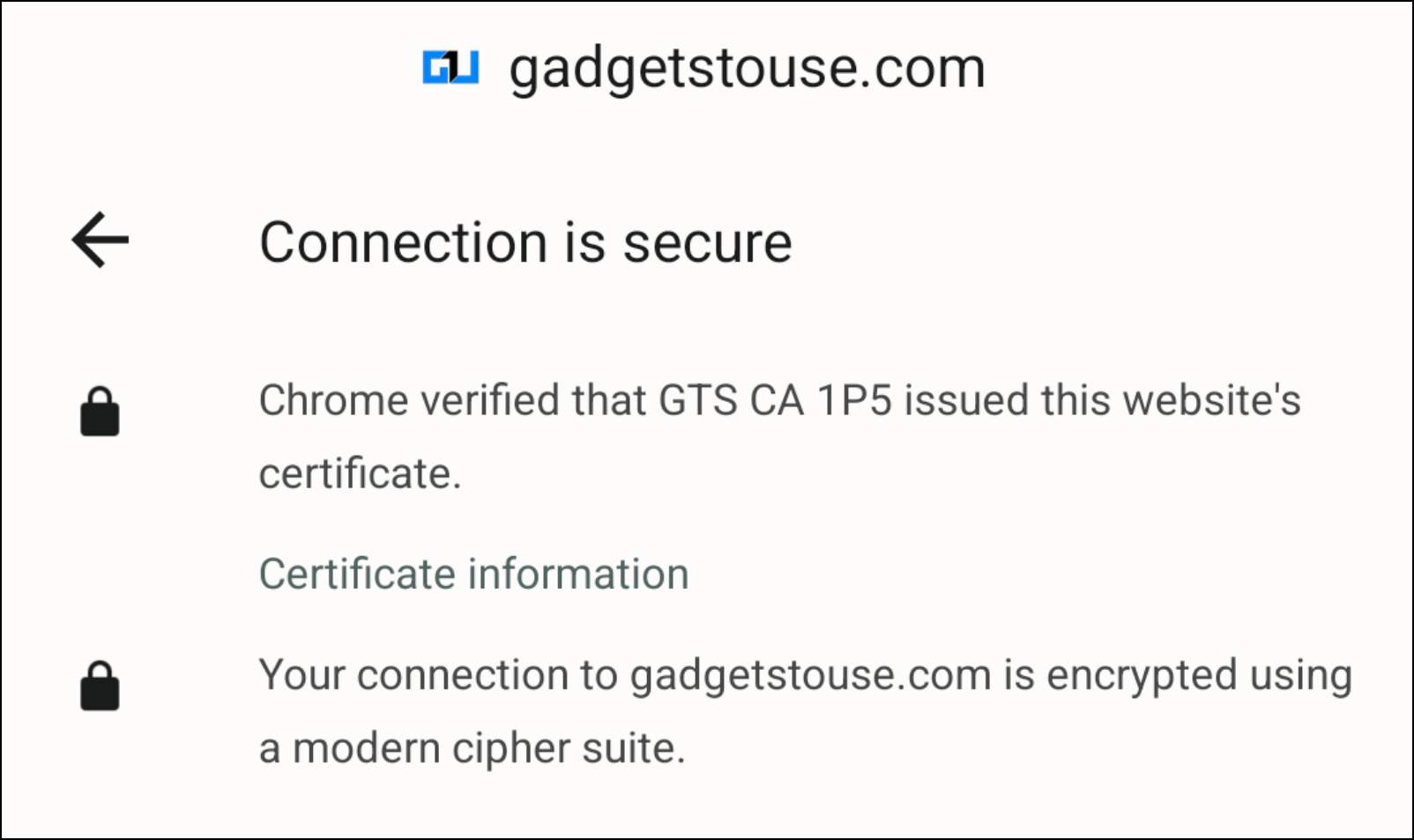 Look for spelling mistakes or the use of symbols in between the domain name.

Also, check the subdomains and other paths in the website link that have nothing to do with the site content.

Method 3- Verify URL With Online Phishing Checker Tools
Another method to find out a website's legitimacy is through online phishing or malicious website checker tools. These websites only require you to input the website link, and they do the rest of the job. As they scour through the web to answer if the provided link leads to a malicious site or a safe one. You should give them a visit to verify if the site is secure.
CheckPhish: This is a website checker that utilizes machine learning to verify domains and site URLs in real time. It will let you know if the site is clean or not, along with the first-seen date and server location.
Malicious URL Scanner: It is a web tool that uses a mixture of blacklists and deep machine learning by IPQualityScore (IPQS) to figure out whether the website is suspicious. It works quite well in our testing.
Threatcop: Another useful URL checker that can instantly recognize any issues with the entered site link. It will scan the link in real time and help you learn if the site is safe to browse or not.
Method 4- Detect Phishing Websites Using RedFox App
RedFox is an Android app that detects fraudulent as well as phishing websites and alerts you about them. It detects suspicious links sent via messaging apps and shows an indicator to warn you. This is a great way to counter such scams and sites, as most of these frauds happen because of a suspicious link received in a WhatsApp or Facebook message.
You can also check logs for a list of all detected malicious links you may have received. Then, you can report such websites to help others from falling for such scams. It is a good option for those who wish to stay safe from getting themselves phished.
Download: Redfox Phishing and Malware Detector
Method 5- Use Netcraft App to Block Phishing Attacks
Netcraft is a smartphone app that protects you from malicious websites and phishing attacks. It does so by cross-checking the hostnames that you visit with their database. It supports the most popular browser options available for smartphones, so you can browse the web without any worry.
It offers robust security against online attacks on your smartphone. The service is paid, but you do get a free trial period of 28 days, where you can cancel anytime you want. Netcraft is available for both Android and iOS devices.
Method 6- Use Anti-Phishing Chrome Extensions in Kiwi Browser
Kiwi is a powerful mobile browser that allows you to use Chrome extensions. We can use these extensions to safeguard our mobile browsing experience. We have mentioned a couple of these extensions that can help detect and protect you against phishing and malicious websites.
 Total Webshield: It is a privacy protection extension that uses artificial intelligence to detect malicious, phishing, and harmful sites. The extension will automatically show a popup displaying its security status whenever you visit a website.
PIXM Phishing Protection: PIXM is another harmful webpage detection extension that tells you whether a website is secure. It scans webpages while using AI to block any kind of phishing attack. However, you will have to manually run a check to see the secure status of the page you are browsing.
How to Report a Phishing or Malicious Website?
Now that you understand how to protect yourself against such websites, it is important to also report them to legible sources. This helps to make the internet a secure place as tools and extensions that we have mentioned in this list use the database of reported sites to protect other users. If you come across a phishing website, then you can visit decentsecurity.com to report it.
Wrapping Up
This brings us to the end of this article. Cybercriminals are getting smart and finding new tricks to steal your hard-earned money. But if you stay a little vigilant, then you can easily avoid their trickery. I hope you found any of the methods listed above useful. In case you have any queries related to this article, then do reach out to us. Till then, stay tuned on BrowserToUse for more such articles and How-Tos.
Related: