Most of us use Chrome for our work as well as entertainment needs like listening to music on Spotify or watching the latest music videos on YouTube. But avid music listeners like to fine-tune their music according to their taste and setting with the help of audio equalizers. We have picked out the six best audio equalizer extensions for Chrome that you can try out for free with their pros and cons.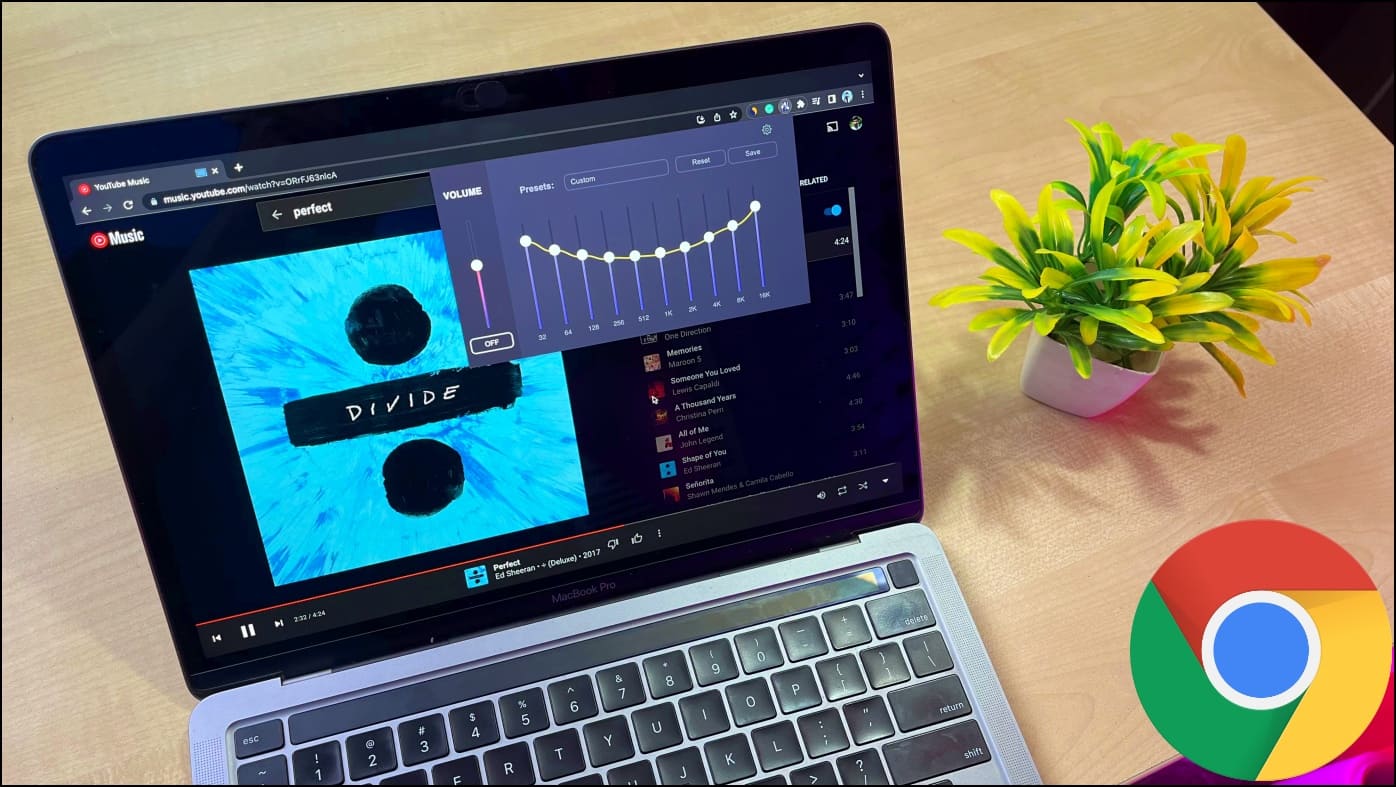 Improve Sound or Audio in Google Chrome
Audio Equalizers allow you to change frequencies, increase or decrease bass or treble and isolate certain instruments or voices in music. It helps the listener to custom adjust the music to their preference. For instance, you can increase lower frequencies to improve bass. At the same time, amplifying higher frequencies will
Does Google Chrome have an Equalizer?
No. Google Chrome does not feature an inbuilt audio equalizer but you can find a variety of equalizers within the Chrome Web Store. You can download whichever one suits your preferences.
Why is there a Need for Audio Equalizer in Chrome?
Chrome isn't just a web browser, it can be your entertainment hub as well. Be it jamming to trending songs on Spotify, watching the latest music videos on YouTube, or binging your favorite shows on Netflix. So having an option to adjust and get the optimal sound output can enhance your media listening experience. This is why Chrome needs an equalizer.
Best Audio Equalizer Extensions for Chrome
Now, let us look at the list of best audio equalizer extensions for Chrome. These extensions are handpicked and will allow you to adjust and enjoy music based on your listening needs. All the extensions are listed in no particular order. So without any further delay, let us jump into the list.
1. Ears: Bass Boost, EQ Any Audio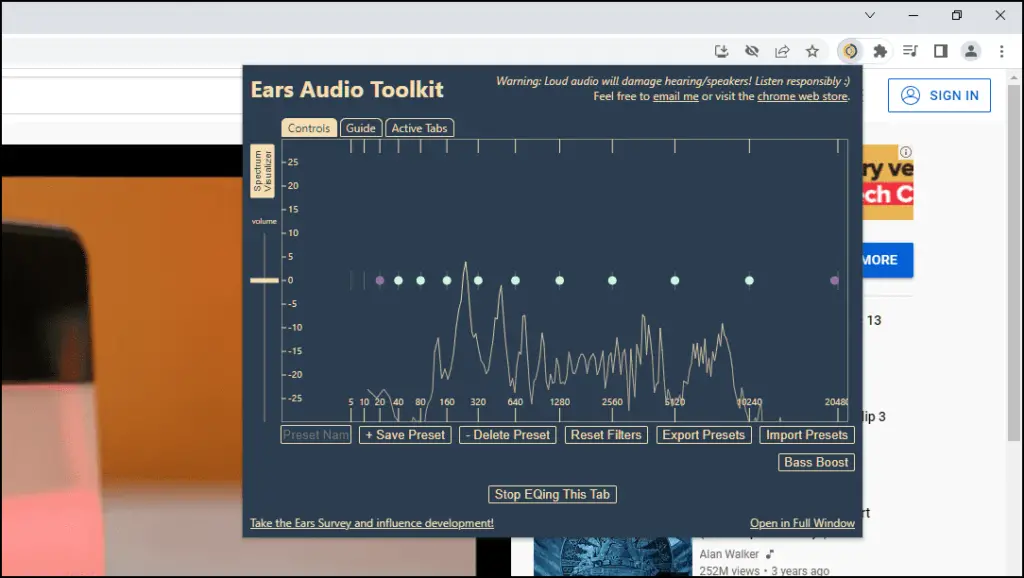 Ears is a popular EQ extension on Chrome that lets you equalize audio on all open tabs. The layout of the extension is quite simple, move the dots to increase or decrease audio filters to adjust the sound. You can import your saved presets to Ears or create new ones as well.
You can also enable a real-time visualizer spectrum to make more accurate adjustments and if you are a bass lover then it has a one-click button to boost the bass. Although it might not work properly with all songs.
Key Features:
Real-time Spectrum Visualizer.
One-click Bass Boost.
Manage and Equalize audio of all tabs at once.
Import previously saved EQ settings and create your own presets.
Pros:
Features real-time spectrum visualizer.
The interface is user-friendly.
Cons:
Lacks any preset audio profiles.
Download: Ears: Bass Boost, EQ Any Audio
2. Audio Equalizer – EQ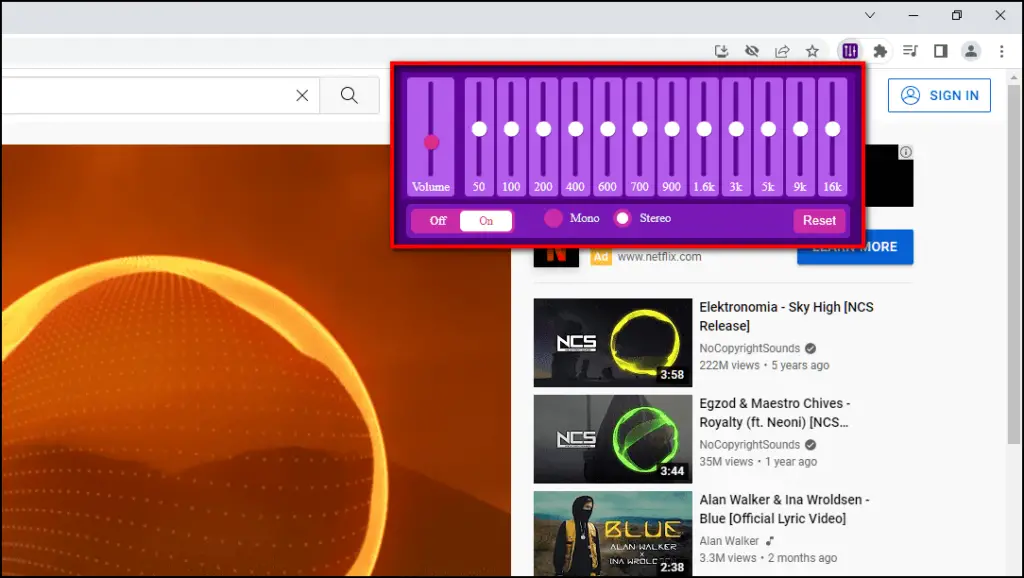 Audio EQ is a basic equalizer extension. It gives you 12 channels of parametric EQ so you can adjust and balance the sound accordingly. You can also increase the volume up to three times but the audio does start to tear up at higher levels.
It also allows you to toggle between mono or stereo output and has an option to Reset if you are unhappy with your adjustments. Do note that it controls only with HTML 5 audio and video and might not be compatible with Flash or Silverlight. It is best enjoyed on YouTube and Spotify.
Key Features:
Increase default volume levels up to 3 times.
12-channel parametric EQ.
Switch between Mono and Stereo output.
Works on all websites.
Pros:
Ability to switch between mono and stereo output.
Features 12-channel EQ.
Cons:
The audio starts tearing at higher volume levels.
Certain websites might not support higher volume levels.
Download: Audio Equalizer – EQ
3. Audio Channel – Equalizer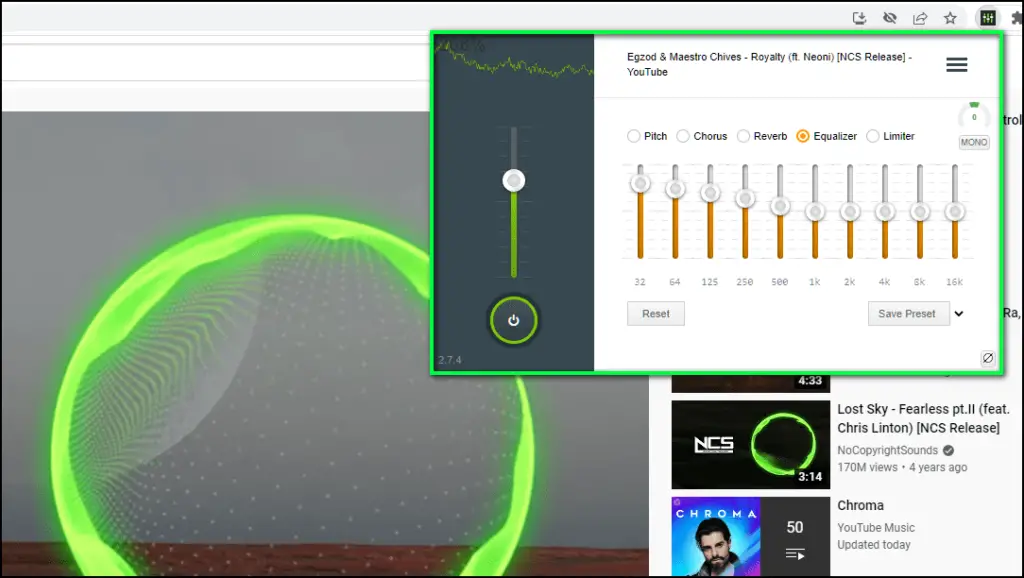 As an audiophile, you want to tweak the sound to the details and for this, you need a feature-packed equalizer extension. Audio Channel is a free EQ that offers 10 channel 32hz -16Khz audio equalizer, 20 preset profiles, option to boost volume levels and save your custom presets.
The equalizer provides options to limit or compress the audio, add reverb, adjust the chorus, and pitch shift. You can also toggle between Mono and Stereo but not just that, you can also pan the mono audio within the extension. You can also add reverb to the audio and adjust pitch shift.
Key Features:
Toggle and pan Stereo/Mono audio.
Audio Limiter.
20 preset audio profiles.
Option to save custom profiles.
10-channel audio equalizer.
Pros:
The interface is simple and easy to learn.
Volume enhancer works well on all websites and content types.
Cons:
Boosting the bass introduces static audio.
Works on one tab at a time.
Download: Audio Channel
4. Equalizer for Chrome browser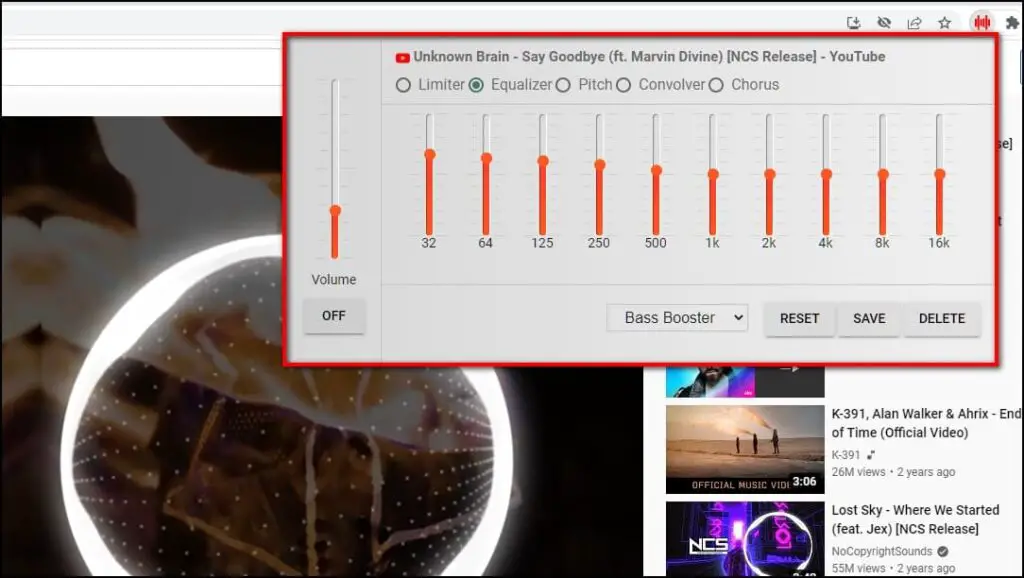 Equalizer for Chrome browser is a powerful extension that lets you fine-tune the music just the way you like it. It offers 21 preset collections of different genre profiles along with 10 bands to balance frequencies in the equalizer.
This equalizer lets you limit and compress audio, and adjust the pitch shift and the chorus. And when you are done adjusting, you can save your custom profile. The extension is free to use and works well on all websites, especially with YouTube and other streaming sites.
Key Features:
21 preset audio profiles.
Save custom profiles.
Increase maximum default volume levels.
SFX: Limiter, Pitch, Convolver, and Chorus.
Pros:
Tons of great features to manage sound output.
Works great when trying to isolate certain frequencies.
Cons:
There is a visual glitch that might appear from time to time.
Download: Equalizer for Chrome browser
5. Equalizer for YouTube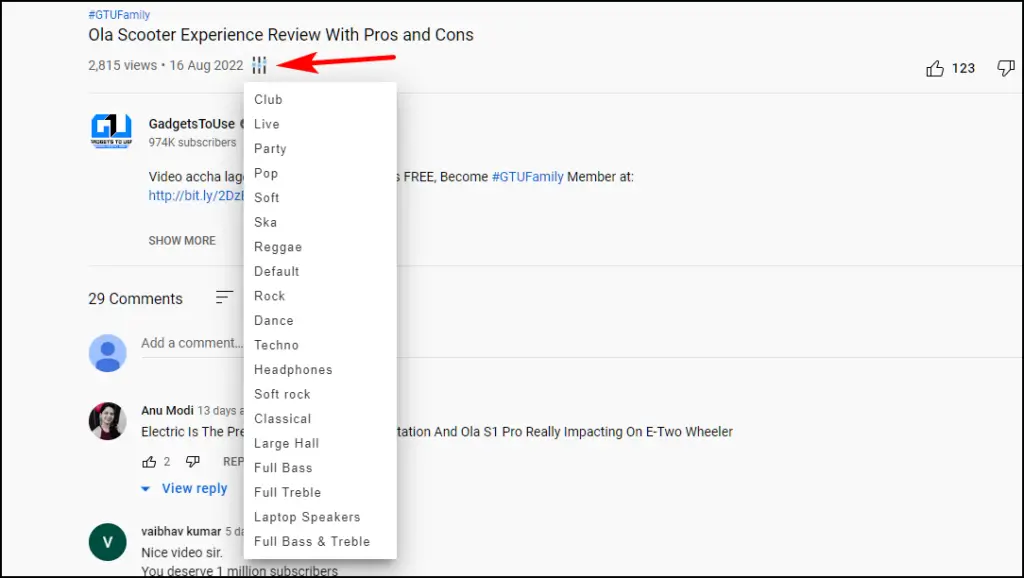 Most of us use Chrome to watch videos and listen to music on YouTube. So having preset EQ profiles can go a long way to enhance your viewing and listening experience. Equalizer for YouTube accomplishes this exact goal.
It is not an equalizer but adds a button to YouTube which lets you select from 19 different preset EQ profiles. We tested almost all the provided presets and they work quite well although some of them do tear up the audio at higher volumes. However, the downside of this extension is that it does not allow you to increase volume or create your own preset.
Key Features:
19 preset audio profiles.
Only available for the YouTube website.
It consumes fewer resources.
Pros:
A variety of audio presets are suitable for most content on YouTube.
Audio presets are tailored for YouTube so they sound great.
Cons:
No option to create custom profiles.
Download: Equalizer for YouTube
6. Audio + Volume Booster & Equalizer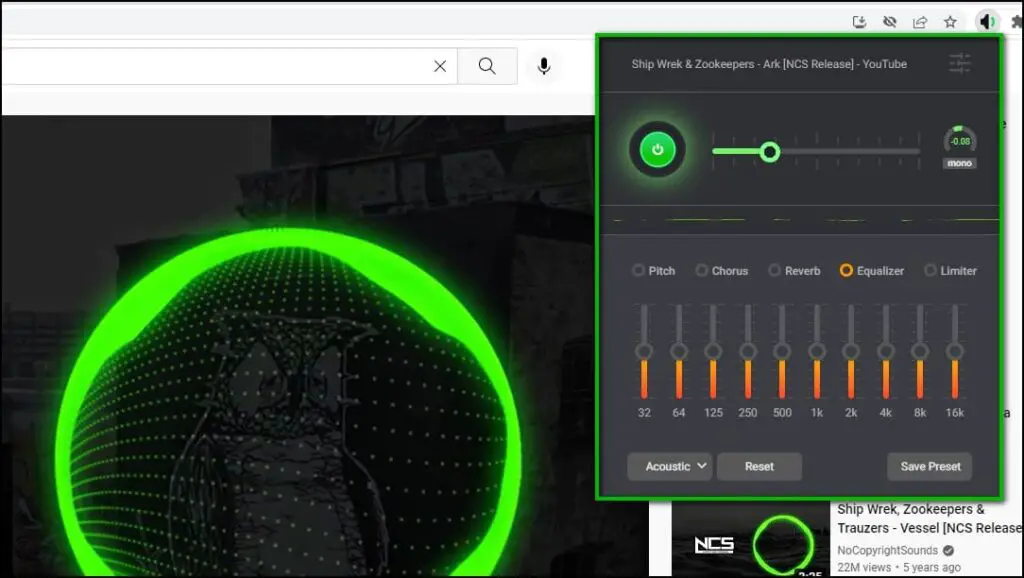 Audio+ is another feature-packed extension similar to Audio Channel. It features 10 channel equalizer, the ability to increase volume, a bass booster to enhance lower frequencies, and a Vocal booster to enhance higher frequencies. This lets you play with the sound and configure it according to your preference.
You can find 20 preset audio profiles and you can create your own and save them. Just like Audio Channel, It lets you toggle from Mono to Stereo. This extension works great on sites like Twitch, YouTube, Soundcloud, Deezer, Facebook, and Spotify.
Key Features:
Bass and Vocal Booster.
Mono/Stereo toggle and pan.
20 preset audio profiles.
Increase volume levels.
10-channel equalizer.
Pros:
Smoothes out and handles lower frequencies better.
Volume booster increases the maximum volume without any noticeable tearing.
Cons:
Only works on one tab at a time.
The adjustments might reset when opening the extension.
Download: Audio + Volume Booster & Equalizer
Tips for Best Music Output in Chrome
If you are unfamiliar with equalizers and how to use them then here are some common tips that you can try on the above-listed EQ extensions to get the best music output in Google Chrome.
Each slider in the equalizer helps adjusts a specific frequency band. It is labeled in hertz (Hz), with the increasing/decreasing decibel (dB) output. Lower frequencies (bass) are located on the left, higher frequencies (treble) on the right, and mids in between.
Turning up lower frequencies will boost the bass while turning up higher frequencies will increase the treble.
Instead of boosting a certain frequency, try reducing other ones. This will help keep the clarity of the sound and prevent distortions. So if you want boosted bass, try reducing the mids and the highs instead of dialing up the lower frequency.
Play a sound you are familiar with while adjusting the frequencies and try increasing or decreasing one frequency at a time.
Wrapping Up
This was the list of the best six audio equalizer extensions available for Google Chrome. These extensions can improve the way you listen to music and enjoy content on your browser. Surely we would love Chrome to someday add its equalizer but till then you should be good with the options we mentioned in our list. Stay tuned to Browser To Use for more such articles, guides, and How To's.
Related: