Screen recording is a great way to create a tutorial for the web or a presentation. But popular browsers like Chrome, Microsoft Edge, and Brave still don't come with a built-in screen recorder. This is why we decided to curate a comprehensive list of ways to screen record with audio on Chrome, Edge, and Brave browsers.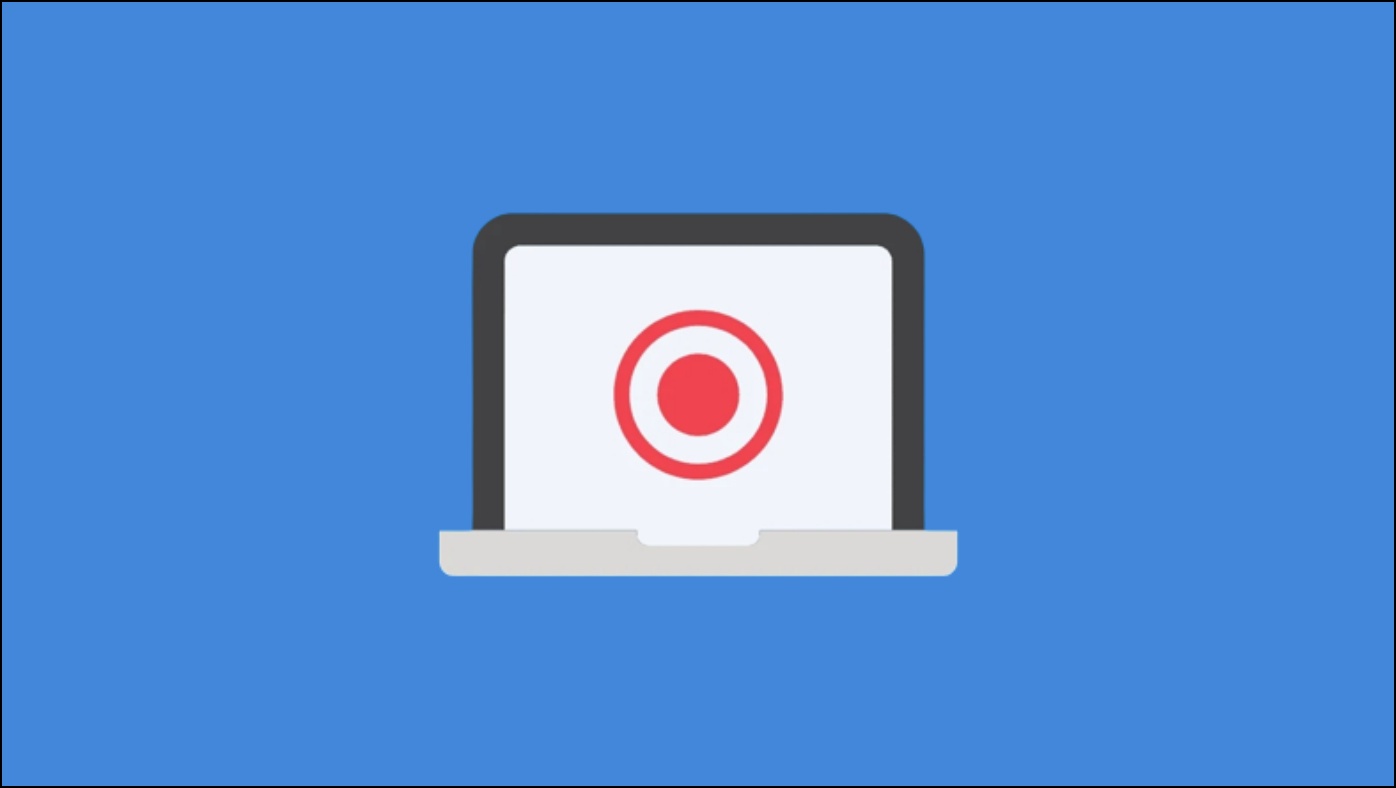 Related | Google Chrome Screenshot Tool Guide: All Features and Tips to Use
Screen Record (With Audio) on Chrome, Edge, and Brave
We will discuss different ways that you can use to screen record with audio on your Chrome desktop browsers as well as other chromium-based web browsers like Microsoft Edge and Brave. These methods will include extensions, programs, and built-in applications. So let's jump into the list.
1. Screencastify Extension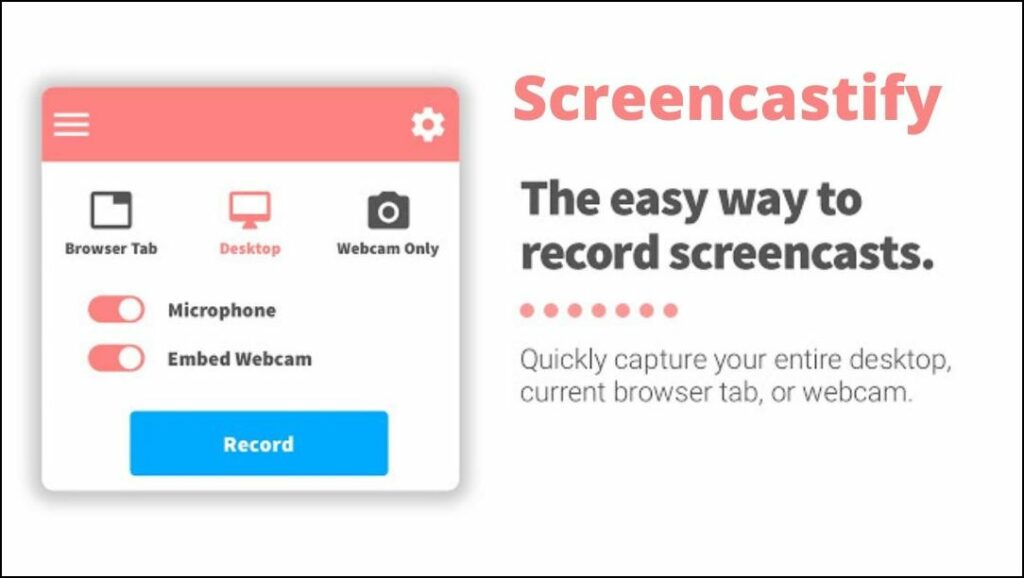 Key Features:
Export Videos in Multiple video formats.
View video analytics and add questions to increase user engagement.
Edit, trim or crop videos and merge clips after recording.
Can upload videos directly to Google Drive
Screencastify lets you record your desktop or a single tab in your web browser. You can embed your webcam in the videos and add external audio using a mic. It has a built-in video editor that you can use to edit, crop, add text, annotate and merge video clips.
You are required to sign in with Google but that lets you upload videos directly to Google Drive, or you can share them on Youtube.
You can record up to 5 minutes without a watermark and store 10 videos in the free version. To access unlimited capture without watermarks and more features, you need to pay for the premium subscription.
To use Screencastify, Sign in with your Google account. Give access to your webcam and mic. Now just open the extension and start recording.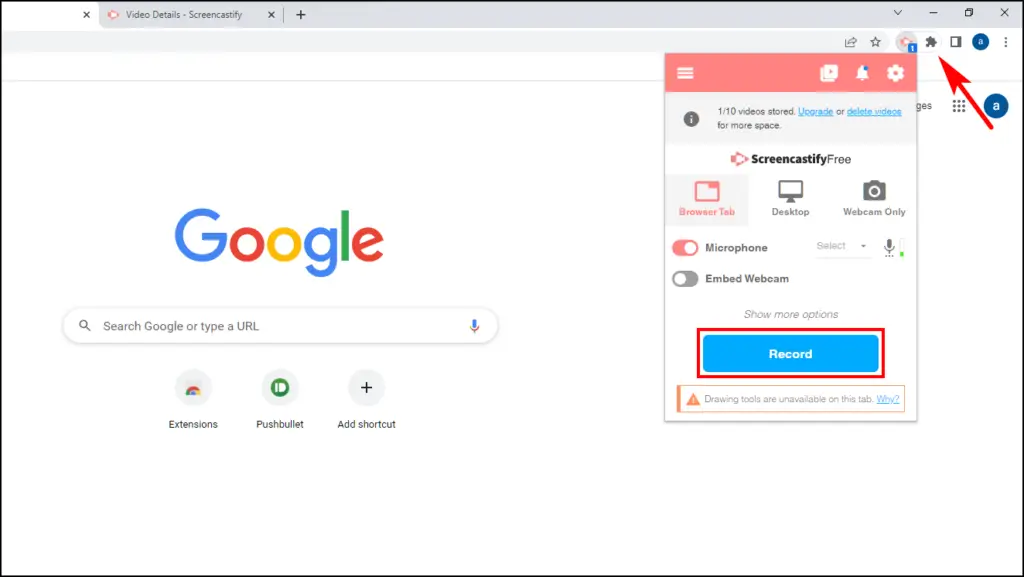 Once you are done recording, a new tab will open up where you can add a title, edit the video and share it. You can also add annotations and view who has seen the video.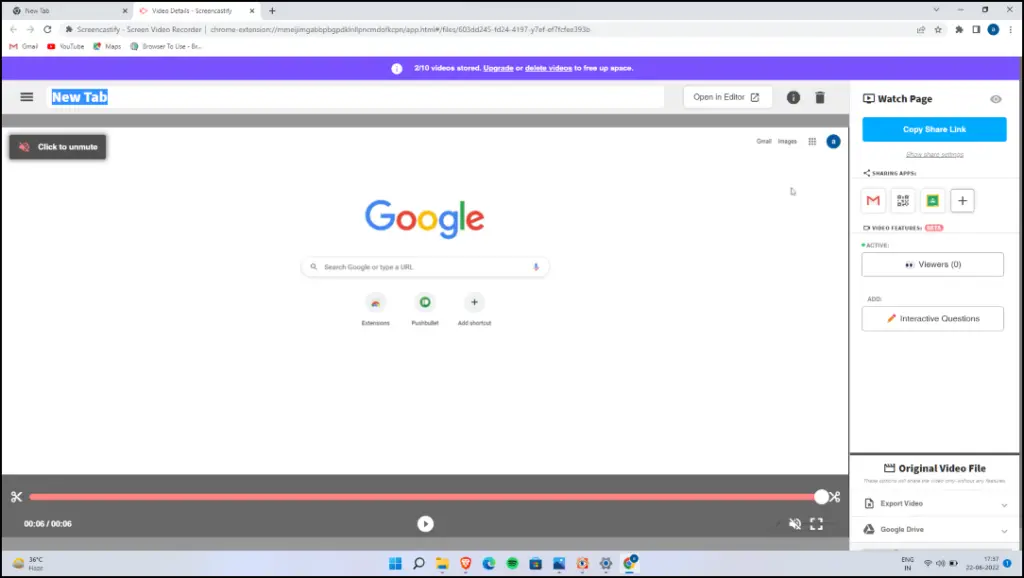 Download Extension: Screencastify Screen Video Recorder
2. Awesome Screenshot and Screen Recorder Extension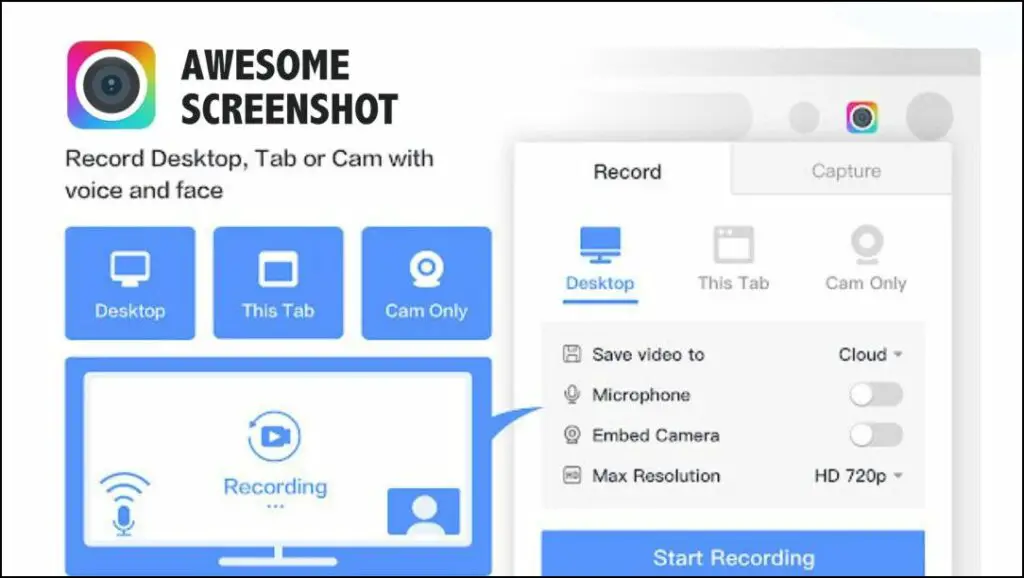 Key Features:
Allows you to Edit Videos after Recording.
Easy to use interface.
You can record in 720p, 1080p, and 4K. (1080p & 4K available for Pro version)
It can also be used to take screenshots.
Awesome Screenshots and Screen Recorder is another well-known Chrome extension that lets you record the current tab, desktop, or webcam and capture screenshots. You can also embed webcam videos into the video, which can be very useful for Youtube tutorials. It also features an editing tool with basic options to edit your video.
It is free to use but does require you to sign in. The free version only allows you to record in 720p, but with the paid version, you can go up to 4K. With over 2 million downloads, this is a great option to screen record your Chrome browser.
Download the Awesome screen recorder from the Chrome Web Store. Sign in with your Google and allow permission for the webcam and mic. Now click on the extension and start recording.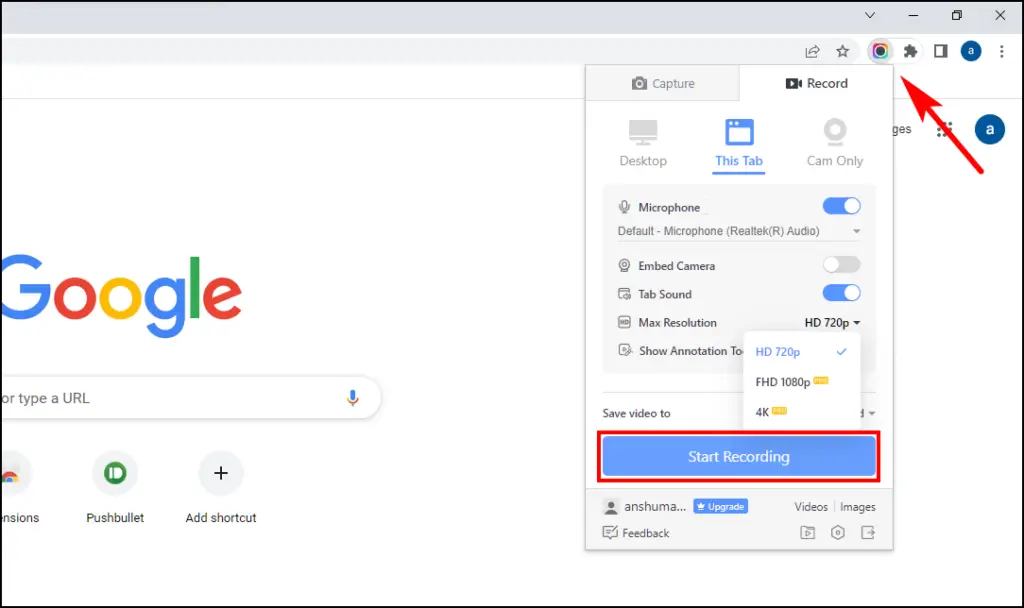 After the video is recorded, a new tab will open where you can view the recorded video and save or share the video file.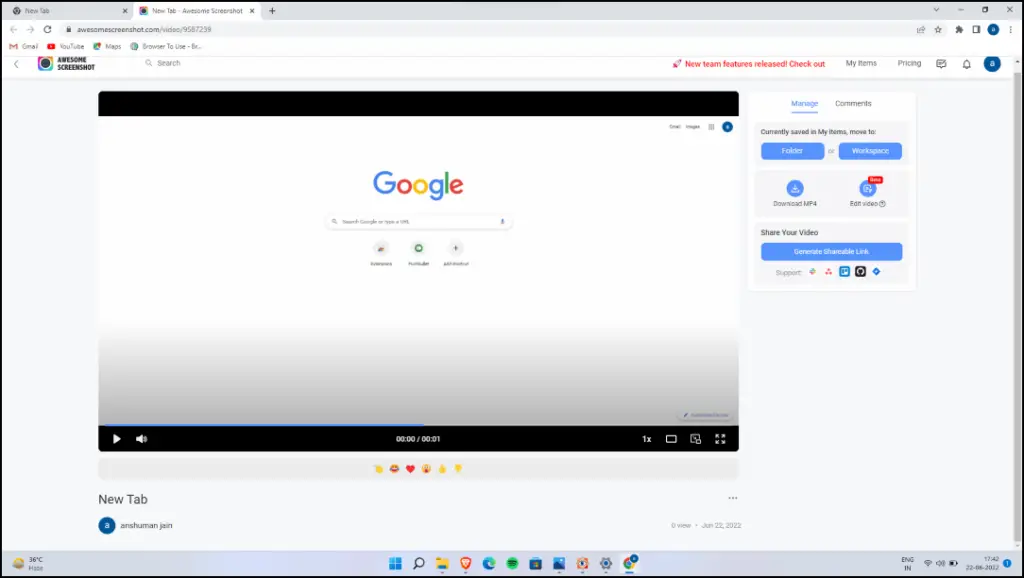 Download Extension: Awesome Screenshots and Screen Recorder
3. Fluvid Screen Recorder Extension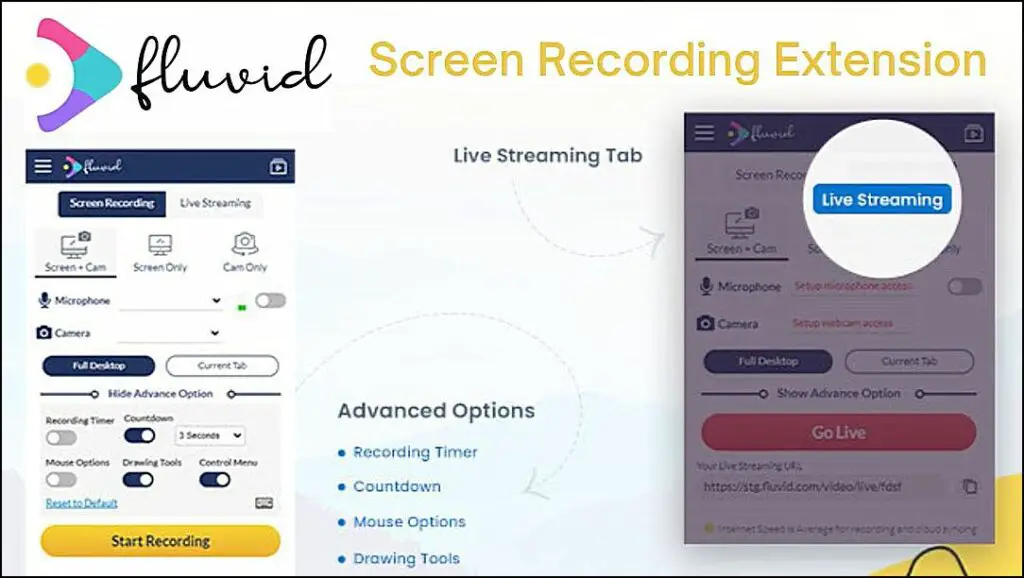 Key Features:
Set passwords on videos to prevent unauthorized access.
Edit videos, customize thumbnail, and set custom logos.
Stream recorded videos directly on Youtube, Twitch, and Facebook.
Floating control bar.
Fluvid is an interesting option for a screen recorder as it offers some unique features that some of you might appreciate. Features like the ability to set a password when sharing the recorded video to prevent unauthorized users from viewing it. You can also live-stream your screen recordings to platforms like Twitch, Youtube, or Facebook.
You can also add your custom logos to the videos and edit thumbnails. The free version of Fluvid allows you to record for 1 hour without a watermark, and you can store up to 50 recordings. After which, you can buy the premium version or delete your old videos.
To use Fluvid, download it from the Chrome Web Store and Sign in with your Google account. After signing in, you can start recording your screen or start a live stream.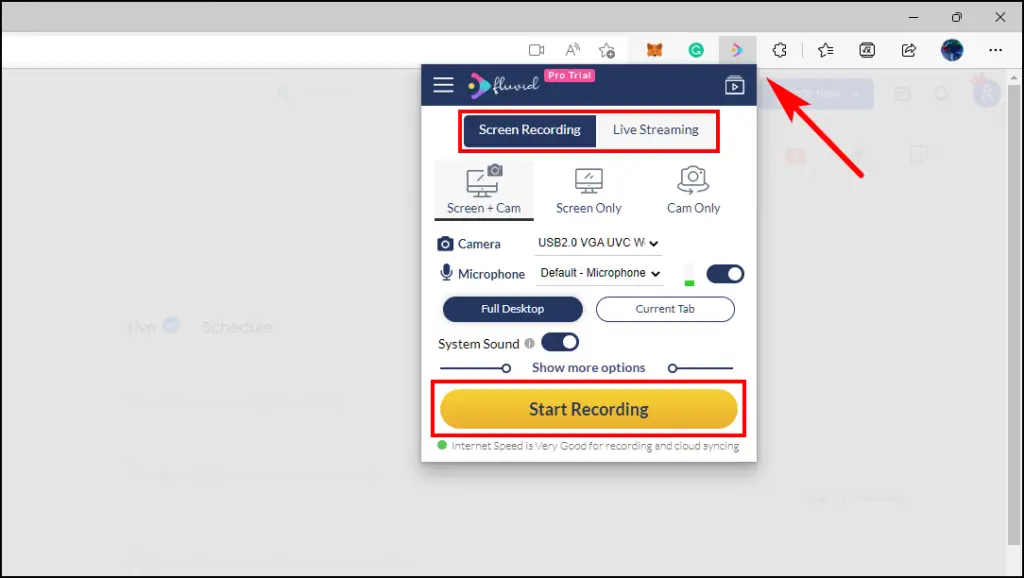 It gives you various options to set up your live stream, and you can also tweak multiple settings within your live stream.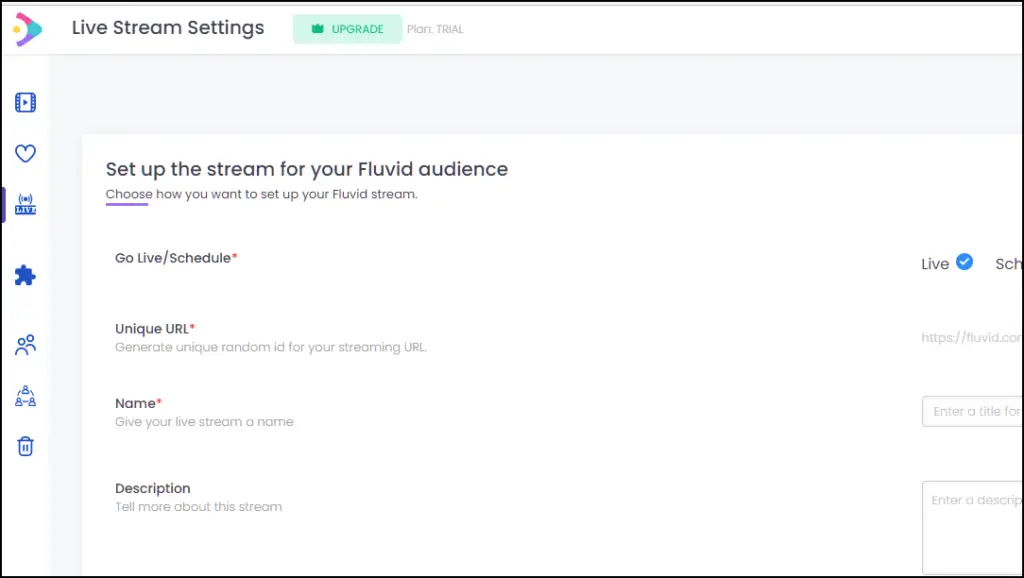 After recording, you can edit the video, share it on social media platforms and set the video privacy.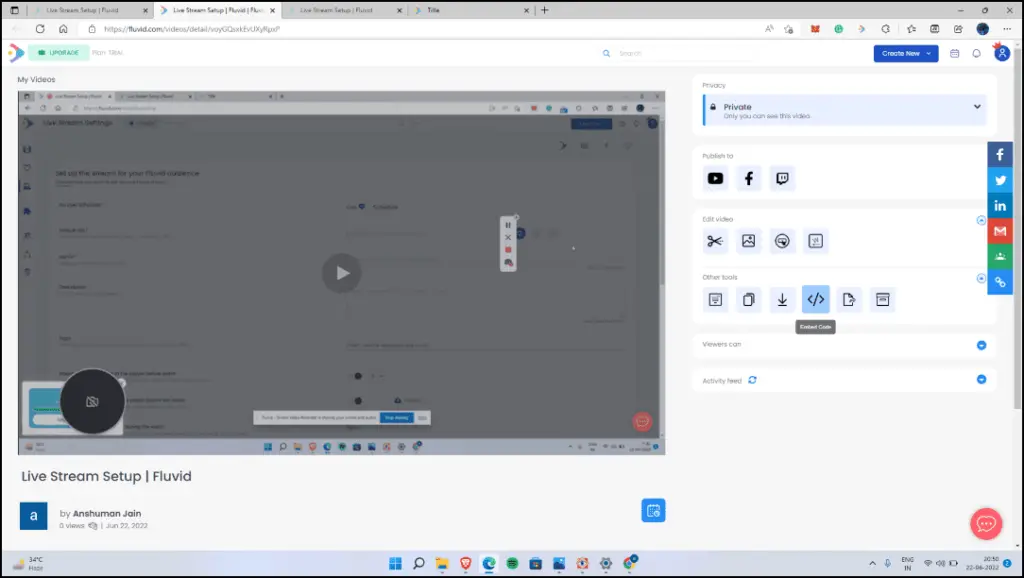 Download Extensio: Fluvid Screen Video Recorder
4. Screen Recorder Extension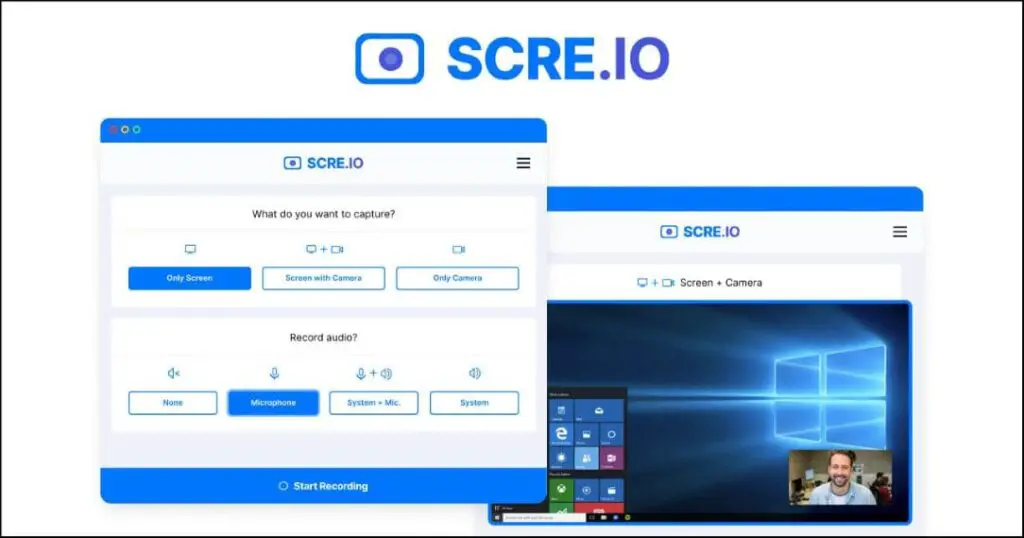 Key Features
Easy to use simple screen recording extension.
Completely free to use.
Store unlimited videos without a watermark.
No limit on recording duration.
SCRE.IO – Screen Recorder is an entirely free-to-use screen recording extension on Chrome. The extension does not require you to sign in; you can use it offline. It allows you to record desktop applications running in the foreground and browser tabs. You can include webcam video within the screen recording, similar to other extensions mentioned above.
There is no premium fee; you can record videos for as long as you want without watermarks. But it is a barebone recorder, so you cannot edit or upload videos to the cloud on it. But if you are looking for a basic screen recorder for Chrome, then this one might be for you.
The screen recorder is fairly simple to use. All you have to do is download it from the Chrome Web Store and give it webcam and mic permission, and you can start recording right away.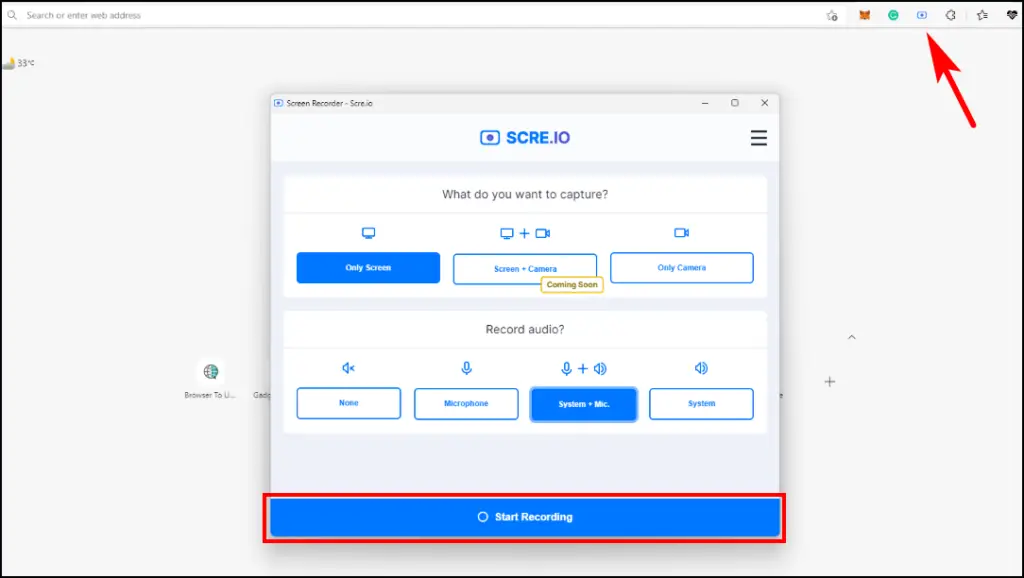 Unlike the extensions above, Screen Recorder does not have any fancy options. You can just save the recorded video to your computer.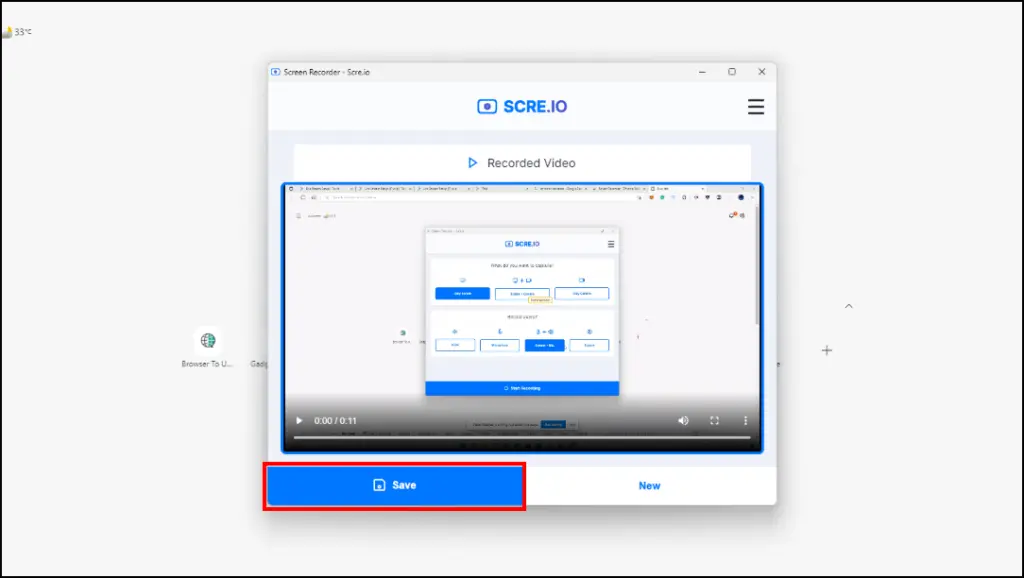 Download Extension: SCRE.IO – Screen Recorder
5. Vimeo Record Extension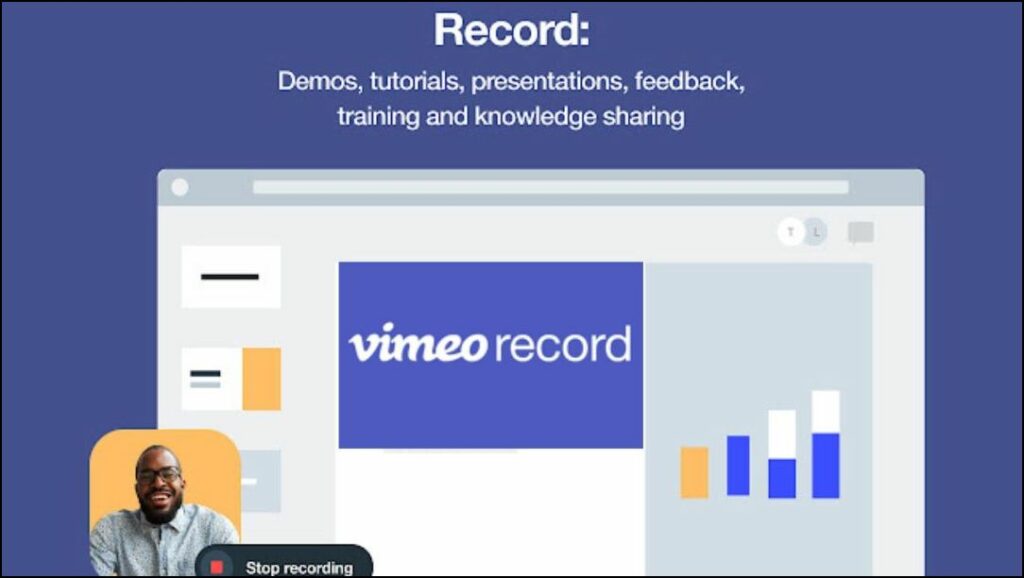 Key Features
Clean and easy-to-use interface.
Unlimited free video recording.
Get viewer analytics and add comments to videos.
Add chapter markers to videos.
Vimeo Record is a screen recording extension from Vimeo, a popular video-sharing platform similar to Youtube. The extension is easy to use and offers a simple user interface.
You can record webcam and mic audio within the video along with system sounds. You can also see who watched the video after sharing it and add comments to interact with viewers.
You can record unlimited videos using this extension; creating a Vimeo account to save your videos is the only catch. A premium subscription lets you add chapter markers to the video.
Like Screen Recorder, you can start using Vimeo Record immediately without signing in. You have to grant the required permissions, and you can start recording your screen.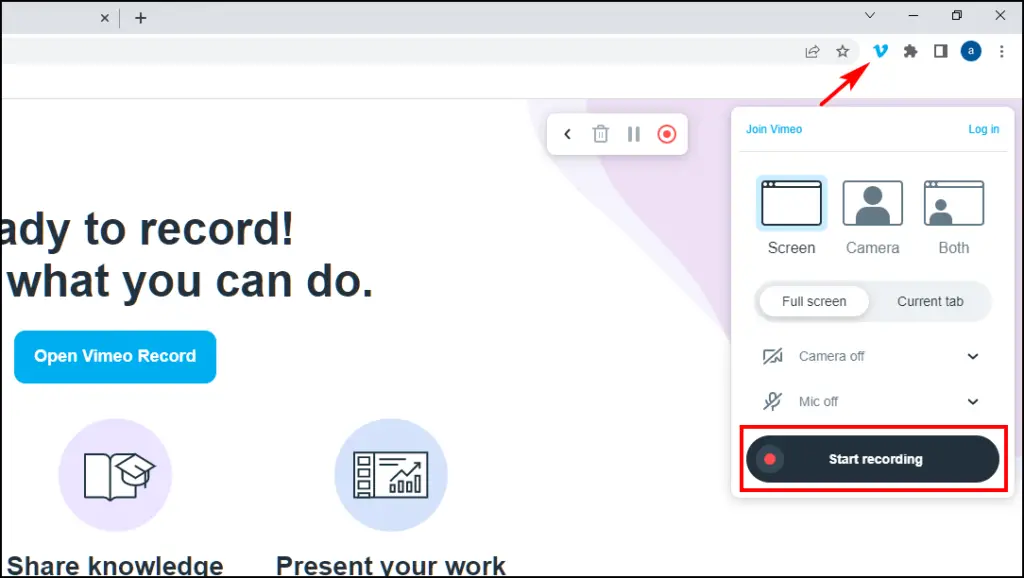 To save the recorded video, you have to sign in with a Vimeo account. If you do not have a Vimeo account, you will have to create one.
Download Extension: Vimeo Record – Screen & Webcam Recorder
6. Loom Screen Recorder & Screen Capture Extension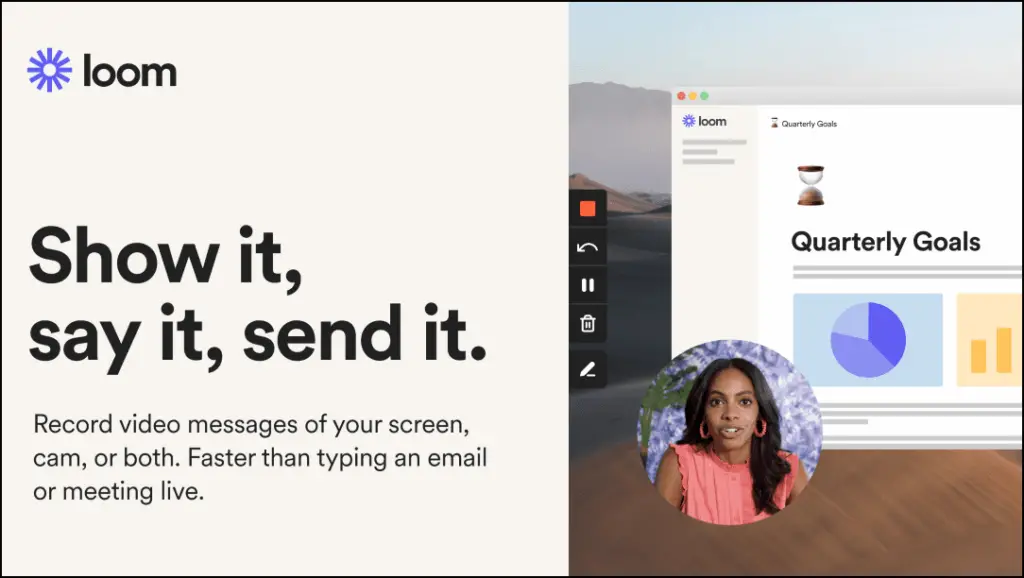 Key Features
Record videos in up to 4K resolution.
Floating widget.
Multiple people can join a project.
View video analytics.
Loom is a very popular screen recorder and screen capture extension on Chrome. Like other extensions on this list, you can screen record videos up to 4K resolution and edit videos afterward. And add webcam and mic audio to the video as well. It even gives you options to cust0omise your background as you record.
Loom focuses more on workspace and enterprise productivity with features like Team Workspace, Team Library, and Viewer insight. You can record videos in 720p in the free version and can store only 25 projects. The Enterprise model offers recording in up to 4k and exclusive tools like custom recording dimensions, call to action, and engagement insight.
To start with Loom, you must download the extension and sign in with your email. Then allow permissions, and you can start recording.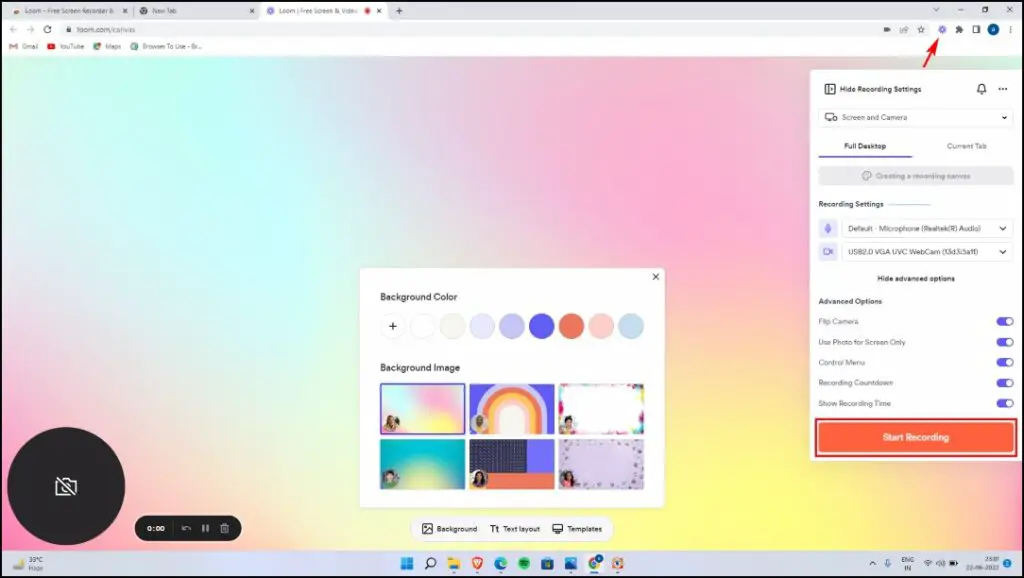 A new tab will open after you have recorded the video. Here, you can edit the video, add a call to action and share or view the analytics of the video.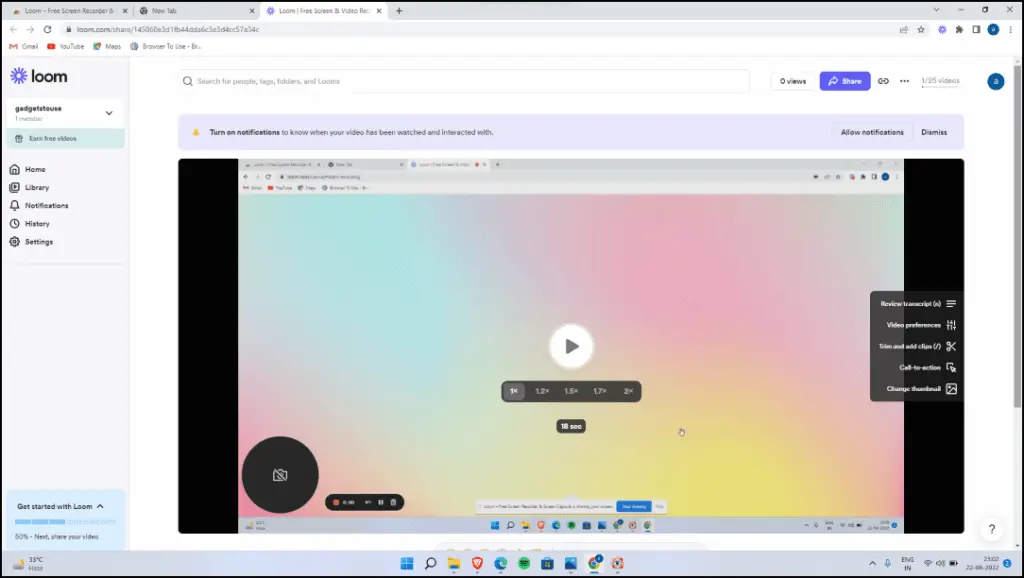 Download Extension: Loom Free Screen Recorder
7. Xbox Game Bar (Windows Only)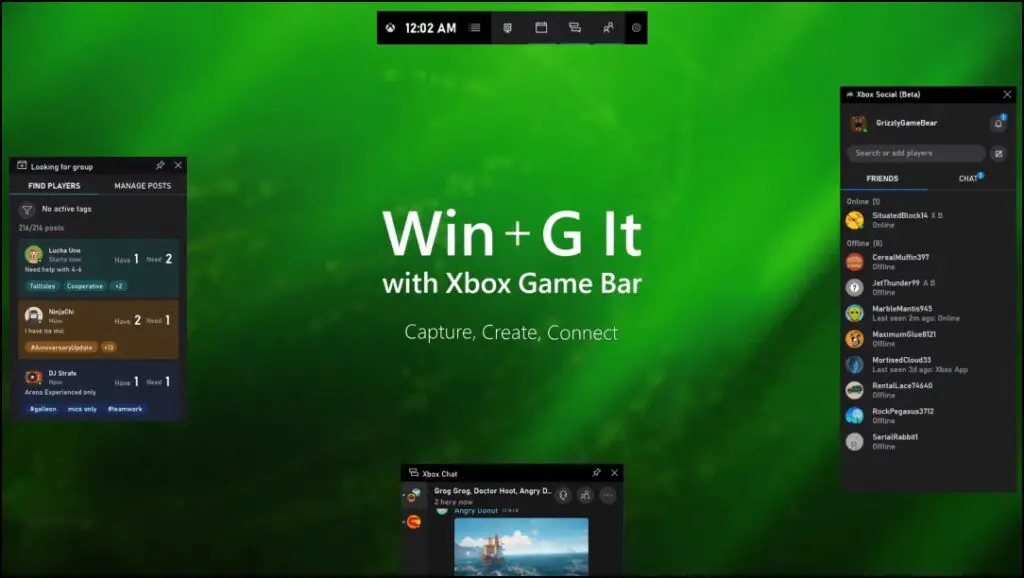 Key Features
Native feature on Windows 10/11 PCs.
Record any application, games, or browser tab.
Adjust and mix mic audio and system audio.
A customizable widget that shows CPU and GPU info.
Xbox Game Bar is a native app available on Windows 10 and 11. It is a widget intended to let PC gamers record and capture their gameplay and share it with their friends. But you can use it to record applications and browser tabs as well.
You can move the widgets around the screen, capture screenshots, and last 30 seconds of the gameplay. It lets you record any application except your desktop or the file explorer.
You can always visit settings and adjust mic preferences, recording frame rate, and resolution. You can also listen to the audio while screen capturing and text with your friends on Xbox.
Press Windows Key + G to activate Xbox Game Bar on your Windows computer and select the Capture option to screen record. Then press Record or use Windows key + Alt + R to start and stop recording.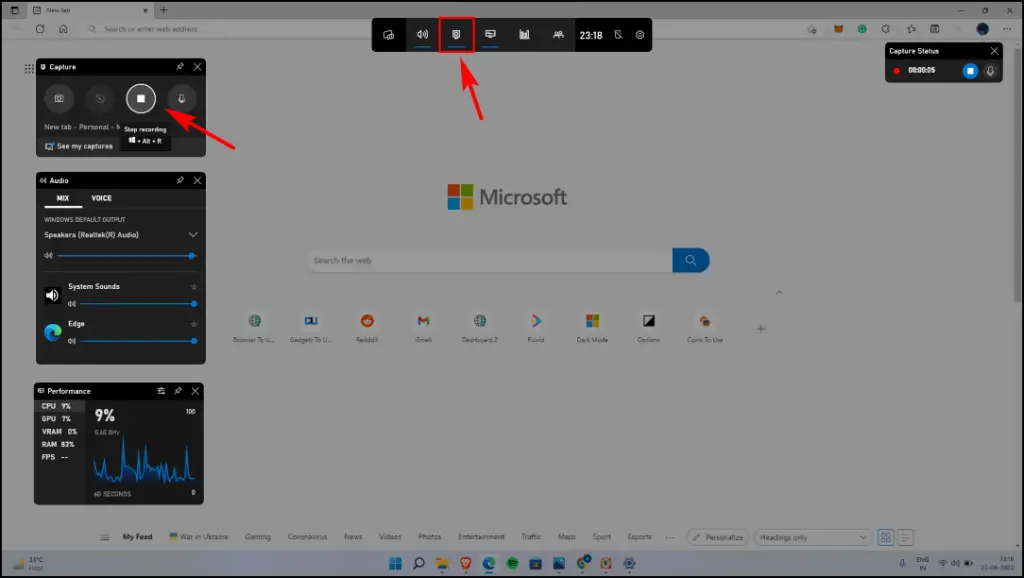 Your recorded videos will be saved in Videos under Captured folder.
Download Tool: Xbox Game Bar for Windows
8. OBS Studio (Windows, macOS, Linux)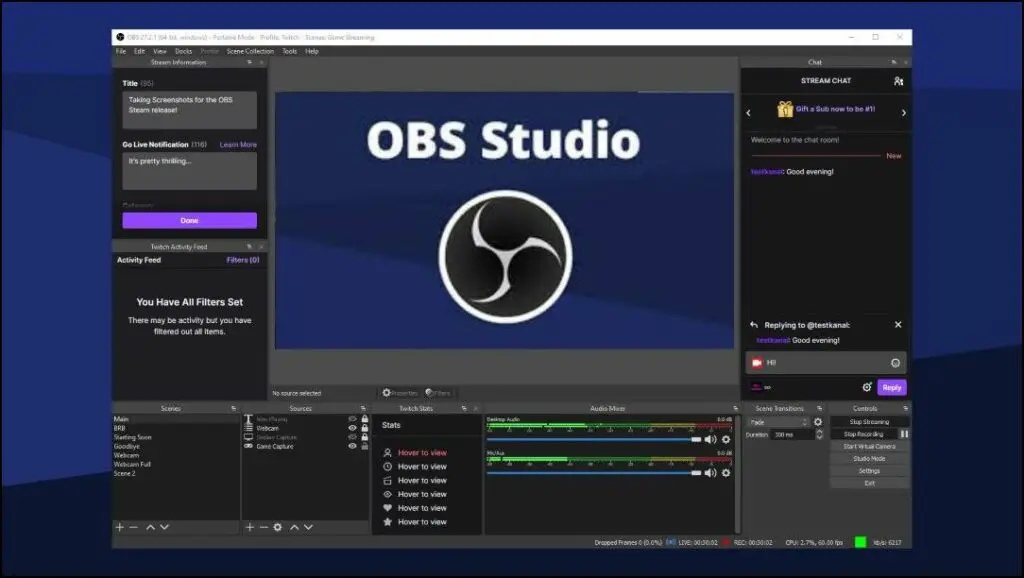 Key Features
Capture and stream high-quality screen recordings.
Free to use open-source software.
It supports Windows, macOS, and Linux.
An advanced tool with a variety of customizations and features.
OBS is an open-source program that is popular with people who live stream video games. But it can also be used to record crisp and high-end screen recordings.
It offers a variety of advanced tools that let you capture every desktop scenario, add filters, adjust and prioritize audio sources, add transitions, assign hotkeys, and so much more.
Since OBS is open source, it is completely free to use for personal and professional use and is compatible with all major operating systems. If you are serious about how you want your recordings to turn out, this is the best available option.
You can use OBS Studio by installing it on your computer first. After the setup, the Configuration Wizard will pop up. Select Optimise for the recording option.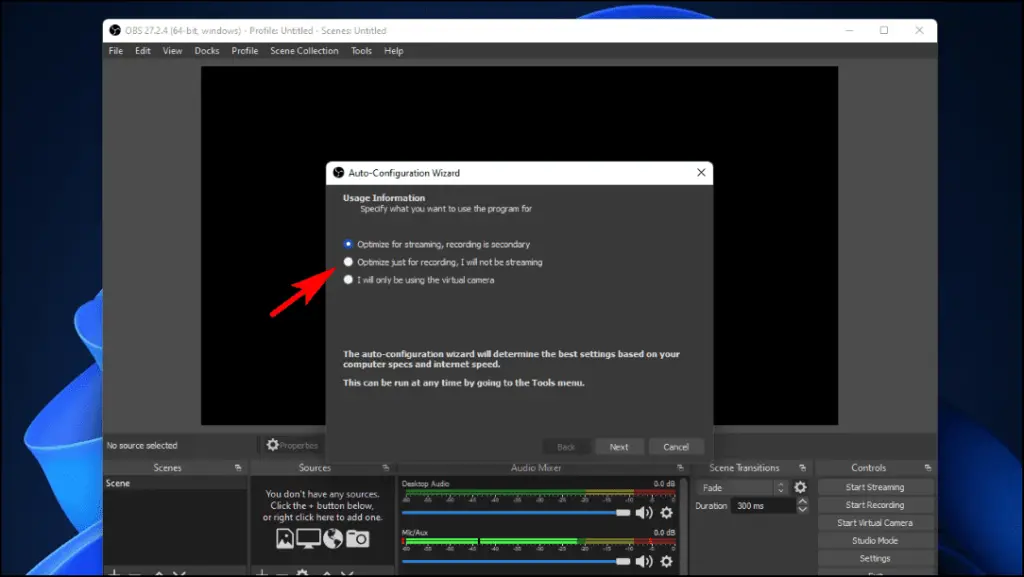 To record the screen, click on the + icon in the Sources section as shown below.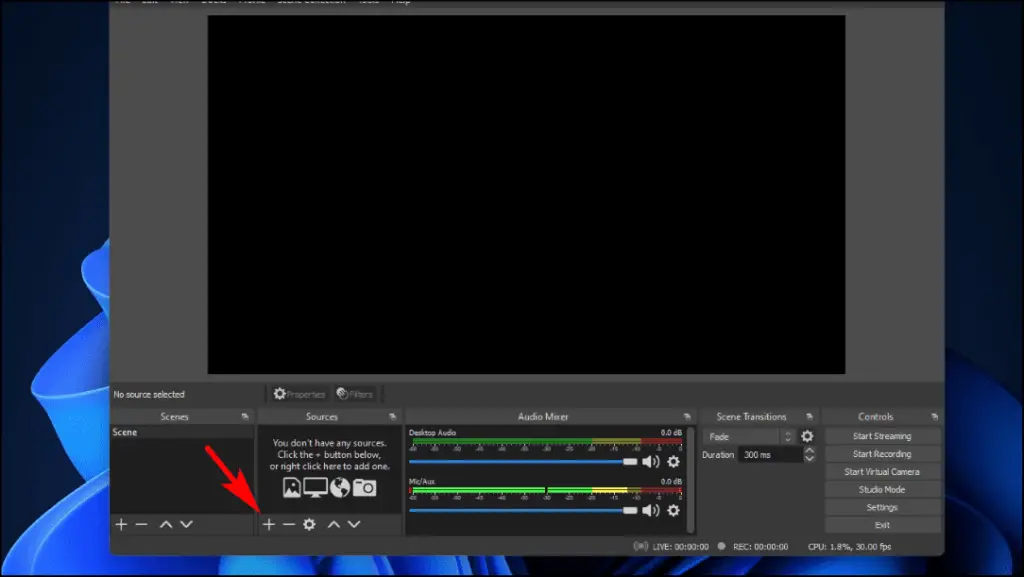 Now select the Display Capture option.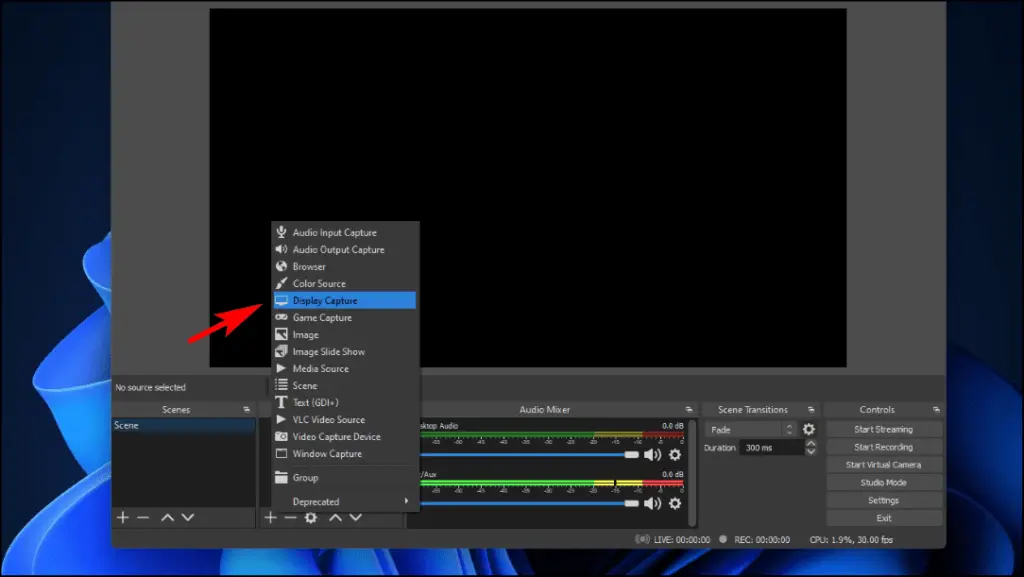 Now press Start Recording to record your screen. Your recorded videos will be saved in the Video folder.
Download Tool: OBS Studio
9. Quicktime Player (macOS Only)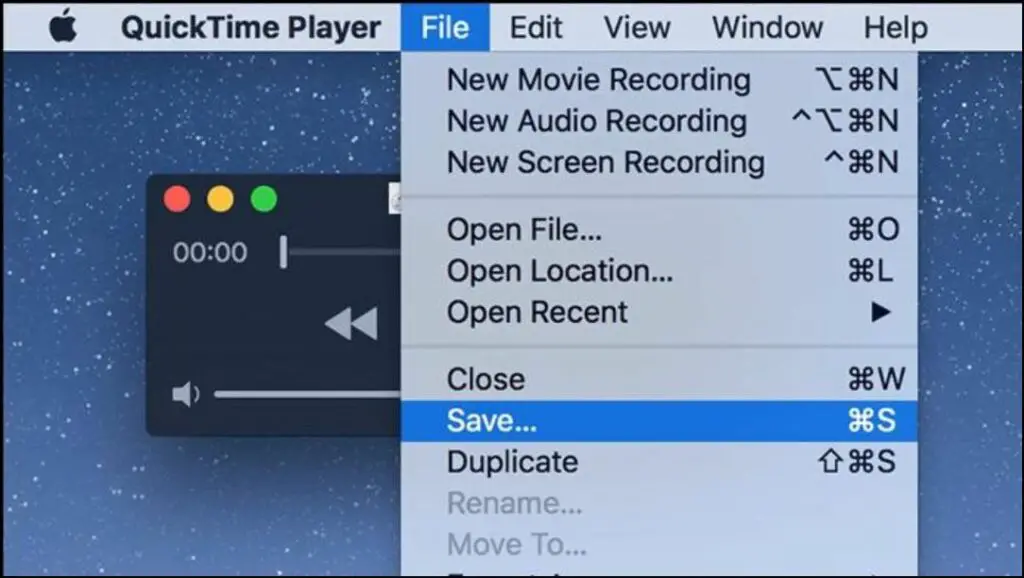 Key Features
Comes Pre-installed on macOS devices.
Ability to set a custom location to save videos on your Mac device.
Add audio to screen recordings using the built-in mic.
Highlight cursor clicks.
If you are using a Mac, you must already be familiar with the Quicktime Player. It is a video player that comes pre-installed on your Mac. But did you know that it can also be used to screen record?
You can use it to record all applications, desktop, and browser tabs. Although it provides only a few options like setting a custom folder to save files, timer, and highlight cursor clicks.
If you just want a basic tool to record your screen, this handy feature is already available on your Mac that you can try out. Open Quicktime player, right-click its icon in the dock, select New Screen Recording, or press Ctrl + Command + N. You can now start recording your Mac screen.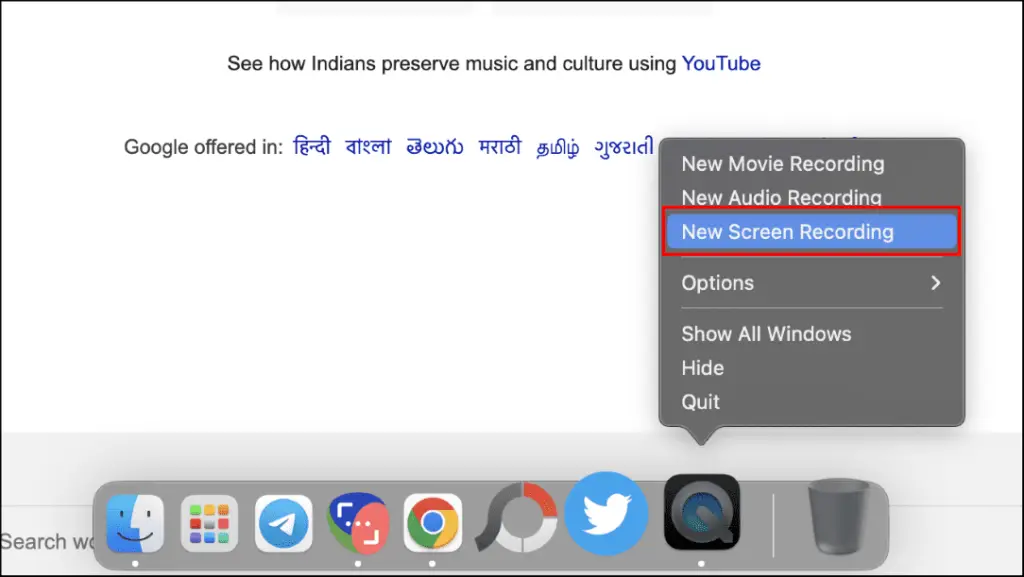 You can click on the Options menu to reveal a list of recording settings like microphone, audio source, and timer.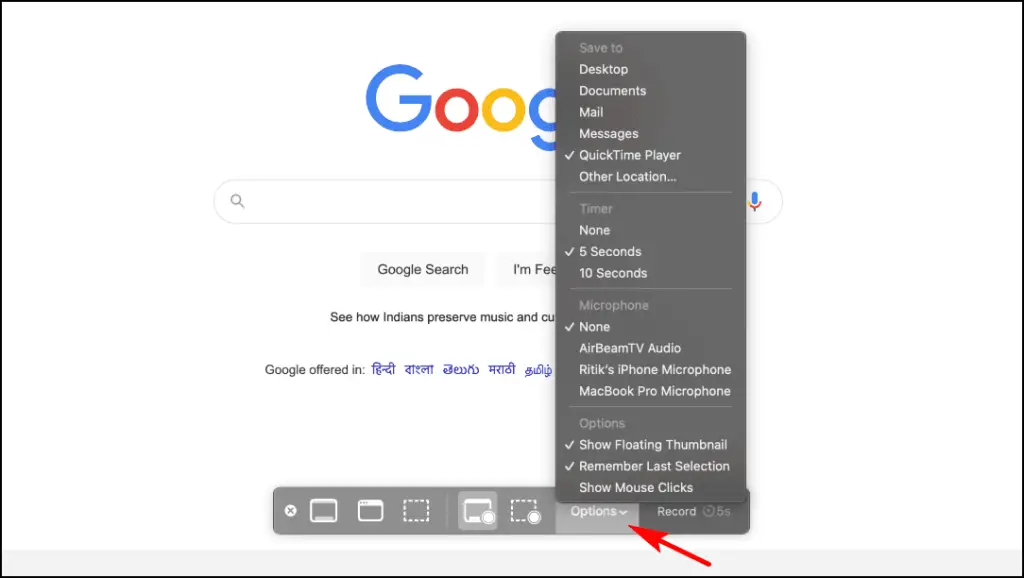 You can pause or stop recording by clicking on the Pause icon on the top left side of the Mac toolbar, as shown below.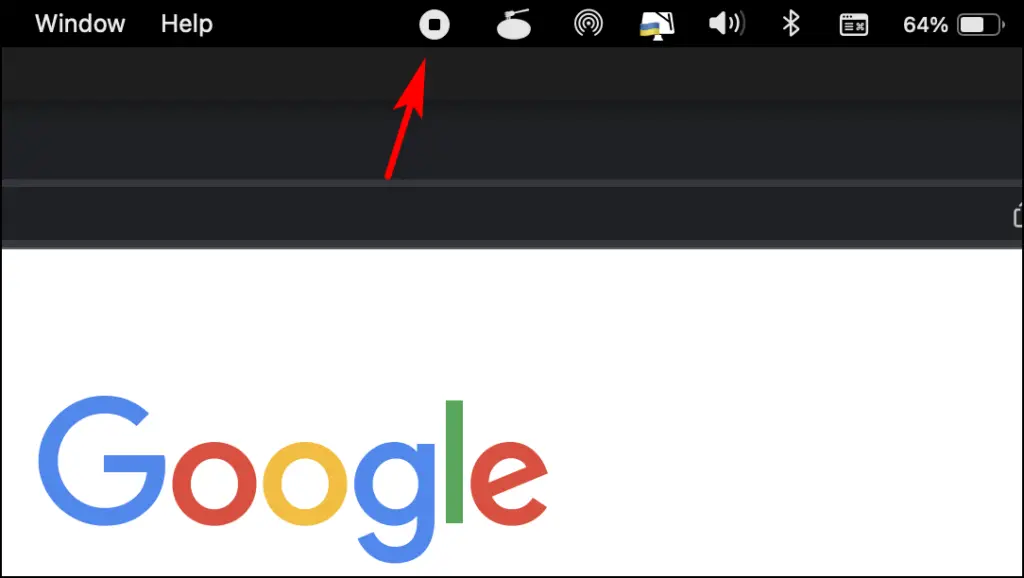 To save your recorded video, just go to the File option in Quicktime menubar and click on Save… or you can also press Command + S.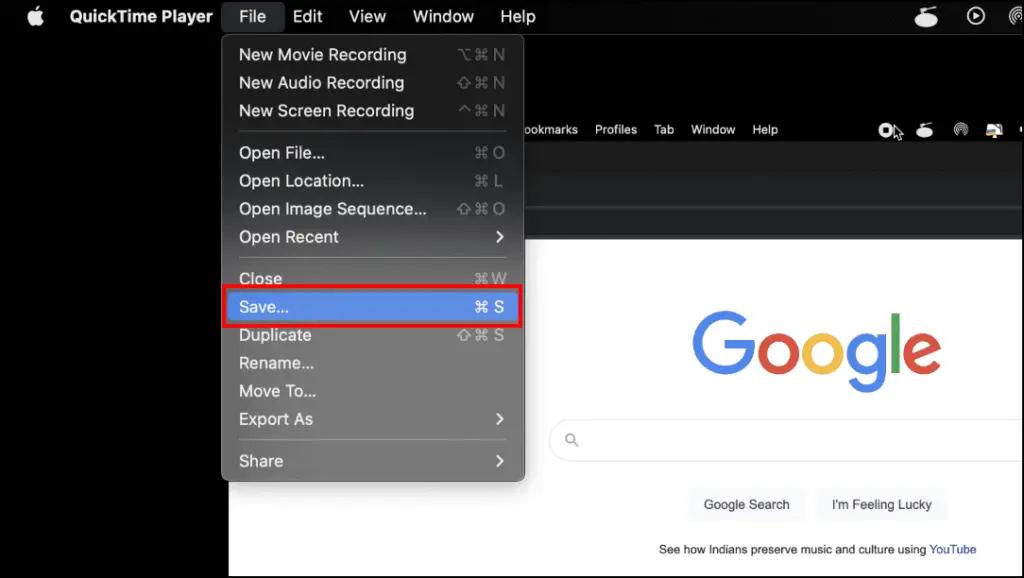 Download Tool: Quicktime Player 7 for macOS
Related Questions
Q. How to Record My Computer Screen?
You can use built-in options like the Xbox Game Bar or programs like OBS Studio. You can also use Chrome extensions since they are lightweight and easy to use, and some of them allow you to upload videos to the cloud directly.
Q. Can I Record the Screen in Chrome Offline?
Yes, most options listed here allow you to record your screen even if you do not have an internet connection. Xbox Game Bar and Quicktime Player also let you record your screen offline.
Q. How Can I record Audio Using Screen Recorders? 
Your computer or laptop must have a working mic, or a headphone plugged in with a mic to record your audio along with the screen. All the extensions we have mentioned here allow you to record your audio and a webcam with the screen recordings.
Q. Why Do Screen Recording Extensions Require You to Sign in?
Some screen recording extensions allow the upload and storage of videos to the cloud. It helps save your system storage and allows you to access the video file on your other devices signed in with the same account. Some extensions require you to sign in with your Google or Facebook account.
Q. Can I Record Zoom Meetings with Screen Recording Extensions?
Zoom provides an in-built option to record meetings, but the host can choose to disable that option. You can record meetings, including audio, using Chrome's screen recording extensions, but the host will be notified that you are recording the meeting.
Q. Can I Record Google Meet with Screen Recorders?
Yes, you can record Google Meetings with the above screen recorders. Google Meet also has a built-in screen recording option just like Zoom, but it is only limited to G-Suite and enterprise users.
Wrapping Up
All the extensions and other options discussed here have their own set of features and advantages. Some prefer a simple screen recorder, while others want a screen recorder, editor, and streaming service packed into one. We hope it helps you screen record with audio in Chrome, Edge, and Brave browsers. Stay tuned to Browser To Use for more amazing guides and how to's.