Brave is a privacy-first web browser that is fast, secure, and free. But the thing that makes it stand out is the Brave BAT Rewards Program which allows you to earn money in the form of cryptocurrency. Once you enable Brave Rewards, you can start earning crypto for watching ads and browsing the web. To make it easier for you, here's a step-by-step guide to enable and setup Brave Rewards and Wallet to earn BAT.
Related | How to Install Opera Crypto Web3 Browser (Android, Windows, Mac)
Enable Brave Rewards to Earn BAT
What is BAT Rewards in Brave Browser?
Third parties on the web track your information and show you ads to make money. Brave does away with this system by allowing the control of ads in the hands of users. It provides an option for a unique program called Brave Rewards.
Here, you can choose to see ads as you use the Brave browser, and in return, you are rewarded with BAT (Basic Attention Token) cryptocurrency. The user gets 70% of the revenue and control over how many ads they want to see. Your data does not leave your device, and you can turn it off entirely anytime.
BAT tokens are rewarded to you every month in Brave's wallet, or you can set up a verified wallet and transfer your funds there to withdraw them. Let us look at how you can set up Brave rewards for the first time, alongside the process to create a verified wallet.
How to Activate Brave Ads and BAT Rewards
Step 1: Download and install Brave browser on your PC if not already.
Step 2: Open it and click on the triangle BAT logo to the right of the address bar.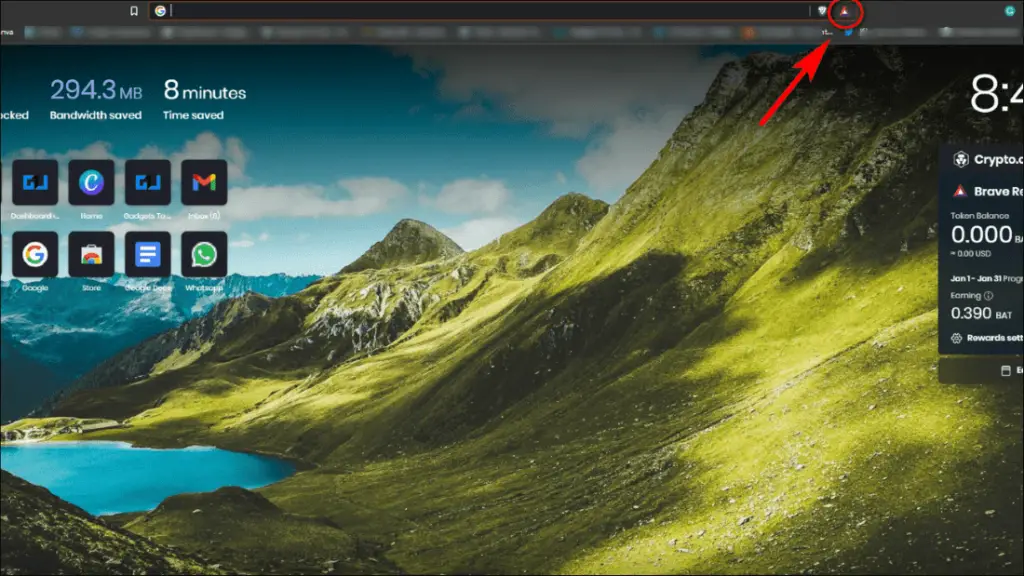 Step 3: A popup will appear. Go through the welcome tour and click Start using Brave Rewards.
Step 4: Select how many ads you want to see per hour and the monthly contribution for creators.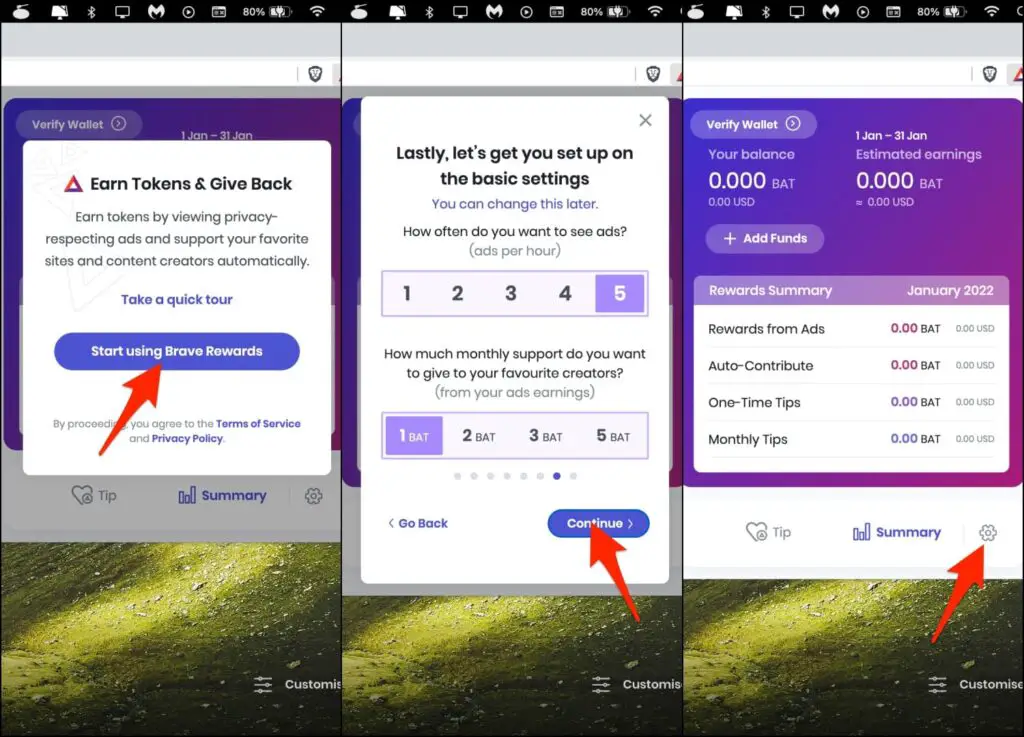 Step 5: The basic Brave wallet is now ready. Next, click the Settings icon.
Step 6: On the next screen, make sure Ads are enabled.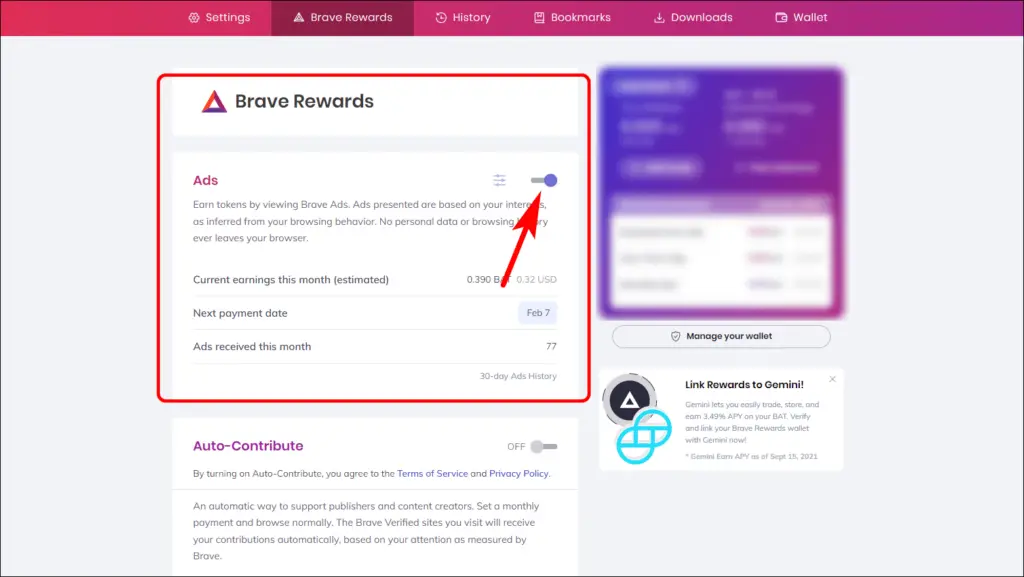 Step 7: Click on the three horizontal lines next to the toggle.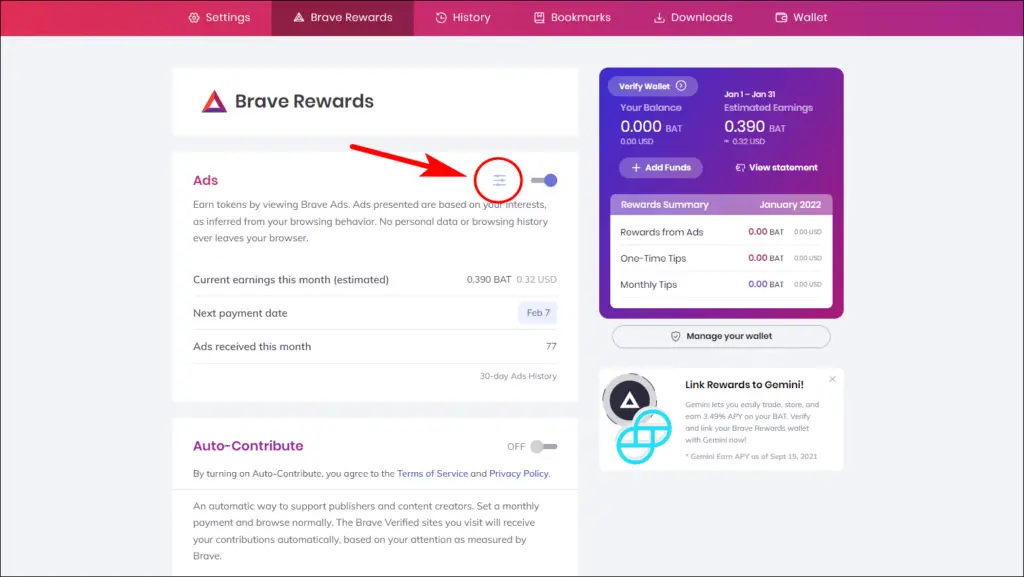 You will see an option called Maximum number of ads displayed. This allows you to choose how many ad notifications you want in an hour. Remember, a higher number equals more rewards.
Step 8: To earn maximum, select 10 ads per hour (or whatever you prefer).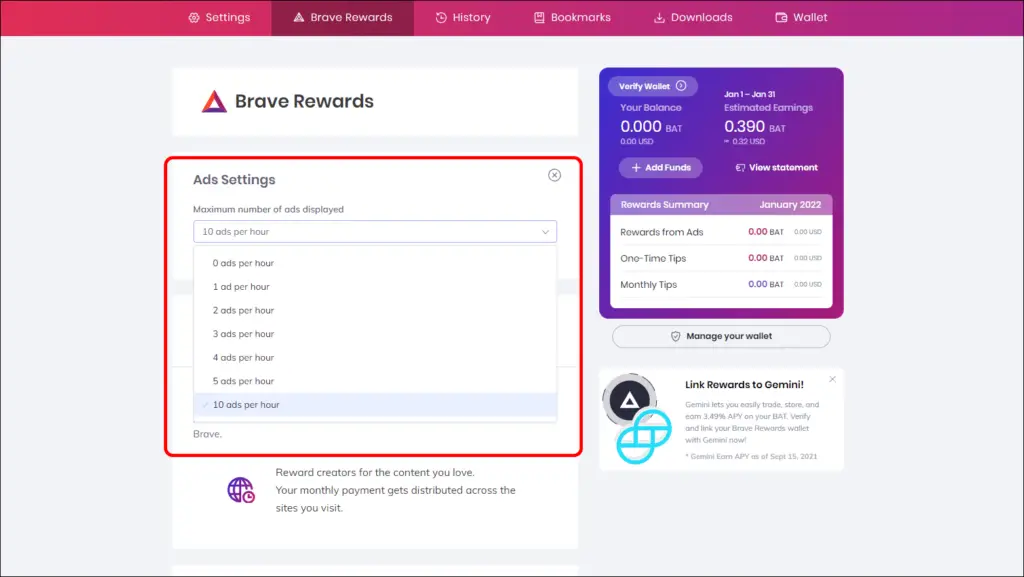 Step 9: Next, turn off Auto-Contribute. This will stop Brave from automatically contributing creators using your rewards.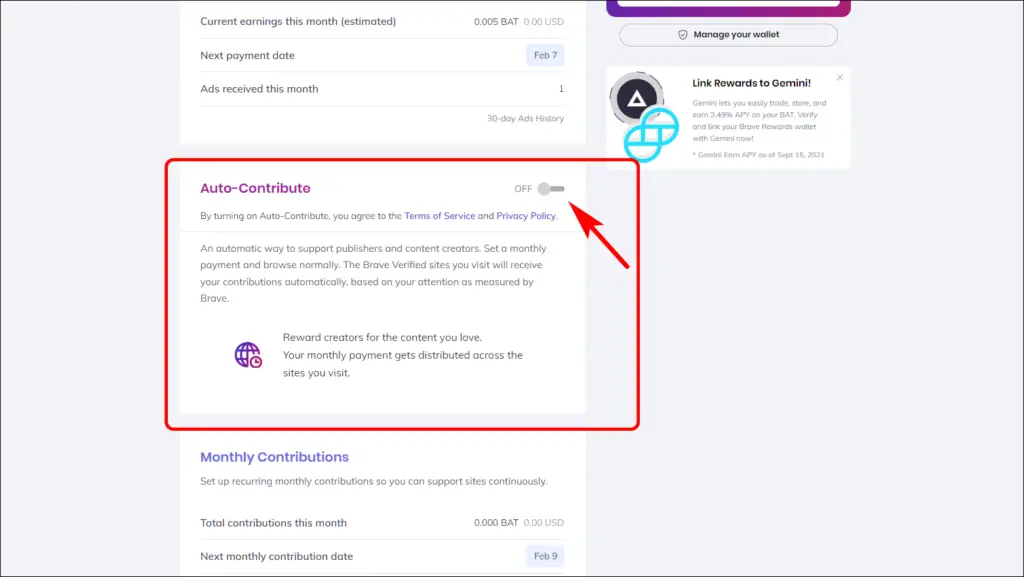 Great! You have enabled Brave Rewards. You can now see how many BAT tokens you have earned by clicking on the triangle BAT logo in the address bar.
But where do you keep your BAT tokens? You can store the BAT you've earned through Brave Rewards in a verified crypto wallet. This allows you to receive Rewards directly in your wallet, safely store your tokens and easily withdraw or deposit them.
Steps to Verify Brave Wallet With Gemini or Uphold
By default, you'll get a basic wallet in the Brave browser. However, you can set up a verified wallet that links your rewards with a custodial exchange.
Linking Brave rewards with a verified wallet has the following benefits:
Freely withdraw the BAT you have in your Brave rewards wallet
Deposit more BAT tokens to your Brave wallet
Receive rewards directly in the custodial exchange wallet
Here's how to verify your wallet in Brave browser:
Step 1: Open Brave, click the BAT symbol on the address bar or go to Brave Rewards.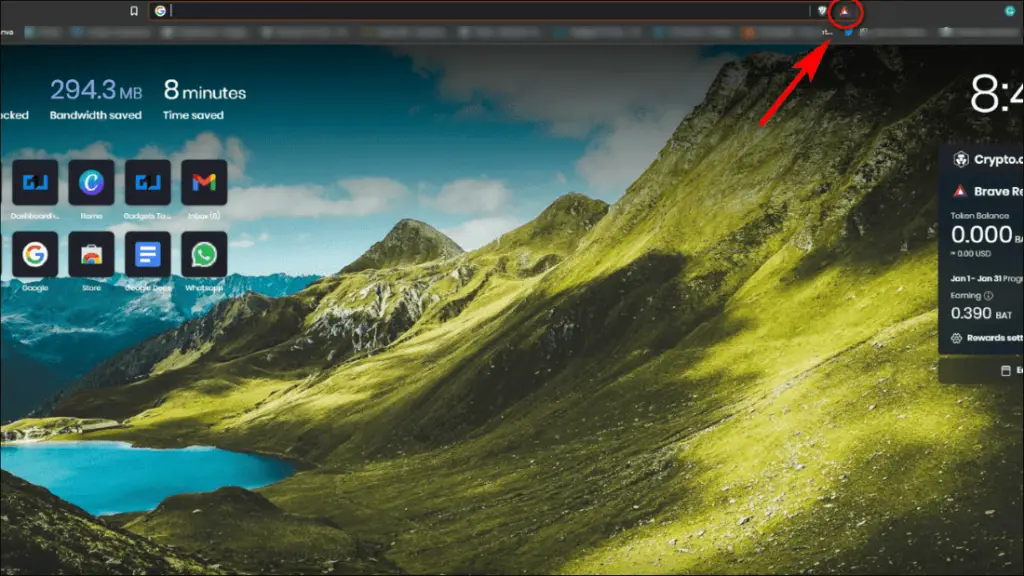 Step 2: Click on the Verify Wallet on top of Your Balance.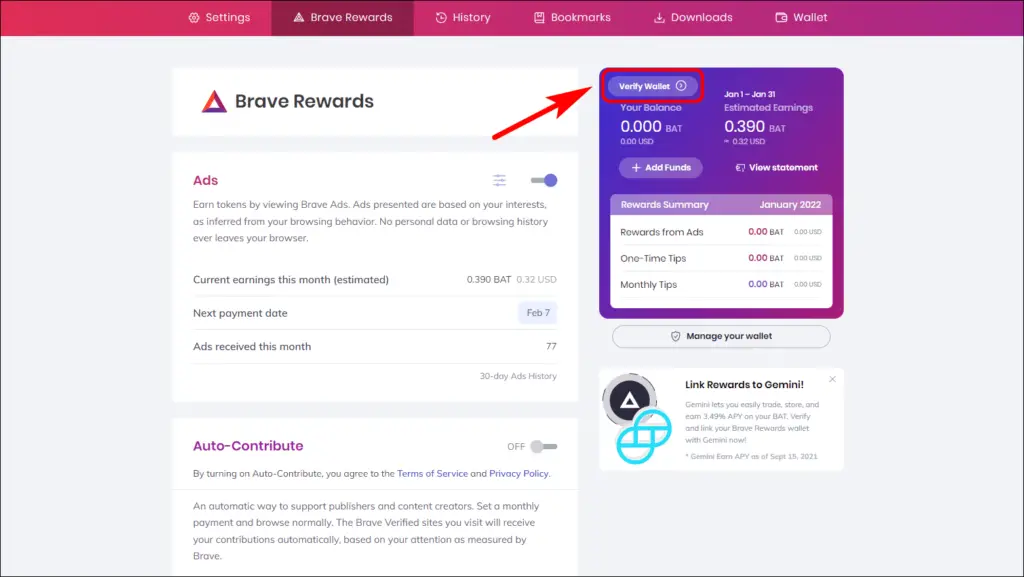 Step 3: A new window will open on the Rewards page. Click on Continue.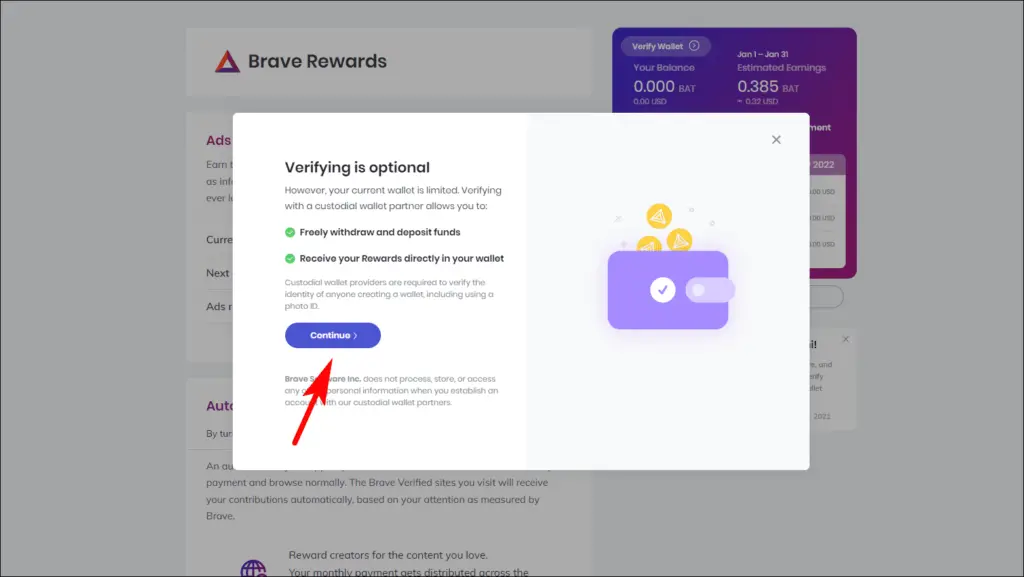 Step 4: Choose Gemini wallet. You can also choose Uphold, but it requires you to have a minimum of 15 BAT tokens to create an account.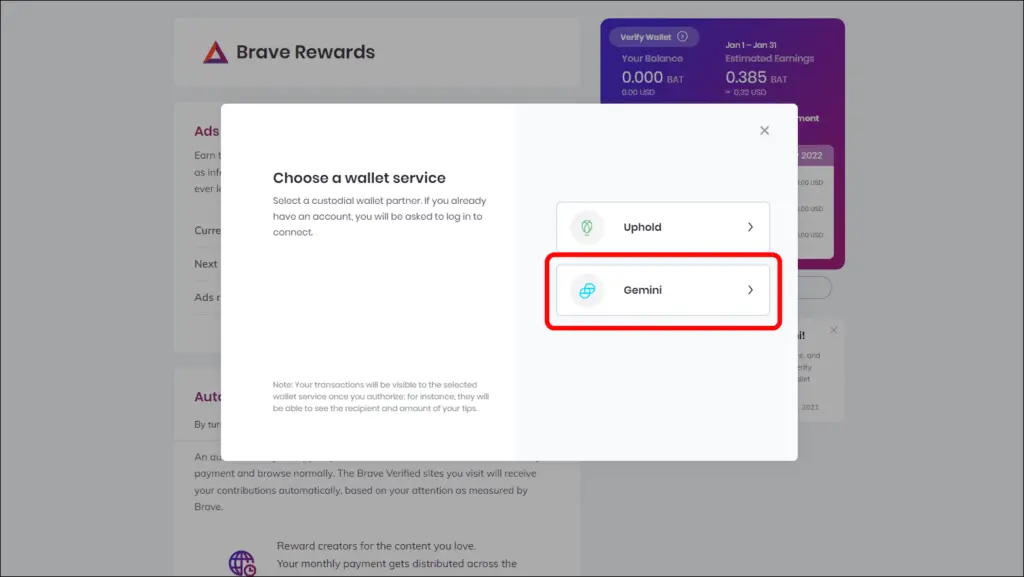 You will be redirected to the Gemini Sign-in page. You need to create a new account on Gemini to create a verified wallet. If you already have a verified Gemini Wallet, then head to Step 12.
Setting up a verified wallet will require your phone number, address, and a valid government-issued ID like Aadhaar or Driving Licence.
Step 5: Go to Create New Account on the Gemini Sign-in page.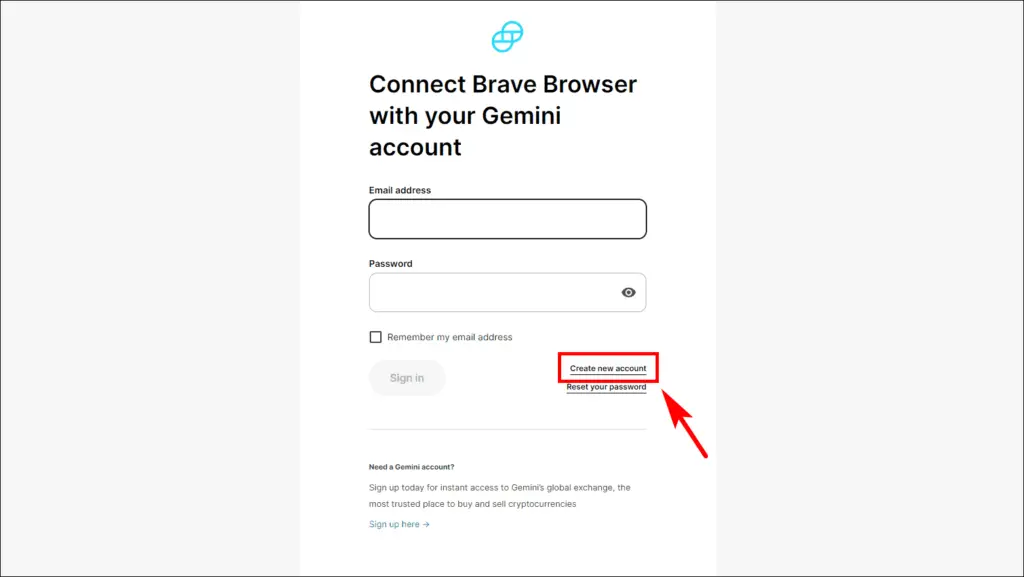 Step 6: Fill in the required details to start the process and click Next.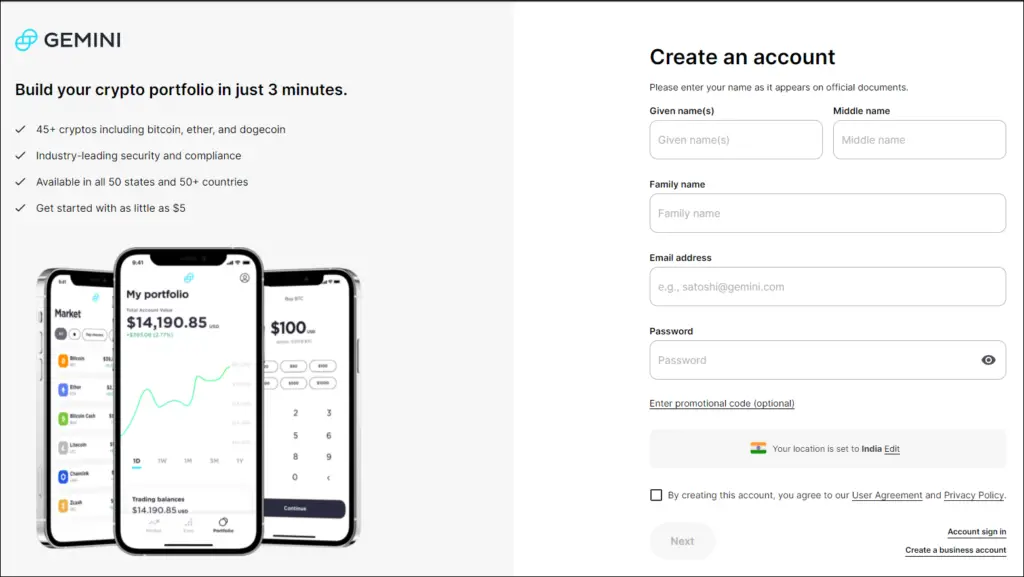 Step 7: Enter your current mobile number. You will then have to enter an OTP sent to that number.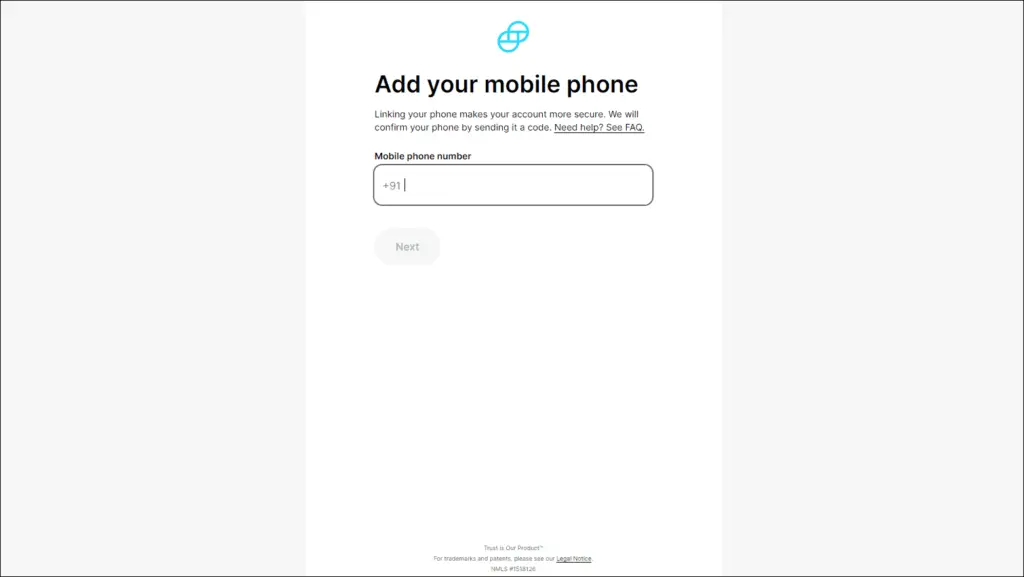 Step 8: On the next page, you have to enter your current address as per the ID card.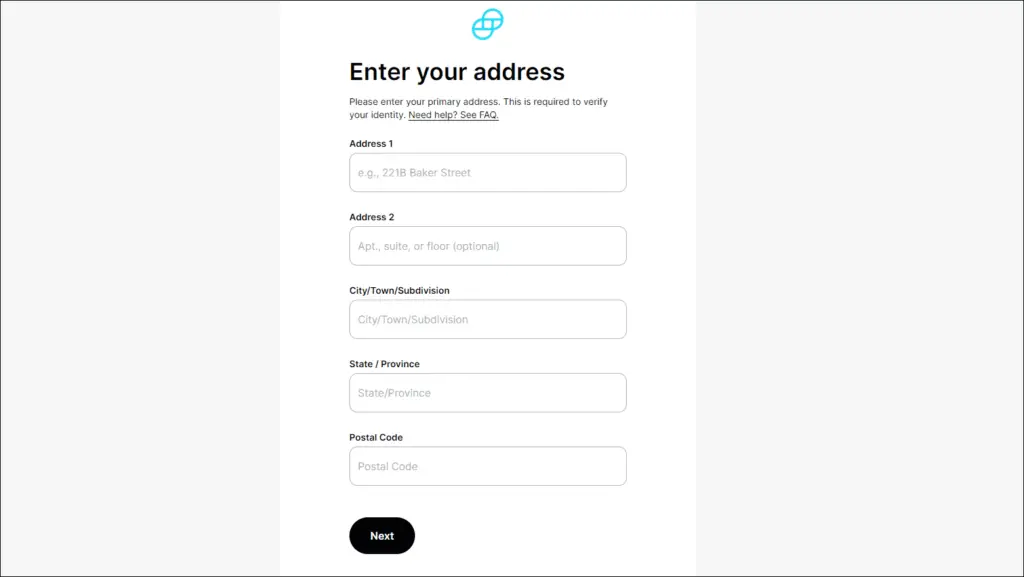 Step 9: Now, choose what type of valid ID card you want to use for verification. You can choose between Passport, Driver's License, or Identity card like an Aadhar card.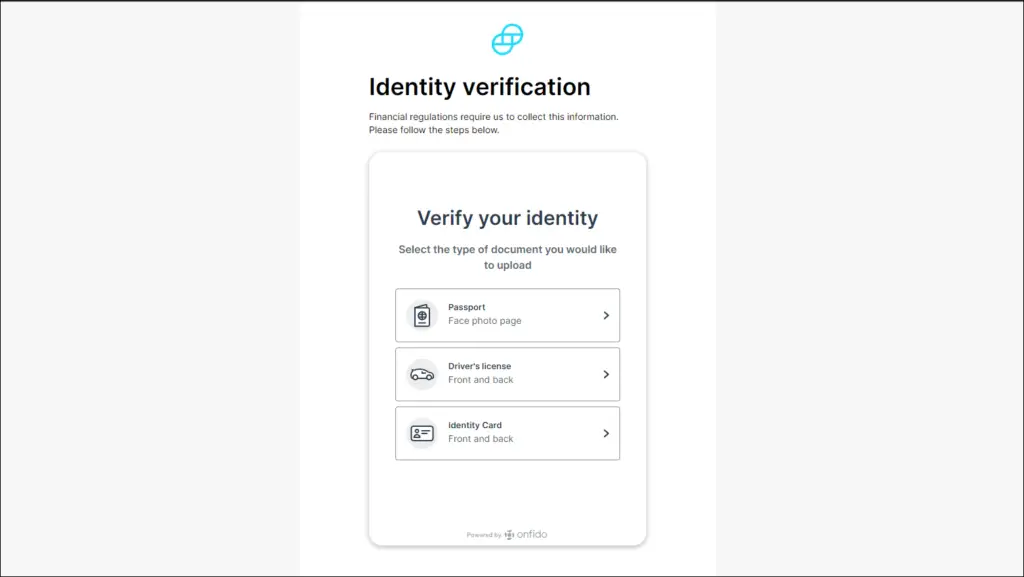 You can use the Gemini mobile app to provide a scan of your ID card or upload it through your PC. Gemini will then send an email to Authorize your account. Make sure to do this on the same device you used to set up the account.
Step 10: Go to the email ID you used to set up the account and Authorize the email.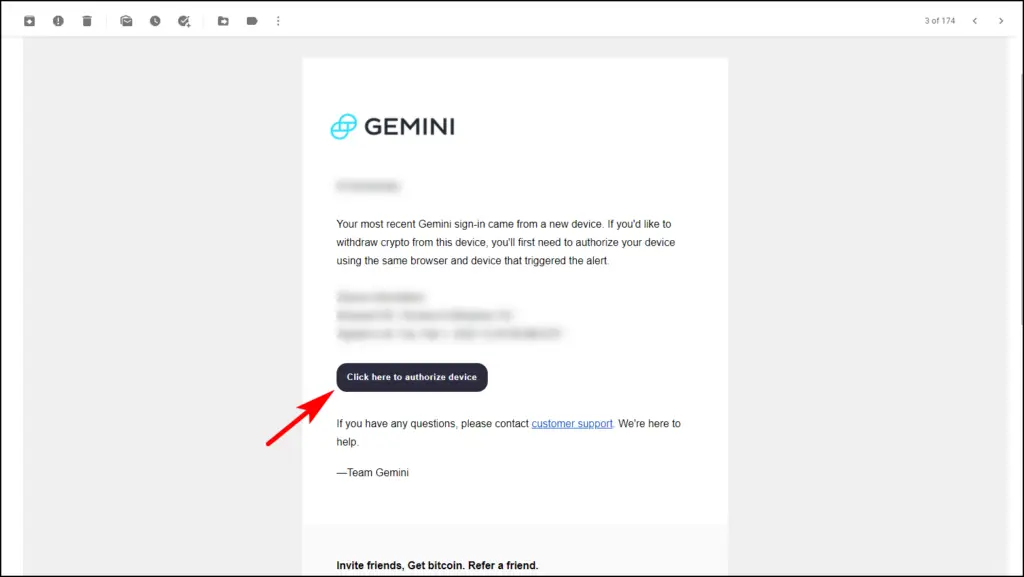 You have successfully set up your Gemini wallet. Gemini will take some time to verify your documents, after which your wallet will be verified.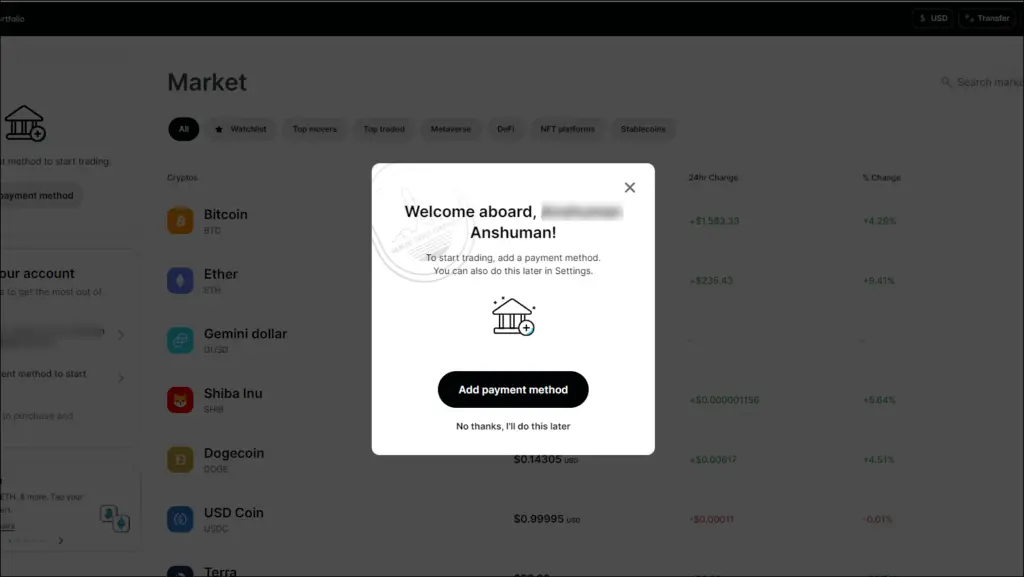 Step 11: Now, head over to Brave Rewards in Brave Settings.
Step 12: Click on Verify Wallet and choose Gemini.
Step 13: Brave will ask for access to your Gemini account. Click on Allow.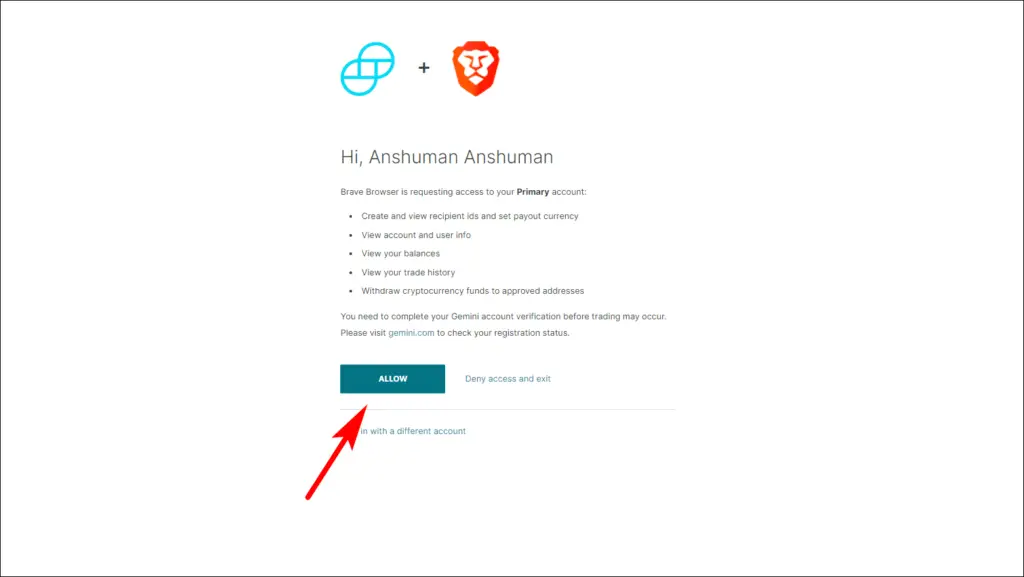 This completes the process, and now your wallet is linked with Brave. At the end of every month, all your Brave Rewards will be deposited directly into your Gemini Wallet.
Bonus- Earning With Brave
Besides earning BAT by watching ads, you can also earn via other methods like signing up as a creator, claiming free token airdrops, and more. For more, check our detailed guide on different ways to earn money with Brave browser.
Wrapping Up
Brave's Rewards service is an excellent way to distribute ad revenue among its users and content creators and a welcome step towards a more decentralized system. I hope the above guide helps you enable and setup Brave Rewards and verify your wallet with Gemini or Uphold to earn BAT tokens.