Unlike iOS, downloading files from the web browser on an Android device is fairly easy. But when it comes to downloading files privately, there is a need to install third-party apps as most default browsers do not seem to support it. In this article, let us understand why incognito mode does not work for private downloading and explore methods to download files secretly via web browsers on Android.
Related: 4 Ways to Do Private Browsing on Android & iPhone
Why Do You Need App to Download Files in Secret Mode?
While incognito mode offers private browsing, one will assume that it also offers private file downloading. It does, but only to a certain extent. All downloaded files are still stored in the local storage and are even logged in the incognito mode downloads page.
The only difference between downloading files in a regular tab and a tab in incognito mode is that when you download a file in the latter, it won't be logged in your downloads page under normal tabs.
Recognizing this shortcoming, we have found three web browsers that you can use to fix this problem and download files in complete secret.
Browsers to Download Files Secretly on Android
Below are web browsers you can use to download files and hide them from others on your Android phone.
1. Samsung Internet Browser

Samsung Internet Browser is a popular choice for many users on Play Store. It is a highly rated browser downloaded in large numbers. It does a good job when you want to download files secretly on Android, and here's a step-by-step procedure.
Firstly, set a passcode to secure the Secret Mode tab: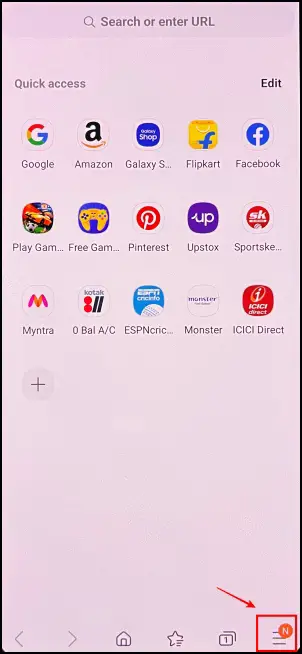 Step 1: Click on the hamburger menu in the bottom right corner of the screen.
Step 2: Click on Settings > Personal Browsing Data.
Step 3: Tap Secret Mode Settings.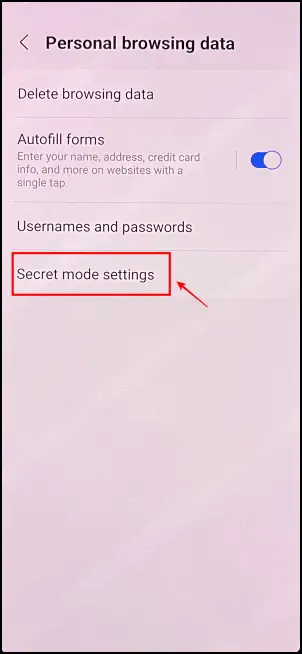 Step 4: Here, enable the toggle for Use password.
Step 5: Enter a password of your choice and click on Continue.
Step 6: Under the secret mode settings, ensure that the toggle for Downloads is turned on.
To download files secretly using the Secret Mode: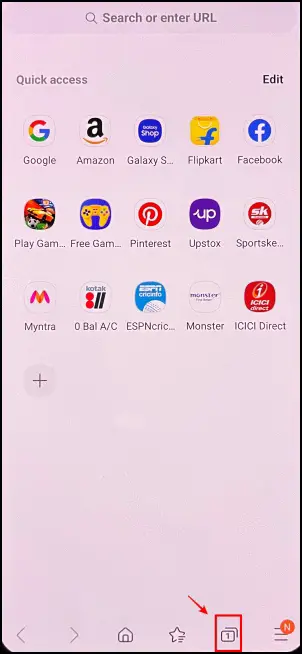 Step 1: Tap the tabs icon on the bottom part of the screen.
Step 2: Click on Secret Tab.
Step 3: Verify your identity by entering the password/fingerprint in the pop-up box.
Step 4: Use the secret mode now to download whatever files you want.
To access your downloaded files from the secret mode, click on the hamburger menu on the bottom right corner of the screen > Downloads.
Files that are downloaded in the secret mode can only be accessed in the Downloads menu in the secret mode on Samsung Internet Browser and not on any other application.
2. Aloha Browser

Aloha Browser is known for its excellent privacy features and the integrated VPN feature within the web browser. It also enables you to download files secretly on Android. It is quite a simple process, and here's the procedure for the same:
Step 1: Once you click on the download link, you will be presented with the option of downloading it directly into the Private Folder.
Step 2: Select Private Folder.
Step 3: To access the downloaded files, click on the Downloads icon on the bottom toolbar.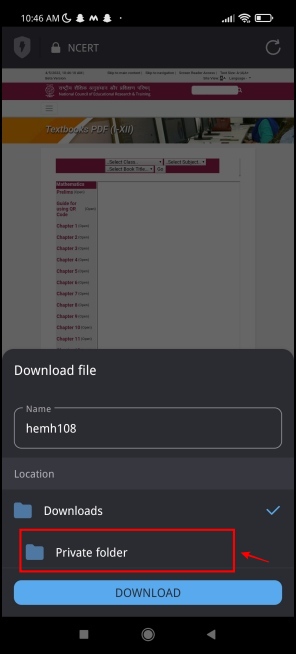 Step 4: Click on Private Folder.
Step 5: You will now be able to access files downloaded in the private folder. These files will be encrypted and not be seen in local storage.
Step 6: To further increase your security and set a passcode to Aloha, click on the Hamburger menu on the bottom toolbar > Settings.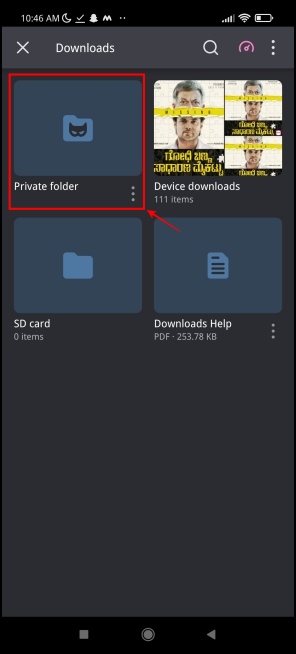 Step 7: Click on Privacy > Passcode.
Step 8: Enter the passcode.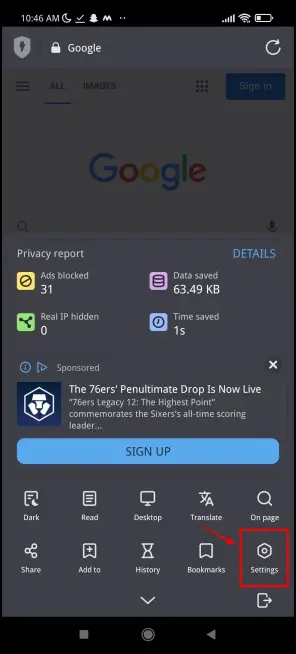 Now every time you want to open Aloha Browser on your phone, you will be required to enter the passcode.
3. Private Browser – Incognito Browser

Private Browser is a lightweight and minimalistic web browser that allows you to download files secretly on android. The application package is less than 5MB in size, making it a perfect choice for a secondary web browser without occupying a lot of space.
The good part about this web browser is that files are downloaded automatically and are encrypted. This means that you can access the files only within the browser. There are also more features, and let us explore the same below:
Step 1: To access and manage your downloaded files, click the three-dot icon at the top, and click on Downloads.
Step 2: Now, you will be able to see all the files that you downloaded within this browser.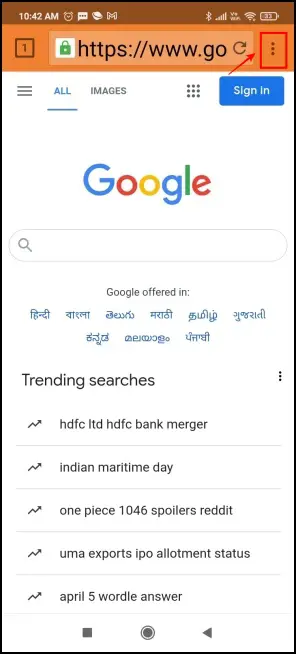 Step 3: You can also decrypt and export the file to your local storage. Click on the three dots icon next to the downloaded file.
Step 4: You will be presented with three options. You can either open, export, or delete the file. Click on Export.
Step 5: The browser will decrypt the file and export it to your local storage. It will also display the path of the exported file.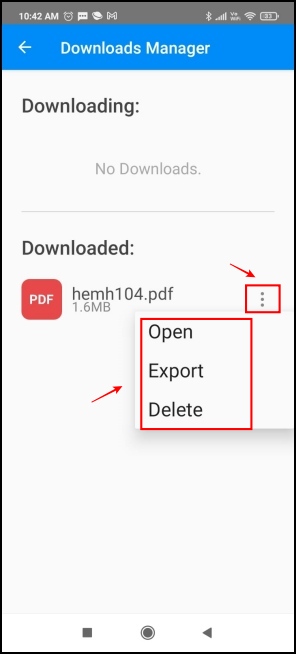 You can also set a passcode to this app, and it even goes further to mask itself with a fake app logo so that no one can guess that it is an app where you download files privately. Extra points for creativity!
Step 1: Click on the lock icon in the bottom right corner.
Step 2: Click on the Setup PIN Now.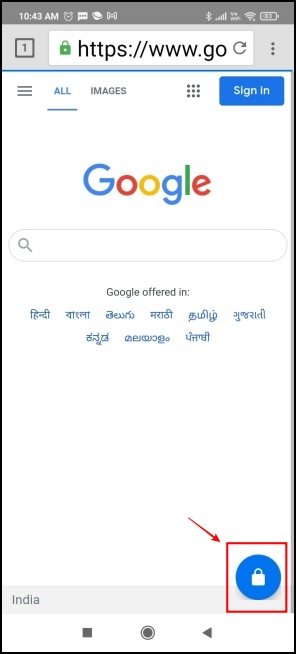 Step 3: Enter a passcode of your choice. Click on Confirm.
Step 4: The app will disguise itself as a calculator, and funny enough, it provides an interface resembling a calculator when you try to enter the web browser.
Wrapping Up
This was how you can download files secretly on Android. I hope the guide helps you download files without leaving traces or letting others know on your phone.. Stay tuned for more such interesting tips and tricks related to web browsing on Android.