Internet usage on mobile phones has skyrocketed over the last two decades. A lot more people can now access the internet on the go. This also means that websites and advertisers have a greater opportunity to track and monitor your browser usage. There is an immediate need to protect your privacy while searching or browsing the web. And hence, here are four methods to do private browsing on Android and iPhone.
Related: 8 Best VPN Browsers for iPhone & iPad (2022)
What is Private Browsing?
Over the years, advertisers have been finding new ways to invade your privacy, and developers parallel have been finding ways to ensure your browsing remains private. These ways include blocking trackers and blocking cookies and scripts whenever necessary.
Any web browser that prioritizes user privacy and safety while limiting the tracking can be termed a 'private' browser. Some private browsers also delete your history and passwords upon exit or even offer an inbuilt VPN.
While we understand migrating to a new browser altogether is a bit of a hassle, we feel it's about time we switched to a private browser, owing to the ever-increasing privacy concerns.
Web Browsers for Private Browsing (Android, iPhone)
Traditionally, using incognito mode in the browser would suffice for private browsing and making private searches on the web. However, with increasing tools and services to track your usage, it's essential to combine the prowess of incognito or private mode with a browser with privacy-oriented features.
Here are some of our favorite apps for private searching and browsi=ng on Android and iPhone, along with our views on the same.
1. Brave Browser
Brave Browser is one of our favorite browsers as it always has a privacy-first approach and packs in a lot of solid features to enhance user security.
It includes features like HTTPS Everywhere, Script Blocking, Cookie Blocking, Adblocker, and a tracker blocker, which helps you to maintain privacy and enhance security to a great extent. Most of these features are a part of Brave Shields.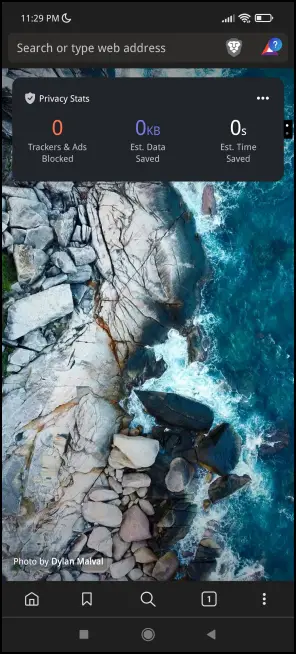 Brave Shield protects the user and is advantageous in the following ways :
Blocks most ads and the trackers that come with multiple websites.
Discards cookies other than the ones from the sites that is actually bring visited.
Makes your browser harder to recognize and follow without cookies.
Upgrades you to secure connections as and when websites support them.
Blocks malicious code and malicious sites.
Blocks fingerprinting, so that your browser and device unique identity remains secure and undetected.
Some of the disadvantages we feel are:
The VPN is a paid add on.
Excess of privacy settings can break websites.
There have been concerns of RAM usage by Brave Browser.
In our personal experience, a few websites, ex. Reddit refuse to load a few UI elements.
Developed by: Brave Software, Inc., US
Download: Brave for iOS | Brave for Android
2. DuckDuckGo Privacy Browser

DuckDuckGo is renowned for its secure search engine, which they claim that it does more for user privacy and security compared to Google and Bing. A while back, they also entered the browser game by developing a web browser for Android and iOS, which is a solid option for private searching on Android and iPhone.
Apart from the secure search engine, DuckDuckGo blocks all the third-party trackers and even displays the numbers. It even comes with a one-click privacy toggle called the Global Privacy Control (GPC), which protects you against cookies, trackers and upgrades sites to HTTPS.
Apart from the existing features, it is also testing two new features in beta – Email protection and App tracking protection. App Tracking feature is a very simple way to block trackers around your apps. Trackers inside apps are a major hindrance to maintaining your privacy on your phone as they constantly collect data related to your app usage, which can also include your personal data.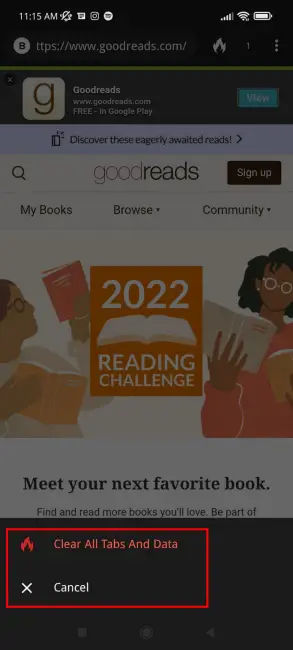 Once you enable App Tracking Protection, DuckDuckGo will detect when and how your Android apps are about to send data to third-party tracking companies found in their tracker list and effectively blocks those requests.
While this is quite a unique and interesting feature, it is currently under testing, and you can only request an invite to access this feature. These features will increase your privacy online by multiple folds, and we are waiting to see how these features will work on stable releases in the future.
Some of the advantages of the DuckDuckGo browser:
Minimal User Interface
Lightweight and Stable
Clear all your tabs and browsing data with one click.
You can secure DuckDuckGo browser with Touch ID or Face ID on iOS devices.
A few downsides:
Search engine is obviously not as good as Google Search.
Although it covers most privacy features, the end user can only control a few.
There are faster web browsers available.
DuckDuckGo still relies on advertising for revenue, so chances are you might see a few ads, but mind you these are not personalized.
Less personalization options, and weak autosuggestions.
Developed By: DuckDuckGo Inc., US.
Download: DuckDuckGo for iOS | DuckDuckGo for Android
2. Tor Browser
Tor (short for Onion Routing Project) is an open-source privacy network that allows users to browse the internet anonymously.
Tor is a global computer network that uses private, encrypted protocols to safeguard users' online privacy. The user data is shielded and routed in multiple 'layers' resembling an Onion. Hence the metaphor is used everywhere.
Tor Browser is a good option for private searching on Android and iPhone. There are several browsers that come with the Tor protocol for Android and iOS, but if we were to suggest one, here are our recommendations.
Tor Browser – Android
An easy way to connect to the Tor network on Android is by using the Tor Browser. Some of the features of the Tor Browser which enable you to browse privately are as follows:
Tor Browser isolates websites you visit and thereby blocks trackers and ads can't follow you.
Cookies are cleared automatically when you're done browsing.
Tor Browser prevents surveillance of your connection and therefore prevents monitoring of browsing activity.
Tor blocks all forms of fingerprinting so that your identity is protected.
Your communication and browsing activity is relayed and encrypted three times as it passes over the Tor network when you use Tor Browser for Android. The Tor relay network is made up of thousands of volunteer-run servers.
With Tor Browser for Android, you can visit websites blocked by your service provider.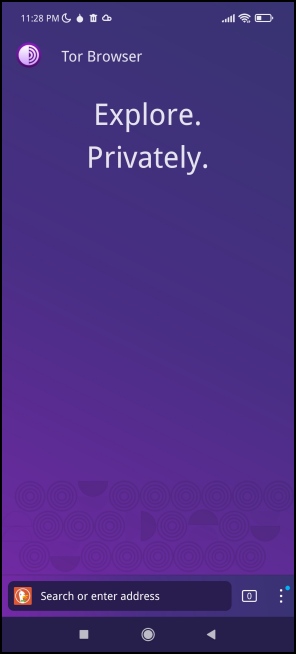 Some of the cons of this browser are:
Complaints of frequent crashing
Not a very user-friendly UI.
Tab navigation is quite cumbersome.
Complaints of incorrect web page rendering on some devices.
Developed By: The Tor Project, US
Download: Tor Browser for Android
Onion Browser – iOS

Onion browser is the most popular iOS Tor browser on App Store. It is simple, well-designed, and packs in a good amount of features to ensure your privacy while browsing the web. It comes with a pre-set of security features that you can define at the start-up.
You get three options called Gold, Silver, and Bronze. The Silver option would be the optimal setting for most users.
It does come with most privacy enhancing features like Do not Track, HTTPS everywhere,
App Locking through touch ID/Face ID etc is also available.
It can also block scripts whenever necessary.
automatically clears cookies and tabs.
While it does a decent job offering privacy features, some of the cons include:
App is quite unstable as many users complain about app crashing.
JavaScript does not fully turn off even if you disable it manually in the browser.
Some users complain of not being able to connect to a few websites.
Developed By: Mike Tigas, US
Download: Onion Browser for iOS
4. InBrowser Incognito Browsing

InBrowser is a lightweight and super minimal private browser for Android and iOS. Plus, it is completely free.
Some of the highlights and pros of InBrowser include :
When you exit the InBrowser, all data and history is removed.
AirPlay and Bluetooth monitoring is available on iOS devices.
InBrowser gives you confirmation whether AirPlay is running or if you're sharing audio using Bluetooth each time you start the app, so that you avoid unintentional sharing video or audio to another device.
It comes with no junkware or ads.
InBrowser Supports agent cloaking – which means that it can make websites think that you're visiting from Chrome, Internet Explorer, or Firefox.
It comes with good video support as you can click on a video-link and play it in the in app video player. Any trace of this is removed when you exit the app.
It also supports TOR via Orbot.
Comes with all the standard browsing protection features like Do Not Track, HTTPS only mode etc.
It also allows the integration of LastPass password manager.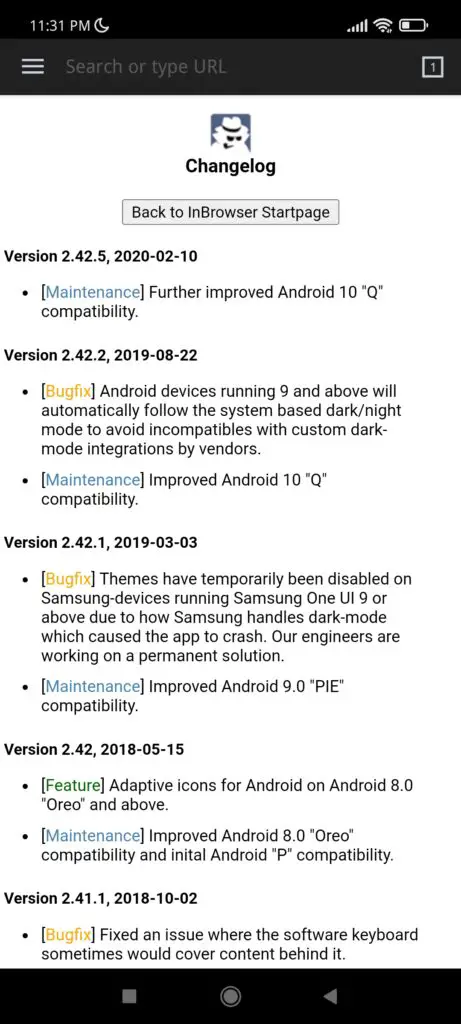 Some of the downsides of the InBrowser are as follows:
Users complain of the browser language being changed randomly.
Download speeds seem to be slower than most browsers.
Issues with Dark Mode compatibility on Android.
Bookmarking is not available.
Too simple enough to be used as a primary browser.
Developed By: Private Internet Access Inc., US
Download: InBrowser for iOS | InBrowser for Android
Wrapping Up
These are some of our picks for private browsing and searching for Android and iPhone. Explore all the apps, and we hope this guide helps you make the right choice for ensuring your privacy apart from just using incognito or private mode. Stay tuned for more useful guides around the browsers you use.