You may have experienced a situation where you searched for something online and got bombarded with ads and recommendations on the same. Blame trackers- the chief culprits that steal browsing data to provide ads. While online privacy is the need of the hour, it is essential we block web and activity trackers, even on our smartphones. Here's how to escape website tracking with private mobile browsers on Android and iPhone.
Related: What is Brave Shields- How Does it Work? Turn it On or Off
Escape Website Tracking On Android and iPhone Browsers
You can escape trackers on your android smartphone by several methods. This includes using privacy-focused browsers or tweaking settings on your existing browser. Read on.
1. Brave Browser: Block Trackers and Ads With Shields
Brave Browser blocks all intrusive ads and trackers from every website you visit. By blocking ads and trackers, Brave significantly speeds up your experience as you browse the web. The lack of ads reduces the amount of data needed for the page, which results in a faster experience.
Here's a step-by-step method to escape trackers using Brave browser:
Step 1: Click on the three dots menu on the bottom right corner. Select Settings.
Step 2: Click on Brave Shields and Privacy.
Step 3: Select the option for Block Trackers & ads (Standard)
While we recommend using the Standard mode, here's how the other modes work.
Standard: In this mode, Brave does not block first Party ads which are a part of the sites you visit. Only those which belong to other sources on websites are blocked.
Aggressive: Enabling this mode will block allthe site ads and trackers, including the first-party ads. A disadvantage of this option is- some sites may detect features that disable first-party ads, and will not allow you to access the content unless you disable the feature.
Allow all trackers and ads: This mode will disable the Trackers & ads blocking feature and will allow ads and trackers from all sources.
If you want an overview of how these trackers are working, click on the Shields icon on the toolbar. It will then display the number of ads and trackers it blocks. Here's more on what is Brave Shields and what does it mean.
Download Brave Browser: Android | iOS
Firefox: Enhanced Tracking Protection
Firefox is quite a popular choice of browser among users across the world, and it is worth noting that it comes with options to enhance your privacy by helping you escape trackers on your mobile browser.
Here's a step-by-step procedure to disable trackers on Firefox:
Step 1: Click on the three dot menu on the bottom right corner. Select Settings.
Step 2: Scroll down to the Privacy and Security section. Click on Enhanced Tracking Protection.
Step 3: Turn on the toggle for Enhanced Tracking Protection.
While we suggest you leave the setting to the default option of Standard, you can click on the "i" icon next to each option for a brief description of how the options work.
Download Firefox Browser: Android | iOS
Google Chrome: Do Not Track
Google Chrome still seems to be the favorite choice of browser for most Android users. While it does not offer an array of options to block ads and trackers, there is still one usable option that can ensure you escape trackers on your mobile browser to a certain extent.
Step 1: Click on the three dots menu on the top right corner. Select Settings.
Step 2: Click on Privacy and Security.
Step 3: Click on Do Not Track
Step 4: Turn on the toggle for Off, so that you enable this setting. This will block all requests that are included as a part of your browsing traffic, and ensure tracking is disabled and your data is not collected by websites.
Download Google Chrome: Android | iOS
DuckDuckGo: GPS & App tracking Protection
DuckDuckGo is renowned for standing out of the crowd by prioritizing the data safety and privacy of the end-user. It is with no surprise that their offering on Android does not skimp on any of its core privacy features.
To escape trackers on mobile browsers, it is highly recommended to use a browser like DuckDuckGo, albeit you might lose out on features offered by browsers like Chrome, Brave, etc.
Step 1: Open DuckDuckGo, tap the three dots menu on the top right corner.
Step 2: Click on Settings.
Step 3: Under the Privacy section, click on Global Privacy Control – (GPC).
Step 4: Turn on the Toggle for Global Privacy Control – (GPC). This ensures that DuckDuckGo disables trackers and enhances your privacy online.
Recently, DuckDuckGo also introduced an App Tracking feature on its browser, which is a very simple way to block trackers around your apps. Trackers inside apps are a major hindrance to maintaining your privacy on your phone as they constantly collect data related to your app usage, which can also include your personal data.
Once you enable App Tracking Protection, DuckDuckGo will detect when and how your Android apps are about to send data to third-party tracking companies found in their tracker list, and effectively blocks those requests.
While this is quite a unique and interesting feature, it is currently under testing, and here's how you can request an invite to access this feature.
Step 1: Inside DuckDuckGo settings, click on App Tracking Protection.
Step 2: Click on Join the private waitlist.
Download DuckDuckGo: Android | iOS
Safari: Disable Cross-Site Tracking
Right from the start, Safari has been a privacy-focused browser that prioritizes a safe browsing experience for users. Enabling these additional options only takes it a step further by providing transparent data to users.
Here's how you can disable and escape website tracking in Safari on iPhone and iPad.
Step 1: Go to the Settings app on your iPhone/iPad.
Step 2: Select the Safari option to access the relevant settings.
Step 3: Enable the toggles next to Prevent Cross-Site Tracking, Block All Cookies, and Fraudulent Website Warning.
These options will help prevent trackers in Safari and ensure you have a privacy-focused browsing experience.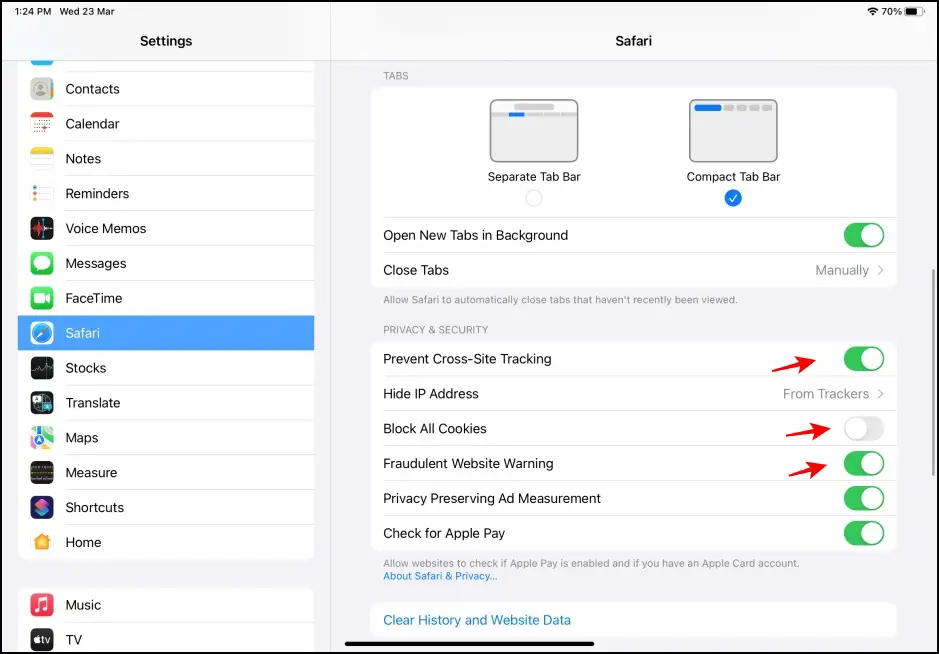 Step 4: Open Safari and access the website you want to check the Privacy Report for.
Step 5: Tap on the small globe icon at the corner of the address bar to access Settings.
Step 6: Tap on Privacy Report.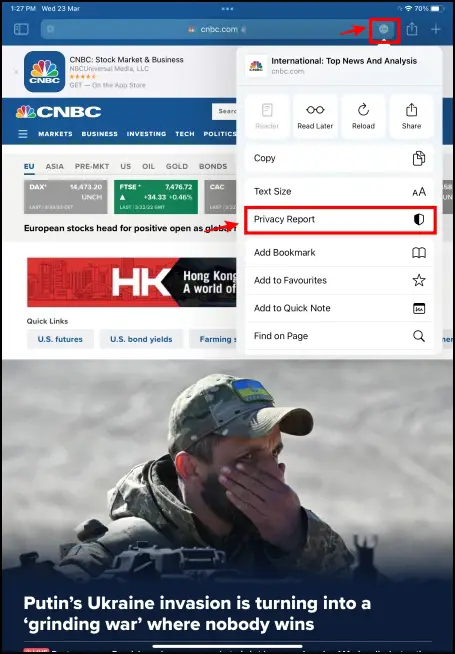 Step 7: You will now see an elaborate report from the last 30 days detailing several privacy parameters.
This report includes the number of trackers prevented in the last 30 days along with the percentage of websites that contacted trackers. You will also get a glimpse of the most contacted tracker by the websites you visit.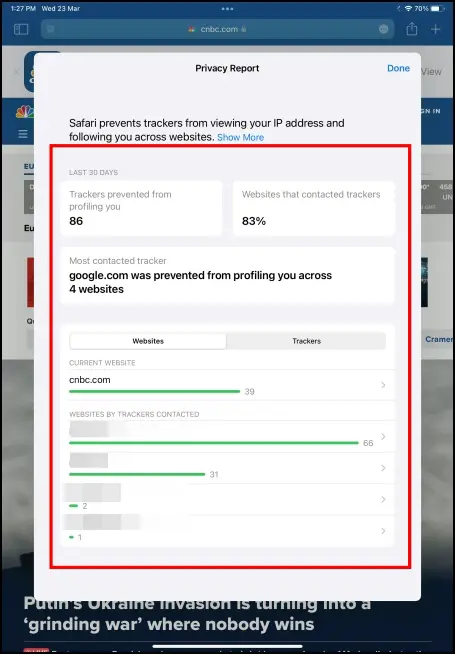 There's a graph displayed below that arranges the websites in descending order of trackers used along with a graph for visual indication. Switching to the Trackers tab will display the same information but will list the tracker names instead of websites.
Bonus- Turn Off Ad Personalization on Android
Apart from installing a new browser, you can also ensure to customize advertisement settings on your Android settings, and these settings can also help you escape trackers on mobile browsers. Here's a step-by-step procedure to do so:
Step 1: Open the Settings app on your phone.
Step 2: Click on Google, under the Accounts section.
Step 3: Click on Ads.
Step 4: Turn on the toggle for Opt out of Ads Personalisation.
Step 5: Click on Reset advertising ID. Enabling these settings will help you evade trackers by limiting personalized advertisements.
Wrapping Up- Browse Without Trackers
It is always a good practice to disable trackers on your web browser, for the sake of enhancing your privacy online. We hope this guide helped you escape website tracking in mobile browsers on your Android and iPhone. Stay tuned for more such guides to enhance privacy while browsing the web.