Microsoft was, is, and will always remain a prominent name as a company that kick-started the PC revolution. Having set foot in almost all forms of consumer technology, perhaps one such interesting roller coaster ride worth exploring – is Microsoft's journey in the web browser world. This involves the beginning of Internet Explorer, its decline, the introduction of Edge, and the switch to Chromium . Let's look at the evolution of Microsoft Edge from legacy Edge and Internet Explorer.
Related | Google Chrome History: 12 Years of Evolution
Evolution of Microsoft Edge

Are you curious about why Microsoft dropped Internet Explorer, created Edge, and why the browser didn't make it big until 2020? The story is packed with elements of success, failure, struggle, and now redemption. Keep reading to know how Microsoft Edge evolved to be what it's now.
Early Beginnings – The Birth of Internet Explorer
Let us go back to 1995, where Microsoft was working on one important project and another, which was an extension of the first one. Interestingly enough, their respective codenames were Chicago and O'Hare– named after Chicago's O'Hare airport.
After a lot of deliberation, Microsoft decided to take "O'Hare" and provide it as an add-on to "Chicago," which was one of the most revolutionary products in technology– the Windows 95 operating system. About O'Hare, you guessed it right– it was the Internet Explorer 1.0.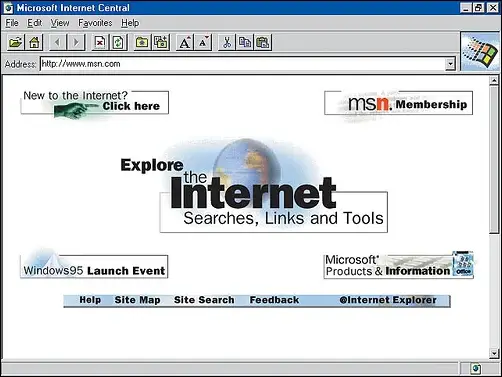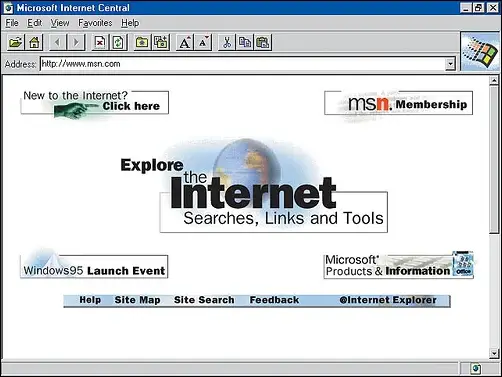 Internet Explorer 1.0 made its debut on August 16, 1995. It integrated well on the Microsoft Windows 95 operating system but was used only by a few people, as the popular choice were still Netscape and Mosaic.
It was fair to say Microsoft now had to deal with existing competition, and there was nothing but pressure to develop a product that stood out.  
How Microsoft Dealt with Initial Competition
Microsoft had a simple strategy– to excite users by adding a multitude of features. It was the first browser to support several ubiquitous technologies such as CSS (Internet Explorer 3.0), a modern standard for a web page design that allows pages to look more detailed and be more functional compared to the clumsy designs in previous versions.
With version 4.0, Internet Explorer began using the Trident rendering engine, which is the piece of code that controls how a web page's underlying code is converted into what you see on your screen. Trident was revolutionary because it allowed certain elements on a web page to change on the fly.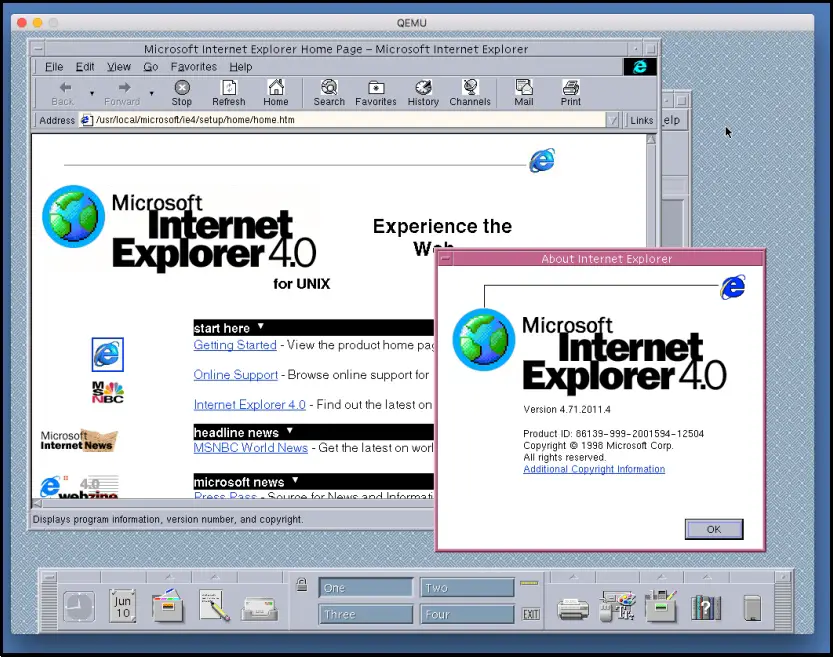 Later, Internet Explorer also introduced the underlying support for Ajax, which allows a web page to display up-to-date information without requiring a page refresh. This technology is critical for modern interactive sites like Email services, Social Media sites, etc.
These features drew developers to Internet Explorer because it offered tools and technologies that could make their websites more interactive and visually appealing – in contrast to its competitors at the time, such as Netscape, which failed to handle such features without crashing.
Internet Explorer was present on nearly all Windows PCs from the mid-1990s to the mid-2000s. It was estimated that Internet Explorer's usage share was around 95 percent in 2003, but once viable alternatives like Firefox and Chrome hit the market, Internet Explorer lost its throne quite quickly.
Steady Decline of Internet Explorer– What Went Wrong?
By the looks of it, one would assume that Microsoft's strategy of making Internet Explorer a feature-rich browser would make it the undisputed king in the browser world. Unfortunately, that was not the case. The strategy had utterly backfired.
Microsoft failed to invest sufficient resources to continue the improvement of Internet Explorer. Packing in more and more features as they released new versions did not help, as they failed to optimize.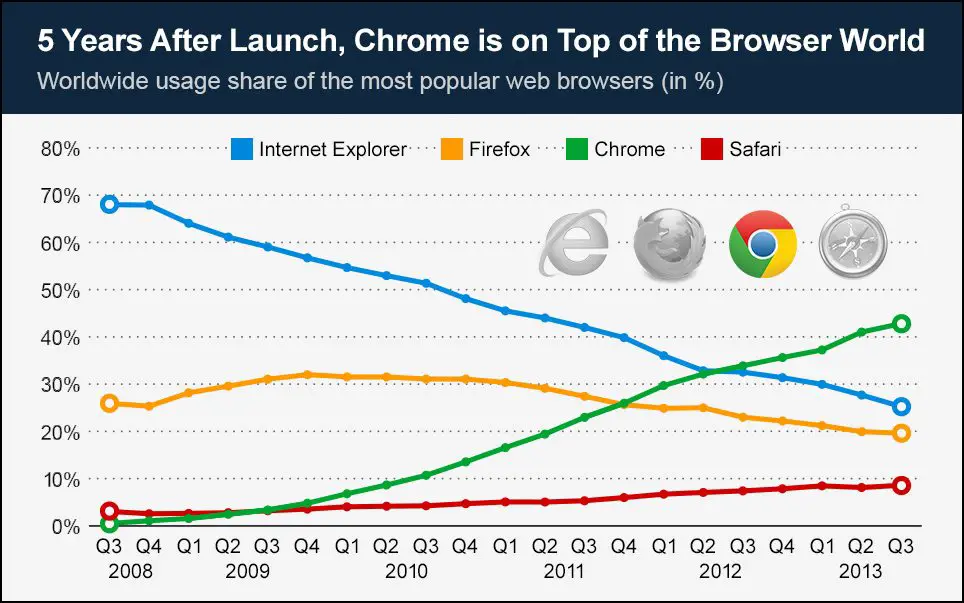 As security threats continued to grow online, Internet Explorer's inability to deal with these threats, along with its sluggish performance, only meant that it started to gain a bad reputation.
What's worse was that Microsoft made it difficult to switch to an alternative web browser by deeply integrating Internet Explorer to Windows. Therefore in a short time, Microsoft had managed to throw away the reputation that it once earned.
Rival browsers such as Firefox took advantage of this time of weakness by adopting open web standards for speed, security, and reliability rather than relying on proprietary technologies as Internet Explorer did. Slowly, many other developers started to adopt these open web standards, which only contributed to the decline of Internet Explorer.
Despite everything that was going around, Microsoft failed to address these problems. To make matters worse, later versions of Internet Explorer had a lot of issues in rendering pages, images, and other interactive content.
Although Microsoft rectified most of these shortcomings in version 8.0 in 2009, Internet Explorer had already lost a lot of market share. The popularity of Chrome slowly killed the goodwill that Internet Explorer had earned in the last few years.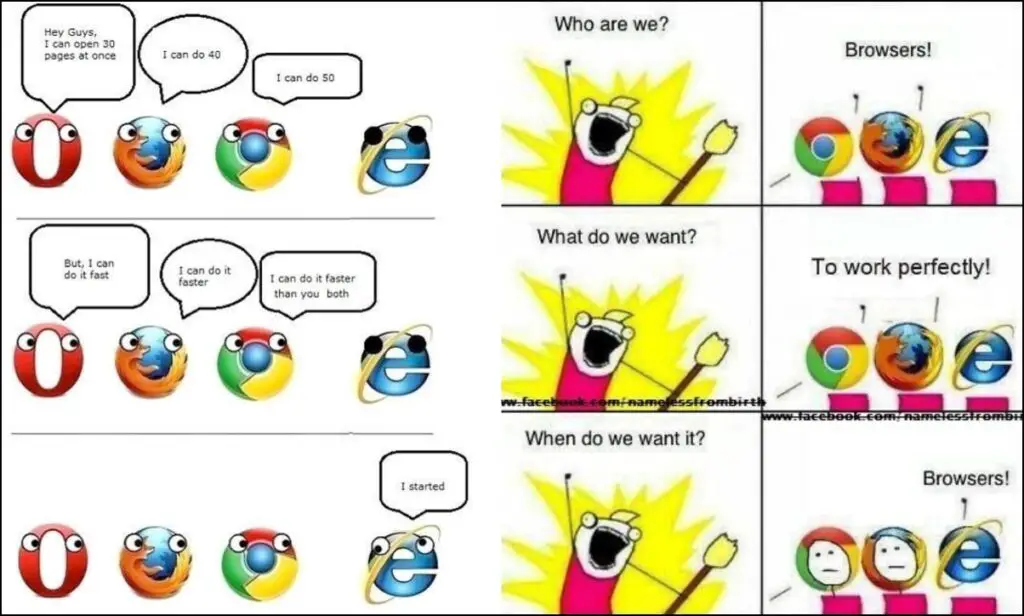 The decline was a sad one to take for Microsoft. With the advent of the rise in social media, Internet Explorer became a hot topic for jokes and memes. It was famously known for its best feature (as per netizens) – to download and install other browsers.
But, we need to constantly remind ourselves that the parent company of Internet Explorer was – Microsoft. Contributing towards disruptive technology was deep-rooted in the ethos of Microsoft, right from the days when Bill Gates introduced the "PC" to the world. It would be naive for us to assume they gave up following the failure of Internet Explorer.
Microsoft Attempts to Fix This – Enter Microsoft Edge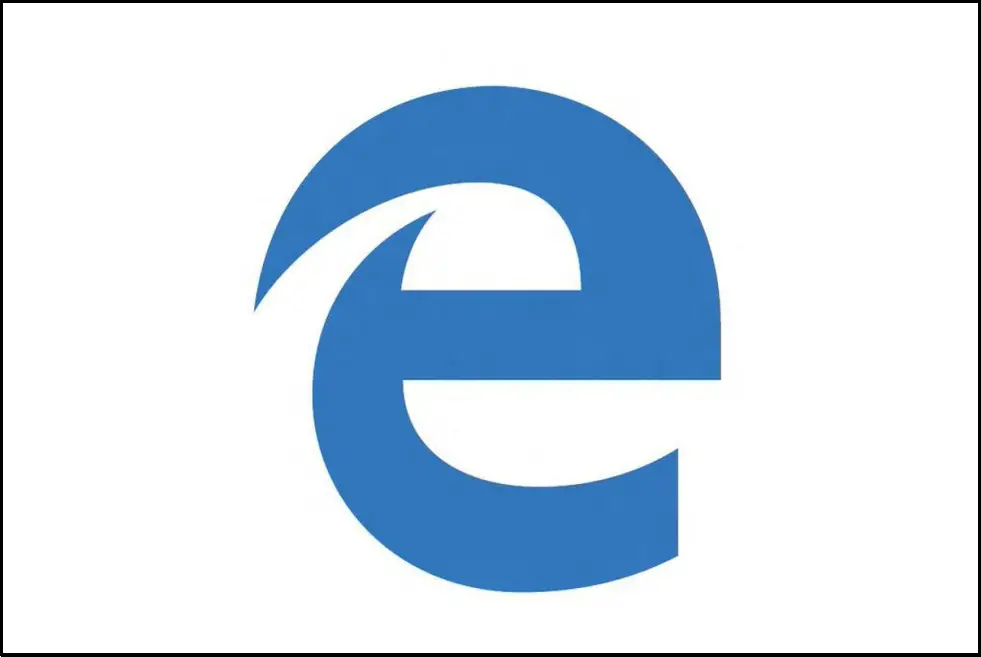 The evolution of Internet Explorer to Edge was now experiencing major developments. Microsoft finally replaced Internet Explorer with the Microsoft Edge browser, whose rendering engine was devoid of Internet Explorer's old code.
As most users opted for Chrome and Firefox, Internet Explorer's market share dropped below 20% and kept dropping further. After seeing Internet Explorer's usage share drop-off for 12 straight years, Microsoft decided it was time to abandon the project and build an entirely different browser.
Edge, named initially Project Spartan, was developed and shipped as Windows 10's default browser in 2015. The entire browser, including the rendering engine, was a Microsoft proprietary design.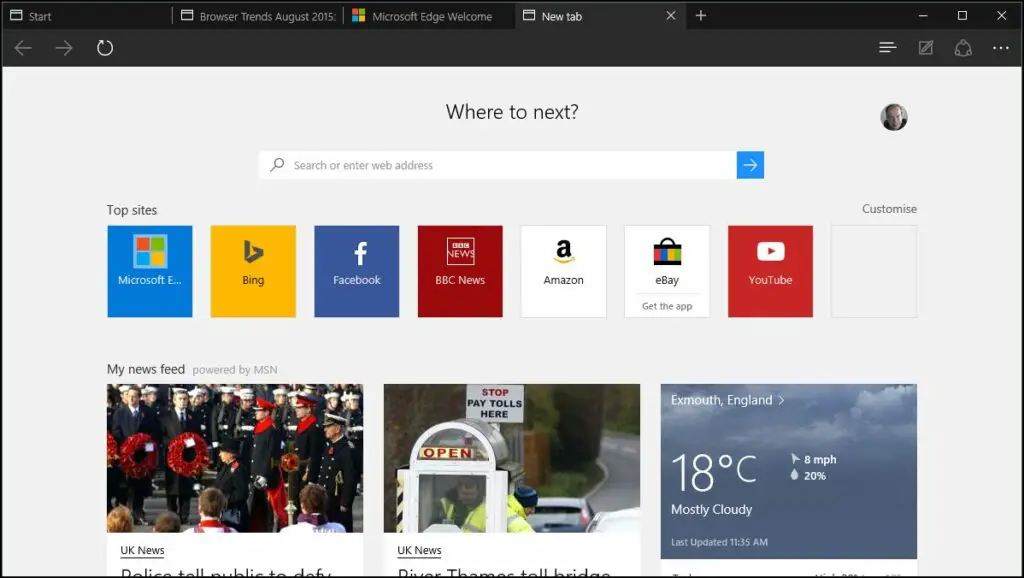 Microsoft Edge promised a faster browsing experience, with a brand new engine that worked with all resource-hungry websites. Edge HTML was originally developed from Internet Explorer's Trident engine but without the old code.
It also no longer supported ActiveX or the old internet explorer plugins notorious for being susceptible to malware that could slow down your PC or direct you to malicious websites.
Microsoft was plagued by criticism, failure, and a constant decline in the usage of Internet Explorer. Still, once again their plan to strengthen their position failed to take off as Microsoft Edge had its own set of issues.
New Browser, Same problems

Despite all these improvements, Microsoft Edge still lagged behind Chrome and Firefox in several benchmarks, and it still wasn't as compliant with newer web standards like HTML5. For various reasons, the usage share for Microsoft Edge was steadily declining. Even among Windows 10 users, the usage share for Edge was on a downward path.
It drew a lot of stick for its lack of user-friendliness, poor design, and a clumsy tab system. Edge also posed a lot of security issues as well. In Oct 2015, a bug was discovered in Edge's "InPrivate" mode, causing data related to visited sites to be still cached in the user's profile directory, theoretically making it possible for others to fetch the sites visited.
Microsoft also made inconsistent claims when it came to power efficiency– they published data claiming that it had a better battery life and power efficiency than Google Chrome. However, independent media outlets conducted tests that showed opposite results.
Unlike Google Chrome, the lack of third-party extensions on Microsoft edge was disappointing for many users. The bottom line is that the user experience and performance on Microsoft Edge were far from competing with the likes of Google Chrome and Firefox.
Despite everything, Microsoft was still resilient in the pursuit of crafting a near-perfect web browser. Microsoft was now looking at improving Edge through a completely different strategy – Edge said hello to Chromium – the most crucial stage in the evolution of Internet Explorer to Edge.
Microsoft Says Hello to Chromium!
Chromium is Google's free and open-source software project that forms the foundation of Google's mainline Chrome browser. Companies could now build web browsers and other extended projects on the Chromium engine as it was open source.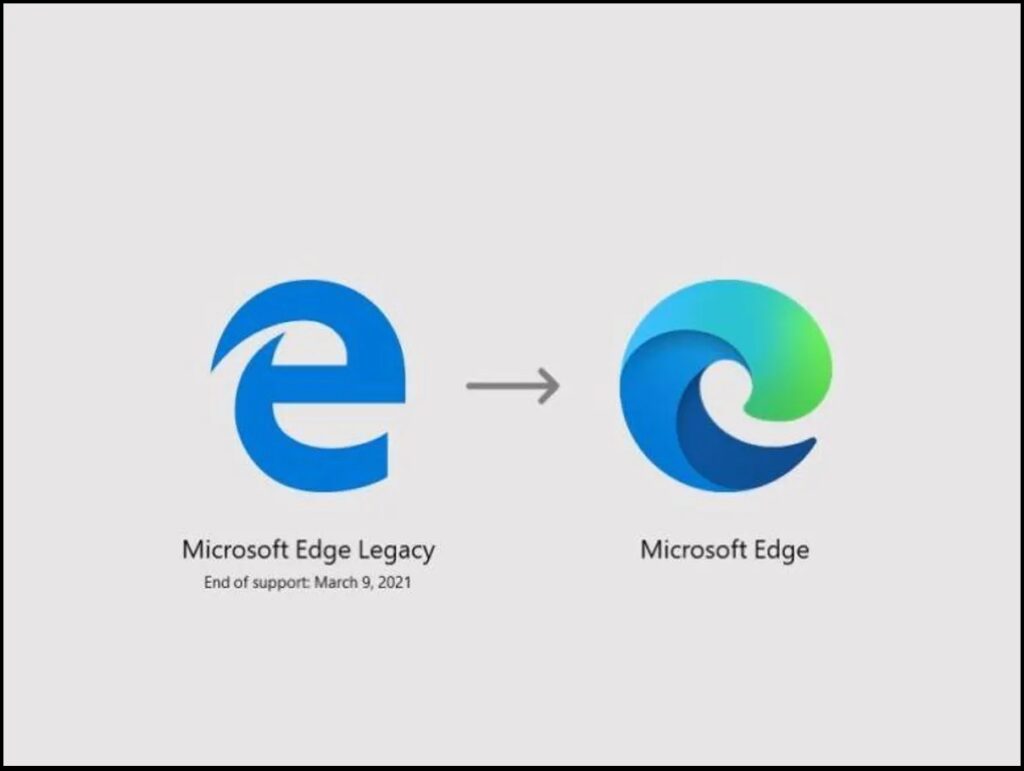 We can see that each year Google Chrome is growing rapidly with the number of users. People adapted well to the Google ecosystem and the feature-rich, stable browsing experience of Google Chrome.
It was a near-impossible challenge for Microsoft to entice users to switch to Edge. This is one of the main reasons Microsoft chose to stop developing its Edge HTML Engine and instead moved to Chromium and its Blink Rendering Engine to maximize the efficiency of Edge and expand its capabilities.

Shifting to Chromium opened up many opportunities for improvement for Microsoft Edge. Things installing Chrome extensions on the Edge, sync, and sharing bookmarks between Chrome and Edge, were now possible.
Fixing bugs and issues in a jiffy was also possible as Microsoft Edge could now be separately updated instead of pushing an update for the entire Windows operating system.
The Eureka! Moment – Steady Growth & Taste of Success
As of February 2022, Microsoft's Edge browser is on the verge of surpassing Apple's Safari as the second most popular desktop browser. According to data from web analytics service StatCounter, Edge is now used on 9.54 percent of desktops worldwide, a small 0.3 percentage behind Apple's Safari, which stands at 9.84 percent.
In Europe, Edge has taken over Safari, accumulating 10.9 percent of the market compared to Safari's 9.95 percent. In Asia, Safari's 5.41 percent market share lags behind Edge's 7.46 percent share. Although in North America, Safari is in a stronger position, being used on 16.87 percent of desktops compared to Edge's 11.93 percent market share – yet, the numbers reveal that Microsoft Edge is offering solid competition.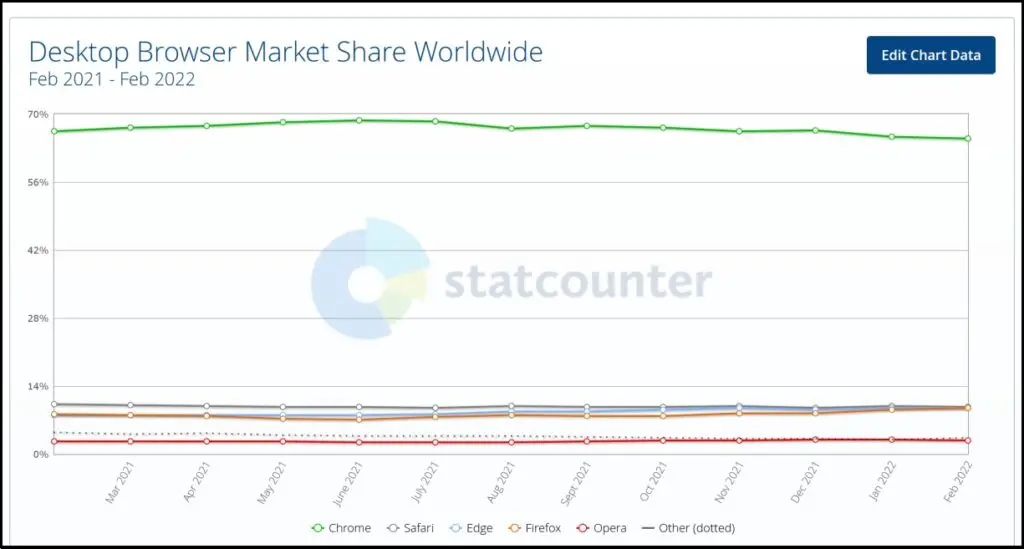 This is steady and stable growth, and switching to Chromium was one of the best moves Microsoft pulled off in the browser war. The blend of the nativeness of Windows and the capabilities of Chrome worked in Microsoft's favor.
Owing to the success of the new Edge browser, Microsoft decided to end support for the legacy, non-Chromium version. The evolution of Internet Explorer to Edge was finally taking shape.
Microsoft chose to compete on higher-end features rather than the underlying engine with the new Edge release, such as annotating PDFs in Edge, reading aloud pages out, and enhancing the compatibility between other popular web browsers in the market.
Many users and media outlets conducted benchmarks to compare Microsoft Edge and Google Chrome, and most results, especially in the efficient usage of resources, were in Edge's favor.
Edge also offered a detailed and comprehensive approach to enhance privacy. The Basic, Balanced, and Strict options available in the Privacy section were beneficial to manage unwanted ads, content, and trackers.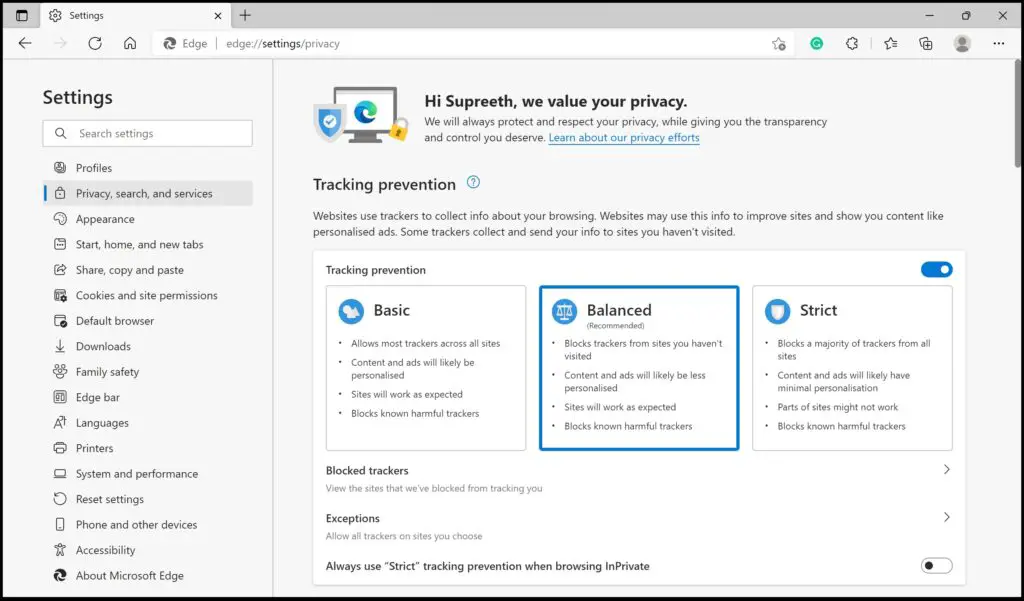 Edge also has a unique feature for enabling you to clear the browsing data you've accumulated every time you shut down the browser, which isn't a feature that Google Chrome comes with.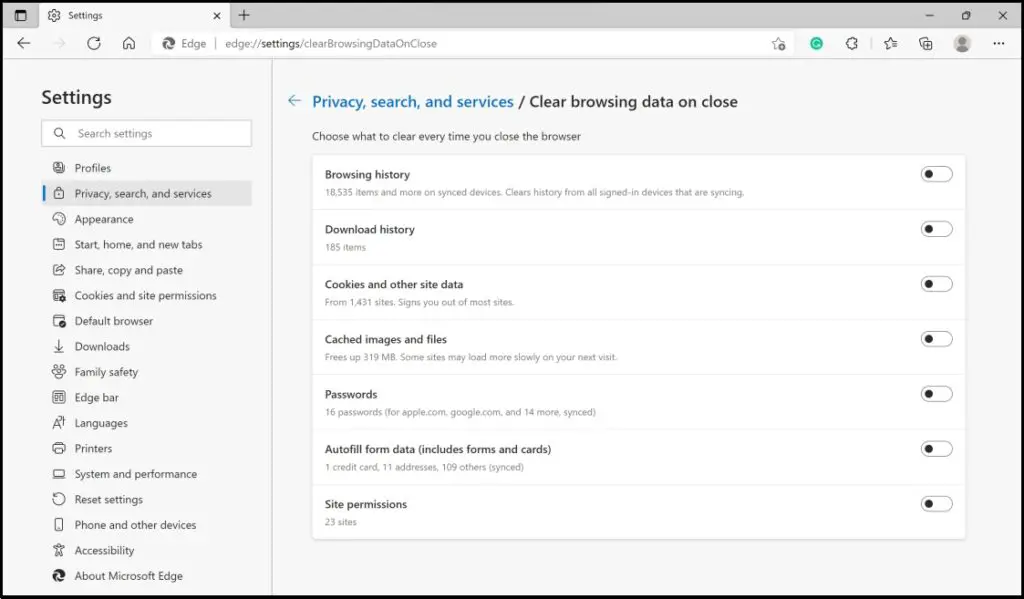 Besides, there are other interesting options like support for PWA, Sleeping Tabs, Tab Search, Visual Search which is an alternative to Google Lens, Desktop Sharing Hub, and more.
While we can go on and on explaining the features of Microsoft Edge, it is fair to conclude that Microsoft finally tasted a consistent amount of praise and success with the new Microsoft Edge.
Is it the best browser available right now – no, it is far from being the best, but what's best or not is very subjective. Still, we can confidently say that Microsoft has enough reasons to provide for many users to consider sticking to it. And we're sure many people do consider Edge as the best for their usage.
The Internet Explorer and learnings from it as a failure, followed by the legacy Edge, helped evolve and shaped up the current Chromium-based Microosft Edge.
Wrapping Up
Microsoft has had one adventurous journey in the evolution of Internet Explorer to Edge. We're sure this adventure is not over yet, but Microsoft has finally shown some promise. We hope Microsoft gets better and better in their browser development game. We hope this was a good read. Stay tuned for more such interesting articles from our end!