Are you facing errors while downloading files and software from websites? Well, it is quite common in Google Chrome; you are not alone. Many users have been facing the same issue where they can't download files, software from websites in Google Chrome. But there is nothing to worry about as all the download issues on Google Chrome can be fixed easily. In this article, let's look at solutions to Chrome file download errors.
Fix File Download Errors in Google Chrome
If you are trying to download a file, software, or extension on Chrome but cannot do so, the very thing you should do is check your internet connection. Most of the time, download errors are caused due to bad Internet.
The ISP you are using might have a downtime. Try to use the Internet on other devices while connecting to the same network. If you cannot use the Internet on other devices too, most probably the download error is caused by not having a reliable Internet connection.
But the internet is not always the culprit. If you still can't download files in Google Chrome, just go through the detailed errors and their fixes below.
"Network failed" Error

The most common download error that Chrome users face is "NETWORK_FAILED." If you are getting this error while downloading files, software, or Extensions, unwanted software installed on your computer might be the culprit.
The easiest way to fix the "NETWORK_FAILED" error is to remove all unwanted software you might have. Once done, try downloading the file or software you were trying to download. If you cannot download it, the next thing you could do is reinstall Chrome.
"Download blocked" Error

If you are getting a download blocked error on Chrome, it is most likely due to your computer security settings. The computer security settings are being set so that they try to block download files that might harm the user.
Chrome itself automatically blocks any downloaded file that is likely to inject a virus on your computer, leak your private and sensitive data, or try to change browser settings. Windows, too, comes itself comes with a program called Attachment manager.
Its primary role is to remove the unsafe attachments. My advice would be to skip downloading files for which you are getting a download blocked error message. However, if you are sure and trust the provider, check Windows Internet security settings.
"No file" or "File missing" Error

While downloading a file or software, you may get a no file or file missing error. This error is shown when the file you are trying to download no longer exists on the website.
It is also possible that the website owner has moved that file to a new location or page. To fix no file or file missing, the best thing you could do is to try contacting the website owner or just looking for an alternative site where that file might be available.
"Virus scan failed" or "Virus detected" Error

For every download executed on your computer, a virus scan takes place by the system. It is important to make sure the file you are downloading does not have a virus. For some reason when the virus scan gets failed or the system actually detects a virus, you may get a download error with a "Virus scan failed" or "Virus detected" message.
If you see any message like this, check your antivirus. You might have installed antivirus software like Malwarebytes or Avast. Disable the antivirus and then download the file- do it only if it's coming from a trusted source.
On Windows, the error might be caused by the Attachment Manager. To fix it, check the Internet Security settings.
"Disk full" Error

Not everyone has huge storage space on their computer. Take me into consideration I have just 256GB of storage on my MacBook Pro, and that is running out too. It often leads to errors while downloading files.
The disk full error is solely caused when you don't have enough storage space available. To fix it, change Chrome's download directory to the drive having free storage in Settings > Downloads. Delete the files that you think unnecessary, and don't forget to empty your trash regularly.
"Insufficient permissions" or "System busy" Error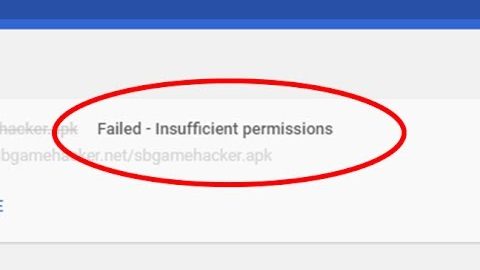 All the software installed on a computer needs permission to save files on the storage unit. Whenever Chrome shows an "Insufficient permissions" or "System busy" message while downloading a file, it's because it does not have permission to save the file on your system.
To fix this error you can cancel the download and try to download the file once again. If you get the same error again, instead of directly downloading the file right-click the download link and then select Save Link as.
Make sure you are downloading the file in a directory to which you have access like Downloads or Documents folder.
"Needs authorization" Error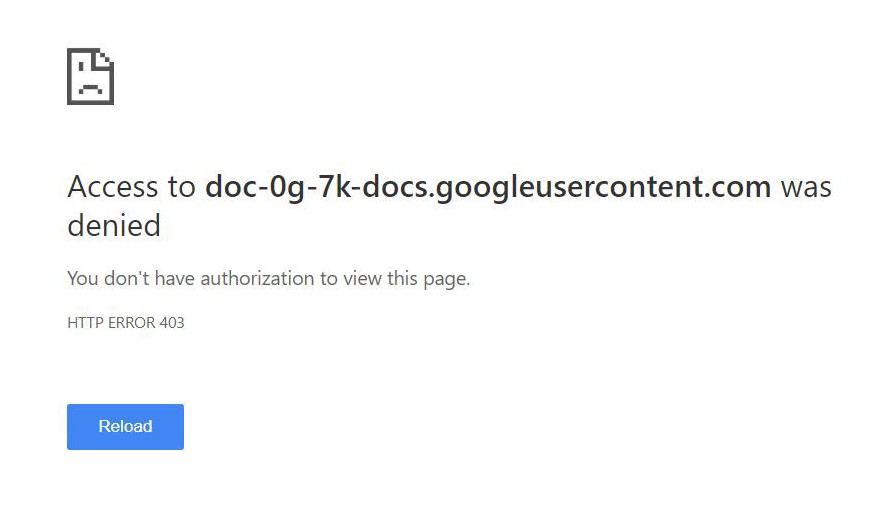 Some files need additional permission to download. If you get a "Needs authorization" error while downloading a file, it is most likely due to you don't have permission to download it. The only way to download such files is to take permission from the owner of the website.
"Forbidden" or "Failed – Forbidden" Error
All the files available to download on the Internet are stored on a web server. The admin of the webserver can set certain restrictions for users looking to download the files. They might ask users to sign in or register on their website. Users who have not signed up will get a "Forbidden" or "Failed – Forbidden" message.
To fix this error message, go to the website and sign in. Suppose you are not able to sign in, try to contact the site admin. Alternatively, check if that file is available on a different website.
Conclusion- (Solved) Can't Download Files in Chrome
Getting errors while downloading files, software in Google Chrome is very common. For most users, it happens because of an unstable Internet connection, but it may also occur due to different reasons. I have explained all the common error messages, their reasons, and fixes above.
So, now whenever you get a specific error message, you can try the given fix required to solve that error. Anyways, what kind of download error you mostly face in Chrome? Let me know in the comments.