Brave Rewards is an excellent initiative by Brave browser to let the user earn 70% of the revenue in BAT(Basic Attention Token) for watching ads. But what if you are using Brave on multiple devices to maximize the amount of BAT you can earn in a month? How do you sync your wallets from multiple devices? Well, here's how you can sync your Brave BAT Rewards wallet on mobile and PC.
Related | 4 Ways to Earn Money With Brave Browser
Sync BAT Wallet on Brave Mobile and PC
Brave browser has made waves thanks to its built-in privacy protections such as AdBlock, HTTPS everywhere, and script blocking. But Brave offers another crucial feature called Brave Rewards.
Brave Rewards allows you to earn BAT tokens monthly for simply using the browser. You can distribute these tokens to support your favorite creators or websites directly or withdraw them.
People use Brave on their Mobile and PC to increase BAT earnings but, BAT is stored in your device, and currently, there is no way to sync your BAT tokens among devices without a verified wallet.
So in this article, we will show you a detailed guide to link your Brave rewards with a verified Uphold wallet and then link your Brave mobile browser to the same wallet. This way, you can use the same wallet for Brave rewards on your phone and PC.
1. Setting up Uphold account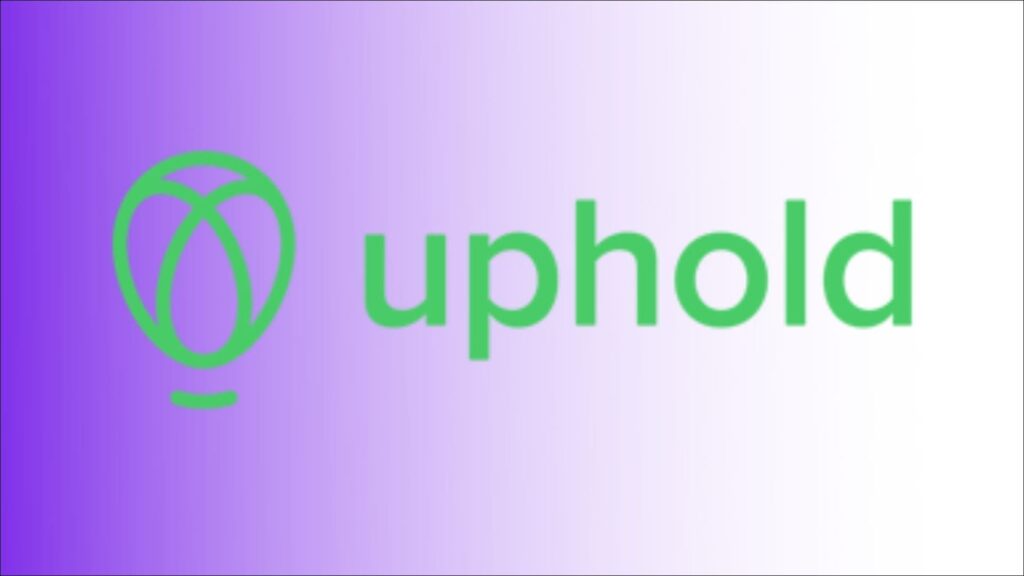 You need to set up a verified wallet that links your rewards with a custodial exchange. We recommend using Uphold wallet to sync your other devices. Below is how to complete Uphold account creation to sync your devices.
Step 1: Create an Uphold account by going to their website or installing Uphold app on your mobile device.
Setting up a verified wallet will require your phone number, address, and a valid government-issued ID like Aadhaar or Driving Licence. Enter your details carefully, as Uphold's automatic system will block your account if it identifies any mistakes.
Step 2: Once your wallet is verified, we recommend waiting for a day before making any transactions.
Step 3: Now, buy 2 BAT tokens to your Uphold wallet to link it with the Brave browser.
Adding BAT tokens is necessary as it is required to have a certain amount of BAT tokens to link your BAT Wallet on Brave with Uphold. Previously the required amount was 15 BAT tokens which have been reduced to 2.
There is no need to buy or add any BAT tokens if you have a balance of 2 BAT in your Brave Wallet.
2. Connect BAT Wallet on Brave PC with Uphold
Once you have created a verified account on Uphold and added 2 BAT tokens, you are all set to link your BAT wallet with Uphold. Here is how to do it:
Step 1: Open Brave Settings and Go to Brave Rewards.
Step 2: Click on the Verify Wallet on top of Your Balance.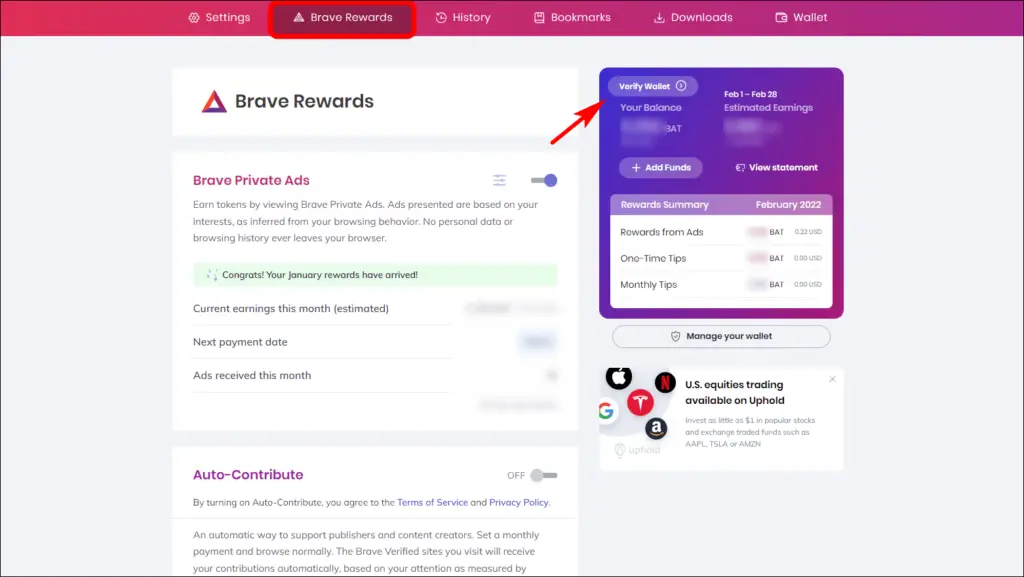 Step 3: Click on Continue on the new window.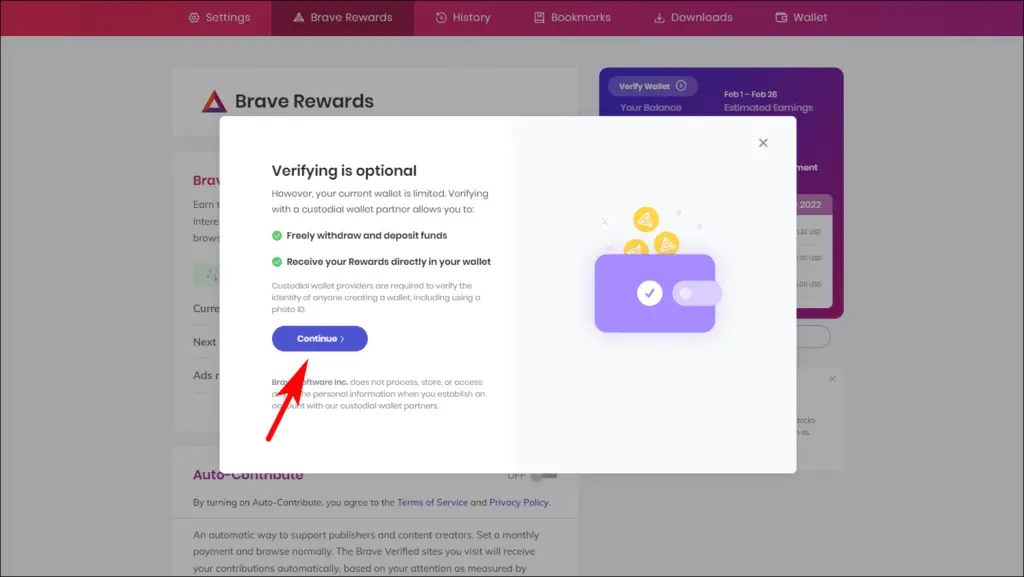 Step 4: Choose Uphold Wallet.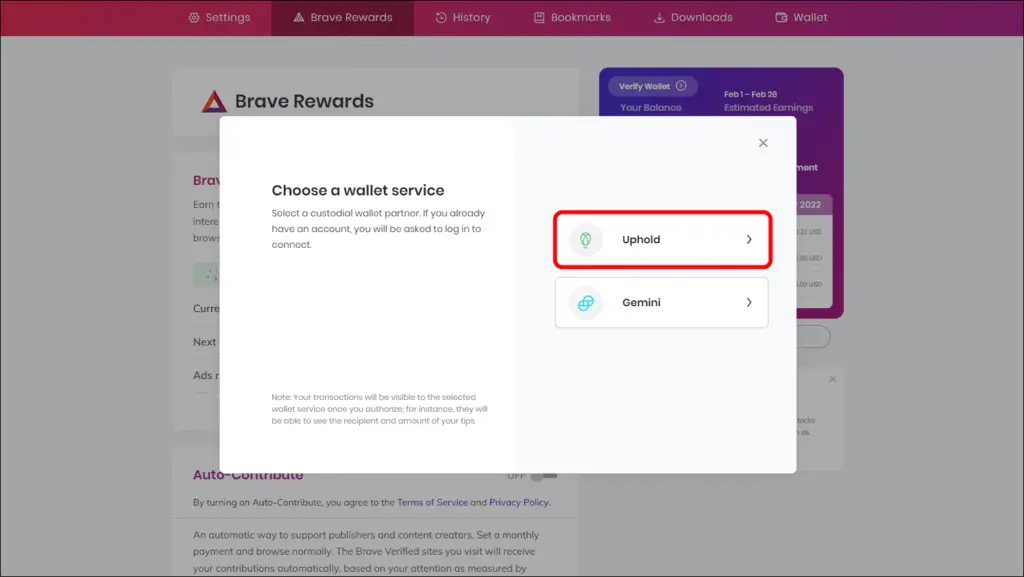 Step 5: Brave will show a message that you need a minimum balance of 2 BAT to connect your account. Click on Continue to Login.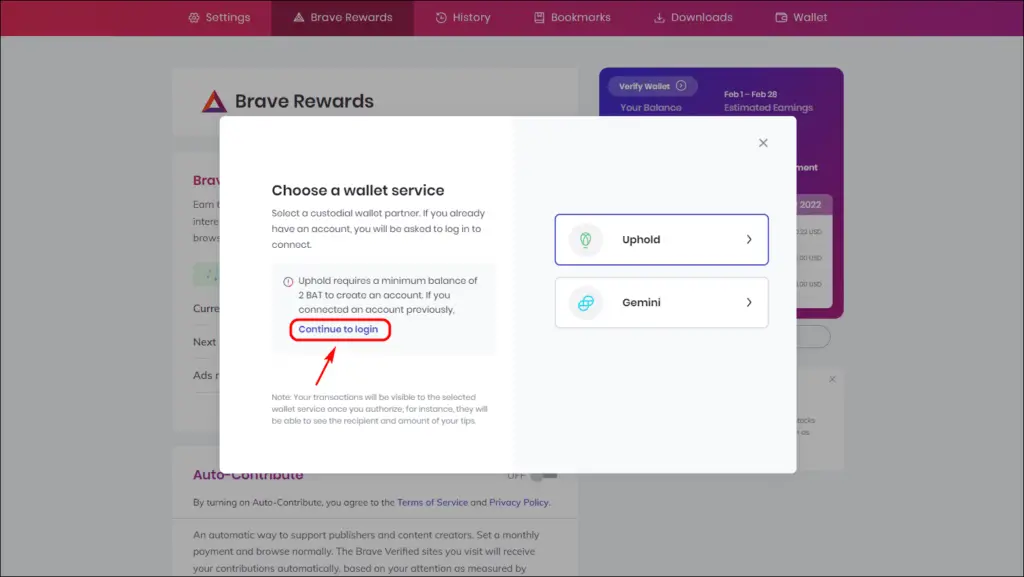 Note: Ensure to turn off any other instance of Uphold wallet running on your mobile device or PC before proceeding further, as Uphold may block your account for suspicious activity.
Step 6: You will be redirected to Uphold. Click on Authorize to authorize Brave on Uphold.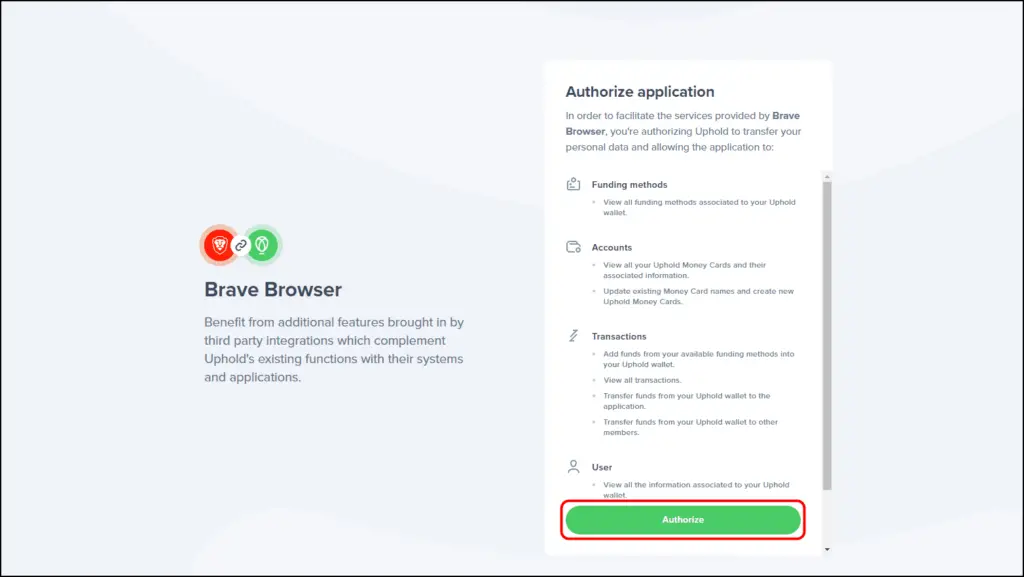 Step 7: Enter the Login details of your verified Uphold account and click Next.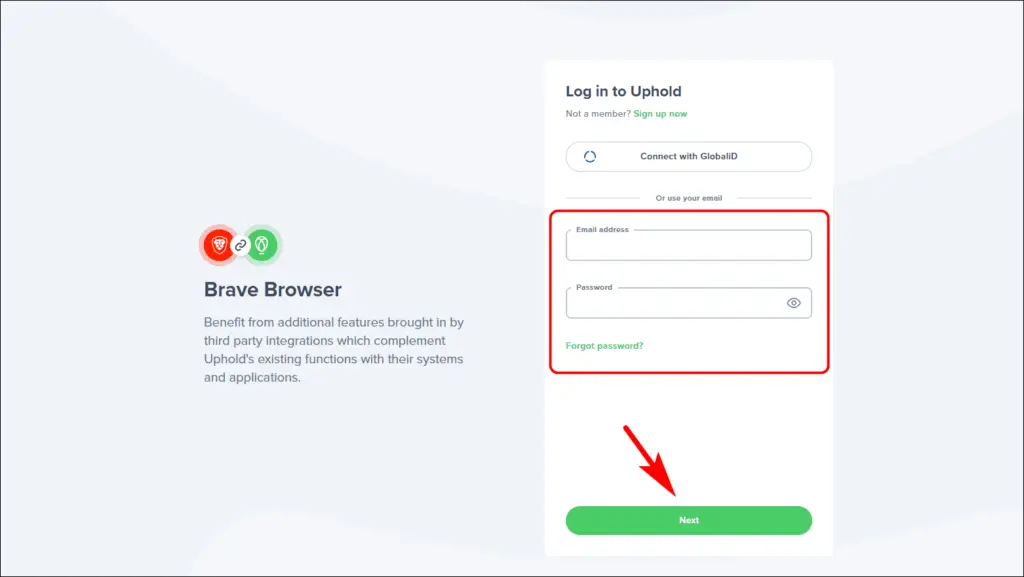 You have successfully connected your BAT Wallet on Brave with Uphold. Your BAT tokens in Uphold account will be reflected in the Your Balance section. And you will receive your monthly rewards directly on Uphold.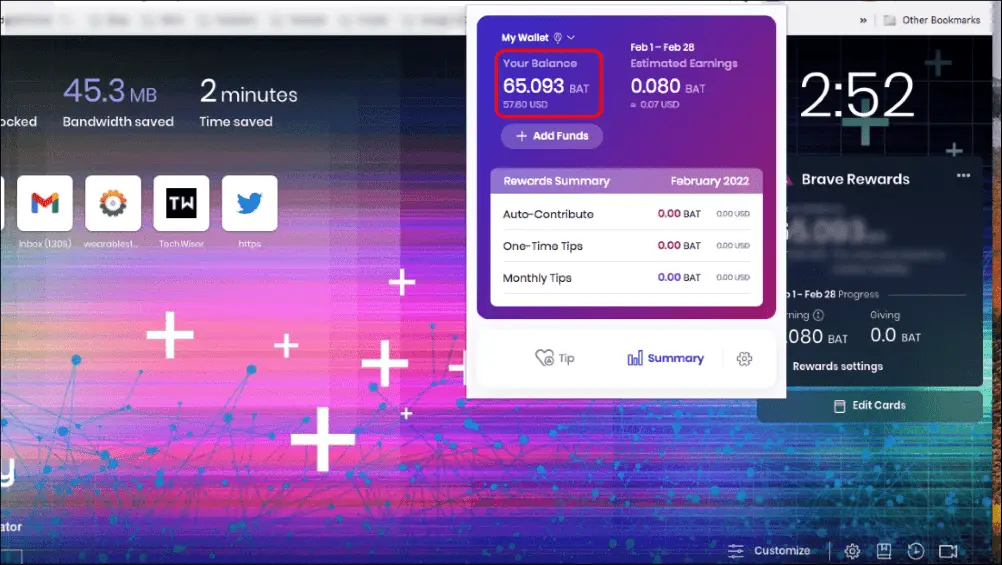 Connect BAT Wallet on Brave Mobile with Uphold
Now that you have paired your BAT wallet with Uphold, you need to connect the mobile BAT Wallet with Uphold to sync your reward earnings. Below are the steps to do that.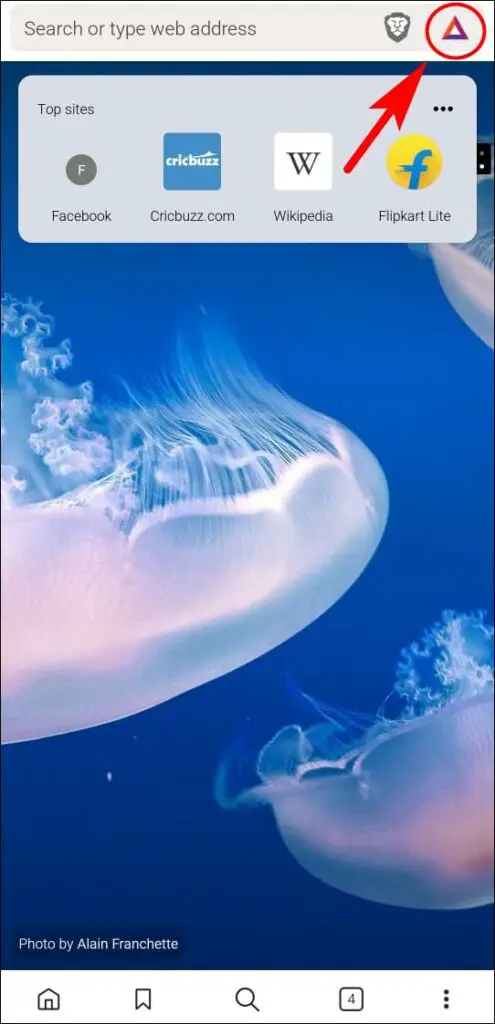 Step 1: Open the Brave Browser app on your mobile device and tap on the BAT icon at the top right.
Step 2: Go to Verify Wallet.
Step 3: A pop-up appears. Tap on Continue.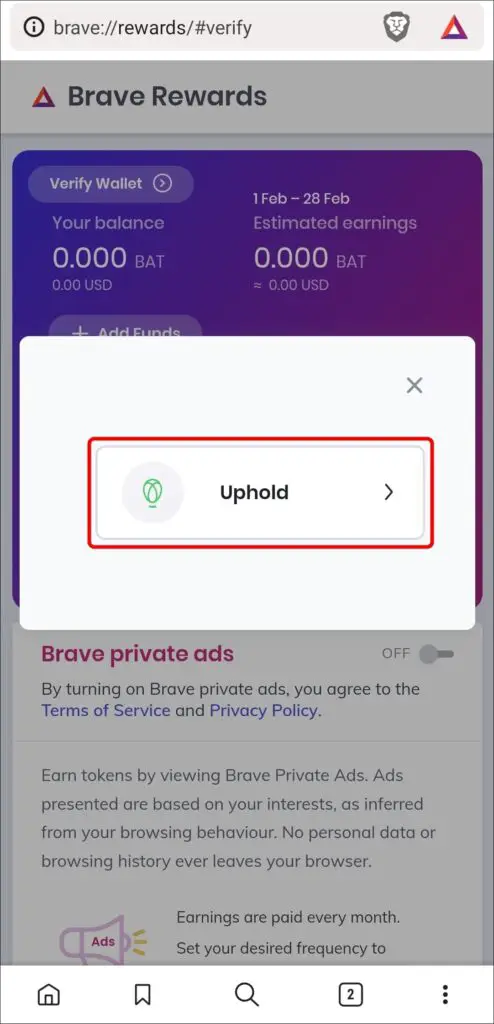 Step 4: Choose Uphold wallet.
Step 5: Tap on Continue to login.
Step 6: You will be redirected to authorize the Brave app on Uphold. Tap on Authorize.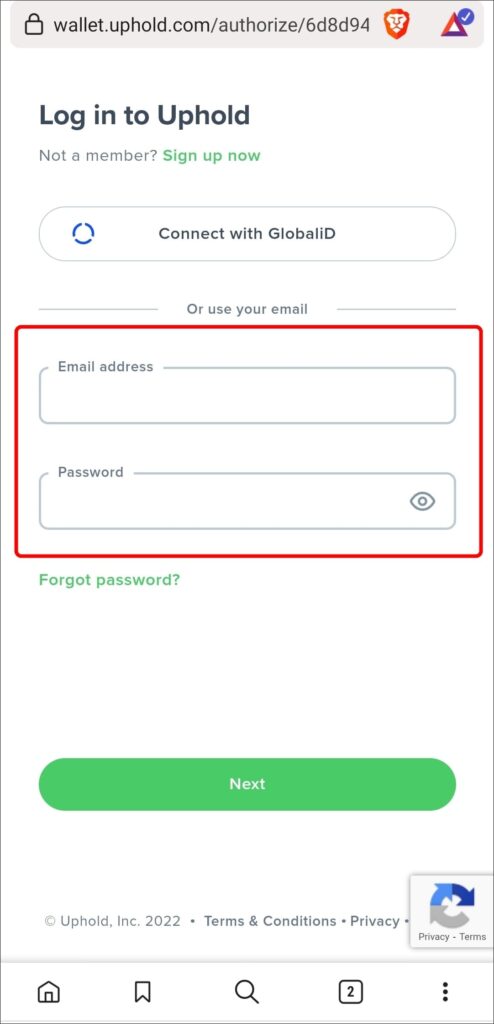 Step 7: Log in with the same Uphold wallet you connected with your PC and tap on Next.
Great! Your PC and Mobile BAT wallets are now synced together, and the rewards you will earn every month will be sent directly to your Uphold wallet, where you can freely withdraw your BAT tokens.
Wrapping Up
It is convenient and fairly simple to sync multiple Brave devices once you have set up a verified wallet. But we hope Brave adds the ability to sync wallets without having to use a third-party custodial wallet since Brave already has its crypto wallet. I hope you learned something new with this guide and it was useful for you.