MetaMask is a popular crypto wallet available as a browser extension widely accepted by Web3 Dapps (decentralized apps). It is secure, but there is a potential risk of losing your cryptocurrencies and funds if you use it on an unsecured browser. This is why it is essential to use Metamask on a secure browser like Brave. In this article, we will show you a detailed guide on how to download, install and use Metamask in the Brave browser.
Related | What is Brave Search? How to Use? Compared to Google & DuckDuckGo
What is Metamask Extension?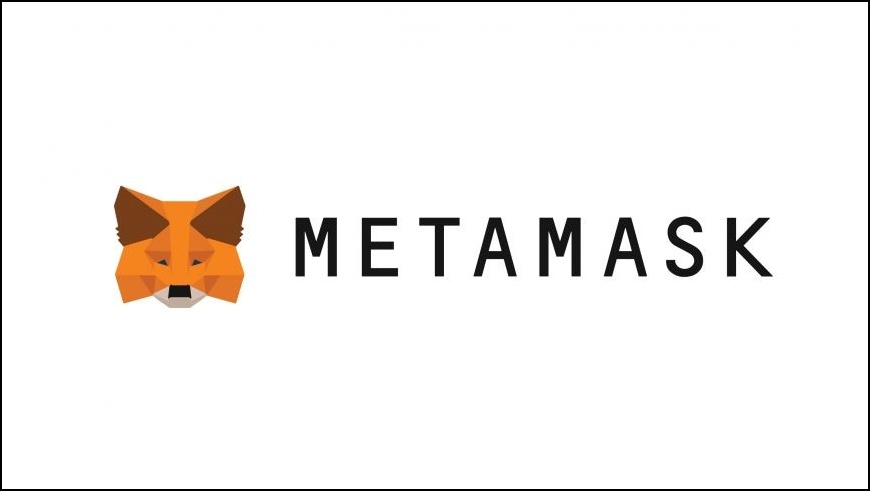 MetaMask is a popular private crypto wallet that you can use to store, send or swap Ethereum based cryptocurrencies and tokens. It gives you a wallet address that you can use to connect and sign up and log in to Web3 Dapps (Decentralised Apps) as it allows these web applications to interact with Ethereum Blockchain.
The wallet does not require any KYC or any other identification from the consumer providing complete privacy and anonymity. It uses Private keys to set up the wallet you need to store safely to access it. If you lose your private keys, then even Metamask won't help recover your account.
It is available for free as an extension and available for most popular browsers out there, including Chrome, Edge, and Brave Browser. In this article, we will take you through a step-by-step process to set up the Metamask wallet extension in your Brave browser and how to use it.
Download & Install Metamask in Brave
We will show you a step-by-step guide to set up your Metamask wallet in the Brave browser. We will take you through the process if you are new to Metamask or an existing user and want to import your Metamask wallet from another browser to Brave.
For New User
This guide will be for new users who are new to Metamask.
Step 1: Download the Metamask Wallet extension to your Brave browser.

After installation, the Metamask setup page will open automatically in a new tab.
Step 2: Click on Get Started.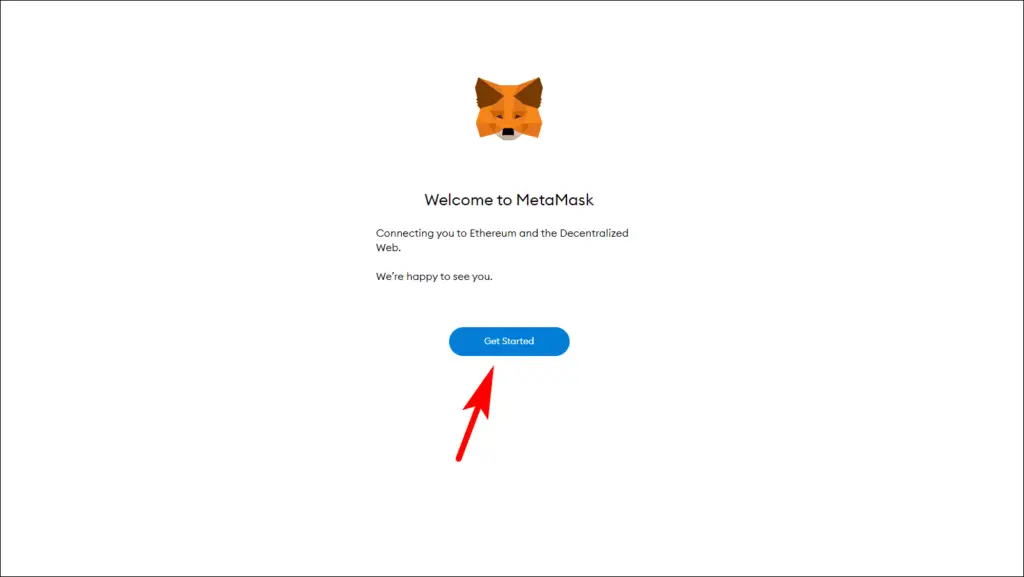 Step 3: Go to Create New Wallet.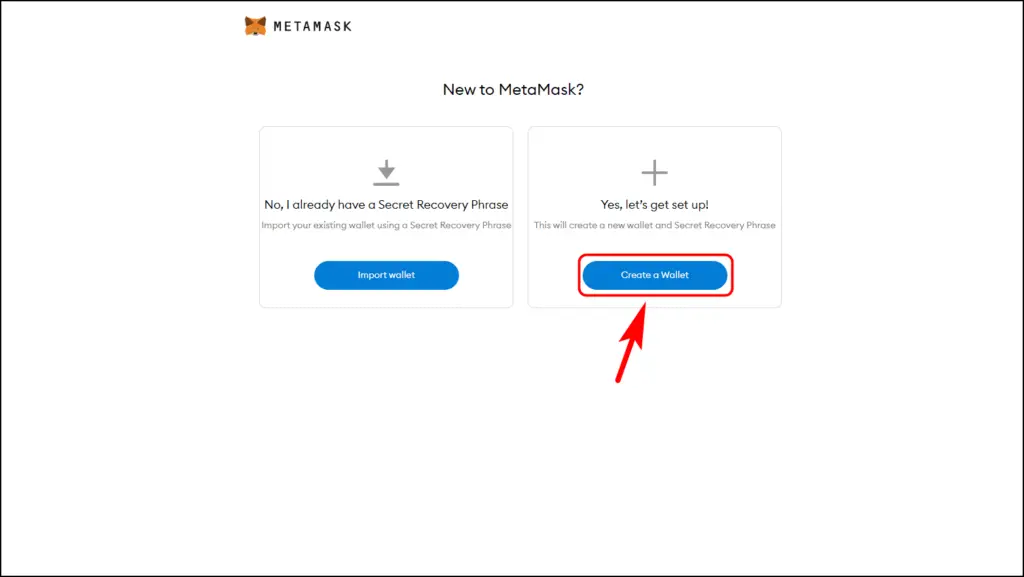 Step 4: You will be asked consent to collect usage data on the next page. You can choose to agree, but we recommend you choose No Thanks.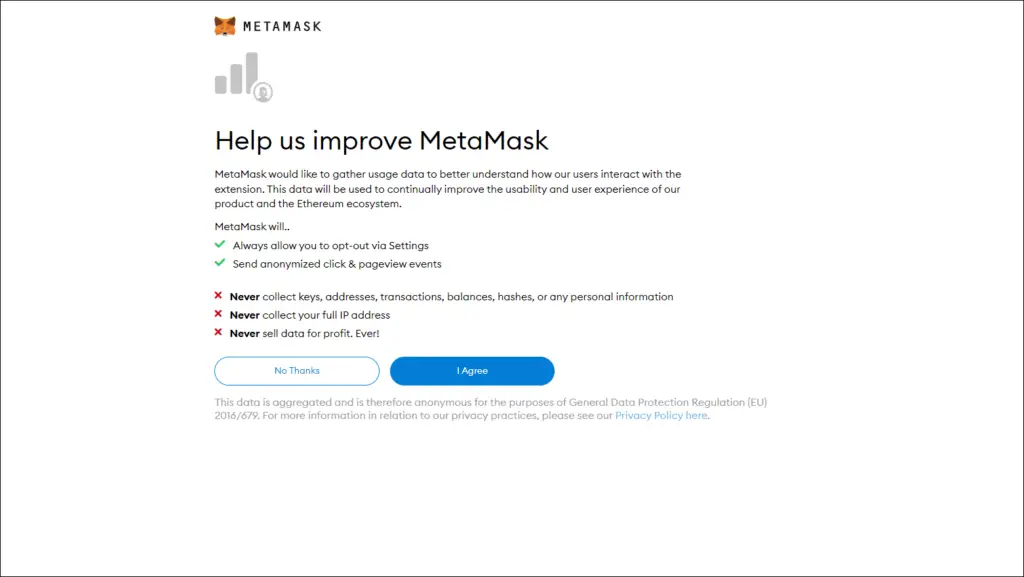 Step 5: Now, Create a strong password for your wallet and click on Create.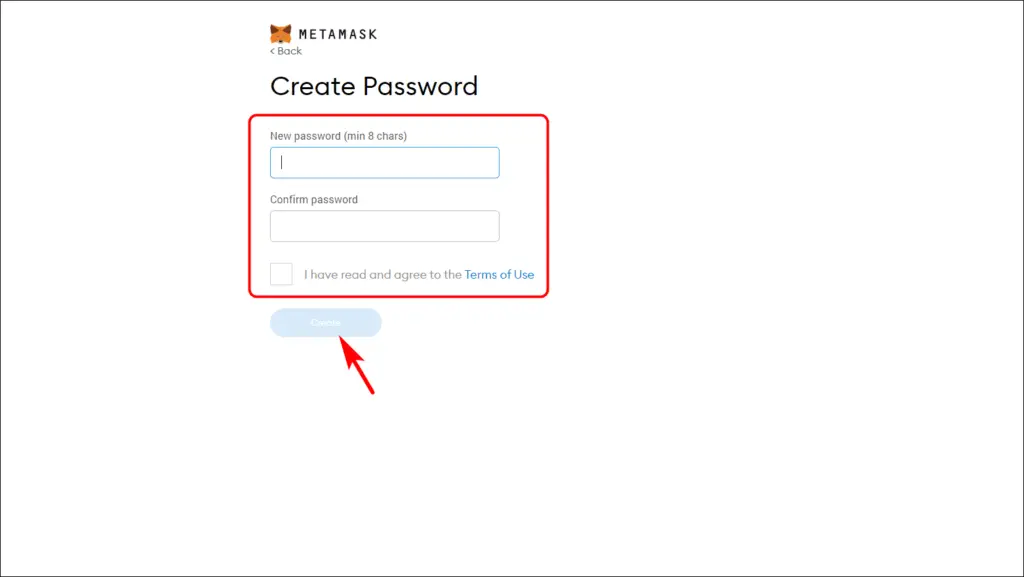 Step 6: A tutorial video about Metmask and Secret Recovery Phrase will be shown. You can choose to watch it or else click Next.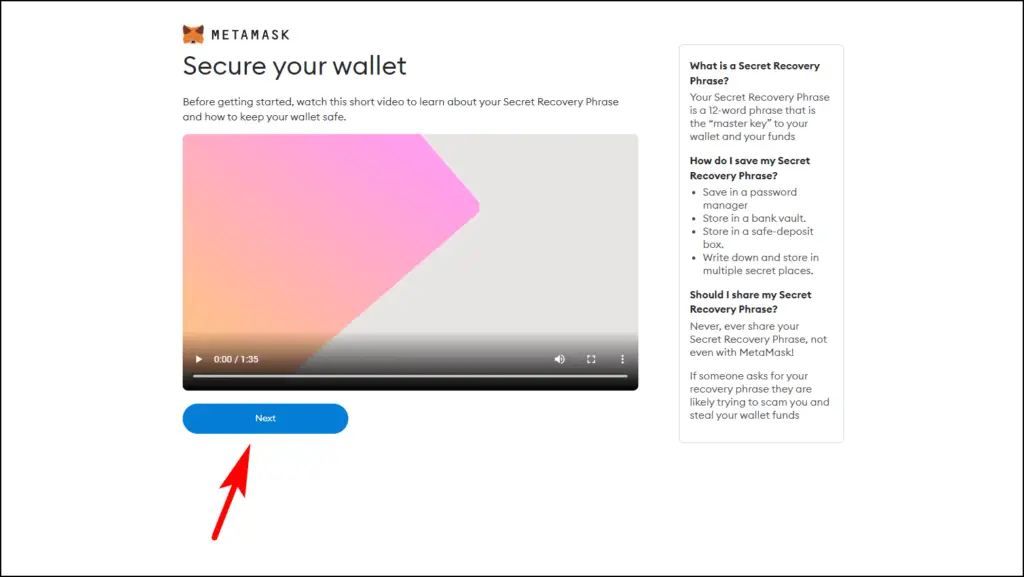 Step 7: Click on the Padlock icon to reveal your secret words.
Write it down in the exact order, or you can download it and store it somewhere safe by clicking the outlined section as shown below.
Step 8: After noting down your secret words, click on Next.
Step 9: Now, click on the words shown below the blank space and arrange them in the exact order as your Secret Phrase.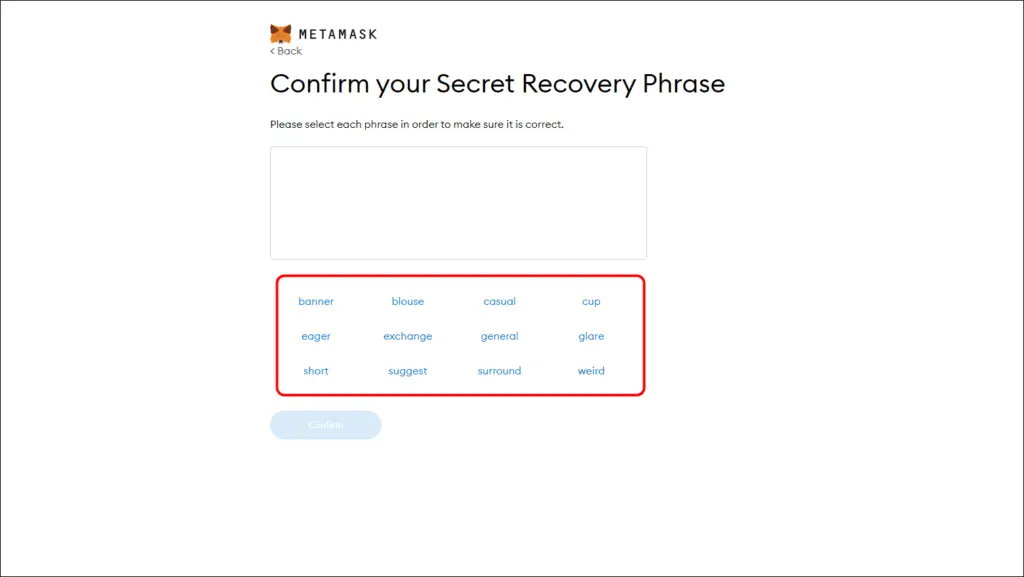 Step 10: Once appropriately arranged, click on Confirm.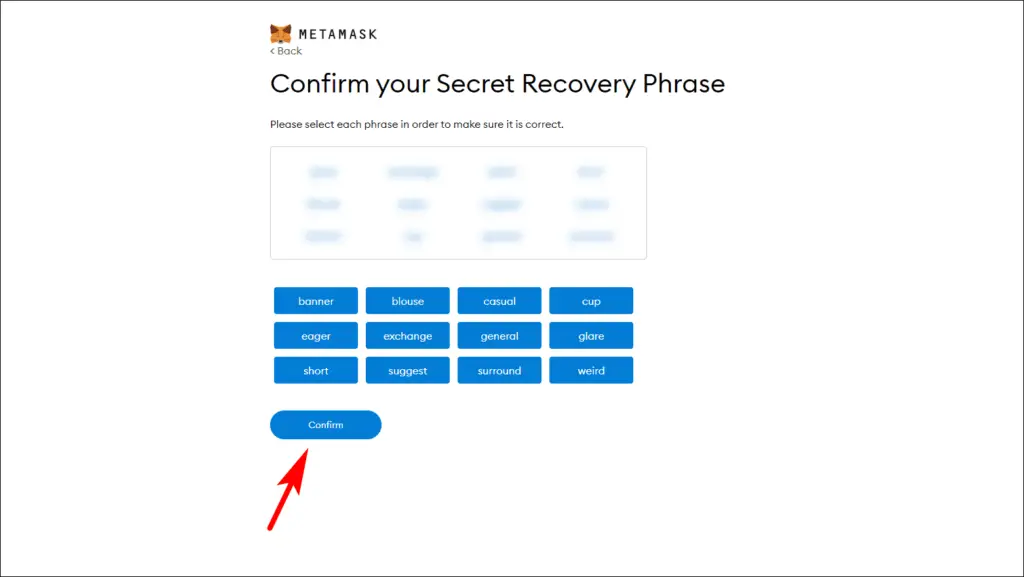 Step 11: Click on All Done to complete the setup.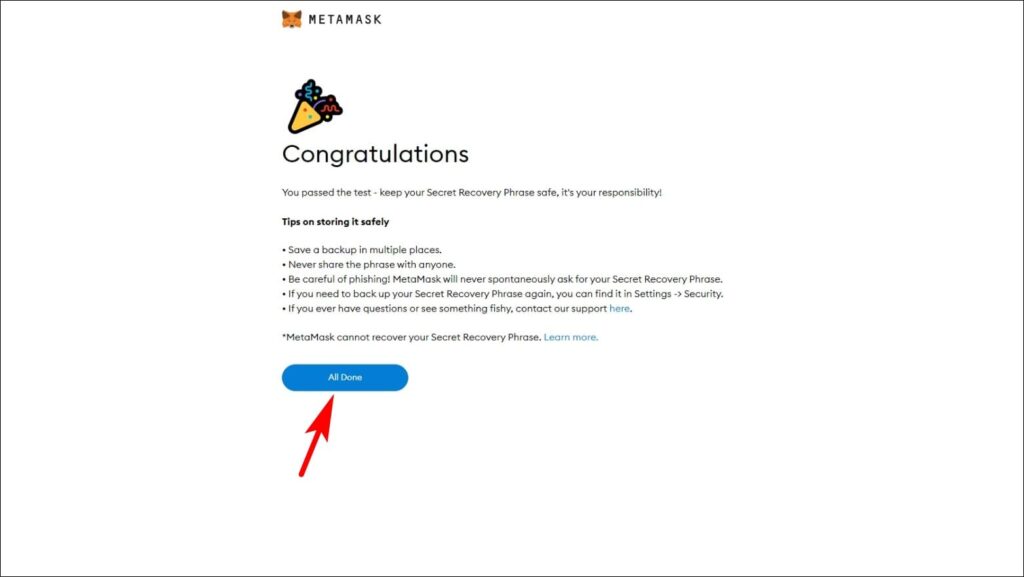 Great! You have successfully created your Metamask wallet. You can now start sending and receiving cryptocurrencies in this wallet address.
For Existing Metamask Wallet User
This guide will be for existing users of Metamask who want to move their wallets from Chrome or other browsers to the Brave browser.
Step 1: Download the Metamask Wallet extension to your Brave browser.
Once the download finishes, the Metamask setup page will open automatically in a new tab.
Step 2: Click on Get Started.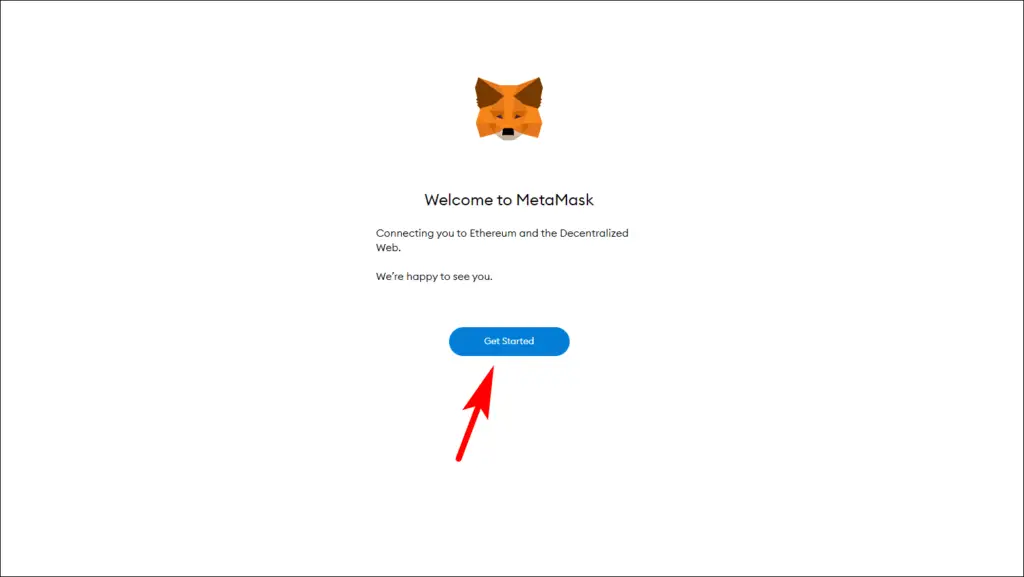 Step 3: Go to Import Wallet for existing users.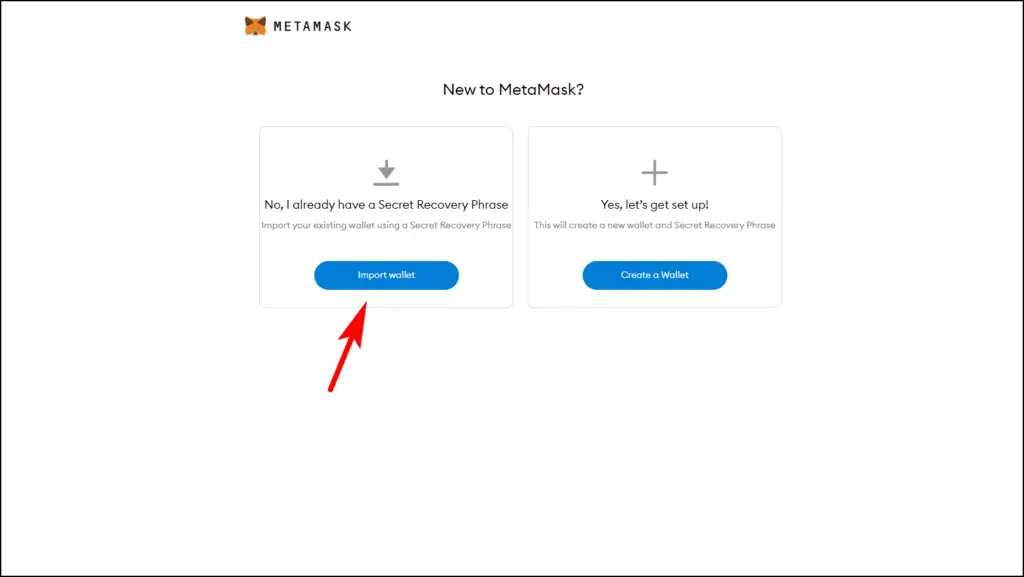 Step 4: You have to provide consent to collect usage data. You can choose I Agree but we recommend you choose No Thanks.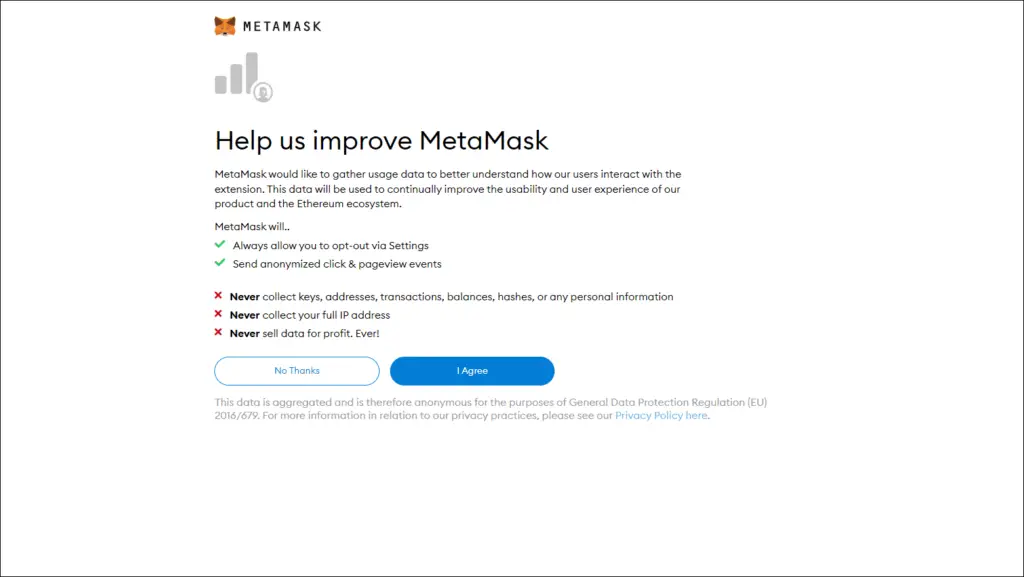 Step 5: Enter the Secret Recovery Phrase in the same order as it was shown when first setting up the wallet.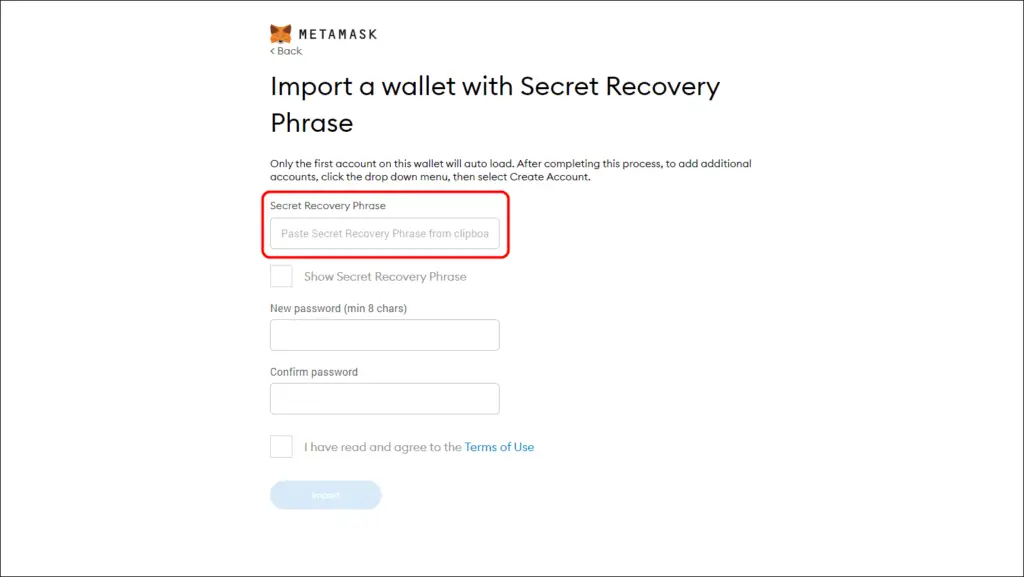 Step 6: Now, create a new strong password to unlock your wallet and click on Import.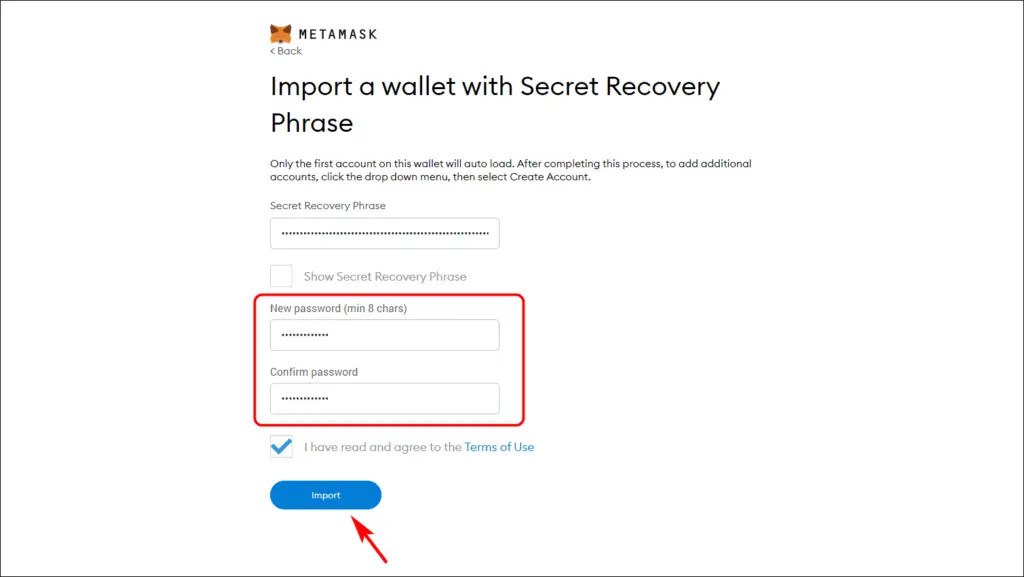 Step 7: Click on All Done to complete the process.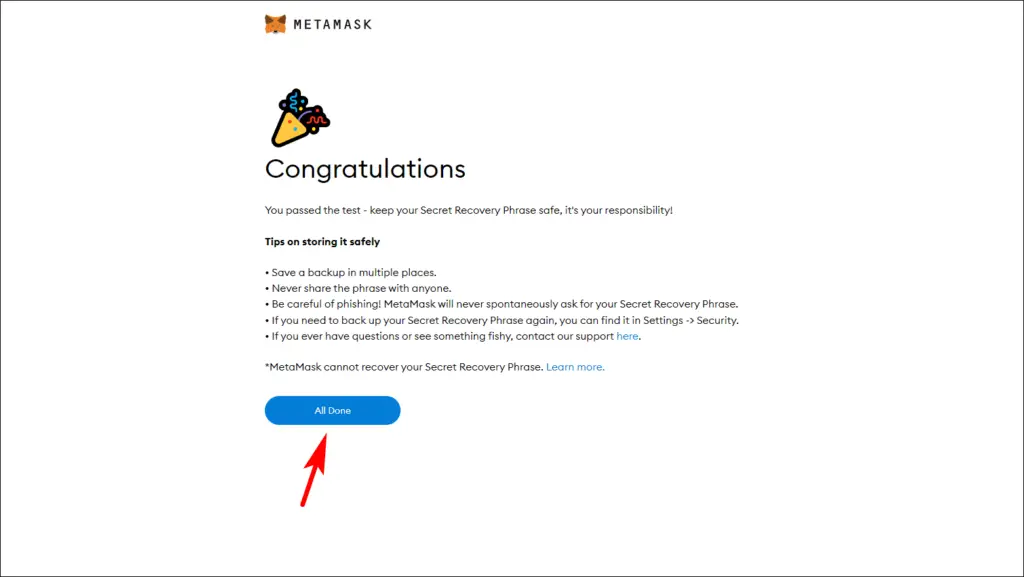 Your wallet will be imported to the Brave browser along with any funds saved in the wallet and it is all set to use.
Using Metamask in Brave Browser
Metamask wallet extension can be used to send, receive and store cryptocurrencies. It acts as your one-stop destination to manage your crypto. You can use Metamask for payments and to connect with Crypto exchanges, Dapps, Metaverse games, and NFT marketplaces and even use it to store any NFT that you have bought or minted.
Moreover, if you want to transfer funds from one crypto exchange to another, you will have to use a private wallet like Metamask.
Using Metamask with Brave browser adds an additional layer of security since Brave blocks fingerprint trackers, scripts, and cookies. You can choose to disable usage data collection, which lowers the risk of data leaks.
Connecting Metamask with Dapps
We will show you the process to use and connect your wallet with sites like OpenSea on the Brave browser. If you have previously used Metamask in Chrome or Edge, the process will already be familiar to you.
Step 1: Open the site you want to connect with your wallet. We will use the popular NFT store Opensea to demonstrate.
Step 2: Locate the Wallet icon. Some sites will have a Connect button or ask you to Connect wallet when you click Sign Up.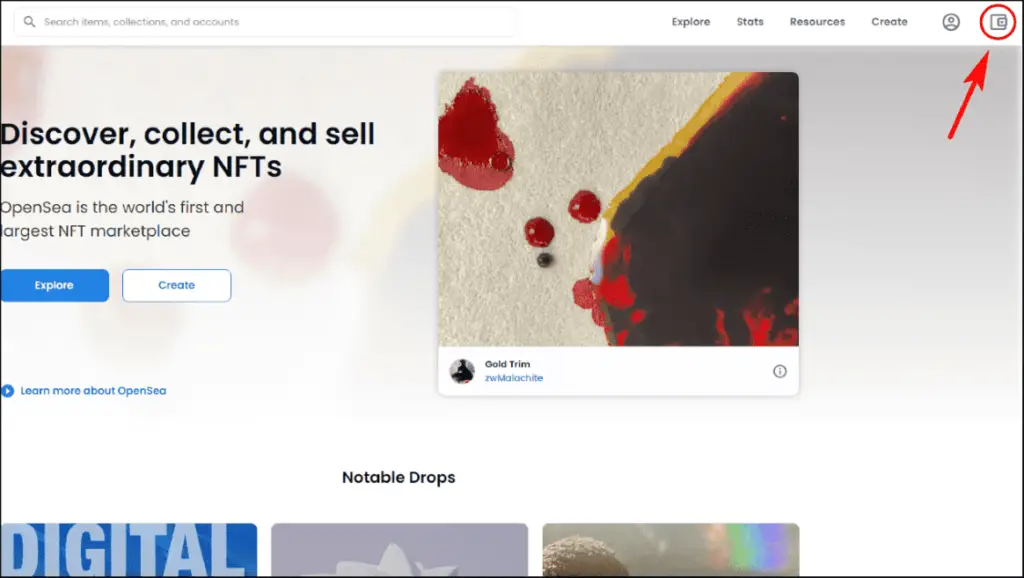 Step 3: Choose Metamask when given the option to connect the wallet.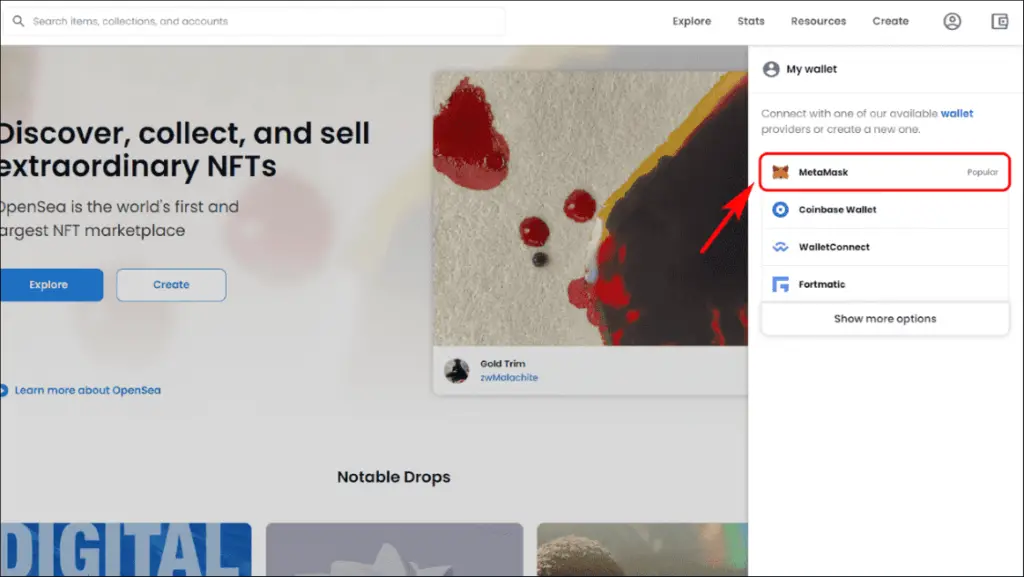 The Metamask wallet will display a small pop-up window in the corner.
Step 4: Enter the password you created to unlock your Metamask wallet.
Step 5: Select the Account you want to use and click Next.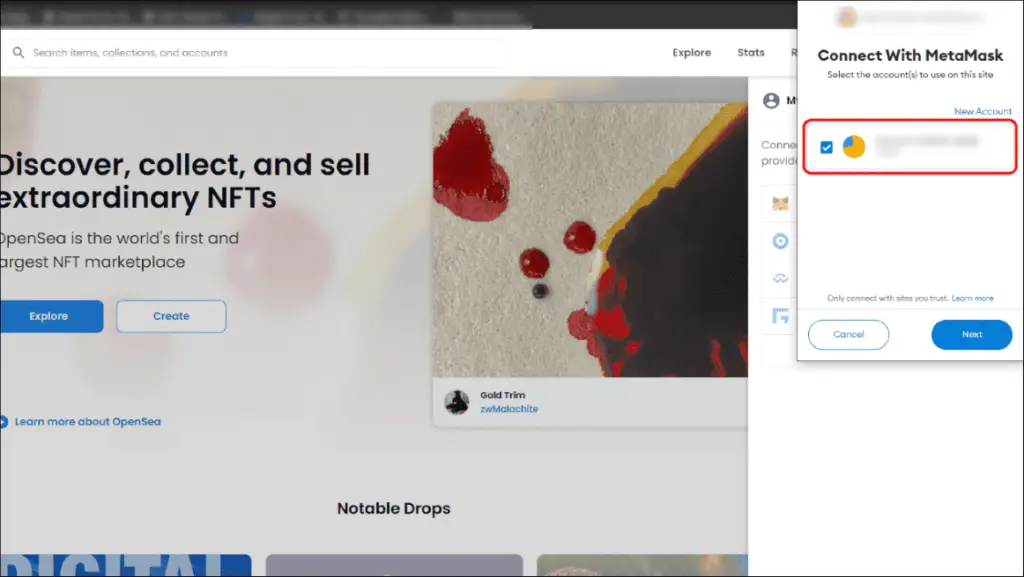 Step 6: Click on Connect to complete the process.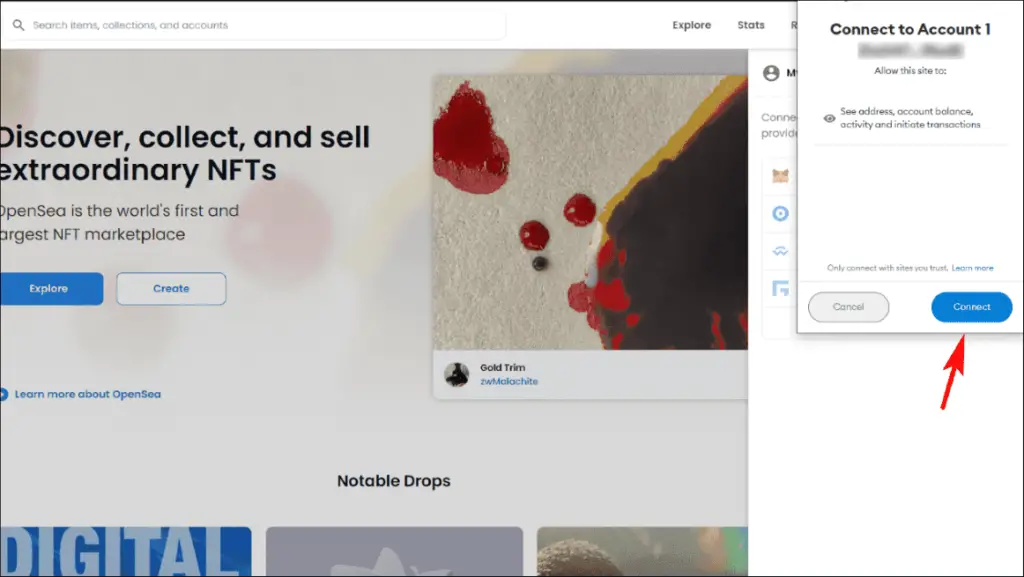 Now, your Metamask will be connected to that website. You can use it to make payments or transfer funds.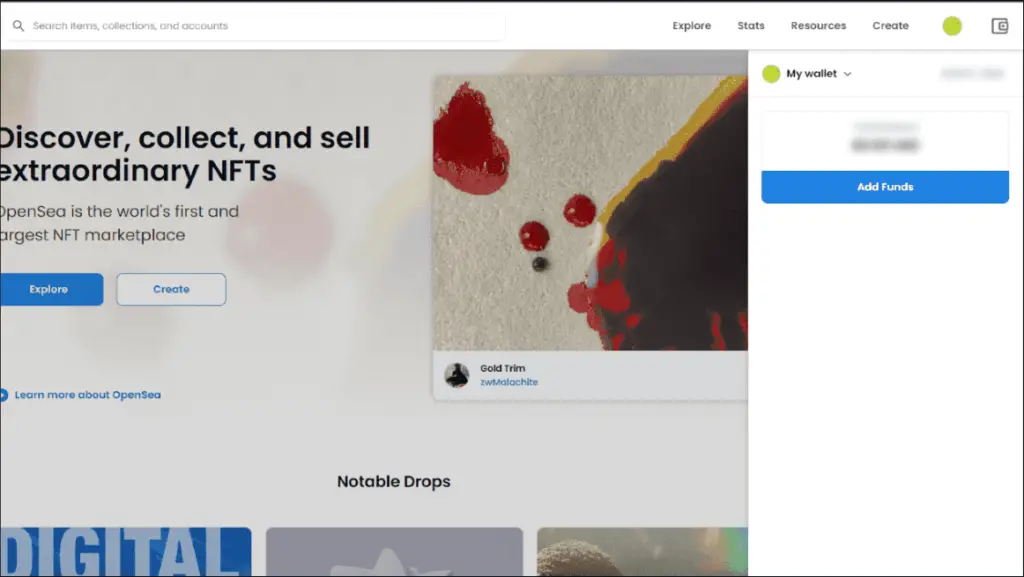 Issues of Using Metamask with Brave
The Brave browser has a private crypto wallet that works similarly to Metamask. Brave's wallet is built into the browser, and Metamask is an extension. And since both use Ethereum blockchain, the browser could not tell which wallet to use.
Earlier, trying to connect your Metamask with a website used to throw errors, like Metamask is not installed or transactions would not show up on Metamask. Sometimes it would just fail to load up.
We have been unsuccessful in trying to duplicate these issues, which indicates that the problem has now been addressed. But if you face any such issues, we recommend not to set up Brave wallet in the first place if you want to use Metamask or disable the Brave wallet.
Related | 3 Ways To Visit Metaverse In Google Chrome
Brave Wallet vs. Metamask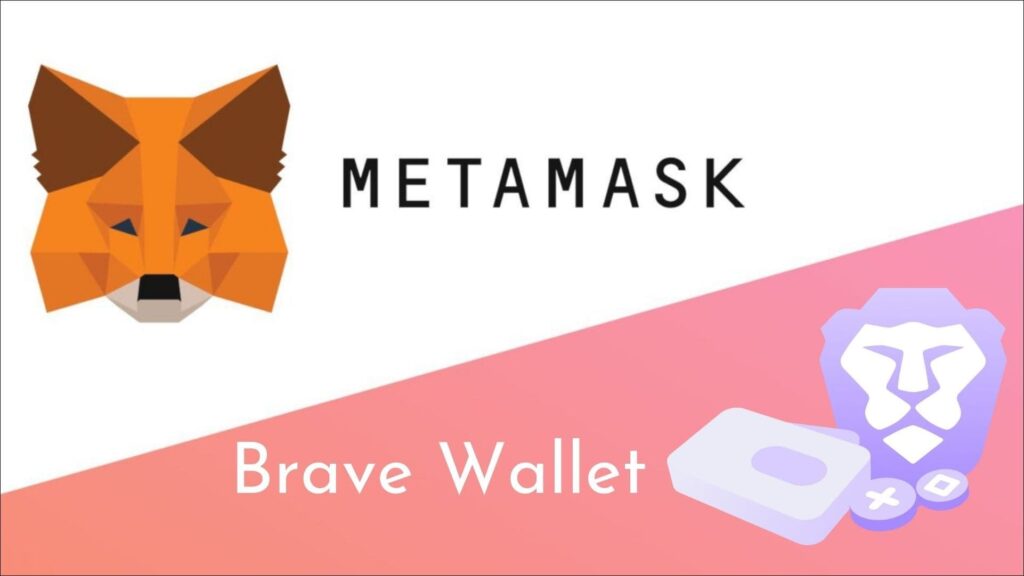 As mentioned above, Brave comes with its native crypto wallet, which works almost identical to Metamask and also uses the Ethereum Blockchain network. So what are differentiating factors between them, and should you choose one over the other? Let's find out.
Browser Wallet vs. Extension
The Brave wallet is a browser native wallet that is, it is built into the web browser whereas Metamask is an extension that is available through the Chrome Web Store. Being an extension, Metamask opens itself to certain issues like:
It consumes additional CPU and RAM resources.
People can create fake version of it on the Web Store and trick you into installing it compromising your funds.
Installing it on non secure browsers make you vulnerable to Data leaks.
A browser native wallet overcomes all these issues as it will not consume additional resources, and since it comes pre-installed, you do not have to worry about installing a fake one.
Compatibility with Dapps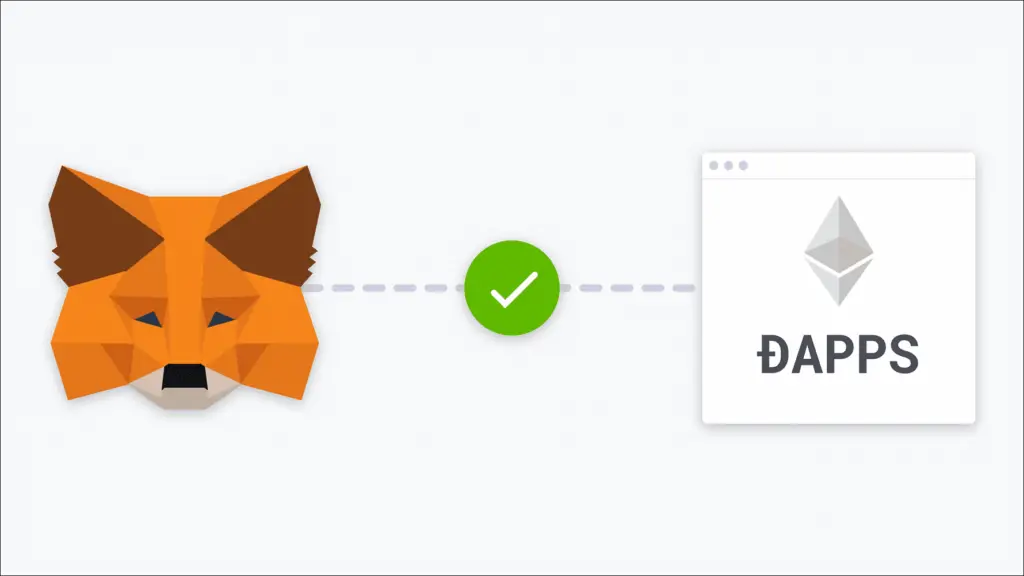 There is no denying the popularity of Metamask. It has made its name for being reliable and gathered the trust of many over the years. This is why it is widely accepted among most web3 websites, crypto exchanges, Dapps and even Metaverse games.
Almost all of them accept Metamask to connect, log in, and make payments. Due to its multi-network support, you can also use it on other blockchain platforms, like Polygon, Avalanche, and Binance Smart Chain.
Brave's wallet also added support for NFTs and multiple networks like Metamask but browser native wallets are not as widely accepted.
Additional Features with Brave Wallet
We have discussed that the Brave wallet comes with the most features compared to Metamask, but it comes with a few more additional functions to stand out.
You can buy cryptocurrency with cash on Brave wallet using Wyre.
See Live market data and track your investments.
Operates on a truly open license.
Harder to spoof and consumes less resources.
Ability to import wallet data from Metamask.
Import from MetaMask to Brave Wallet
If you find yourself leaning towards Brave wallet but already have an existing Metamask wallet, Brave wallet provides you with an option to import your data from Metamask. Here is how you can do it in a few simple steps.
Step 1: Go to Brave Settings.
Step 2: Head to the Wallet section.
Step 3: You will see an option to Import from Metamask. Click on it.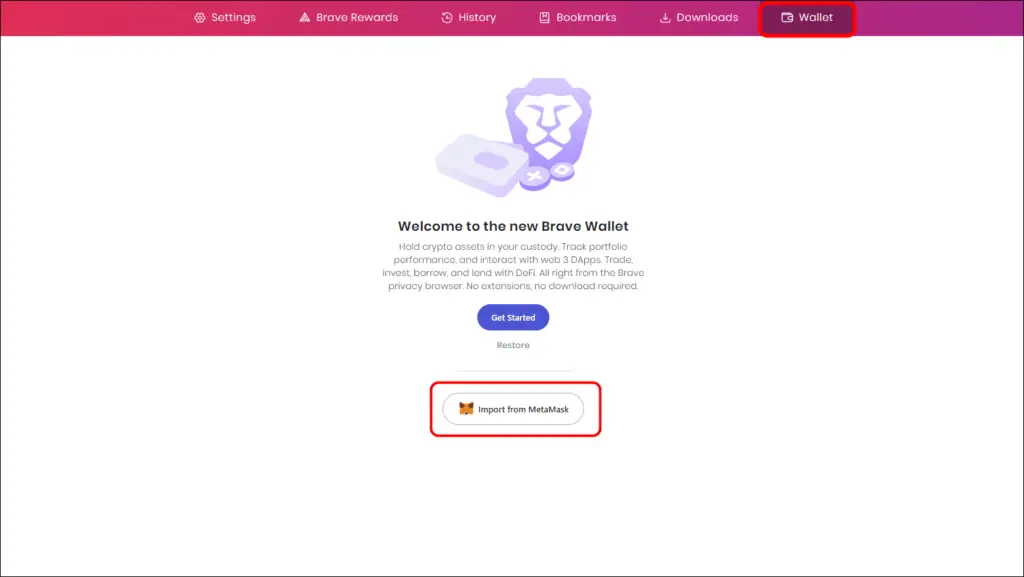 Note: This option will not be visible if you have already set up a Brave wallet. You will need to reset your wallet and start from new.
Step 4: Enter your Metamask password.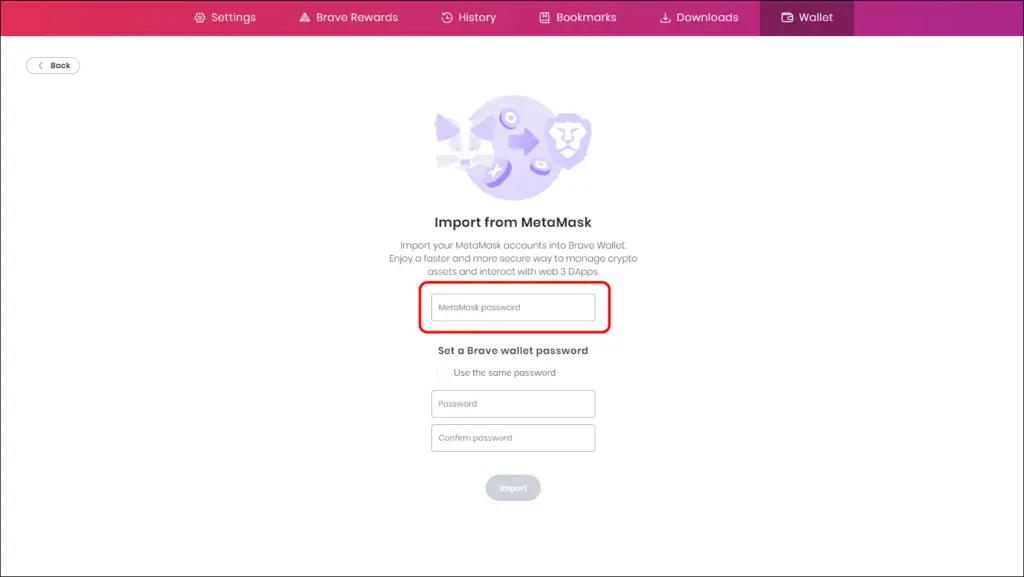 Step 5: Create a new password for your Brave wallet and click Import.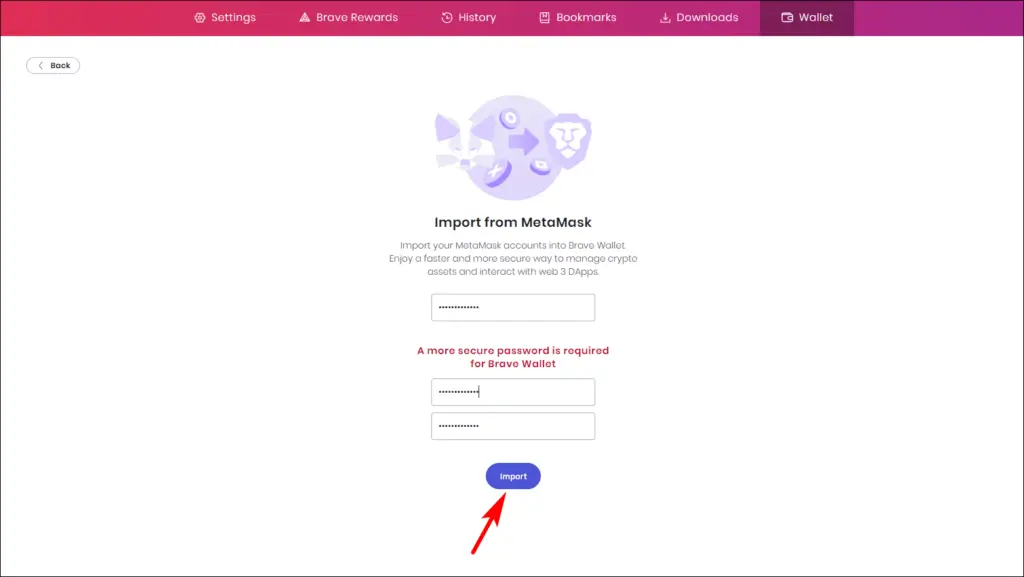 Your Metamask wallet will be imported to Brave wallet with the same wallet address.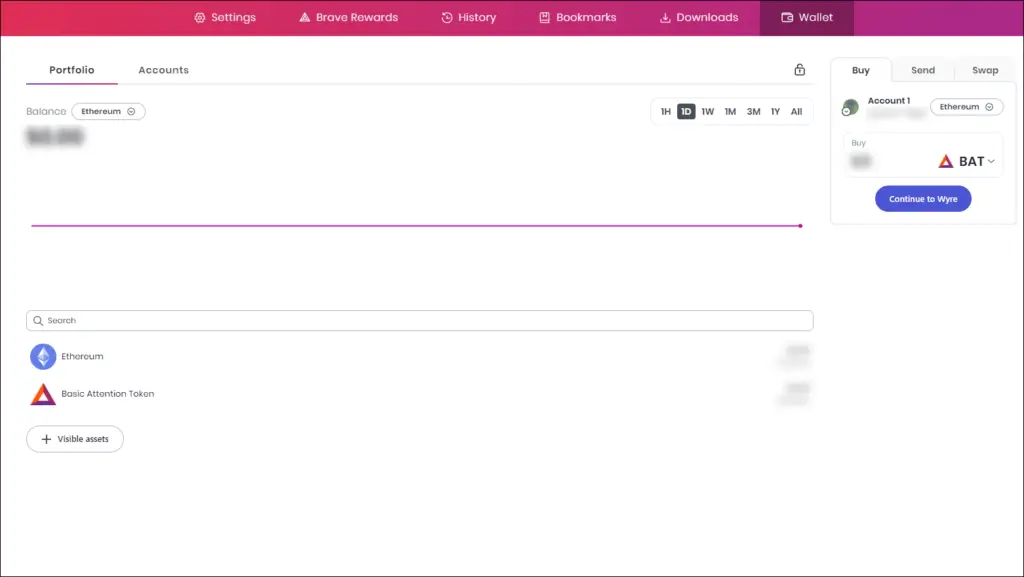 Wrapping Up
Metamask is one of the best options out there for newcomers since it has an easy to use interface and is compatible with almost all web3 Dapps out there. But it has its shortfalls and with all the security issues around the web, you must pair it with a privacy-centric browser like Brave to ensure more security for your funds and fewer chances of data leaks. Or you can opt to go with Brave's inbuilt wallet if you prefer. I hope you found this guide educating and helpful.