Reader Mode lets you read articles clean, clutter-free way without any ads or distractions. It's available on all popular browsers, including Chrome and Safari. However, you may not find it in the Brave unless you turn it on manually. Therefore, in this article, let's see how you can enable and use Reader Mode in Brave Browser.
Related | 2 Ways to Enable Reader Mode for Any Website in Chrome
Reader Mode in Brave
What is Reader Mode?
Most browsers have a built-in Reader mode that makes an article or page more friendly to read. When enabled, it removes clutter, ads, and other distractions on the webpage, making it easier on the eyes.
You only see the content that matters. This also means you can print the article without any ads.
Method 1- Speed Reader in Brave Browser

Speed Reader is Brave's new approach to reader modes. The Speed Reader not only improves the aesthetics of the page for better reading and browsing experience but also delivers better browsing performance and privacy.
It removes all non-essential content before page load, saving time and bandwidth when enabled. At the same time, it removed ads and trackers. According to claims by Brave browser:
SpeedReader speeds up page loading by 27 times and reduces network use by up to 84 times vis-a-vis regular browsing.
During testing, it issued 115 fewer requests to third parties, and interacted with 64 fewer trackers on average (on applicable pages).
SpeedReader works on 22% of web pages in general and about 46% of pages shared on social media.
You can read mode about Speed Reader here.
Enable Speed Reader Mode in Brave
At the time of writing, Speed Reader is hidden under experimental flags in the Brave browser. Here's how to enable and use it:
Step 1: Open Brave browser. Type and enter brave://flags in the address bar.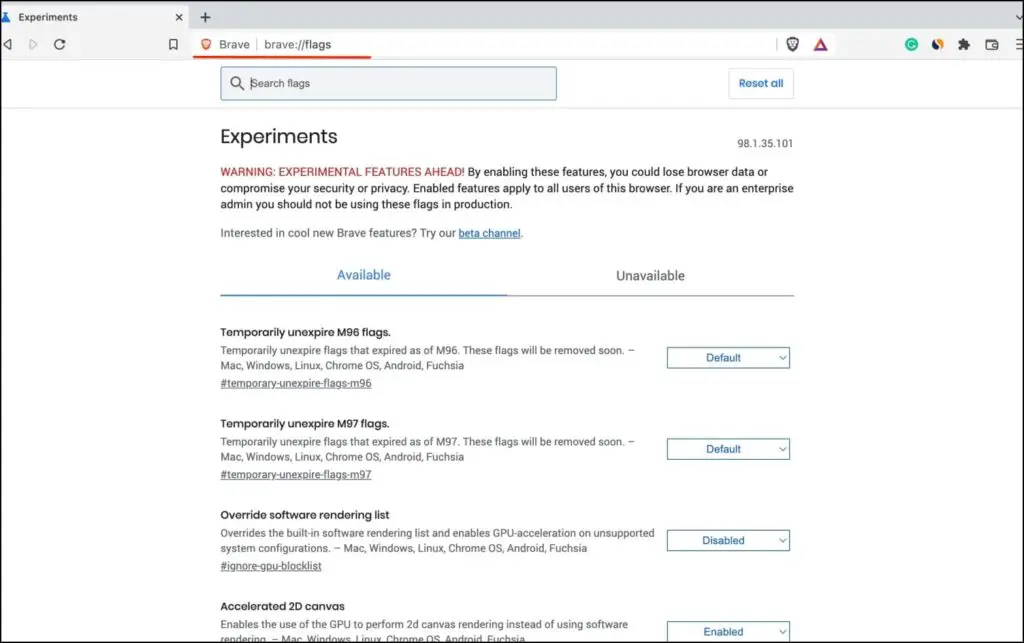 Step 2: On the flags page, search for "reader."
Step 3: Click the drop-down menu next to Speed Reader Mode.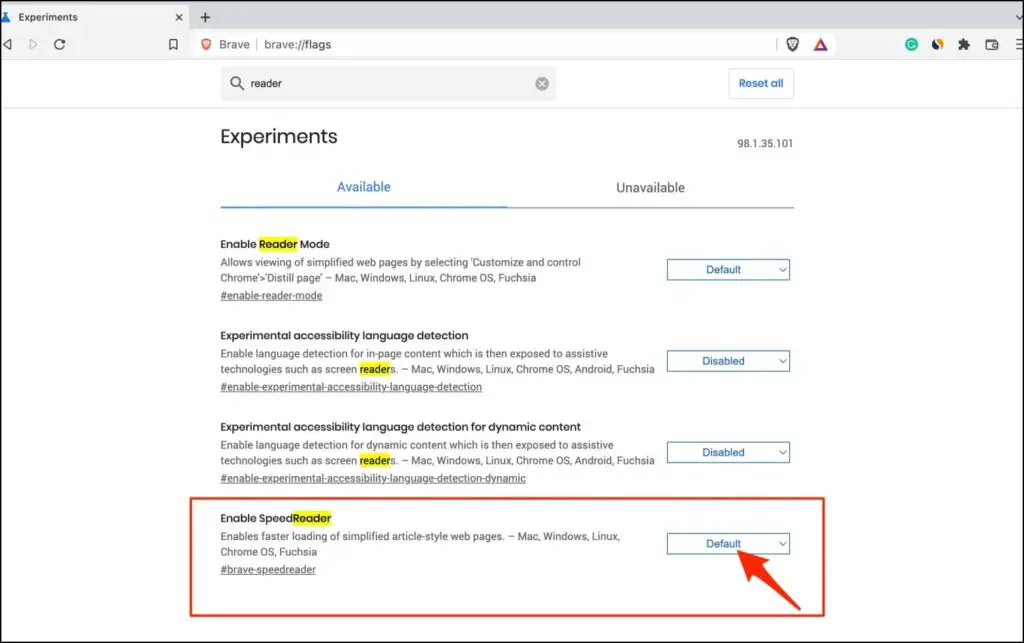 Step 4: Change it from Default to Enabled.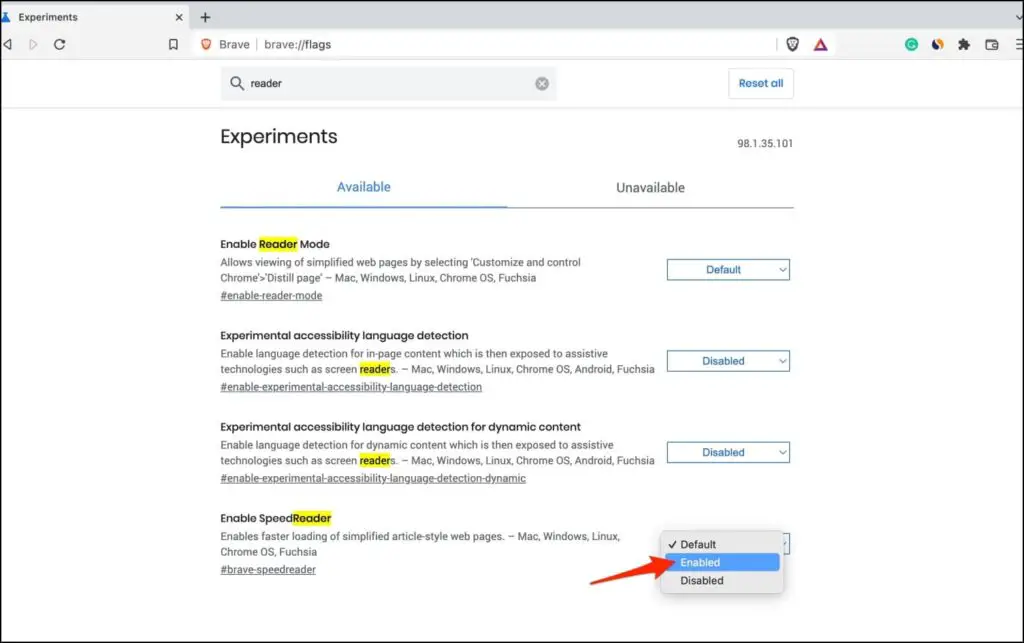 Step 5: Finally, click Relaunch at the bottom to restart the Brave browser.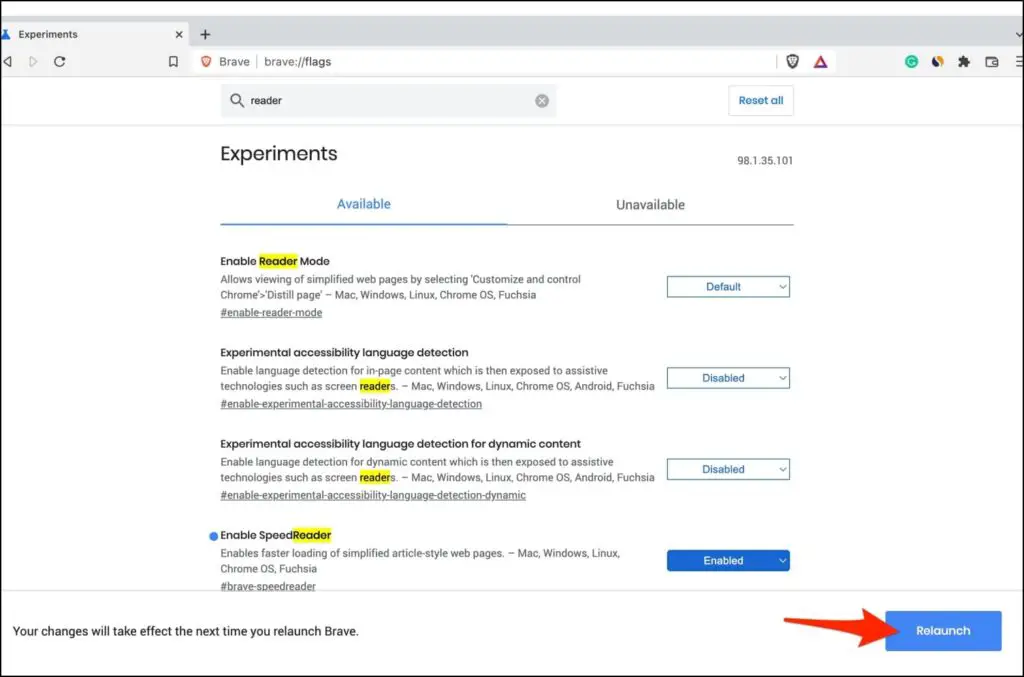 Using Brave Speed Reader Mode
Now that you've enabled Speed Reader, here's how to use it:
Step 1: Visit any webpage with an article in Brave browser.
Step 2: Click the Reader Mode icon (horizontal lines) next to the address bar.

Step 3: The webpage will now reload in a cleaner and simpler format without ads or clutter.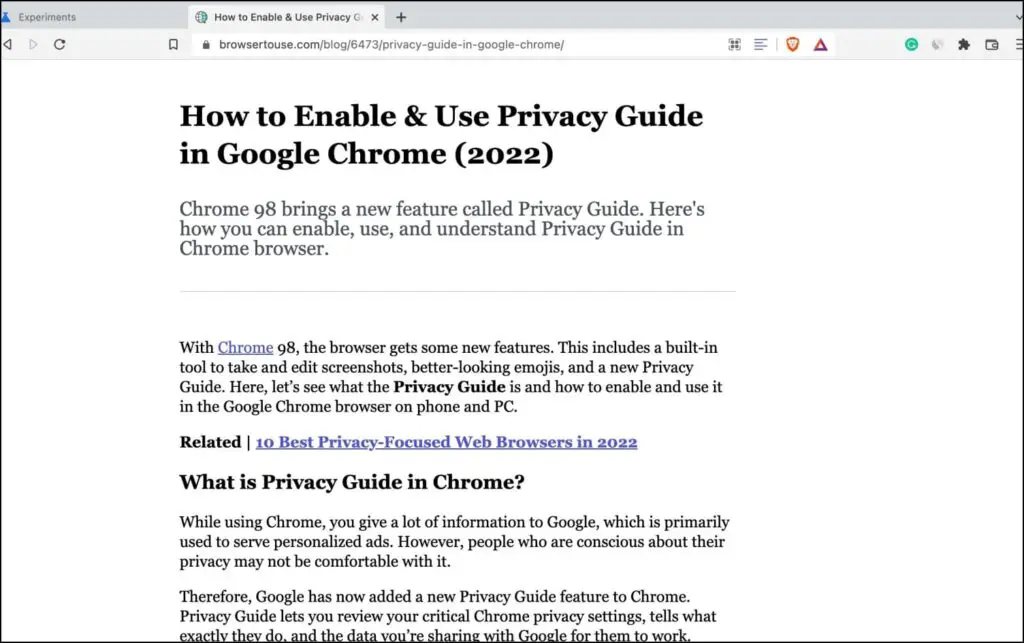 You can also print it or save it as a PDF without ads using the option.
Method 2- Using Reader View Extension
Alternatively, you can use a Reader View extension to read articles in a cleaner way on your Brave browser. Here's how to install and use it:
Step 1: Open Reader View extension on Chrome Web Store and tap Add to Brave.

Step 2: Click Add Extension to confirm.

Step 3: You'll now see the extension icon at the top right of the toolbar. If not, click the Extensions menu icon (puzzle) and tap Pin next to the Reader View extension.

Step 4: Now, visit any web page or article on which you want to use reader mode.
Step 5: Click the Reader View icon.

The page will instantly switch to a cleaner, eye-friendly view.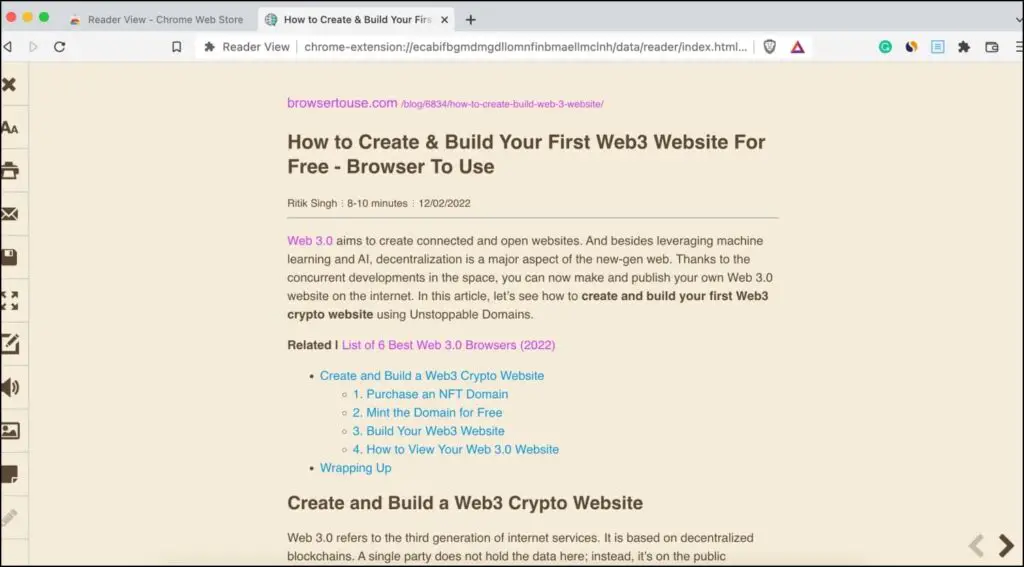 You can further customize the font, font size, height and change background color to dark or lighter shades.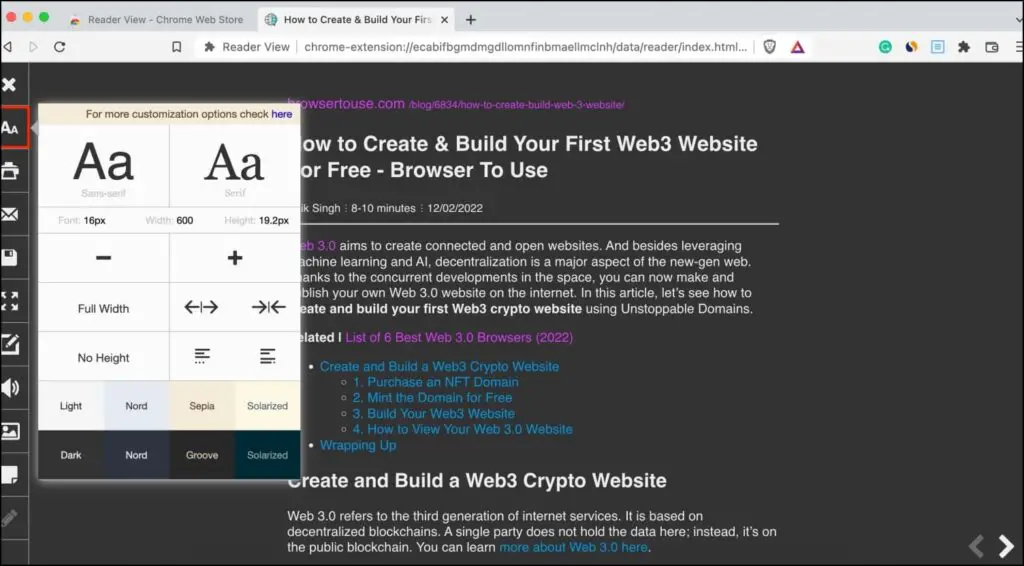 The extension can also read aloud the webpage content. All you need to do is click the Speaker icon in the toolbar on the left.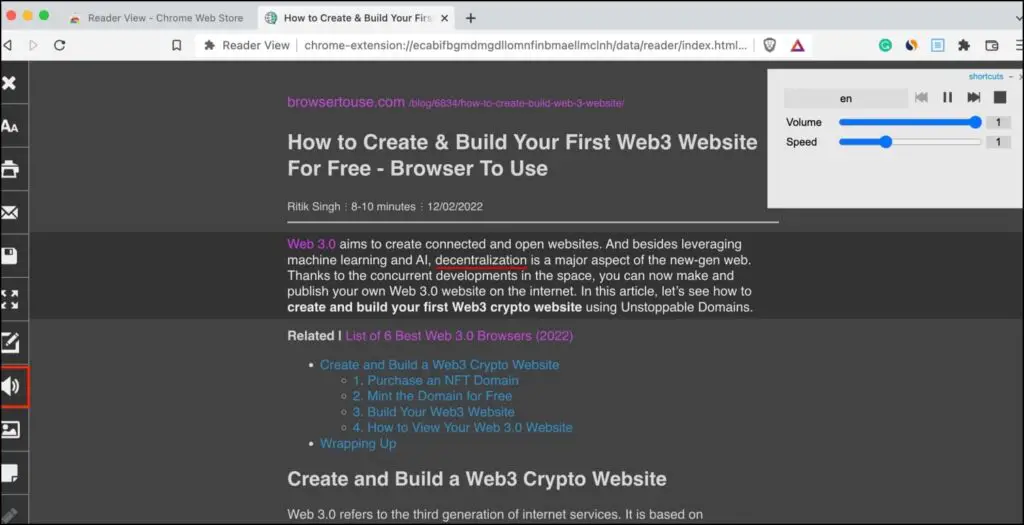 You can disable Reader mode when you're done reading by clicking the extension icon.
Read Webpage Without Ads or Clutter in Brave
This was all about how you can enable and use Reader Mode or Reader View in Brave Browser. The feature is hidden under the flags, but we expect it to be available by default with more features very soon. You can also use the Reader View extension, which offers more customization options for comfortable reading. Stay tuned for more tips, tricks, and how-tos around browsers you use.