To think that you could get paid for browsing the web sounds too good to be true, but it's possible thanks to Brave Browser. It allows you to earn money in the form of cryptocurrency. If this got you curious and want to learn how you can also earn from Brave Browser, join us as we explore different ways to earn money from Brave browser. We'll also discuss how many BATs you can earn by watching ads in the browser.
Related | What is Brave Talk? How to Use it? Brave Talk vs. Zoom & Google Meet
What is Brave Rewards and BAT?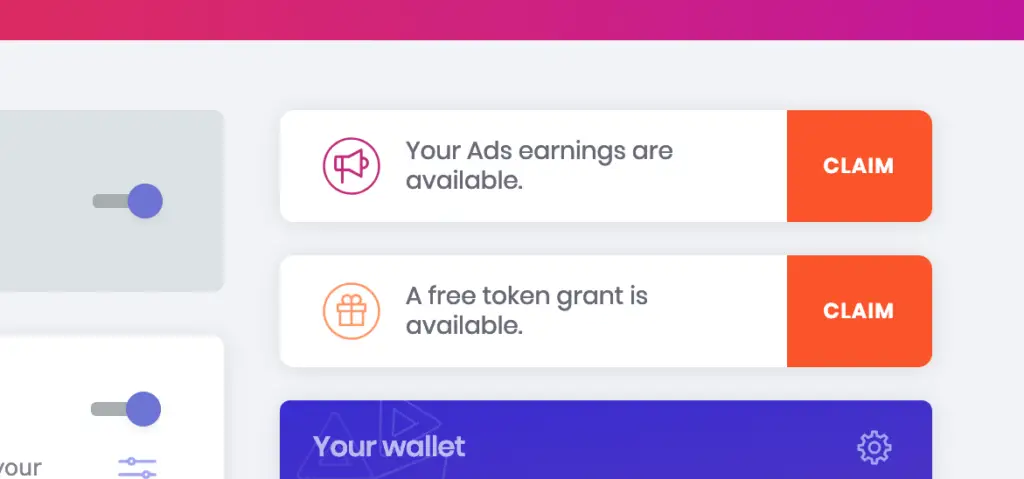 Brave is a Chromium-based web browser that looks and works similar to Chrome. It also supports all Chrome extensions but focuses on privacy and protecting your data from malicious trackers, and blocking ads. Plus, it does not store or misuse any of your data.
Brave's most popular feature is its built-in ad system that rewards you for viewing privacy-preserving ads. This is called Brave Rewards. It is an optional service that you can disable anytime. Furthermore, you can set the number of ads you want to see and earn in the form of a BAT.
BAT(Basic Attention token) is a cryptocurrency similar to Bitcoin and Ethereum. Its goal is to efficiently distribute advertising money between advertisers, publishers, and readers of online marketing. Brave believes that the user should be an active participant and distributes 70% of the ad revenue, which they can keep for themselves or tip to their favorite creators to support them directly.
How to Earn Money With Brave Browser
Method 1- Earn BAT Using Brave Ads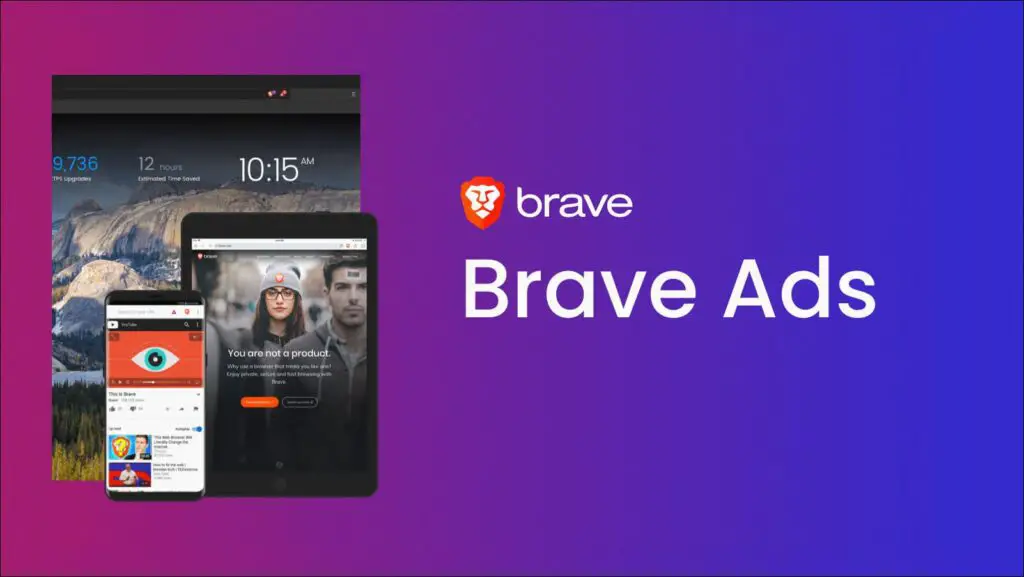 As a Brave user, you can turn on Brave Ads to earn free BAT for getting ad notifications and surfing the web. These will be ad notifications and won't ruin your browser experience or annoy you.
You will have control over how many ads you want to see and turn it off anytime. You won't get rich, but it's still better than receiving nothing in return. Here's how you can enable Ads in Brave:
Steps to Enable Brave Ads
Step 1: Open Brave and go to Settings.
Step 2: Head over to Brave Rewards.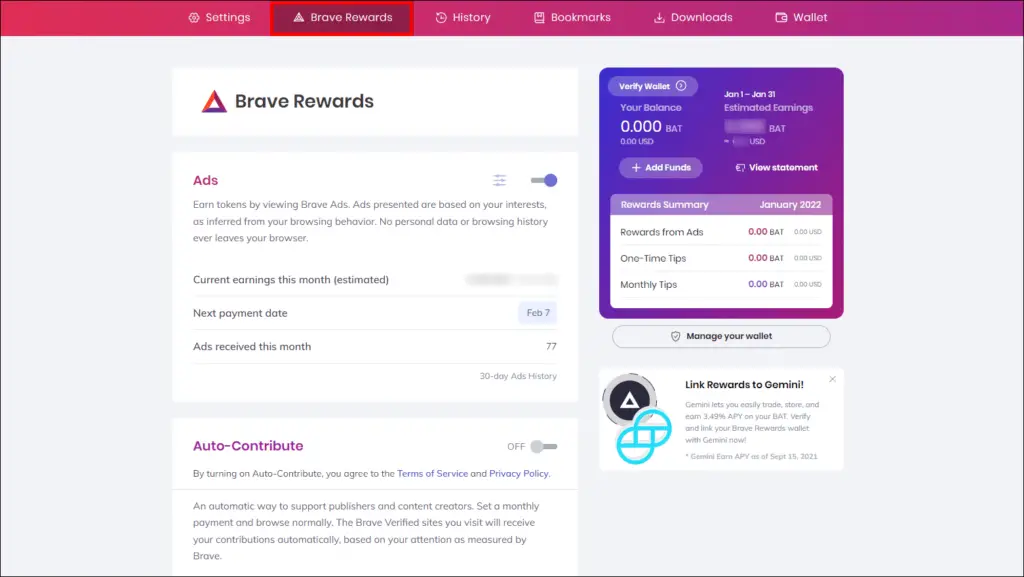 Step 3: Toggle on Brave Private Ads.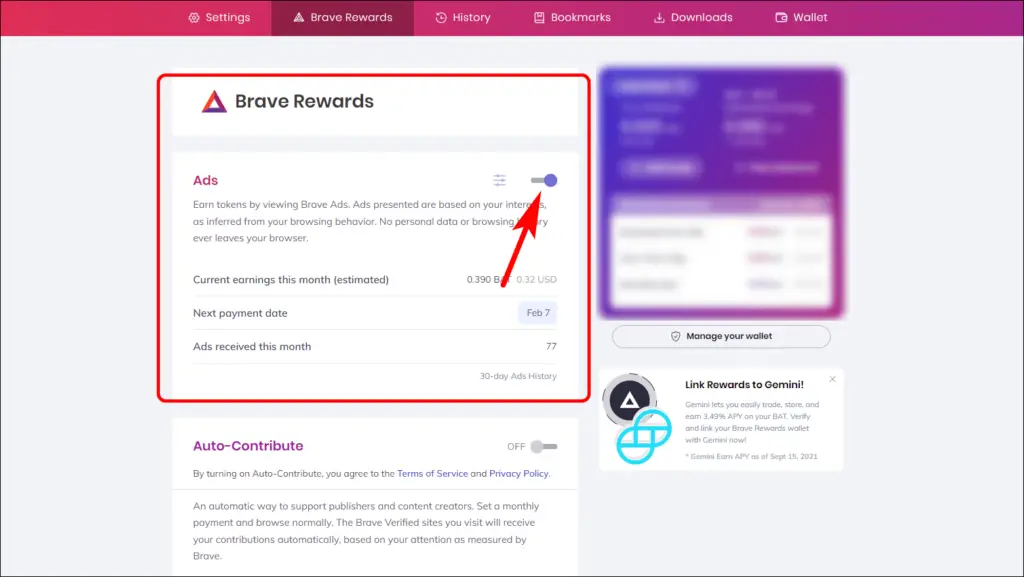 Step 4: Select the number of ads you want to receive per hour.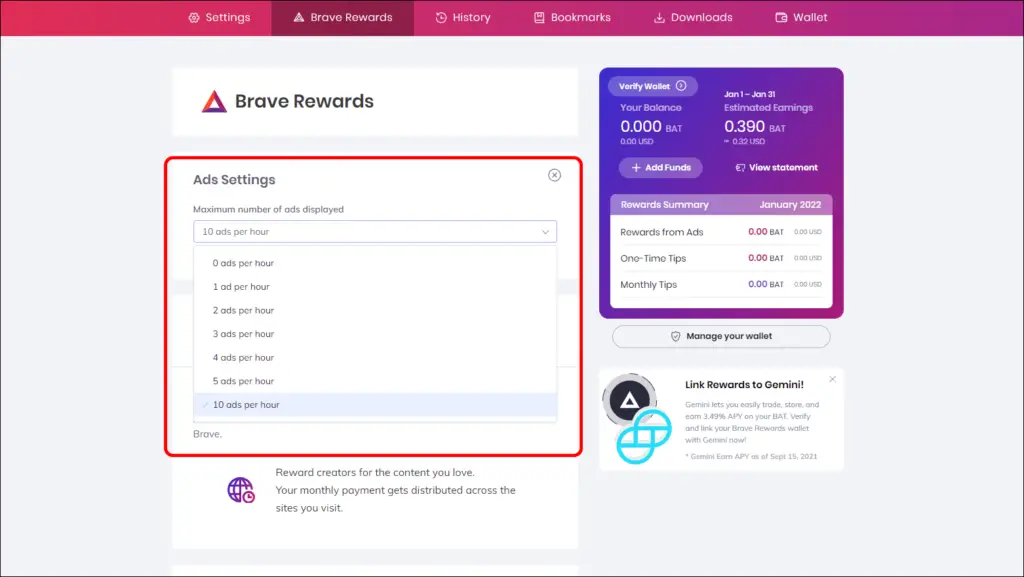 You'll receive the BAT tokens you have earned throughout the month at the beginning of every month.
How Much Can You Earn With Brave Ads?
As an average user, you can expect to earn 3-4 BAT tokens every month. They are not much but better than nothing. If you choose to use Brave for 8 hours almost regularly, then you can expect to earn 5-7 BAT every month.
You can click on the triangle BAT icon on the right of the address bar to keep track of see how many BAT tokens you have earned and their value in USD.
Increase Your Earning with Brave Ads
There are certain steps you can take to maximize your earnings from Brave. Let us take a look at them.
Set the number of Ads per hour to 10 to get the most ads.
Make Brave your default browser and use it as much as possible.
Start using Brave browser on your other devices like phone and tablet.
Turn off Auto-contribute feature.
Go to Customize option at the bottom on homescreen and enable Show Sponsored Images.
In the same Customize menu, enable Brave News and scroll down to view news every now and then.
Clicking ads in the Brave News section may boost the BAT rewards.
Delays in Brave Rewards Payment
Some Brave users have reported delays in payment of their Brave rewards. As per Brave, the payment process starts on the 5-8th day of the month. Hence, there may be a delay in the payout basis number of users in the queue.
A few have received their delayed payments by the 17-18th date of the month. Brave generally informs users of such delays in their community. You can check the payments page in Brave community to see these announcements.
Availability in Countries
The Brave Rewards program is geo-restricted and only available in the following countries as of now:
United States
United Kingdom
Canada
France
Germany
Australia
Ireland
New Zealand
Argentina
Austria
Brazil
Switzerland
Chile
Colombia
Denmark
Ecuador
Israel
India
Italy
Japan
Korea
Mexico
Netherlands
Peru
Philippines
Poland
Sweden
Singapore
Venezuela
South Africa
Method 2- Get Free BAT Token Grants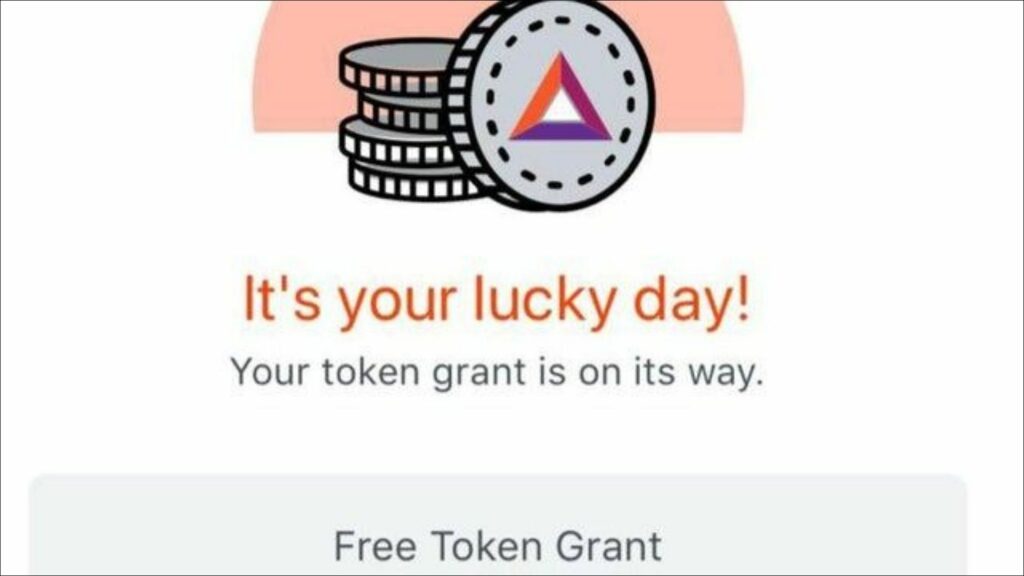 You can earn BAT tokens just for installing and using Brave Browser. New users may receive a grant of BAT tokens that can be anywhere between 1 BAT token to 25 or more in rare instances even more. You need to enable Brave Rewards to be eligible.
Similarly, users can also receive BAT token grants. These grants are available monthly and given to completely random users. You may receive a grant in your first month and not receive any for the next 6-7 months. The factors influencing which users will get grants are unclear, so we suppose users are selected at random.
We suggest making sure Brave Rewards is enabled and actively using the browser. Unlike Brave rewards, grants are available worldwide.
Note: Brave browser does not host any airdrops over Telegram, Discord, or any other platform, so make sure you do not fall for such scams.
How to Claim BAT Token Grant
Step 1: Go to Settings in Brave.
Step 2: Enable Brave Private Ads in the Brave Rewards section.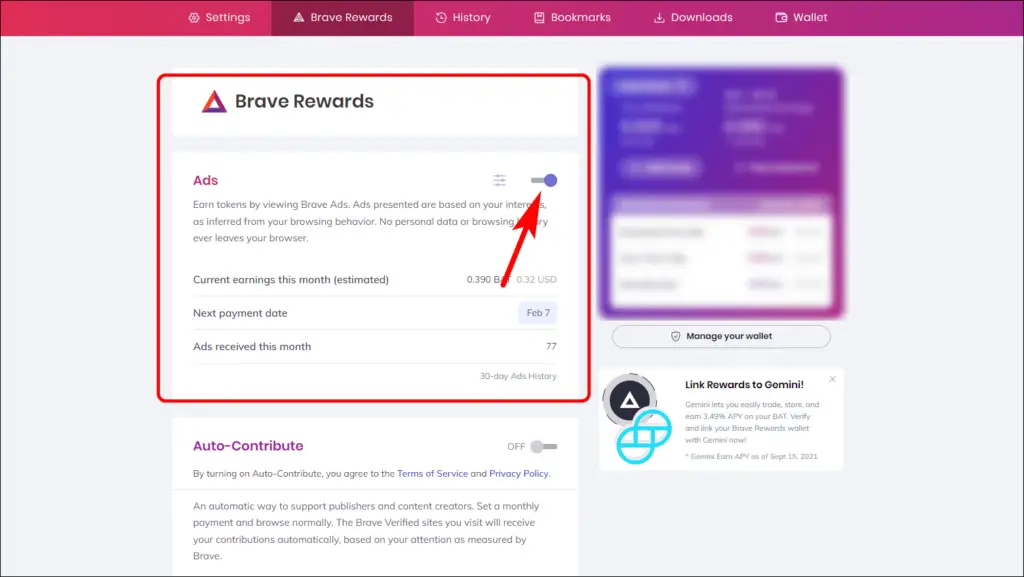 Now, you will receive a notification on the triangle BAT icon on the address bar whenever a grant is available.
Step 3: Click on the triangle BAT icon.
Step 4: Click OK on the Token Grant notification to go to Brave Rewards.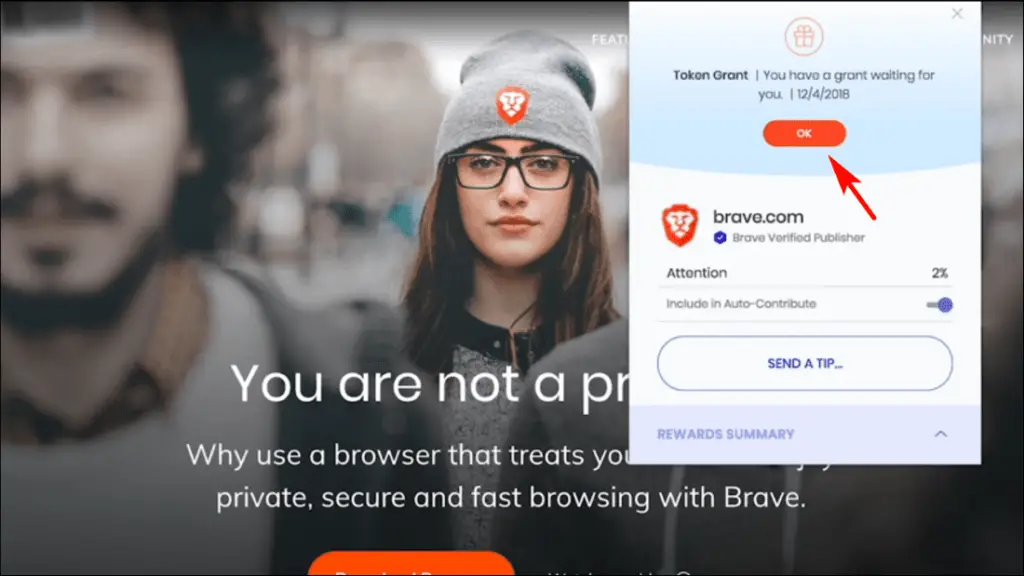 Step 5: You will see a banner to claim your grant.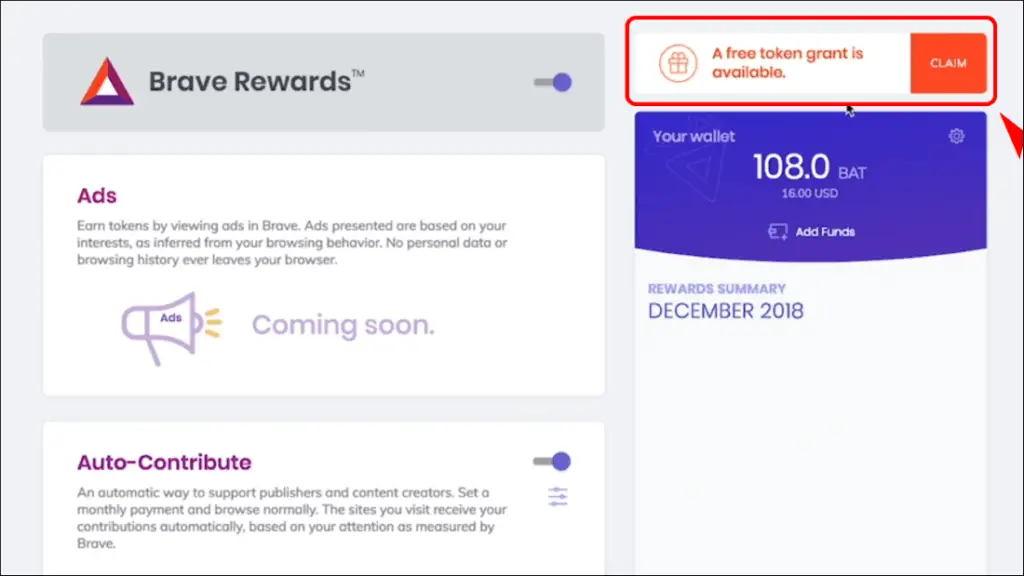 Step 6: Click on Claim and solve a simple game to receive your BAT Tokens.
Once you solve the puzzle, you will see how many tokens you have received in the grant.
Step 7: Click OK, and the grant BAT tokens will be added to your Brave wallet.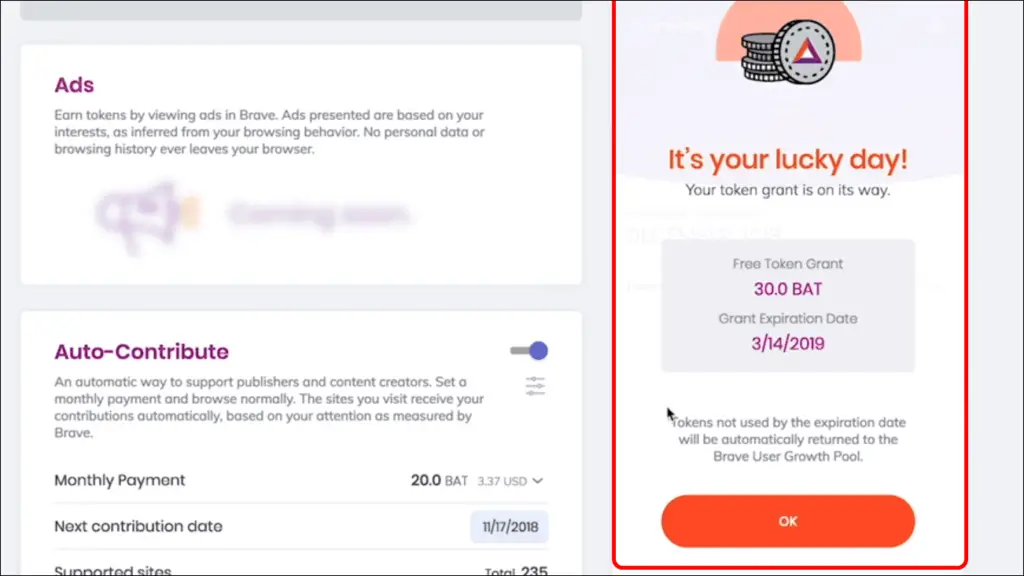 This is how you can claim and add grant tokens to your Brave wallet.
Method 3- Earn With Brave Creators Program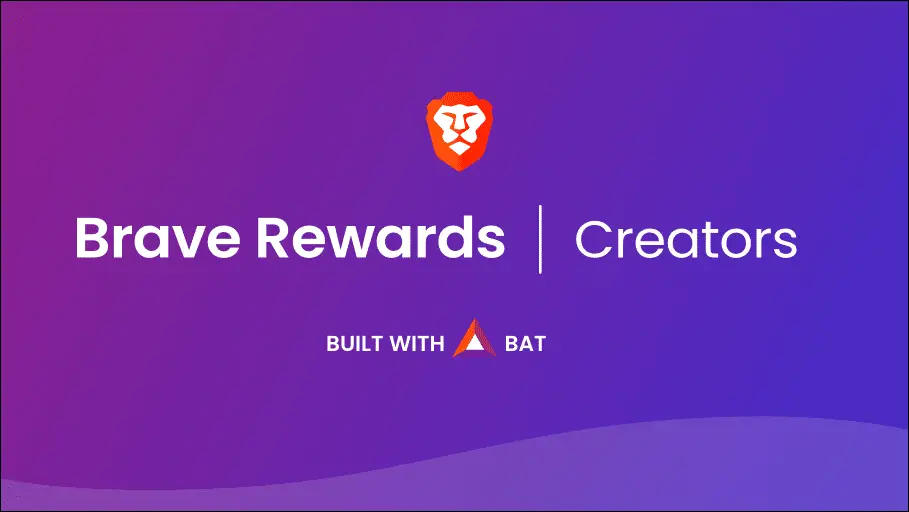 Brave allows users to tip BAT tokens to their favorite creators directly. Well, you can also be a verified creator on Brave. You can be a Youtuber, streamer on Twitch, a podcaster, or just an active user on Twitter. You can earn BAT tokens by signing into the Creators program with your account and linking a verified wallet.
This will show you as a verified creator on the Brave browser with a BAT symbol on your channel or account. Users can tip you directly or ask your followers to automatically make a donation and set a monthly schedule to support your website or channel. This is by far the best method to earn the most BAT if you have a decent size of followers.
Set Up a Creator account with Brave
Step 1: Head to Brave Creator.
Step 2: Sign up by entering your email registered with the account you want to add.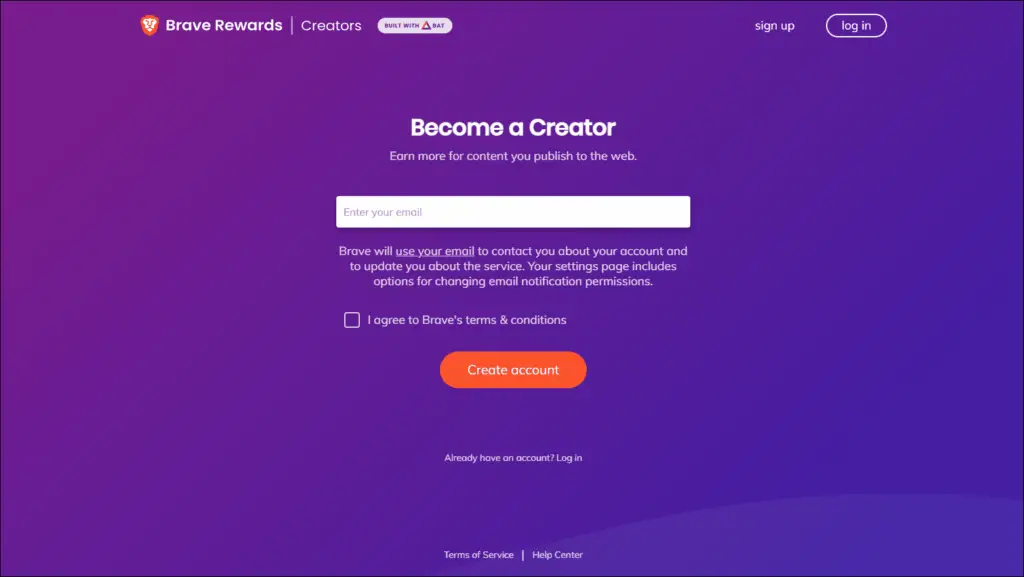 Step 3: An email will be sent to you. Go to your emails and authorize your account.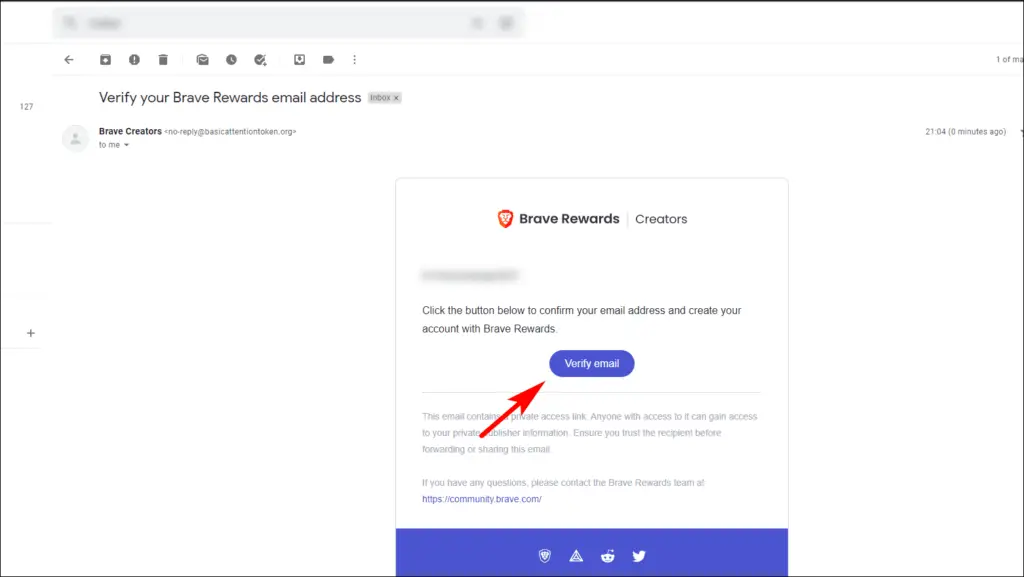 Clicking on the email link will take you to the setup page.
Step 4: You will have to add your channel and link a secure wallet to receive contributions.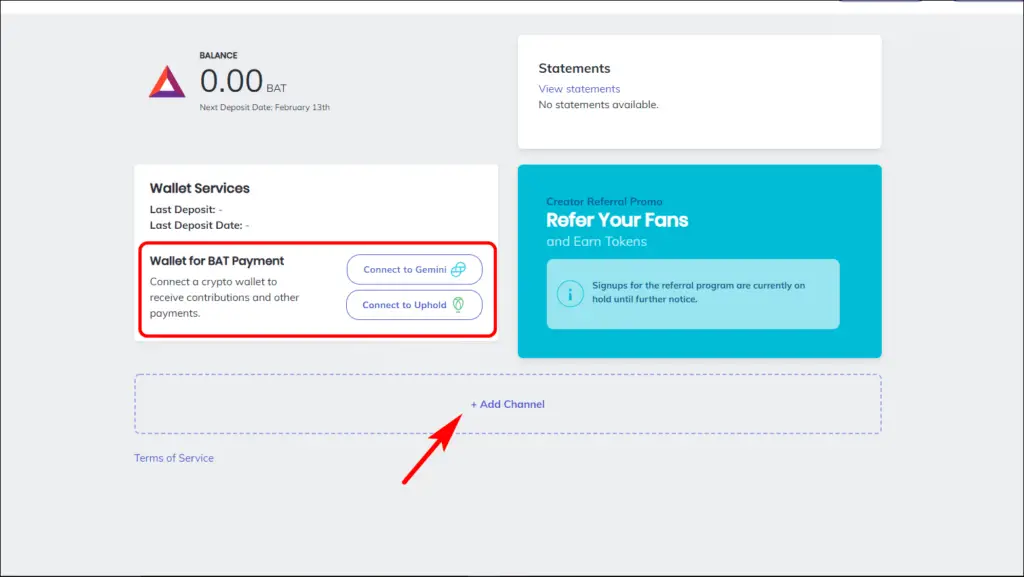 Step 5: Select your platform and enter your username or ID. Verify the same.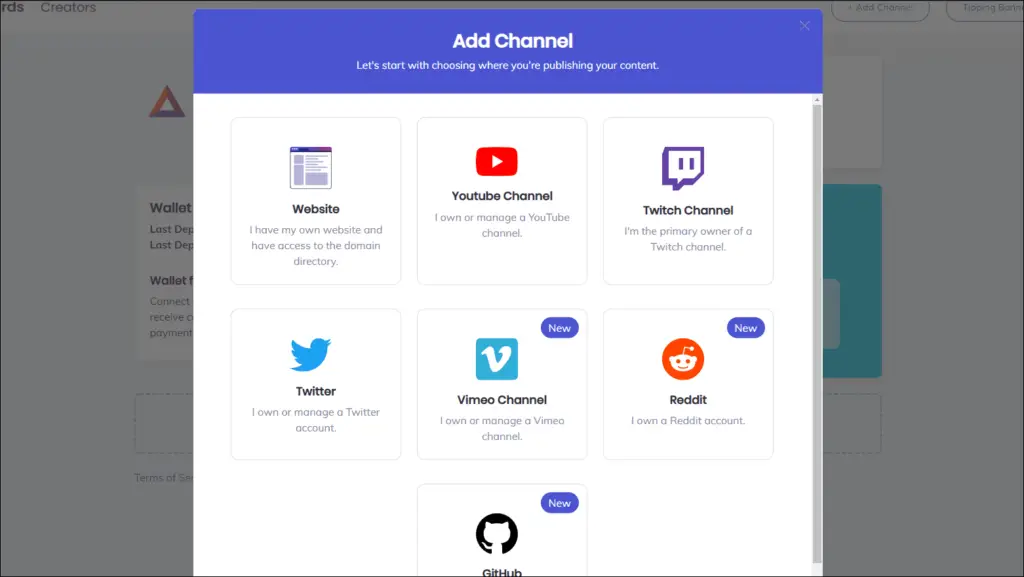 That's it! You are now registered as a verified creator on brave, and your followers will be able to tip you BAT that you can redeem from your wallet. Brave Rewards will show a tick and option to tip when someone visits your profile or page.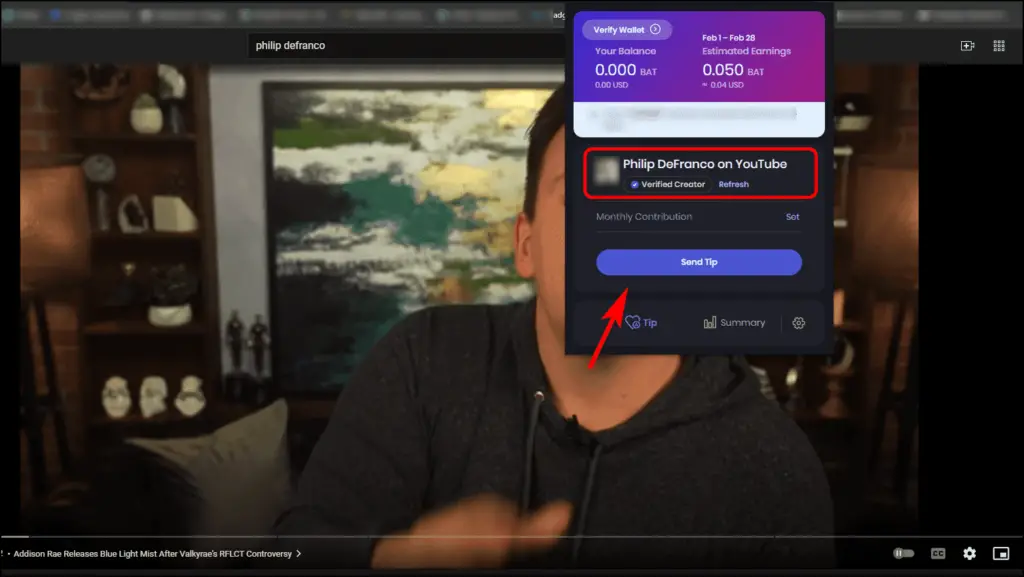 Refer to the Withdrawing BAT tokens section to learn how to set up a secure wallet.
Method 4- BAT as an Investment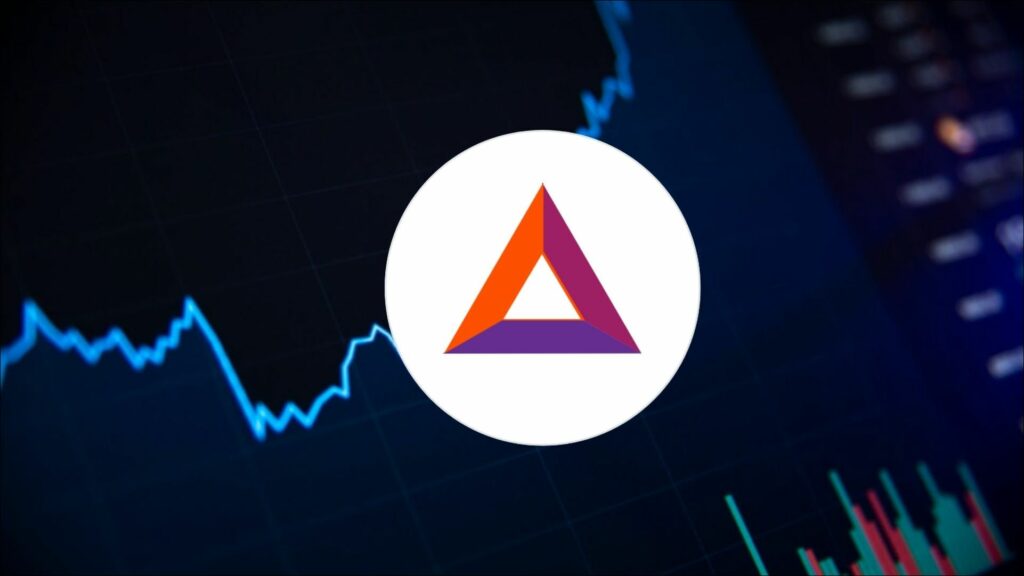 BAT as a cryptocurrency is native to Brave but has its advantages. You can trade BAT for other cryptocurrencies like Bitcoin or Ethereum on crypto exchanges or sell it for money.
But just like other cryptocurrencies, the value of BAT is volatile and constantly changing. In February 2021, the value of BAt was 25₹ or 0.3 USD, and currently, it is 65₹ or 0.8 USD. People who held onto their BAT rewards made more money if they sold their tokens now instead of last year.
So you can look at BAT tokens as an investment opportunity and hold on to them till you see a rise in their value and sell them to earn more money. Just make sure to link a verified wallet to transfer BAT to crypto exchanges to trade or sell them.
What Happened to Brave Refer to Earn Program?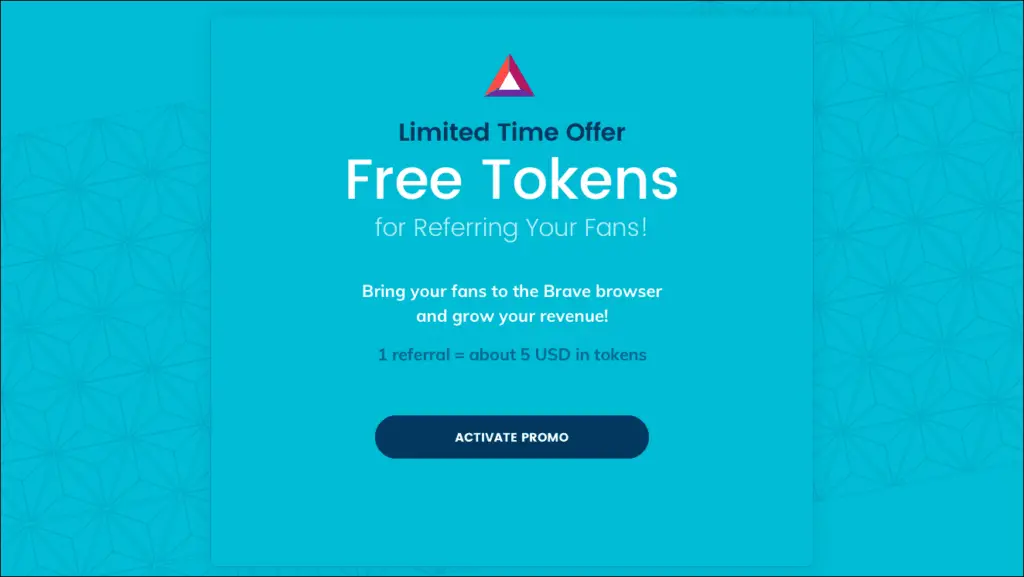 Previously, you could refer your friends, family, and followers to download Brave browser via a link. For every download from your referral link, you would earn a decent amount of BAT tokens which varied based on your region.
Brave started this to gain more users, but now it has reached a substantial user base, so this program has been discontinued. There are no official statements that this program will be available again soon.
Withdrawing BAT Tokens to
You can manage them with the inbuilt wallet in brave or use them to support other creators on Brave or withdraw your earnings by setting up a verified wallet.
We recommend setting up a Gemini wallet as Uphold requires 15 BAT tokens to set up an account.
You will have to provide your phone number, address, and identification card to verify your wallet and add your bank account details to withdraw money. Here's a step-by-step guide to set up Brave Rewards and Wallet.
Earn Money as You Use Brave
Brave has used blockchain technology for web browsing and web-based advertising and created a fair economy where the user's data never leaves their device, and they can earn a cut of the ad revenue while also having control of which website or creator they want to support. This was our list of different ways to earn money from Brave browser, and I hope you found it helpful.