Do you want to auto-delete the browsing history of websites you visited the moment you close Google Chrome? Well, whatever you browse on the web adds up to your browsing history. This includes your searches, websites you visit, cookies, cache, and other data. The history helps personalize the web experience, bring back pages you've visited in past, and reach the favorite sites more quickly.
However, it also leaves your privacy at risk when you hand your computer to someone else. In that case, you'd want to clear the history every time you exit the browser. But, what if Chrome could do delete the data automatically for you? In this article, I've explained some quick ways to auto-delete the browsing history of websites visited when you quit Chrome.
Auto-Delete Chrome Browsing History On Exit
Below, I've mentioned three quick ways to delete Chrome browsing history whenever you close the browser on your computer. This will help you tighten your privacy and also have a fresh start every time you start a new browsing session.
1. Clear Cookies & Site Data When You Quit Chrome
As of now, Google Chrome lacks an auto delete browsing history feature. It means there is no built-in option that you can turn to automatically delete all the browsing history when you close the Chrome browser.
That said, it does come with an option to clear cookies when you quit Chrome. For many people clearing cookies is important so they do not get tracked by websites. Follow the below steps to enable clear cookies when you quit Chrome.
Step 1: Tap on the Chrome's three-dot-menu.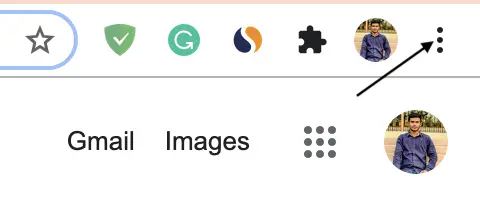 Step 2: Go to Settings.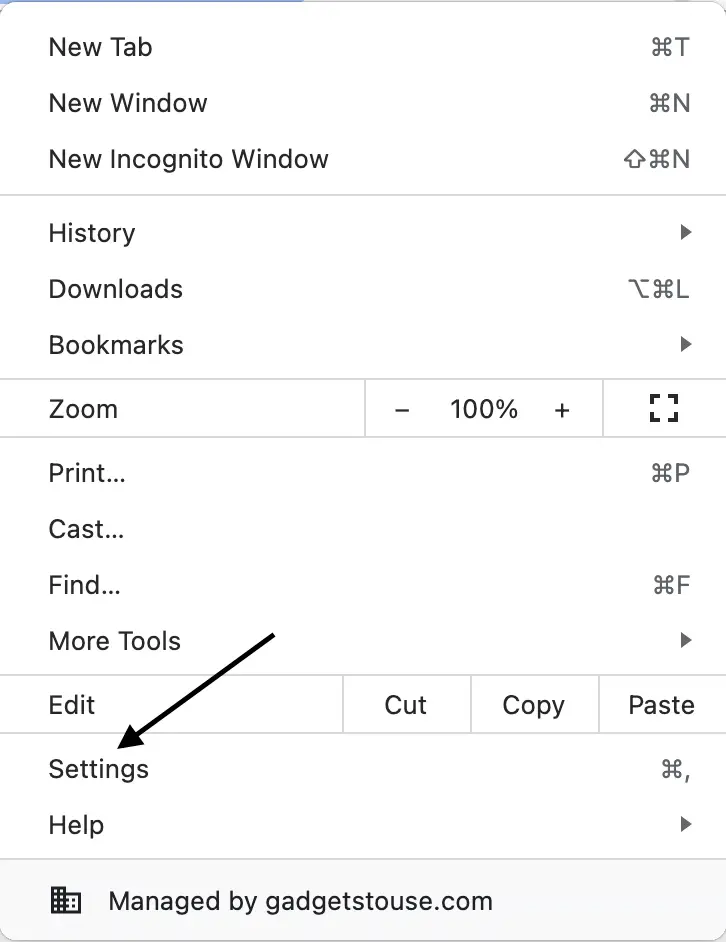 Step 3: In settings go to Privacy and Security settings.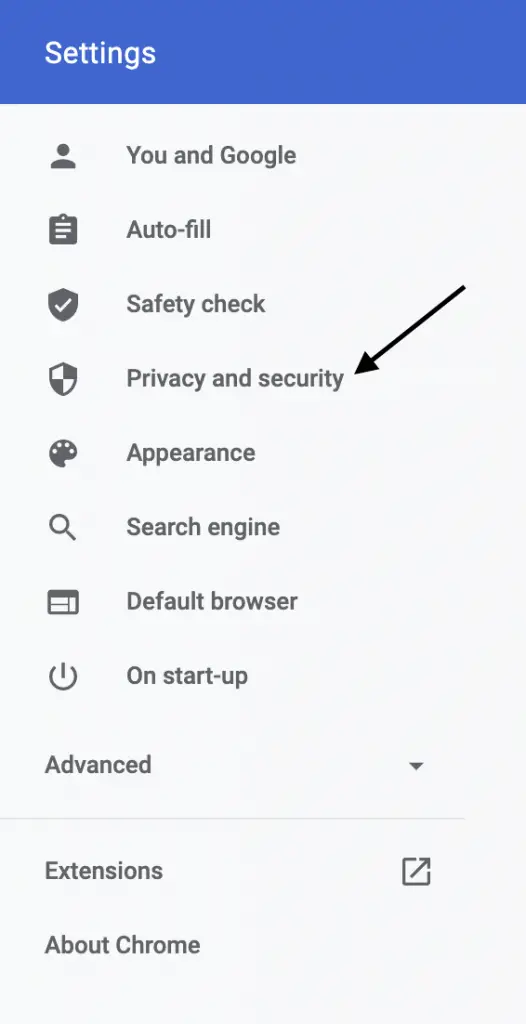 Step 4: Under Privacy and Security settings find Cookies and other site data. Click on it.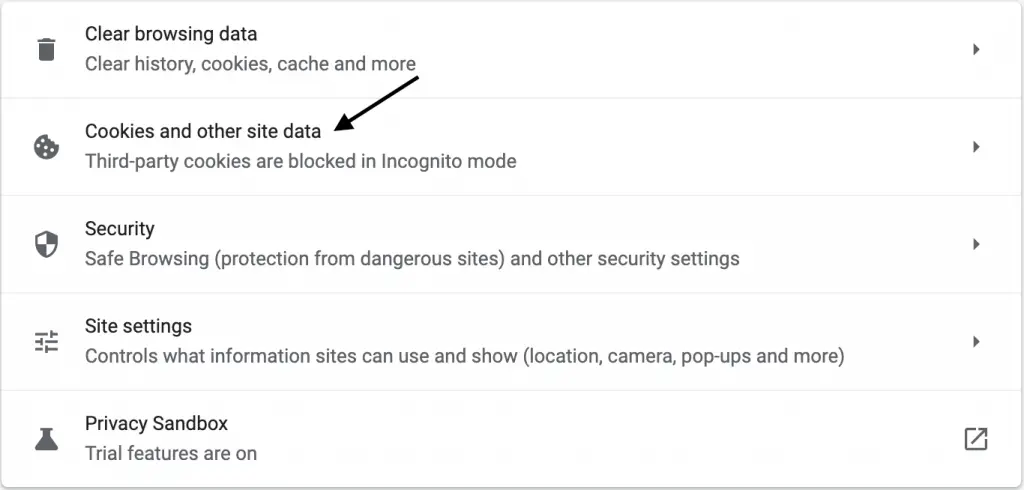 Step 5: Alternatively you can directly paste "chrome://settings/cookies" in the Chrome search bar and it will take you to the same page.
Step 6: Now, you will see an option "Clear cookies and site data when you quit Chrome" Turn on the toggle.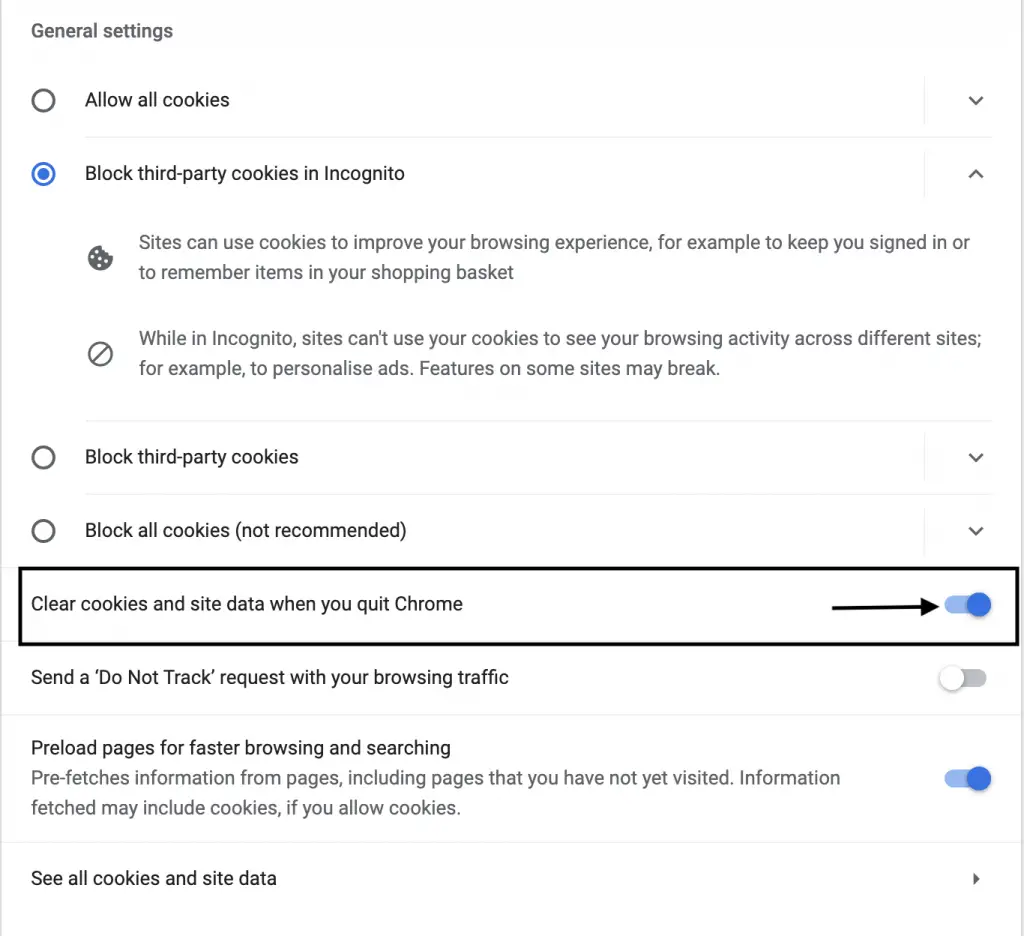 Step 7: Now all your browser's cookies will be auto deleted whenever you will quit chrome.
2. Clear Browsing Data Manually (The Old School Way)
The above method lets you auto-clear Chrome cookies on exit but not the browsing history. As mentioned earlier, there is no built-in feature to do so but still, you can do it. You can clear browsing data either by going to history and clear browsing data or by using Chrome extensions.
I personally like my browsing history to be cleared each time I quit Chrome so I can do a fresh start. I have made a habit so each time I have to close Chrome I go manually to the history and clear my browsing data. It sounds very old school but for me, It is much better than adding third-party extensions.
If you feel the same, follow the steps given below to manually clear browsing data each time you quit Chrome.
Step 1: In the Chrome's search bar paste "chrome://settings/clearBrowserData". It will take you directly to the page you are just a click away from clearing all your browsing history.
Step 2: Now you will see two options Basic and Advanced. The basic option is just for clearing browsing history, cookies, and cached images and files. It is enough for most of the users.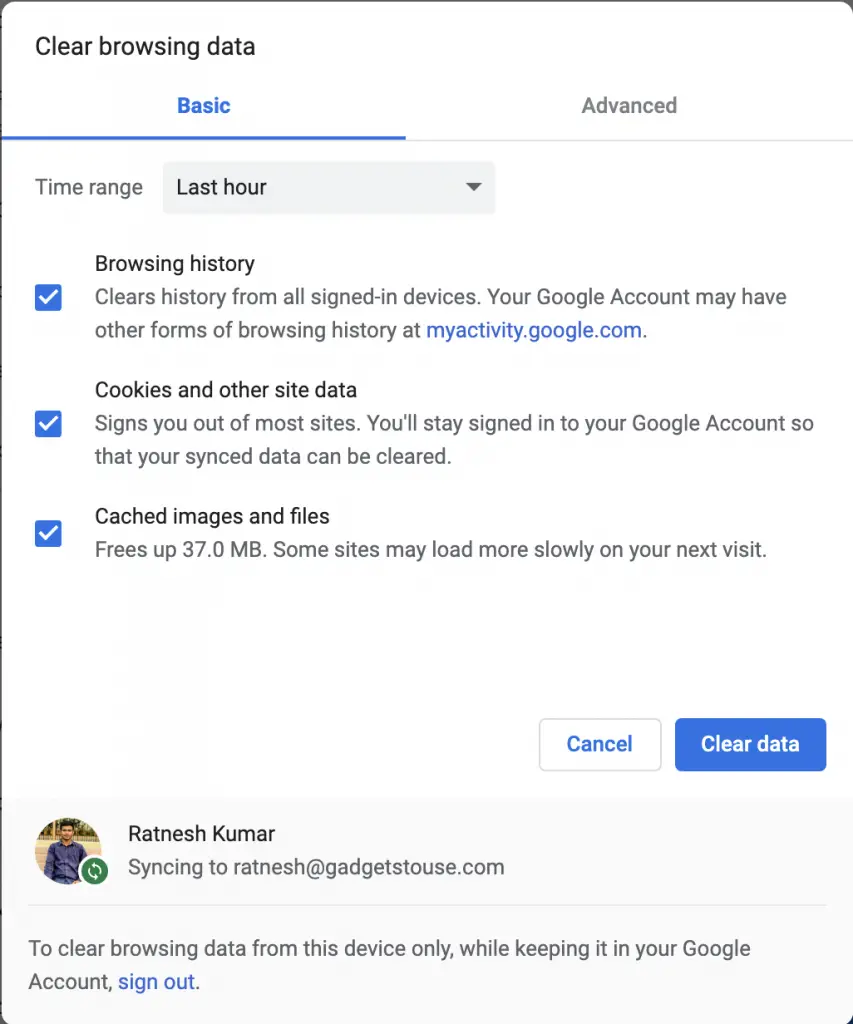 Step 3: The advanced option is for someone who wants to clear everything not just browsing history, cookies, and cache. I mean Download history, saved passwords, auto-fill form data, site settings.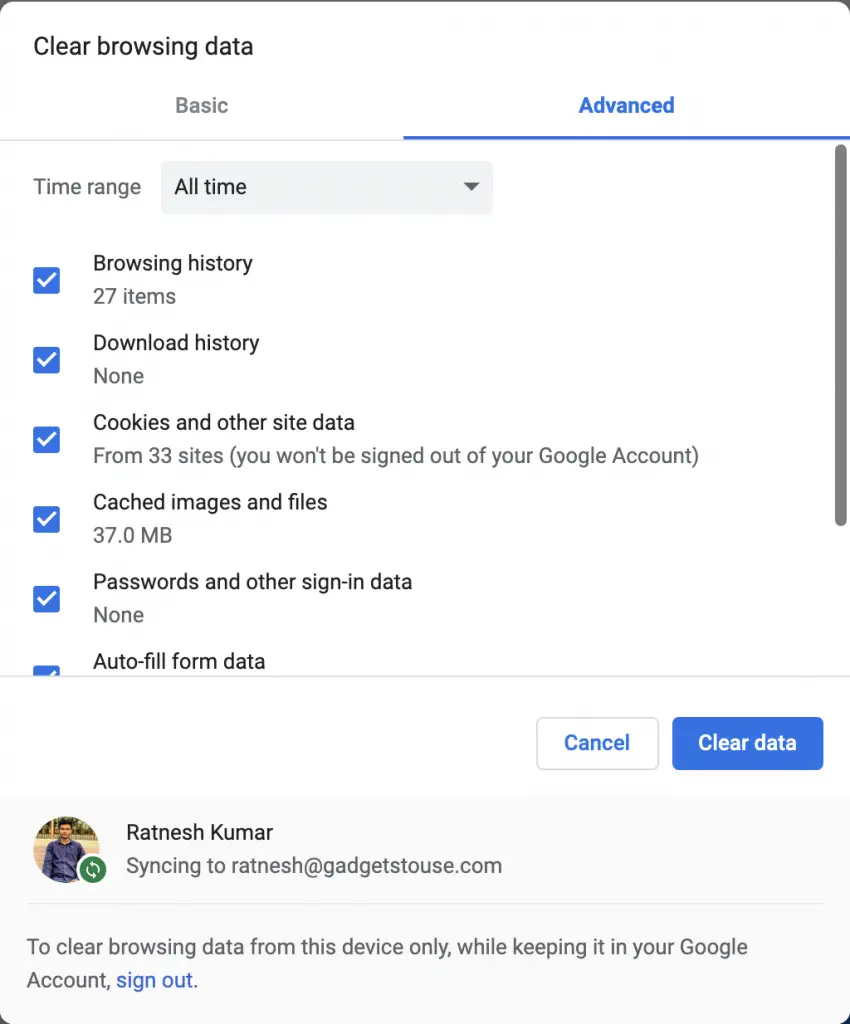 Step 4: You can pick either Basic or advanced as per your preference. I personally use advanced each time. And then click clear data.
3. By Using Chrome Extensions
Chrome Web Store is full of extensions having the ability to clear browsing history every time you quit Chrome. I have tried almost all of them and the one I like the most is named "Auto History Wipe".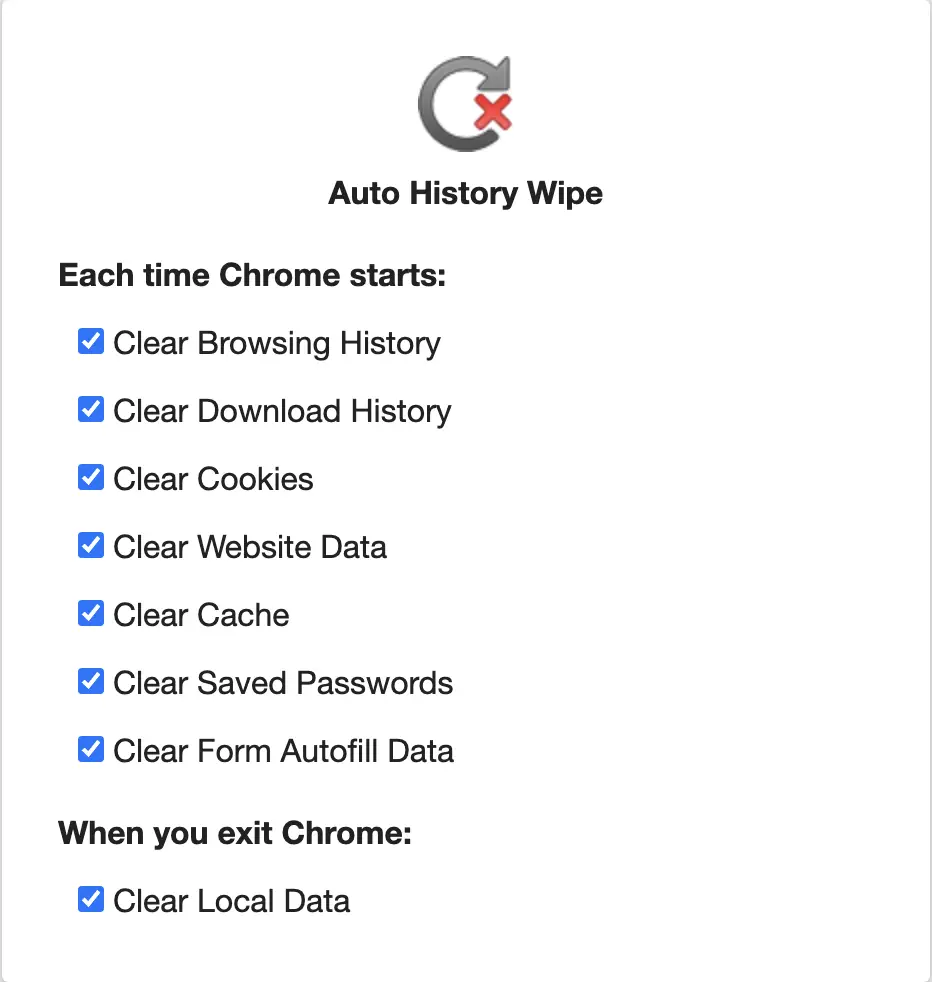 It gives options to clear the browsing history, download history, cookies, website data, cache, saved password each time Chrome starts. Additionally, you can select to clear local data when you close Chrome.
Bonus- Using Chrome Actions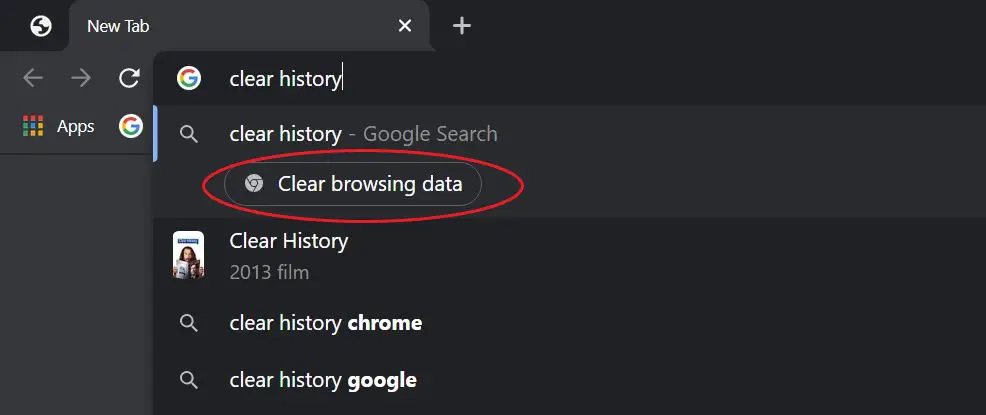 Chrome lets you perform certain actions directly from the address bar including the option to clear browsing history. All you need to do is type "clear history" in the search bar. Then select Clear Browsing Data from the suggestions.
This will help you manually clear the Chrome browsing history and data without having to navigate around menus. You can learn more about Chrome Actions here.
Conclusion- (Solved) Auto Clear Chrome History
These were the three ways to auto-delete the browsing history of websites visited when you close Chrome. The first way is for users who want to clear just cookies. The second method is clearing all the history manually each time before you quit Chrome. Last but not least is using an extension that will clear all the browsing history each time you close the Chrome. Anyway, which way do you prefer to auto-delete the browsing history of websites in Chrome? Let me know in the comments.