The integration of AI-based language models can help make complex tasks more manageable. Given that we have already discussed useful AI-powered search engines and extensions, it is only logical that the next step towards AI integration would be into browsers. Here, we have curated a list of the best AI web browsers currently available for you to try. We will review them individually, discuss their pros and cons, and help you make your browser smarter with AI.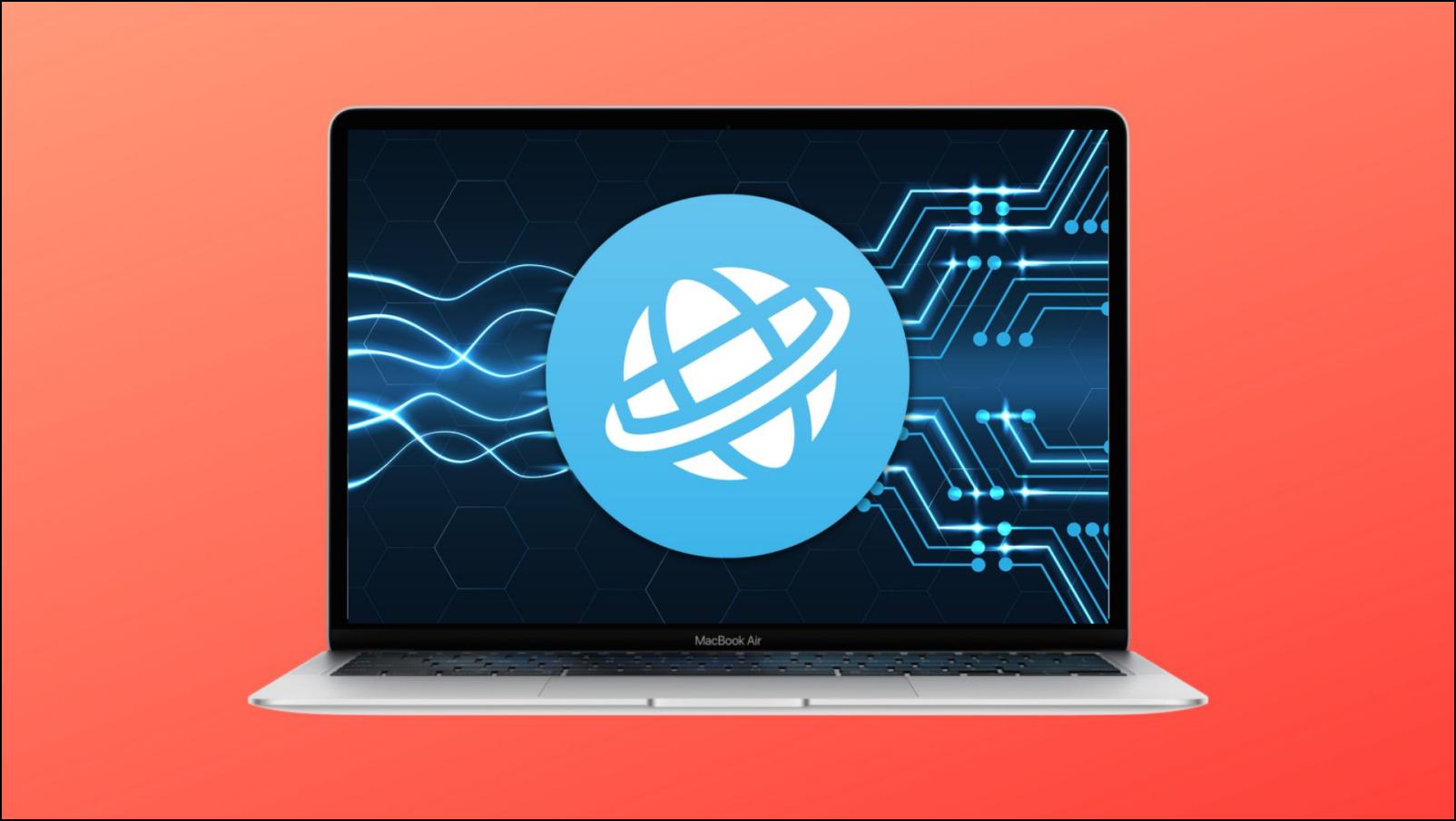 Best Web Browsers with AI Features
AI chatbots can help make a lot of things easier. This is why it has become such a big hit over such a short period. Many companies are jumping on to this AI trend to make their products smarter, more interactive, and more appealing. So how can web browsers stay behind? For this list, we will look at some popular web browsers that have added support for AI-based chatbots or other AI-related features.
1. Microsoft Edge
The first on the list is the browser that started it all, Microsoft Edge. When Bing AI first hit the scene, Microsoft made it clear that it would be only accessible through the Edge browser. Since then, the browser has added a dedicated button to easily access Bing's AI features.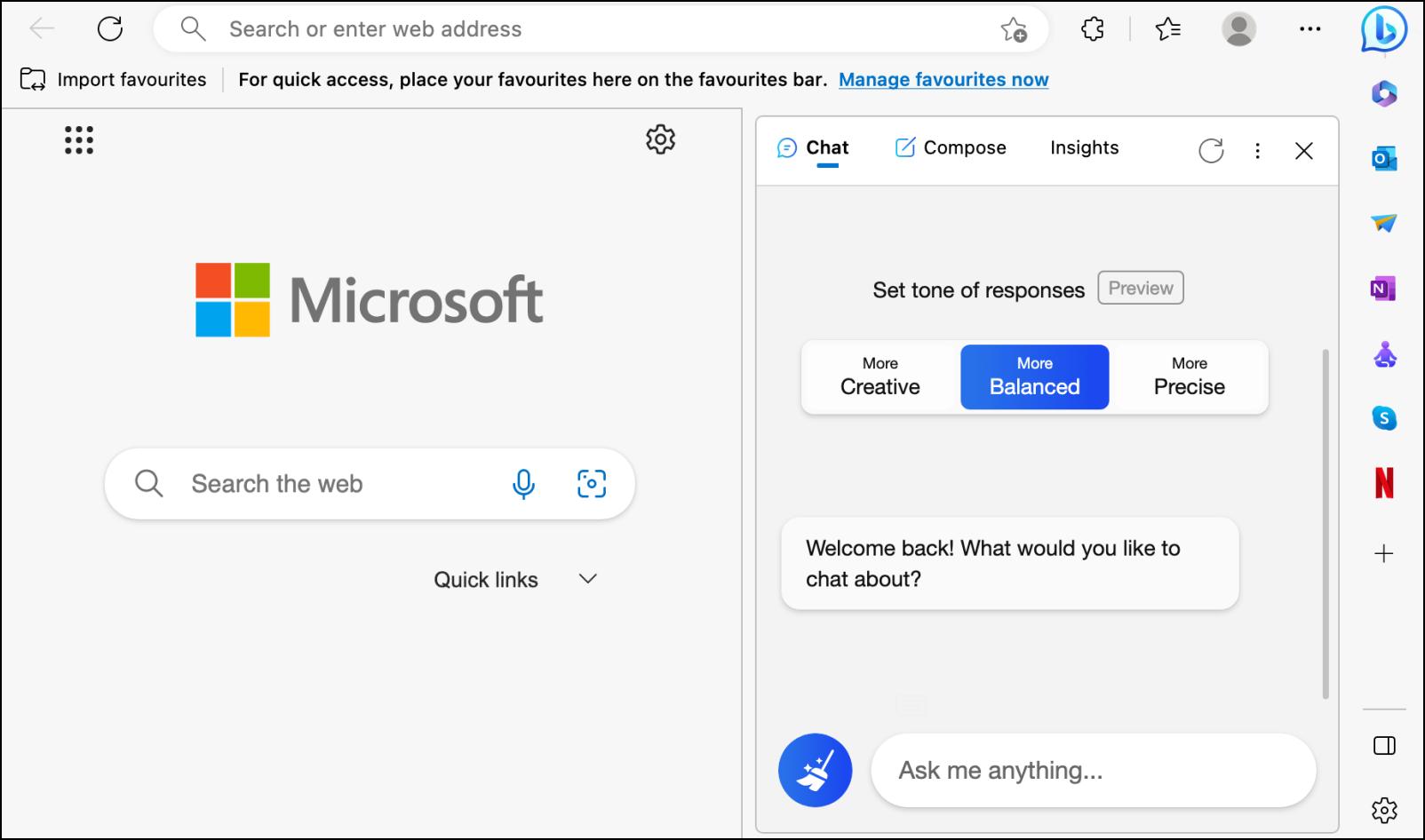 You quickly start a conversation with Bing AI by clicking on the Bing Discover button or switching to the Compose mode for formal as well as creative writing. Bing is so well integrated into Edge that you can ask it to summarize web pages and PDF files. If you want to give Bing AI Chat a try for yourself, then you should download Microsoft Edge on your desktop.
Pros:
Officially lets you use Bing AI.
Can switch between Chat and Compose features.
Summarize web pages and PDF files with AI.
Cons: 
The browser is not widely popular as Chrome.
Download | Microsoft Edge
2. Opera One AI Browser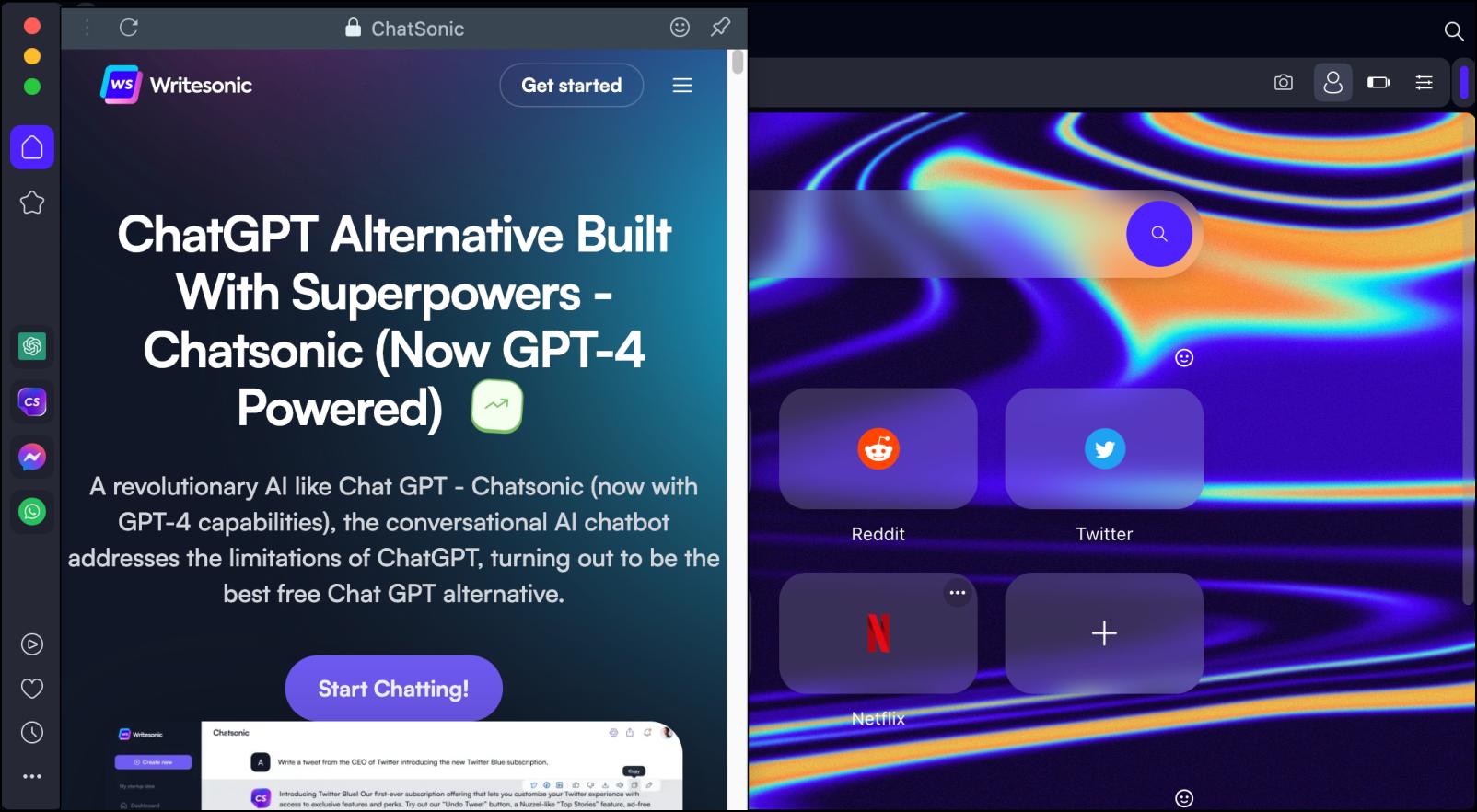 Opera One is a new addition to Opera's growing lineup of web browsers. This one is designed from the ground up to be more modular and uses multi-threaded compositors to make transitions and animations look smoother. Another new addition is tab islands which automatically group relevant tabs for easier management. Here's more about Opera One.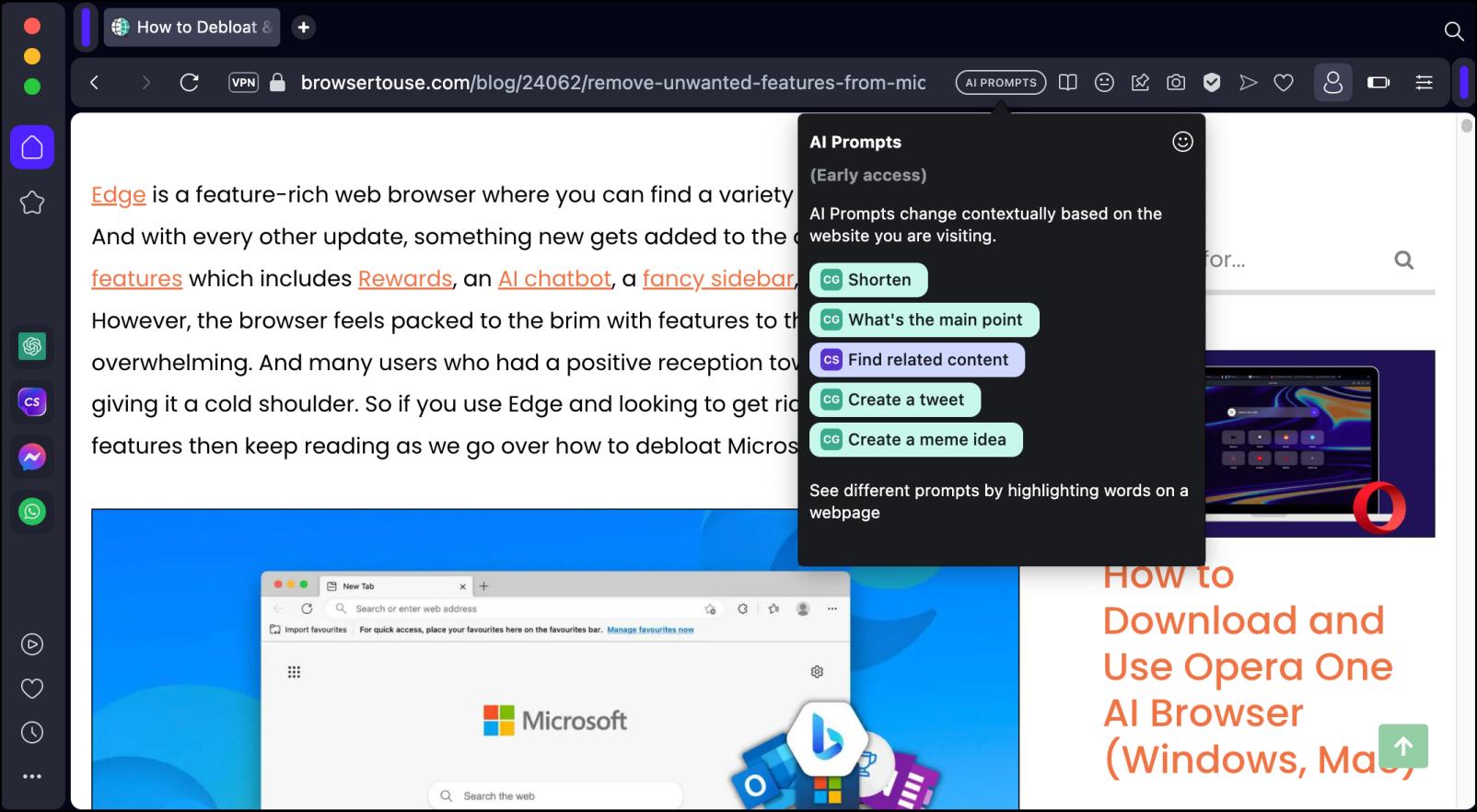 But the highlight of the browser is the addition of ChatGPT and ChatSonic shortcuts in the sidebar. You can open a ChatGPT window with one click on the sidebar. The same can be done with ChatSonic, a chatbot that uses GPT-4. Besides these two, you can also use the prompt button on the toolbar to summarize webpages, understand their main point, or get related content using ChatGPT.
Pros: 
The prompt suggestion tool is quite helpful.
ChatSonic is a step above ChatGPT and provides more coherent results.
The overall UI of the browser is quite appealing.
Cons: 
The browser is in early access and not available on Android.
Download | Opera One
3. Brave Browser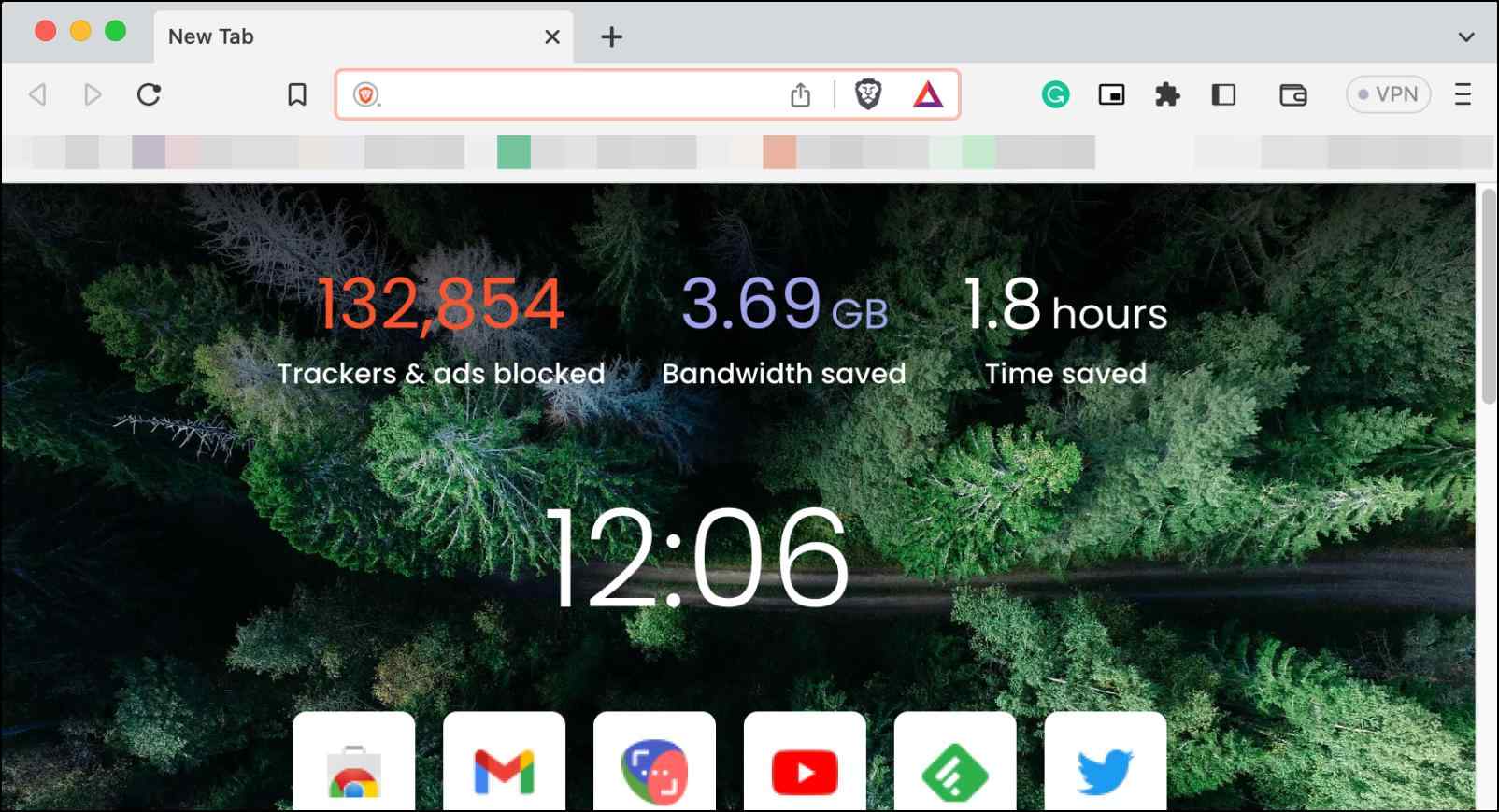 Brave is seen as a privacy-oriented web browser that gives you an ad-free browsing experience. It goes a step ahead and offers its search engine called Brave Search, which keeps user privacy as its priority. It is here where we see the integration of AI, as earlier this year, Brave Search received a new feature called Summarizer.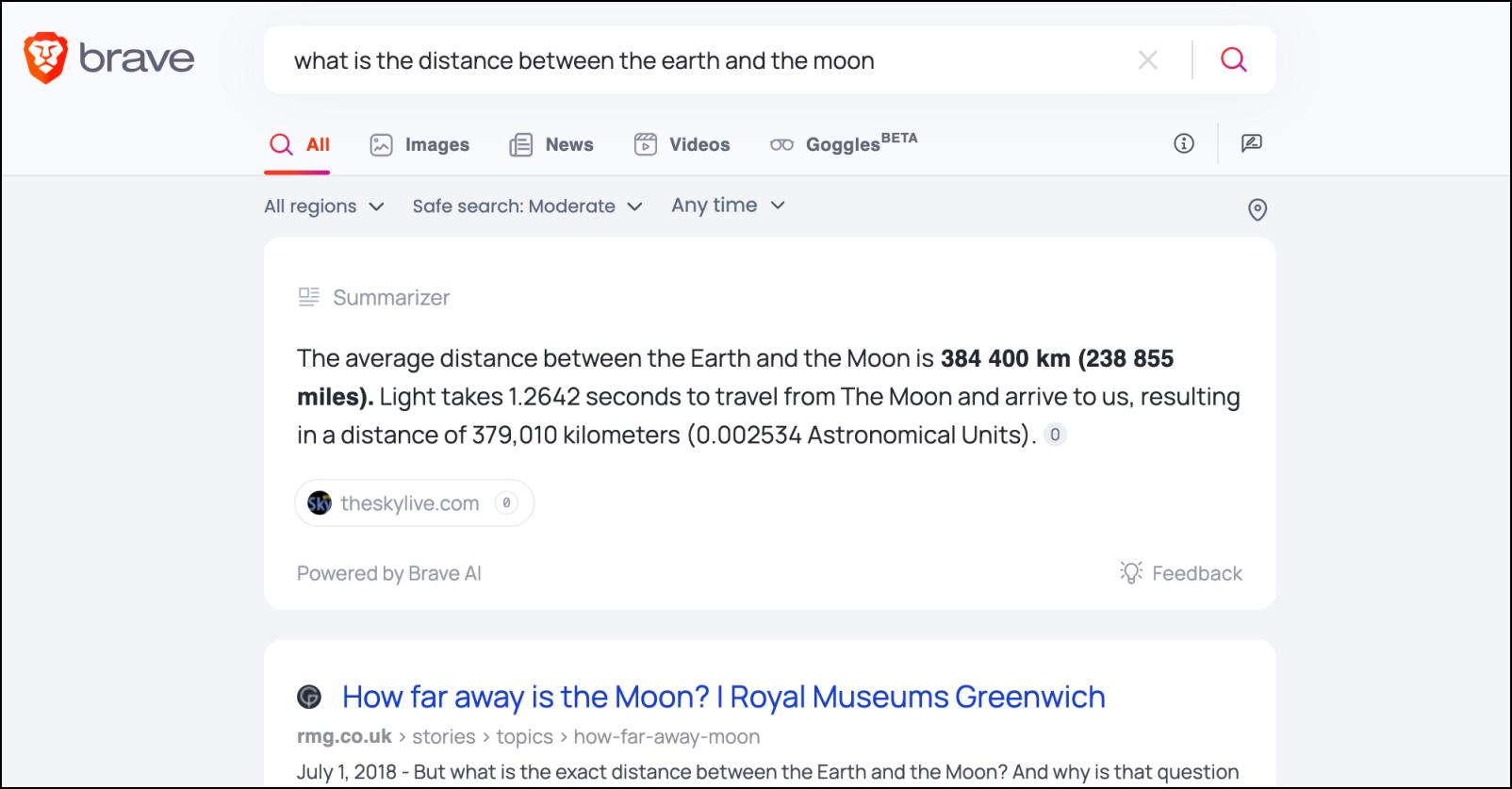 Brave Summarizer can help you get quick results for your search queries on Brave Search by presenting a summary of the results at the top of the results page. The search engine also uses AI to rank articles based on relevance instead of popularity and ad revenue.
Pros: 
Brave Summarizer provides a to-the-point summary of the result page.
Provides links for the web pages it used as a source for generating a summary.
Gives relevant and real-time information.
Cons: 
Does not work with all search queries.
Need further refinements to the feature.
Download | Brave Browser
4. New Opera Browser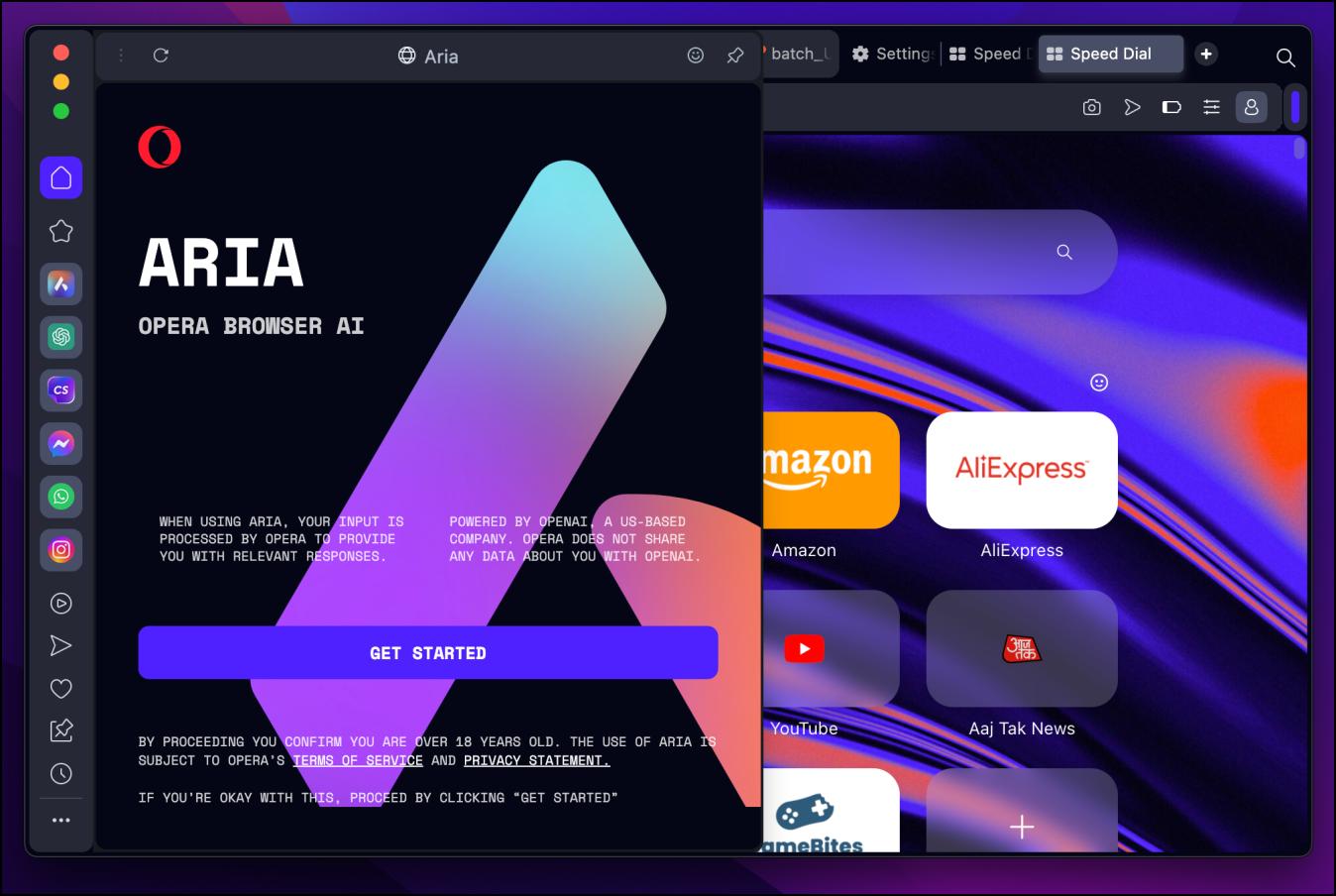 The Opera browser received a massive overhaul to its design, features, and other elements. The browser now looks identical to the Opera One browser released earlier this year and carries over all of its characteristics. However, you will notice one new major addition, which is a new AI chatbot assistant called ARIA.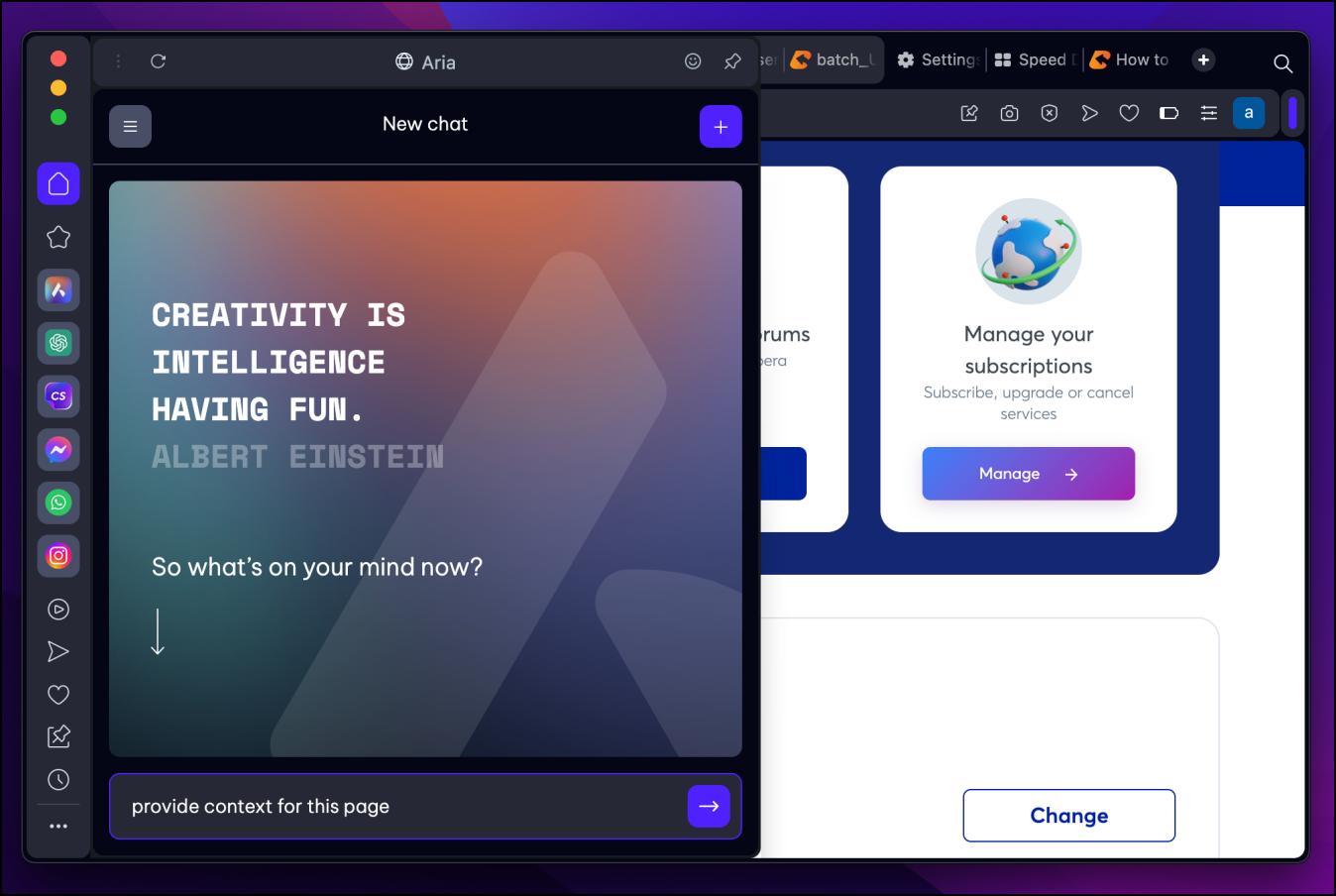 This is the new native assistant to the Opera browser and is powered by Open AI's API. It is capable of reading currently open webpages, is up to date with the latest information, and is completely free to use. Though you will be required to create or sign into your Opera account to use it.
Pros:
ChatGPT powered AI chtabot called ARIA.
Completely free to use.
Upto date with the latest knowledge.
Can take context from currently open webpages.
Also available in the mobile version.
Cons: 
Requires you to create an Opera account or sign in.
Webpage context does not work on all sites.
Download | Opera Browser
5. Wavebox Browser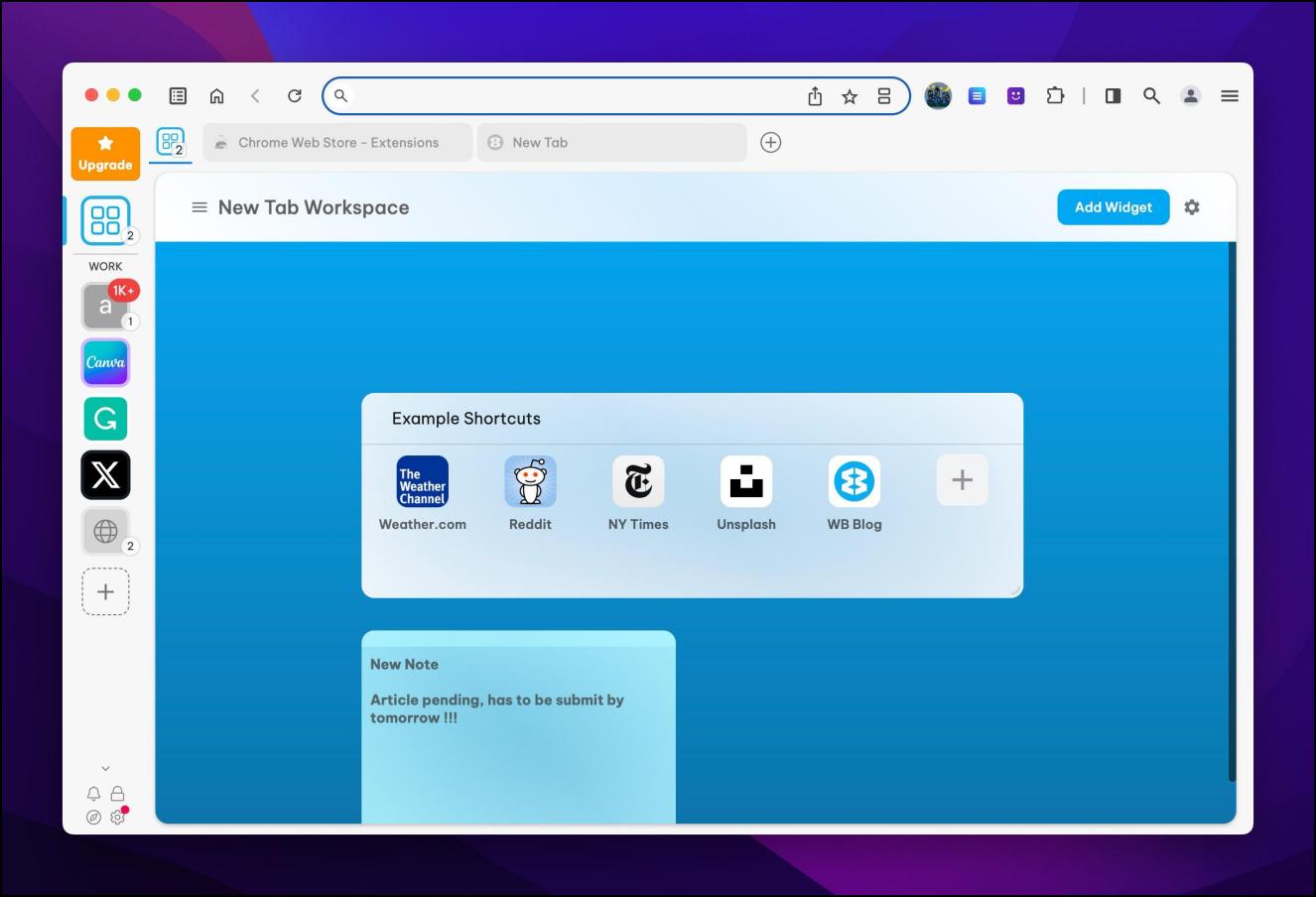 Wavebox is a productivity-focused web browser that offers a lot of options to boost your workflow. The browser has a customizable sidebar that lets you quickly jump between websites, focus mode, split screen view, task manager, and more. Along with these, it also features a ChatGPT AI chatbot called Brainbox that you can access through the toolbar.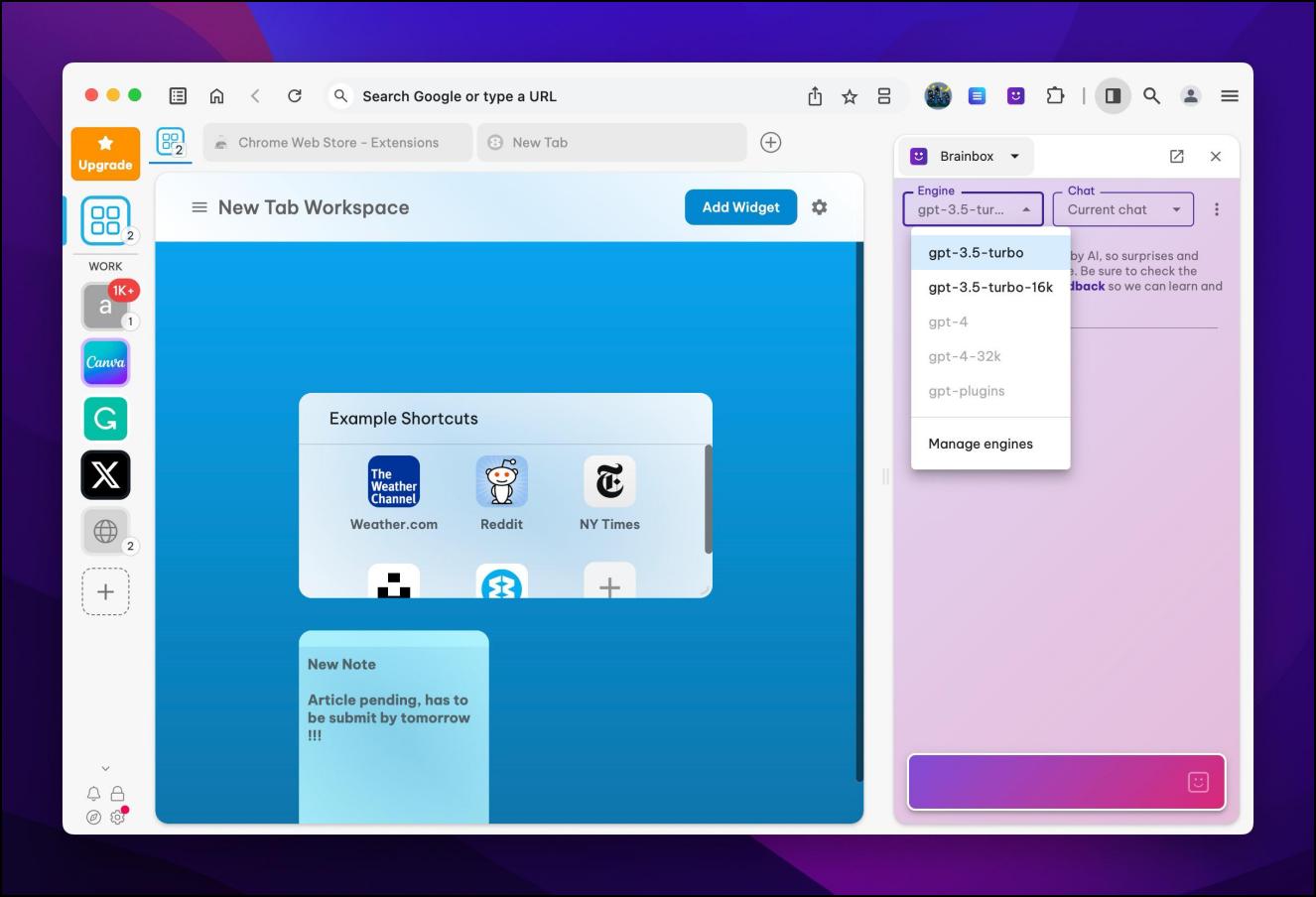 This neat part is that you can choose from different ChatGPT engines, but in the free version, you will be limited to the GPT 3.5 model. You can use the AI chat for summarisation, learning, or any other use case you find suitable. There is also an option to revisit older conversations and continue where you left off.
Pros: 
Allows you to choose between different ChatGPT models.
Revisist and continue previous chats.
Easily accessible through the toolbar.
Custom plugin support in the Pro version.
Cons: 
Advanced models require the Pro version upgrade.
Download | Wavebox Browser 
6. OperaGX with ChatGPT Integration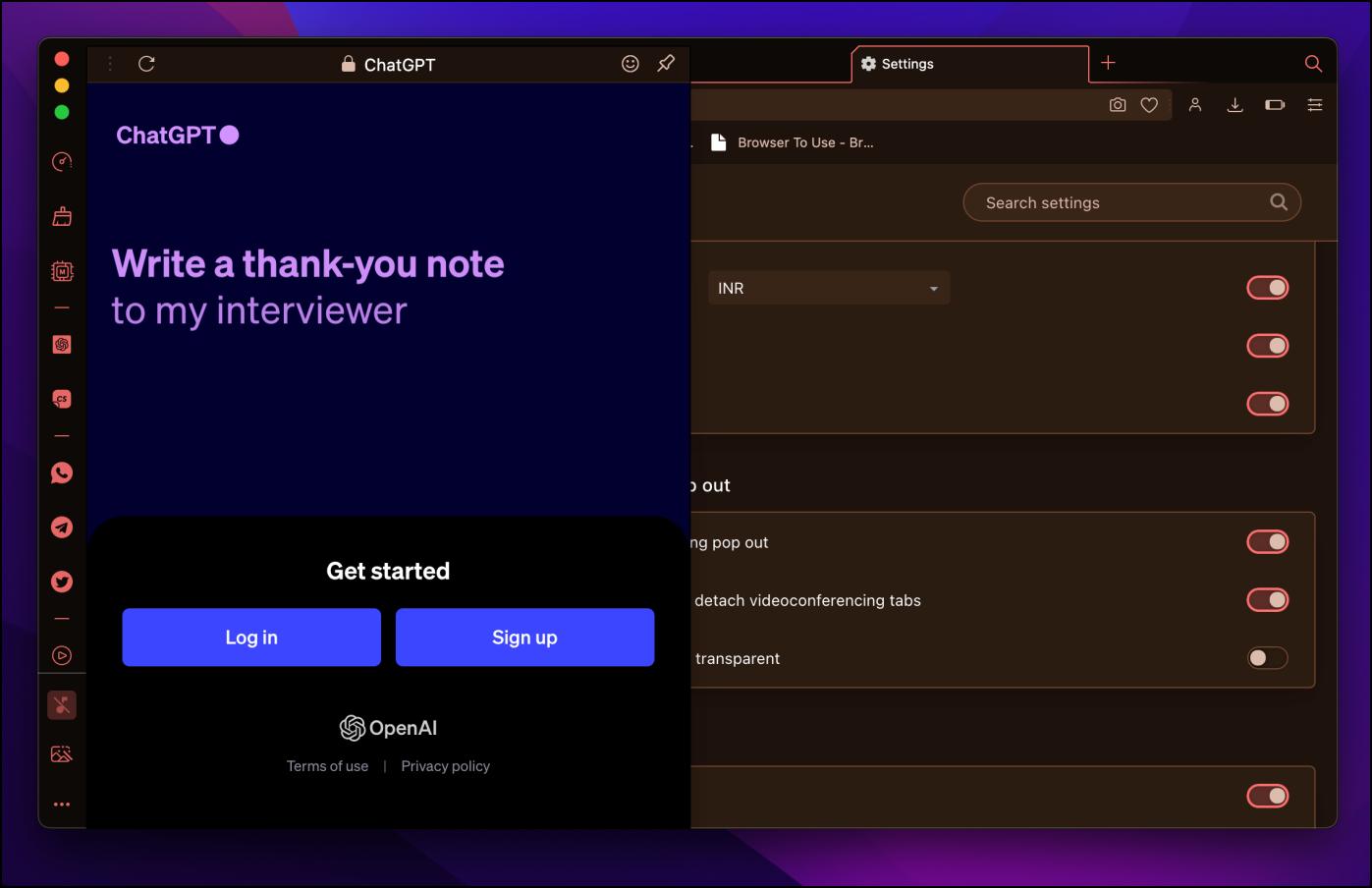 Opera One isn't the only web browser in the lineup to receive the AI treatment. Opera's popular gamer-centric browser Opera GX also received similar AI features. This includes the ChatGPT and ChatSonic conversational chatbots along with the AI prompts shortcut at the toolbar.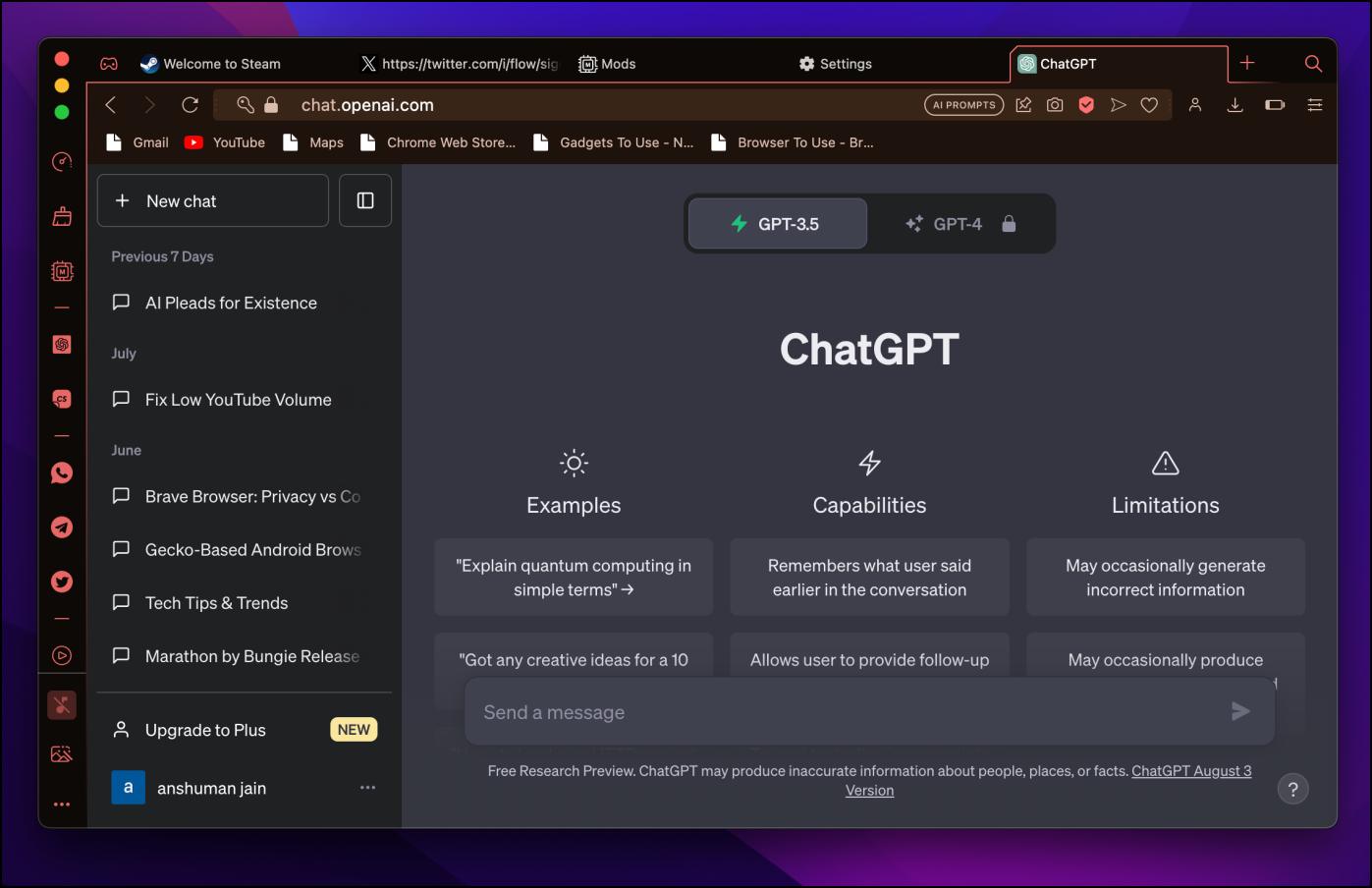 This allows current users of Opera GX to take advantage of the AI features without having to switch to a completely new web browser. With ChatGPT and ChatSonic, you can have fun conversations, learn about new things or explore some creative writing. The AI prompt lets you summarize, get to the main point, browser-related content, and create a tweet or a meme of whatever web page you are browsing.
Pros: 
Engaging AI chatbot integration.
Quickly summarize web pages with AI prompt tool.
Tryout GPT-4 for free with ChatSonic.
Cons: 
AI prompt tool does not work on some websites.
Download | Opera GX
7. SigmaOS Browser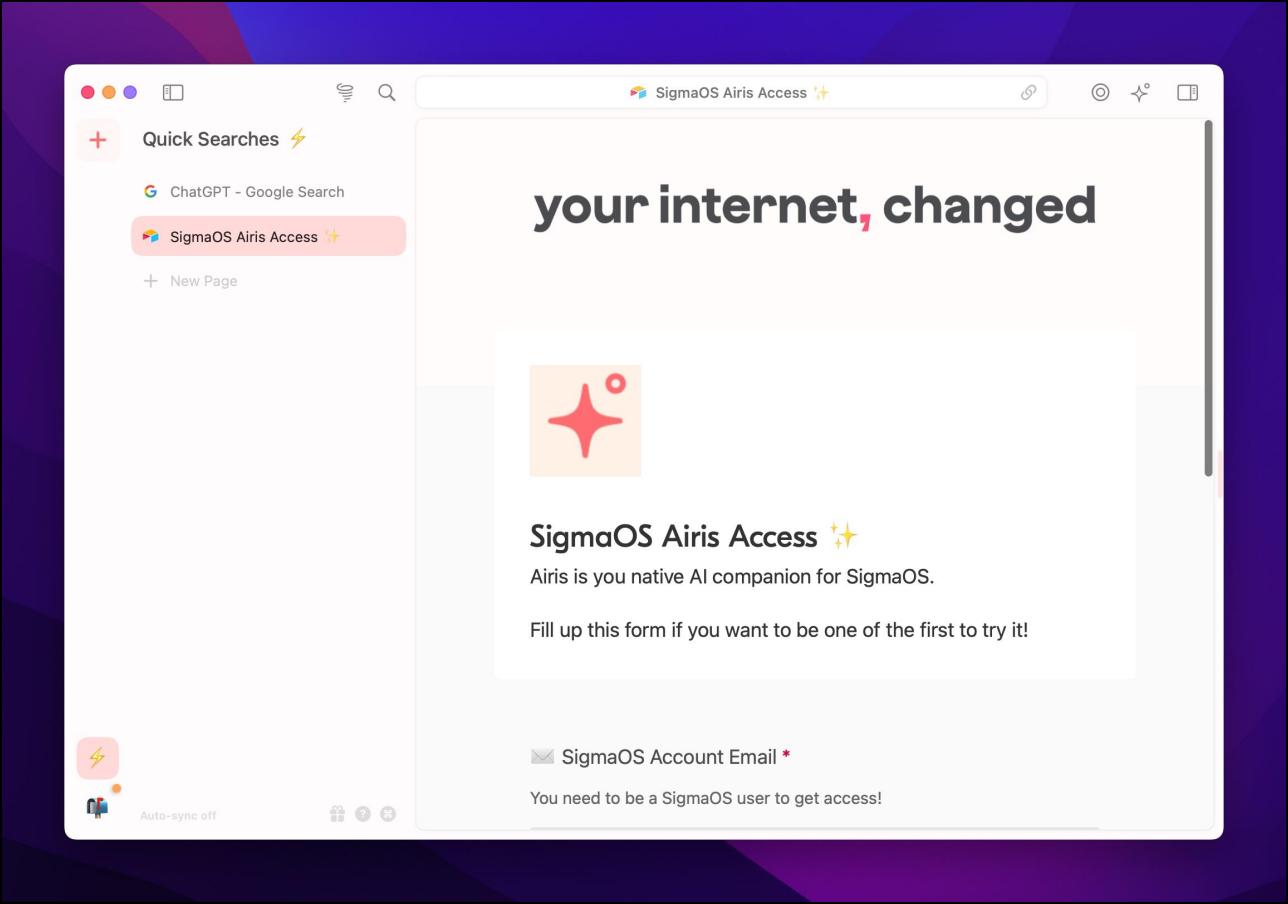 SigmaOS is a Chromium-based browser that offers rich control over tabs. The browser comes with a decent set of features that help to maximize your workflow, along with an appealing interface. It is designed to cater to those who want to make the most of their browsing experience. One major addition to this wide list of options is an AI companion called Airis.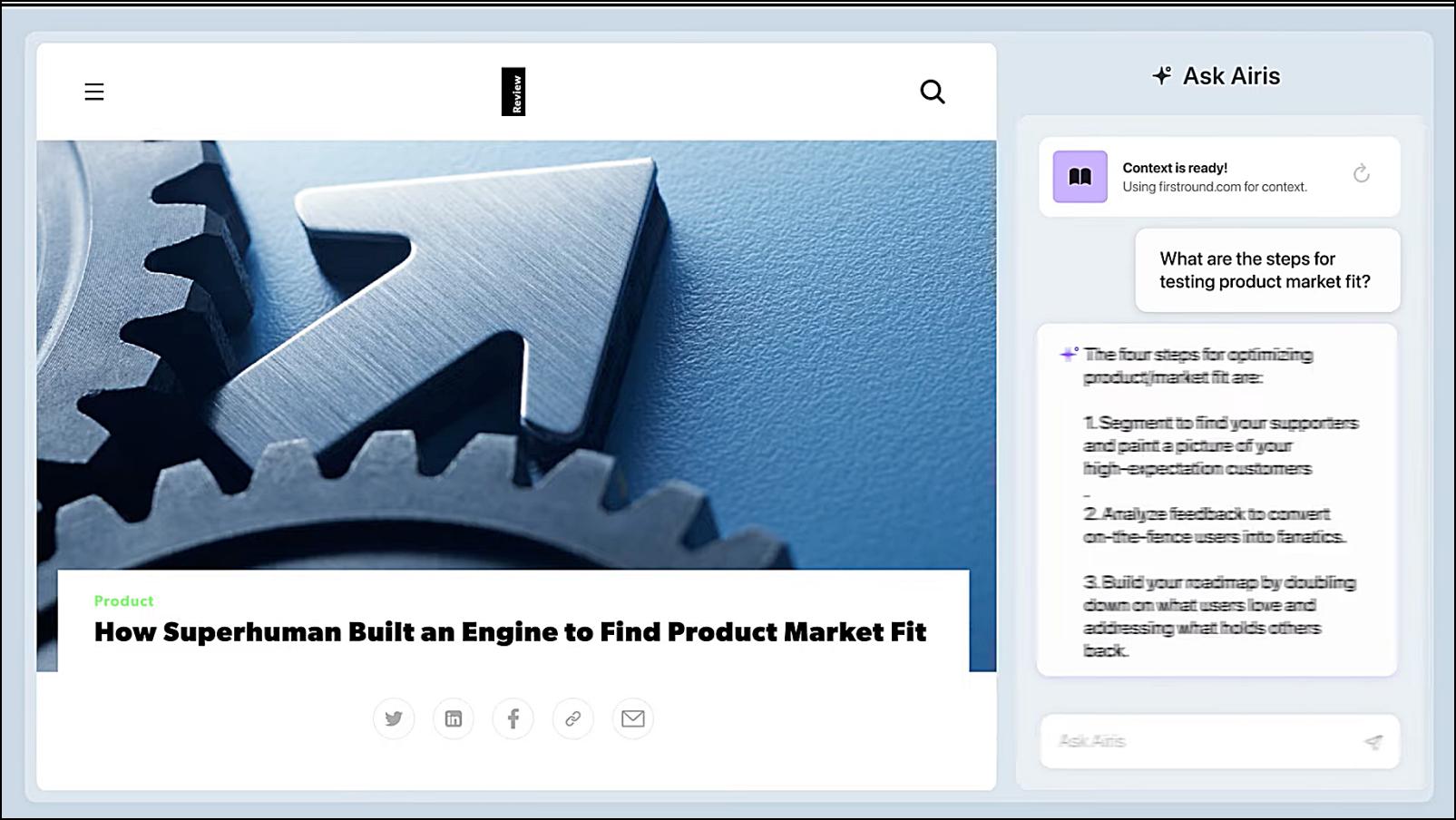 Airis in SigmaOS works similarly to ARIA in Opera. That means it can provide context based on the currently open webpage. Airis can also help to summarize, modify or rewrite available or provided content. It is currently in its early release and will be made available to those who have the access code.
Pros:
Granular control over tabs.
Built-in AI companion called Airis.
Refined and elegant design language.
Focus mode to prevent distractions.
One-click to copy the page link.
Cons:
Airis is available to a limited set of users.
Download | SigmaOS Browser
How to Get AI Features in Chrome and Firefox Browsers?
If you are a Chrome or a Firefox user, you can also enjoy the AI features without waiting for them. This can be done with the help of extensions. We have previously discussed how to get Bing AI on Chrome and Firefox. And here are some of our favorite extensions to add AI capabilities to your web browser:
All the extensions listed above are free to download, and you can go with either of them to get AI functionality on Chrome or Firefox.
Wrapping Up
This brings us to the end of this article. It is extremely likely that soon we will start to see more AI-powered web browsers. With Google's Bard AI just on the horizon, Chrome will also get its own native AI language model soon. I hope you find this guide useful and if you have any queries related to the article then do reach out to us. Till then, stay tuned on BrowsersToUse for more such articles and How-tos.
Related: