Older Android smartphones often suffer from storage and performance issues which is why browsers like Google Chrome, don't tend to perform well and will run you into lag and stutters or storage issues. So if you want a decent browser for your old Android smartphone that doesn't take up a lot of storage, then stick around as we discuss the six best small-size browsers for Android.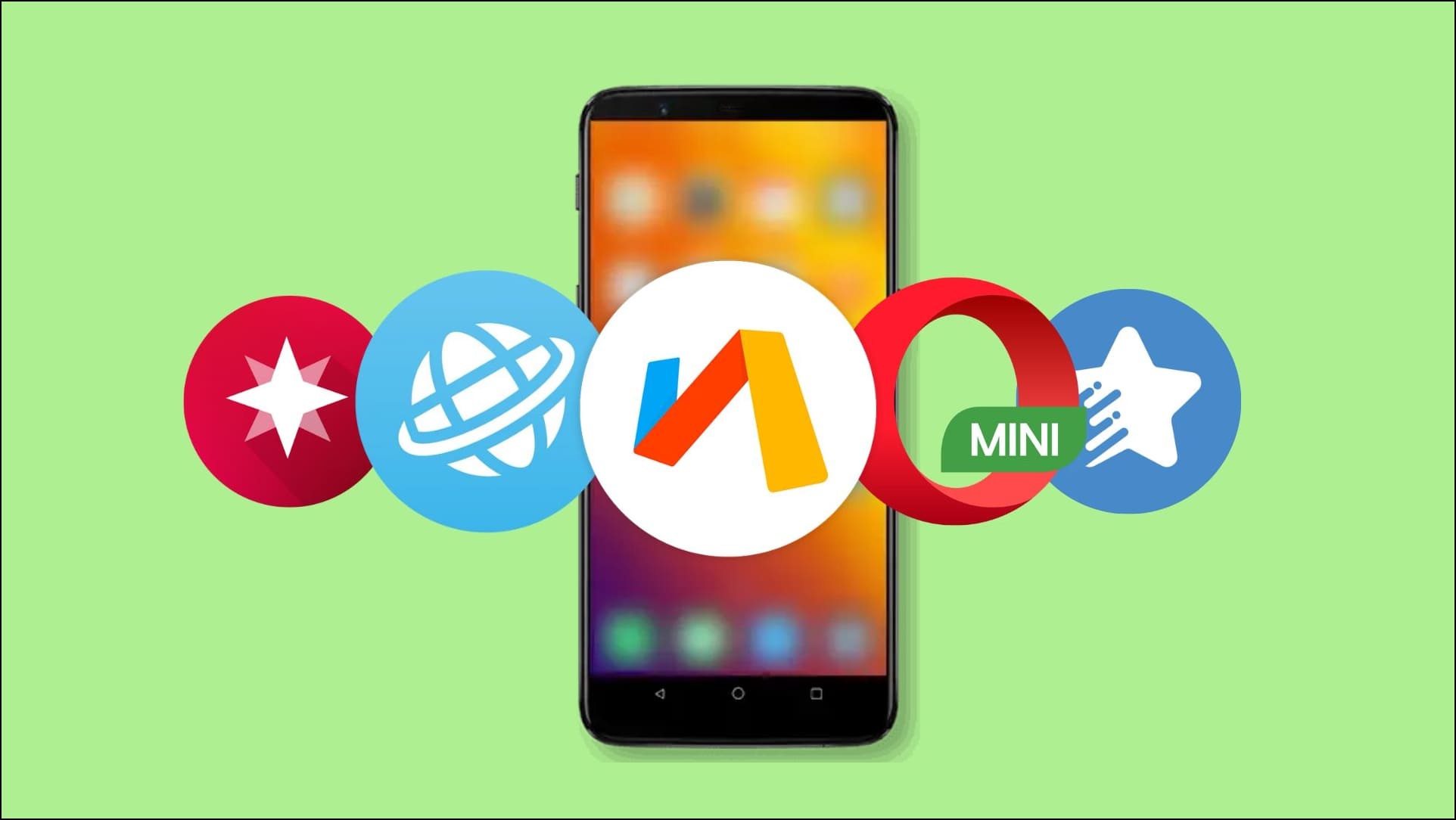 Best Small App Size Browsers For Android
The browsers we will discuss in this list are picked based on their small app size and how well they perform compared to conventional web browsers like Chrome and Firefox, especially on older devices. We will be going over their features and what works and what doesn't work for each web browser.
1. Lite Browser: Lightweight and Easy to Use
The Lite browser focuses on what's essential and provides just that. It isn't littered with features and comes with only those features that you will find useful, like adblocker, image blocker, night mode, and voice search.
The browser's interface feels lightweight and should not take a toll on your phone's performance during regular browsing. If you have been looking for a lightweight Android browser that offers a decent browsing experience, then you can check out Lite Browser.
What Works : 
Night mode.
Able to block images and third-party cookies.
Option to switch search engines.
What Doesn't Work: 
The built-in Adblocker doesn't work as intended.
App Size: 5 MB
Download: Lite Browser
2. Opera Mini: For Those Who Want Opera
Opera Mini packs all the best aspects of the Opera browser in a smaller size. It has several features that should enhance your web browsing experience, like reader mode, adblockers, the option to change accent themes, and a data saver.
Although the browser stays relatively fast thanks to the data saver, the abundance of features might bog down performance, especially for those with a really old smartphone.
Opera Mini might not be everyone's cup of tea, but if you're familiar with it and wish to continue using it, you can go with Opera Mini.
What Works: 
Adblockers and third-party cookie blockers.
Option to change themes.
Data Saver mode to preserve your mobile data.
What Doesn't Work: 
Adblocker does not work with YouTube.
The browser feels cluttered.
App Size: 13 MB
Download: Opera Mini
3. Stargon Browser: Loaded with Features
Those searching for a feature-rich web browser without giving away precious storage space can try the Stargon browser. It has a low memory footprint, doesn't collect unnecessary data, is based on Chromium, and runs fairly well on old Android devices, in my experience.
It includes tools like video/image downloaders, real-time translation, background video playback, and a screenshot tool. You could go with it if you were looking for a lightweight alternative to Chrome.
What Works: 
Real-time web page translation.
Based on the Chromium code base.
A variety of useful features and tools.
What Doesn't Work: 
No option to edit saved passwords.
App Size: 4 MB
Download: Stargon Browser
4. Orions Browser: Great for Multimedia and Reading
Orions has one of the smallest app sizes yet bundles in many features and customizations. Users who often find themselves watching online videos or reading will enjoy the feature set provided by the Orions Browser.
It features malware protection and cookie blockers. If you are severely low on storage but don't want to compromise browsing and multimedia experience, then you should consider Orions' browser.
What Works: 
Go back and forward without reloading.
View videos in picture-in-picture mode.
Create backups and save webpages, images, and videos offline.
What Doesn't Work: 
Picture-in-picture does not seem to work well on all websites.
App Size: ~1 MB
Download: Orions Browser
5. Via Browser: The Lightest Chrome Alternative
Via is one of the most popular small-size browsers out there. The interface feels quite similar to Chrome but more minimal. This browser covers all the essential features, and tools like save webpages, night mode, and third-party blockers.
I have tried the Via browser on several smartphones, and it feels snappy and quick every time. Not everyone wants an extensive list of features and customizations; for them, Via browser is a great option.
What Works: 
Fast and snappy performance.
Minimal and clean interface.
Ad blockers and third-party blockers.
What Doesn't Work: 
No option to edit saved passwords.
App Size: ~1 MB
Download: Via Browser
6. ForX Browser Lite: Offers the Bare Minimum
ForX Browser Lite is a browser that only offers the bare minimum browsing experience. You get a set of six quick links and a search bar, and that's it. The default search engine is set to Google, and the browser does not let you change or customize anything.
You can't even create new tabs, you will have to go back home and start a new search. But still, I feel like this browser is best suited for those who rarely, if ever, find themselves using a web browser on their Android device.
What Works: 
Basic Web Browser.
Lightweight and not so demanding.
What Doesn't Work: 
Cannot switch or create new tabs.
No option to edit or change default settings.
App Size: 2 MB
Download: ForX Browser Lite
Frequently Asked Questions
Q. Which is the Best Small Size Android Browser?
This depends upon your use case and your browsing preferences. For casual browsing, you can go with the Via browser, and for more engaged usage, you can go with the Stargon browser.
Q. Which Small Size Browsers Consume Less Memory?
Most small-size browsers are created to run on limited software and consume fewer resources than regular web browsers on Android.
Q. Can I Uninstall Google Chrome from My Android Device?
Yes. Since Chrome is a system app, you cannot uninstall it using the conventional method, but we have an article to uninstall Chrome with step-by-step instructions.
Related | Top 10 Android Browsers Using Least RAM & Storage (2023)
Wrapping Up
This sums up this list of the best small app size browsers for Android. If you are someone or know someone who is struggling with space on their old smartphone, then you can try out any one of these web browsers. If you have more recommendations for lightweight browsers, please let us know, and stay tuned on BrowserToUse for more such articles and How-Tos.
Related: