VPNs are a saving grace in today's online world as they help keep your online activity private and help get rid of online trackers and cookies. This is why if you are planning on keeping your browsing activity confidential, you need a browser with a built-in VPN for your computer. In this article, we will discuss the top best VPN browsers available for Mac or MacBook, and their pros and cons, followed by an FAQ.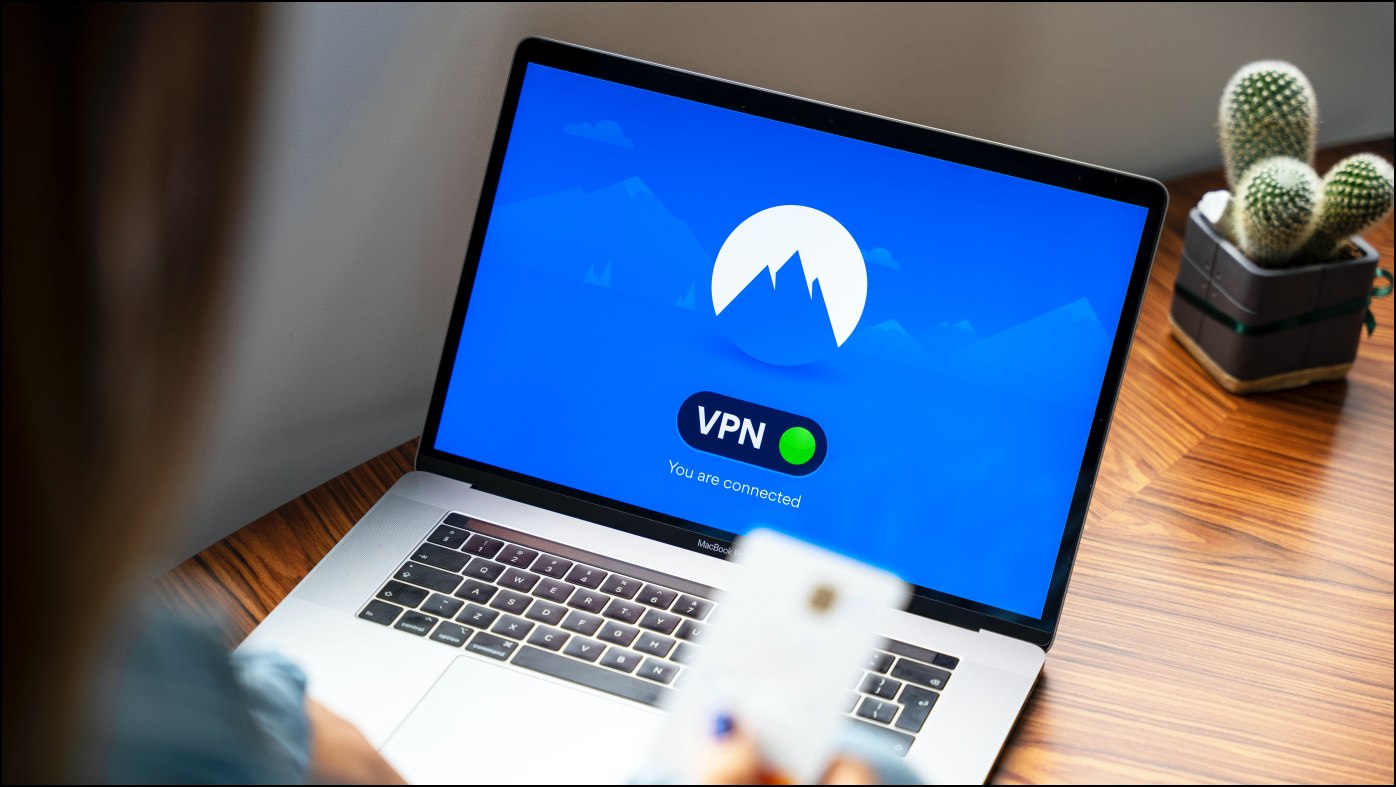 Related | 6 Best Browsers for Mac in 2022 (Tested on Intel & M2 Chip)
What Are VPN Browsers?
Web browsers that offer a built-in VPN service are can be called VPN browsers. Most of these use a proxy network to hide your online traffic, location, and IP Address, hide your online browsing activity, and allow you to access any website or service which is blocked in your region.
These VPN browsers are easy to set up, and you can use them on your school or office computers as well. The built-in VPN service is generally free but offers limited functionality compared to premium standalone VPN services.
Best Browsers with Built-in VPN for Mac
Now that you know what are VPN browsers and how useful they can be, let us move ahead and take a look at the list we have curated for you. These are some of the well-known browsers that come with a bundled free VPN service. Read on.
1. Opera Browser with VPN (Free)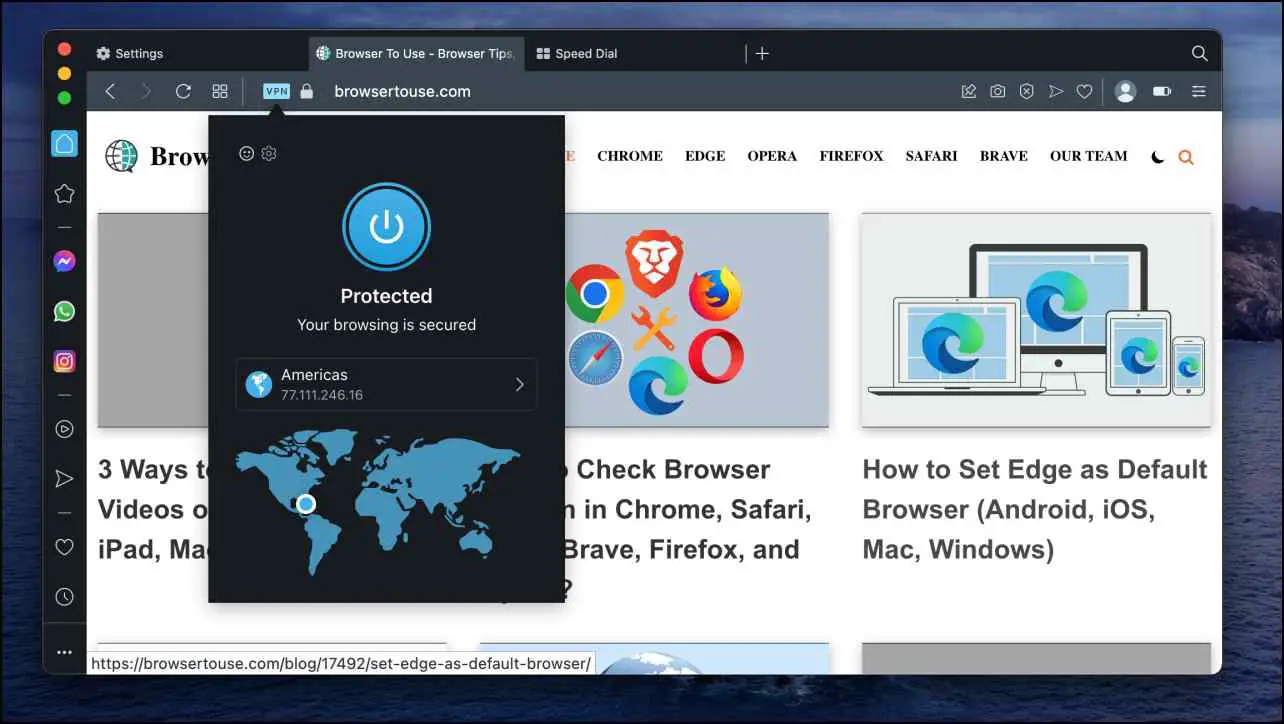 Opera is an old, reliable, and feature-rich web browser and it has recently added a VPN feature to make your browsing more secure. The VPN service is free to use without any data cap and does not require sign-in, you need to enable it in settings to start using it.
The VPN allows you to select between three regions, offers military-grade encryption, decent browsing speeds, and prevents IP address leaks. You can also bypass geo-restrictions on streaming services but not on all websites. But Opera collects user data and keep logs which makes it less secure than it seems.
Nonetheless, Opera VPN is a great option for those looking for a free VPN service to bypass geo-restrictions and browse the web anonymously.
Opera VPN Pro ( 5.99$ a Month/ 23.88$ a Year )
Opera also offers a paid VPN service called Opera VPN Pro. This lets you access more than 3000+ servers available in 30 countries along with device-wide security meaning it will work for all applications installed on your Mac. You can also use the Opera VPN Pro account on multiple devices.
Pros: 
Free to use with no data limit.
Does not require sign-in.
Available on all major platforms.
Bypass geo-restrictions on streaming services.
Cons: 
The browser collects personal information.
The free version only allows you to select from three regions.
Download | Opera Browser for Mac
2. Epic Browser with VPN (Free)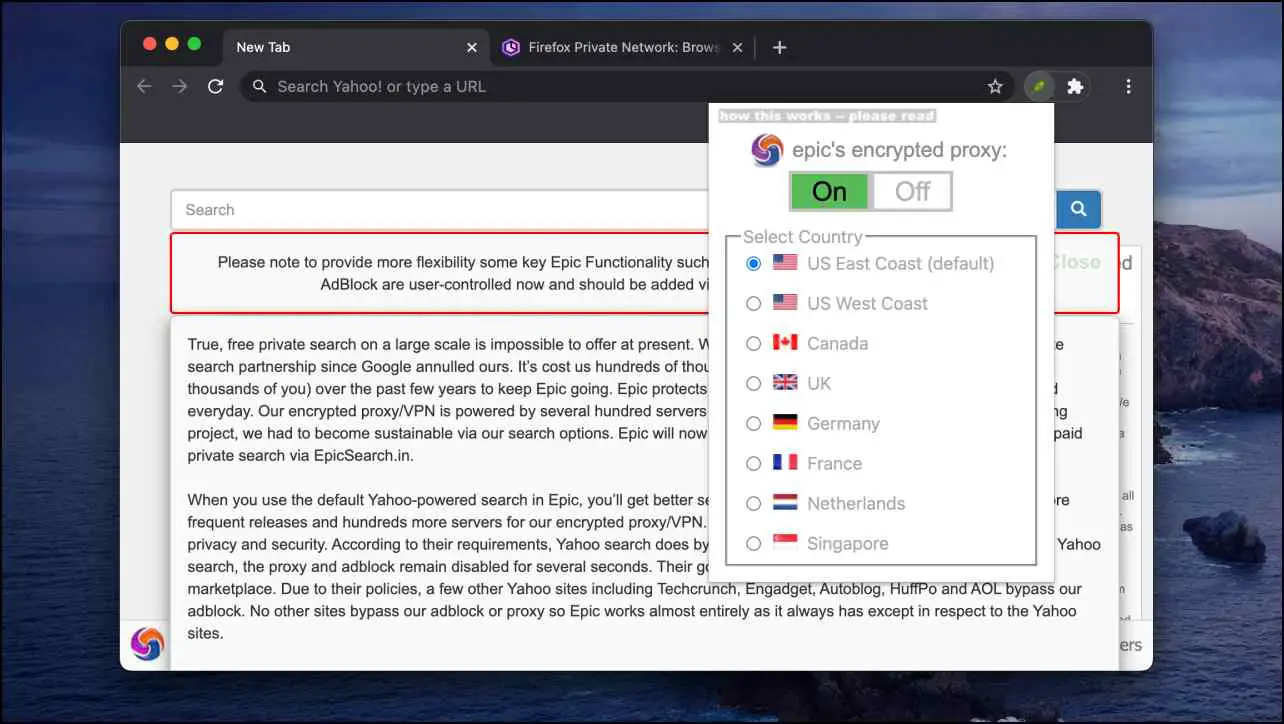 The Epic browser is based on the Chromium codebase and looks almost identical to Chrome. It features a built-in VPN also known as Epic's Encrypted Proxy. This is a free-to-use service like Opera which requires no signup and has a no logs policy which ensures that your data is not collected.
The proxy VPN comes with TLS-level encryption, uses WebRTC to hide your IP address, and all the DNS requests are handled by the VPN server. It even deletes the DNS cache upon exit. The Epic browser also comes with ad and tracker blockers, protecting against fingerprinting, and crypto mining protection.
All this lets you enjoy anonymous browsing, access blocked and geo-restricted websites, and watch region-locked content. You can choose from eight different regions which is not much but plausible for a free service. All this makes the Epic browser one of our top recommendations for the best VPN browser.
Pros: 
Free to use VPN service.
Blocks ads and trackers.
Choose from up to eight different regions.
Does not collect logs and personal information.
Cons: 
Some websites fail to load.
Browsing speed with VPN is slow at times (this is an understandable issue).
Download | Epic Browser for Mac
3. Avast Secure Browser Pro ( 5.99$ a Month/ 39.99$ a Year )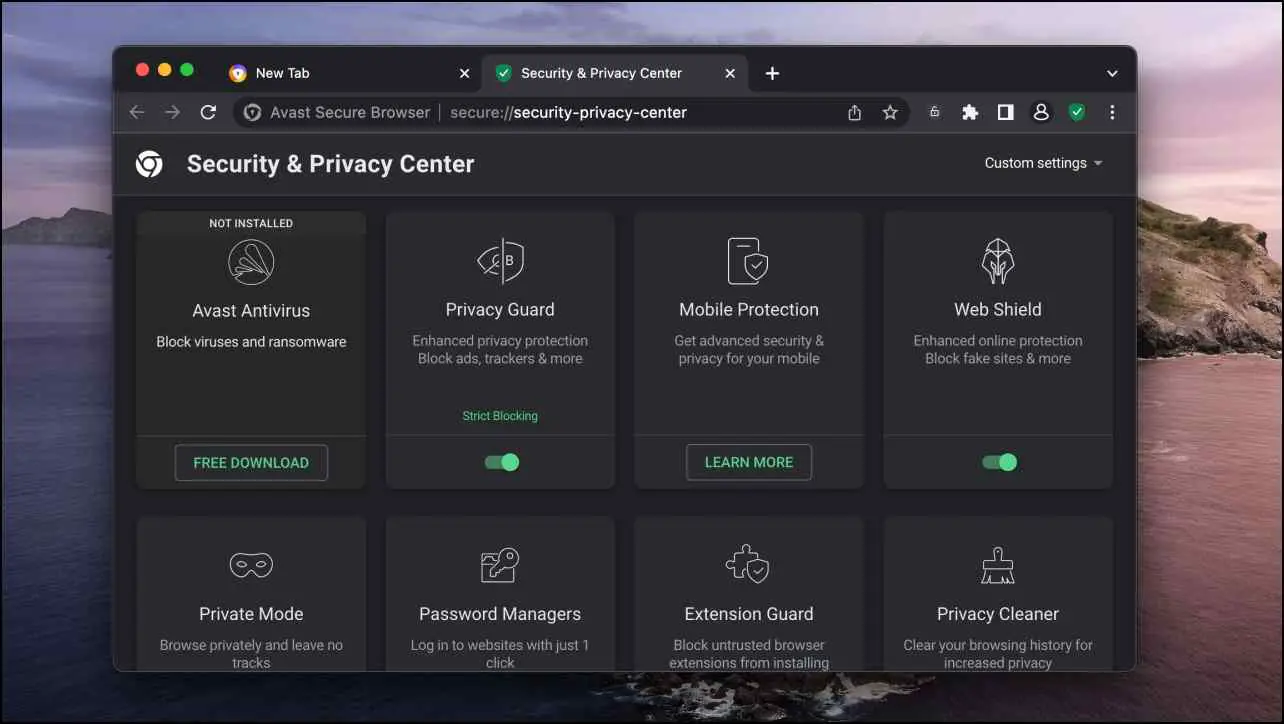 Avast offers two versions of their browsers- a free and a Pro version. And only the Pro option comes with a built-in VPN. But to get the Pro version, you need to buy their subscription. But it offers several benefits for that premium asking price.
First off, the VPN gives you 256-bit military-grade encryption, the ability to connect up to five devices, bypass geo-restrictions, unlimited bandwidth and you can choose from up to 30 locations. The browser also has several security features to block ads, trackers, untrusted extensions, viruses, ransomware, and more.
You can download the free version of the browser to try out the security features but will be required to pay to use the VPN service. The price of the subscription is slightly steep and you can get a standalone VPN at that price but if you like Avast's privacy features then you can go with this browser.
Pros: 
256- bit Military-grade encryption.
Connect up to 5 devices.
A suite of useful privacy features.
Fast network speeds over VPN.
Cons: 
Requires upfront payment to use the VPN.
Subscription plans are quite steep.
Download | Avast Secure Browser Pro for Mac
4. Tor Browser (Free)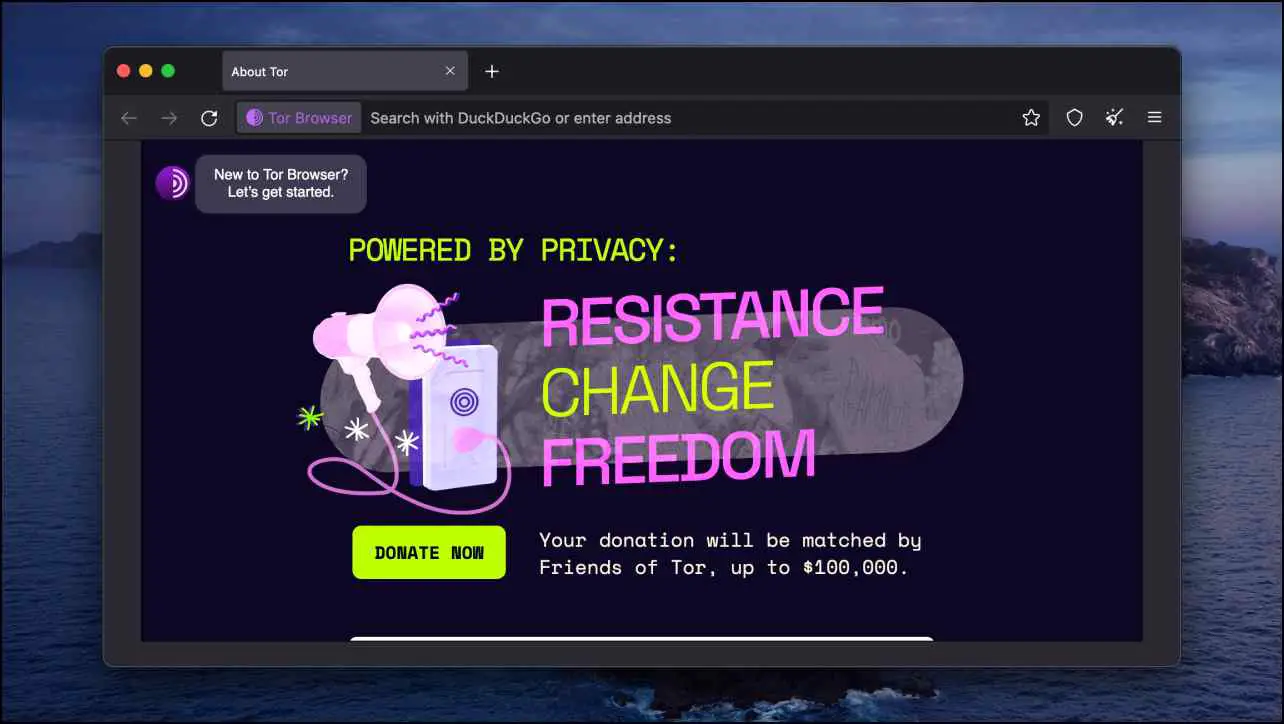 Tor is an infamous web browser, especially among those who like to browse the dark web. But it is also a great option to encapsulate your privacy over the web. It does not feature a built-in VPN but masks your IP address and activity with the help of onion routing.
Tor uses multilayer encryption to protect your data and then routes your data randomly using multiple relays. The result is your data and IP address become next to impossible to track over the Tor network. This lets you access blocked websites and open sites with the .onion suffix.
But there are a few downsides. The major one is slower network speeds as the data passes through multiple relays. The other one is websites might know that you are using Tor which will result in some content being restricted. Overall, Tor is a great option for those who want privacy at the expense of slower internet speed.
Pros: 
Lets you access the Dark web.
Uses onion routing to ensure privacy.
Allows access to .onion websites.
Lets you access blocked websites and browse the web anonymously.
Cons: 
Slow network speed.
Some websites may not work on Tor.
Download | Tor browser for Mac
5. Firefox with Private Network Browser Extension (Free)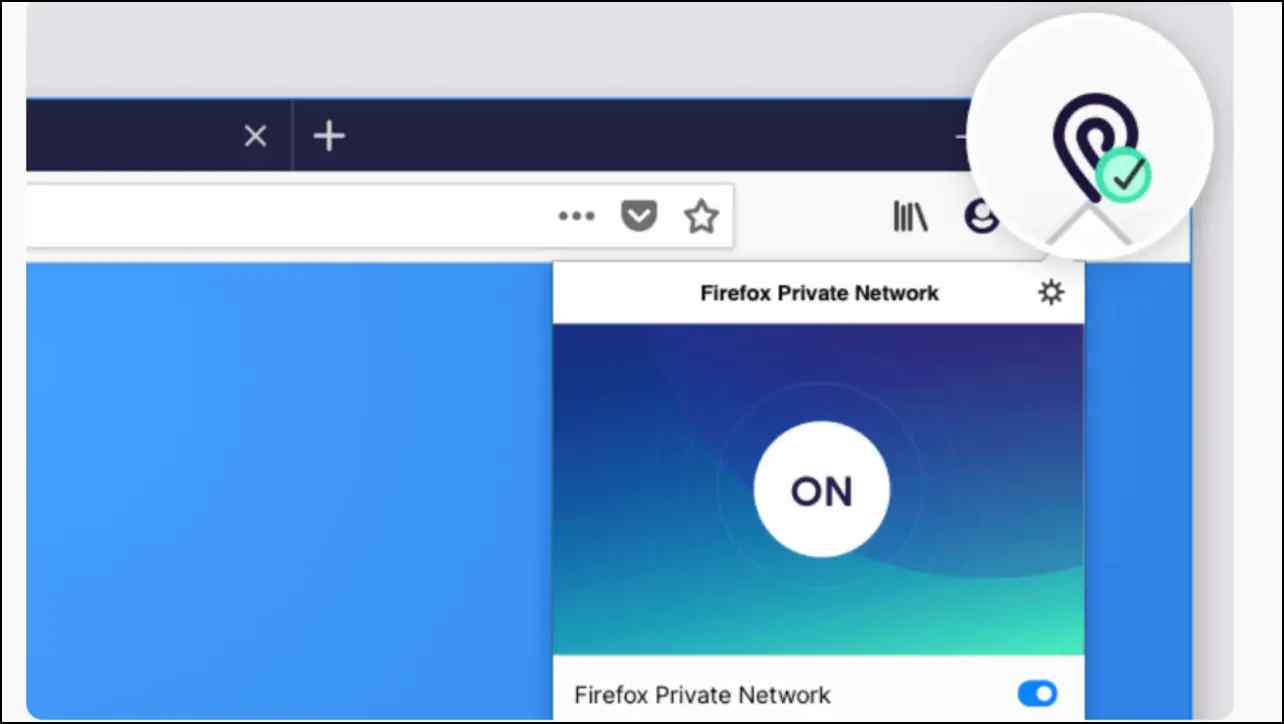 Firefox released its VPN service in collaboration with Cloudflare called Firefox Private Network. This is an extension made for the Firefox desktop browser that you can add to your Firefox browser and start using it.
The extension works as a proxy network that helps hide your online activity and IP address from others. It also lets you access blocked content. Unlike other browser-based VPN services, you cannot select a region with the Firefox Private Network.
Currently, it is only available in the US, but there are plans to make it available worldwide soon. It is free to use for a limited time after which you will be required to a monthly or yearly fee to use it. Even though it is not available globally, Firefox users in the US can try it out right now.
Pros: 
Hide your location, IP address, and online activity.
Use it directly from the Firefox browser.
Connect up to 3 Firefox browsers.
No bandwidth restrictions.
Cons: 
 Only available in the US.
Download| Firefox Private Network for Mac
Upcoming VPN Browser for Mac
1. Brave Browser ( 9.99$ a Month/ 99.99$ a Year )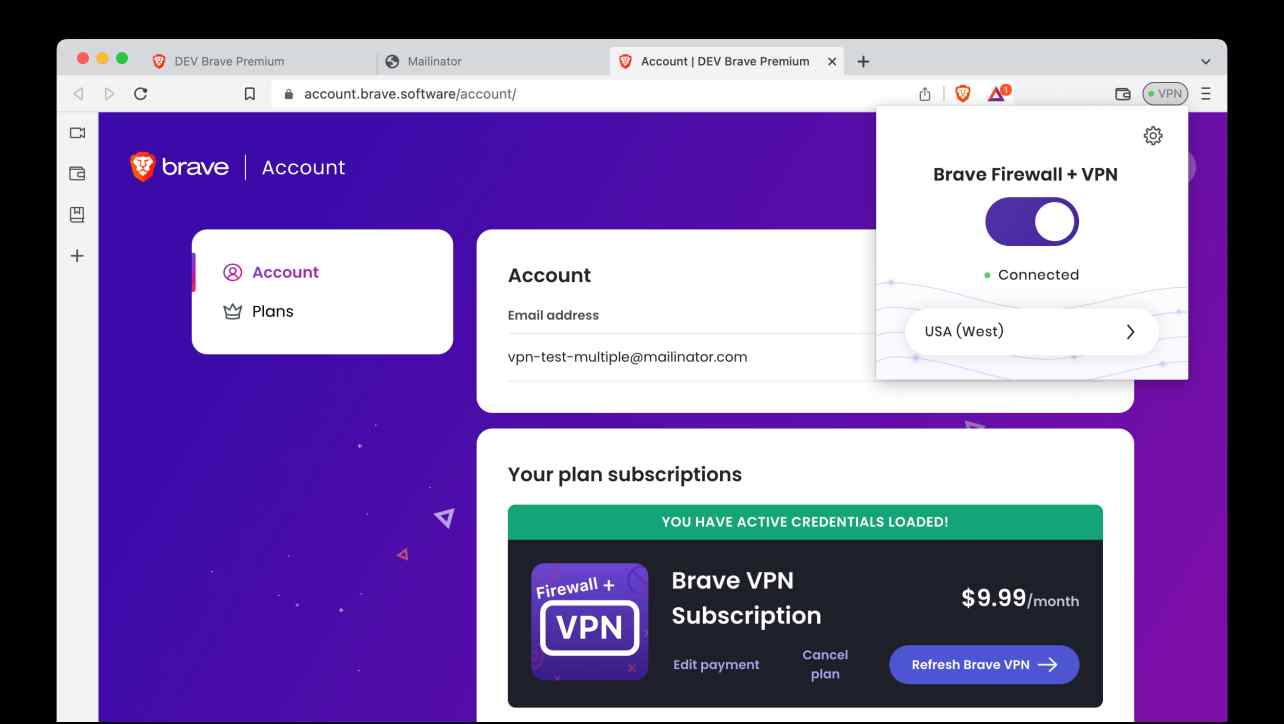 Brave Browser, one of the most secure and private browsers out there, has recently rolled out its Brave Firewall and VPN services. These are currently available on the Android and iOS versions of the Brave browser but will soon make their way to Windows and macOS.
The VPN services will help protect your internet traffic from prying eyes and mask your IP address like other virtual private network tools. It will also allow you to select from different regions and bypass geo-restrictions. You can connect five devices, but each device must have Brave browser installed.
The Firewall service will provide enhanced protection against trackers and viruses. Brave VPN is a subscription-based service, but the plans seem more expensive now than most standalone VPN services out there. We'll update the article once Brave VPN becomes available on macOS.
2. Microsoft Edge (Free)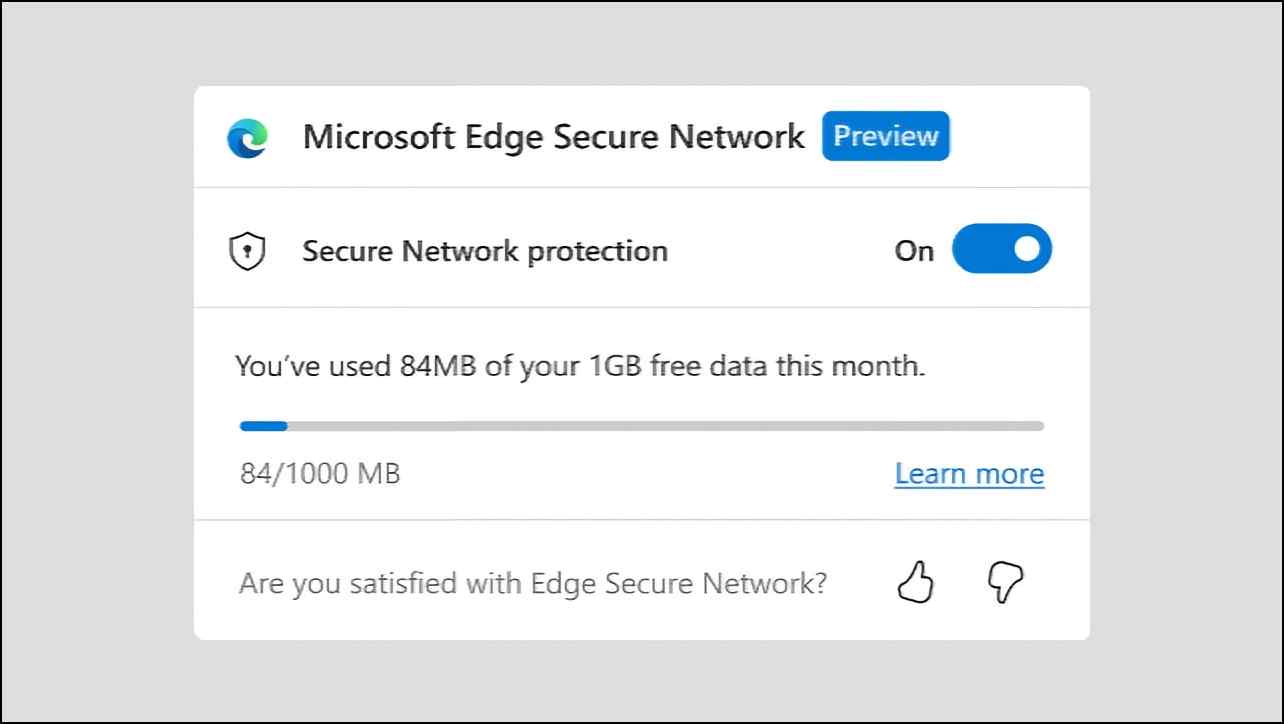 Microsoft Edge is getting its own built-in VPN service called Secure Network. This is a proxy service similar to Firefox Private Network, made in collaboration with Cloudflare. The service will give you 1 GB of free bandwidth every month, but there is no mention of the price after you cross the limit.
Since it is a proxy service and will be able to hide your online data, location, and personal information, but there is no option to change your region to bypass geo-restrictions.
Currently, it is available on Edge Canary in select regions. We will add more details as the Secure Network feature becomes available on the stable release.
Frequently Asked Questions
Q. What are the Advantages of a VPN Browser?
Although a regular standalone VPN will offer more security and features than a VPN Browser, that does not mean VPN browsers don't have their own set of advantages. Here we have listed some of them:
VPN Browsers provide a sandboxed experience. It does not affect the rest of the applications and other browsers on your system.
Easy to set up and use. With popular VPN browser options, you need to just turn on the VPN and start using it without having to sign in anywhere.
Portability is another major advantage. You can also set up and use these VPN browsers on your office computer, which you can't do with regular VPNs.
Free to use. Some VPN browsers will let you use the VPN for free without having to pay a dime until you decide to upgrade to the pro version.
Q. What is the Difference Between a VPN and a Proxy Server?
Most VPN browsers use a VPN proxy to protect your data which begs the question, what is the difference between a VPN and a Proxy? Let us find out:
A VPN will be able to properly hide your data from ISP, government, and other authorities but the same can't be said for a Proxy server. It will hide your only activity but is not as effective as a VPN.
VPNs pass your data through multiple servers in different regions but proxies usually only use a mediating server or tunnel which is not as secure.
Most VPNs offer a reliable and stable connection with decent internet speeds which cannot be said for Proxy servers.
Running a VPN is expensive which is why most trustworthy VPN services request an upfront cost which is not the case with Proxy servers. Some Proxy servers offer their services for free.
VPNs work on a system level but proxy servers can work on an application level like VPN browsers.
From these points, you can easily understand the difference between a VPN and a Proxy server. Since VPN browsers usually go with a proxy server, we do not recommend you use the to view any extremely sensitive content.
Q. How is Tor Different from Other VPN Browsers?
Although both work quite similarly, a VPN will encrypt your connection and re-route it over to one of the multiple servers around the world that are managed by the VPN provider. A VPN can handle all scripts and provides decent connection speeds.
Tor works the same way as it encrypts your connection but it will re-route it randomly over to any Tor server available worldwide which is handled and contributed by the members of the Tor community. Tor might not be able to play all scripts and has a poor connection speed.
Q. Which is the Best Mac Browser with a Built-in VPN?
As of now, we think the Epic browser wins as the best browser with a built-in VPN free to use. You get unlimited bandwidth, it can bypass geo-restrictions on most websites even streaming services, and lets you choose from eight different locations. Opera, too, seems a solid choice for all the fancy features it brings to the table.
Wrapping Up
Coming to the end of this article, we discussed a lot about VPN browsers for Mac OS and hopefully helped you pick the right browser for your requirements. These browsers are a great option for those who are unsure about buying a VPN subscription or just want to test out the capabilities of a VPN, but if you want more protection and privacy for your data then we recommend you upgrade to a standalone VPN tool.
Related: