Studies have shown that around 20 Million unsafe websites are on the web at any given point in time. These sites are either built to scam people on the Internet or have been infected by malware. With so many scam website pages on the web, it becomes necessary for users to find out if a website page is safe to visit. For starters, it may seem difficult to check if a website is safe or not. But to make things easier, here I have explained three easy ways by which you can find if a webpage is safe to visit or not in Google Chrome.
Related | 4 Ways to Remove Adware Extensions from Google Chrome
Find Out if a Webpage Is Safe to Visit
1. Double Check the URL
To find out if a website page is safe to visit, the very first thing you should do is double-check the URL. Before visiting any site, I will suggest reading the URL very carefully- make sure the spelling is correct.
To cheat users, scammers try to build a webpage exactly similar to the trusted ones. But you know what they can copy the layout of a webpage but not the original URL. That's why they always try to get a URL that is misspelled but looks identical to the original one.
So It's our responsibility to cross-check the URL. Also, never click on any link directly. You don't know where that link will take to you. It is advisable to type the link into the browser instead of directly clicking.
2. Check Google Transparency Report
No one knows better about webpages better than Google. It is the company that crawls the entire web and executes over 3 Billion search queries each day. To make browsing on the web safer Google uses the Safe Browsing standards.
One can easily check the Safe Browsing status of any website from the Google Transparency report, as follows:
Step 1: Open your web browser and visit Google Transparency Report.
Step 2: You will see a search box with Check site status message.
Step 3: Enter the URL of the webpage you want to check. Google will take a few seconds to scan through its database and show you the current status.
As you can see in the above screenshot, it shows no unsafe content found when I checked for our site. Similarly, you can look for any webpage and check the status of that page. For me, it is one of the best ways to find out the legitimacy of any webpage.
3. Check if a site's connection is secure
In the early days of the Internet, HTTP protocol was used to connect websites on the web. Later, HTTPS was introduced for enhanced security. Here, the addition of 'S' means secure. Almost every genuine website on the web uses HTTPS. To check if a website's connection is secure or not, follow the below steps.
Step 1: Open a webpage in your browser.
Step 2: In the address bar Look at the left of the visited URL. If the website is secure you will see a padlock.

Step 3: To get more information tap on the padlock icon and a box will pop up with information that the Connection is secure. You can also click on the Certificate to see which organization has provided the security certificate.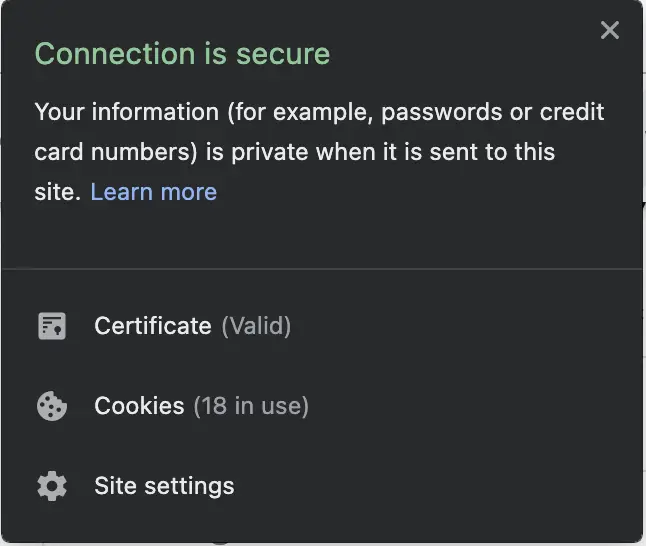 If a website is not secure, instead of padlock, you will see an info icon (ℹ) with a Not secure message or a warning (⚠️ ) icon with a Not secure or dangerous message. You must be careful while entering any personal or payment-related details on such sites.
Final Words- Enjoy Safe Browsing
It is not hard to check a web page's legitimacy. For most of the time, just carefully reading the URL will give an idea about the site. If a doubt appears in your mind, use the Google Transparency report to check the site's current status. Lastly, check whether the connection of that website is secure or not. By following these three simple tips, you can easily find if a webpage is safe to visit or not on Google Chrome or any other browser.