Extensions are an easy way for hijackers to inject malware, virus, and browser hijackers like Bar1 New Tab into your Chrome browser. Malicious extensions can steal your personal information, automatically change your search engine and new tab page, show ads, and perform other unauthorized activities. In this article, we will show you how to identify and remove malware extensions and plugins from the Google Chrome browser.
Remove & Delete Malware Extensions from Chrome Browser
The Chrome Web Store brings support for thousands of extensions in Chrome. These are small tools that can install within the browser to help you with productivity and other utilities. While most extensions are legitimate, some may include malware, especially when downloaded from unofficial sources.
Browsing and downloading from random websites exposes you to the risk of unwanted extensions being installed in your browser. And this, in turn, can be harmful to your privacy, Chrome's performance, and your productivity. Below is how you can quickly identify and delete malware plugins and extensions from Chrome on Mac and Windows PC.
How to Identify Malicious Chrome Extensions?
Before you proceed to delete malicious extensions, it's essential to identify which particular extension is the culprit. Here are the common tell-tale signs you need to look for:
Unknown Extension: Is there an extension you do not remember installing on your browser? Malicious extensions generally appear and are installed unknowingly on your computer.
Changes to Browser Settings: A lot of malicious extensions are primarily browser hijackers which change your search engine and new tab page. Check if your home page and search engine have changed to a random and suspicious one like QSearch after installing a particular extension.
Extension Permission: If the extension is asking for too many permissions than required for the job it's intended to do, it could be trying to steal your passwords or other private data.
Unofficial Source: It's best to install extensions directly from Chrome Web Store. When downloading extensions from random websites or other unverified sources, it might be infected with malware.
Abnormal Behaviour: Has your Chrome browser started lagging, opening, and closing tabs automatically, or running sluggishly than normal? A recently installed extension could be causing the trouble.
Excessive Ads: Some malicious extensions are designed to make money by showing you unwanted ads. If you have started seeing excessive advertisements all across the browser, check for a recently installed extension.
Method 1- Remove Extension from Chrome Settings
The easiest way to delete a rogue extension or plugin is from the browser setting, as shown below:
Step 1: Open Chrome on your Windows or Mac.
Step 2: Tap the three-dot menu in the top right corner.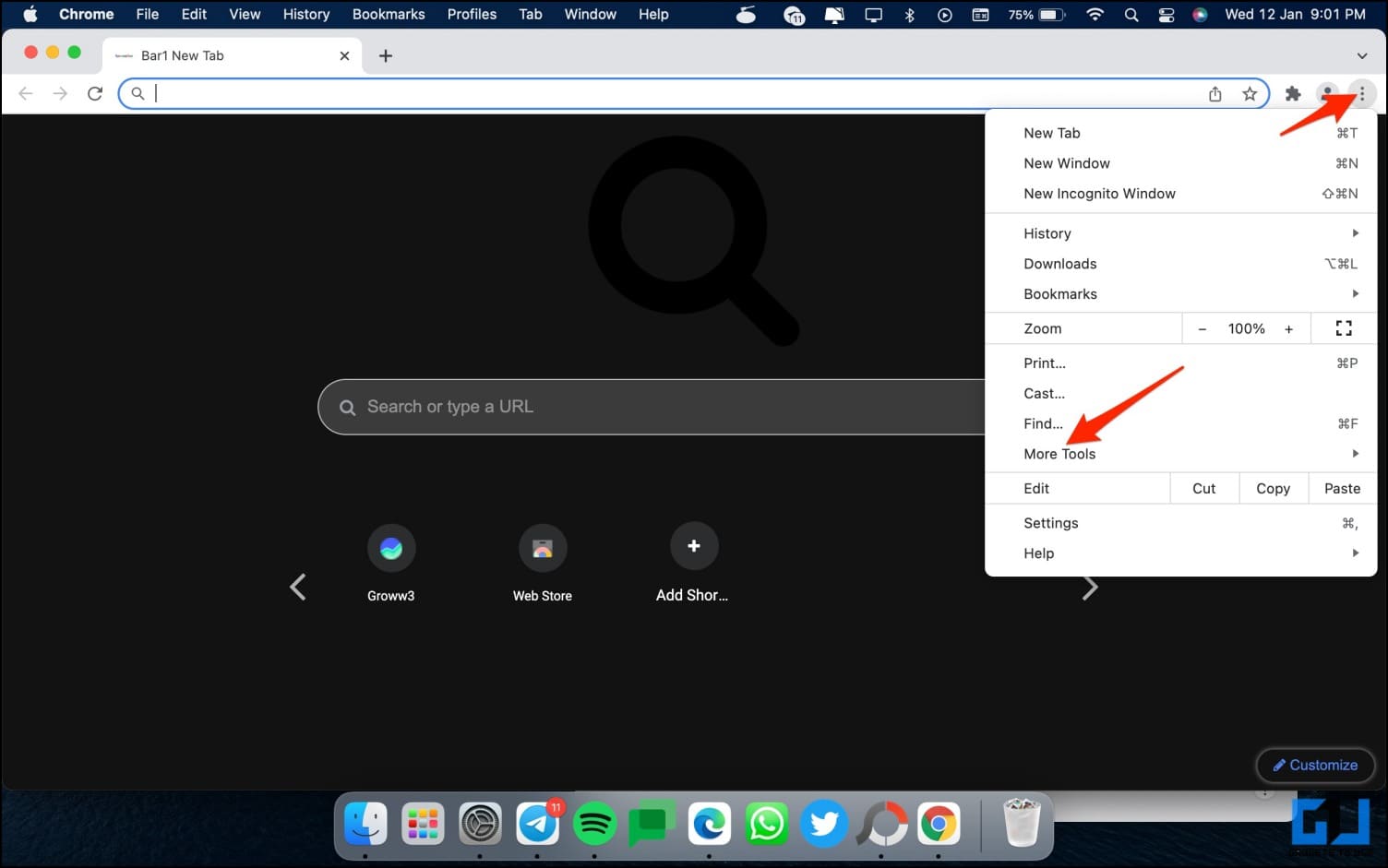 Step 3: Select More Tools > Extensions.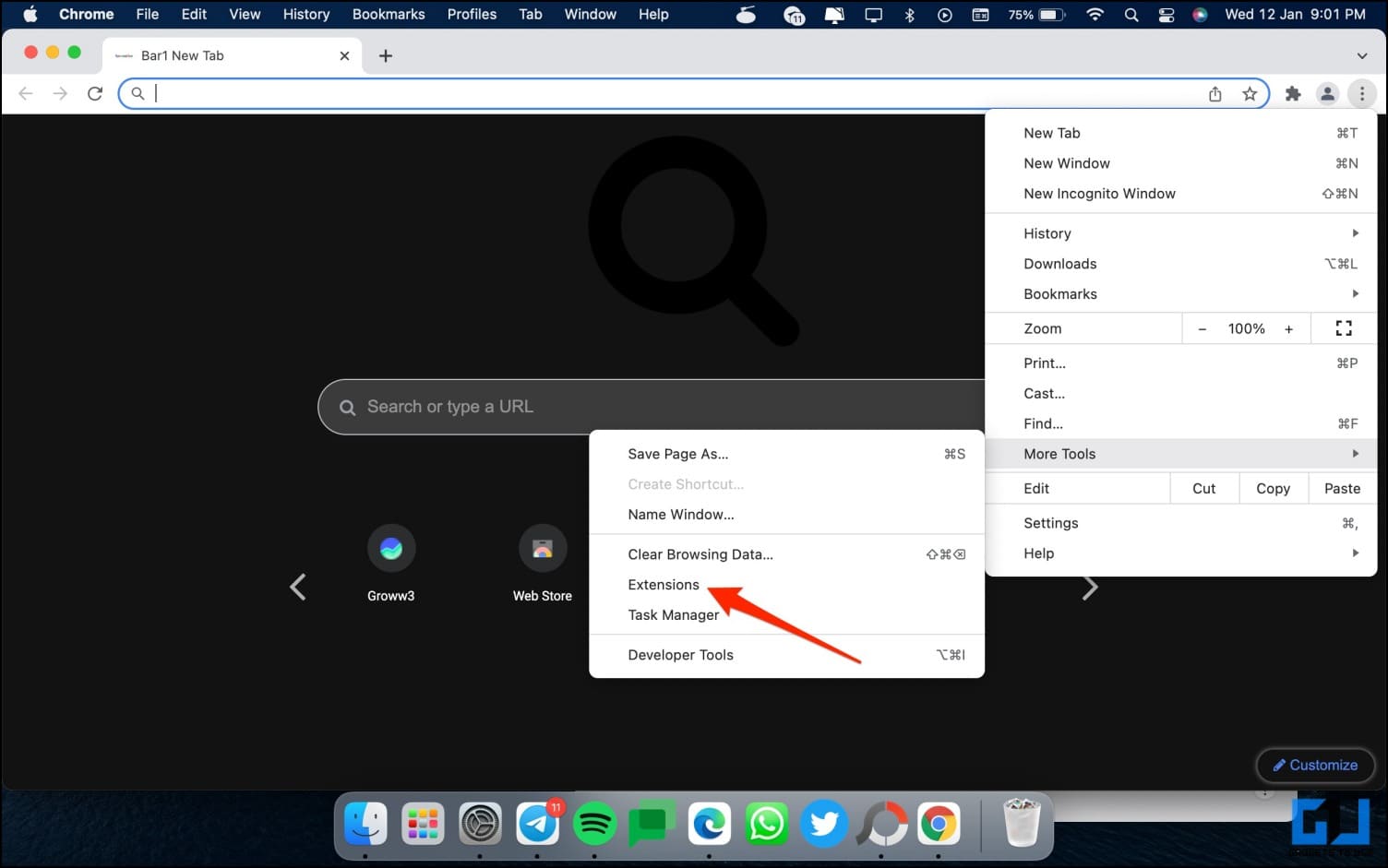 Step 4: Here, click Remove to delete the extension.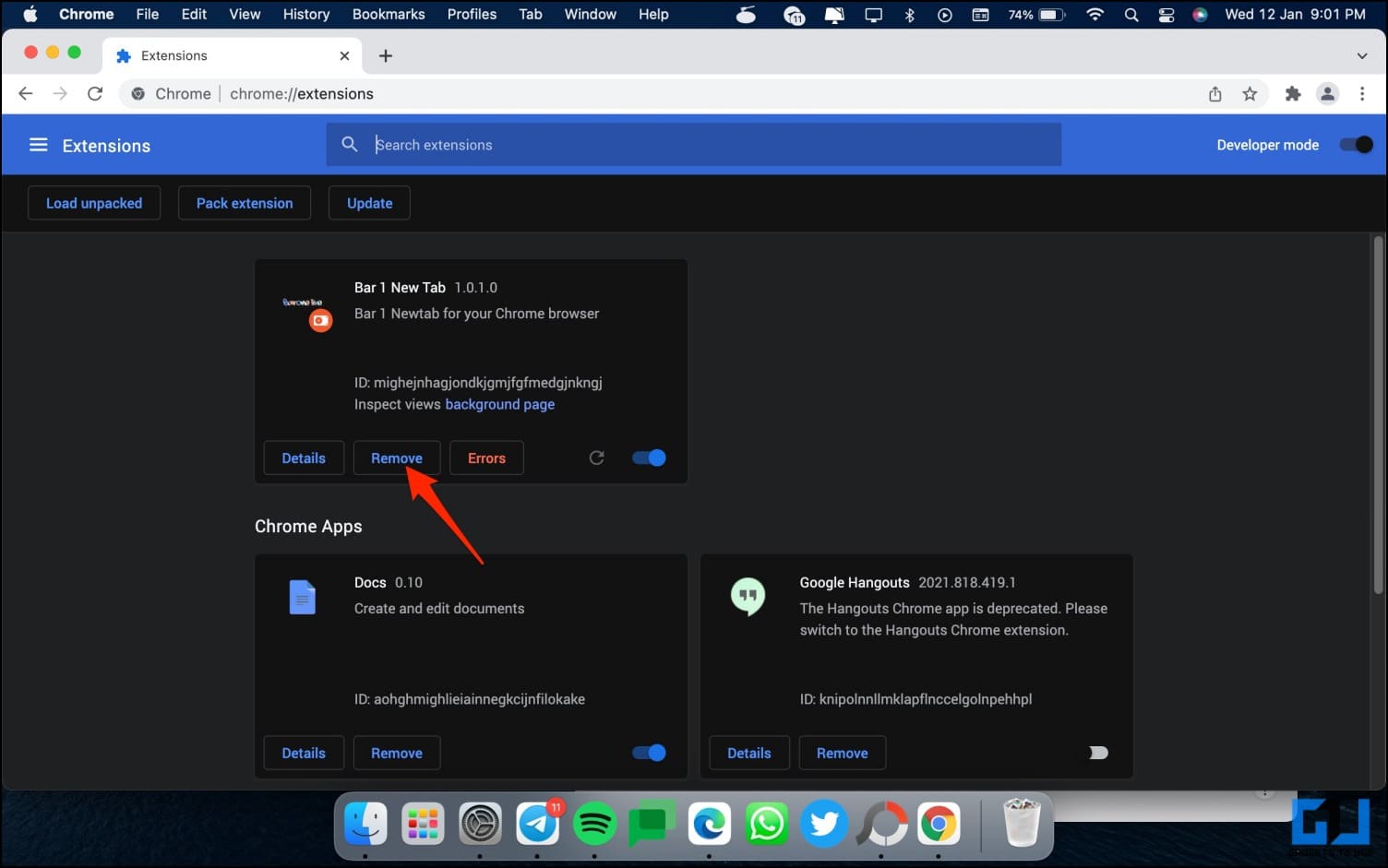 If it does not show the remove button for any particular extension, enable the toggle for developer mode to see if it solves the problem. Else proved with the other methods below.
Method 2- Use Chrome Safety Check
Google Chrome comes with a built-in Safety Check tool that helps you check and protect against dangerous extensions amongst other things like leaked passwords, updates, and more. Here's how to run a safety check in Chrome:
Step 1: Open Chrome and head to Settings.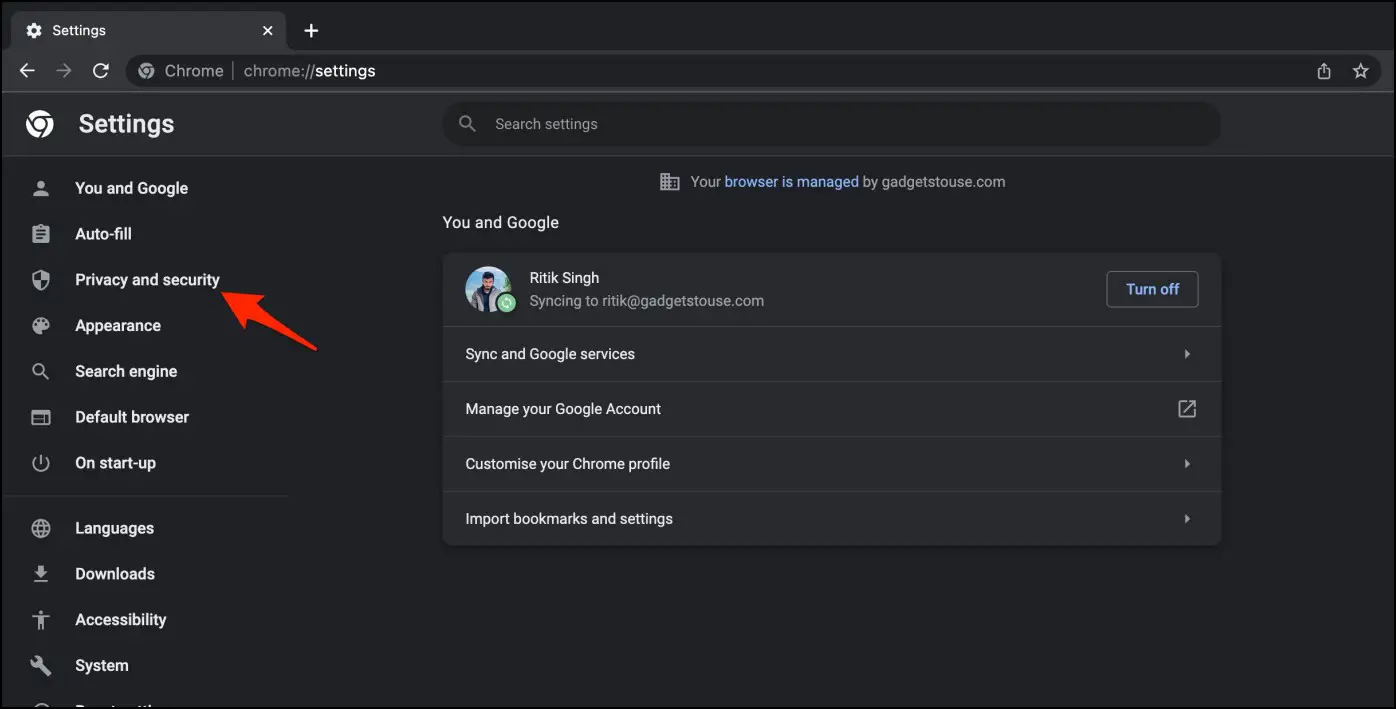 Step 2: Select Privacy & Security from the sidebar at the left.
Step 3: Hit Check Now and Safety Check.
Chrome will now run a thorough scan and alert you if the browser has any dangerous extensions.
Method 3- Use an AntiMalware Software
The next way to find and delete a malicious extension from Chrome and other browsers on your PC is to use anti-malware software. Before you start, check the installed apps list (on Windows) and Finder > Applications (on macOS) to see if you see any unknown or suspicious applications. If yes, delete and uninstall them from your machine.
Next, install Malwarebytes free antimalware tool on your computer. Run a full scan and see if it brings up any bad extensions or software installed on the device. You can then quarantine or remove the rogue app, extension, or file.
Method 4- Reset the Chrome Browser
Lastly, you can rest Google Chrome to its default settings. This will erase all the data and plugins installed on the browser.
Step 1: Open Chrome, tap the three-dot menu, and select Settings.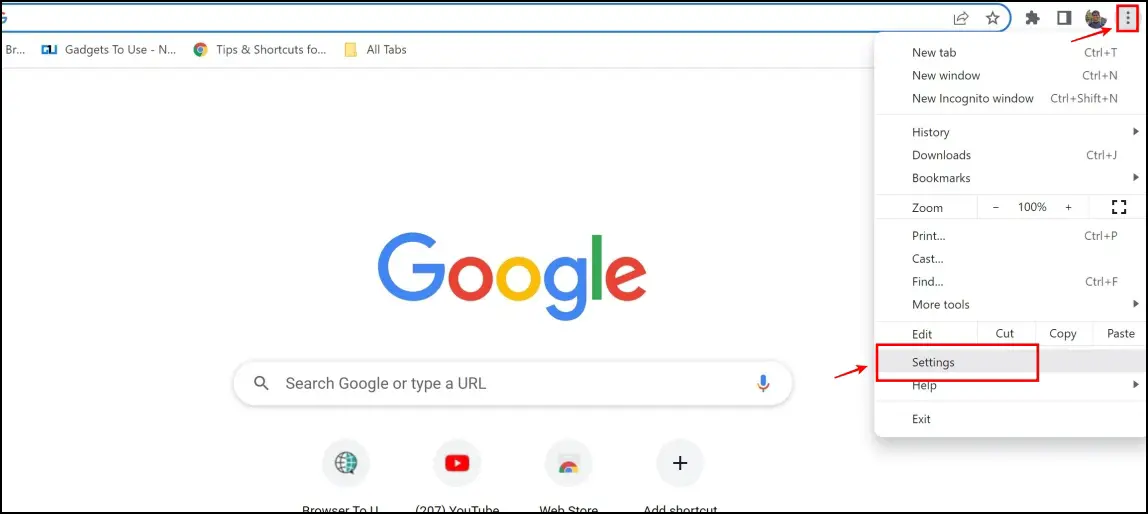 Step 2: Click on Advanced > Reset and Cleanup.

Step 3: Here, tap Restore settings to their original defaults.

Step 4: Click on Reset Settings to reset all the data.

Method 5- Uninstall & Reinstall Chrome
If nothing works, uninstall the Google Chrome browser from your Mac or Windows PC. And then, download and reinstall from the official website. Doing so will give you a fresh start from the scratch. However, make sure you've backed up and synced your important data to your Google account.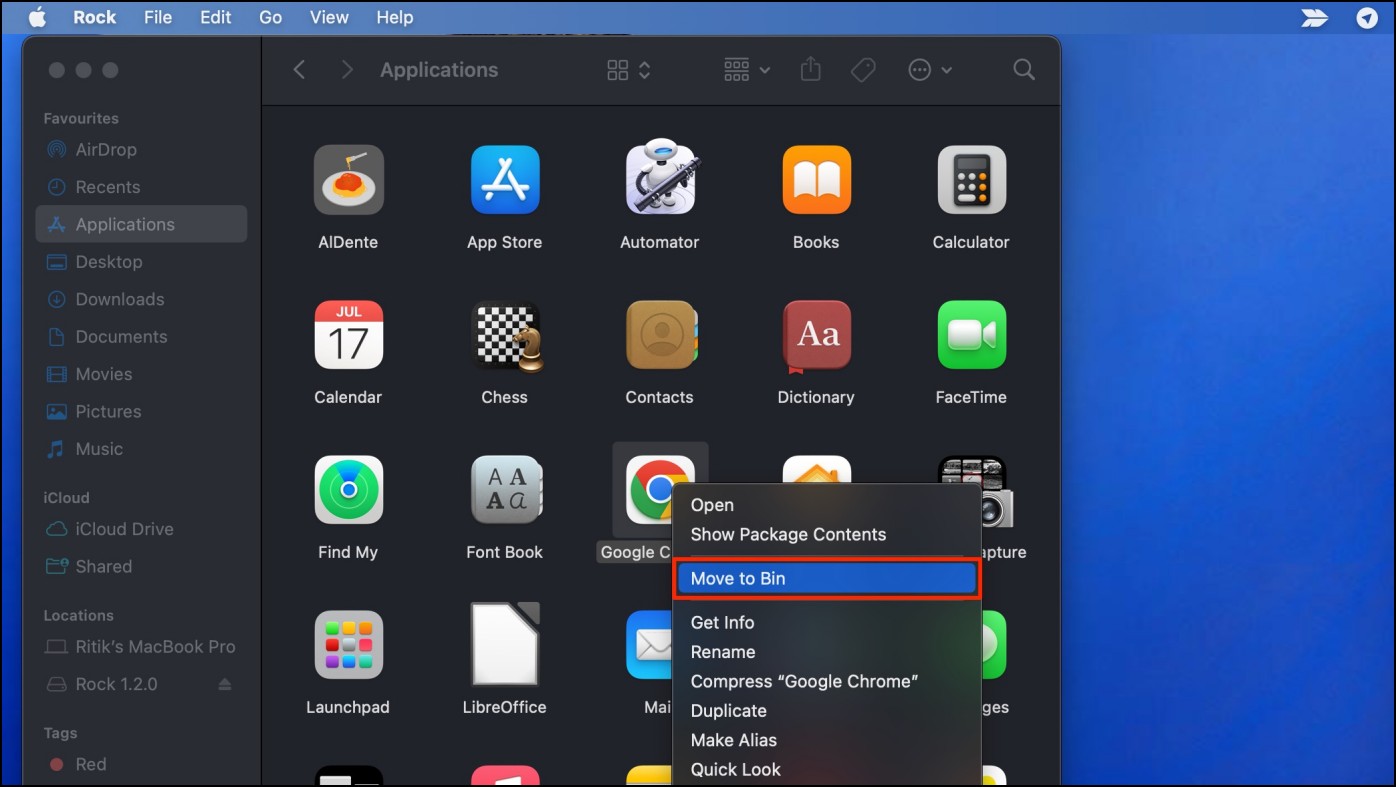 As you reinstall the browser, your data will be synced back including extensions installed from the Chrome Web Store. This will help you get rid of rogue plugins installed from unofficial sources.
Wrapping Up
This is how you can identify and remove malware extensions from Google Chrome. I hope this helps you get rid of unwanted browser hijackers and viruses from your browser. Let us know if you face any other problems via comments. Stay tuned to BrowserToUse for more such tips, tricks, and how-tos around browsers you use.