Assume you have been working on something important for hours. Have multiple tabs open on your browser, and you accidentally close one of the tabs, or worse, the power goes out. Hours of progress are just gone. But thankfully, the Vivaldi web browser offers multiple options to resolve this problem and reopen closed tabs. This article will show different ways to restore tabs in the Vivaldi web browser.
Related | How to Set Vivaldi as Default Browser (Android, Windows, Mac)
Restore Last Opened Tabs in Vivaldi Browser
We will look at five built-in methods to restore previously opened tab sessions in Vivaldi with step-by-step instructions. Since Vivaldi is built on Chromium, these steps should work with other Chromium-based browsers like Chrome, Microsoft Edge, and Brave browser.
So without any further delay, let us look at how to restore tabs in the Vivaldi browser.
Method 1: Restore Tabs with Keyboard Shortcut
If you have accidentally closed a single tab or the whole browser window, the easiest way to restore is to press Ctrl + Shift + T simultaneously on your keyboard. This shortcut will open the last closed tab or the entire browser session.
Method 2: Recover Tabs using the Closed Tabs Button
Vivaldi offers a handy tool in the form of the closed tabs button. It lets you quickly access any of your recently closed tabs or windows with a single click. This is how it works.
Step 1: Click on the tab bar's trash can icon at the top right side.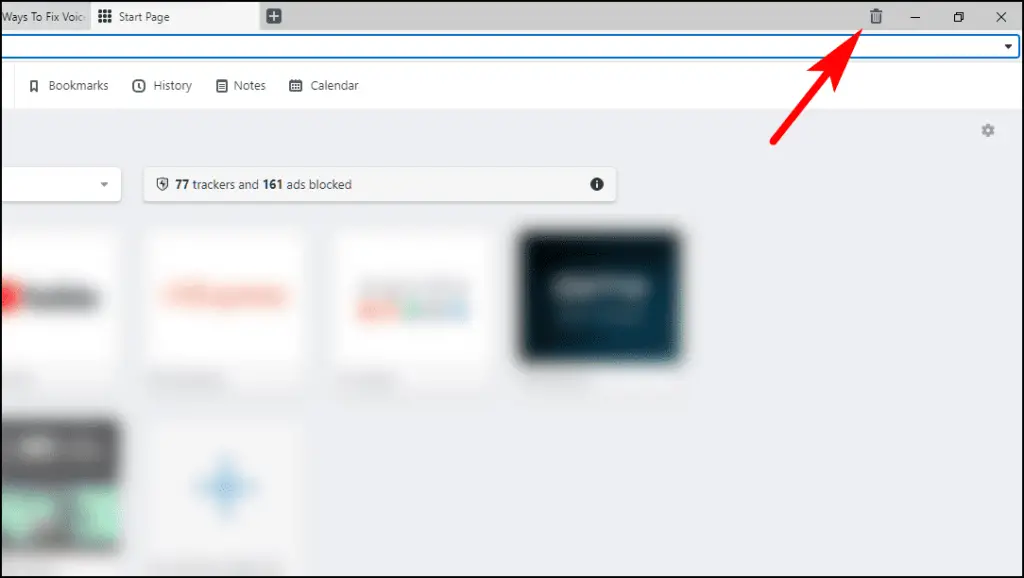 Step 2: Select the recently closed tab or session you want to restore.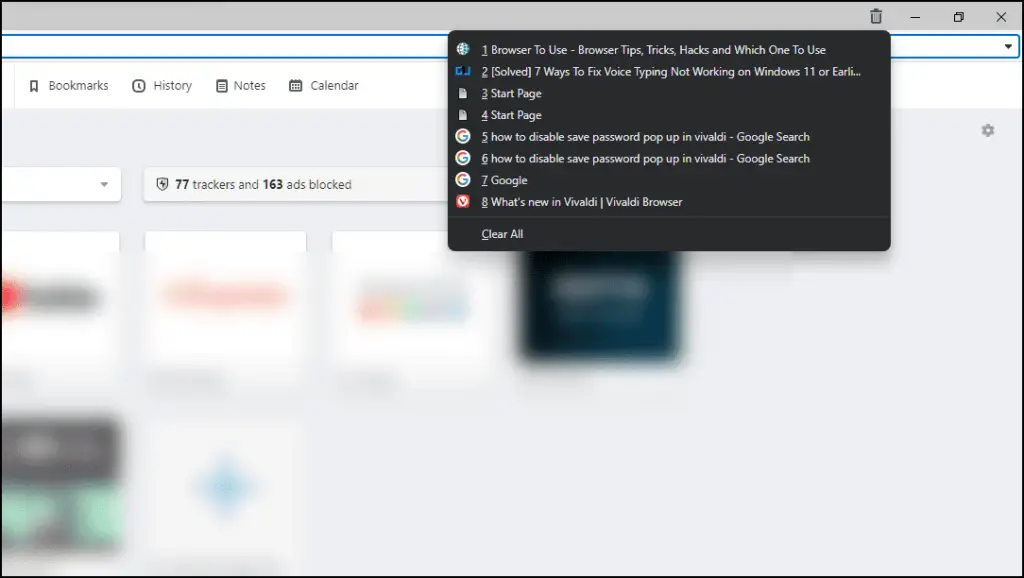 Method 3: Use History Panel to Open Closed Tabs
You can find your current and recently closed sessions in your browsing history, which you can access from the History panel in Vivaldi.
Step 1: On Vivaldi, click on the Vivaldi icon at the top left corner.
Step 2: Select the View option and click on History Panel.
Step 3: Here, you can find all open and last closed tabs. Select the session you want to restore.
Method 4: Reopen Vivaldi Tabs from the Tabs Bar
You can reopen closed tabs by right-clicking on the tabs bar at the top of the Vivaldi browser. Here is how it works.
Step 1: Right-click on the blank portion in the tabs bar, as shown below.
Step 2: Select the option Reopen closed tabs.
The last opened tab will be restored. But note that it will open only one tab at a time.
Method 5: Set Restore Last Session at Start-Up
Another method is to set Vivaldi to restore the last session on startup. This can help restore all the closed tabs in case the power goes out or you accidentally close the entire window.
Step 1: Open Vivaldi and click on the Vivaldi V icon at the top left corner.
Step 2: Go to Settings.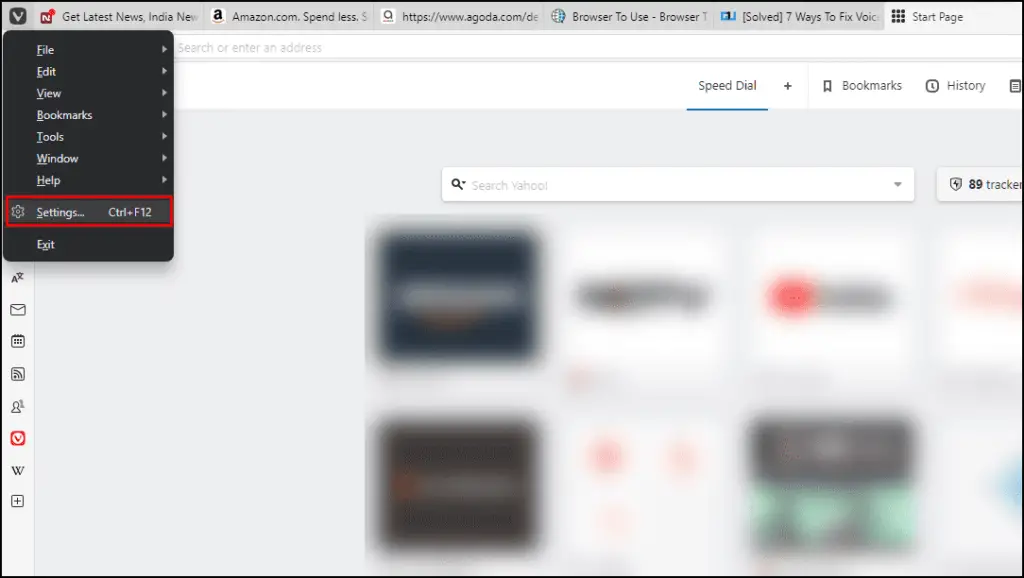 Step 3: Select the Last Session under the Startup option.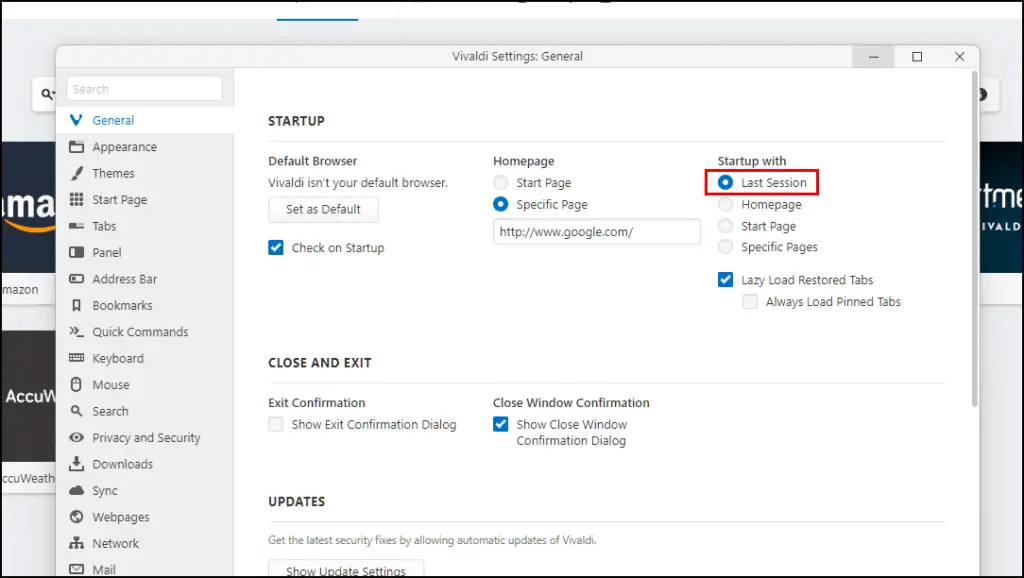 Step 4: Check the box that says Lazy Load Restored Tabs.
Now relaunch Vivaldi, which will load all the tabs from the previous session.
Wrapping Up
This was our article on how to restore closed tabs in the Vivaldi browser. Having the option to restore closed tabs can help you recover hours of hard work, and it is great that Vivaldi provides so many in-built options to do so. I hope you enjoyed this guide and learned something new today. Stay tuned for more such articles, guides, and How To's.