Apart from being a privacy-focused search engine, DuckDuckGo has also developed standalone mobile browser apps for iOS and Android. It comes with a built-in tracker and privacy protection. But today, we're here to explore perhaps the most unique feature on any web browser – the DuckDuckGo app tracking protection. We'll explore what it does and whether it helps increase your privacy.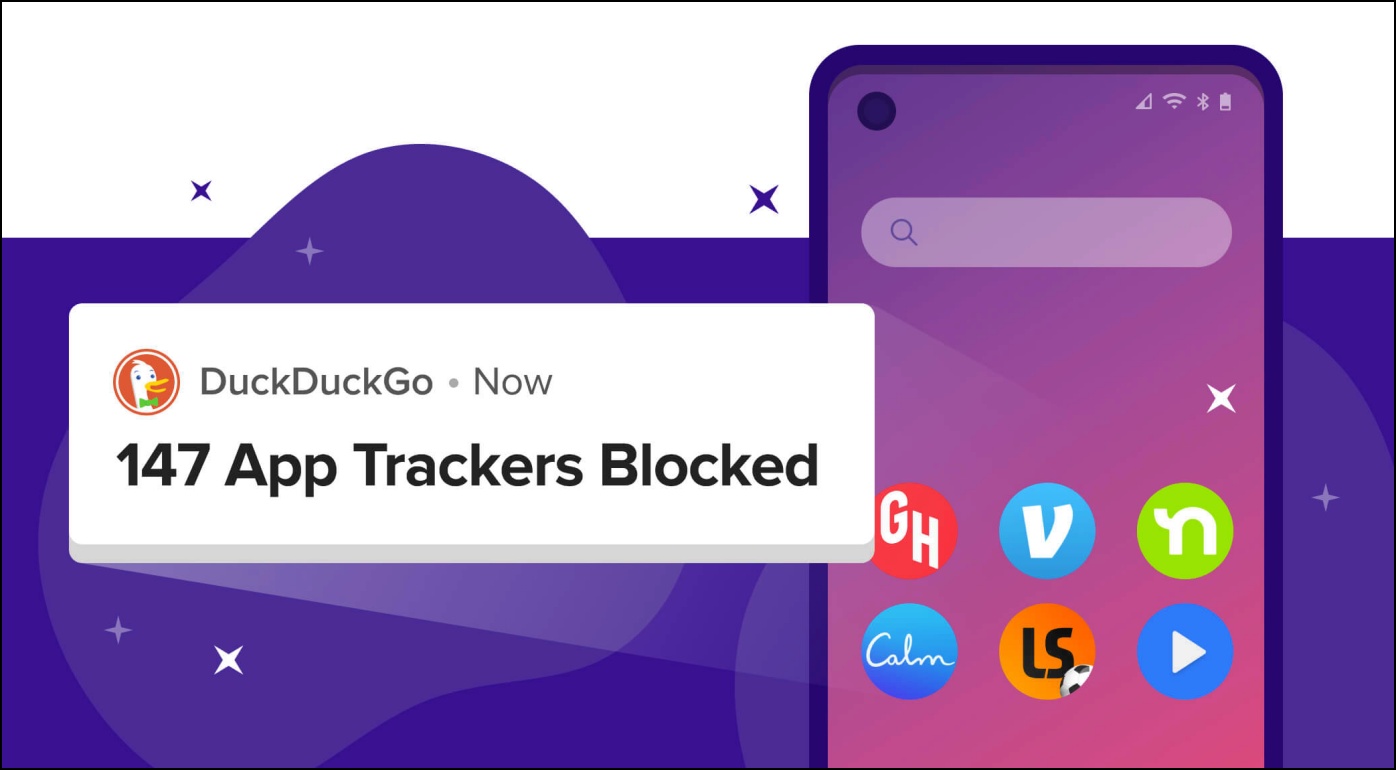 Related | 4 Ways to Do Private Browsing on Android & iPhone
How Mobile Apps Track You?
Apart from tracking activity on web browsers, there are instances where companies perform tracking on apps you use. These tracking mechanisms are designed to be hidden and continue to track even when you aren't using the app. These trackers also track you in real-time, which opens up a gate to monitor many of your activities.
Once your data is tracked, it will be sent to third-party companies. These companies will use the data to send you personalized ads. Social media services will also use the data to build more detailed and personalized profiles for you.  Some might even sell your data to other companies too.
Here's what we know from official information provided by DuckDuckGo. They found hidden trackers in over 96% of the popular free apps they tested. Among those, 87% sent data to Google, and 68% sent the data to Facebook.
Apple, as we all know, claims to prioritize user privacy. They recently introduced a feature called App Tracking Transparency. In this feature, users are asked in each app whether they want to allow third-party app tracking or not. With no such feature being present on Android – this was DuckDuckGo's inspiration behind building the app tracking prevention for Android.
What is DuckDuckGo App Tracking Prevention?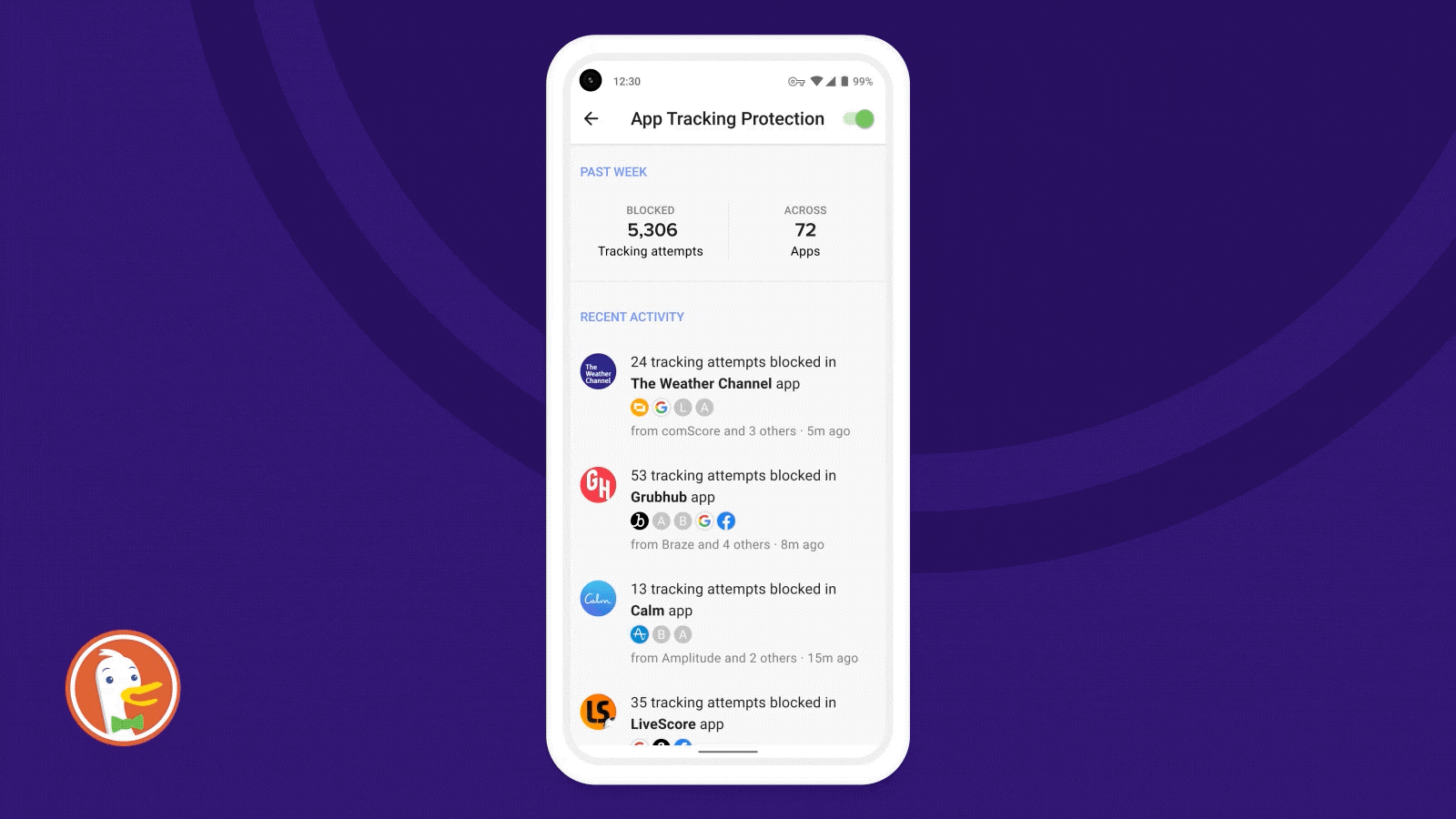 Tracking protection has always been quite simple on PC browsers, as you can just install an extension like uBlock, or Privacy Badger. The tricky part has always been finding a comparable and reliable tool for Android devices. This is where DuckDuckGo fills a void.
What this feature does, is protect Android users by opting out of trackers present in applications. This lets users safely use apps without worrying about data being tracked and sent to multiple sources.
Trackers are blocked in applications, running both in the background and foreground. DuckDuckGo app tracking prevention is a privacy feature built within the DuckDuckGo browser app and not a separate app.
How Does DuckDuckGo App Tracking Protection Work?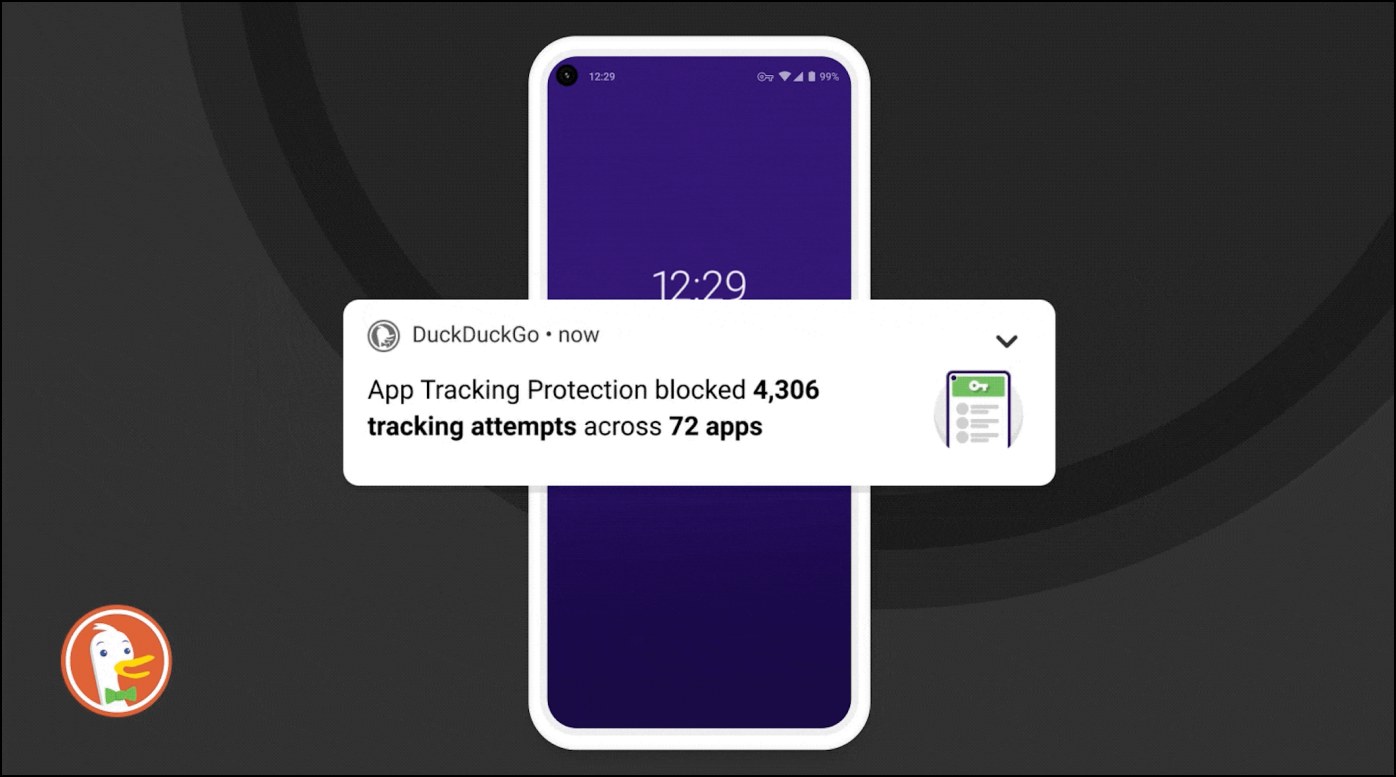 The app tracking prevention blocks app trackers from large corporations trying to grab your data as you use apps. DuckDuckGo uses the VPN functionality on Android devices to ensure protection. The network traffic coming from apps is filtered using a VPN. Here's how it works.
DuckDuckGo firstly asks you to connect to a "VPN." The local VPN will monitor the incoming traffic and identify and filter out any tracking requests. Once these requests are filtered, the trackers are now blocked.
DuckDuckGo has identified a list of app tracking requests, and it always goes through this list to ensure every possible tracker is blocked. This also works in the background. DuckDuckGo also mentioned that it continuously works to identify and protect new trackers so that users get the most up-to-date protection.
But is this feature a VPN?
Although it connects to a VPN, it technically isn't. Or at least not what is expected when you connect to a VPN. Typically, VPNs involve rerouting the network to another external server. In this case, the VPN connection is localized so that the network is routed through the backend of the app tracking protection tool, and trackers can be blocked.
How to Enable DuckDuckGo App Tracking Protection Without Invite
Initially, the feature was rolled out on an invite-basis. However, you can now enable and use App Tracking Protection in your DuckDuckGo Android app directly, as shown below.
Here's how you can enable this feature on Android Devices.
Step 1: Download the DuckDuckGo browser app from Play Store.
Step 2: Once you install the app, open it up, and click on the three dots menu icon > Settings.
Step 3: Now, select App Tracking Protection.
Step 4: Turn on the toggle for App Tracking Protection.
Step 5: Click on OK for the connection request.
Understanding Which Trackers Are Blocked
Once we enabled this feature and used our phone for a day – we were shocked at the number of apps tracking data. What was worse was the kind of data that was getting picked up. Little did I know, my innocent PDF scanner app wanted to know and was attempting to send a bag full of personal data to Google and Facebook.
Here's what data apps constantly track you for :
Device Details – Device OS version, Name, Screen Size, CPU Data, etc.
Network Details – Local IP Address, Network Connection type, etc.
Location Details – Postal Code, GPS Data, etc.
Application Details – App Version, Cookies, App Name, etc.
Personal Details – First Name, Email Address, Unique Identifiers, etc.
You have a list of apps that track you. Once you click on an app, DuckDuckGo provides a neat list of what trackers are blocked. And we're mighty impressed with the transparency of blocking fingerprinting.
Is it Safe to Use? Does it Drain Battery?
DuckDuckGo browser app is verified on the PlayStore, and there is no doubt about its safety. And since this feature is available on the public released app as well, we can recommend this app and ensure this is safe under all normal circumstances.
Regarding the battery, there was no noticeable change in our usage. But again, this might cause some battery drain issues on older smartphones. While this feature is still in beta, we can expect more refinement and optimization once it is out of the testing phase.
Pros & Cons of DuckDuckGo App Tracking Protection
After we have used this app for quite some time, here is a quick breakdown of all the pros and cons :
Pros :
Highly transparent about the trackers.
It does not come as a dedicated app- you'll have to use it within the browser.
Simple to use, all you need to do is turn on a toggle.
You can disable this feature for specific apps instead of disabling it entirely.
Even though it is in the beta stage, we are pretty impressed by its stability.
DuckDuckGo has a good reputation in the industry overall, so we don't think we'd have to doubt or question any claims.
Cons :
This technology uses VPN to block trackers. So, as long as this feature is on, you will see a VPN logo on your status bar.
You cannot use another VPN while you use this app.
This feature only blocks third-party trackers. Hence trackers within Google Apps and other built-in apps make an easy escape.
There is no one-hundred-percent protection against trackers, as DuckDuckGo only blocks the ones it has 'identified,' but there might be more trackers too.
Alternatives to DuckDuckGo App Tracking Protection
Don't want to use DuckDuckGo for some reason? Here are two good alternatives for the DuckDuckGo app tracking protection feature, available for free on Google Play Store.
1. Red Morph

Redmorph is a free app tracking protection app on the Play Store. If you haven't guessed it already, the name combines the Red Pill + Morpheous from the Matrix movie.
There are a lot of controls available to the end-user privacy features. While it does not have a lot of users yet, we feel that this offers a competitive alternative for DuckDuckGo
2. Tracker Control 'Slim'

While this does not block any trackers, TrackerControl is another VPN-based app that lets you know what trackers are entering your device. It is available for free.
The user interface is quite stable and does not come with any ads. It can be used as a companion app for DuckDuckGo, to check what trackers DuckDuckGo is missing on, and vice versa.
Wrapping Up
We hope our detailed guide on DuckDuckGo app tracking protection helped you understand what this feature is all about. It would be interesting to know how this feature evolves once it exits the beta program. We will be eager to cover everything about this too, so for that reason, stay tuned to Browser To Use and never miss another update on what's happening in the world of web browsers.