Chrome
has been everyone's favorite browser for years. It is stable and reliable. On the other hand, you have the Samsung Internet browser, which offers much more customization and features but usually goes unnoticed. So in this article, we decided to go for a head-to-head
Samsung Internet
vs
Google Chrome
comparison in terms of customization, privacy, features, and battery usage.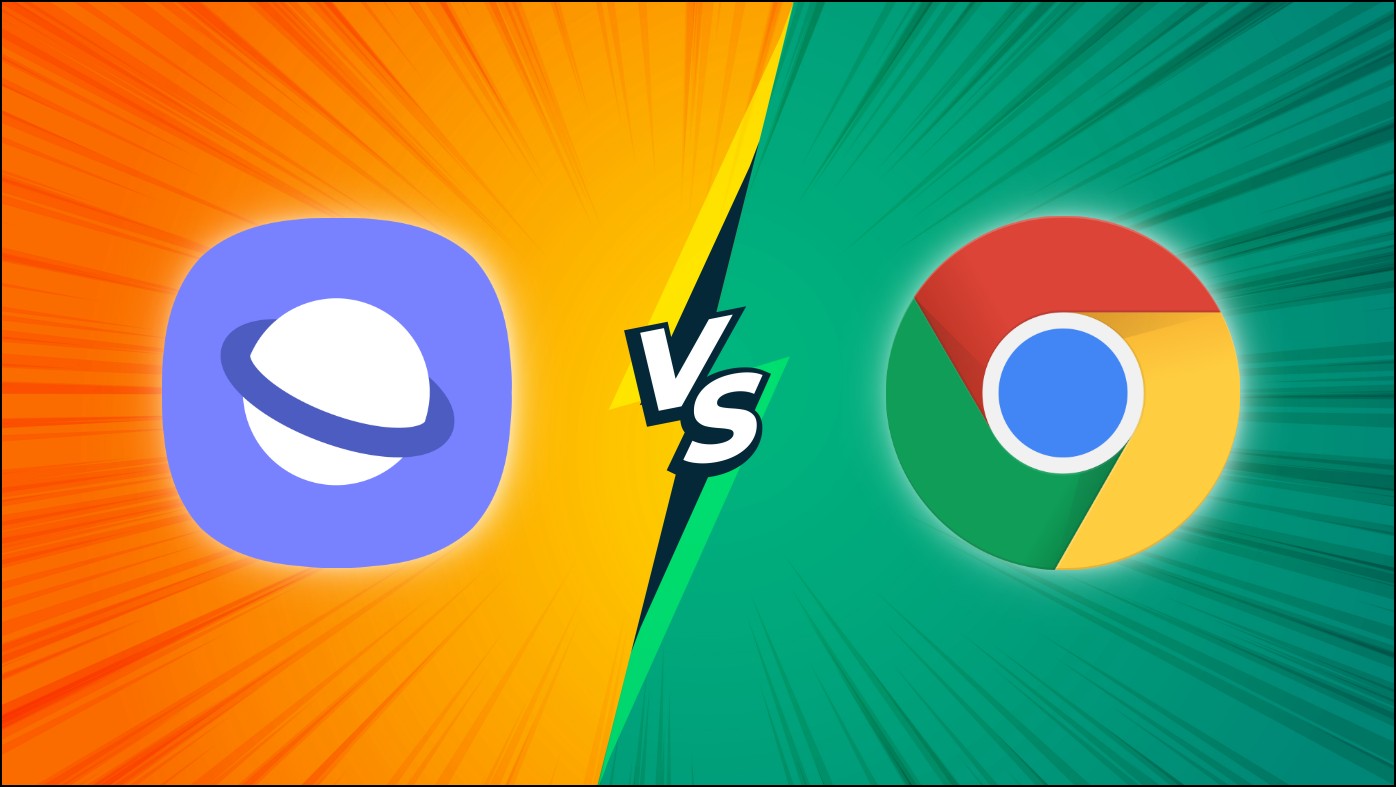 Samsung Internet vs Google Chrome: Comparison
We have used both browsers extensively for some time. And here's an in-depth comparison between Chrome and Samsung Internet across different criteria, including privacy, UI, and other features.
Layout & UI: One-Hand Comfort vs. Minimalism
The first thing you will notice with the Samsung internet is the One UI look. One UI is Samsung's skin on top of Android, which is famous for its ease of navigation, and that is exactly what you will find here.
Most of the settings and options are located at the bottom toolbar instead of the top, allowing you to browse with just one hand.
On the other hand, Chrome gives you a simple and minimal appeal that we all are used to, with all the options being located at the top of the screen. This is inconvenient these days as phone screens are way too big for anyone to reach the top with just one hand, and a lack of a proper toolbar is also apparent here.
Customization: Samsung Takes a Lead!
For starters, Samsung Internet offers several customization options which improve accessibility which seems to be the theme of this browser.
Here's all you can change and customize with the Samsung Internet browser:
Customize Toolbar: You can edit the toolbar, add items you use more often, and remove the ones you don't.
Change Tab layout: Samsung browser allows you to switch the tab view between 3 options: List, Stack, and Grid. You can also add tabs under the address bar.
Change Address Bar position: This shifts the address bar and Bookmark button from the top of the screen to the bottom for easier one-hand use.
Adjust Text Size: You can change the text size of the webpage in real-time or set a default text size for all the websites you visit.
Switch Scroll Bar Position: This allows you to switch the scroll bar to the left or right of the screen or hide it completely. Useful for those who are left-handed.
These are some customizations you can find on the Samsung Internet browser. If you own a Samsung device, you can add extensions or add-ons to customize your browser even further.
Chrome severely lacks in this area. You can tweak a few things by going to the Chrome flags section, but that is pretty much it for Chrome. And this is where Samsung takes a clear lead.
Browsing Features: Extra vs Essentials
Samsung Internet Features
Built-in QR Code Scanner
Force dark mode on all websites
Swipe gestures and Picture-in-Picture mode on videos (it does not work on Youtube)
Custom interface for videos
Adjust text size in real-time
Extensions like Add-ons (exclusive to Samsung Devices)
Translate pages to the preferred language
High Contrast mode to increase the visibility of text and images
Install websites as apps
Chrome Mobile Features
Chrome is not as feature-rich as the Samsung browser. It only comes with the essentials, but there are hidden features you can enable by visiting the flags page. We will list some of those features below:
Lite Mode
Dark Mode (can also be applied to websites with flags)
Quick Share options
Goggle Lens integration
Support for Material You theme (changes theme according to your wallpaper).
Samsung Internet vs Chrome: Performance & RAM Usage
In day-to-day use, both browsers perform well but to get a better understanding of these browsers, we decided to run some benchmarks.
Benchmark Performance
We ran three tests from the browser benchmark (on Redmi Note 10 Pro) to measure how the Samsung Internet browser and Chrome Mobile compare in demanding tasks, and here are the results. Remember, high scores mean better performance.
| | | |
| --- | --- | --- |
| |  Samsung Internet  |  Google Chrome  |
| Jetstream 2 | 49.371 | 52.139 |
| Motionmark 1.2 | 133.19 | 194.98 |
| Speedometer | 37.2 | 48.45 |
From the above table, it is clear that Chrome performed better than the Samsung browser in all the benchmarks winning the performance round. Chrome's lightweight and clean appeal helped give it an edge and perform better than the Samsung browser.
Storage and RAM Usage
In terms of storage occupied after installation and RAM consumed, it is evident from the table below that the Samsung Internet browser falls behind Chrome.
| | | |
| --- | --- | --- |
| |  Samsung Internet  |  Google Chrome  |
| App Size | 101 MB | 8.4 MB |
| App Size after Installation | 481 | 36.86 |
| Foreground RAM usage | 790 MB | 480 MB |
| Background RAM usage | 24 MB | 33 MB |
Chrome consumed about 37 MB of storage compared to 480 MB occupied by the Internet browser. Similarly, Chrome used 480 MB of RAM, and Samsung Internet went as high as 790 MB, even reaching 1 GB at times.
So if you have an old or entry-level Android device, we do not recommend using the Samsung Internet browser and sticking with Chrome or other lightweight alternatives.
Samsung Internet vs Chrome:

Battery Usage

To test the battery consumption, we ran benchmarks and played a video on YouTube for about 25 minutes each, totaling 40 minutes for each browser. To ensure a fair outcome, we ran these tests on a non-Samsung device to ensure no background optimization.
| | | |
| --- | --- | --- |
| |  Samsung Internet  |  Google Chrome  |
| Battery Consumed | 6% | 12% |
From the above table, it is apparent that the Samsung Internet browser consumed half as much battery compared to Chrome.
Samsung Internet vs Chrome: Privacy & Ad Blocking
When it comes to privacy, Samsung Internet comes with an advanced set of features to protect your data from harmful sites and prevent you from being tracked.
Samsung Internet Privacy Features
Here are the critical privacy options available in the Samsung browser.
Ad Blocker Add-Ons: Samsung Internet browser lets you download third-party ad blockers. These are available in the Add-ons and are free to download and use. Although most of them work well, we recommend you go with AdGuard Content Blocker. 
Browsing Privacy Dashboard: You can find various settings like smart antitracking, which detects trackers and blocks them, pop-up blockers, and blockers to prevent sites from downloading malicious items automatically within the privacy dashboard. Here you can also monitor the current security status of your browser and the number of trackers that have been blocked so far.
Block Backward Redirection: This option is also available within the privacy dashboard. It blocks websites from taking you to different websites that you never visited when you try to go back.
Secret Mode: It is Samsung's version of Incognito mode. All the blockers are enabled by default in Secret Mode, and your browsing history and cookies are cleared when you exit it. You can also lock it with a password or biometric.
Other than the above features, you can force HTTPS on all websites and block third-party cookies.
Google Chrome Privacy Features
Google Chrome also provides a few options to improve privacy and security while browsing. They have recently started paying more attention to this and added features accordingly. Here are some key features for privacy on Chrome:
Block Intrusive Ads: In site settings, you can find an option to block intrusive ads and pop-ups, which does help get rid of large full-page ads but does not completely remove ads on the page.
Safe Browsing: Safe browsing lets you choose Enhanced protection, which will protect you against malicious and harmful websites and warn you about password breaches or your data being exposed. To accomplish it, it sends a small sample data of your browser to Google.
Use Secure DNS: You can select a custom secure DNS server to help block ads, third-party cookies, and trackers.
Privacy Sandbox: Privacy Sandbox is an experimental feature used by websites to show you content and ads without breaching your privacy and tracking you across the web. It is currently only available in select regions.
As you can see that Chrome is limited in options when it comes to privacy features in comparison with the Samsung Internet browser.
C

ross-Platform Availablity & Sync

The Samsung Internet browser comes pre-installed on all Samsung devices. It is also available on the Play Store for download but is only limited to Android. You can see your bookmarks and passwords across Samsung devices when you log in with the same Samsung account. But if you use anything outside of the Android, you will have trouble syncing your data.

While Chrome is available on all platforms, be it Android, iOS, Windows, macOS, or Linux. All you have to do is sign in to your Google account to sync bookmarks, passwords, and other settings on whichever device or platform you are on.

Update: Samsung Internet now allows you to sync bookmarks with Chrome. Here's how you can sync your Chrome bookmarks with Samsung Internet and vice versa.
Frequently Asked Questions
Q. How is Secret Mode different from Incognito mode?
Secret Mode is available on the Samsung Internet browser and works similarly to the Incognito mode available on Google Chrome. It deletes all cookies and browsing history when you close the tab with the added benefit of a password or biometric lock.
Q. Is the Samsung Internet browser based on Chromium?
Yes, the Samsung Internet browser or S browser is an Android-only web browser that is based on the Chromium open-source project.
Q. Is the Samsung Internet browser available for PC?
Sadly no, the browser is only limited to Android devices. But you can download the Samsung Internet extension from the Chrome Web Store, which allows you to sync bookmarks and import your Chrome bookmarks to the Android app.
Wrapping Up
This was our detailed Samsung Internet vs Google Chrome comparison. It is obvious that the Samsung browser is rich in features, customizations, and security but falls short on cross-platform availability and performance and takes up a lot of storage and RAM.
People who enjoy features and customization will love the Samsung Internet browser, but for others, Chrome is the one to go for despite its drawbacks. I hope you enjoyed this guide and learned something new today. Stay tuned to Browser To Use for more such articles, guides, and How To's.
Related: